Crude Awakening: The Global Black Market for Oil
A Crude Awakening: The Global Black Market for Oil
The value of the crude oil production alone is worth a staggering $1.7 trillion each year. Add downstream fuels and other services to that, and oil is a money-making machine.
Both companies and governments take advantage of this resource wealth. More of the world's largest companies work in the oil patch than any other industry. At the same, entire government regimes are kept intact thanks to oil revenues.
The only problem when an industry becomes this lucrative?
Eventually, everybody wants a piece of the pie – and they'll do anything to get their share.
The Black Market in Fuel Theft
Today's infographic comes from Eurocontrol Technics Group, and it highlights the global problem of fuel theft.
While pipeline theft in places like Nigeria and Mexico are the most famous images associated with the theft of hydrocarbons, the problem is actually far more broad and systematic in nature.
Fuel theft impacts operations at the upstream, midstream, and downstream levels, and it is so entrenched that even politicians, military personnel, and police are complicit in illegal activities. Sometimes, involvement can be traced all the way up to top government officials.
E&Y estimates this to be a $133 billion issue, but it's also likely that numbers around fuel theft are understated due to deep-rooted corruption and government involvement.
How Fuel Theft Actually Happens
Billions of dollars per year of government and corporate revenues are lost due to the following activities:
Tapping Pipelines: By installing illicit taps, thieves can divert oil or other refined products from pipelines. Mexican drug gangs, for example, can earn $90,000 in just seven minutes from illegal pipeline tapping.
Illegal Bunkering: Oil acquired by thieves is pumped to small barges, which are then sent to sea to deliver the product to tankers. In Nigeria, for example, the Niger Delta's infamous labyrinth of creeks is the perfect place for bunkering to go undetected.
Ship-to-Ship Transfers:
This involves the transfer of illegal fuel to a more reputable ship, which can be passed off as legitimate imports. For example, refined crude from Libya gets transferred from ship-to-ship in the middle of the Mediterranean, to be illegally imported into the EU.
Armed Theft (Piracy):
This involves using the threat of violence to command a truck or ship and steal its cargo. Even though Hollywood has made Somalia famous for its pirates, it is the Gulf of Guinea near Nigeria that ships need to be worried about. In the last few years, there have been hundreds of attacks.
Bribing Corrupt Officials:
In some countries – as long as the right person gets a cut of profits, authorities will turn a blind eye to hydrocarbon theft. In fact, E&Y says an astonishing 57.1% of all fraud in the oil an gas sector relates to corruption schemes.
Smuggling and Laundering:
Smuggling oil products into another jurisdiction can help to enable a profitable and less traceable sale. ISIS is famous for this – they can't sell oil to international markets directly, so they smuggle oil to Turkey, where it sells it at a discount.
Adulteration:
Adulteration is a sneaky process in which unwanted additives are put in oil or refined products, but sold at full price. In Tanzania, for example, adding cheap kerosene and lubricants to gasoline or diesel is an easy way to increase profit margins, while remaining undetected.
The Implications of Fuel Theft
The impact of fuel theft on people and the economy is significant and wide-ranging:
Loss of corporate profits: Companies in oil and gas can lose billions of dollars from fuel theft. Case in point: Mexico's national oil company (Pemex) is estimated to lose $1.3 billion per year as a result of illegal pipeline tapping by gangs.
Loss of government revenues: Governments receive royalties from oil production, as well as tax money from finished products like gasoline. In Ireland, the government claims it loses €150 to €250 million in revenues per year from fuel adulteration. Meanwhile, one World Bank official pegged the Nigerian government's total losses from oil revenues stolen (or misspent) at $400 billion since 1960.
Funds terrorism: ISIS and other terrorist groups have used hydrocarbon theft and sales as a means to sustain operations. At one point, ISIS was making $50 million per month from selling oil.
Funds cartels and organized crime: The Zetas cartel in Mexico controls nearly 40% of the fuel theft market, raking in millions each year.
Environmental damage: Not only does fuel theft cost corporations and governments severely, but there is also an environmental impact to be considered. Fuel spills, blown pipelines, and engine damage (from adulterated fuel) are all huge issues.
Leads to higher gas prices: Unfortunately, all of the above losses eventually translate into higher prices for end-customers.
How to Stop Fuel Theft?
There are two methods that authorities have been using to slow down and eventually eliminate fuel theft.
Fuel dyes are used to color petroleum products a specific tint, so as to allow for easy identification and prevent fraud. However, some dyes can be replicated by criminals – such as those in Ireland who "launder" the fuel.
Molecular markers, which are used in tiny concentrations of just a few parts per million, are invisible and can also be used to identify fuels.
In Tanzania, the initiation of a fuel marking program using molecular markers led to significant increases of imported petrol and diesel for the local market, and a decrease of kerosene.
At the retail level, product meeting quality standards increased from 19% in 2007 to 91% in 2013. Ultimately, this resulted in an increase of tax revenue of $300 million between 2010 and 2014.
Ranked: The World's 50 Top Countries by GDP, by Sector Breakdown
This graphic shows GDP by country, broken down into three main sectors: services, industry, and agriculture.

Creator Program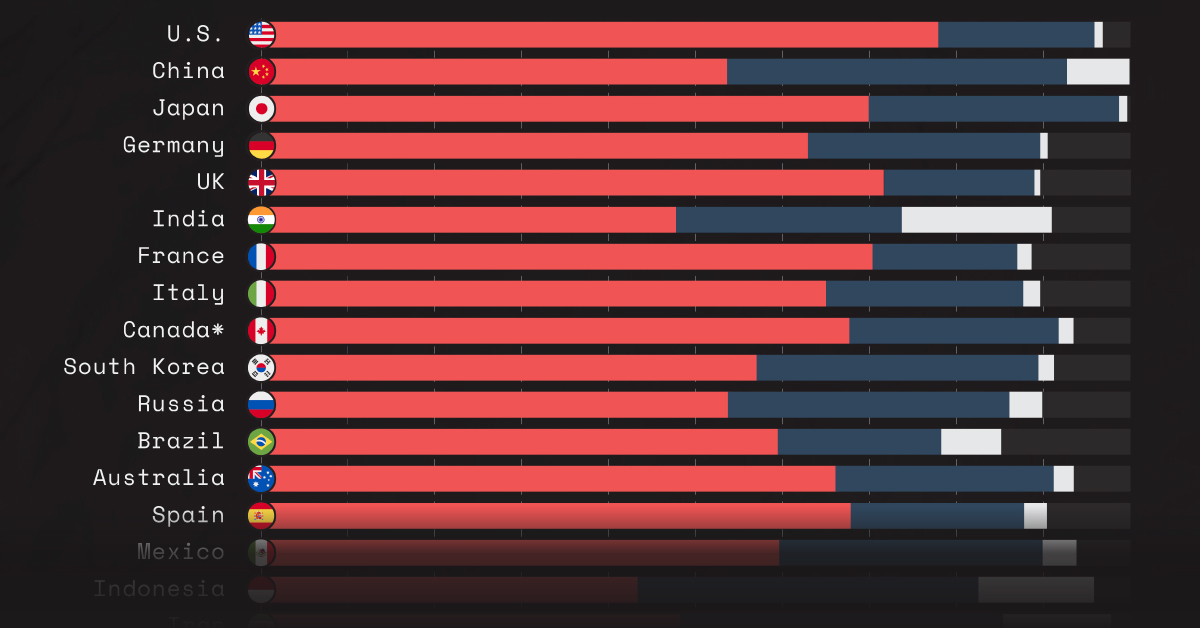 Visualized: The Three Pillars of GDP, by Country
Over the last several decades, the service sector has fueled the economic activity of the world's largest countries. Driving this trend has been changes in consumption, the easing of trade barriers, and rapid advancements in tech.
We can see this in the gross domestic product (GDP) breakdown of each country, which gets divided into three broad sectors: services, industry, and agriculture.
The above graphic from Pranav Gavali shows GDP by country, and how each sector contributes to an economy's output, with data from the World Bank.
Drivers of GDP, by Country
As the most important and fastest growing component of GDP, services make up almost 60% of GDP in the world's 50 largest countries. Following this is the industrial sector which includes the production of raw goods.
Below, we show how each sector contributes to GDP by country as of 2021:
Country
Services
(% GDP)
Industry
(% GDP)
Agriculture
(% GDP)
Other
(% GDP)
GDP (T)
🇺🇸 U.S.
77.6
17.9
1.0
3.6
$22.9
🇨🇳 China
53.5
39.3
7.2
0.0
$16.9
🇯🇵 Japan
69.9
28.8
1.0
0.4
$5.1
🇩🇪 Germany
62.9
26.7
0.9
9.5
$4.2
🇬🇧 UK
71.6
17.3
0.7
10.4
$3.1
🇫🇷 France
70.3
16.7
1.6
11.4
$2.9
🇮🇳 India
47.9
26.1
17.3
8.7
$2.9
🇮🇹 Italy
65.0
22.7
1.9
10.4
$2.1
🇨🇦 Canada*
67.7
24.1
1.7
6.6
$2.0
🇰🇷 South Korea
57.0
32.4
1.8
8.8
$1.8
🇧🇷 Brazil
57.8
20.2
7.5
14.6
$1.6
🇦🇺 Australia
65.7
25.5
2.3
6.5
$1.6
🇷🇺 Russia
54.1
31.8
3.9
10.3
$1.6
🇪🇸 Spain
67.4
20.4
2.6
9.6
$1.4
🇲🇽 Mexico
59.2
30.8
3.9
6.1
$1.3
🇮🇩 Indonesia
42.8
39.8
13.3
4.1
$1.2
🇮🇷 Iran
47.3
38.0
12.4
2.3
$1.1
🇳🇱 Netherlands
69.4
17.9
1.5
11.2
$1.0
🇨🇭 Switzerland
71.9
24.6
0.6
2.8
$0.8
🇹🇷 Turkiye
52.8
31.1
5.5
10.6
$0.8
🇹🇼 Taiwan
60.6
38.0
1.5
0.0
$0.8
🇸🇦 Saudi Arabia
46.5
44.7
2.7
6.1
$0.8
🇵🇱 Poland
56.9
27.9
2.2
13.0
$0.7
🇧🇪 Belgium
68.8
19.6
0.7
10.9
$0.6
🇸🇪 Sweden
65.0
22.5
1.3
11.3
$0.6
🇮🇱 Israel
72.4
17.2
1.3
9.1
$0.5
🇦🇷 Argentina
52.5
23.6
7.1
16.8
$0.5
🇦🇹 Austria
62.4
25.8
1.2
10.5
$0.5
🇳🇬 Nigeria
43.8
31.4
23.4
1.4
$0.5
🇹🇭 Thailand
56.3
35.0
8.7
0.0
$0.5
🇮🇪 Ireland
55.4
37.8
1.0
5.8
$0.5
🇭🇰 Hong Kong
89.7
6.0
0.1
4.3
$0.4
🇩🇰 Denmark
66.7
19.3
0.9
13.1
$0.4
🇸🇬 Singapore
70.3
24.4
0.0
5.3
$0.4
🇿🇦 South Africa
63.0
24.5
2.5
10.0
$0.4
🇵🇭 Philippines
61.0
28.9
10.1
0.0
$0.4
🇪🇬 Egypt
52.5
31.2
11.4
4.9
$0.4
🇧🇩 Bangladesh
51.3
33.3
11.6
3.7
$0.4
🇳🇴 Norway
51.8
36.3
1.7
10.2
$0.4
🇻🇳 Vietnam
41.2
37.5
12.6
8.8
$0.4
🇲🇾 Malaysia
51.6
37.8
9.6
1.1
$0.4
🇦🇪 U.A.E.
51.6
47.5
0.9
0.0
$0.4
🇵🇰 Pakistan
52.1
18.8
22.7
6.4
$0.3
🇵🇹 Portugal
64.7
19.6
2.2
13.5
$0.3
🇫🇮 Finland
60.3
24.1
2.3
13.4
$0.3
🇨🇴 Colombia
58.0
24.9
7.6
9.5
$0.3
🇷🇴 Romania
59.1
26.7
4.5
9.6
$0.3
🇨🇿 Czechia
58.8
30.3
1.8
9.1
$0.3
🇨🇱 Chile
54.4
31.3
3.6
10.6
$0.3
🇳🇿 New
Zealand*
65.6
20.4
5.7
8.4
$0.2
Industrial sector includes construction. Agriculture sector includes forestry and fishing. *Data as of 2019.
In the U.S., services make up nearly 78% of GDP. Apart from Hong Kong, it comprises the highest share of GDP across the world's largest economies. Roughly 80% of American jobs in the private sector are in services, spanning from healthcare and entertainment to finance and logistics.
Like America, a growing share of China's GDP is from services, contributing to almost 54% of total economic output, up from 44% in 2010. This can be attributed to rising incomes and higher productivity in the sector as the economy has grown and matured, among other factors.
In a departure from the top 10 biggest countries globally, agriculture continues to drive a large portion of India's GDP. India is the world's second largest producer of wheat and rice, with agriculture accounting for 44% of the country's employment.
While the services sector has grown in India, it makes up a greater share in other emerging economies such as Brazil (58%), Mexico (59%), and the Philippines (61%).
Growth Dynamics
Services-led growth has risen faster than manufacturing across many developing nations, underpinned by productivity growth.
This structural shift is seen across economies. In many countries in Africa, for instance, jobs have increasingly moved from agriculture to services and trade, where it now accounts for 42% of jobs.
These growth patterns are supported by rising incomes in developing economies, while innovation in tech is lowering barriers to enabling service growth. As the industrial sector makes up a lower share of trade and economic activity, the service sector is projected to make up 77% of global GDP by 2035.