Crude Awakening: The Global Black Market for Oil
A Crude Awakening: The Global Black Market for Oil
The value of the crude oil production alone is worth a staggering $1.7 trillion each year. Add downstream fuels and other services to that, and oil is a money-making machine.
Both companies and governments take advantage of this resource wealth. More of the world's largest companies work in the oil patch than any other industry. At the same, entire government regimes are kept intact thanks to oil revenues.
The only problem when an industry becomes this lucrative?
Eventually, everybody wants a piece of the pie – and they'll do anything to get their share.
The Black Market in Fuel Theft
Today's infographic comes from Eurocontrol Technics Group, and it highlights the global problem of fuel theft.
While pipeline theft in places like Nigeria and Mexico are the most famous images associated with the theft of hydrocarbons, the problem is actually far more broad and systematic in nature.
Fuel theft impacts operations at the upstream, midstream, and downstream levels, and it is so entrenched that even politicians, military personnel, and police are complicit in illegal activities. Sometimes, involvement can be traced all the way up to top government officials.
E&Y estimates this to be a $133 billion issue, but it's also likely that numbers around fuel theft are understated due to deep-rooted corruption and government involvement.
How Fuel Theft Actually Happens
Billions of dollars per year of government and corporate revenues are lost due to the following activities:
Tapping Pipelines: By installing illicit taps, thieves can divert oil or other refined products from pipelines. Mexican drug gangs, for example, can earn $90,000 in just seven minutes from illegal pipeline tapping.
Illegal Bunkering: Oil acquired by thieves is pumped to small barges, which are then sent to sea to deliver the product to tankers. In Nigeria, for example, the Niger Delta's infamous labyrinth of creeks is the perfect place for bunkering to go undetected.
Ship-to-Ship Transfers:
This involves the transfer of illegal fuel to a more reputable ship, which can be passed off as legitimate imports. For example, refined crude from Libya gets transferred from ship-to-ship in the middle of the Mediterranean, to be illegally imported into the EU.
Armed Theft (Piracy):
This involves using the threat of violence to command a truck or ship and steal its cargo. Even though Hollywood has made Somalia famous for its pirates, it is the Gulf of Guinea near Nigeria that ships need to be worried about. In the last few years, there have been hundreds of attacks.
Bribing Corrupt Officials:
In some countries – as long as the right person gets a cut of profits, authorities will turn a blind eye to hydrocarbon theft. In fact, E&Y says an astonishing 57.1% of all fraud in the oil an gas sector relates to corruption schemes.
Smuggling and Laundering:
Smuggling oil products into another jurisdiction can help to enable a profitable and less traceable sale. ISIS is famous for this – they can't sell oil to international markets directly, so they smuggle oil to Turkey, where it sells it at a discount.
Adulteration:
Adulteration is a sneaky process in which unwanted additives are put in oil or refined products, but sold at full price. In Tanzania, for example, adding cheap kerosene and lubricants to gasoline or diesel is an easy way to increase profit margins, while remaining undetected.
The Implications of Fuel Theft
The impact of fuel theft on people and the economy is significant and wide-ranging:
Loss of corporate profits: Companies in oil and gas can lose billions of dollars from fuel theft. Case in point: Mexico's national oil company (Pemex) is estimated to lose $1.3 billion per year as a result of illegal pipeline tapping by gangs.
Loss of government revenues: Governments receive royalties from oil production, as well as tax money from finished products like gasoline. In Ireland, the government claims it loses €150 to €250 million in revenues per year from fuel adulteration. Meanwhile, one World Bank official pegged the Nigerian government's total losses from oil revenues stolen (or misspent) at $400 billion since 1960.
Funds terrorism: ISIS and other terrorist groups have used hydrocarbon theft and sales as a means to sustain operations. At one point, ISIS was making $50 million per month from selling oil.
Funds cartels and organized crime: The Zetas cartel in Mexico controls nearly 40% of the fuel theft market, raking in millions each year.
Environmental damage: Not only does fuel theft cost corporations and governments severely, but there is also an environmental impact to be considered. Fuel spills, blown pipelines, and engine damage (from adulterated fuel) are all huge issues.
Leads to higher gas prices: Unfortunately, all of the above losses eventually translate into higher prices for end-customers.
How to Stop Fuel Theft?
There are two methods that authorities have been using to slow down and eventually eliminate fuel theft.
Fuel dyes are used to color petroleum products a specific tint, so as to allow for easy identification and prevent fraud. However, some dyes can be replicated by criminals – such as those in Ireland who "launder" the fuel.
Molecular markers, which are used in tiny concentrations of just a few parts per million, are invisible and can also be used to identify fuels.
In Tanzania, the initiation of a fuel marking program using molecular markers led to significant increases of imported petrol and diesel for the local market, and a decrease of kerosene.
At the retail level, product meeting quality standards increased from 19% in 2007 to 91% in 2013. Ultimately, this resulted in an increase of tax revenue of $300 million between 2010 and 2014.
The Top 10 EV Battery Manufacturers in 2022
Despite efforts from the U.S. and Europe to increase the domestic production of batteries, the market is still dominated by Asian suppliers.
The Top 10 EV Battery Manufacturers in 2022
This was originally posted on Elements. Sign up to the free mailing list to get beautiful visualizations on natural resource megatrends in your email every week.
The global electric vehicle (EV) battery market is expected to grow from $17 billion to more than $95 billion between 2019 and 2028.
With increasing demand to decarbonize the transportation sector, companies producing the batteries that power EVs have seen substantial momentum.
Here we update our previous graphic of the top 10 EV battery manufacturers, bringing you the world's biggest battery manufacturers in 2022.
Chinese Dominance
Despite efforts from the United States and Europe to increase the domestic production of batteries, the market is still dominated by Asian suppliers.
The top 10 producers are all Asian companies.
Currently, Chinese companies make up 56% of the EV battery market, followed by Korean companies (26%) and Japanese manufacturers (10%).
The leading battery supplier, CATL, expanded its market share from 32% in 2021 to 34% in 2022. One-third of the world's EV batteries come from the Chinese company. CATL provides lithium-ion batteries to Tesla, Peugeot, Hyundai, Honda, BMW, Toyota, Volkswagen, and Volvo.
| Rank | Company | 2022 Market Share | Country |
| --- | --- | --- | --- |
| #1 | CATL | 34% | China 🇨🇳 |
| #2 | LG Energy Solution | 14% | Korea 🇰🇷 |
| #3 | BYD | 12% | China 🇨🇳 |
| #4 | Panasonic | 10% | Japan 🇯🇵 |
| #5 | SK Innovation | 7% | Korea 🇰🇷 |
| #6 | Samsung SDI | 5% | Korea 🇰🇷 |
| #7 | CALB | 4% | China 🇨🇳 |
| #8 | Guoxuan | 3% | China 🇨🇳 |
| #9 | Sunwoda | 2% | China 🇨🇳 |
| #10 | SVOLT | 1% | China 🇨🇳 |
| | Other | 8% | ROW 🌐 |
Despite facing strict scrutiny after EV battery-fire recalls in the United States, LG Energy Solution remains the second-biggest battery manufacturer. In 2021, the South Korean supplier agreed to reimburse General Motors $1.9 billion to cover the 143,000 Chevy Bolt EVs recalled due to fire risks from faulty batteries.
BYD took the third spot from Panasonic as it nearly doubled its market share over the last year. The Warren Buffett-backed company is the world's third-largest automaker by market cap, but it also produces batteries sold in markets around the world. Recent sales figures point to BYD overtaking LG Energy Solution in market share the coming months or years.
The Age of Battery Power
Electric vehicles are here to stay, while internal combustion engine (ICE) vehicles are set to fade away in the coming decades. Recently, General Motors announced that it aims to stop selling ICE vehicles by 2035, while Audi plans to stop producing such models by 2033.
Besides EVs, battery technology is essential for the energy transition, providing storage capacity for intermittent solar and wind generation.
As battery makers work to supply the EV transition's increasing demand and improve energy density in their products, we can expect more interesting developments within this industry.
Visualizing the Range of Electric Cars vs. Gas-Powered Cars
With range anxiety being a barrier to EV adoption, how far can an electric car go on one charge, and how do EV ranges compare with gas cars?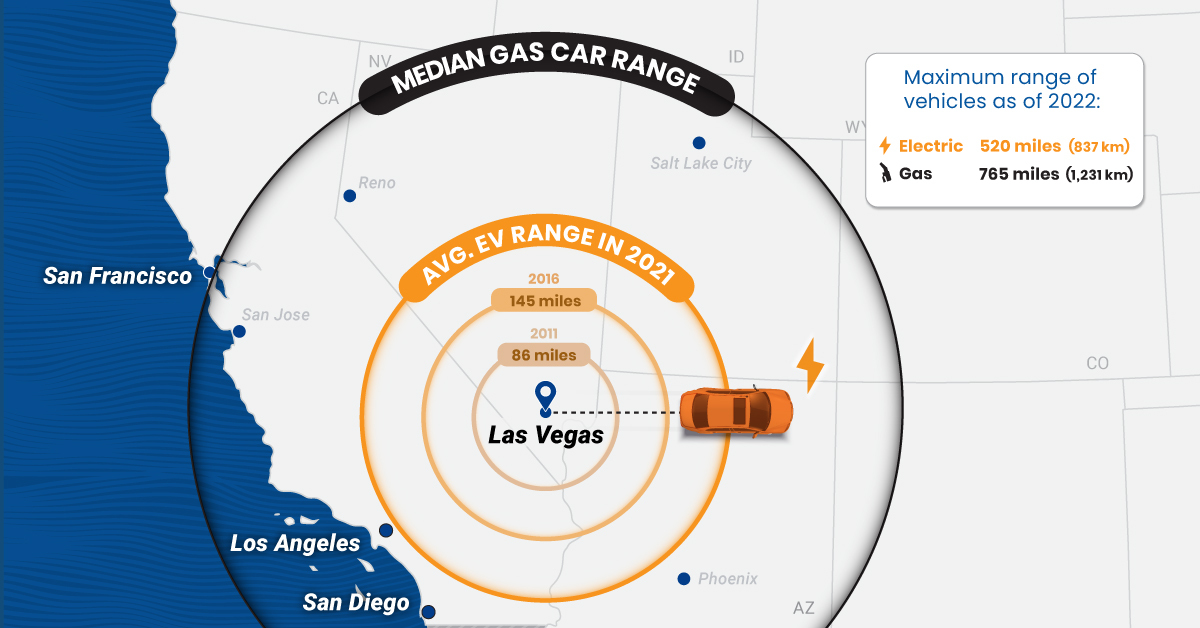 The Range of Electric Cars vs. Gas-Powered Cars
This was originally posted on Elements. Sign up to the free mailing list to get beautiful visualizations on natural resource megatrends in your email every week.
EV adoption has grown rapidly in recent years, but many prospective buyers still have doubts about electric car ranges.
In fact, 33% of new car buyers chose range anxiety—the concern about how far an EV can drive on a full charge—as their top inhibitor to purchasing electric cars in a survey conducted by EY.
So, how far can the average electric car go on one charge, and how does that compare with the typical range of gas-powered cars?
The Rise in EV Ranges
Thanks to improvements in battery technology, the average range of electric cars has more than doubled over the last decade, according to data from the International Energy Agency (IEA).
| Year | Avg. EV Range | Maximum EV Range |
| --- | --- | --- |
| 2010 | 79 miles (127 km) | N/A |
| 2011 | 86 miles (138 km) | 94 miles (151 km) |
| 2012 | 99 miles (159 km) | 265 miles (426 km) |
| 2013 | 117 miles (188 km) | 265 miles (426 km) |
| 2014 | 130 miles (209 km) | 265 miles (426 km) |
| 2015 | 131 miles (211 km) | 270 miles (435 km) |
| 2016 | 145 miles (233 km) | 315 miles (507 km) |
| 2017 | 151 miles (243 km) | 335 miles (539 km) |
| 2018 | 189 miles (304 km) | 335 miles (539 km) |
| 2019 | 209 miles (336 km) | 370 miles (595 km) |
| 2020 | 210 miles (338 km) | 402 miles (647 km) |
| 2021 | 217 miles (349 km) | 520 miles* (837 km) |
*Max range for EVs offered in the United States.
Source: IEA, U.S. DOE
As of 2021, the average battery-powered EV could travel 217 miles (349 km) on a single charge. It represents a 44% increase from 151 miles (243 km) in 2017 and a 152% increase relative to a decade ago.
Despite the steady growth, EVs still fall short when compared to gas-powered cars. For example, in 2021, the median gas car range (on one full tank) in the U.S. was around 413 miles (664 km)—nearly double what the average EV would cover.
As automakers roll out new models, electric car ranges are likely to continue increasing and could soon match those of their gas-powered counterparts. It's important to note that EV ranges can change depending on external conditions.
What Affects EV Ranges?
In theory, EV ranges depend on battery capacity and motor efficiency, but real-world results can vary based on several factors:
Weather: At temperatures below 20℉ (-6.7℃), EVs can lose around 12% of their range, rising to 41% if heating is turned on inside the vehicle.
Operating Conditions: Thanks to regenerative braking, EVs may extend their maximum range during city driving.
Speed: When driving at high speeds, EV motors spin faster at a less efficient rate. This may result in range loss.
On the contrary, when driven at optimal temperatures of about 70℉ (21.5℃), EVs can exceed their rated range, according to an analysis by Geotab.
The 10 Longest-Range Electric Cars in America
Here are the 10 longest-range electric cars available in the U.S. as of 2022, based on Environmental Protection Agency (EPA) range estimates:
| Car | Range On One Full Charge | Estimated Base Price |
| --- | --- | --- |
| Lucid Air | 520 miles (837 km) | $170,500 |
| Tesla Model S | 405 miles (652 km) | $106,190 |
| Tesla Model 3 | 358 miles (576 km) | $59,440 |
| Mercedes EQS | 350 miles (563 km) | $103,360 |
| Tesla Model X | 348 miles (560 km) | $122,440 |
| Tesla Model Y | 330 miles (531 km) | $67,440 |
| Hummer EV | 329 miles (529 km) | $110,295 |
| BMW iX | 324 miles (521 km) | $84,195 |
| Ford F-150 Lightning | 320 miles (515 km) | $74,169 |
| Rivian R1S | 316 miles (509 km) | $70,000 |
Source: Car and Driver
The top-spec Lucid Air offers the highest range of any EV with a price tag of $170,500, followed by the Tesla Model S. But the Tesla Model 3 offers the most bang for your buck if range and price are the only two factors in consideration.