Crude Awakening: The Global Black Market for Oil
A Crude Awakening: The Global Black Market for Oil
The value of the crude oil production alone is worth a staggering $1.7 trillion each year. Add downstream fuels and other services to that, and oil is a money-making machine.
Both companies and governments take advantage of this resource wealth. More of the world's largest companies work in the oil patch than any other industry. At the same, entire government regimes are kept intact thanks to oil revenues.
The only problem when an industry becomes this lucrative?
Eventually, everybody wants a piece of the pie – and they'll do anything to get their share.
The Black Market in Fuel Theft
Today's infographic comes from Eurocontrol Technics Group, and it highlights the global problem of fuel theft.
While pipeline theft in places like Nigeria and Mexico are the most famous images associated with the theft of hydrocarbons, the problem is actually far more broad and systematic in nature.
Fuel theft impacts operations at the upstream, midstream, and downstream levels, and it is so entrenched that even politicians, military personnel, and police are complicit in illegal activities. Sometimes, involvement can be traced all the way up to top government officials.
E&Y estimates this to be a $133 billion issue, but it's also likely that numbers around fuel theft are understated due to deep-rooted corruption and government involvement.
How Fuel Theft Actually Happens
Billions of dollars per year of government and corporate revenues are lost due to the following activities:
Tapping Pipelines: By installing illicit taps, thieves can divert oil or other refined products from pipelines. Mexican drug gangs, for example, can earn $90,000 in just seven minutes from illegal pipeline tapping.
Illegal Bunkering: Oil acquired by thieves is pumped to small barges, which are then sent to sea to deliver the product to tankers. In Nigeria, for example, the Niger Delta's infamous labyrinth of creeks is the perfect place for bunkering to go undetected.
Ship-to-Ship Transfers:
This involves the transfer of illegal fuel to a more reputable ship, which can be passed off as legitimate imports. For example, refined crude from Libya gets transferred from ship-to-ship in the middle of the Mediterranean, to be illegally imported into the EU.
Armed Theft (Piracy):
This involves using the threat of violence to command a truck or ship and steal its cargo. Even though Hollywood has made Somalia famous for its pirates, it is the Gulf of Guinea near Nigeria that ships need to be worried about. In the last few years, there have been hundreds of attacks.
Bribing Corrupt Officials:
In some countries – as long as the right person gets a cut of profits, authorities will turn a blind eye to hydrocarbon theft. In fact, E&Y says an astonishing 57.1% of all fraud in the oil an gas sector relates to corruption schemes.
Smuggling and Laundering:
Smuggling oil products into another jurisdiction can help to enable a profitable and less traceable sale. ISIS is famous for this – they can't sell oil to international markets directly, so they smuggle oil to Turkey, where it sells it at a discount.
Adulteration:
Adulteration is a sneaky process in which unwanted additives are put in oil or refined products, but sold at full price. In Tanzania, for example, adding cheap kerosene and lubricants to gasoline or diesel is an easy way to increase profit margins, while remaining undetected.
The Implications of Fuel Theft
The impact of fuel theft on people and the economy is significant and wide-ranging:
Loss of corporate profits: Companies in oil and gas can lose billions of dollars from fuel theft. Case in point: Mexico's national oil company (Pemex) is estimated to lose $1.3 billion per year as a result of illegal pipeline tapping by gangs.
Loss of government revenues: Governments receive royalties from oil production, as well as tax money from finished products like gasoline. In Ireland, the government claims it loses €150 to €250 million in revenues per year from fuel adulteration. Meanwhile, one World Bank official pegged the Nigerian government's total losses from oil revenues stolen (or misspent) at $400 billion since 1960.
Funds terrorism: ISIS and other terrorist groups have used hydrocarbon theft and sales as a means to sustain operations. At one point, ISIS was making $50 million per month from selling oil.
Funds cartels and organized crime: The Zetas cartel in Mexico controls nearly 40% of the fuel theft market, raking in millions each year.
Environmental damage: Not only does fuel theft cost corporations and governments severely, but there is also an environmental impact to be considered. Fuel spills, blown pipelines, and engine damage (from adulterated fuel) are all huge issues.
Leads to higher gas prices: Unfortunately, all of the above losses eventually translate into higher prices for end-customers.
How to Stop Fuel Theft?
There are two methods that authorities have been using to slow down and eventually eliminate fuel theft.
Fuel dyes are used to color petroleum products a specific tint, so as to allow for easy identification and prevent fraud. However, some dyes can be replicated by criminals – such as those in Ireland who "launder" the fuel.
Molecular markers, which are used in tiny concentrations of just a few parts per million, are invisible and can also be used to identify fuels.
In Tanzania, the initiation of a fuel marking program using molecular markers led to significant increases of imported petrol and diesel for the local market, and a decrease of kerosene.
At the retail level, product meeting quality standards increased from 19% in 2007 to 91% in 2013. Ultimately, this resulted in an increase of tax revenue of $300 million between 2010 and 2014.
Ranked: Nuclear Power Production, by Country
Nuclear power accounted for 10% of global electricity generated in 2020. Here's a look at the largest nuclear power producers.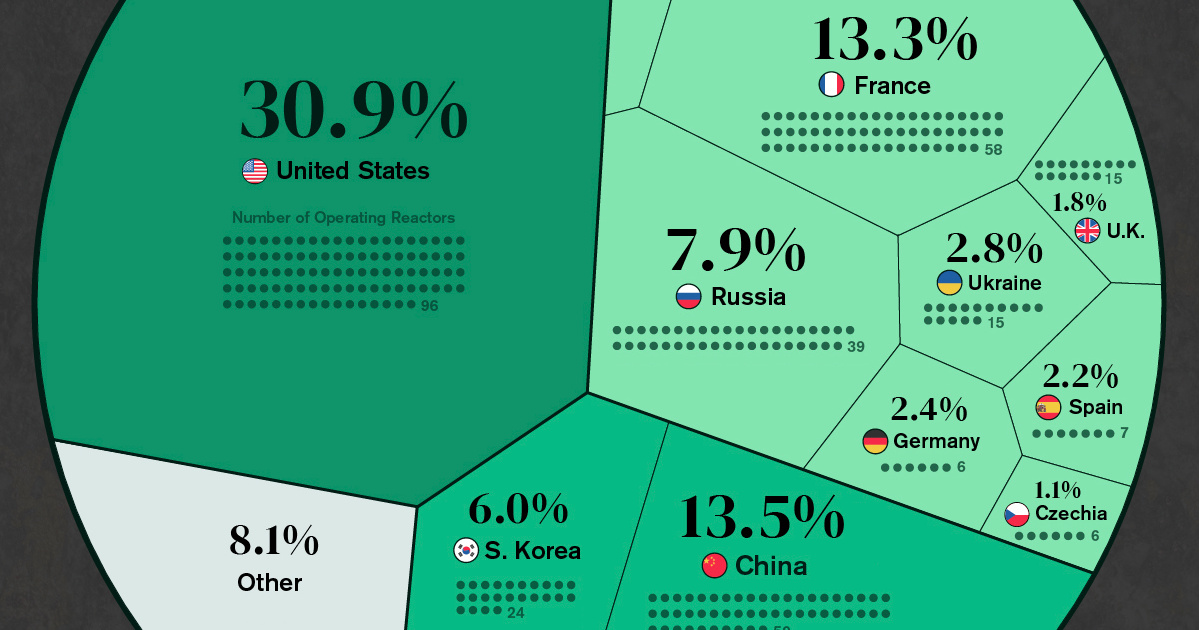 Nuclear Power Production by Country
This was originally posted on Elements. Sign up to the free mailing list to get beautiful visualizations on natural resource megatrends in your email every week.
Nearly 450 reactors around the world supply various nations with nuclear power, combining for about 10% of the world's electricity, or about 4% of the global energy mix.
But while some countries are turning to nuclear as a clean energy source, nuclear energy generation overall has seen a slowdown since its peak in the 1990s.
The above infographic breaks down nuclear electricity generation by country in 2020 using data from the Power Reactor Information System (PRIS).
Ranked: The Top 15 Countries for Nuclear Power
Just 15 countries account for more than 91% of global nuclear power production. Here's how much energy these countries produced in 2020:
Rank
Country
Number of Operating Reactors
Nuclear Electricity Supplied
[GWh]
% share
#1
U.S. 🇺🇸
96
789,919
30.9%
#2
China 🇨🇳
50
344,748
13.5%
#3
France 🇫🇷
58
338,671
13.3%
#4
Russia 🇷🇺
39
201,821
7.9%
#5
South Korea 🇰🇷
24
152,583
6.0%
#6
Canada 🇨🇦
19
92,166
3.6%
#7
Ukraine 🇺🇦
15
71,550
2.8%
#8
Germany 🇩🇪
6
60,918
2.4%
#9
Spain 🇪🇸
7
55,825
2.2%
#10
Sweden 🇸🇪
7
47,362
1.9%
#11
U.K. 🇬🇧
15
45,668
1.8%
#12
Japan 🇯🇵
33
43,099
1.7%
#13
India 🇮🇳
22
40,374
1.6%
#14
Belgium 🇧🇪
7
32,793
1.3%
#15
Czechia 🇨🇿
6
28,372
1.1%
Rest of the World 🌎
44
207,340
8.1%
Total
448
2,553,208
100.0%
In the U.S., nuclear power produces over 50% of the country's clean electricity. Additionally, 88 of the country's 96 operating reactors in 2020 received approvals for a 20-year life extension.
China, the world's second-largest nuclear power producer, is investing further in nuclear energy in a bid to achieve its climate goals. The plan, which includes building 150 new reactors by 2035, could cost as much as $440 billion.
On the other hand, European opinions on nuclear energy are mixed. Germany is the eighth-largest on the list but plans to shutter its last operating reactor in 2022 as part of its nuclear phase-out. France, meanwhile, plans to expand its nuclear capacity.
Which Countries Rely Most on Nuclear Energy?
Although total electricity generation is useful for a high-level global comparison, it's important to remember that there are some smaller countries not featured above where nuclear is still an important part of the electricity mix.
Here's a breakdown based on the share of nuclear energy in a country's electricity mix:
| Rank | Country | Nuclear Share of Electricity Mix |
| --- | --- | --- |
| #1 | France 🇫🇷 | 70.6% |
| #2 | Slovakia 🇸🇰 | 53.1% |
| #3 | Ukraine 🇺🇦 | 51.2% |
| #4 | Hungary 🇭🇺 | 48.0% |
| #5 | Bulgaria 🇧🇬 | 40.8% |
| #6 | Belgium 🇧🇪 | 39.1% |
| #7 | Slovenia 🇸🇮 | 37.8% |
| #8 | Czechia 🇨🇿 | 37.3% |
| #9 | Armenia 🇦🇲 | 34.5% |
| #10 | Finland 🇫🇮 | 33.9% |
| #11 | Switzerland 🇨🇭 | 32.9% |
| #12 | Sweden 🇸🇪 | 29.8% |
| #13 | South Korea 🇰🇷 | 29.6% |
| #14 | Spain 🇪🇸 | 22.2% |
| #15 | Russia 🇷🇺 | 20.6% |
| #16 | Romania 🇷🇴 | 19.9% |
| #17 | United States 🇺🇸 | 19.7% |
| #18 | Canada 🇨🇦 | 14.6% |
| #19 | United Kingdom 🇬🇧 | 14.5% |
| #20 | Germany 🇩🇪 | 11.3% |
European countries dominate the leaderboard with 14 of the top 15 spots, including France, where nuclear power is the country's largest source of electricity.
It's interesting to note that only a few of these countries are top producers of nuclear in absolute terms. For example, in Slovakia, nuclear makes up 53.6% of the electricity mix—however, the country's four reactors make up less than 1% of total global operating capacity.
On the flipside, the U.S. ranks 17th by share of nuclear power in its mix, despite producing 31% of global nuclear electricity in 2020. This discrepancy is largely due to size and population. European countries are much smaller and produce less electricity overall than larger countries like the U.S. and China.
The Future of Nuclear Power
The nuclear power landscape is constantly changing.
There were over 50 additional nuclear reactors under construction in 2020, and hundreds more are planned primarily in Asia.
As countries turn away from fossil fuels and embrace carbon-free energy sources, nuclear energy might see a resurgence in the global energy mix despite the phase-outs planned in several countries around the globe.
The Periodic Table of Commodity Returns (2012-2021)
Energy fuels led the way as commodity prices surged in 2021, with only precious metals providing negative returns.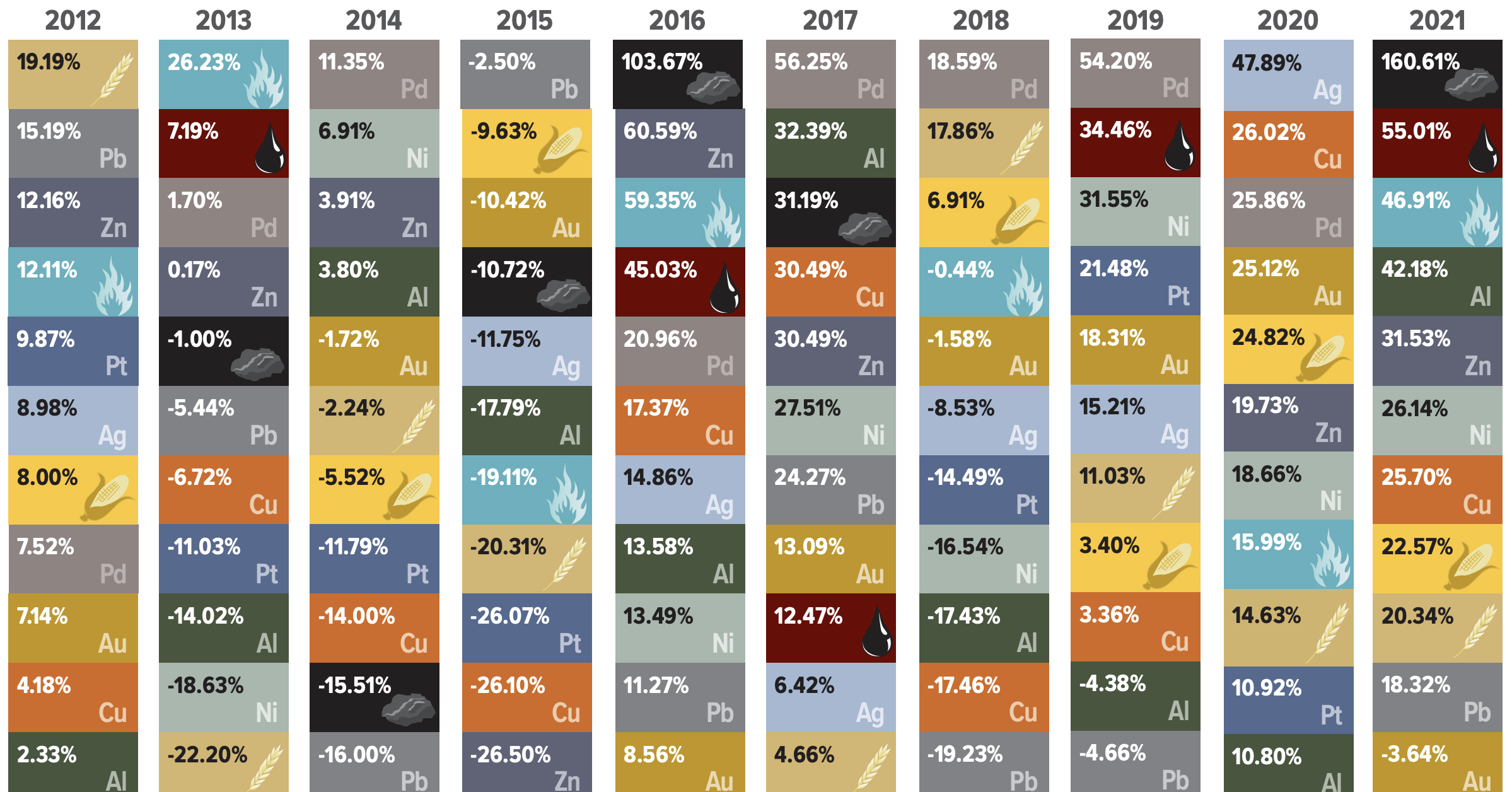 The Periodic Table of Commodity Returns (2022 Edition)
For investors, 2021 was a year in which nearly every asset class finished in the green, with commodities providing some of the best returns.
The S&P Goldman Sachs Commodity Index (GSCI) was the third best-performing asset class in 2021, returning 37.1% and beating out real estate and all major equity indices.
This graphic from U.S. Global Investors tracks individual commodity returns over the past decade, ranking them based on their individual performance each year.
Commodity Prices Surge in 2021
After a strong performance from commodities (metals especially) in the year prior, 2021 was all about energy commodities.
The top three performers for 2021 were energy fuels, with coal providing the single best annual return of any commodity over the past 10 years at 160.6%. According to U.S. Global Investors, coal was also the least volatile commodity of 2021, meaning investors had a smooth ride as the fossil fuel surged in price.
| Commodity | 2021 Returns |
| --- | --- |
| Coal | 160.61% |
| Crude Oil | 55.01% |
| Gas | 46.91% |
| Aluminum | 42.18% |
| Zinc | 31.53% |
| Nickel | 26.14% |
| Copper | 25.70% |
| Corn | 22.57% |
| Wheat | 20.34% |
| Lead | 18.32% |
| Gold | -3.64% |
| Platinum | -9.64% |
| Silver | -11.72% |
| Palladium | -22.21% |
Source: U.S. Global Investors
The only commodities in the red this year were precious metals, which failed to stay positive despite rising inflation across goods and asset prices. Gold and silver had returns of -3.6% and -11.7% respectively, with platinum returning -9.6% and palladium, the worst performing commodity of 2021, at -22.2%.
Aside from the precious metals, every other commodity managed double-digit positive returns, with four commodities (crude oil, coal, aluminum, and wheat) having their best single-year performances of the past decade.
Energy Commodities Outperform as the World Reopens
The partial resumption of travel and the reopening of businesses in 2021 were both powerful catalysts that fueled the price rise of energy commodities.
After crude oil's dip into negative prices in April 2020, black gold had a strong comeback in 2021 as it returned 55.01% while being the most volatile commodity of the year.
Natural gas prices also rose significantly (46.91%), with the UK and Europe's natural gas prices rising even more as supply constraints came up against the winter demand surge.
Despite being the second worst performer of 2020 with the clean energy transition on the horizon, coal was 2021's best commodity.
High electricity demand saw coal return in style, especially in China which accounts for one-third of global coal consumption.
Base Metals Beat out Precious Metals
2021 was a tale of two metals, as precious metals and base metals had opposing returns.
Copper, nickel, zinc, aluminum, and lead, all essential for the clean energy transition, kept up last year's positive returns as the EV batteries and renewable energy technologies caught investors' attention.
Demand for these energy metals looks set to continue in 2022, with Tesla having already signed a $1.5 billion deal for 75,000 tonnes of nickel with Talon Metals.
On the other end of the spectrum, precious metals simply sunk like a rock last year.
Investors turned to equities, real estate, and even cryptocurrencies to preserve and grow their investments, rather than the traditionally favorable gold (-3.64%) and silver (-11.72%). Platinum and palladium also lagged behind other commodities, only returning -9.64% and -22.21% respectively.
Grains Bring Steady Gains
In a year of over and underperformers, grains kept up their steady track record and notched their fifth year in a row of positive returns.
Both corn and wheat provided double-digit returns, with corn reaching eight-year highs and wheat reaching prices not seen in over nine years. Overall, these two grains followed 2021's trend of increasing food prices, as the UN Food and Agriculture Organization's food price index reached a 10-year high, rising by 17.8% over the course of the year.
As inflation across commodities, assets, and consumer goods surged in 2021, investors will now be keeping a sharp eye for a pullback in 2022. We'll have to wait and see whether or not the Fed's plans to increase rates and taper asset purchases will manage to provide price stability in commodities.