Is it Possible to Bring Back Extinct Animal Species?
Is it Possible to Bring Back Extinct Animal Species?
View a higher resolution version of this infographic.
Humanity has been tinkering with natural life for thousands of years.
We've become remarkably good at it, too—to date, we've modified bacteria to produce drugs, created crops with built-in pesticides, and even made a glow-in-the-dark dog.
However, despite our many achievements in the realm of genetic engineering, one thing we're still working on is bringing extinct animals back to life.
But scientists are working on it. In fact, there's a whole field of biology that's focused on reviving extinct species.
This graphic provides a brief introduction to the fascinating field of science known as resurrection biology—or de-extinction.
The Benefits of De-Extinction
First thing's first—what is the point of bringing back extinct animals?
There are a number of research benefits that come with de-extinction. For instance, some scientists believe studying previously extinct animals and looking at how they function could help fill some gaps in our current theories around evolution.
De-extinction could also have a beneficial impact on the environment. That's because when an animal goes extinct, its absence has a ripple effect on all the flora and fauna involved in that animal's food web.
Because of this, reintroducing previously extinct species back into their old ecosystems could help rebalance and restore off-kilter environments.
There's even a possibility that de-extinction could slow down global warming. Scientist Sergey Zimov believes that, if we were to reintroduce an animal that's similar to the woolly mammoth back to the tundra, it could help repopulate the area, regrow ancient plains, and possibly slow the melting of the ice caps.
How Does it Work?
The key element that's needed to re-create a species is its DNA.
Unfortunately, DNA slowly degrades, and once it's gone completely, there's no way to recover it. Researchers believe DNA has a half-life of 521 years, so after 6.8 million years, it's believed to be completely gone.
That's why species like dinosaurs have virtually no chance of de-extinction. However, many organisms that went extinct more recently, like the dodo, could have a chance of conservation.
When it comes to de-extinction, there are three main techniques:
① Cloning
This is the only way to create an exact DNA replica of something.
However, a complete genome is needed for this, so this form of genetic rescue is most effective with recently-lost species, or species that are nearing extinction.
② Genome Editing
Genome editing is the manipulation of DNA to mimic extinct DNA.
There are several ways to do this, but in general, the process involves researchers manipulating the genomes of living species to make a new species that closely resembles an extinct one.
Because it's not an exact copy of the extinct species' DNA, this method will create a hybrid species that only resembles the extinct animal.
③ Back-Breeding
A form of breeding where a distinguishing trait from an extinct species (a horn or a color pattern) is bred back into living populations.
This requires the trait to still exist in some frequency in similar species, and the trait is selectively bred back into popularity.
Like genome editing, this method does not resurrect an extinct species, but resurrects the DNA and genetic diversity that gave the extinct species a distinguishing trait.
Is Bringing Back Extinct Animal Species Really Worth it?
While there's a ton of buzz and potential around the idea of bringing back extinct animal species, there are a few critics that believe our efforts would be better spent on other things.
Research on the economics of de-extinction found that the money would go farther if it was invested into conservation programs for living species—approximately two to eight times more species could be saved if invested in existing conversation programs.
In an article in Science, Joseph Bennett, a biologist at Carleton University in Ottawa, said "if [a] billionaire is only interested in bringing back a species from the dead, power to him or her."
Bennett added, "however, if that billionaire is couching it in terms of it being a biodiversity conservation, then that's disingenuous. There are plenty of species out there on the verge of extinction now that could be saved with the same resources."
Ranked: The Best Selling Video Games in History
This chart shows the top ten best selling video games, ranked by software units sold. Six of them have been released in the last 12 years.

Creator Program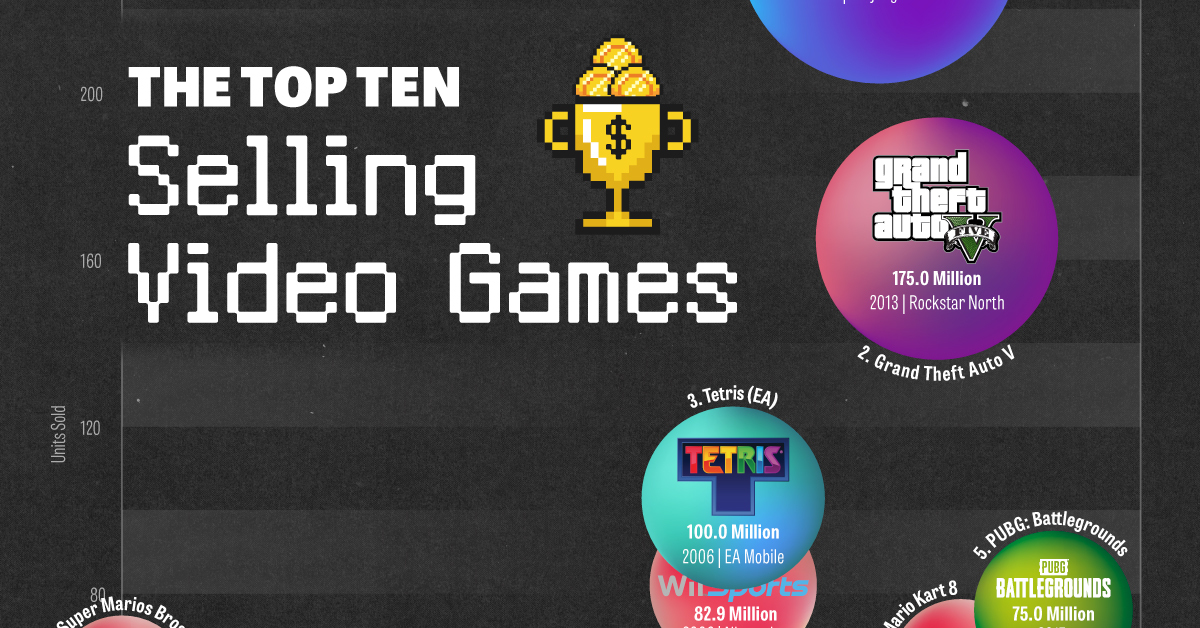 Ranked: The Best Selling Video Games in History
It's a good time to be a video game fan. Not only is the gaming industry booming and projected to grow to $320 billion by 2026, but every year is bringing new evolutions in the medium.
2022 saw massive launches in both games (Elden Ring and God of War Ragnarök) and media based on games (the films Uncharted and Sonic the Hedgehog 2). 2023 has already seen the release of major flagship TV series based on a game, HBO's The Last of Us, and the much-anticipated The Super Mario Bros. Movie is slated to release in April.
But which game is the best, or most successful? That debate may never end, but from company reports and sales data aggregated by Wikipedia, Samuel Parker's chart of the most-sold video games as of March 3, 2023 can at least tell us which ones have been the most popular.
Top Ten Video Games Sold in History
The best selling video game didn't need multimillion dollar budgets, sixty-hour narratives, or celebrity voice actors and ad spots. The independently-developed (indie) Minecraft, with its pixelated blocks, takes the top spot on this list.
| Rank | Game | Sales (units) | Year Released | Developer |
| --- | --- | --- | --- | --- |
| 1 | Minecraft | 238.0M | 2011 | Mojang Studios |
| 2 | GTA 5 | 175.0M | 2013 | Rockstar |
| 3 | Tetris (EA) | 100.0M | 2006 | EA Mobile |
| 4 | Wii Sport | 82.9M | 2006 | Nintendo |
| 5 | PUBG: Battlegrounds | 75.0M | 2017 | PUBG Corp |
| 6 | Mario Kart 8 | 60.5M | 2014 | Nintendo |
| 7 | Super Mario Bros. | 58.0M | 1985 | Nintendo |
| 8 | Read Dead Redemption 2 | 50.0M | 2018 | Rockstar |
| 9 | Pokémon Red/Green/Blue/Yellow | 47.5M | 1996 | GameFreak |
| 10 | Terraria | 44.5M | 2011 | Re-Logic |
Minecraft sold more units than the combined forces of Grand Theft Auto 5 (#2) and Red Dead Redemption 2 (#8), both made by industry giant Rockstar. Its immense popularity has been credited to its simple gameplay (no goals), creative structure (build anything), and engaged community with player-run servers and additional feature creations (known as mods).
Another simple favorite, Tetris, comes in at third place with 100 million units sold of its 2006 re-release. Millennials continue to make up a large chunk of the video game playing demographic which might explain Tetris' sales.
But newer games are making up the majority of sales records. PUBG: Battlegrounds, a battle-royale shooter game which helped popularize the genre (and eventually its competitor Fortnite) asserts its popularity at #5. That puts it well ahead of the better-known shooter Call of Duty, even despite PUBG being banned in a number of countries for the alleged impact on the mental health of gamers.
The oldest game to make the list is Super Mario Bros. (#7), apt considering it is credited with reviving the video game industry after it crashed in 1983. The original staple side-scroller has sold 58 million copies worldwide.
Developer Dominance
Though the top selling games span various series of games, a few developers managed to repeatedly find success.
| Developer | Top 20 Best-Selling Games |
| --- | --- |
| Nintendo | 11 |
| Rockstar | 2 |
| Others | 7 |
Japanese video game titan Nintendo developed three games (Super Mario Bros., Mario Kart, Wii Sport/Fitness) in the top 10 and another eight in the top 20. That's not including its co-ownership of Pokémon, the world's highest-grossing media franchise.
American publisher Rockstar Games also managed to score multiple hits, though its longer development cycle necessary to create cinematic games gives it fewer potential candidates. That might change with the much-anticipated GTA 6 reportedly in production.
Best Selling Genres
The most popular genres in the top 10 give players the freedom to impose their will upon the world and pursue objectives at their leisure:
| Genre | Games |
| --- | --- |
| Sandbox/Open World | 4 |
| Simulation | 2 |
| Others | 4 |
Two games (Minecraft, Terraria) are classic sandbox games, where worlds are procedurally generated and there are no gameplay goals. Another two (GTA 5, Red Dead Redemption 2) are in the adjacent open-world genre, with a combination of sandbox elements and a narrative structure.
However, with new games launching and selling millions of units every year, new entrants to the top 10 list of best selling video games of all-time seems likely. How will these developers, genres, and games fare over time?