How Genetically Similar Are We To Other Life Forms?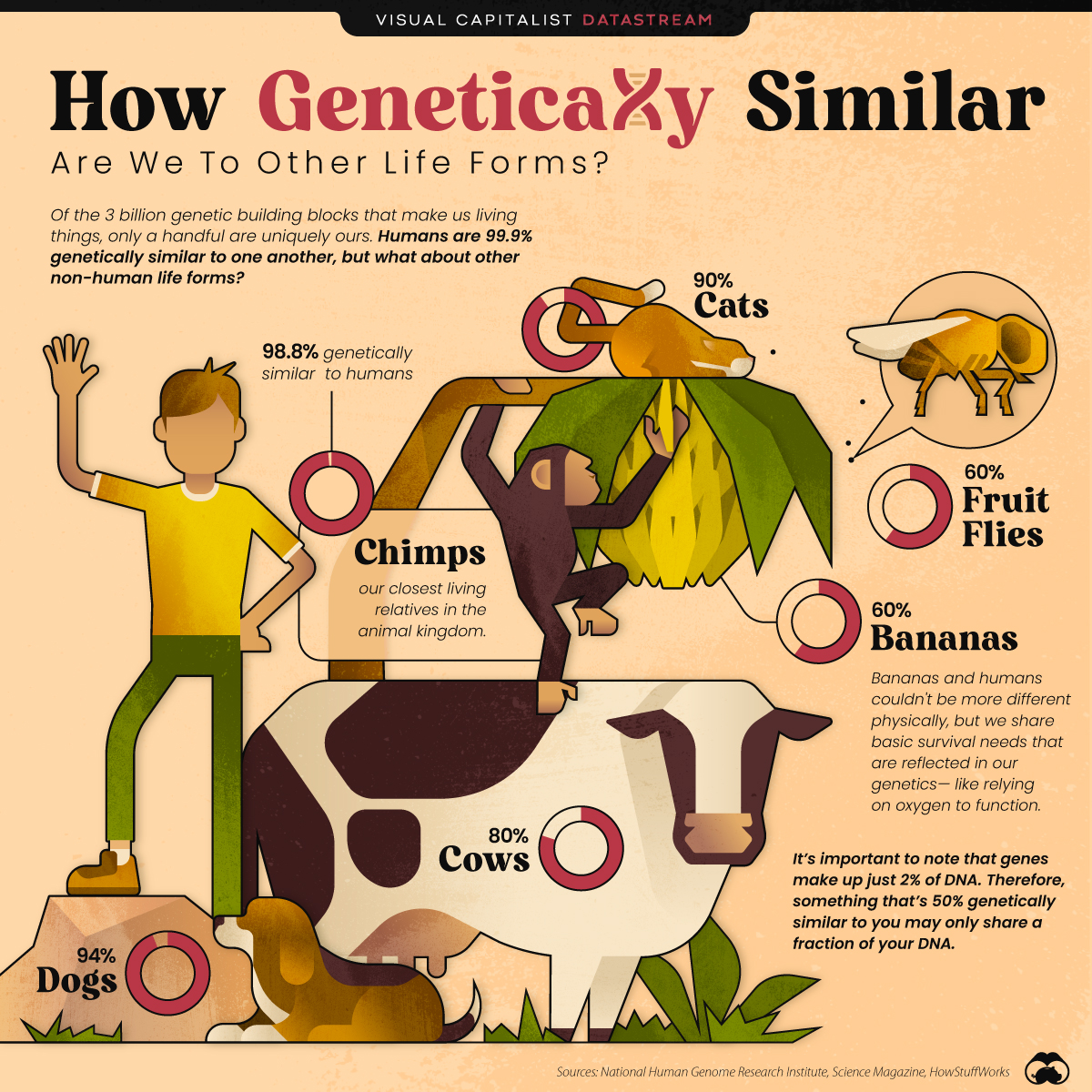 The Briefing
Chimps are 98.8% genetically similar, making them one of our closest relatives in the animal kingdom
The genetic similarity between humans and fruit flies is 60%
Comparing Human Genetic Similarity to Other Life Forms
Of the three billion genetic building blocks that make us living things, only a handful are uniquely ours. In fact, despite our differences on the outside, humans are 99.9% genetically similar to one another.
But how alike are we to other, non-human life forms? Turns out, we're a lot more similar than you might think.
Comparative Genomics 101
First, how do scientists compare the genetic makeup of various life forms?
Comparative genomics is a branch of biology that compares genome sequences across different species to identify their similarities and differences.
This field of research is important because it:
Helps us better understand evolution, and how living things have adapted over time.
Builds knowledge around genes and how they influence various systems in our bodies.
Has wider applications in agriculture, especially in conservation efforts among endangered species.
According to the National Human Genome Research Institute (NHGRI), scientists have already sequenced the genomes of more than 250 animal species, as well as 50 bird species.
Human Genetic Makeup vs. Other Life Forms
Perhaps unsurprisingly, chimps are one of our closest genetic relatives in the animal kingdom.
Because of our similarities, chimpanzees have a similar immune system to humans, which means they're susceptible to viruses such as AIDS and hepatitis.
Though chimps are one of our closest relatives, other species are strongly linked to humans as well—and not necessarily the ones you'd think.
| Category | Genetic Similarity |
| --- | --- |
| Humans and Humans | 99.9% |
| Humans and Chimps | 98.8% |
| Humans and Dogs | 94% |
| Humans and Cats | 90% |
| Humans and Cows | 80% |
| Humans and Fruit Flies | 60% |
| Humans and Bananas | 60% |
For instance, according to NHGRI, fruit flies are 60% genetically similar to humans.
This may sound confusing at first, since humans and insects couldn't be more physically different. However, because we share many of the same essential needs to sustain life, such as the need for oxygen, these similarities are reflected in our genetics.
DNA vs Genes
It's important to note that being genetically similar to something is different than sharing the same DNA. That's because genes (the part of DNA responsible for making protein) only account for up to 2% of your DNA, while the rest of your genome is made up of what scientists call "non-coding DNA."
So while a banana is 60% genetically similar to humans, only 1.2% of our DNA is shared.
» Like this? Then check out this article on Earth's Biomass
Top 20 Countries With the Most Ultra-Wealthy Individuals
Developing countries are creating wealth like never before, but the majority of the world's ultra-wealthy people still live in the United States.
The Briefing
According to Credit Suisse, there are now 218,200 people globally with assets over $50 million.
The majority (53%) of the world's ultra-wealthy people live in the U.S.
Top 20 Countries With the Most Ultra-Wealthy Individuals
New data from the Credit Suisse Global Wealth Report shows that there was an "explosion of wealth" last year.
The global population of ultra-high net worth individuals (UHNWIs) grew by 46,000 to a record of 218,200. The report notes that UHNWIs benefited from a surge in the value of financial assets last year.
These increases are more than double the increases recorded in any other year this century. – Global Wealth Report 2022
The majority of ultra-wealthy individuals already reside in the United States, but 2021 saw a staggering increase of 30,470 people bring added to this exclusive ultra-wealthy category in the country.
| Country/region | Net Worth of $50–$100M | Net Worth of $100M–$500M | Net Worth of $500M+ |
| --- | --- | --- | --- |
| 🇺🇸 United States | 103,669 | 35,740 | 1,726 |
| 🇨🇳 China | 20,013 | 11,411 | 1,282 |
| 🇩🇪 Germany | 6,052 | 3,354 | 318 |
| 🇨🇦 Canada | 3,472 | 1,912 | 123 |
| 🇮🇳 India | 3,024 | 1,750 | 210 |
| 🇯🇵 Japan | 3,373 | 1,411 | 88 |
| 🇫🇷 France | 3,237 | 1,314 | 85 |
| 🇦🇺 Australia | 2,947 | 1,576 | 109 |
| 🇬🇧 United Kingdom | 2,787 | 1,278 | 110 |
| 🇮🇹 Italy | 2,574 | 1,253 | 103 |
| 🇰🇷 South Korea | 2,450 | 1,319 | 117 |
| 🇷🇺 Russia | 2,134 | 1,488 | 253 |
| 🇨🇭 Switzerland | 2,115 | 987 | 92 |
| 🇭🇰 Hong Kong SAR | 1,790 | 1,139 | 127 |
| 🇸🇪 Sweden | 1,866 | 1,019 | 76 |
| 🇹🇼 Taiwan | 1,874 | 912 | 93 |
| 🇪🇸 Spain | 1,509 | 666 | 51 |
| 🇧🇷 Brazil | 1,238 | 749 | 95 |
| 🇸🇬 Singapore | 974 | 570 | 73 |
| 🇳🇱 Netherlands | 1,100 | 471 | 28 |
China and India will likely see their ultra-wealthy populations increase dramatically, but still have a long way to go before catching up to the United States.
The biggest increases, aside from the U.S., were China (5,200), Germany (1,750), Canada (1,610), and Australia (1,350).
Decreases in UHNWI populations were more rare, but did occur in a few cases. United Kingdom (-1,130), Turkey (-330), and Hong Kong SAR (-130) saw the biggest drops.
Ranked: The Top Cyberattacks Against Businesses
Recent research provides insight into the top cyberattacks that businesses faced in 2021. See the results in this infographic.
Ranked: The Top Cyberattacks Against Businesses
Cyberattacks hit a record high in 2021, continuing the momentum that had developed during the COVID-19 pandemic. One reason for this increase is the shift to remote work, which has opened up new vulnerabilities. Home networks are typically less secure, and the rapid rise in the use of online services means security is falling behind.
In this graphic sponsored by Global X ETFs, we've visualized survey results showing the 10 most successful types of cyberattacks in 2021.
The Results
These results are from a 2021 whitepaper by Osterman Research, a market research firm focused on cybersecurity. They surveyed 130 cybersecurity professionals from mid and large-sized organizations to see which types of attacks were the most prominent.
| Type of Attack | Percentage of respondents (%) |
| --- | --- |
| Business email attack was successful in tricking a lower-level employee | 53% |
| Phishing message resulted in a malware infection | 49% |
| Phishing message resulted in an account being compromised | 47% |
| Domain name was spoofed to perpetrate phishing campaigns | 38% |
| Ransomware was detected before it could be activated | 34% |
| Business email attack was successful in tricking a senior executive | 28% |
| Domain name impersonation resulted in a third-party being compromised | 16% |
| Phishing message resulted in a ransomware infection | 14% |
| A ransomware attack was successfully launched | 10% |
| A ransomware attack rendered internal IT systems non-operational | 10% |
Source: Osterman Research (2021)
The report notes that these figures may be understated because organizations are likely to downplay their security incidents. Organizations may also lack the capability to detect all types of cyberattacks.
The Impact of Phishing Attacks
Phishing refers to an attack where the perpetrator pretends to be a trusted entity. These attacks can be carried out over email, text message (SMS), and even social media apps. The goal is often to trick the victim into opening a malicious link.
According to the whitepaper, opening malicious links can result in credential theft or ransomware infections. Credential theft is when attackers gain access to internal systems. This is incredibly dangerous, as it allows attackers to commit fraud, impersonate company officials, and steal data.
A powerful tool for preventing credential theft is multi-factor authentication (MFA). This method requires users to provide multiple verification factors to access a resource (instead of a single password).
The Threat of Ransomware
Ransomware is a type of cyberattack that involves blackmail, often for financial gain. For ransomware to be successfully planted, attackers must first gain access to a company's networks.
Access can be gained through phishing, as discussed above, or alternate means such as compromised software updates. One such attack impacted over 57,000 Asus laptop owners in Russia after hackers created a malicious update tool on an official Asus server.
Cybercriminals have become increasingly ruthless in how ransomware attacks are executed.
– Osterman Research
Researchers have warned that ransomware attacks are becoming more dangerous and sophisticated. In addition to locking organizations out from core systems, hackers are also stealing data to increase their leverage. If a ransom is not paid, the stolen data may be published or even sold to the highest bidder.
Under Siege
The rising frequency and sophistication of cybercriminal activity is a major threat to the world.
According to the World Economic Forum's 2022 Global Risks Report, ransomware attacks have increased by 435% since 2020. Furthermore, there is an estimated shortage of 3 million cybersecurity professionals worldwide.
To catch up, businesses and governments are expected to increase their spending on cybersecurity over the next several years.
The Global X Cybersecurity ETF is a passively managed solution that can be used to gain exposure to the rising adoption of cybersecurity technologies. Click the link to learn more.