How Genetically Similar Are We To Other Life Forms?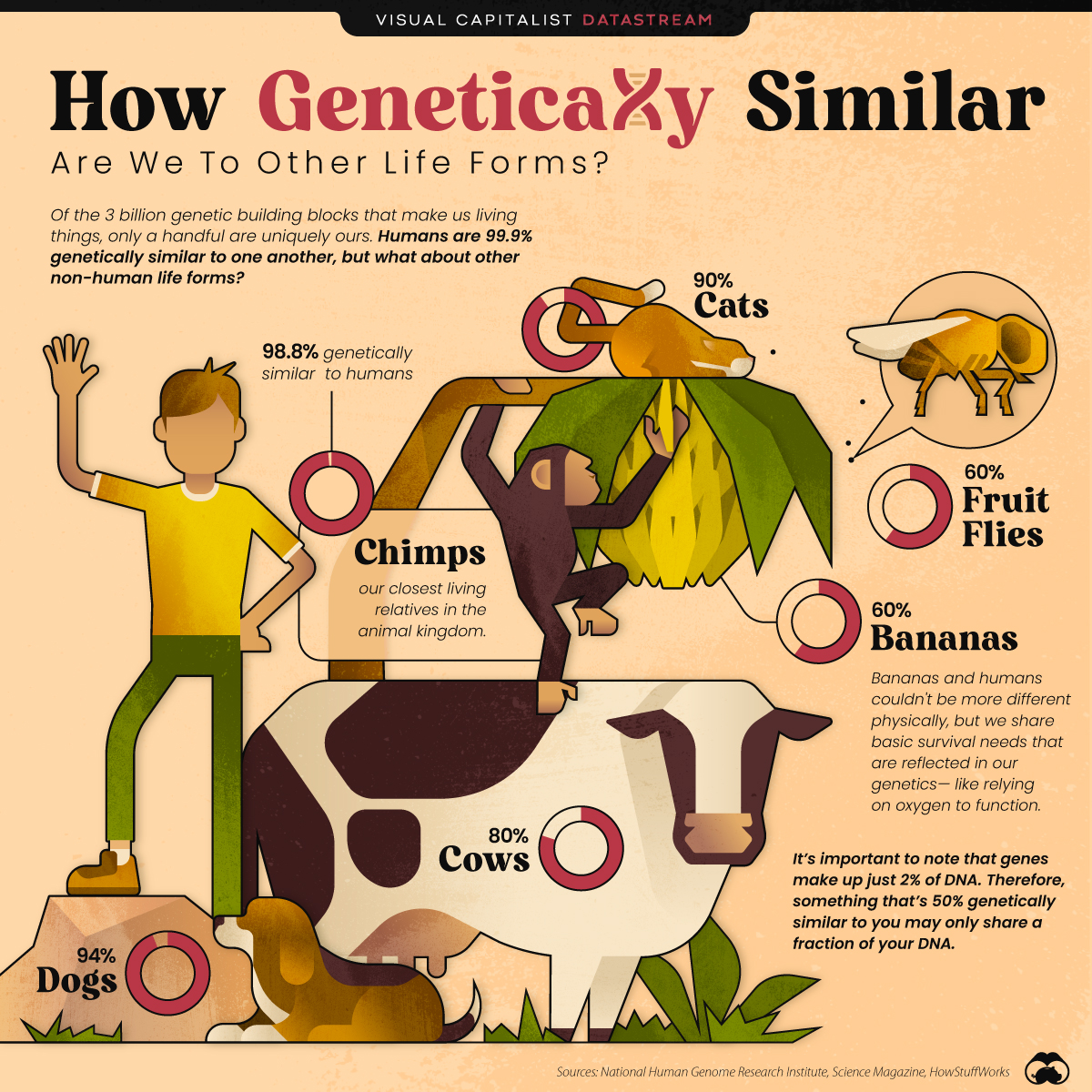 The Briefing
Chimps are 98.8% genetically similar, making them one of our closest relatives in the animal kingdom
The genetic similarity between humans and fruit flies is 60%
Comparing Human Genetic Similarity to Other Life Forms
Of the three billion genetic building blocks that make us living things, only a handful are uniquely ours. In fact, despite our differences on the outside, humans are 99.9% genetically similar to one another.
But how alike are we to other, non-human life forms? Turns out, we're a lot more similar than you might think.
Comparative Genomics 101
First, how do scientists compare the genetic makeup of various life forms?
Comparative genomics is a branch of biology that compares genome sequences across different species to identify their similarities and differences.
This field of research is important because it:
Helps us better understand evolution, and how living things have adapted over time.
Builds knowledge around genes and how they influence various systems in our bodies.
Has wider applications in agriculture, especially in conservation efforts among endangered species.
According to the National Human Genome Research Institute (NHGRI), scientists have already sequenced the genomes of more than 250 animal species, as well as 50 bird species.
Human Genetic Makeup vs. Other Life Forms
Perhaps unsurprisingly, chimps are one of our closest genetic relatives in the animal kingdom.
Because of our similarities, chimpanzees have a similar immune system to humans, which means they're susceptible to viruses such as AIDS and hepatitis.
Though chimps are one of our closest relatives, other species are strongly linked to humans as well—and not necessarily the ones you'd think.
| Category | Genetic Similarity |
| --- | --- |
| Humans and Humans | 99.9% |
| Humans and Chimps | 98.8% |
| Humans and Dogs | 94% |
| Humans and Cats | 90% |
| Humans and Cows | 80% |
| Humans and Fruit Flies | 60% |
| Humans and Bananas | 60% |
For instance, according to NHGRI, fruit flies are 60% genetically similar to humans.
This may sound confusing at first, since humans and insects couldn't be more physically different. However, because we share many of the same essential needs to sustain life, such as the need for oxygen, these similarities are reflected in our genetics.
DNA vs Genes
It's important to note that being genetically similar to something is different than sharing the same DNA. That's because genes (the part of DNA responsible for making protein) only account for up to 2% of your DNA, while the rest of your genome is made up of what scientists call "non-coding DNA."
So while a banana is 60% genetically similar to humans, only 1.2% of our DNA is shared.
» Like this? Then check out this article on Earth's Biomass
Super-Sized Bets for Football's Big Game (2013-2022)
Expanding legalization has driven an increase in bets on football's big game, with wagers more than doubling from 2021 to 2022. (Sponsored Content)
The Briefing
Sports betting became legal outside Nevada when the federal ban was lifted in 2018.
Legalization contributed to betting growth, with wagers on football's big game increasing ten-fold over the last decade.
Super-Sized Bets for Football's Big Game
With 99 million viewers in 2022, "more Americans tune in to the Super Bowl than any other television broadcast." Its large viewership, combined with expanding legislation, has led to ballooning wagers.
In this graphic sponsored by Roundhill Investments, we show how these bets have grown over the last 10 years.
Annual Legal Bets on the Big Game
From 2013 through 2018, sports betting was only legal in Nevada and year-over-year growth was low. However, when the federal sports betting ban was lifted in May 2018, more states started allowing bets.
By 2022, 33 states plus Washington, DC were legally able to bet on the game. Wagers climbed quickly as a result.
| Year | Total Bets | Annual Growth |
| --- | --- | --- |
| 2013 | $99M | 5% |
| 2014 | $119M | 21% |
| 2015 | $116M | -3% |
| 2016 | $133M | 14% |
| 2017 | $138M | 4% |
| 2018 | $159M | 15% |
| 2019 | $191M | 20% |
| 2020 | $280M | 47% |
| 2021 | $486M | 73% |
| 2022 | $1.1B | 119% |
Data only for states that report bets on football's big game, see graphic for full list of states included in 2022.
Impressively, legal bets surpassed the $1 billion mark in 2022. Growth was primarily driven by New York State legalizing online sports betting, with the state contributing nearly $500 million to the total.
Since the New York State Gaming Commission does not report event-specific totals, we have estimated this amount based on sports bets made the week leading up to and including the date of the big game.
Investment Exposure to an Emerging Industry
Due to legalization, bets on football's big game have grown 10 times larger over the last decade. A further shift away from bookies and toward legal operators appears to be likely. In September 2022, 89% of Americans said it was important to bet with a legal operator this NFL season, up from 76% in February 2022.
For legal operators, this could translate into revenue opportunities. Companies that take legal bets reported more than $62 million in revenue from the big game alone in 2022, a 37% jump from the prior year.
Looking for exposure to the growing sports betting industry? Explore Roundhill's sports betting ETF, $BETZ.