How Genetically Similar Are We To Other Life Forms?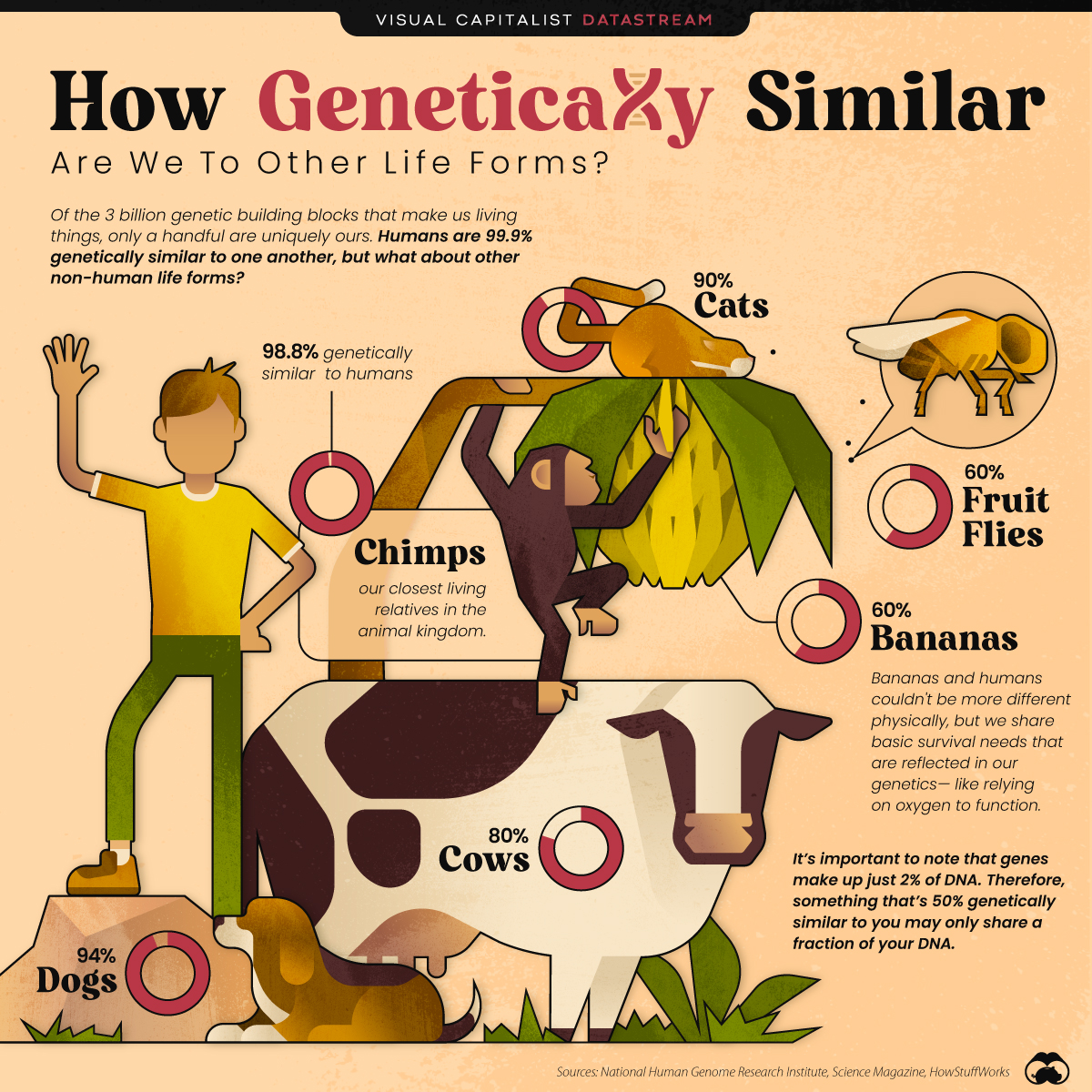 The Briefing
Chimps are 98.8% genetically similar, making them one of our closest relatives in the animal kingdom
The genetic similarity between humans and fruit flies is 60%
Comparing Human Genetic Similarity to Other Life Forms
Of the three billion genetic building blocks that make us living things, only a handful are uniquely ours. In fact, despite our differences on the outside, humans are 99.9% genetically similar to one another.
But how alike are we to other, non-human life forms? Turns out, we're a lot more similar than you might think.
Comparative Genomics 101
First, how do scientists compare the genetic makeup of various life forms?
Comparative genomics is a branch of biology that compares genome sequences across different species to identify their similarities and differences.
This field of research is important because it:
Helps us better understand evolution, and how living things have adapted over time.
Builds knowledge around genes and how they influence various systems in our bodies.
Has wider applications in agriculture, especially in conservation efforts among endangered species.
According to the National Human Genome Research Institute (NHGRI), scientists have already sequenced the genomes of more than 250 animal species, as well as 50 bird species.
Human Genetic Makeup vs. Other Life Forms
Perhaps unsurprisingly, chimps are one of our closest genetic relatives in the animal kingdom.
Because of our similarities, chimpanzees have a similar immune system to humans, which means they're susceptible to viruses such as AIDS and hepatitis.
Though chimps are one of our closest relatives, other species are strongly linked to humans as well—and not necessarily the ones you'd think.
| Category | Genetic Similarity |
| --- | --- |
| Humans and Humans | 99.9% |
| Humans and Chimps | 98.8% |
| Humans and Dogs | 94% |
| Humans and Cats | 90% |
| Humans and Cows | 80% |
| Humans and Fruit Flies | 60% |
| Humans and Bananas | 60% |
For instance, according to NHGRI, fruit flies are 60% genetically similar to humans.
This may sound confusing at first, since humans and insects couldn't be more physically different. However, because we share many of the same essential needs to sustain life, such as the need for oxygen, these similarities are reflected in our genetics.
DNA vs Genes
It's important to note that being genetically similar to something is different than sharing the same DNA. That's because genes (the part of DNA responsible for making protein) only account for up to 2% of your DNA, while the rest of your genome is made up of what scientists call "non-coding DNA."
So while a banana is 60% genetically similar to humans, only 1.2% of our DNA is shared.
» Like this? Then check out this article on Earth's Biomass
Chart: 30 Years of Wildfires in America
Here's a look at the number of wildfires in America that have occurred each year since 1990, and the acres of forest land scorched during that period.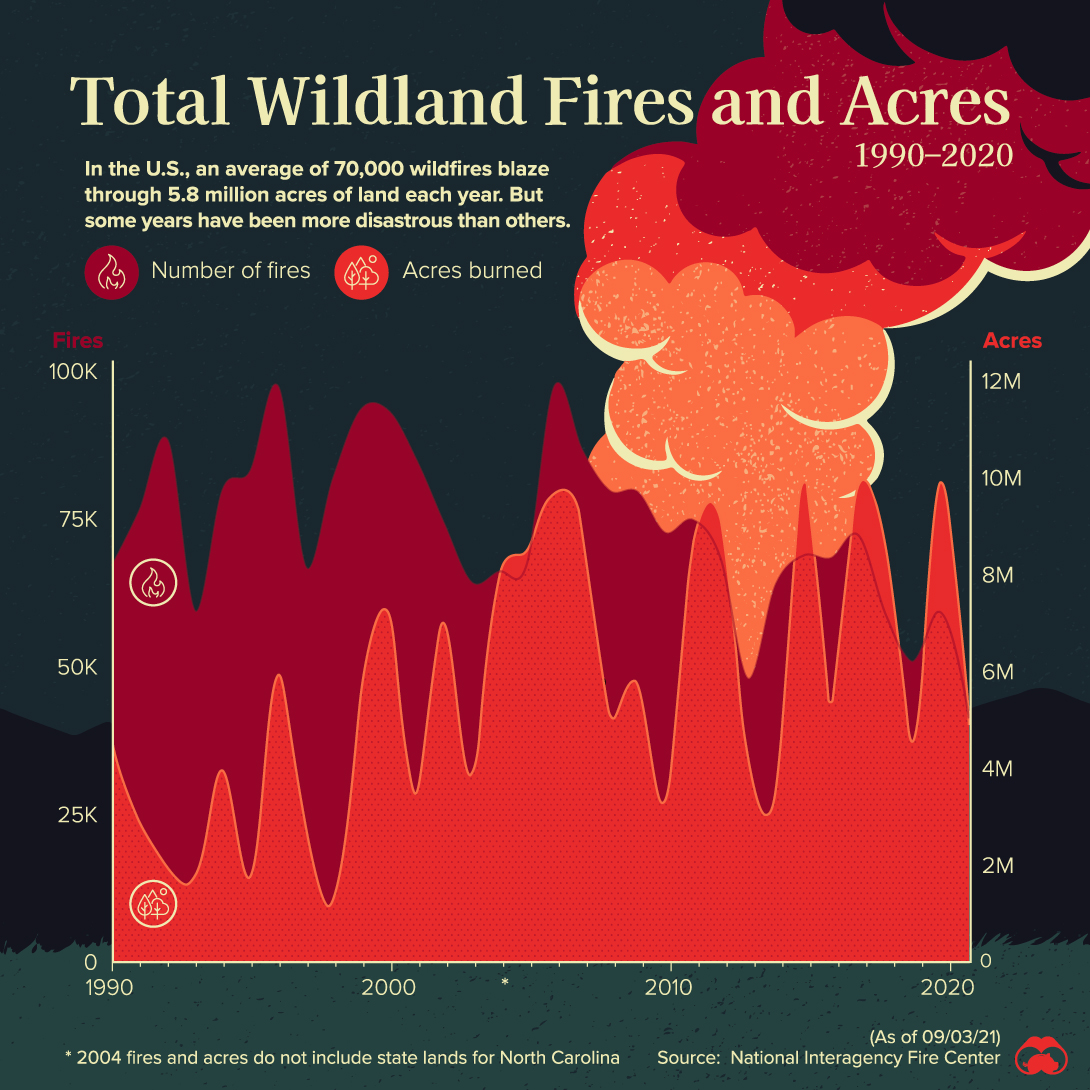 The Briefing
An average of 70,000 wildfires blaze through the U.S. each year
These fires destroy approximately 5.8 million acres of land on a yearly basis
Over 43,000 fires have started across the U.S., burning 5 million acres of land as of Sept 3, 2021
30 Years of Wildfires in America
This summer, record-breaking droughts and relentless heat waves have fueled disastrous wildfires across the United States. It's gotten so bad, the state of California has decided to shut down all national forests for two weeks to stop the spread.
But how disastrous has this year been compared to previous years? This graphic gives a historical look at the number of wildfires in America that have occurred each year since 1990, and the acres of forest land scorched during that period.
Total Wildland Fires and Acres from 1990 to 2020
In the U.S., an average of 70,000 wildfires burn through 5.8 million acres of land each year. But some years have been worse than others.
| Year | # of Fires | # of Acres Burned |
| --- | --- | --- |
| 1990 | 66,481 | 4,621,621 |
| 1991 | 75,754 | 2,953,578 |
| 1992 | 87,394 | 2,069,929 |
| 1993 | 58,810 | 1,797,574 |
| 1994 | 79,107 | 4,073,579 |
| 1995 | 82,234 | 1,840,546 |
| 1996 | 96,363 | 6,065,998 |
| 1997 | 66,196 | 2,856,959 |
| 1998 | 81,043 | 1,329,704 |
| 1999 | 92,487 | 5,626,093 |
| 2000 | 92,250 | 7,393,493 |
| 2001 | 84,079 | 3,570,911 |
| 2002 | 73,457 | 7,184,712 |
| 2003 | 63,629 | 3,960,842 |
| 2004 | 65,461 | *8,097,880 |
| 2005 | 66,753 | 8,689,389 |
| 2006 | 96,385 | 9,873,745 |
| 2007 | 85,705 | 9,328,045 |
| 2008 | 78,979 | 5,292,468 |
| 2009 | 78,792 | 5,921,786 |
| 2010 | 71,971 | 3,422,724 |
| 2011 | 74,126 | 8,711,367 |
| 2012 | 67,774 | 9,326,238 |
| 2013 | 47,579 | 4,319,546 |
| 2014 | 63,312 | 3,595,613 |
| 2015 | 68,151 | 10,125,149 |
| 2016 | 67,743 | 5,509,995 |
| 2017 | 71,499 | 10,026,086 |
| 2018 | 58,083 | 8,767,492 |
| 2019 | 50,477 | 4,664,364 |
| 2020 | 58,950 | 10,122,336 |
| 2021* | 43,250 | 5,024,744 |
*note: 2021 figures as of September 3, 2021
One particularly bad year was 2006, which had over 96,000 fires and destroyed 9.9 million acres of land across the country. It was the year of the Esperanza Fire in California, which burned 40,000 acres and cost $9 million in damages.
2015 was also a devastating year, with over 10.1 million acres destroyed across the country–the worst year on record, in terms of acres burned.
Climate Change's Role in Wildfires
Wildfires are only expected to worsen in the near future since warmer temperatures and drier climates allow the fires to grow quickly and intensely.
We're already starting to see climate change impact the wildfire season. For instance, autumn is usually peak wildfire season for California, but this year, one of the largest fires on record started in mid-July, and is still burning as of the date of publication.
Editor's note, September 20, 2021: In the post above, we said that California closed downed down all national parks for two weeks, starting August 31st. In fact, they closed down all national forests.
Visualizing the Typical Atlantic Hurricane Season
While the Atlantic hurricane season runs from June to late November, about 85% of activity happens between August, September, and October.
The Briefing
Storms are categorized by their wind speed. Any storm with winds stronger than 111 miles per hour (mph) is considered a major hurricane
This year's Hurricane Ida is one of the strongest hurricanes on record to hit the U.S. mainland, with winds reaching up to 150 mph
Explained: The Typical Atlantic Hurricane Season
On August 29, 2021, Hurricane Ida hurled into the state of Louisiana at rapid speed. With winds of 150 mph, preliminary reports believe it's the fifth strongest hurricane to ever hit the U.S. mainland.
As research shows, Hurricane Ida's impact hit right at the peak of the Atlantic hurricane season. Here's a brief explainer on the basics of hurricanes, how storms are classified, and what a typical storm season looks like in the Atlantic Basin.
Let's dive in.
Classifying a Storm
Hurricanes are intense tropical storms that are classified by their wind speed. What's the difference between a hurricane, a typhoon, and a cyclone? They're essentially the same thing, but are named differently based on their location:
Hurricane is used for storms that formed in the North Atlantic, central North Pacific, and eastern North Pacific (impacting countries like the U.S.)
Typhoon is used for storms in the Northwest Pacific (impacting countries like Japan)
Tropical Cyclone is used for storms in the South Pacific and Indian Ocean (impacting countries like Fiji and India)
Since we're focusing on the Atlantic, we'll be using the term hurricane and/or storm throughout the rest of this article.
A storm needs to reach a certain wind speed before it gets classified as a hurricane. Storms with wind speeds of:
<73 mph are considered Tropical Storms
74-110 mph winds are considered Hurricanes
111 mph+ winds are considered Major Hurricanes
Breaking Down the Atlantic Hurricane Season
Generally, Hurricanes form in the warm ocean waters in the central Atlantic and Gulf of Mexico, following westward trade winds and curving up towards the North American mainland. Hurricanes are formed when these specific elements come into play:
A pre-existing weather disturbance such as a tropical wave
Water at least 80ºF (27ºC) with a depth of at least 50 meters
Thunderstorm activity
Low wind shear (too much wind can remove the heat and moisture hurricanes use for fuel)
The Atlantic hurricane season technically lasts six months, beginning on June 1st and ending in late November. However, 85% of activity happens between August, September, and October.
Each subregion in the Atlantic has its own unique climatology, which means peak seasons can vary from place to place—for example, south Florida sees the most hurricanes in October, while the entire Atlantic Basin's peak season is early-to-mid September.
Climate Change and Hurricanes
According to the Center of Climate Change and Energy Solutions, it's unclear whether climate change will increase the number of hurricanes per year.
However, research indicates that warmer weather and high ocean temperatures will most likely lead to more intense storms, ultimately causing more damage and devastation.
» Want to learn more about climate change? Here's an article on The Paris Agreement: Is The World's Climate Action Plan on Track?
Where does this data come from?
Source:Brian McNoldy, University of Miami Rosenstiel School of Marine and Atmospheric Science