The Bull Case for Energy Metals Going into 2019
The Bull Case for Every Energy Metal Going into 2019
The rapid emergence of the world's renewable energy sector is helping set the stage for a commodity boom.
While oil has traditionally been the most interesting commodity to investors in the past, the green energy sector is reliant on the unique electrical and physical properties of many different metals to work optimally.
To build more renewable capacity and to store that energy efficiently, we will need to increase the available supply for these specific raw materials, or face higher costs for each material.
Metal Bull Cases
Ahead of Cambridge House's annual Vancouver Resource Investment Conference on January 20-21, 2019, we thought it would be prudent to highlight the "bull case" for relevant metals as we start the year.
It's important to recognize that the commodity market is often cyclical and dependent on a multitude of factors, and that the above cases are not meant to be predictive in any sense.
In other words, the facts and arguments above sum up what we think investors may see as the most compelling stories for these metals – but what actually happens in the market, especially in the short-term, may be different.
Overarching Trends
While we highlight 12 minerals ranging from copper to lithium, most of the raw materials in the infographic fit into four overarching, big-picture stories that will drive the future of green energy:
| Story | Supporting Projection |
| --- | --- |
| Solar and Wind | The world hit 1 TW of wind and solar generation capacity in 2018. The second TW will be up and running by 2023, and will cost 46% less than the first. |
| Electric Vehicles | Ownership of electric vehicles will increase by 40x in the next 13 years, reaching 125 million vehicles in 2030. |
| Energy Storage | The global market for energy storage is rapidly growing, and will leap from $194 billion to $296 billion between 2017-2024. |
| Nuclear | 150 nuclear reactors with a total gross capacity of about 160,000 MW are on order or planned, and about 300 more are proposed – mostly in Asia. |
Which of these stories has the most potential as a catalyst for driving the entire sector?
Based on these narratives, and the individual bull cases above, which metal has the most individual potential?
Let us know in the comments below, or visit Booth #1228 at #VRIC19.
Green Steel: Decarbonising with Hydrogen-Fueled Production
How will high emission industries respond to climate change? We highlight industrial emissions and hydrogen's role in green steel production.
The following content is sponsored by AFRY
Green Steel: Decarbonising with Hydrogen-Fueled Production
As the fight against climate change ramps up worldwide, the need for industries and economies to respond is immediate.
Of course, different sectors contribute different amounts of greenhouse gas (GHG) emissions, and face different paths to decarbonisation as a result. One massive player? Steel and iron manufacturing, where energy-related emissions account for roughly 6.1% of global emissions.
The following infographic by AFRY highlights the need for steel manufacturing to evolve and decarbonise, and how hydrogen can play a vital role in the "green" steel revolution.
The Modern Steel Production Landscape
Globally, crude steel production totalled 1,951 million tonnes (Mt) in 2021.
This production is spread all over the world, including India, Japan, and the U.S., with the vast majority (1,033 million tonnes) concentrated in China.
But despite being produced in many different places globally, only two main methods of steel production have been honed and utilised over time—electric arc furnace (EAF) and blast furnace basic oxygen furnace (BF-BOF) production.
Both methods traditionally use fossil fuels, and in 2019 contributed 3.6 Gt of carbon dioxide (CO2) emissions:
| Steel Production Method | Materials Utilised | CO2 Emissions (2019) |
| --- | --- | --- |
| EAF | Scrap | 0.5 Gt |
| BF-BOF | Scrap, iron ore, coke | 3.1 Gt |
That's why one of the main ways the steel industry can decarbonise is through the replacement of fossil fuels.
Hydrogen's Role in Green Steel Production
Of course, one of the biggest challenges facing the industry is how to decarbonise and produce "green" steel in an extremely competitive market.
As a globally-traded good with fine cost margins, steel production has been associated with major geopolitical issues, including trade disputes and tariffs. But because of climate change, there is also a sudden and massive demand for carbon-friendly production.
And that's where hydrogen plays a key role. Steel traditionally made in a blast furnace uses coke—a high-carbon fuel made by heating coal without air—as a fuel source to heat iron ore pellets and liquify the pure iron component. This expels a lot of emissions in order to get the iron hot enough to melt (1,200 °C) and be mixed with scrap and made into steel.
The green steel method instead uses hydrogen to reduce the iron pellets into sponge iron, metallic iron that can then be processed to form steel. This process is also done at high temperature but below the melting point of iron (800 – 1,200 °C), saving energy costs.
And by introducing non-fossil fuels to create iron pellets and renewable electricity to turn the sponge iron and scrap into steel, fossil fuels can be removed from the process, significantly reducing emissions as a result.
The Future of Green Steel Production
Given the massive global demand for steel, the need for hydrogen and renewable energy required for green steel production is just as significant.
According to AFRY and the International Renewable Energy Agency, meeting global steel production in 2021 using the green steel method would require 97.6 million tonnes of hydrogen.
And for a truly carbon-free transition to green steel, the energy industry will also need to focus on green hydrogen production using electrolysis. Unlike methods which burn natural gas to release hydrogen, electrolysis entails the splitting of water (H2O) into oxygen and hydrogen using renewable energy sources.
Full green steel production would therefore use green hydrogen, electrolysers running on renewables, and additional renewables for all parts of the supply chain:
| Steel Production Source | Annual Steel Production | Green Hydrogen Required | Electrolyser Capacity Required | Total Renewables Capacity Required |
| --- | --- | --- | --- | --- |
| Base Reference | 1 Mt | 50 kT | 0.56 GW | 0.7 GW |
| U.S. | 85.8 Mt | 4.3 Mt | 48 GW | 60 GW |
| Europe | 103 Mt | 5.2 Mt | 58 GW | 72 GW |
| China | 1032.8 Mt | 51.6 Mt | 581 GW | 726 GW |
| Global | 1951 Mt | 97.6 Mt | 1,097 GW | 1,371 GW |
Currently, green hydrogen production costs are higher than traditional fossil fuel methods, and are dependent on the levelised costs of renewable energy sources. This means they vary by region, but also that they will reduce as production capacity and subsidies for renewables and green hydrogen increase.
And many major European steel manufacturers are already leading the way with pilot and large scale facilities for green steel production. Germany alone has at least seven projects in the works, including by ArcelorMittal and ThyssenKrupp, two of the world's 10 largest steelmakers by revenue.
AFRY is a thought leadership firm that provides companies with advisory services and sustainable solutions, in their efforts to fight climate change and lead them towards a greater future.

Charted: 40 Years of Global Energy Production, by Country
Here's a snapshot of global energy production, and which countries have produced the most fossil fuels, nuclear, and renewable energy since 1980.

Creator Program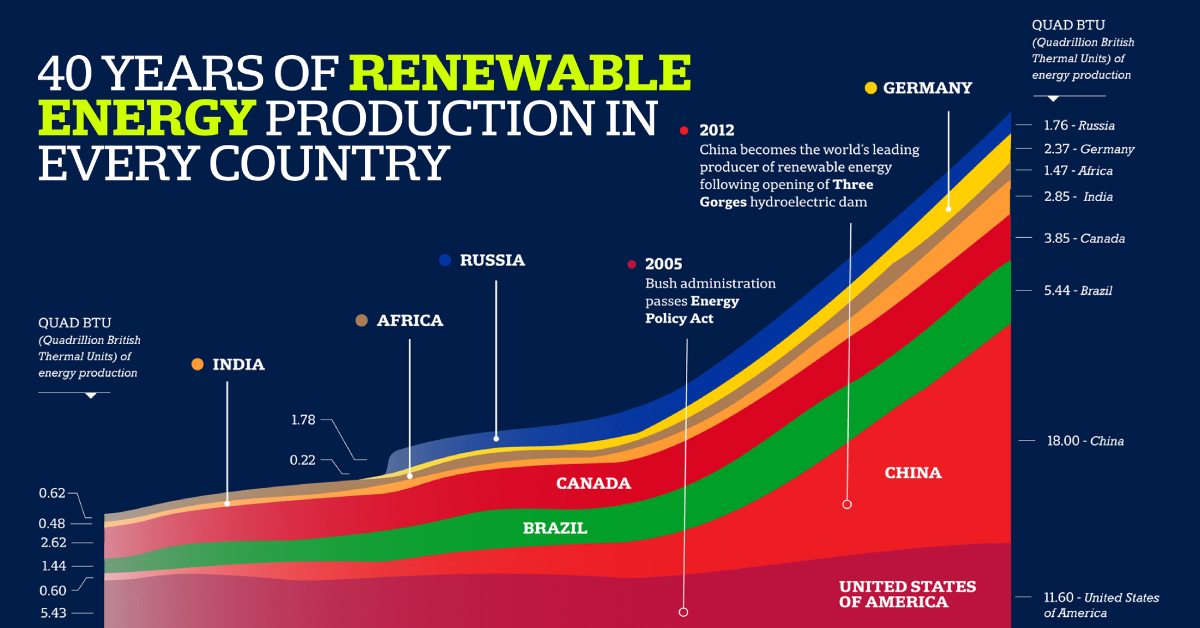 Energy was already a hot topic before 2022, but soaring household energy bills and a cost of living crisis has brought it even more to the forefront.
Which countries are the biggest energy producers, and what types of energy are they churning out? This graphic by 911 Metallurgist gives a breakdown of global energy production, showing which countries have used the most fossil fuels, nuclear, and renewable energy since 1980.
All figures refer to the British thermal unit (BTU), equivalent to the heat required to heat one pound of water by one degree Fahrenheit.
Editor's note: Click on any graphic to see a full-width version that is higher resolution
1. Fossil Fuels
View the full-size infographic
While the U.S. is a dominant player in both oil and natural gas production, China holds the top spot as the world's largest fossil fuel producer, largely because of its significant production and consumption of coal.
Over the last decade, China has used more coal than the rest of the world, combined.
However, it's worth noting that the country's fossil fuel consumption and production have dipped in recent years, ever since the government launched a five-year plan back in 2014 to help reduce carbon emissions.
2. Nuclear Power
View the full-size infographic
The U.S. is the world's largest producer of nuclear power by far, generating about double the amount of nuclear energy as France, the second-largest producer.
While nuclear power provides a carbon-free alternative to fossil fuels, the nuclear disaster in Fukushima caused many countries to move away from the energy source, which is why global use has dipped in recent years.
Despite the fact that many countries have recently pivoted away from nuclear energy, it still powers about 10% of the world's electricity. It's also possible that nuclear energy will play an expanded role in the energy mix going forward, since decarbonization has emerged as a top priority for nations around the world.
3. Renewable Energy
View the full-size infographic
Renewable energy sources (including wind, hydro, and solar) account for about 23% of electricity production worldwide. China leads the front on renewable production, while the U.S. comes in second place.
While renewable energy production has ramped up in recent years, more countries will need to ramp up their renewable energy production in order to reach net-zero targets by 2050.