Breaking the Ice: Mapping a Changing Arctic
Breaking the Ice: Mapping a Changing Arctic
The Arctic is changing. As retreating ice cover makes this region more accessible, nations with Arctic real estate are thinking of developing these subzero landscapes and the resources below.
As the Arctic evolves, a vast amount of resources will become more accessible and longer shipping seasons will improve Arctic logistics. But with a changing climate and increased public pressure to limit resource development in environmentally sensitive regions, the future of northern economic activity is far from certain.
This week's Chart of the Week shows the location of major oil and gas fields in the Arctic and the possible new trade routes through this frontier.
A Final Frontier for Undiscovered Resources?
Underneath the Arctic Circle lies massive oil and natural gas formations. The United States Geological Survey estimates that the Arctic contains approximately 13% of the world's undiscovered oil resources and about 30% of its undiscovered natural gas resources.
So far, most exploration in the Arctic has occurred on land. This work produced the Prudhoe Bay Oil Field in Alaska, the Tazovskoye Field in Russia, and hundreds of smaller fields, many of which are on Alaska's North Slope, an area now under environmental protection.
Land accounts for about 1/3 of the Arctic's area and is thought to hold about 16% of the Arctic's remaining undiscovered oil and gas resources. A further 1/3 of the Arctic area is comprised of offshore continental shelves, which are thought to contain enormous amounts of resources but remain largely unexplored by geologists.
The remaining 1/3 of the Arctic is deep ocean waters measuring thousands of feet in depth.
The Arctic circle is about the same geographic size as the African continent─about 6% of Earth's surface area─yet it holds an estimated 22% of Earth's oil and natural gas resources. This paints a target on the Arctic for exploration and development, especially with shorter seasons of ice coverage improving ocean access.
Thawing Ice Cover: Improved Ocean Access, New Trading Routes
As Arctic ice melts, sea routes will stay navigable for longer periods, which could drastically change international trade and shipping. September ice coverage has decreased by more than 25% since 1979, although the area within the Arctic Circle is still almost entirely covered with ice from November to July.
| Route | Length | Ice-free Time |
| --- | --- | --- |
| Northern Sea Route | 4,740 Nautical Miles | 6 weeks of open waters |
| Transpolar Sea Route | 4,179 Nautical Miles | 2 weeks of open waters |
| Northwest Passage | 5,225 Nautical Miles | Periodically ice-free |
| Arctic Bridge | 3,600 Nautical Miles | Ice-free |
Typically shipping to Japan from Rotterdam would use the Suez Canal and take about 30 days, whereas a route from New York would use the Panama Canal and take about 25 days.
But if the Europe-Asia trip used the Northern Sea Route along the northern coast of Russia, the trip would last 18 days and the distance would shrink from ~11,500 nautical miles to ~6,900 nautical miles. For the U.S.-Asia trip through the Northwest Passage, it would take 21 days, rather than 25.
Control of these routes could bring significant advantages to countries and corporations looking for a competitive edge.
Competing Interests: Arctic Neighbors
Eight countries lay claim to land that lies within the Arctic Circle: Canada, Denmark (through its administration of Greenland), Finland, Iceland, Norway, Russia, Sweden, and the United States.
There is no consistent agreement among these nations regarding the claims to oil and gas beneath the Arctic Ocean seafloor. However, the United Nations Convention on the Law of the Sea provides each country an exclusive economic zone extending 200 miles out from its shoreline and up to 350 miles, under certain geological conditions.
Uncertain geology and politics has led to overlapping territorial disputes over how each nation defines and maps its claims based on the edge of continental margins. For example, Russia claims that their continental margin follows the Lomonosov Ridge all the way to the North Pole. In another, both the U.S. and Canada claim a portion of the Beaufort Sea, which is thought to contain significant oil and natural gas resources.
To Develop or Not to Develop
Just because the resources are there does not mean humans have to exploit them, especially given oil's environmental impacts. Canada's federal government has already returned security deposits that oil majors had paid to drill in Canadian Arctic waters, which are currently off limits until at least 2021.
In total, the Government of Canada returned US$327 million worth of security deposits, or 25% of the money oil companies pledged to spend on exploration in the Beaufort Sea. In addition, Goldman Sachs announced that it would not finance any projects in the U.S.'s Arctic National Wildlife Refuge.
The retreat of Western economic interests in the Arctic may leave the region to Russia and China, countries with less strict environmental regulations.
Russia has launched an ambitious plan to remilitarize the Arctic. Specifically, Russia is searching for evidence to prove its territorial claims to additional portions of the Arctic, so that it can move its Arctic borderline — which currently measures over 14,000 miles in length — further north.
In a changing Arctic, this potentially resource-rich region could become another venue for geopolitical tensions, again testing whether humans can be proper stewards of the natural world.
Ranked: Nuclear Power Production, by Country
Nuclear power accounted for 10% of global electricity generated in 2020. Here's a look at the largest nuclear power producers.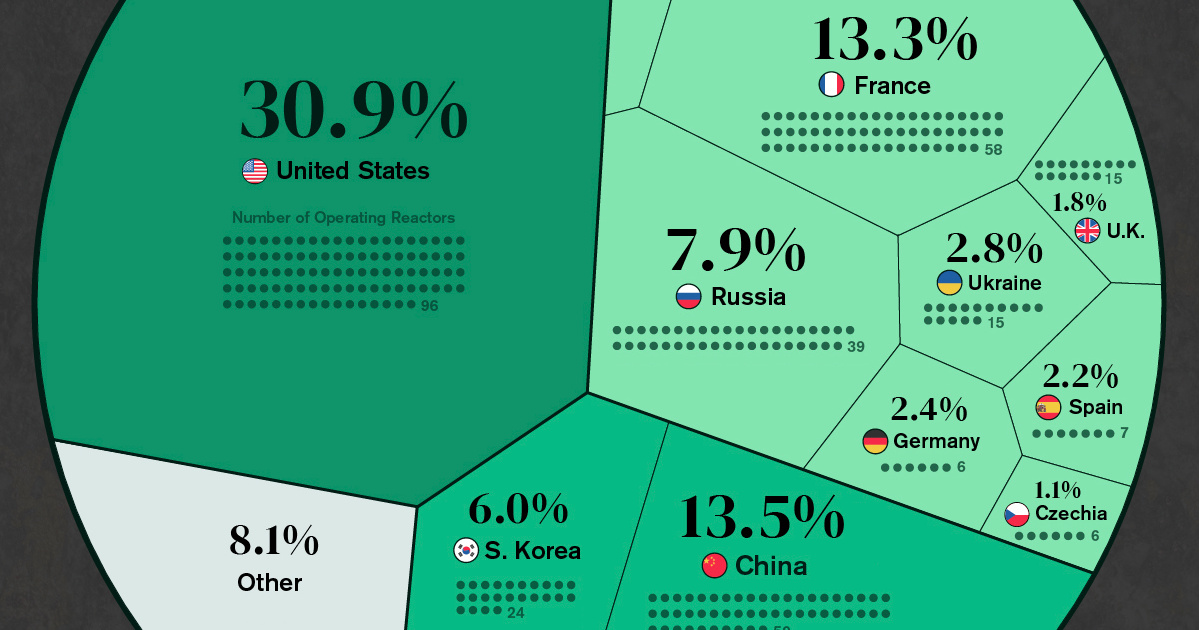 Nuclear Power Production by Country
This was originally posted on Elements. Sign up to the free mailing list to get beautiful visualizations on natural resource megatrends in your email every week.
Nearly 450 reactors around the world supply various nations with nuclear power, combining for about 10% of the world's electricity, or about 4% of the global energy mix.
But while some countries are turning to nuclear as a clean energy source, nuclear energy generation overall has seen a slowdown since its peak in the 1990s.
The above infographic breaks down nuclear electricity generation by country in 2020 using data from the Power Reactor Information System (PRIS).
Ranked: The Top 15 Countries for Nuclear Power
Just 15 countries account for more than 91% of global nuclear power production. Here's how much energy these countries produced in 2020:
Rank
Country
Number of Operating Reactors
Nuclear Electricity Supplied
[GWh]
% share
#1
U.S. 🇺🇸
96
789,919
30.9%
#2
China 🇨🇳
50
344,748
13.5%
#3
France 🇫🇷
58
338,671
13.3%
#4
Russia 🇷🇺
39
201,821
7.9%
#5
South Korea 🇰🇷
24
152,583
6.0%
#6
Canada 🇨🇦
19
92,166
3.6%
#7
Ukraine 🇺🇦
15
71,550
2.8%
#8
Germany 🇩🇪
6
60,918
2.4%
#9
Spain 🇪🇸
7
55,825
2.2%
#10
Sweden 🇸🇪
7
47,362
1.9%
#11
U.K. 🇬🇧
15
45,668
1.8%
#12
Japan 🇯🇵
33
43,099
1.7%
#13
India 🇮🇳
22
40,374
1.6%
#14
Belgium 🇧🇪
7
32,793
1.3%
#15
Czechia 🇨🇿
6
28,372
1.1%
Rest of the World 🌎
44
207,340
8.1%
Total
448
2,553,208
100.0%
In the U.S., nuclear power produces over 50% of the country's clean electricity. Additionally, 88 of the country's 96 operating reactors in 2020 received approvals for a 20-year life extension.
China, the world's second-largest nuclear power producer, is investing further in nuclear energy in a bid to achieve its climate goals. The plan, which includes building 150 new reactors by 2035, could cost as much as $440 billion.
On the other hand, European opinions on nuclear energy are mixed. Germany is the eighth-largest on the list but plans to shutter its last operating reactor in 2022 as part of its nuclear phase-out. France, meanwhile, plans to expand its nuclear capacity.
Which Countries Rely Most on Nuclear Energy?
Although total electricity generation is useful for a high-level global comparison, it's important to remember that there are some smaller countries not featured above where nuclear is still an important part of the electricity mix.
Here's a breakdown based on the share of nuclear energy in a country's electricity mix:
| Rank | Country | Nuclear Share of Electricity Mix |
| --- | --- | --- |
| #1 | France 🇫🇷 | 70.6% |
| #2 | Slovakia 🇸🇰 | 53.1% |
| #3 | Ukraine 🇺🇦 | 51.2% |
| #4 | Hungary 🇭🇺 | 48.0% |
| #5 | Bulgaria 🇧🇬 | 40.8% |
| #6 | Belgium 🇧🇪 | 39.1% |
| #7 | Slovenia 🇸🇮 | 37.8% |
| #8 | Czechia 🇨🇿 | 37.3% |
| #9 | Armenia 🇦🇲 | 34.5% |
| #10 | Finland 🇫🇮 | 33.9% |
| #11 | Switzerland 🇨🇭 | 32.9% |
| #12 | Sweden 🇸🇪 | 29.8% |
| #13 | South Korea 🇰🇷 | 29.6% |
| #14 | Spain 🇪🇸 | 22.2% |
| #15 | Russia 🇷🇺 | 20.6% |
| #16 | Romania 🇷🇴 | 19.9% |
| #17 | United States 🇺🇸 | 19.7% |
| #18 | Canada 🇨🇦 | 14.6% |
| #19 | United Kingdom 🇬🇧 | 14.5% |
| #20 | Germany 🇩🇪 | 11.3% |
European countries dominate the leaderboard with 14 of the top 15 spots, including France, where nuclear power is the country's largest source of electricity.
It's interesting to note that only a few of these countries are top producers of nuclear in absolute terms. For example, in Slovakia, nuclear makes up 53.6% of the electricity mix—however, the country's four reactors make up less than 1% of total global operating capacity.
On the flipside, the U.S. ranks 17th by share of nuclear power in its mix, despite producing 31% of global nuclear electricity in 2020. This discrepancy is largely due to size and population. European countries are much smaller and produce less electricity overall than larger countries like the U.S. and China.
The Future of Nuclear Power
The nuclear power landscape is constantly changing.
There were over 50 additional nuclear reactors under construction in 2020, and hundreds more are planned primarily in Asia.
As countries turn away from fossil fuels and embrace carbon-free energy sources, nuclear energy might see a resurgence in the global energy mix despite the phase-outs planned in several countries around the globe.
The Periodic Table of Commodity Returns (2012-2021)
Energy fuels led the way as commodity prices surged in 2021, with only precious metals providing negative returns.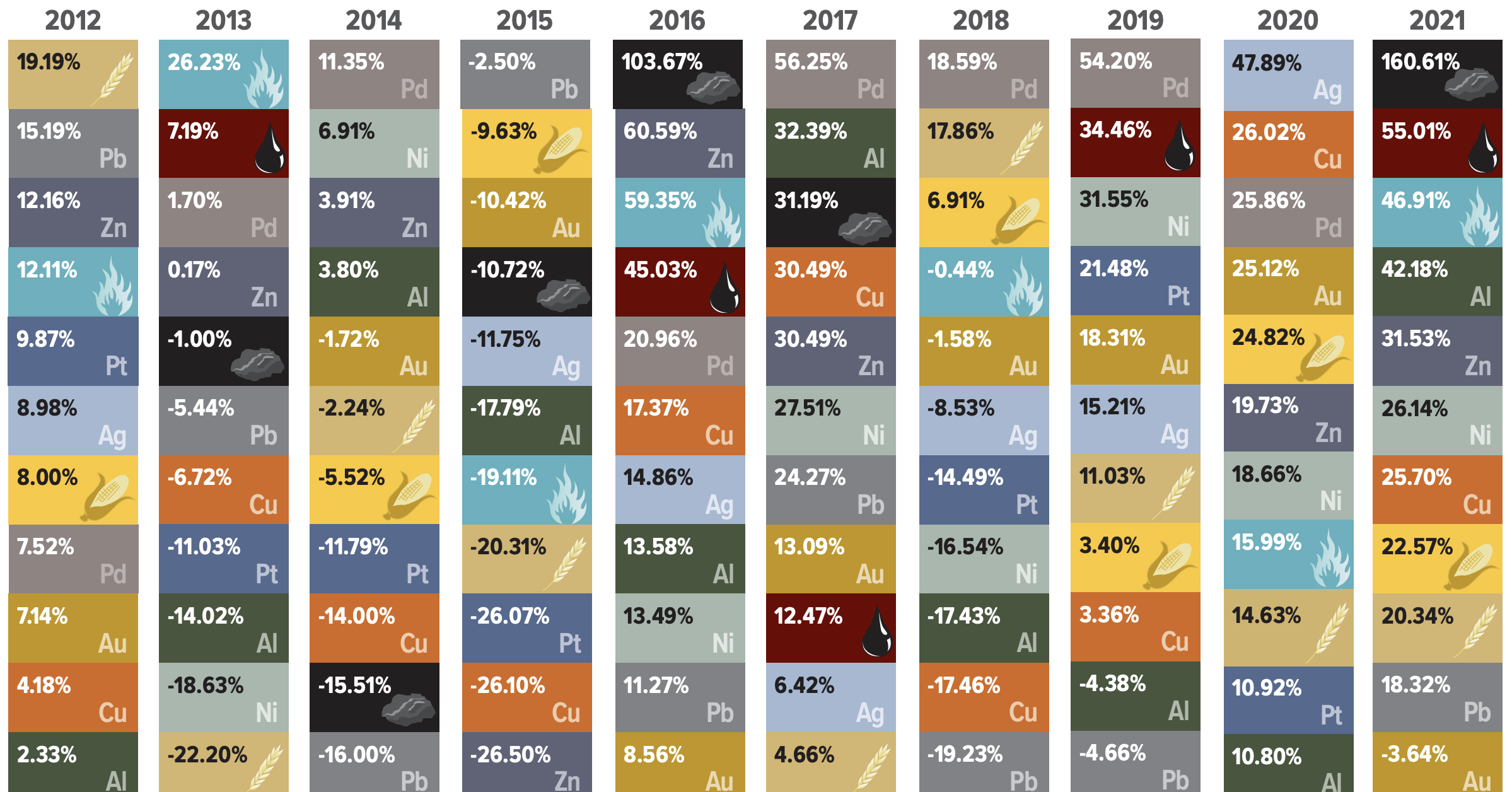 The Periodic Table of Commodity Returns (2022 Edition)
For investors, 2021 was a year in which nearly every asset class finished in the green, with commodities providing some of the best returns.
The S&P Goldman Sachs Commodity Index (GSCI) was the third best-performing asset class in 2021, returning 37.1% and beating out real estate and all major equity indices.
This graphic from U.S. Global Investors tracks individual commodity returns over the past decade, ranking them based on their individual performance each year.
Commodity Prices Surge in 2021
After a strong performance from commodities (metals especially) in the year prior, 2021 was all about energy commodities.
The top three performers for 2021 were energy fuels, with coal providing the single best annual return of any commodity over the past 10 years at 160.6%. According to U.S. Global Investors, coal was also the least volatile commodity of 2021, meaning investors had a smooth ride as the fossil fuel surged in price.
| Commodity | 2021 Returns |
| --- | --- |
| Coal | 160.61% |
| Crude Oil | 55.01% |
| Gas | 46.91% |
| Aluminum | 42.18% |
| Zinc | 31.53% |
| Nickel | 26.14% |
| Copper | 25.70% |
| Corn | 22.57% |
| Wheat | 20.34% |
| Lead | 18.32% |
| Gold | -3.64% |
| Platinum | -9.64% |
| Silver | -11.72% |
| Palladium | -22.21% |
Source: U.S. Global Investors
The only commodities in the red this year were precious metals, which failed to stay positive despite rising inflation across goods and asset prices. Gold and silver had returns of -3.6% and -11.7% respectively, with platinum returning -9.6% and palladium, the worst performing commodity of 2021, at -22.2%.
Aside from the precious metals, every other commodity managed double-digit positive returns, with four commodities (crude oil, coal, aluminum, and wheat) having their best single-year performances of the past decade.
Energy Commodities Outperform as the World Reopens
The partial resumption of travel and the reopening of businesses in 2021 were both powerful catalysts that fueled the price rise of energy commodities.
After crude oil's dip into negative prices in April 2020, black gold had a strong comeback in 2021 as it returned 55.01% while being the most volatile commodity of the year.
Natural gas prices also rose significantly (46.91%), with the UK and Europe's natural gas prices rising even more as supply constraints came up against the winter demand surge.
Despite being the second worst performer of 2020 with the clean energy transition on the horizon, coal was 2021's best commodity.
High electricity demand saw coal return in style, especially in China which accounts for one-third of global coal consumption.
Base Metals Beat out Precious Metals
2021 was a tale of two metals, as precious metals and base metals had opposing returns.
Copper, nickel, zinc, aluminum, and lead, all essential for the clean energy transition, kept up last year's positive returns as the EV batteries and renewable energy technologies caught investors' attention.
Demand for these energy metals looks set to continue in 2022, with Tesla having already signed a $1.5 billion deal for 75,000 tonnes of nickel with Talon Metals.
On the other end of the spectrum, precious metals simply sunk like a rock last year.
Investors turned to equities, real estate, and even cryptocurrencies to preserve and grow their investments, rather than the traditionally favorable gold (-3.64%) and silver (-11.72%). Platinum and palladium also lagged behind other commodities, only returning -9.64% and -22.21% respectively.
Grains Bring Steady Gains
In a year of over and underperformers, grains kept up their steady track record and notched their fifth year in a row of positive returns.
Both corn and wheat provided double-digit returns, with corn reaching eight-year highs and wheat reaching prices not seen in over nine years. Overall, these two grains followed 2021's trend of increasing food prices, as the UN Food and Agriculture Organization's food price index reached a 10-year high, rising by 17.8% over the course of the year.
As inflation across commodities, assets, and consumer goods surged in 2021, investors will now be keeping a sharp eye for a pullback in 2022. We'll have to wait and see whether or not the Fed's plans to increase rates and taper asset purchases will manage to provide price stability in commodities.