Charting 20 Years of Home Price Changes in Every U.S. City
At the turn of the century, the average U.S. home value was $126,000. Today, that figure is at a record high $259,000 – a 106% increase in just two decades.
Of course, the path from A to B was anything but linear with a financial crisis, housing bubbles in major cities, and now COVID-19, which is drastically altering market dynamics.
How has the housing market evolved, on a city-by-city basis?
Two Decades of Housing Prices
The interactive visual below – created by Avison Young Global, using data from Zillow – is a comprehensive look at U.S. home price data over the past two decades.
Editor's note: Click the circles at the top of the visualization to see other versions of the data, including price changes at the state and zip code level.
The Lay of the Land
A number of things become apparent when looking at historical data of hundreds of U.S. cities.
First, the trajectory of home prices is defined by the 2008 Financial Crisis. After prices took a steep dive, it took a full decade for the average home price to rise back up to the 2007 peak.
Next, broadly speaking, the U.S. average is being "pulled up" by the hottest regional markets. The majority of housing markets have seen between a 50% and 100% increase in price over the past 20 years. This is also true at the state level, where booming markets such as Hawaii saw price increases double the U.S. average.
Going West
The West Coast has seen dramatic home price appreciation in over the last two decades, a trend that permeated the entire region. Every single city tracked in this database beat the U.S. average.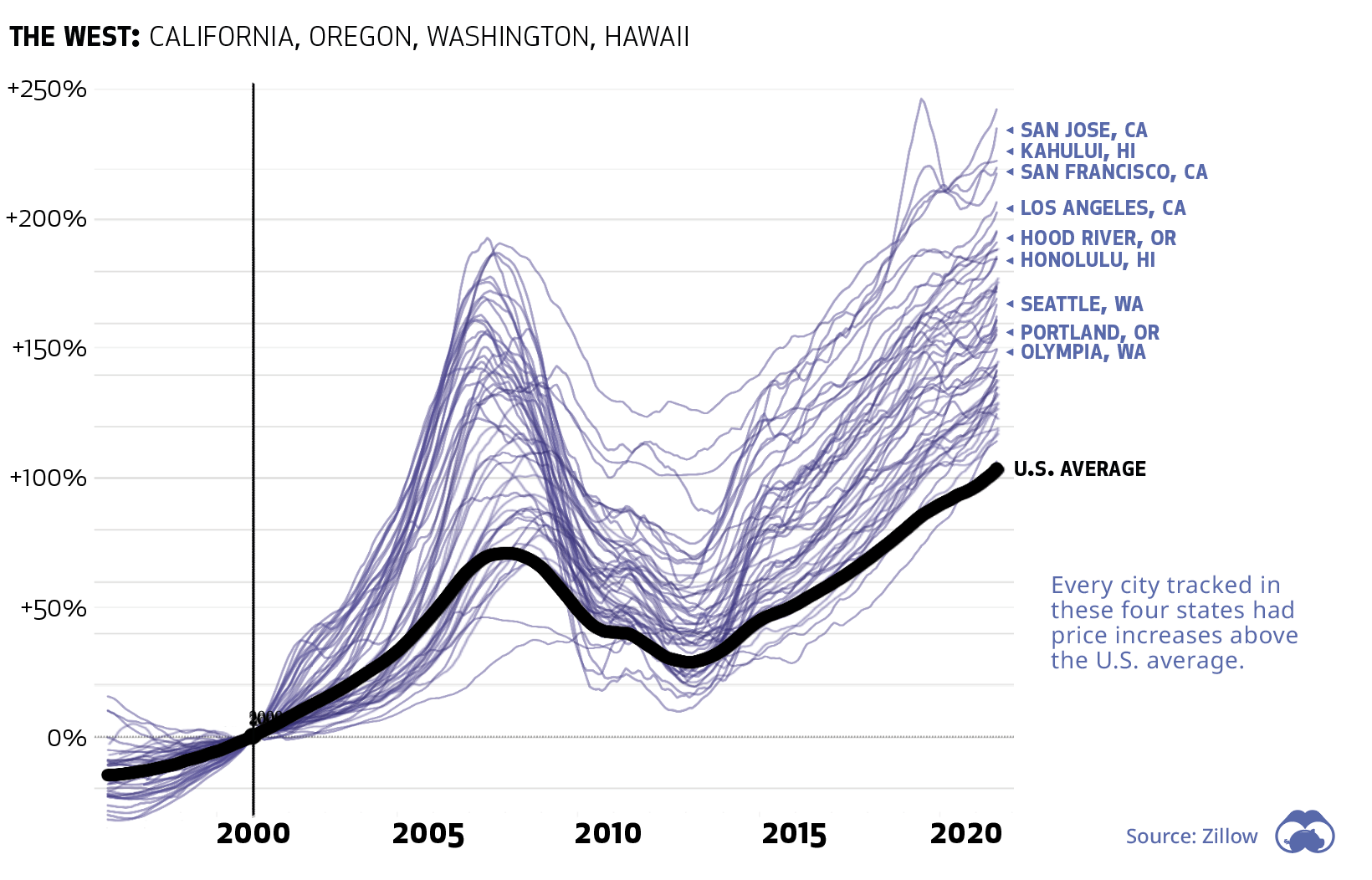 California and Hawaii saw the biggest gains, with a number of cities ending up with a 200%+ increase over prices in 2000.
The biggest gains in the entire country over the time period was Madera, California, which is located just north of Fresno. The nearby cities of San Jose and San Francisco rose by an impressive 235% and 219%, respectively. As a practical example – during the meteoric rise of Silicon Valley, average prices in San Francisco shot up from $364,000 to $1.12 million.
Even the bottom city (Yakima, Washington) on the left coast saw an increase of 114%.
Slower Home Price Changes
In general, cities located in America's "Rust Belt" states saw slower home price growth. In fact, every city in these five states saw price growth below the U.S. average.
Of the top 20 U.S. metros, Detroit and Chicago saw the slowest price growth over the past two decades. Flint, Michigan, was the only city in the country to see a price decline.
At the state level, Illinois, Michigan, and Ohio were the bottom three in terms of home price appreciation.
A Useful Barometer
Looking at country or state level data fails to capture the incredible nuance of home values around the country.
That said, since the value of a primary residence makes a significant portion of wealth for most Americans, these price movements serve as a useful barometer of the health of the real estate market, and the economy as a whole.
The World's Biggest Real Estate Bubbles in 2021
According to UBS, there are nine real estate markets that are in bubble territory with prices rising to unsustainable levels.
Ranked: The World's Biggest Real Estate Bubbles in 2021
Identifying real estate bubbles is a tricky business. After all, even though many of us "know a bubble when we see it", we don't have tangible proof of a bubble until it actually bursts.
And by then, it's too late.
The map above, based on data from the Real Estate Bubble Index by UBS, serves as an early warning system, evaluating 25 global cities and scoring them based on their bubble risk.
Reading the Signs
Bubbles are hard to distinguish in real-time as investors must judge whether a market's pricing accurately reflects what will happen in the future. Even so, there are some signs to watch out for.
As one example, a decoupling of prices from local incomes and rents is a common red flag. As well, imbalances in the real economy, such as excessive construction activity and lending can signal a bubble in the making.
With this in mind, which global markets are exhibiting the most bubble risk?
The Geography of Real Estate Bubbles
Europe is home to a number of cities that have extreme bubble risk, with Frankfurt topping the list this year. Germany's financial hub has seen real home prices rise by 10% per year on average since 2016—the highest rate of all cities evaluated.
Two Canadian cities also find themselves in bubble territory: Toronto and Vancouver. In the former, nearly 30% of purchases in 2021 went to buyers with multiple properties, showing that real estate investment is alive and well. Despite efforts to cool down these hot urban markets, Canadian markets have rebounded and continued their march upward. In fact, over the past three decades, residential home prices in Canada grew at the fastest rates in the G7.
Despite civil unrest and unease over new policies, Hong Kong still has the second highest score in this index. Meanwhile, Dubai is listed as "undervalued" and is the only city in the index with a negative score. Residential prices have trended down for the past six years and are now down nearly 40% from 2014 levels.
Note: The Real Estate Bubble Index does not currently include cities in Mainland China.
Trending Ever Upward
Overheated markets are nothing new, though the COVID-19 pandemic has changed the dynamic of real estate markets.
For years, house price appreciation in city centers was all but guaranteed as construction boomed and people were eager to live an urban lifestyle. Remote work options and office downsizing is changing the value equation for many, and as a result, housing prices in non-urban areas increased faster than in cities for the first time since the 1990s.
Even so, these changing priorities haven't deflated the real estate market in the world's global cities. Below are growth rates for 2021 so far, and how that compares to the last five years.
Overall, prices have been trending upward almost everywhere. All but four of the cities above—Milan, Paris, New York, and San Francisco—have had positive growth year-on-year.
Even as real estate bubbles continue to grow, there is an element of uncertainty. Debt-to-income ratios continue to rise, and lending standards, which were relaxed during the pandemic, are tightening once again. Add in the societal shifts occurring right now, and predicting the future of these markets becomes more difficult.
In the short term, we may see what UBS calls "the era of urban outperformance" come to an end.
Mapped: The Top 30 Most Valuable Real Estate Cities in the U.S.
U.S. real estate value is concentrated in a handful of urban centers. Here's a look at the top 30 most valuable cities.
The Most Valuable Real Estate Cities in America
According to real estate tycoon Harold Samuel, there are three things that matter when it comes to real estate value—location, location, and location.
America's property market is no exception to this rule. Depending on the city and its—you guessed it—location, there are vast discrepancies in real estate value across the country.
Using the latest data from LendingTree, this graphic ranks the top 30 most valuable real estate cities in America. We'll also evaluate the top cities based on median value of homes, and how COVID-19 has impacted the market.
The Most Valuable Real Estate Cities
Out of the $32.6 trillion of total real estate value included in LendingTree's database, the top 30 cities account for almost 57%:
Rank
City
State
Total Value
(in billions)
1
New York
New York
$2,838
2
Los Angeles
California
$2,289
3
San Francisco
California
$1,320
4
Chicago
Illinois
$906
5
Washington, D.C.
--
$826
6
Boston
Massachusetts
$815
7
Miami
Florida
$774
8
Seattle
Washington
$700
9
Dallas
Texas
$628
10
Philadelphia
Pennsylvania
$577
11
San Jose, Calif.
California
$568
12
San Diego
California
$564
13
Houston
Texas
$535
14
Atlanta
Georgia
$531
15
Riverside, Calif.
California
$485
16
Phoenix
Arizona
$484
17
Denver
Colorado
$439
18
Minneapolis
Minnesota
$383
19
Detroit
Michigan
$348
20
Portland, Ore.
Oregon
$319
21
Sacramento, Calif.
California
$318
22
Baltimore
Maryland
$301
23
Tampa, Fla.
Florida
$286
24
Austin, Texas
Texas
$248
25
Charlotte, N.C
North Carolina
$248
26
Orlando, Fla.
Florida
$233
27
Honolulu
Hawaii
$219
28
Nashville, Tenn.
Tennessee
$209
29
St. Louis
Missouri
$202
30
Las Vegas
Nevada
$191
New York has the highest real estate value in the country at $2.8 trillion—that's around the size of the UK's GDP in 2019. Close behind is Los Angeles at $2.3 trillion, while San Francisco ranks third at $1.3 trillion.
This may not come as a surprise, considering the popularity of these areas. New York and Los Angeles have the two highest city populations in the U.S., and San Francisco is the second most densely populated city in America (after New York). Historically, these areas have been notorious for their red-hot real estate markets, limited housing supply, and high costs of living.
However, while these cities take the top three spots when it comes to total real estate value, the ranking looks a bit different when comparing the median value of each city.
Most Valuable Cities, by Median Home Value
When it comes to median home value, San Jose claims the top spot at $1.1 million, while San Francisco places second at $959K:
| Rank | City | State | Median Value of a Home |
| --- | --- | --- | --- |
| 1 | San Jose | California | $1,100,000 |
| 2 | San Francisco | California | $959,000 |
| 3 | Honolulu | Hawaii | $705,000 |
| 4 | Los Angeles | California | $668,000 |
| 5 | San Diego | California | $594,000 |
| 6 | Oxnard | California | $586,000 |
| 7 | New York | New York | $501,000 |
| 8 | Boston | Massachusetts | $498,000 |
| 9 | Seattle | Washington | $498,000 |
| 10 | Washington, D.C. | -- | $455,000 |
| 11 | Denver | Colorado | $430,000 |
| 12 | Sacramento | California | $410,000 |
| 13 | Bridgeport | Connecticut | $410,000 |
| 14 | Portland | Oregon | $401,000 |
| 15 | Riverside | California | $365,000 |
| 16 | Naples | Florida | $329,000 |
| 17 | Austin | Texas | $323,000 |
| 18 | Salt Lake City | Utah | $312,000 |
| 19 | Providence | Rhode Island | $300,000 |
| 20 | Miami | Florida | $297,000 |
| 21 | Minneapolis | Minnesota | $294,000 |
| 22 | Baltimore | Maryland | $284,000 |
| 23 | Las Vegas | Nevada | $278,000 |
| 24 | Phoenix | Arizona | $276,000 |
| 25 | Raleigh | North Carolina | $271,000 |
| 26 | Nashville | Tennessee | $265,000 |
| 27 | Philadelphia | Pennsylvania | $246,000 |
| 28 | Chicago | Illinois | $245,000 |
| 29 | Orlando | Florida | $245,000 |
| 30 | North Port | Florida | $244,000 |
The Bay Area leads the pack in terms of median value, but San Francisco and San Jose aren't the only Californian cities to make the list. In fact, half of the top 10 cities are in the Golden State.
Suburban Shuffle
It's important to note that these numbers are from January 2020, before the global pandemic triggered numerous societal and economic changes, including an accelerated migration to the suburbs from key urban centers like New York and San Francisco.
This mass exodus has negatively impacted sales activity. In fall 2020, or example, home sales in New York dropped by 50% compared to last year.
In contrast, places like Honolulu have seen significant growth in home sales—in September 2020, single-family home sales rose by 12.7% compared to last year. Some experts believe COVID has been a key factor driving this growth, as more people are able to work from anywhere, thanks to remote work.