Charting 20 Years of Home Price Changes in Every U.S. City
At the turn of the century, the average U.S. home value was $126,000. Today, that figure is at a record high $259,000 – a 106% increase in just two decades.
Of course, the path from A to B was anything but linear with a financial crisis, housing bubbles in major cities, and now COVID-19, which is drastically altering market dynamics.
How has the housing market evolved, on a city-by-city basis?
Two Decades of Housing Prices
The interactive visual below – created by Avison Young Global, using data from Zillow – is a comprehensive look at U.S. home price data over the past two decades.
Editor's note: Click the circles at the top of the visualization to see other versions of the data, including price changes at the state and zip code level.
The Lay of the Land
A number of things become apparent when looking at historical data of hundreds of U.S. cities.
First, the trajectory of home prices is defined by the 2008 Financial Crisis. After prices took a steep dive, it took a full decade for the average home price to rise back up to the 2007 peak.
Next, broadly speaking, the U.S. average is being "pulled up" by the hottest regional markets. The majority of housing markets have seen between a 50% and 100% increase in price over the past 20 years. This is also true at the state level, where booming markets such as Hawaii saw price increases double the U.S. average.
Going West
The West Coast has seen dramatic home price appreciation in over the last two decades, a trend that permeated the entire region. Every single city tracked in this database beat the U.S. average.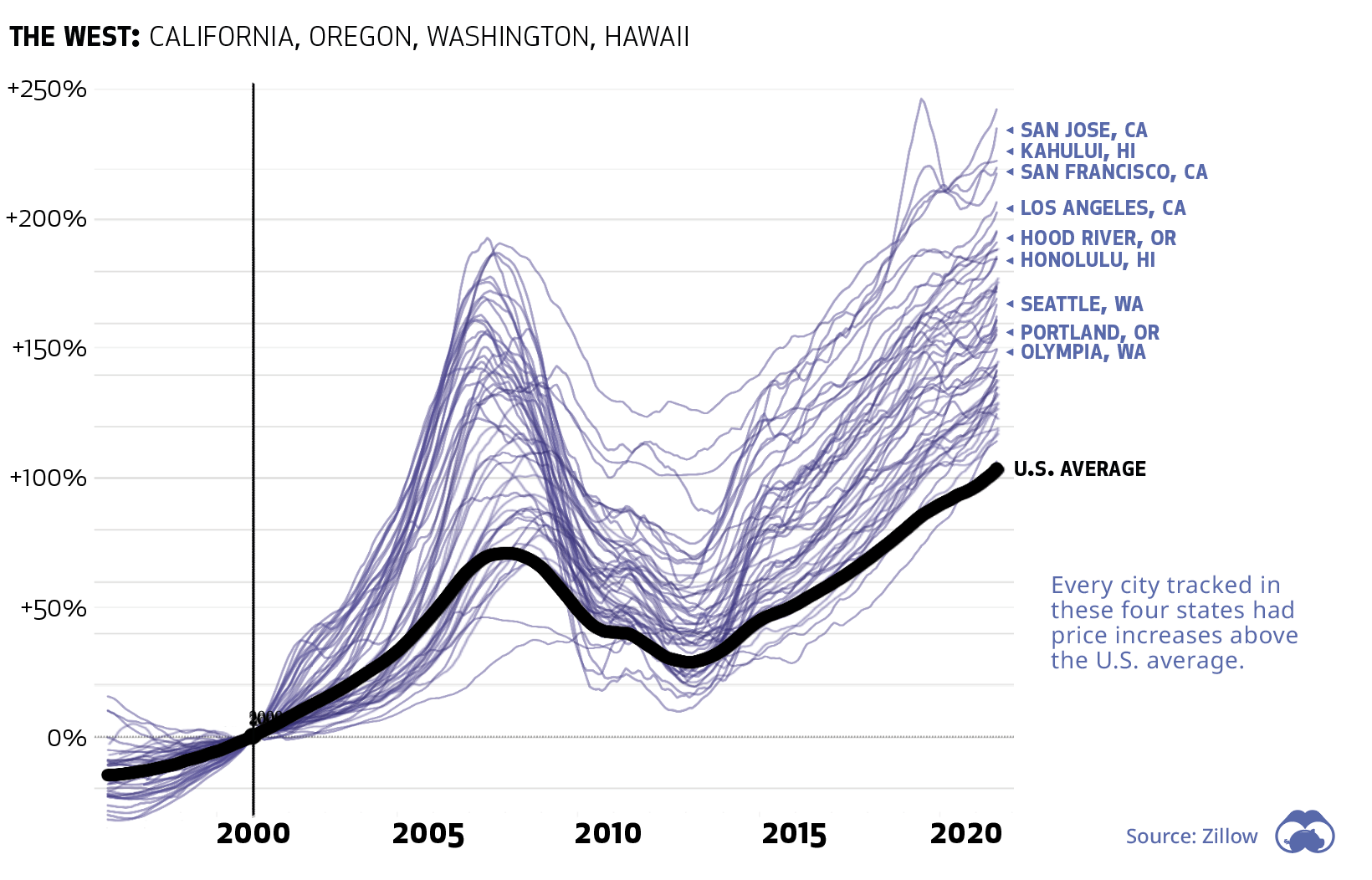 California and Hawaii saw the biggest gains, with a number of cities ending up with a 200%+ increase over prices in 2000.
The biggest gains in the entire country over the time period was Madera, California, which is located just north of Fresno. The nearby cities of San Jose and San Francisco rose by an impressive 235% and 219%, respectively. As a practical example – during the meteoric rise of Silicon Valley, average prices in San Francisco shot up from $364,000 to $1.12 million.
Even the bottom city (Yakima, Washington) on the left coast saw an increase of 114%.
Slower Home Price Changes
In general, cities located in America's "Rust Belt" states saw slower home price growth. In fact, every city in these five states saw price growth below the U.S. average.
Of the top 20 U.S. metros, Detroit and Chicago saw the slowest price growth over the past two decades. Flint, Michigan, was the only city in the country to see a price decline.
At the state level, Illinois, Michigan, and Ohio were the bottom three in terms of home price appreciation.
A Useful Barometer
Looking at country or state level data fails to capture the incredible nuance of home values around the country.
That said, since the value of a primary residence makes a significant portion of wealth for most Americans, these price movements serve as a useful barometer of the health of the real estate market, and the economy as a whole.
The World's Largest Real Estate Investment Trusts (REITs)
Real estate investment trusts (REITS) are a simple alternative for investors looking to gain exposure to real estate.
The World's Largest Real Estate Investment Trusts (REITs)
Real estate is widely regarded as an attractive asset class for investors.
This is because it offers several benefits like diversification (due to less correlation with stocks), monthly income, and protection from inflation. The latter is known as "inflation hedging", and stems from real estate's tendency to appreciate during periods of rising prices.
Affordability, of course, is a major barrier to investing in most real estate. Property markets around the world have reached bubble territory, making it incredibly difficult for people to get their foot in the door.
Thankfully, there are easier ways of gaining exposure. One of these is purchasing shares in a real estate investment trust (REIT), a type of company that owns and operates income-producing real estate, and is most often publicly-traded.
What Qualifies as REIT?
To qualify as a REIT in the U.S., a company must meet several criteria:
Invest at least 75% of assets in real estate, cash , or U.S. Treasuries
Derive at least 75% of gross income from rents, interest on mortgages, or real estate sales
Pay at least 90% of taxable income in the form of shareholder dividends
Be a taxable corporation
Be managed by a board of directors or trustees
Have at least 100 shareholders after one year of operations
Have no more than half its shares held by five or fewer people
Investing in a REIT is similar to purchasing shares of any other publicly-traded company. There are also exchange-traded funds (ETFs) and mutual funds which may hold a basket of REITs. Lastly, note that some REITs are private, meaning they aren't traded on stock exchanges.
The Top 10 by Market Cap
Here are the world's 10 largest publicly-traded REITs, as of March 25, 2022.
| REIT | Market Cap | Dividend Yield | Property Type |
| --- | --- | --- | --- |
| Prologis (NYSE: PLD) | $116.4B | 2.03% | Industrial |
| American Tower (NYSE: AMT) | $109.8B | 2.38% | Communications |
| Crown Castle (NYSE: CCI | $76.8B | 3.35% | Communications |
| Public Storage (NYSE: PSA) | $65.9B | 2.14% | Self-storage |
| Equinix (NYSE: EQIX) | $64.4B | 1.74% | Data centers  |
| Simon Property Group (NYSE: SPG) | $48.9B | 5.07% | Malls |
| Welltower (NYSE: WELL) | $43.0B | 2.58% | Healthcare |
| Digital Realty (NYSE: DLR) | $40.1B | 3.55% | Data centers |
| Realty Income (NYSE: O) | $40.1B | 4.44% | Commercial |
| AvalonBay Communities (NYSE: AVB) | $34.6B | 2.62% | Residential |
As shown above, REITs focus on different sectors of the market. Understanding their differences is an important step to consider before making an investment.
For example, Prologis manages the world's largest portfolio of logistics real estate. This includes warehouses, distribution centers, and other supply chain facilities around the globe. It's reasonable to assume that this REIT would benefit from further growth in ecommerce—more on this near the end.
Realty Income, on the other hand, owns a portfolio of over 11,100 commercial real estate properties in the U.S. and Europe. It rents these properties out to major brands like Walgreens and 7-Eleven, which together account for 8.1% of the REIT's annual income.
More Than Just Buildings
Cell towers and data centers may not seem like "real estate", but they are both critical pieces of modern infrastructure that take up land.
REITs that focus on these sectors include American Tower and Crown Castle, which own wireless communications assets in the U.S. and abroad. They are likely to benefit from the increased adoption of 5G networks and the Internet of Things (IoT).
On the other hand, Equinix and Digital Realty are focused on data centers, a fast growing industry that is benefitting from digitalization. Both of these REITs work with major tech firms such as Amazon and Google.
Trends to Watch
The demand for real estate can be heavily influenced by overarching trends found around the world. One of these is population growth and urbanization, which has drastically pushed up the cost of housing in many cities around the world.
There's also the rising prevalence of ecommerce, which has triggered a boom in demand for warehouse space. This is best captured by Amazon's massive growth during the COVID-19 pandemic, during which the company doubled the number of its warehouse facilities.
Globally, ecommerce accounts for just 19.6% of total retail sales. Should that figure continue to rise, industrial real estate prices could be in store for robust, long-term growth.
Pandemic Recovery: Have North American Downtowns Bounced Back?
All North American downtowns are facing a sluggish recovery, but some are still seeing more than 80% less foot traffic than pre-pandemic times
Pandemic Recovery: Have Downtowns Bounced Back?
As we continue on our journey towards recovery from the impacts of the pandemic, North American offices that sat empty for months have started to welcome back in-person workers.
This small step towards normalcy has sparked questions around the future of office life—will office culture eventually bounce back to pre-pandemic levels, or is remote work here to stay?
It's impossible to predict the future, but one way to gauge the current state of office life is by looking at foot traffic across city centers in North America. This graphic measures just that, using data from Avison Young.
Change in Downtown Office Traffic
According to the data, which measures foot traffic in major office buildings in 23 different metropolitan hubs across North America, remains drastically below pre-pandemic levels.
Across all major cities included in the index, average weekday visitor volume has fallen by 73.7% since the early months of 2020. Here's a look at each individual city's change in foot traffic, from March 2, 2020 to Oct 11, 2021:
| City | Country | Change in Foot Traffic |
| --- | --- | --- |
| Austin | 🇺🇸 | -51.70% |
| Calgary | 🇨🇦 | -54.50% |
| Boston | 🇺🇸 | -54.90% |
| New York | 🇺🇸 | -60.50% |
| San Francisco | 🇺🇸 | -60.80% |
| Edmonton | 🇨🇦 | -62.20% |
| Houston | 🇺🇸 | -67.90% |
| Chicago | 🇺🇸 | -68.10% |
| Vancouver | 🇨🇦 | -68.20% |
| Los Angeles | 🇺🇸 | -68.60% |
| Philadelphia | 🇺🇸 | -69.00% |
| Washington, DC | 🇺🇸 | -69.40% |
| San Francisco Peninsula | 🇺🇸 | -70.00% |
| Denver | 🇺🇸 | -73.50% |
| Nashville | 🇺🇸 | -75.60% |
| East Bay/Oakland | 🇺🇸 | -76.10% |
| Atlanta | 🇺🇸 | -77.50% |
| Dallas | 🇺🇸 | -79.80% |
| Montreal | 🇨🇦 | -80.30% |
| Toronto | 🇨🇦 | -81.20% |
| Miami | 🇺🇸 | -82.20% |
| Silicon Valley | 🇺🇸 | -82.60% |
| Ottawa | 🇨🇦 | -87.70% |
The Canadian city of Calgary is a somewhat unique case. On one hand, foot traffic has bounced back stronger than many other downtowns across North America. On the other hand, the city has one of the highest commercial vacancy rates in North America, and there are existential questions about what comes next for the city.
Interestingly, a number of cities with a high proportion of tech jobs, such as Austin, Boston, and San Francisco bounced back the strongest post-pandemic. Of course, there is one noteworthy exception to that rule.
A Tale of Two Cities
Silicon Valley has experienced one of the most significant drops in foot traffic, at -82.6%. Tech as an industry has seen one of the largest increases in remote work, as Bay Area workers look to escape high commuter traffic and high living expenses. A recent survey found that 53% of tech workers in the region said they are considering moving, with housing costs being the primary reason most respondents cited.
Meanwhile, in a very different part of North America, another city is experienced a sluggish rebound in foot traffic, but for very different reasons. Ottawa, Canada's capital, is facing empty streets and struggling small businesses that rely on the droves of government workers that used to commute to downtown offices. Unlike Silicon Valley, where tech workers are taking advantage of flexible work options, many federal workers in Ottawa are still working from home without a clear plan on returning to the workplace.
It's also worth noting that these two cities are home to a lot of single-occupant office buildings, which is a focus of this data set.
Some Businesses Remain Hopeful
Despite a slow return to office life, some employers are snapping up commercial office space in preparation for a potential mass return to the office.
Back in March 2021, Google announced it was planning to spend over $7 billion on U.S. office space and data centers. The tech giant held true to its promise—in September, Google purchased a Manhattan commercial building for $2.1 billion.
Other tech companies like Alphabet and Facebook have also been growing their office spaces throughout the pandemic. In August 2021, Amazon leased new office space in six major U.S. cities, and in September 2020, Facebook bought a 400,000 square foot complex in Bellevue, Washington.
Will More Employees Return or Stay Remote?
It's important to note that we're still in the midst of pandemic recovery, which means the jury's still out on what our post-pandemic world will look like.
Will different cities and industries eventually recover in different ways, or are we approaching the realities of "new normal" foot traffic in North American city centers?