Charting 20 Years of Home Price Changes in Every U.S. City
At the turn of the century, the average U.S. home value was $126,000. Today, that figure is at a record high $259,000 – a 106% increase in just two decades.
Of course, the path from A to B was anything but linear with a financial crisis, housing bubbles in major cities, and now COVID-19, which is drastically altering market dynamics.
How has the housing market evolved, on a city-by-city basis?
Two Decades of Housing Prices
The interactive visual below – created by Avison Young Global, using data from Zillow – is a comprehensive look at U.S. home price data over the past two decades.
Editor's note: Click the circles at the top of the visualization to see other versions of the data, including price changes at the state and zip code level.
The Lay of the Land
A number of things become apparent when looking at historical data of hundreds of U.S. cities.
First, the trajectory of home prices is defined by the 2008 Financial Crisis. After prices took a steep dive, it took a full decade for the average home price to rise back up to the 2007 peak.
Next, broadly speaking, the U.S. average is being "pulled up" by the hottest regional markets. The majority of housing markets have seen between a 50% and 100% increase in price over the past 20 years. This is also true at the state level, where booming markets such as Hawaii saw price increases double the U.S. average.
Going West
The West Coast has seen dramatic home price appreciation in over the last two decades, a trend that permeated the entire region. Every single city tracked in this database beat the U.S. average.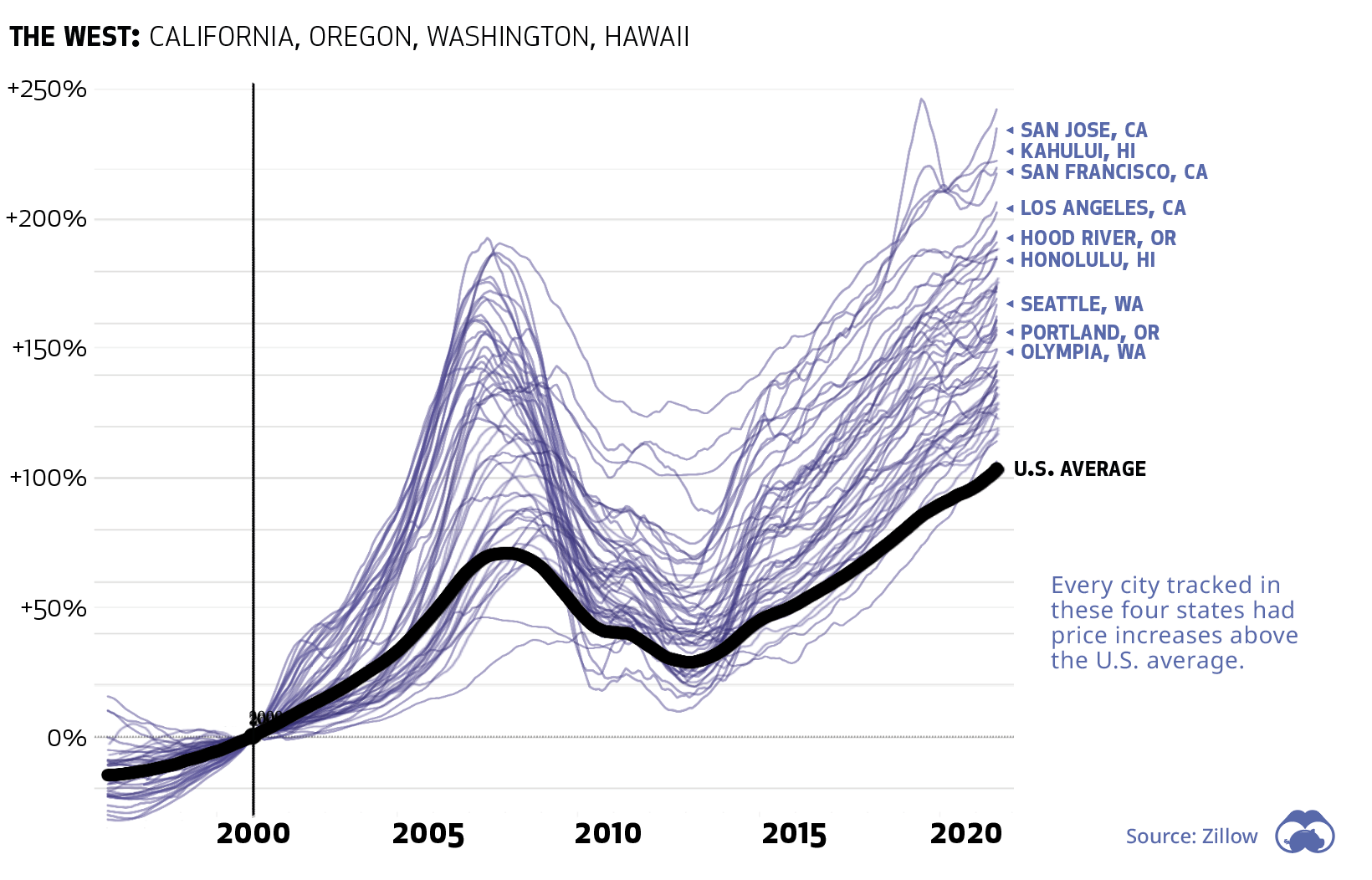 California and Hawaii saw the biggest gains, with a number of cities ending up with a 200%+ increase over prices in 2000.
The biggest gains in the entire country over the time period was Madera, California, which is located just north of Fresno. The nearby cities of San Jose and San Francisco rose by an impressive 235% and 219%, respectively. As a practical example – during the meteoric rise of Silicon Valley, average prices in San Francisco shot up from $364,000 to $1.12 million.
Even the bottom city (Yakima, Washington) on the left coast saw an increase of 114%.
Slower Home Price Changes
In general, cities located in America's "Rust Belt" states saw slower home price growth. In fact, every city in these five states saw price growth below the U.S. average.
Of the top 20 U.S. metros, Detroit and Chicago saw the slowest price growth over the past two decades. Flint, Michigan, was the only city in the country to see a price decline.
At the state level, Illinois, Michigan, and Ohio were the bottom three in terms of home price appreciation.
A Useful Barometer
Looking at country or state level data fails to capture the incredible nuance of home values around the country.
That said, since the value of a primary residence makes a significant portion of wealth for most Americans, these price movements serve as a useful barometer of the health of the real estate market, and the economy as a whole.
Mapped: Renewable Energy and Battery Installations in the U.S. in 2023
This graphic describes new U.S. renewable energy installations by state along with nameplate capacity, planned to come online in 2023.
Renewable and Battery Installations in the U.S. in 2023
This was originally posted on Elements. Sign up to the free mailing list to get beautiful visualizations on real assets and resource megatrends each week.
Renewable energy, in particular solar power, is set to shine in 2023. This year, the U.S. plans to get over 80% of its new energy installations from sources like battery, solar, and wind.
The above map uses data from EIA to highlight planned U.S. renewable energy and battery storage installations by state for 2023.
Texas and California Leading in Renewable Energy
Nearly every state in the U.S. has plans to produce new clean energy in 2023, but it's not a surprise to see the two most populous states in the lead of the pack.
Even though the majority of its power comes from natural gas, Texas currently leads the U.S. in planned renewable energy installations. The state also has plans to power nearly 900,000 homes using new wind energy.
California is second, which could be partially attributable to the passing of Title 24, an energy code that makes it compulsory for new buildings to have the equipment necessary to allow the easy installation of solar panels, battery storage, and EV charging.
New solar power in the U.S. isn't just coming from places like Texas and California. In 2023, Ohio will add 1,917 MW of new nameplate solar capacity, with Nevada and Colorado not far behind.

| Top 10 States | Battery (MW) | Solar (MW) | Wind (MW) | Total (MW) |
| --- | --- | --- | --- | --- |
| Texas | 1,981 | 6,462 | 1,941 | 10,385 |
| California | 4,555 | 4,293 | 123 | 8,970 |
| Nevada | 678 | 1,596 | 0 | 2,274 |
| Ohio | 12 | 1,917 | 5 | 1,934 |
| Colorado | 230 | 1,187 | 200 | 1,617 |
| New York | 58 | 509 | 559 | 1,125 |
| Wisconsin | 4 | 939 | 92 | 1,034 |
| Florida | 3 | 978 | 0 | 980 |
| Kansas | 0 | 0 | 843 | 843 |
| Illinois | 0 | 363 | 477 | 840 |
The state of New York is also looking to become one of the nation's leading renewable energy providers. The New York State Energy Research & Development Authority (NYSERDA) is making real strides towards this objective with 11% of the nation's new wind power projects expected to come online in 2023.
According to the data, New Hampshire is the only state in the U.S. that has no new utility-scale renewable energy installations planned for 2023. However, the state does have plans for a massive hydroelectric plant that should come online in 2024.
Decarbonizing Energy
Renewable energy is considered essential to reduce global warming and CO2 emissions.
In line with the efforts by each state to build new renewable installations, the Biden administration has set a goal of achieving a carbon pollution-free power sector by 2035 and a net zero emissions economy by no later than 2050.
The EIA forecasts the share of U.S. electricity generation from renewable sources rising from 22% in 2022 to 23% in 2023 and to 26% in 2024.