18 Cognitive Bias Examples
View the high resolution version of today's graphic by clicking here.
Out of the 188 cognitive biases that exist, there is a much narrower group of biases that has a disproportionately large effect on the ways we do business.
These are things that affect workplace culture, budget estimates, deal outcomes, and our perceived return on investments within the company.
Mental mistakes such as these can add up quickly, and can hamper any organization in reaching its full bottom line potential.
Cognitive Bias Examples
Today's infographic from Raconteur aptly highlights 18 different cognitive bias examples that can create particularly difficult challenges for company decision-making.
The list includes biases that fall into categories such as financial, social, short term-ism, and failure to estimate:
Financial biases
These are imprecise mental shortcuts we make with numbers, such as hyperbolic discounting – the mistake of preferring a smaller, sooner payoff instead of a larger, later reward. Another classic financial cognitive bias example is the "Ostrich effect", which is where one sticks their head in the sand, pretending that negative financial information simply doesn't exist.
Social biases
Social biases can have a big impact on teams and company culture. For example, teams can bandwagon (when people do something because other people are doing it), and individual team members can engage in blind spot bias (viewing oneself as less biased than others). These both can lead to worse decision-making.
Short Term-isms
One way to ensure a business that doesn't last? Engage in short term-isms – fallacies that gear your business towards decisions that can be rationalized now, but that don't add any long-term value. Status quo bias and anchoring are two ways this can happen.
Failure to Estimate
So much about business relies on making projections about the future, and the biases in this category make it difficult to make accurate estimates. Cognitive bias examples here include the availability heuristic (just because information is available, means it must be true), and the gambler's fallacy (future probabilities are altered by past events).
Want more on cognitive biases? Here are five main biases that impact investors, specifically.
Animation: How the European Map Has Changed Over 2,400 Years
The history of Europe is breathtakingly complex, but this animation helps makes sense of 2,400 years of change on the European map.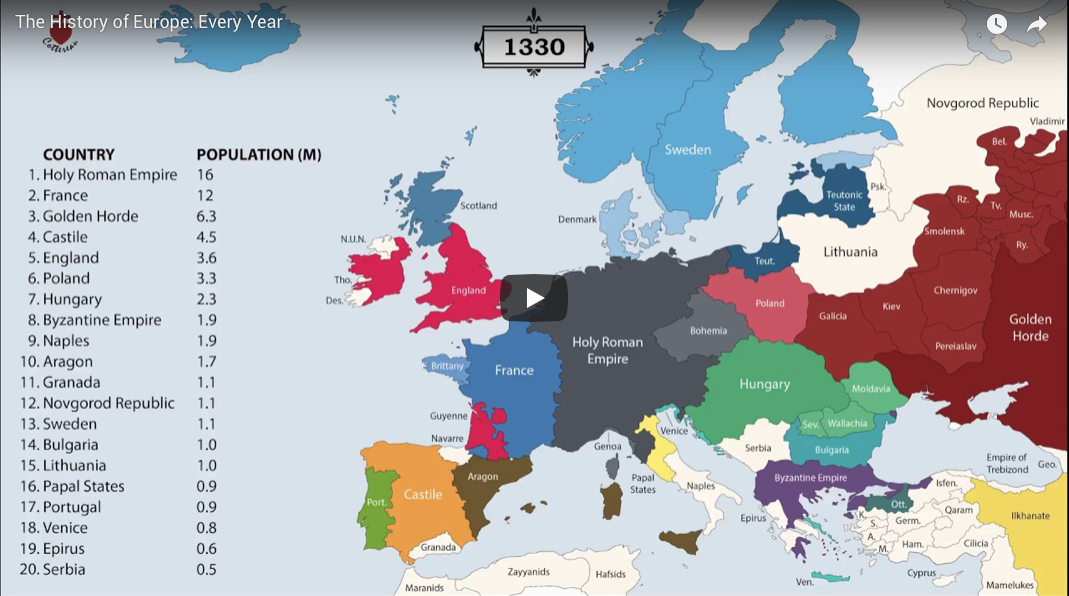 How the European Map Has Changed Over 2,400 Years
The history of Europe is breathtakingly complex. While there are rare exceptions like Andorra and Portugal, which have had remarkably static borders for hundreds of years, jurisdiction over portions of the continent's landmass have changed hands innumerable times.
Today's video comes to us from YouTube channel Cottereau, and it shows the evolution of European map borders starting from 400 BC. Empires rise and fall, invasions sweep across the continent, and modern countries slowly begin to take shape (with the added bonus of an extremely dramatic instrumental).
Below are nine highlights and catalysts that shifted the dividing lines of the European map:
146 BC – A Year of Conquest
146 BC was a year of conquest and expansion for the Roman Republic. The fall of Carthage left the Romans in control of territory in North Africa, and the ransack and destruction of the Greek city-state of Corinth also kickstarted an era of Roman influence in that region. These decisive victories paved the way for the Roman Empire's eventual domination of the Mediterranean.
117 AD – Peak Roman Empire
The peak of the Roman Empire is one of the more dramatic moments shown on this animated European map. At its height, under Trajan, the Roman Empire was a colossal 1.7 million square miles (quite a feat in an era without motorized vehicles and modern communication tools). This enormous empire remained mostly intact until 395, when it was irreparably split into Eastern and Western regions.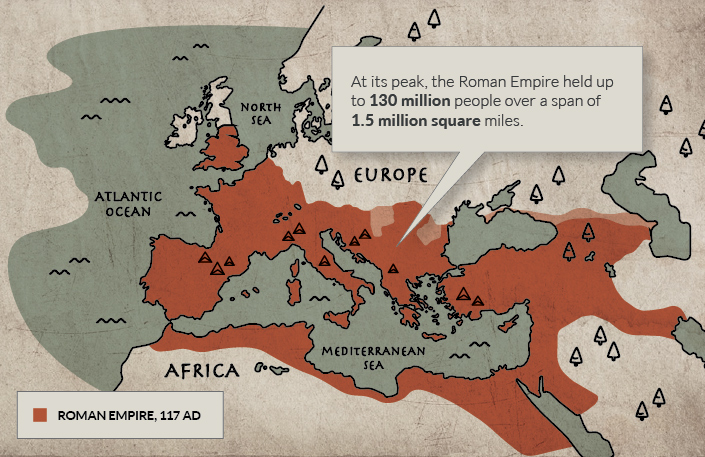 370 AD – The Arrival of the Huns
Spurred on by severe drought conditions in Central Asia, the Huns reached Europe and found a Roman Empire weakened by currency debasement, economic instability, overspending, and increasing incursions from rivals along its borders.
The Huns waged their first attack on the Eastern Roman Empire in 395, but it was not until half a century later—under the leadership of Attila the Hun—that hordes pushed deeper into Europe, sacking and razing cities along the way. The Romans would later get their revenge when they attacked the quarreling Goths and Huns, bouncing the latter out of Central Europe.
1241 – The Mongol Invasion of Europe
In the mid-13th century, the "Golden Horde" led by grandsons of Genghis Khan, roared into Russia and Eastern Europe sacking cities along the way. Facing invasion from formidable Mongol forces, central European princes temporarily placed their regional conflicts aside to defend their territory. Though the Mongols were slowly pushed eastward, they loomed large on the fringes of Europe until almost the 16th century.
1362 – Lithuania
Today, Lithuania is one of Europe's smallest countries, but at its peak in the middle ages, it was one of the largest states on the continent. A pivotal moment for Lithuania came after a decisive win at the Battle of Blue Waters. This victory stifled the expansion of the Golden Horde, and brought present-day Ukraine into its sphere of influence.
1648 – Kleinstaaterei
The end of the Holy Roman Empire highlights the extreme territorial fragmentation in Germany and neighboring regions, in an era referred to as Kleinstaaterei.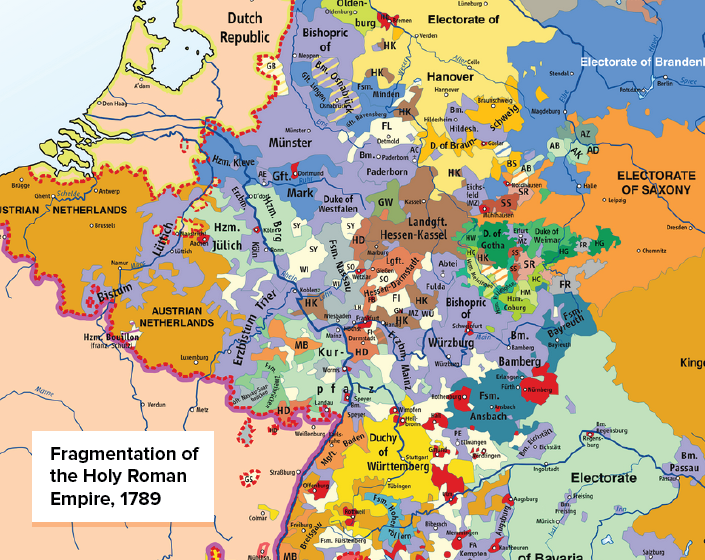 Even as coherent nation states formed around it, the Holy Roman Empire and its remnants wouldn't coalesce until Germany rose from the wreckage of the Franco-Prussian War in 1871. Unification helped position Germany as a major power, and by 1900 the country had the largest economy in Europe.
1919 – The Ottoman Empire
The Ottoman Empire—a fixture in Eastern Europe for hundreds of years—was in its waning years by the beginning of the 20th century. The empire had ceded territory in two costly wars with Italy and Balkan states, and by the time the dust cleared on WWI, the borders of the newly minted nation of Turkey began at the furthest edge of continental Europe.
1942 – Expanding and Contracting Germany
At the furthest extent of Axis territory in World War II, Germany and Italy controlled a vast portion of continental Europe. The map below shows occupied land and areas of influence at the height of Germany's territorial expansion.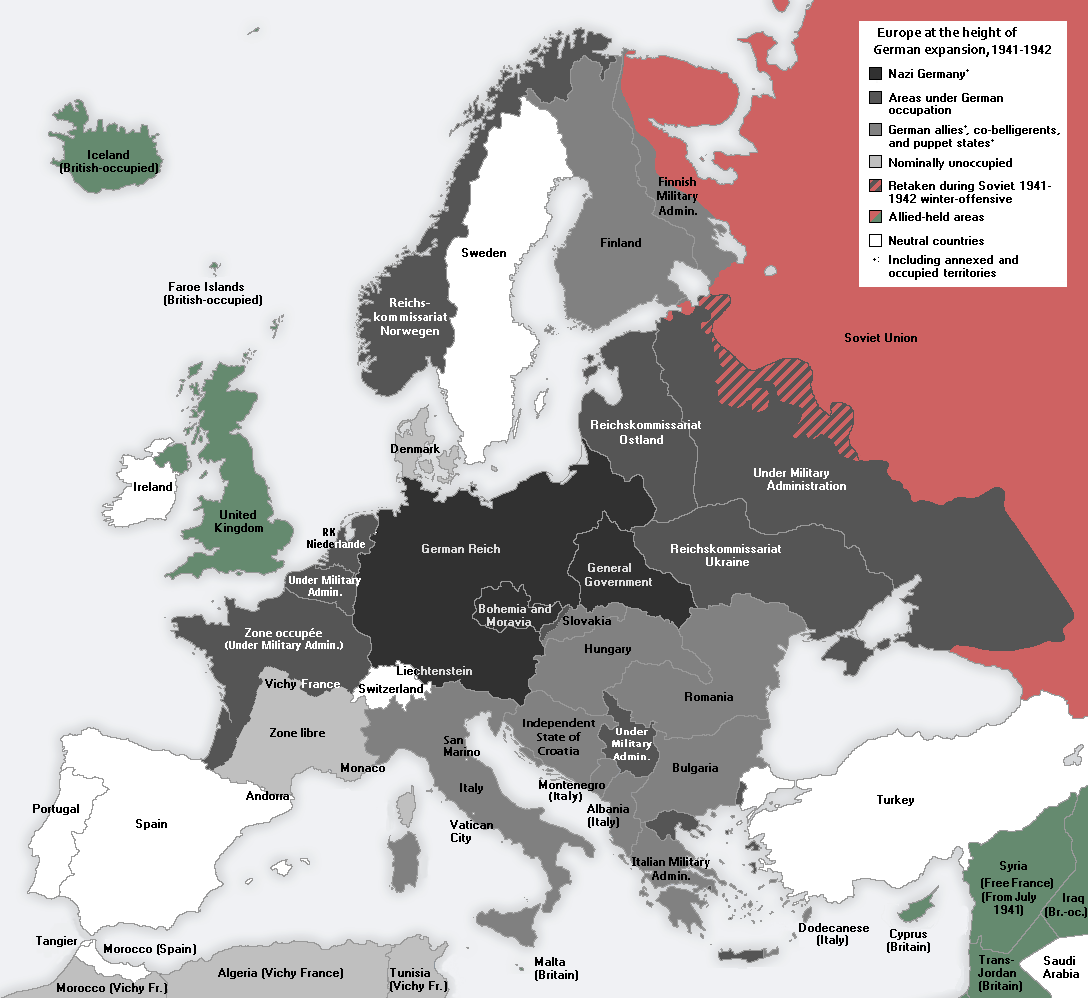 After the war, Germany again became fragmented into occupation zones—this time, overseen by the United States, France, Great Britain, and the Soviet Union. Germany would not be made whole again until 1990, when a weakening Soviet Union loosened its grip on East Germany.
1991 – Soviet Dissolution
In the decades following WWII, the political boundaries of the European map remained relatively stable—that is, until the dissolution of the Soviet Union in 1991. Almost overnight, the country's entire western border splintered into independent nations. When the dust settled, there were 15 breakaway republics, six of which were in Europe.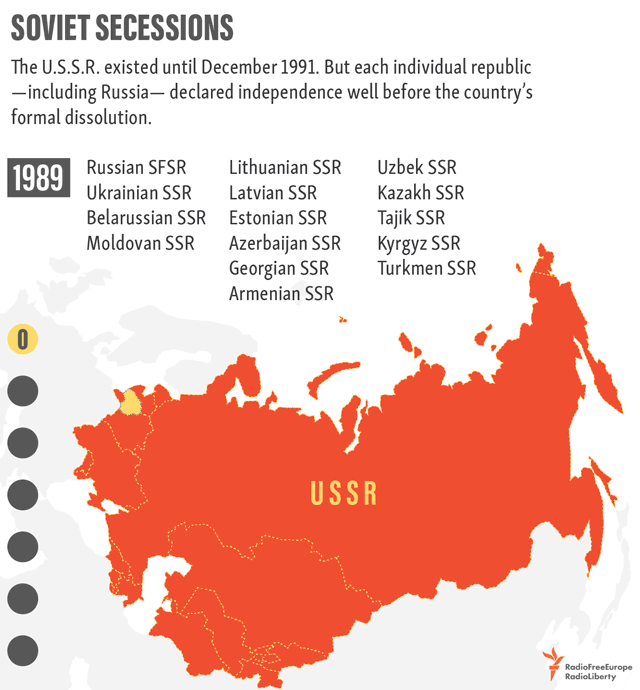 Bonus: If you liked the video above, be sure to watch this year-by-year account of who ruled territories across Europe.
Mapped: Second Primary Languages Around the World
This fascinating map highlights the second most commonly spoken primary language in almost nearly every country.
Mapped: Second Primary Languages Around the World
After the primary language, what second languages are used as native tongues in your country?
The answer reveals a lot about history and location. Whether through immigration, colonization, or local culture, a primary language can either spread around the world or remain rooted in place.
This map from MoveHub shows the second most commonly spoken primary language in most countries, using data from the CIA World Factbook and Wikipedia as of February 2021.
The Difference Between Primary and Secondary Languages
First, it's important to differentiate between primary languages and secondary languages.
A primary language—also known as a first or native language—is the language we use most frequently to communicate. These are languages we are usually born with, have a lot of exposure to, and use at home.
On the other hand, a secondary language is one we learn or pick up after our primary language. In many countries, English is the most commonly learned, with close to 1 billion speakers.
But a map of common second languages can simply show just how many countries prioritize learning English, the de-facto international language in many organizations. Instead, this map highlights the movement of people by showing the second-most common primary language.
The Second Most Common Primary Languages by Country
Even when filtering by primary language use, however, English and other Indo-European languages dominate the world.
With 55 countries speaking it as the second-most common primary language, English came out on top.
| Top 10 Most Popular Second Primary Languages | Number of Countries |
| --- | --- |
| English | 55 |
| French | 14 |
| Russian | 13 |
| Spanish | 8 |
| Creole | 8 |
| Arabic | 6 |
| Kurdish | 4 |
| Portugese | 4 |
| Italian | 3 |
| Quechua | 3 |
The use of English as a second primary language was primarily concentrated in Western Europe, Northern Africa, and Southeast Asia and Oceania.
Similarly to second-place French with 14 countries and third-place Russian with 13 countries, English was most common in proximity to English-speaking countries or where there was a history of immigration.
Other second-most common primary languages highlighted different cultures within countries, such as China's second-most common language Cantonese. Alternatively, they showed the primary indigenous language before colonization, such as the Quechua languages in South America.
What other interesting or surprising language patterns can you spot in the map above?