29 Psychological Tricks To Make You Buy More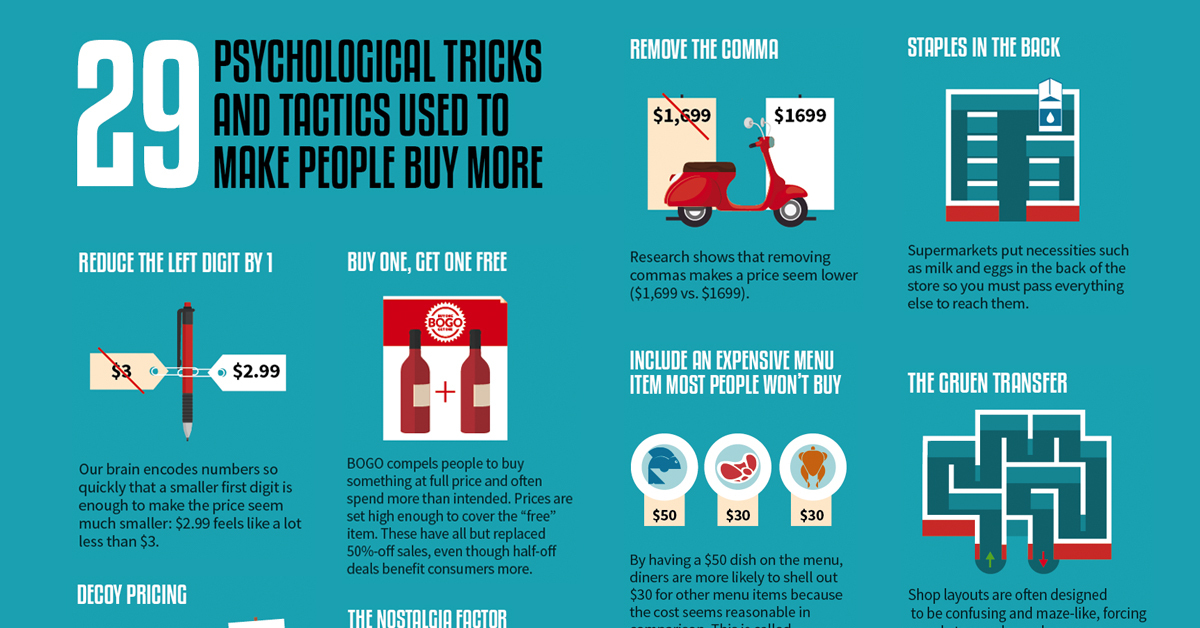 29 Psychological Tricks To Make You Buy More
Ever suffered from buyer's remorse? You're not alone.
According to a recent survey, only 5% of people have never felt guilty about buying something. That means the majority of us, at some point in our lives, have regretted a purchase.
But consumers aren't necessarily only to blame for impulse buys. After all, we're constantly bombarded with advertisements and marketing tactics specifically tailored to try and get us to spend more money.
Today's graphic by TitleMax explains 29 different psychological tactics that marketers try to get consumers to buy more.
Tricks are for Marketers
While this list isn't exhaustive, it provides some key examples of the ways that marketers are attempting to influence your subconscious mind.
We noticed some high-level trends among the 29 tactics, which we compiled into four overarching sections:
Visual Pricing Tricks
These tricks aim to intentionally minimize the appearance of the price, so it's more palatable to consumers. For instance, a store will price something at $9.99 instead of $10.00, or label a product as "buy-one-get-one" rather than 50% off.
Intentional Language Tricks
It's not what you say, but how you say it. Making products seem costly to manufacture, offering exclusivity, and using words associated with small amounts fall under this category. These tricks use semantics to position a product in an appealing way.
Brick-and-Mortar Tricks
A store's layout is less arbitrary than you may realize. Having a bright and colorful entrance, playing calm and slow music, and putting the essential items at the back of the store are a few tactics that fall into this section. These tricks use displays and product placement to influence consumer behavior.
Urgency Tricks
A false sense of urgency and phase-out discounts are included in this category. If a consumer believes they might miss out on a deal, they're more likely to buy.
The Theories in Practice
While most retailers are guilty of using at least a few of these tactics, several big companies are notorious for their use of psychological tricks to boost sales.
For instance, Ikea is well known for its confusing, maze-like layout. This is no accident, as an Ikea store's architecture is designed specifically to maximize product exposure—it's mastered what's called the Gruen effect, a term named after architect Victor Gruen, whose elaborate displays were proven to convert browsers into buyers.
Another example is Walmart's rollback pricing, which uses visual contrast to make the sale price more appealing. It's clearly served the company well—in 2019, Walmart made $524 billion in revenue, making it the world's largest retailer.
Costco uses a few tactics on the list, but one it's notorious for is putting fresh produce in the back of the store. That means customers need to pass through the electronics, clothing, and household goods sections before they can get to the necessities.
While the above tactics are in a gray area, other tricks are flat out dishonest. Makeup brand Sunday Riley was caught writing fake Sephora reviews to boost sales. Employees were encouraged to write outstanding reviews for the company, and the CEO even provided instructions on how to avoid getting caught.
The Influencer Era
As consumers become aware of certain marketing tactics, retailers are forced to switch up their game in order to remain effective.
A relatively recent phenomenon is influencer marketing, which is when brands partner with vloggers or influencers to endorse a product. And these partnerships tend to work—a recent survey revealed that 40% of people have purchased something based on an influencer's recommendation.
But how long will influencer marketing—or any of these tactics—stay effective? Some of the more subtle pricing tactics might stay relevant for longer, but it's unlikely that all of these tricks will stand the test of time.

Visualizing the Human Impact on the Earth's Surface
Nearly 95% of the Earth's surface shows some form of human modification, with 85% bearing evidence of multiple forms of human impact.
Visualizing the Human Impact on the Earth's Surface
View the high resolution version of this map by clicking here.
There is little doubt that human activity has impacted the Earth, but to what extent?
As it turns out, nearly 95% of the Earth's surface shows some form of human modification, with 85% bearing evidence of multiple forms of human impact.
This map by data scientist Hannah Ker outlines the extent of humanity's modification on terrestrial land ecosystems.
Measuring the Human Impact
This map relies on the Global Human Modification of Terrestrial Systems data set, which tracks the physical extent of 13 anthropogenic stressors across five categories.
Human settlement: population density, built‐up areas
Agriculture: cropland, livestock
Transportation: major roads, minor roads, two tracks, railroads
Mining and energy production: mining, oil wells, wind turbines
Electrical infrastructure: powerlines, nighttime lights
Researchers compiled all these stress factors and scaled their impact from 0 to 1. Then, in order to map the impacts spatially, the surface of land was organized into cells of 1 kilometer in length creating "edges" of varying impact.
These impacts are further organized by biomes—distinct biological communities that have formed in response to a shared physical climate.
Digging into the Data
Only 5% of the world's lands are unaffected by humans, which amounts to nearly 7 million km² of the Earth's land, and 44% (59 million km²) is categorized as low modification.
The remainder of land has a moderate to high degree of modification: with 34% categorized as moderate (46 million km²), 13% categorized as high (17 million km²), and 4% categorized as very high modification (5.5 million km²). This latter category is the most visible on the map, with portions of China, India, and Italy serving as focal points.
Below is a look at how Earth's various biomes fare under this ranking system:
Out of the 14 biomes studied, the least modified biomes are tundra, boreal forests, deserts, temperate coniferous forests, and montane grasslands. Tropical dry broadleaf forests, temperate broadleaf forests, Mediterranean forests, mangroves, and temperate grasslands are the most modified biomes.
Dense human settlements, agricultural land uses, networks of infrastructure, and industrial activities dominate the more highly modified biomes. These lands are commonly subject to five or more human stressors simultaneously, threatening naturally-occurring ecosystem services.
What are Ecosystem Services?
An ecosystem service is any positive benefit that wildlife or ecosystems provide to people, and they can be sorted into four categories:
Provisioning Services: This is the primary benefit of nature. Humans derive their food, water, and resources from nature.
Regulating: Plants clean air and filter water, tree roots help to keep soil in place to prevent erosion, bees pollinate flowers, and bacterial colonies help to decompose waste.
Cultural Services: Humans have long interacted with the "wild" and it in turn has influenced our social, intellectual, and cultural development. However, the built environment of a city or town separates man from nature and ancient patterns of life. Ecosystems have long served as inspiration for music, art, architecture, and recreation.
Supporting Services: Ecosystems contain the fundamental natural processes that make life possible such as photosynthesis, nutrient cycling, soil creation, and the water cycle. These natural processes bring the Earth to life. Without these supporting services, provisional, regulating, and cultural services wouldn't exist.
A Delicate Balance
With each encroachment upon habitat, the potential increases for humans to inadvertently upset the careful balance of ecosystem services that have nourished the processes of life on Earth.
As we become more aware of the human impact on the plant, we can make smarter decisions about how our society and economies function—ultimately ensuring that the same ecosystem services are there for future generations.

50 Years of Gaming History, by Revenue Stream (1970-2020)
Visualizing 50 years of gaming history, from the first wave of arcades and home consoles to a tsunami of mobile gaming.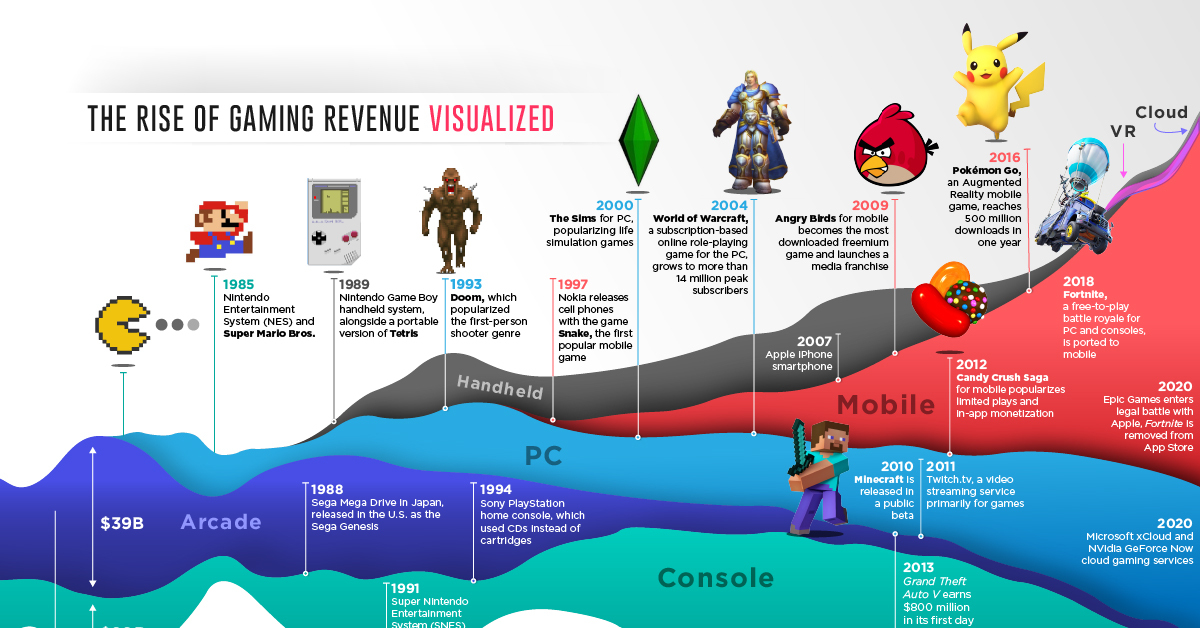 50 Years of Gaming History, by Revenue Stream (1970-2020)
View a more detailed version of the above by clicking here
Every year it feels like the gaming industry sees the same stories—record sales, unfathomable market reach, and questions of how much higher the market can go.
We're already far past the point of gaming being the biggest earning media sector, with an estimated $165 billion revenue generated in 2020.
But as our graphic above helps illustrate, it's important to break down shifting growth within the market. Research from Pelham Smithers shows that while the tidal wave of gaming has only continued to swell, the driving factors have shifted over the course of gaming history.
1970–1983: The Pre-Crash Era
At first, there was Atari.
Early prototypes of video games were developed in labs in the 1960s, but it was Atari's release of Pong in 1972 that helped to kickstart the industry.
The arcade table-tennis game was a sensation, drawing in consumers eager to play and companies that started to produce their own knock-off versions. Likewise, it was Atari that sold a home console version of Pong in 1975, and eventually its own Atari 2600 home console in 1977, which would become the first console to sell more than a million units.
In short order, the arcade market began to plateau. After dwindling due to a glut of Pong clones, the release of Space Invaders in 1978 reinvigorated the market.
Arcade machines started to be installed everywhere, and new franchises like Pac-Man and Donkey Kong drove further growth. By 1982, arcades were already generating more money than both the pop music industry and the box office.
1985–2000: The Tech Advancement Race
Unfortunately, the gaming industry grew too quickly to maintain.
Eager to capitalize on a growing home console market, Atari licensed extremely high budget ports of Pac-Man and a game adaptation of E.T. the Extra Terrestrial. They were rushed to market, released in poor quality, and cost the company millions in returns and more in brand damage.
As other companies also looked to capitalize on the market, many other poor attempts at games and consoles caused a downturn across the industry. At the same time, personal computers were becoming the new flavor of gaming, especially with the release of the Commodore 64 in 1982.
It was a sign of what was to define this era of gaming history: a technological race. In the coming years, Nintendo would release the Nintendo Entertainment System (NES) home console in 1985 (released in Japan as the Famicom), prioritizing high quality games and consistent marketing to recapture the wary market.
On the backs of games like Duck Hunt, Excitebike, and the introduction of Mario in Super Mario Bros, the massive success of the NES revived the console market.
Estimated Total Console Sales by Manufacturer (1970-2020)
| Manufacturer | Home Console sales | Handheld Console Sales | Total Sales |
| --- | --- | --- | --- |
| Nintendo | 318 M | 430 M | 754 M |
| Sony | 445 M | 90 M | 535 M |
| Microsoft | 149 M | - | 149 M |
| Sega | 64-67 M | 14 M | 81 M |
| Atari | 31 M | 1 M | 32 M |
| Hudson Soft/NEC | 10 M | - | 10 M |
| Bandai | - | 3.5 M | 3.5 M |
Source: Wikipedia
Nintendo looked to continue its dominance in the field, with the release of the Game Boy handheld and the Super Nintendo Entertainment System. At the same time, other competitors stepped in to beat them at their own game.
In 1988, arcade company Sega entered the fray with the Sega Mega Drive console (released as the Genesis in North America) and then later the Game Gear handheld, putting its marketing emphasis on processing power.
Electronics maker Sony released the PlayStation in 1994, which used CD-ROMs instead of cartridges to enhance storage capacity for individual games. It became the first console in history to sell more than 100 million units, and the focus on software formats would carry on with the PlayStation 2 (DVDs) and PlayStation 3 (Blu-rays).
Even Microsoft recognized the importance of gaming on PCs and developed the DirectX API to assist in game programming. That "X" branding would make its way to the company's entry into the console market, the Xbox.
2001–Present: The Online Boom
It was the rise of the internet and mobile, however, that grew the gaming industry from tens of billions to hundreds of billions in revenue.
A primer was the viability of subscription and freemium services. In 2001, Microsoft launched the Xbox Live online gaming platform for a monthly subscription fee, giving players access to multiplayer matchmaking and voice chat services, quickly becoming a must-have for consumers.
Meanwhile on PCs, Blizzard was tapping into the Massive Multiplayer Online (MMO) subscription market with the 2004 release of World of Warcraft, which saw a peak of more than 14 million monthly paying subscribers.
All the while, companies saw a future in mobile gaming that they were struggling to tap into. Nintendo continued to hold onto the handheld market with updated Game Boy consoles, and Nokia and BlackBerry tried their hands at integrating game apps into their phones.
But it was Apple's iPhone that solidified the transition of gaming to a mobile platform. The company's release of the App Store for its smartphones (followed closely by Google's own store for Android devices) paved the way for app developers to create free, paid, and pay-per-feature games catered to a mass market.
Now, everyone has their eyes on that growing $85 billion mobile slice of the gaming market, and game companies are starting to heavily consolidate.
Major Gaming Acquisitions Since 2014
| Date | Acquirer | Target and Sector | Deal Value (US$) |
| --- | --- | --- | --- |
| Apr. 2014 | Facebook | Oculus - VR | $3 Billion |
| Aug. 2014 | Amazon | Twitch - Streaming | $970 Million |
| Nov. 2014 | Microsoft | Mojang - Games | $2.5 Billion |
| Feb. 2016 | Activision Blizzard | King - Games | $5.9 Billion |
| Jun. 2016 | Tencent | Supercell - Games | $8.6 Billion |
| Feb. 2020 | Embracer Group | Saber Interactive - Games | $525 Million |
| Sep. 2020 | Microsoft | ZeniMax Media - Games | $7.5 Billion |
| Nov. 2020 | Take-Two Interactive | Codemasters - Games | $994 Million |
Console makers like Microsoft and Sony are launching cloud-based subscription services even while they continue to develop new consoles. Meanwhile, Amazon and Google are launching their own services that work on multiple devices, mobile included.
After seeing the success that games like Pokémon Go had on smartphones—reaching more than $1 billion in yearly revenue—and Grand Theft Auto V's record breaking haul of $1 billion in just three days, companies are targeting as much of the market as they can.
And with the proliferation of smartphones, social media games, and streaming services, they're on the right track. There are more than 2.7 billion gamers worldwide in 2020, and how they choose to spend their money will continue to shape gaming history as we know it.