29 Psychological Tricks To Make You Buy More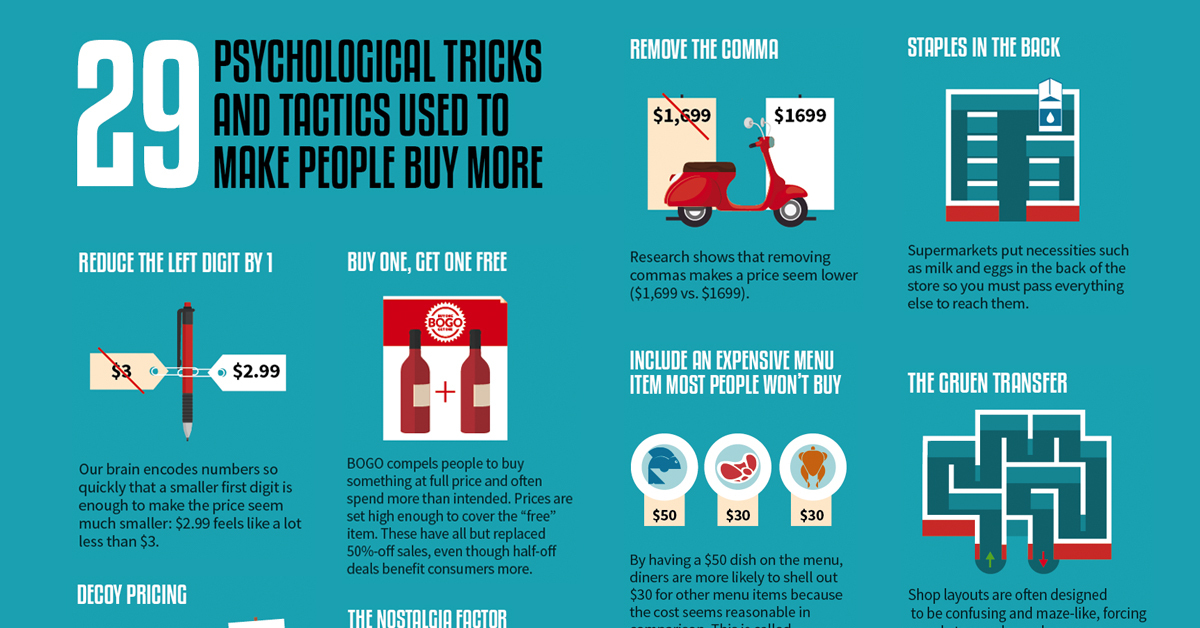 29 Psychological Tricks To Make You Buy More
Ever suffered from buyer's remorse? You're not alone.
According to a recent survey, only 5% of people have never felt guilty about buying something. That means the majority of us, at some point in our lives, have regretted a purchase.
But consumers aren't necessarily only to blame for impulse buys. After all, we're constantly bombarded with advertisements and marketing tactics specifically tailored to try and get us to spend more money.
Today's graphic by TitleMax explains 29 different psychological tactics that marketers try to get consumers to buy more.
Tricks are for Marketers
While this list isn't exhaustive, it provides some key examples of the ways that marketers are attempting to influence your subconscious mind.
We noticed some high-level trends among the 29 tactics, which we compiled into four overarching sections:
Visual Pricing Tricks
These tricks aim to intentionally minimize the appearance of the price, so it's more palatable to consumers. For instance, a store will price something at $9.99 instead of $10.00, or label a product as "buy-one-get-one" rather than 50% off.
Intentional Language Tricks
It's not what you say, but how you say it. Making products seem costly to manufacture, offering exclusivity, and using words associated with small amounts fall under this category. These tricks use semantics to position a product in an appealing way.
Brick-and-Mortar Tricks
A store's layout is less arbitrary than you may realize. Having a bright and colorful entrance, playing calm and slow music, and putting the essential items at the back of the store are a few tactics that fall into this section. These tricks use displays and product placement to influence consumer behavior.
Urgency Tricks
A false sense of urgency and phase-out discounts are included in this category. If a consumer believes they might miss out on a deal, they're more likely to buy.
The Theories in Practice
While most retailers are guilty of using at least a few of these tactics, several big companies are notorious for their use of psychological tricks to boost sales.
For instance, Ikea is well known for its confusing, maze-like layout. This is no accident, as an Ikea store's architecture is designed specifically to maximize product exposure—it's mastered what's called the Gruen effect, a term named after architect Victor Gruen, whose elaborate displays were proven to convert browsers into buyers.
Another example is Walmart's rollback pricing, which uses visual contrast to make the sale price more appealing. It's clearly served the company well—in 2019, Walmart made $524 billion in revenue, making it the world's largest retailer.
Costco uses a few tactics on the list, but one it's notorious for is putting fresh produce in the back of the store. That means customers need to pass through the electronics, clothing, and household goods sections before they can get to the necessities.
While the above tactics are in a gray area, other tricks are flat out dishonest. Makeup brand Sunday Riley was caught writing fake Sephora reviews to boost sales. Employees were encouraged to write outstanding reviews for the company, and the CEO even provided instructions on how to avoid getting caught.
The Influencer Era
As consumers become aware of certain marketing tactics, retailers are forced to switch up their game in order to remain effective.
A relatively recent phenomenon is influencer marketing, which is when brands partner with vloggers or influencers to endorse a product. And these partnerships tend to work—a recent survey revealed that 40% of people have purchased something based on an influencer's recommendation.
But how long will influencer marketing—or any of these tactics—stay effective? Some of the more subtle pricing tactics might stay relevant for longer, but it's unlikely that all of these tricks will stand the test of time.

Mapped: Which Countries Have the Worst Air Pollution?
This population-weighted cartogram shows the countries with the worst air pollution, based on fine particulate matter (PM2.5) concentration.
Mapped: Which Countries Have the Worst Air Pollution?
View the high-resolution of the infographic by clicking here.
In many parts of the world, blue skies are a rarity. Instead, accumulated levels of air pollution from industrial processes and motor vehicle traffic cloak cities in smog year-round.
But to what extent does air pollution impact the human population around the world?
To answer this question, data scientist Matt Dzugan has created a cartogram that shades each country based on levels of fine particulate matter (PM2.5) air pollution experienced by the population living there.
Carto-What?
First off, let's talk about the visualization style itself.
Not your everyday map, this unconventional cartogram resizes the borders of countries based on their total populations. In this style, a single square represents 500,000 people. According to Matt Dzugan, the cartogram view is meant to provide a bird's eye perspective of the impact of air pollution and fine particulate matter (PM2.5) on human lives.
A clear correlation emerges: some of the most inhabited places in the world also experience the most pollution. Highly populated China and India show up the most prominently, while other countries like Australia and Canada seem to disappear off the map entirely.
To put this into perspective, 800 dark brown squares on this cartogram (a PM2.5 concentration of 50 μg/m³) represent 400 million people in India that are exposed to polluted air at levels five times past thresholds set by the World Health Organization.
Top 20 Countries with Cleanest Air
So how do countries on each end of the PM2.5 spectrum shake out? Pulling supplemental data from the WHO, here's how the top 20 countries with the cleanest air rank.
New Zealand tops the above list. And as you can see, air quality tends to be highest in advanced coastal economies with low population densities—and being an island or bordering less habitable Arctic tundra also helps as well.
That said, there are temporary bouts when air quality can dip in even the best of countries. For example, recent wildfires on the West Coast of the United States and Australia resulted in reddish-orange skies and hazardous levels of air quality for weeks at a time.
The 20 Countries with the Most Air Pollution
On the other hand, it may be surprising that Nepal lands all the way at the bottom of the air quality list. Why is this landlocked country—home to less than 30 million—suffering from hazardous air pollution reaching 100μg/m³?
In short, the emissions from fossil-fuel driven traffic and manufacturing operations are trapped within the Kathmandu valley, which causes air quality issues for people living in the region.
The regions with lower air quality tend to be more landlocked with developing economies, such as some countries in central Africa and Asia, as well as in the Middle East.
Finally, while China is lower on this overall list, it's worth noting that it is one of the most prominent on the cartogram due to its sheer population size.

Mapped: The Top 30 Most Valuable Real Estate Cities in the U.S.
U.S. real estate value is concentrated in a handful of urban centers. Here's a look at the top 30 most valuable cities.
The Most Valuable Real Estate Cities in America
According to real estate tycoon Harold Samuel, there are three things that matter when it comes to real estate value—location, location, and location.
America's property market is no exception to this rule. Depending on the city and its—you guessed it—location, there are vast discrepancies in real estate value across the country.
Usingthe latest data from LendingTree, this graphic ranks the top 30 most valuable real estate cities in America. We'll also evaluate the top cities based on median value of homes, and how COVID-19 has impacted the market.
The Most Valuable Real Estate Cities
Out of the $32.6 trillion of total real estate value included in LendingTree's database, the top 30 cities account for almost 57%:
Rank
City
State
Total Value
(in billions)
1
New York
New York
$2,838
2
Los Angeles
California
$2,289
3
San Francisco
California
$1,320
4
Chicago
Illinois
$906
5
Washington, D.C.
--
$826
6
Boston
Massachusetts
$815
7
Miami
Florida
$774
8
Seattle
Washington
$700
9
Dallas
Texas
$628
10
Philadelphia
Pennsylvania
$577
11
San Jose, Calif.
California
$568
12
San Diego
California
$564
13
Houston
Texas
$535
14
Atlanta
Georgia
$531
15
Riverside, Calif.
California
$485
16
Phoenix
Arizona
$484
17
Denver
Colorado
$439
18
Minneapolis
Minnesota
$383
19
Detroit
Michigan
$348
20
Portland, Ore.
Oregon
$319
21
Sacramento, Calif.
California
$318
22
Baltimore
Maryland
$301
23
Tampa, Fla.
Florida
$286
24
Austin, Texas
Texas
$248
25
Charlotte, N.C
North Carolina
$248
26
Orlando, Fla.
Florida
$233
27
Honolulu
Hawaii
$219
28
Nashville, Tenn.
Tennessee
$209
29
St. Louis
Missouri
$202
30
Las Vegas
Nevada
$191
New York has the highest real estate value in the country at $2.8 trillion—that's around the size of the UK's GDP in 2019. Close behind is Los Angeles at $2.3 trillion, while San Francisco ranks third at $1.3 trillion.
This may not come as a surprise, considering the popularity of these areas. New York and Los Angeles have the two highest city populations in the U.S., and San Francisco is the second most densely populated city in America (after New York). Historically, these areas have been notorious for their red-hot real estate markets, limited housing supply, and high costs of living.
However, while these cities take the top three spots when it comes to total real estate value, the ranking looks a bit different when comparing the median value of each city.
Most Valuable Cities, by Median Home Value
When it comes to median home value, San Jose claims the top spot at $1.1 million, while San Francisco places second at $959K:
| Rank | City | State | Median Value of a Home |
| --- | --- | --- | --- |
| 1 | San Jose | California | $1,100,000 |
| 2 | San Francisco | California | $959,000 |
| 3 | Honolulu | Hawaii | $705,000 |
| 4 | Los Angeles | California | $668,000 |
| 5 | San Diego | California | $594,000 |
| 6 | Oxnard | California | $586,000 |
| 7 | New York | New York | $501,000 |
| 8 | Boston | Massachusetts | $498,000 |
| 9 | Seattle | Washington | $498,000 |
| 10 | Washington, D.C. | -- | $455,000 |
| 11 | Denver | Colorado | $430,000 |
| 12 | Sacramento | California | $410,000 |
| 13 | Bridgeport | Connecticut | $410,000 |
| 14 | Portland | Oregon | $401,000 |
| 15 | Riverside | California | $365,000 |
| 16 | Naples | Florida | $329,000 |
| 17 | Austin | Texas | $323,000 |
| 18 | Salt Lake City | Utah | $312,000 |
| 19 | Providence | Rhode Island | $300,000 |
| 20 | Miami | Florida | $297,000 |
| 21 | Minneapolis | Minnesota | $294,000 |
| 22 | Baltimore | Maryland | $284,000 |
| 23 | Las Vegas | Nevada | $278,000 |
| 24 | Phoenix | Arizona | $276,000 |
| 25 | Raleigh | North Carolina | $271,000 |
| 26 | Nashville | Tennessee | $265,000 |
| 27 | Philadelphia | Pennsylvania | $246,000 |
| 28 | Chicago | Illinois | $245,000 |
| 29 | Orlando | Florida | $245,000 |
| 30 | North Port | Florida | $244,000 |
The Bay Area leads the pack in terms of median value, but San Francisco and San Jose aren't the only Californian cities to make the list. In fact, half of the top 10 cities are in the Golden State.
Suburban Shuffle
It's important to note that these numbers are from January 2020, before the global pandemic triggered numerous societal and economic changes, including an accelerated migration to the suburbs from key urban centers like New York and San Francisco.
This mass exodus has negatively impacted sales activity. In fall 2020, or example, home sales in New York dropped by 50% compared to last year.
In contrast, places like Honolulu have seen significant growth in home sales—in September 2020, single-family home sales rose by 12.7% compared to last year. Some experts believe COVID has been a key factor driving this growth, as more people are able to work from anywhere, thanks to remote work.