Visualizing Ratings of the World's Top Car Brands
Visualizing the World's Top Rated Car Brands
The Chart of the Week is a weekly Visual Capitalist feature on Fridays.
To each person, a specific car brand such as Ford, Tesla, or Lexus may mean something totally unique.
For example, if your father always drove Chevy trucks, then the Chevrolet brand might give you a certain sense of comfort and nostalgia. Yet, to a person from a different background – say a young professional that's always lived and worked in the big city – they might not get that same feeling at all.
Despite these varying individual associations that we have with car brands, it is interesting to look at them on a wider and more universal scale.
What if we take into account multiple models for each brand and the owner survey results for over 640,000 cars, and what if these brands are also compared via road tests using a common underlying framework?
The Top Rated Car Brands
Today's charts use data from Consumer Reports, which published its 2018 rankings for car brands just weeks ago.
It uses three different measures to compare these car brands:
Satisfaction: Based on user ratings, and whether an owner would "definitely buy" this model again
Reliability: A prediction of reliability, based on user reports
Overall Score: This is a composite of Consumer Report's road test score and the other ratings (Satisfaction and Reliability)
Here's a full list that includes data for all brands tested by Consumer Reports, including how many models were tested:
Which Companies Make Up the "Magnificent Seven" Stocks?
FAANG is dead… meet the 'Magnificent Seven' stocks that now make up over 25% of the S&P 500.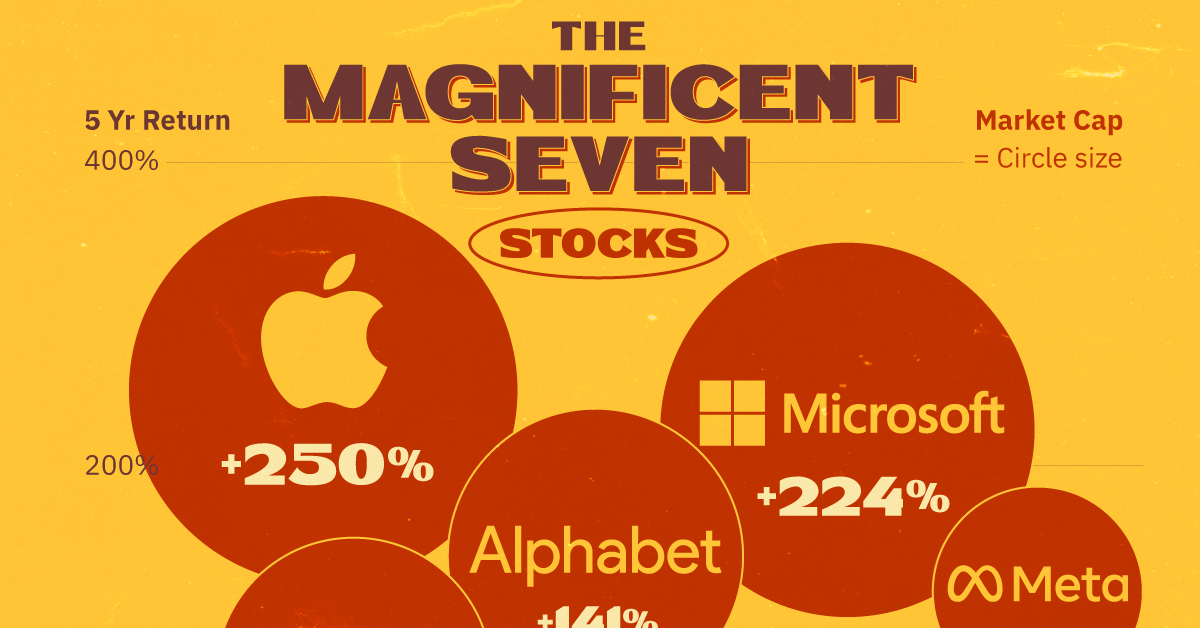 Which Companies Make Up the "Magnificent Seven" Stocks?
In 2013 CNBC analyst Jim Cramer popularized "FANG," comprised of Facebook (now Meta), Amazon, Netflix, and Google (now Alphabet), as a shorthand for the best performing technology stocks on the market. Apple, added in 2017, made it FAANG.
However, over the last year a new moniker given by Bank of America analyst Michael Hartnett highlights the most valuable and popularly-owned companies on the American stock market: the "Magnificent Seven" stocks.
We visualize the Magnificent Seven's market capitalization and 5-year stock performance as of November 2023 using data from Google Finance and CompaniesMarketCap.
The Magnificent Seven Stocks by Market Cap and 5-Year Return
The Magnificent Seven stocks are megacap companies focused and capitalizing on tech growth trends including AI, cloud computing, and cutting-edge hardware and software.
Four of the five FAANG stocks retain their place amongst the Magnificent Seven, with newcomers Nvidia, Tesla, and Microsoft joining the group. Following a poor 2022 performance and having more difficulty capitalizing on tech trends, Netflix is the sole FAANG company not included.
Here's a look at the companies ranked by their market capitalization on November 6, 2023, alongside their 5-year stock performance:
| Rank | Company | Market Cap | 5 Year Performance |
| --- | --- | --- | --- |
| 1 | Apple | $2.8 trillion | +250% |
| 2 | Microsoft | $2.6 trillion | +224% |
| 3 | Alphabet | $1.6 trillion | +141% |
| 4 | Amazon | $1.4 trillion | +63% |
| 5 | Nvidia | $1.1 trillion | +783% |
| 6 | Meta | $811 billion | +118% |
| 7 | Tesla | $690 billion | +829% |
The Magnificent Seven make up more than one-quarter of the S&P 500 and more than half of the Nasdaq 100.
Meanwhile, five of the seven are part of the rare trillion dollar club, with Nvidia being the most recent entry.
A common theme among the Magnificent Seven is their ability to collect vast amounts of customer data, create cutting-edge hardware and software, as well as harness the power of AI.
However, if Netflix gets back on track—recently announcing its new ad-supported membership tier has 15 million subscribers—we could soon see a "Magnificent Eight."