Visualizing America's Entrepreneurial Spirit During COVID-19
Mapped: America's Entrepreneurial Spirit During COVID-19
Despite the risks of opening a business during a global pandemic, new data from the U.S. Census Bureau reveals that the entrepreneurial spirit is alive and well in the United States.
In total, there were 492,133 new business applications in January 2021—an increase of over 73% year-over-year (YoY).
The region with the highest growth rate was the South at 84% with more than 220,000 new business applications in the region in January of this year. Mississippi had the highest percent increase at 164%, with over 6,000 new applications in January 2021.
Here's a closer look at the number of total applications by state and region:
Notably, new business applications have soared in the last month or so, bouncing back from a dip between July and December 2020.
The growth rate from December 2020 to January 2021 stood at 42.6%, with the biggest change happening in the Midwest, where applications have gone up 48.6%. Here's a look at the biggest changes in applications by region since December 2020:
| Region | Number of Applications in January 2021 | Percentage Change from December 2020 |
| --- | --- | --- |
| Midwest | 85,503 | 48.6% |
| Northeast | 77,910 | 47.9% |
| West | 103,861 | 40.5% |
| South | 224,859 | 39.6% |
Note: Business applications are measured by collecting data on new applications for Employer Identification Numbers with the U.S. government.
Opportunity Out of Crisis
Prior to the pandemic, new business startups were actually on the decline, but in times of crisis there is often opportunity.
People have become wildly innovative during COVID-19, partly because they were forced to do so due to job or income loss. Economists call this 'creative destruction,' wherein new innovation springs up because of the failure of particular industries or businesses.
Here's a look at new business applications by industry.
| Industry | Number of New Business Applications (Jan. 2021) |
| --- | --- |
| Retail Trade | 101,842 |
| Professional Services | 56,280 |
| Construction | 43,724 |
| Other Services | 43,511 |
| Transportation and Warehousing | 41,320 |
| Administrative Support | 32,765 |
| Accomodation and Food Services | 27,409 |
| Health Care and Social Assistance | 27,266 |
| Real Estate | 23,804 |
| Finance and Insurance | 22,607 |
| Arts and Entertainment | 14,407 |
| Unclassified | 13,442 |
| Wholesale Trade | 10,298 |
| Information | 9,907 |
| Manufacturing | 7,420 |
| Educational Services | 6,790 |
| Management of Companies | 4,273 |
| Agriculture | 3,978 |
| Mining | 585 |
| Utilities | 505 |
Creative destruction has been keenly exemplified in the rise of remote and digital services over traditional brick and mortar stores. In fact, the industry with the highest number of new business applications in January 2021 was retail services, mostly online, with over 101,000 applications.
Feeling the Entrepreneurial Spirit?
As business applications are on the rise, more jobs could potentially be created in the U.S., and competition will likely increase as well. While starting a business during COVID-19 is risky, it could have immense payoffs for the individuals involved and the overall economy.
In fact, a piece from the U.S. Chamber of Commerce actually recommends specific business ideas that are 'pandemic-friendly.' Among many virtually-based ideas, the list includes:
Digital marketing
App development
Fitness and wellness services
Box subscription services
Perhaps, for digitally minded entrepreneurs, there has never been a better time to start a business.

How to Avoid Common Mistakes With Mining Stocks (Part 5: Funding Strength)
A mining company's past projects and funding strength are interlinked. This infographic outlines how a company's ability to raise capital can determine the fate of a mining stock.
A mining company's past projects and funding strength are interlinked, and can provide clues as to its potential success.
A good track record can provide better opportunities to raise capital, but the company must still ensure it times its financing with the market, protects its shareholders, and demonstrates value creation from the funding it receives.
Part 5: The Role of Funding Strength
We've partnered with Eclipse Gold Mining on an infographic series to show you how to avoid common mistakes when evaluating and investing in mining exploration stocks.
Part 5 of the series highlights six things to keep in mind when analyzing a company's project history and funding ability.
View all five parts of the series:
Part 5: Raising Capital and Funding Strength
So what must investors evaluate when it comes to funding strength?
Here are six important areas to cover.
1. Past Project Success: Veteran vs. Recruit
A history of success in mining helps to attract capital from knowledgeable investors. Having an experienced team provides confidence and opens up opportunities to raise additional capital on more favorable terms.
Veteran:
A team with past experience and success in similar projects
A history of past projects creating value for shareholders
A clear understanding of the building blocks of a successful project
A company with successful past projects instills confidence in investors and indicates the company knows how to make future projects successful, as well.
2. Well-balanced Financing: Shareholder Friendly vs. Banker Friendly
Companies need to balance between large investors and protecting retail shareholders. Management with skin in the game ensures they find a balance between serving the interests of both of these unique groups.
Shareholder Friendly:
Clear communication with shareholders regarding the company's financing plans
High levels of insider ownership ensures management has faith in the company's direction, and is less likely to make decisions which hurt shareholders
Share dilution is done in a limited capacity and only when it helps finance new projects that will create more value for shareholders
Mining companies need to find a balance between keeping their current shareholders happy while also offering attractive financing options to attract further investors.
3. A Liquid Stock: Hot Spot vs. Ghost Town
Lack of liquidity in a stock can be a major problem when it comes to attracting investment. It can limit investments from bigger players like funds and savvy investors. Investors prefer liquid stocks that are easily traded, as this allows them to capitalize on market trends.
Hot Spot:
A liquid stock ensures shareholders are able to buy and sell shares at their expected price
More liquid stocks often trade at better valuations than their illiquid counterparts
High liquidity can help avoid price crashes during times of market instability
Liquidity makes all the difference when it comes to attracting investors and ensuring they're comfortable holding a company's stock.
4. Timing the Market: On Time vs. Too Late or Too Early
Raising capital at the wrong time can result in little interest from investors. Companies in tune with market cycles can raise capital to capture rising interest in the commodity they're mining.
Being On Time:
Raising capital near the start of a commodity's bull market can attract interest from speculators looking to capitalize on price trends
If timed well, the attention around a commodity can attract investors
Well-timed financing will instill confidence in shareholders, who will be more likely to hold onto their stock
Raising capital at the right time during bull markets is less expensive for the company and reduces risk for investors
Companies need to time when they raise capital in order to maximize the amount raised.
5. Where is the Money Going? Money Well Spent vs. Well Wasted
How a company spends its money plays a crucial role in whether the company is generating more value or just keeping the lights on. Investors should always try to determine if management is simply in it for a quick buck, or if they truly believe in their projects and the quality of the ore the company is mining.
Money Well Spent:
Raised capital goes towards expanding projects and operations
Efficient use of capital can increase revenue and keep shareholders happy with dividend hikes and share buybacks
By showing tangible results from previous investments, a company can more easily raise capital in the future
Raised capital needs to be allocated wisely in order to support projects and generate value for shareholders.
6. Additional Capital: Back for More vs. Tapped Out
Mining is a capital intensive process, and unless the company has access to a treasure trove, funding is crucial to advancing any project. Companies that demonstrate consistency in their ability to create value at every stage will find it easier to raise capital when it's necessary.
Back For More:
Raise more capital when necessary to fund further development on a project
Able to show the value they generated from previous funding when looking to raise capital a second time
Attract future shareholders easily by treating current shareholders well
Every mining project requires numerous financings. However, if management proves they spend capital in a way that creates value, investors will likely offer more funding during difficult or unexpected times.
Wealth Creation and Funding Strength
Mining companies that develop significant assets can create massive amounts of wealth, but often the company will not see cash flow for years. This is why it is so important to have funding strength: an ability to raise capital and build value to harvest later.
It is a challenging process to build a mining company, but management that has the ability to treat their shareholders and raise money can see their dreams built.

The World's Most Searched Consumer Brands
From Apple to Zara, this unique map showcases which popular consumer brands were searched for the most around the world.
The World's Most Searched Consumer Brands
View the high resolution of this infographic by clicking here.
Strong brands create an emotional link with consumers, and tech brands are no exception.
In fact, Google, Amazon, Netflix, and even eBay rank as some of the most searched consumer brands worldwide. It's hard to imagine life without these household names, but how do brand preferences shift and change across internet searches worldwide?
This graphic from Business Financing compiles 12 months of data from the Google Keyword Planner and other sources, to uncover the world's most searched consumer brands.
Note: Due to data constraints, a number of countries on the map do not have sufficient information available.
In Tech We Trust
By far, the world's most searched consumer brand is Google, which seems very convenient.
It ranks at the top in 100 countries—that's nearly half of all countries on the planet. With over 90 billion visits monthly, Google has unparalleled dominance in brand loyalty and website traffic.
Top 3 Most Searched Consumer Brands
Google: 100 countries
Netflix: 45 countries
Amazon: 30 countries
Netflix, falling in second, ranks highest in 45 countries including Turkey, Brazil, and South Korea. In third, Amazon is the most popular in 30 countries. The only non-tech company in the top five is IKEA, in fifth place, after eBay.
Gaming the System
When it comes to sub-sectors of consumer brands, the gaming space tells an interesting story.
Namely, it is Epic Games—creator of Fortnite and Grand Theft Auto—that dominates global charts by a considerable margin. Founded in Potomac, Maryland, the company ranks at the top for 141 countries globally.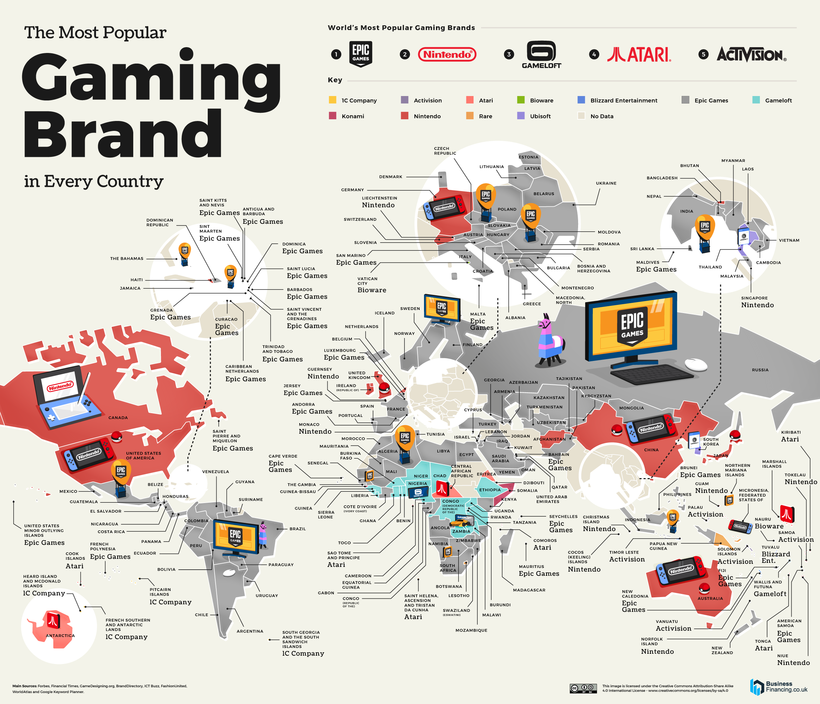 View the high resolution of this infographic by clicking here.
Additionally, Nintendo tops the list of 24 countries including Japan, Haiti, and Canada, while Paris-based Gameloft comes next in line.
Fast Fashion: Shoe Dog At the Top
Since its founding in 1964, Nike has become a remarkable brand builder. In fact, Nike is the most searched fashion brand among 49 countries.
Interestingly, founder Phil Knight only began to fully understand branding power after the company reached $1 billion in revenues. After a series of failures and missteps in the mid-1980s, Nike switched its focus from marketing and manufacturing, to instead, zeroing in on the consumer.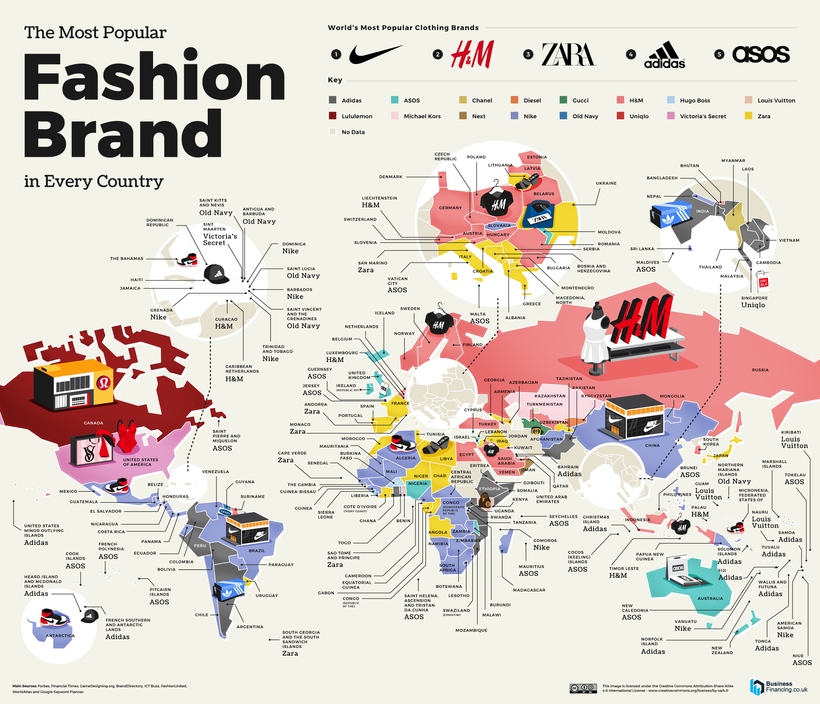 View the high resolution of this infographic by clicking here.
Like Nike, Swedish retailer H&M has a long history dating back to 1947. Prior to the pandemic, the fast-fashion retailer operated 5,000 stores globally. Since pandemic tailwinds, however, H&M plans to close 250 physical stores in 2021 and focus more on online sales.
Big Macs are Here to Stay
When you look closer at the most searched fast food chains, McDonald's ranks highest on a global level, but not by far.
KFC comes in second, topping the list of 65 countries including Russia, Peru, and Thailand. Meanwhile, Pizza Hut, which is owned by the same parent company as KFC, attracted the highest number of searches in America.

View the high resolution of this infographic by clicking here
On the other hand, Antarctica curiously ranks Baskin Robbins at the top, but this could be influenced from a low volume of searches in the region.
Consumer Brand Outliers
If there's one recurring trend across the top consumer brands, it's that they are unsurprisingly dominated by big players concentrated in America.
However, notable outliers are present. In China, search engine Baidu ranks as the top consumer brand on the internet. On the other hand, the Vatican's most-searched gaming company is Canada-based BioWare, which developed the Mass Effect series (no pun intended).
Meanwhile, in Saint Helena—the island where Napoleon was exiled and later died—has Burger King as its most searched fast food brand. As it happens, the remote island appears to have no Burger King, or any other fast food chains. Kenya's top fashion brand is Louis Vuitton, while Turkmenistan's is Gucci.
Despite these differences, many consumer preferences, at least according to search volume, appear strikingly similar on global levels. As many of these multinational brands continue to gain even greater market share, the implications for the global consumer will be interesting to watch in the next year, or even decade.