Who Americans Spend Their Time With, by Age
Who Americans Spend Their Time With, by Age
If the global pandemic has taught us anything, it is that humans truly are social creatures. Most of us need community and connection to thrive.
But when people are not socially distancing and limiting their contacts, who do they choose to spend time with?
This interactive chart from Our World in Data reveals who Americans spend the most daily minutes with at different ages of their life, based on data collected between 2009 and 2019 through the Time Use Survey conducted by the U.S. Bureau of Labor Statistics (BLS).
Adolescence to Adulthood
In the average American's teenage years, they spend most of their time alone and with their family. This makes sense, as the majority of people under 18 still live in a home with their nuclear family unit, meaning parents and siblings.
Jumping forward to a person's early adulthood, 25-year-olds spend an average of 275 minutes per day alone, and 199 minutes with coworkers. This aligns with people in their twenties beginning to enter the workforce.
By age 35, people are still spending the most time with themselves, at 263 minutes per day. However, time spent combined with children and partners, the runner-ups, adds up to 450 minutes or around 7.5 hours a day.
| Age | Most Time Spent | Second | Third |
| --- | --- | --- | --- |
| 15 | Family - 267 Minutes | Alone - 193 Minutes | Friends - 109 Minutes |
| 25 | Alone - 275 Minutes | Coworkers - 199 Minutes | Partner - 121 Minutes |
| 35 | Alone - 263 Minutes | Children - 249 Minutes | Partner - 198 Minutes |
Although people are spending more time with kids and partners as they grow older, this trend may shift, as women are having fewer children. More women today are obtaining an education and are entering the workforce, causing them to delay or entirely put off having children.
Interestingly, the mid-thirties also tends to be the stage of life where time spent with friends levels off and remains steadily low throughout the rest of one's life, usually sitting around an average of 30-40 minutes per day.
Middle to Old Age
Upon turning 45, the average person spends 309 minutes a day alone, and in second place, 199 minutes with children. Time with coworkers remains relatively steady throughout someone's forties, which coincides with the middle of career for most workers.
At age 55, time spent alone is still the winner, but time spent with a partner goes up to 184 minutes, and time with coworkers also moves up, pushing out time spent with children.
| Age | Most Time Spent | Second | Third |
| --- | --- | --- | --- |
| 45 | Alone - 309 Minutes | Children - 199 Minutes | Partner - 184 Minutes |
| 55 | Alone - 384 Minutes | Partner - 184 Minutes | Coworkers - 163 Minutes |
| 65 | Alone - 444 Minutes | Partner - 243 Minutes | Family - 65 Minutes |
| 75 | Alone - 463 Minutes | Partner - 253 Minutes | Family - 56 Minutes |
Typically, time spent with children during the mid-fifties tends to see a sharp decline as children enter adulthood and begin to move out.
However, it will be interesting to see what impact COVID-19 has on future data. With implications such as job loss or reduced income, more children are staying at home longer or even moving back home. 52% of adult children in the U.S. today are living with their parents.
As people get closer to old age, around 65-years-old, they spend increasingly less time with coworkers as they begin to retire, and much more time alone or with a spouse. Then, from age 65-75, people consistently spend the most time alone, then with a partner and family.
Alone and Lonely?
One of the most significant trends on the chart is increased time spent alone.
By the time someone reaches 80, their daily minutes alone goes up to 477. This can be a problematic reality. As the population continues to age in many countries around the world, more elderly people are left without resources or social connection.
Additionally, while 1-in-4 elderly Americans live alone, the trend of solo living is going up across nearly every age group, and this trend applies globally.
But being alone does not necessarily equate to loneliness, as Our World in Data found that there was no direct correlation between living alone and reported feelings of loneliness.
It is not necessarily the amount of time spent with others, but the quality and expectations, that reduce loneliness.
Spending Time Together
Where and how we spend our time has a direct relationship to who we spend time with. More hours at home and off work can mean either more time spent with family, children, and partners, or more time spent alone.
Regardless of who we spend the most time with, the pandemic revealed the importance of human connection to our wellbeing. While many are still doing this through their screens or at a six-foot distance, 2021 could be the year we break out of our bubbles and get back to time spent together.

These Powerful Maps Show the Extremes of U.S. Population Density
The U.S. population is spread across a huge amount of land, but its distribution is far from equal. These maps are a unique look at population density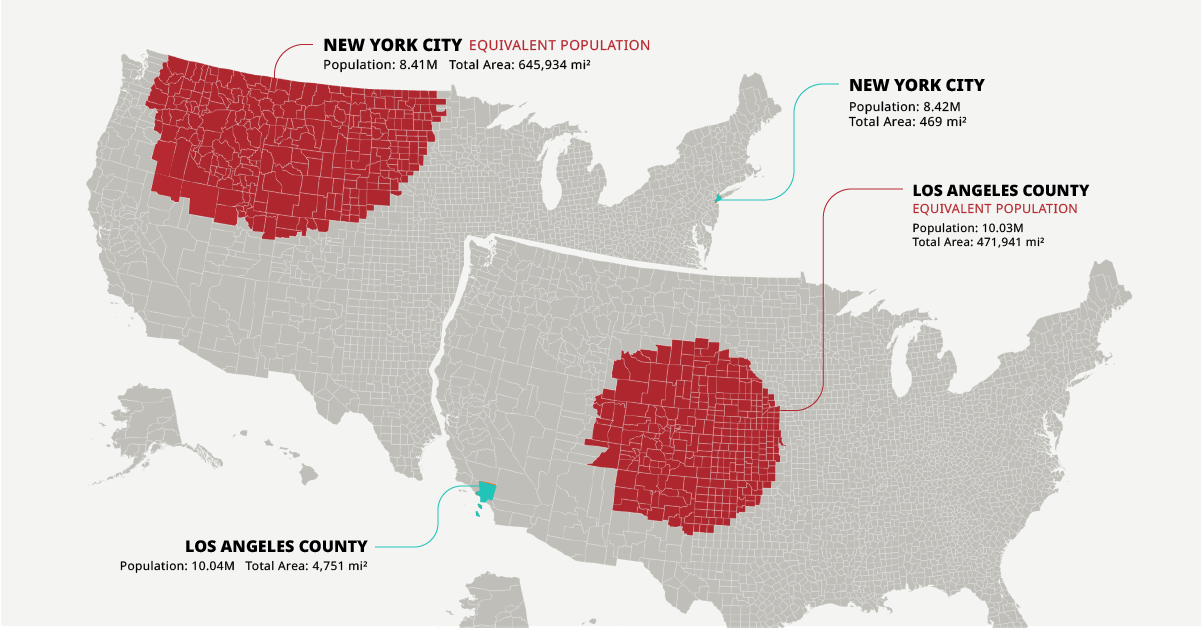 America's 328 million people are spread across a huge amount of territory, but the population density of various regions is far from equal.
It's no secret that cities like New York have a vastly different population density than, say, a rural county in North Dakota. Even so, this interactive map by Ben Blatt of Slate helps visualize the stark contrast between urban and rural densities in a way that might intrigue you.
How many counties does it take to equal the population of these large urban areas? Let's find out.
New York City's Rural Equivalent
New York City (proper) Population: 8.42 million
New York City Population density: 27,547 persons / mi²
New York City became the largest city in the U.S. back in 1781 and has long been the country's most densely packed urban center. Today, 1 in every 38 people living in the United States resides in The Big Apple.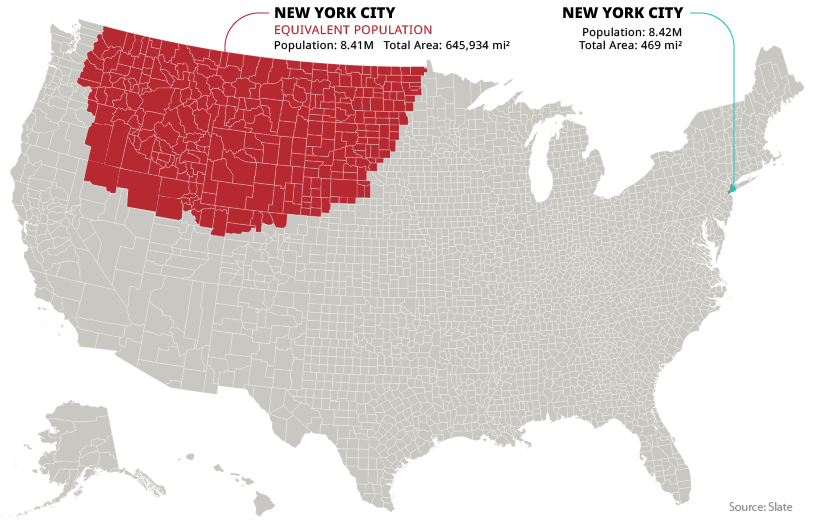 For the northwestern counties above to match the population of New York City, it takes a land area around the size of Mongolia. The region shown above is 645,934 mi², and runs through portions of 12 different states.
In order to match the population of the entire New York metropolitan area, which holds 18 million people and includes adjacent cities and towns in New York state, New Jersey, and Connecticut, the above equivalent area would have to be even more massive.
Los Angeles County's Rural Equivalent
LA County Population: 10.04 million
LA County Population density: 2,100 persons / mi²
Los Angeles County is home to the 88 incorporated cities that make up the urban area of Los Angeles.
Even excluding nearby population centers such as Anaheim, San Bernadino, and Riverside (which are located in adjacent counties) it is still the most populous county in the United States, with over 10 million inhabitants.
To match this enormous scale in Middle America, it would take 298 counties covering an area of 471,941 mi².
Chicago's Rural Equivalent
Chicago Metropolitan Area Population: 9.53 million
Chicago Metropolitan Area Population density: 1,318 persons / mi²
Next up is America's third largest city, Chicago. For this visualization, we're using the Chicago metropolitan area, which covers the full extent of the city's population.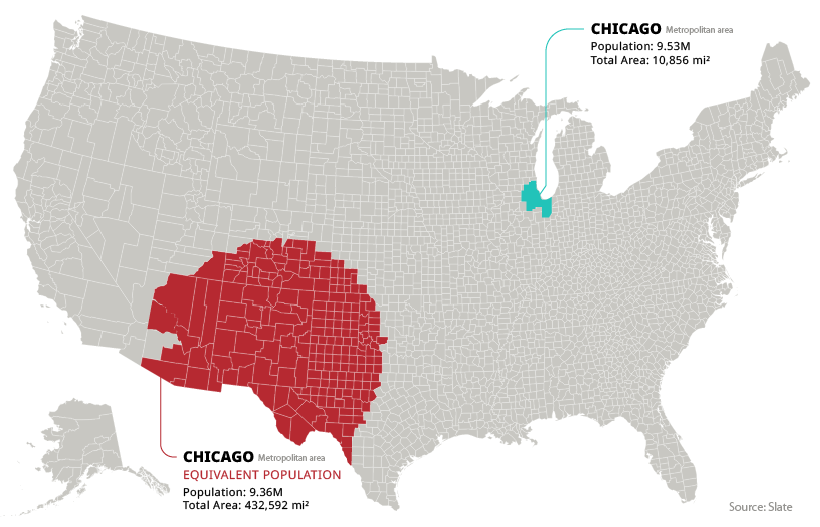 To match the scale of the population of the Windy City, we would need to add up every county in New Mexico, along with large portions of Colorado, Arizona, and Texas.
Turning the Tables?
Conversely, what if we transported the people in the country's least densely populated counties into the middle of an urban center?
| Rank | County | Population |
| --- | --- | --- |
| 1 | Kalawao County, Hawaii | 86 |
| 2 | Loving County, Texas | 169 |
| 3 | King County, Texas | 272 |
| 4 | Kenedy County, Texas | 404 |
| 5 | Arthur County, Nebraska | 463 |
As it turns out, the total population of the five least populated counties is just 1,394—roughly the same amount of people that live on the average Manhattan block.

Visualized: Comparing the Titanic to a Modern Cruise Ship
The sheer size of the Titanic was a sight to behold in 1912, but over 100 years later, how does this vessel compare to a modern cruise ship?
Remembering the Tragedy of the Titanic
When the Titanic was completed on April 2, 1912, it was the largest and perhaps most luxurious ship in the world. The vessel could hold over 3,300 people including crew members, and boasted various amenities including a swimming pool and squash court.
The Titanic's impressive size attracted many of the world's wealthiest individuals, and on April 10, 1912, it set out on its maiden voyage. Just five days later, the ship sank after hitting an iceberg, resulting in more than 1,500 deaths.
It's been over 100 years since the Titanic's demise, so how have passenger ships evolved?
To find out, we've visualized it beside Royal Caribbean's Symphony of the Seas, currently the world's largest cruise ship.
The Size of the Titanic, in Perspective
The following table lists the dimensions of both ships to provide a better understanding of the Titanic's relative size.
| | RMS Titanic | Symphony of the Seas |
| --- | --- | --- |
| Year Built | 1912 | 2018 |
| Length | 882ft (269m) | 1,184ft (361m) |
| Width | 92ft (28m) | 215ft (66m) |
| Height | 175ft (53m) | 238ft (73m) |
| Internal volume | 46,328 gross register tonnage (grt) | 228,081 gross tonnage (gt) |
| Passengers | 2,435 | 6,680 |
| Crew | 892 | 2,200 |
Source: Owlcation, Insider
Note: Gross register tonnage (grt) is a historic measure of a ship's internal volume. This metric was replaced by gross tonnage (gt) on July 18, 1982.
One of the biggest differences between these two ships is width, with the latter being more than twice as wide. This is likely due to the vast amenities housed within the Symphony of the Seas, which includes 24 pools, 22 restaurants, 2 rock climbing walls, an ice-skating rink, and more. With accommodations for 6,680 passengers, the Symphony of the Seas also supports a crew that is 147% larger.
The Symphony of the Seas clearly surpasses the Titanic in terms of size, but there's also a substantial difference in cost. When converted to today's dollars, the bill for the Titanic equates to roughly $400 million, less than half of the Symphony of the Seas' cost of $1.35 billion.
Lessons Learned from the Disaster
Inadequate safety preparations were a contributor to the Titanic's high death toll. During its journey, the vessel carried enough lifeboats to accommodate just 33% of its total passengers and crew. This was legal at the time, as regulations based a ship's number of required lifeboats on its weight, rather than its passenger capacity.
To make matters worse, investigations determined that the Titanic's lifeboats had not been used to their full capacity, and that a scheduled lifeboat drill had been cancelled by the ship's captain. These shortfalls, among others, paved the way for numerous improvements in maritime safety regulation.
These include the creation of the International Convention for the Safety of Life at Sea Treaty (SOLAS) in 1914, which is still in force today. Regarded as the most important international treaty on ship safety, SOLAS has been updated numerous times and is followed by 164 states, which together flag 99% of merchant ships (by gross tonnage) on the high seas today.