Visualizing Two Centuries of U.S. Immigration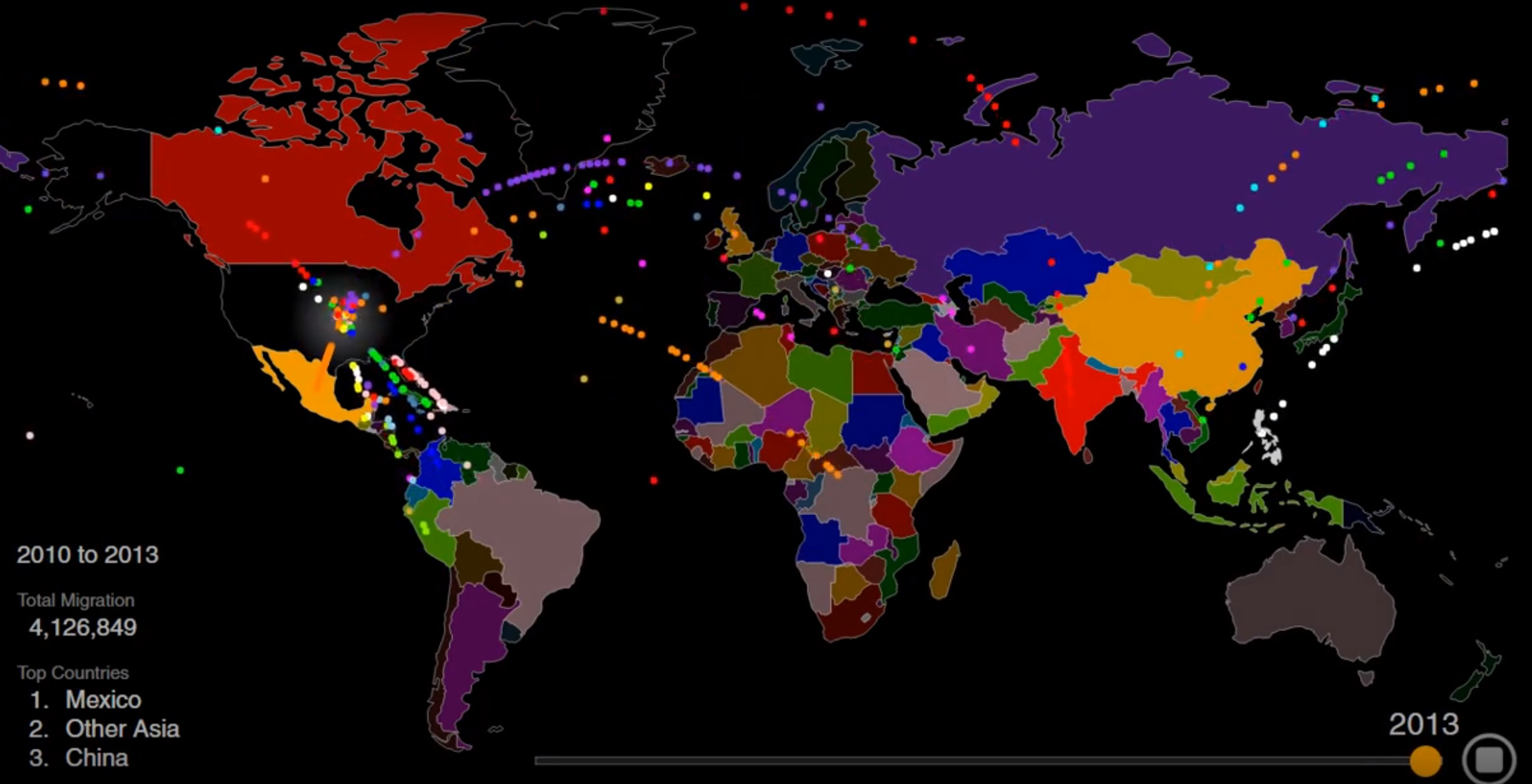 Animation: Visualizing Two Centuries of U.S. Immigration
America is a nation of immigrants, and though the country has seen a lot of new arrivals over the past two centuries, the rate of immigration has been far from steady.
War, famine, economic boom and bust, religious persecution, and government intervention have all caused wild swings in the rate of immigration from countries around the world.
Today's striking animation, by Max Galka, is a great way to see changes in immigration over time. Inflows from specific countries rise and fall, and the top three countries of origin change numerous times over the years.
Below, is another way to look at the ebb and flow of American immigration since the early 1800s.

An important note. This data excludes forced migration (slavery) and illegal immigration.
Let's look at the "waves" in more detail.
Wave one: The Old Immigration
From 1820 to 1870, over 7.5 million immigrants made their way over to the United States, effectively doubling the young country's population in only half a decade.
Ireland, which was in the throes of the Potato Famine, saw half its population set sail for the U.S. during that time. This wave of immigration can still be seen in today's demographics. There are now more Irish-Americans than there are Irish nationals.
The magnetic pull of the New World was profoundly felt in Germany as well. Growing public unrest in the region, caused by heavy taxation and political censorship, culminated in the German revolutions of 1848-49. Faced with severe hardship at home, millions of Germans made their way to America over the 1800s. It's estimated that one-third of the total ethnic German population in the world now lives in the United States.
Wave Two: Gold Rush
Much of America's early immigration was from various points in Europe, but there was one prominent exception: China.
The discovery of gold in California inspired Chinese workers to seek their fortune in America. After a crop failure in Southern China in 1852, tens of thousands of Chinese immigrants flooded into San Francisco.
Although the State of California was making millions of dollars off its Foreign Miners Tax, sentiment towards Chinese workers began to sour. Gold mines were being tapped out and white Californians blamed the Chinese for driving wages down.
Chinamen are getting to be altogether too plentiful in this country.
– John Bigler, Governor of California (1852-1856)
By 1882, the newly enacted the Chinese Exclusion Act had a chilling effect on Chinese immigration. The Exclusion Act has the dubious distinction of being the only American law barring a specific group from immigrating to the United States.
Wave Three: The New Immigration
The wave of immigration leading into the 20th century is referred to as The New Immigration.
In 1890, Ellis Island was designated as the main point of entry for newcomers entering the United States. In 1907 alone, Ellis Island processed a staggering 1,285,349 immigrants. To put this number in perspective, if all of those people settled in one place, they would've formed America's fourth largest city almost overnight.
This massive influx of people into New York had profound implications on the city itself. In 1910, Manhattan's population density was an astronomical 101,548 humans per square mile.
The immigrants arriving during this period – heavily represented by Italians, Hungarians, and Russians – were seeking religious freedom and economic opportunity. Certain industries, such as steel, meat-packing, and mining, were staffed by many new arrivals to the country.
During this time, one in four American workers were foreign-born.
The Great Depression
The National Origins Act's quota system, which took effect in 1929, essentially slammed the door on most immigrants from Southern and Eastern Europe. Shortly after, the Great Depression further put a damper on immigration that would last well into the 20th century.
Wave Four: Mexico
After decades of sluggish immigration, the United States' percentage of foreign-born citizens reached a low of 4.7% in 1970. But that was all about to change.
During the next decade, the number of states where Mexico was the top country of origin doubled in a single decade, and Mexicans became the dominant foreign-born population in the country. This migration was fueled by the Latin American debt crisis and later by NAFTA. The influx of cheap corn into Mexico caused hundreds of thousands of Mexicans from rural areas to search for more favorable economic opportunities. America was the obvious choice, particularly during the economic expansion of the 1990s.
This wave of immigration has shifted the country's demographics considerably. Today, nearly one in five people in the United States are Hispanic.
Current Trends
Immigration trends are continually evolving, and America's newest immigrants are often more likely to come from China or India. In fact, both countries surpassed Mexico as countries of origin for immigrants arriving in the U.S. in 2013. Today, the trend is even more pronounced.
Recent immigration numbers indicate that Asian immigrants will continue to shift America's demographics in a new direction. Perhaps a new wave in the making?

Animated Map: The Comparative Might of Continents
We've come a long way since Pangea. This short video examines the area, population, and GDP of our continents as a share of the world's total.
Animated Map: The Comparative Might of Continents
We've come quite a long way since the time of Pangea. Today, the world's continents are home to over 7.8 billion people, and each one is unique in its own way.
This video from the data visualization tool Vizzu compares the surface area, population, and GDP of the continents—all in terms of their contribution to the world's total. Let's dive further into the results of each category.
Click through to source to see the country breakdowns. Antarctica has been excluded from these calculations.
Surface Area: Does Size Matter?
When it comes to sheer land mass, Asia emerges on top with over one-third of the global surface area. On that front, it certainly has a little help from the combined forces of Russia and China, even as the former overlaps Eastern Europe as well.
| Rank | Region | Share of Global Surface Area | Largest Country |
| --- | --- | --- | --- |
| #1 | Asia | 36.5% | 🇷🇺 Russia |
| #2 | Africa | 22.3% | 🇩🇿 Algeria |
| #3 | North America | 17.1% | 🇨🇦 Canada |
| #4 | South America | 13.2% | 🇧🇷 Brazil |
| #5 | Oceania | 6.4% | 🇦🇺 Australia |
| #6 | Europe | 4.6% | 🇷🇺 Russia |
Africa comes in second, but doesn't lag behind by much. A stone's throw from Europe, Algeria is the largest country on the continent—and the 10th largest in the world.
Failing to grasp the true size of Africa is a common mental mistake, as many maps systematically underestimate its scale. The continent could easily fit the entirety of China, India, the U.S., and multiple European countries within its borders.
Population: Packing People Together
Another way to look at things is in terms of the number of inhabitants in each region. Asia is once again on top, with almost two-thirds of the world squeezed onto the continent.
| Rank | Region | Share of Global Population | Most Populous Country |
| --- | --- | --- | --- |
| #1 | Asia | 61.8% | 🇨🇳 China |
| #2 | Africa | 16.1% | 🇳🇬 Nigeria |
| #3 | Europe | 8.2% | 🇷🇺 Russia |
| #4 | North America | 7.7% | 🇺🇸 U.S. |
| #5 | South America | 5.6% | 🇧🇷 Brazil |
| #6 | Oceania | 0.5% | 🇦🇺 Australia |
Asia's lead in population is impressive, but it's a margin that is unlikely to last forever.
By the year 2100—new estimates show the populations India and China could start to dip. Meanwhile Nigeria, which is already Africa's most populous country with near 196 million people, could potentially quadruple in numbers in the same time frame.
In this metric, Europe also rises to third place. This is thanks again to the approximately 146 million people within Russia. However, if only the countries located completely within the continent are considered, Germany's population of nearly 84 million would win out.
GDP: Emerging Wealth Overtakes
Finally, economic output—measured in terms of Gross Domestic Product (GDP)—is the most common way to assess the relative prosperity of countries and continents.
At this, the U.S. dominates with $21.4T according to the World Bank, though it swaps places with China which boasts $23.5T when adjusted for purchasing power parity (PPP).
| Rank | Region | Share of Global GDP | Richest Country (both nominal and PPP) |
| --- | --- | --- | --- |
| #1 | Asia | 36.9% | 🇨🇳 China |
| #2 | North America | 28.9% | 🇺🇸 U.S. |
| #3 | Europe | 23.9% | 🇩🇪 Germany |
| #4 | South America | 5.1% | 🇧🇷 Brazil |
| #5 | Africa | 3.1% | 🇳🇬 Nigeria |
| #6 | Oceania | 2.1% | 🇦🇺 Australia |
Source: World Bank for both GDP Nominal and PPP, 2019.
Global wealth share drops sharply between Europe and South America, though it's worth noting that rising inequality is also hidden under the surface within many high-income regions.
In terms of overall GDP, the Asian continent makes up the lion's share. Asia is also home to many of the world's emerging markets—which means there may be an even more pronounced shift of wealth towards the East in coming decades.

The World Population in 2100, by Country
New estimates show that world population may begin shrinking in coming years. We visualize this and how country populations will change by 2100.
The World Population in 2100, by Country
In 2015, the United Nations predicted that the global population could surpass 11 billion by the end of the century.
Last year, the UN revised these estimates, but the numbers it came up with were still well above 10 billion. These regular projections from the UN have been the status quo—until now.
Plenty of signs have pointed to there being a population plateau, but recent research from the Institute for Health Metrics and Evaluation (IHME), published in The Lancet, suggests that the number of people on this planet may actually start to shrink well before the year 2100.
Here's a closer look at these complex projections.
UN vs. IHME Population Estimates
According to the UN, the world population is set to steadily rise over the years:
2030: 8.5 billion
2050: 9.7 billion
2100: 10.9 billion
In contrast, IHME paints a different picture. It projects the population to actually peak at 9.7 billion in 2064. Following this trajectory, there could be 8.8 billion people in 2100, approximately 2 billion fewer than previously thought.
Various demographic factors are behind these differences—higher life expectancies, migration rates, and lower fertility rates. For this last factor, independent drivers including contraceptive access and higher educational attainment were also considered.
A shifting age structure is also a key aspect of this transition. By 2100, over a quarter of the world or nearly 2.37 billion will be aged 65 years and above.
The Most Populous Countries in 2100
Amid all these demographic sea changes, which countries will come out on top?
Despite an overall decline in numbers to 1.09 billion people in 2100, India moves up from second to first place on the population leaderboard.
| Rank | Country | Population (2017) | Rank | Country | Population (2100E) |
| --- | --- | --- | --- | --- | --- |
| #1 | 🇨🇳 China | 1.4B | #1 | 🇮🇳 India | 1.09B |
| #2 | 🇮🇳 India | 1.38B | #2 | 🇳🇬 Nigeria | 791M |
| #3 | 🇺🇸 U.S. | 325M | #3 | 🇨🇳 China | 732M |
| #4 | 🇮🇩 Indonesia | 258M | #4 | 🇺🇸 U.S. | 336M |
| #5 | 🇵🇰 Pakistan | 214M | #5 | 🇵🇰 Pakistan | 248M |
| #6 | 🇧🇷 Brazil | 212M | #6 | 🇨🇩 DR Congo | 246M |
| #7 | 🇳🇬 Nigeria | 206M | #7 | 🇮🇩 Indonesia | 229M |
| #8 | 🇧🇩 Bangladesh | 157M | #8 | 🇪🇹 Ethiopia | 223M |
| #9 | 🇷🇺 Russia | 146M | #9 | 🇪🇬 Egypt | 199M |
| #10 | 🇯🇵 Japan | 128M | #10 | 🇹🇿 Tanzania | 186M |
The populations of both India and China will begin to contract after the mid-century—and it's predicted that China's total population will drop by almost half to 732 million by 2100.
Led by Nigeria, Sub-Saharan Africa is the only region that will continue to see growth by century's end. In fact, four of the top 10 countries in the world in terms of population count will be located in Sub-Saharan Africa.
Tightly Packed Together
One final thing to consider is how population density may look in 2100, with many more people clustered in the same areas. For example, Nigeria is dealing with a land area nearly 11 times smaller than the U.S.—but it will have more than double the population.
| Country | 2100 Pop. | Area (Millions, km²/mi²) | Population Density per km² (mi²) |
| --- | --- | --- | --- |
| 🇳🇬 Nigeria | 791M | 0.92M km² (0.36M mi²) | 856.3 (2217.7) |
| 🇮🇳 India | 1.09B | 3.29M km² (1.27M mi²) | 331.6 (858.8) |
| 🇵🇰 Pakistan | 248M | 0.88M km² (0.34M mi²) | 281.2 (728.3) |
| 🇪🇹 Ethiopia | 223M | 1.10M km² (0.42M mi²) | 202.7 (531.0) |
| 🇪🇬 Egypt | 199M | 1.01M km² (0.39M mi²) | 197.0 (510.1) |
| 🇹🇿 Tanzania | 186M | 0.95M km² (0.37M mi²) | 196.3 (508.5) |
| 🇮🇩 Indonesia | 229M | 1.90M km² (0.74M mi²) | 120.2 (311.4) |
| 🇨🇩 DR Congo | 246M | 2.35M km² (0.91M mi²) | 104.9 (271.7) |
| 🇨🇳 China | 732M | 9.60M km² (3.70M mi²) | 76.3 (197.8) |
| 🇺🇸 U.S. | 336M | 9.83M km² (3.80M mi²) | 34.2 (88.5) |
Regardless of how the future population count shakes out, it's clear that these heavyweight countries will undergo significant transformation in the coming decades.