A Fascinating Map of Medieval Trade Routes
Globalization is so well established in today's world that we don't think twice about where our bananas or socks come from.
Long before fleets of container ships criss-crossed the world's oceans, camel caravans and single-sail cogs transported regional goods across the world.
Connecting the World
Today's interactive map, by Martin Jan Månsson, is a comprehensive snapshot of the world's trade networks through the 11th and 12th centuries, which helped to connect kingdoms and merchants throughout Asia, Africa, and Europe.
A confluence of interesting factors helped bring these markets together to encourage commercial activity:
Crusading's Commercial Corollary
The First Crusade kicked off in 1096, sparking a trend that would have an undeniable economic and cultural impact on Europe and the Middle East.
European fighters arriving in the Middle East came into contact with civilizations that were, in many ways, more advanced than their own. Merchants in the area had already been been trading with places further east, and demand for "exotic" goods shot up when crusaders returned to Europe with items both plundered and purchased.
The maritime infrastructure used to deliver all those soldiers laid the groundwork for moving goods between ports along the Mediterranean. Some ports, such as Alexandria, had separate ports for Muslim and Christian ships, which helped create a more stable pipeline of trade.
The Growing Influence of Cities
The dissolution of the Byzantine Empire and the Italian Kingdom left a vacuum that allowed Italian coastal cities to claim prominent roles in regional trade. The port cities of Venice and Genoa were transporting crusading soldiers to the front lines, so becoming hubs of trade in the Mediterranean was a natural evolution. Their geographic locations were also ideal entry points for goods moving along inland European trade routes.
In the 10th century, word of Ghana's abundant gold supply spread to Middle East and actually triggered a rush by Muslim merchants to build connections in the region. A lucrative gold export industry encouraged the growth of cities to the south of the Sahara Desert, which formed critical links between Africa and the Mediterranean trade network.
Flying Cash
While Italian cities were cementing their role in Western trade, the Song Dynasty introduced an innovation that has important implications today: paper currency.
Paper notes, known as flying cash, backed only by the government's word, helped eliminate the need for heavy coinage and allowed trade to flourish in China. Later on, Marco Polo would famously deliver this idea back to Europe.
The Silk Road
"The Silk Road" is a catch-all term for the many overland and maritime routes linking East Asia with Europe and the Middle East. Cities and towns along busy Silk Road routes thrived, and during the 12th century, Merv (in present day Turkmenistan) was actually the largest city in the world until it was decimated in 1221 by the Mongol Empire.
Trade routes like the Silk Road made the movement of physical goods possible, but perhaps more importantly, they facilitated cross-cultural exchange of ideas, religion, technology, and more.
Ranked: The Best Selling Video Games in History
This chart shows the top ten best selling video games, ranked by software units sold. Six of them have been released in the last 12 years.

Creator Program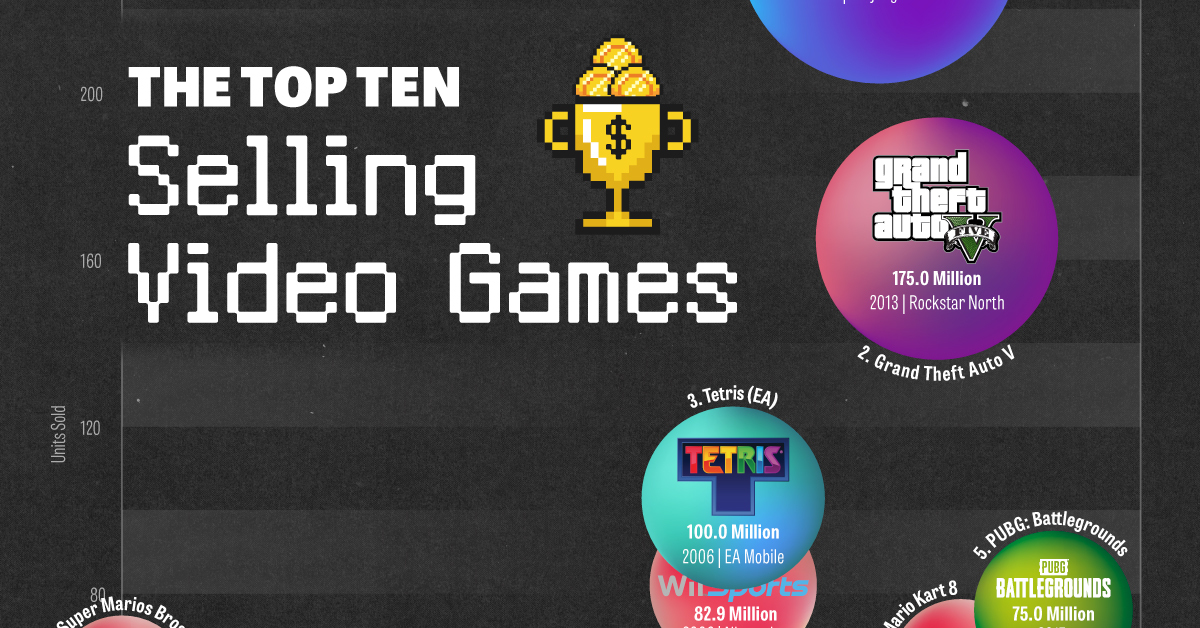 Ranked: The Best Selling Video Games in History
It's a good time to be a video game fan. Not only is the gaming industry booming and projected to grow to $320 billion by 2026, but every year is bringing new evolutions in the medium.
2022 saw massive launches in both games (Elden Ring and God of War Ragnarök) and media based on games (the films Uncharted and Sonic the Hedgehog 2). 2023 has already seen the release of major flagship TV series based on a game, HBO's The Last of Us, and the much-anticipated The Super Mario Bros. Movie is slated to release in April.
But which game is the best, or most successful? That debate may never end, but from company reports and sales data aggregated by Wikipedia, Samuel Parker's chart of the most-sold video games as of March 3, 2023 can at least tell us which ones have been the most popular.
Top Ten Video Games Sold in History
The best selling video game didn't need multimillion dollar budgets, sixty-hour narratives, or celebrity voice actors and ad spots. The independently-developed (indie) Minecraft, with its pixelated blocks, takes the top spot on this list.
| Rank | Game | Sales (units) | Year Released | Developer |
| --- | --- | --- | --- | --- |
| 1 | Minecraft | 238.0M | 2011 | Mojang Studios |
| 2 | GTA 5 | 175.0M | 2013 | Rockstar |
| 3 | Tetris (EA) | 100.0M | 2006 | EA Mobile |
| 4 | Wii Sport | 82.9M | 2006 | Nintendo |
| 5 | PUBG: Battlegrounds | 75.0M | 2017 | PUBG Corp |
| 6 | Mario Kart 8 | 60.5M | 2014 | Nintendo |
| 7 | Super Mario Bros. | 58.0M | 1985 | Nintendo |
| 8 | Read Dead Redemption 2 | 50.0M | 2018 | Rockstar |
| 9 | Pokémon Red/Green/Blue/Yellow | 47.5M | 1996 | GameFreak |
| 10 | Terraria | 44.5M | 2011 | Re-Logic |
Minecraft sold more units than the combined forces of Grand Theft Auto 5 (#2) and Red Dead Redemption 2 (#8), both made by industry giant Rockstar. Its immense popularity has been credited to its simple gameplay (no goals), creative structure (build anything), and engaged community with player-run servers and additional feature creations (known as mods).
Another simple favorite, Tetris, comes in at third place with 100 million units sold of its 2006 re-release. Millennials continue to make up a large chunk of the video game playing demographic which might explain Tetris' sales.
But newer games are making up the majority of sales records. PUBG: Battlegrounds, a battle-royale shooter game which helped popularize the genre (and eventually its competitor Fortnite) asserts its popularity at #5. That puts it well ahead of the better-known shooter Call of Duty, even despite PUBG being banned in a number of countries for the alleged impact on the mental health of gamers.
The oldest game to make the list is Super Mario Bros. (#7), apt considering it is credited with reviving the video game industry after it crashed in 1983. The original staple side-scroller has sold 58 million copies worldwide.
Developer Dominance
Though the top selling games span various series of games, a few developers managed to repeatedly find success.
| Developer | Top 20 Best-Selling Games |
| --- | --- |
| Nintendo | 11 |
| Rockstar | 2 |
| Others | 7 |
Japanese video game titan Nintendo developed three games (Super Mario Bros., Mario Kart, Wii Sport/Fitness) in the top 10 and another eight in the top 20. That's not including its co-ownership of Pokémon, the world's highest-grossing media franchise.
American publisher Rockstar Games also managed to score multiple hits, though its longer development cycle necessary to create cinematic games gives it fewer potential candidates. That might change with the much-anticipated GTA 6 reportedly in production.
Best Selling Genres
The most popular genres in the top 10 give players the freedom to impose their will upon the world and pursue objectives at their leisure:
| Genre | Games |
| --- | --- |
| Sandbox/Open World | 4 |
| Simulation | 2 |
| Others | 4 |
Two games (Minecraft, Terraria) are classic sandbox games, where worlds are procedurally generated and there are no gameplay goals. Another two (GTA 5, Red Dead Redemption 2) are in the adjacent open-world genre, with a combination of sandbox elements and a narrative structure.
However, with new games launching and selling millions of units every year, new entrants to the top 10 list of best selling video games of all-time seems likely. How will these developers, genres, and games fare over time?