Visualizing Two Centuries of U.S. Immigration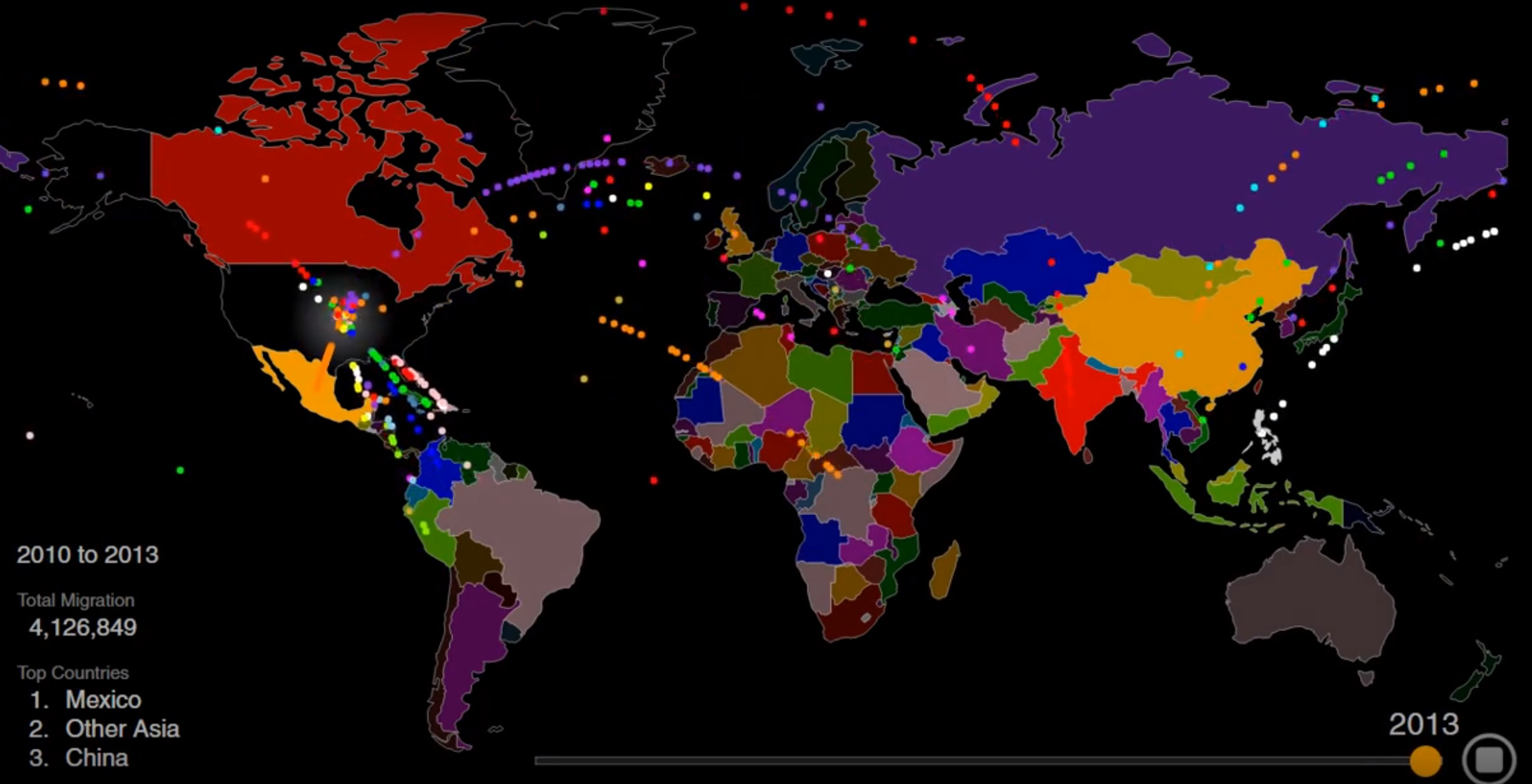 Animation: Visualizing Two Centuries of U.S. Immigration
America is a nation of immigrants, and though the country has seen a lot of new arrivals over the past two centuries, the rate of immigration has been far from steady.
War, famine, economic boom and bust, religious persecution, and government intervention have all caused wild swings in the rate of immigration from countries around the world.
Today's striking animation, by Max Galka, is a great way to see changes in immigration over time. Inflows from specific countries rise and fall, and the top three countries of origin change numerous times over the years.
Below, is another way to look at the ebb and flow of American immigration since the early 1800s.

An important note. This data excludes forced migration (slavery) and illegal immigration.
Let's look at the "waves" in more detail.
Wave one: The Old Immigration
From 1820 to 1870, over 7.5 million immigrants made their way over to the United States, effectively doubling the young country's population in only half a decade.
Ireland, which was in the throes of the Potato Famine, saw half its population set sail for the U.S. during that time. This wave of immigration can still be seen in today's demographics. There are now more Irish-Americans than there are Irish nationals.
The magnetic pull of the New World was profoundly felt in Germany as well. Growing public unrest in the region, caused by heavy taxation and political censorship, culminated in the German revolutions of 1848-49. Faced with severe hardship at home, millions of Germans made their way to America over the 1800s. It's estimated that one-third of the total ethnic German population in the world now lives in the United States.
Wave Two: Gold Rush
Much of America's early immigration was from various points in Europe, but there was one prominent exception: China.
The discovery of gold in California inspired Chinese workers to seek their fortune in America. After a crop failure in Southern China in 1852, tens of thousands of Chinese immigrants flooded into San Francisco.
Although the State of California was making millions of dollars off its Foreign Miners Tax, sentiment towards Chinese workers began to sour. Gold mines were being tapped out and white Californians blamed the Chinese for driving wages down.
Chinamen are getting to be altogether too plentiful in this country.
– John Bigler, Governor of California (1852-1856)
By 1882, the newly enacted the Chinese Exclusion Act had a chilling effect on Chinese immigration. The Exclusion Act has the dubious distinction of being the only American law barring a specific group from immigrating to the United States.
Wave Three: The New Immigration
The wave of immigration leading into the 20th century is referred to as The New Immigration.
In 1890, Ellis Island was designated as the main point of entry for newcomers entering the United States. In 1907 alone, Ellis Island processed a staggering 1,285,349 immigrants. To put this number in perspective, if all of those people settled in one place, they would've formed America's fourth largest city almost overnight.
This massive influx of people into New York had profound implications on the city itself. In 1910, Manhattan's population density was an astronomical 101,548 humans per square mile.
The immigrants arriving during this period – heavily represented by Italians, Hungarians, and Russians – were seeking religious freedom and economic opportunity. Certain industries, such as steel, meat-packing, and mining, were staffed by many new arrivals to the country.
During this time, one in four American workers were foreign-born.
The Great Depression
The National Origins Act's quota system, which took effect in 1929, essentially slammed the door on most immigrants from Southern and Eastern Europe. Shortly after, the Great Depression further put a damper on immigration that would last well into the 20th century.
Wave Four: Mexico
After decades of sluggish immigration, the United States' percentage of foreign-born citizens reached a low of 4.7% in 1970. But that was all about to change.
During the next decade, the number of states where Mexico was the top country of origin doubled in a single decade, and Mexicans became the dominant foreign-born population in the country. This migration was fueled by the Latin American debt crisis and later by NAFTA. The influx of cheap corn into Mexico caused hundreds of thousands of Mexicans from rural areas to search for more favorable economic opportunities. America was the obvious choice, particularly during the economic expansion of the 1990s.
This wave of immigration has shifted the country's demographics considerably. Today, nearly one in five people in the United States are Hispanic.
Current Trends
Immigration trends are continually evolving, and America's newest immigrants are often more likely to come from China or India. In fact, both countries surpassed Mexico as countries of origin for immigrants arriving in the U.S. in 2013. Today, the trend is even more pronounced.
Recent immigration numbers indicate that Asian immigrants will continue to shift America's demographics in a new direction. Perhaps a new wave in the making?

Charted: The Gen Z Unemployment Rate, Compared to Older Generations
COVID-19 has impacted everyone, but one generation is taking it harder than the others. This graphic reveals the Gen Z unemployment rate.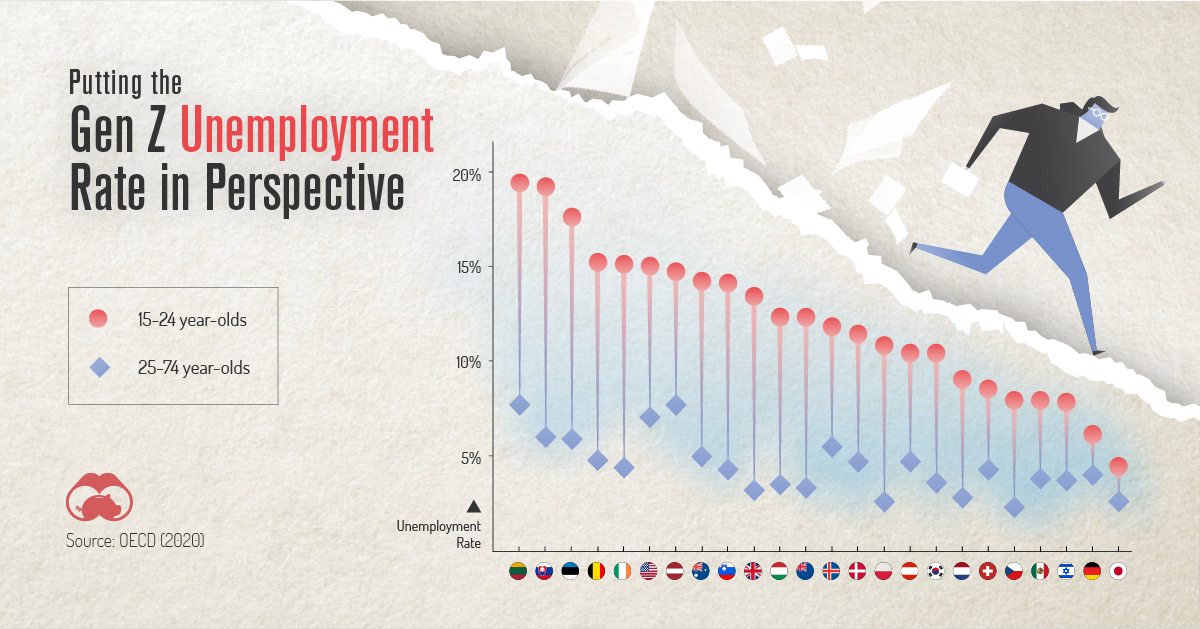 Putting the Gen Z Unemployment Rate in Perspective
There are more than 2 billion people in the Generation Z age range globally. These individuals, born between 1997 and 2009, represent about 30% of the total global population—and it's predicted that by 2025, Gen Z will make up about 27% of the workforce.
Due to the global pandemic, unemployment has been on the rise across the board—but Gen Z has been hit the hardest. This chart, using data from the OECD, displays the difference between the unemployment rate for Gen Zers and the rate for older generations.
Note: The OECD defines the 'unemployed' as people of legal working age who don't have work, are available to work, and have taken steps to find a job. The final figure is the number of unemployed people as a share of the total labor force.
The Generation Gap: Gen Z Unemployment
Compared to their older working-age counterparts, Baby Boomers, Gen X, and Millennials (Gen Y)—the most recent 2020 data shows that Gen Z has an unemployment rate of nearly 2x more in almost every OECD country.
| Country | Unemployment Rate (Gen Z) | Unemployment Rate (Millennial, Gen X, Boomer) |
| --- | --- | --- |
| 🇦🇺 Australia | 14.3% | 5.0% |
| 🇦🇹 Austria | 10.5% | 4.7% |
| 🇧🇪 Belgium | 15.3% | 4.8% |
| 🇨🇦 Canada | 20.0% | 7.9% |
| 🇨🇱 Chile | 24.8% | 9.6% |
| 🇨🇴 Colombia | 27.5% | 13.9% |
| 🇨🇿 Czech Republic | 8.0% | 2.3% |
| 🇩🇰 Denmark | 11.5% | 4.7% |
| 🇪🇪 Estonia | 17.7% | 5.9% |
| 🇫🇮 Finland | 21.0% | 6.0% |
| 🇫🇷 France | 20.1% | 6.8% |
| 🇩🇪 Germany | 6.2% | 4.0% |
| 🇭🇺 Hungary | 12.4% | 3.5% |
| 🇮🇸 Iceland | 11.9% | 5.5% |
| 🇮🇪 Ireland | 15.2% | 4.4% |
| 🇮🇱 Israel | 7.9% | 3.7% |
| 🇮🇹 Italy | 29.1% | - |
| 🇯🇵 Japan | 4.5% | 2.6% |
| 🇰🇷 South Korea | 10.5% | 3.6% |
| 🇱🇻 Latvia | 14.8% | 7.7% |
| 🇱🇹 Lithuania | 19.5% | 7.7% |
| 🇱🇺 Luxembourg | 22.4% | 5.6% |
| 🇲🇽 Mexico | 8.0% | 3.8% |
| 🇳🇱 Netherlands | 9.1% | 2.8% |
| 🇳🇿 New Zealand | 12.4% | 3.3% |
| 🇵🇱 Poland | 10.9% | 2.6% |
| 🇵🇹 Portugal | 22.9% | 5.9% |
| 🇸🇰 Slovakia | 19.3% | 6.0% |
| 🇸🇮 Slovenia | 14.2% | 4.3% |
| 🇪🇸 Spain | 38.3% | 14.0% |
| 🇸🇪 Sweden | 23.8% | 6.4% |
| 🇨🇭 Switzerland | 8.6% | 4.3% |
| 🇬🇧 United Kingdom | 13.5% | 3.2% |
| 🇺🇸 United States | 15.1% | 7.1% |
Note: For the purposes of this article, we are only considering the Gen Zers of legal working age—those born 1997-2006. The rest—Baby Boomers, Gen X, and Millennials—are those born between 1946–1996.
The timing for the youngest working generation could not be worse. Gen Z is just beginning to graduate college and high school, and are beginning to search for work and careers.
Gen Z is also an age group that is overrepresented in service industries like restaurants and travel–industries that were equally hard hit by the pandemic. In the U.S., for example, around 25% of young people work in the hospitality and leisure sectors. Between February and May 2020 alone, employment in these sectors decreased by 41%.
Countries like Spain are facing some of the biggest headwinds among OECD countries. The country already has a high unemployment rate for those aged 25-74, at 14%. But the unemployment rate for Gen Z is more than double that, at over 38%.
Implications For the Future
While it may be true throughout history that this age group is often less employed than older cohorts, the share of labor held by those aged 15-24 dropped significantly in 2020.
Note: This chart represents the data from G7 countries.
In terms of their future employment prospects, some economists are anticipating what they call 'scarring'. Due to longer periods of unemployment, Gen Z will miss out on formative years gaining experience and training. This may impact them later in life, as their ability to climb the career ladder will be affected.
Starting out slower can also hit earnings. One study found that long periods of youth unemployment can reduce lifetime income by 2%. Finally, it is also postulated that with the current economic situation, Gen Zers may accept lower paying jobs setting them on a track of comparatively lower earnings over their lifetime.
Overall, there are many future implications associated with the current unemployment rate for Gen Zers. Often getting your foot in the door after college or high school is one of the hardest steps in starting a career. Once you're in, you gain knowledge, skills, and the oh-so-coveted experience needed to get ahead.
The Kids are Alright?
One positive for Gen Z is that they have been found to be more risk averse and financially conscious than other generations, and were so even prior to COVID-19. Many of them were children during the 2008 Recession and became very cautious as a result.
They are also the first digital generation— the first to grow up without any memory of a time before the internet. Additionally, they have been called the first global generation. This could mean that they pioneer location-independent careers, create innovative revenue streams, and find new ways to define work.

Who Americans Spend Their Time With, by Age
Ever wondered who Americans spend the most time with? This chart assesses how many minutes per day Americans spend with different people.
Who Americans Spend Their Time With, by Age
If the global pandemic has taught us anything, it is that humans truly are social creatures. Most of us need community and connection to thrive.
But when people are not socially distancing and limiting their contacts, who do they choose to spend time with?
This interactive chart from Our World in Data reveals who Americans spend the most daily minutes with at different ages of their life, based on data collected between 2009 and 2019 through the Time Use Survey conducted by the U.S. Bureau of Labor Statistics (BLS).
Adolescence to Adulthood
In the average American's teenage years, they spend most of their time alone and with their family. This makes sense, as the majority of people under 18 still live in a home with their nuclear family unit, meaning parents and siblings.
Jumping forward to a person's early adulthood, 25-year-olds spend an average of 275 minutes per day alone, and 199 minutes with coworkers. This aligns with people in their twenties beginning to enter the workforce.
By age 35, people are still spending the most time with themselves, at 263 minutes per day. However, time spent combined with children and partners, the runner-ups, adds up to 450 minutes or around 7.5 hours a day.
| Age | Most Time Spent | Second | Third |
| --- | --- | --- | --- |
| 15 | Family - 267 Minutes | Alone - 193 Minutes | Friends - 109 Minutes |
| 25 | Alone - 275 Minutes | Coworkers - 199 Minutes | Partner - 121 Minutes |
| 35 | Alone - 263 Minutes | Children - 249 Minutes | Partner - 198 Minutes |
Although people are spending more time with kids and partners as they grow older, this trend may shift, as women are having fewer children. More women today are obtaining an education and are entering the workforce, causing them to delay or entirely put off having children.
Interestingly, the mid-thirties also tends to be the stage of life where time spent with friends levels off and remains steadily low throughout the rest of one's life, usually sitting around an average of 30-40 minutes per day.
Middle to Old Age
Upon turning 45, the average person spends 309 minutes a day alone, and in second place, 199 minutes with children. Time with coworkers remains relatively steady throughout someone's forties, which coincides with the middle of career for most workers.
At age 55, time spent alone is still the winner, but time spent with a partner goes up to 184 minutes, and time with coworkers also moves up, pushing out time spent with children.
| Age | Most Time Spent | Second | Third |
| --- | --- | --- | --- |
| 45 | Alone - 309 Minutes | Children - 199 Minutes | Partner - 184 Minutes |
| 55 | Alone - 384 Minutes | Partner - 184 Minutes | Coworkers - 163 Minutes |
| 65 | Alone - 444 Minutes | Partner - 243 Minutes | Family - 65 Minutes |
| 75 | Alone - 463 Minutes | Partner - 253 Minutes | Family - 56 Minutes |
Typically, time spent with children during the mid-fifties tends to see a sharp decline as children enter adulthood and begin to move out.
However, it will be interesting to see what impact COVID-19 has on future data. With implications such as job loss or reduced income, more children are staying at home longer or even moving back home. 52% of adult children in the U.S. today are living with their parents.
As people get closer to old age, around 65-years-old, they spend increasingly less time with coworkers as they begin to retire, and much more time alone or with a spouse. Then, from age 65-75, people consistently spend the most time alone, then with a partner and family.
Alone and Lonely?
One of the most significant trends on the chart is increased time spent alone.
By the time someone reaches 80, their daily minutes alone goes up to 477. This can be a problematic reality. As the population continues to age in many countries around the world, more elderly people are left without resources or social connection.
Additionally, while 1-in-4 elderly Americans live alone, the trend of solo living is going up across nearly every age group, and this trend applies globally.
But being alone does not necessarily equate to loneliness, as Our World in Data found that there was no direct correlation between living alone and reported feelings of loneliness.
It is not necessarily the amount of time spent with others, but the quality and expectations, that reduce loneliness.
Spending Time Together
Where and how we spend our time has a direct relationship to who we spend time with. More hours at home and off work can mean either more time spent with family, children, and partners, or more time spent alone.
Regardless of who we spend the most time with, the pandemic revealed the importance of human connection to our wellbeing. While many are still doing this through their screens or at a six-foot distance, 2021 could be the year we break out of our bubbles and get back to time spent together.