The Top Earning Celebrities, Dead and Alive
Wealth does not always follow fame, but when properly monetized, stardom can be a powerful tool for building a fortune.
The act of turning one's self into a marketing machine is epitomized by 21-year-old Kylie Jenner, who was the fourth highest earning celebrity in 2018. Leveraging her massive social media following, Jenner has turned Kylie Cosmetics into a force to be reckoned with. Recently, Forbes valued her company at over $900 million.
Today, we look at not only the world's top earning living celebrities, but also the estates of the celebrities who are no longer with us as well.
Fame and Fortune
With a nickname like "Money", it comes as no surprise that 2018's top earning celebrity was Floyd Mayweather. The boxer's bouts in 2015 and 2017 are still the top earning pay-per-view fights of all time, with the respective payouts propelling him to the top of the celebrity earnings list. His most recent opponent – Conor McGregor – also cashed in big, ranking 12th on the celebrity rich list.
Here is a full look at last year's top earning celebrities:

View a high resolution version of this graphic.
Many celebrities earn big sums of money on specific contracts, so it makes sense that the top 10 shuffles a lot from year to year. Despite this, soccer star Cristiano Ronaldo is the sole celebrity to remain on this list for every year covered by the visualization.
Ed Sheeran's Divide album was a runaway success earning him $110 million last year. Not only did the singer sell 1.1 million albums – an impressive feat in the digital age – he was the most streamed artist of 2017.
One somewhat surprising entry into the top 10 is Judy Sheindlin – better known as Judge Judy. Sheindlin reaped a huge windfall after selling her extensive 5,200-episode library to CBS.
Posthumous Profits
Some celebrities are so iconic that their influence extends well beyond their own lifespan.
Michael Jackson's music is still thrilling listeners around the world, and as a result, his catalog is raking in the posthumous profits. In 2018, the late singer's estate earned more money than any living celebrity, adding to the $2 billion already amassed since his passing in 2009.
Below is a full look at the top earning dead celebrities:

View a high resolution version of this graphic.
For the first time since 2006, Albert Einstein has fallen out of the top 10. The Hebrew University of Jerusalem owns the rights to Einstein's likeness, and in the aughts the "Baby Einstein" brand helped them (and Disney) amass a fortune. The popularity of the Baby Einstein brand is waning, but other licencing deals could bump the famous physicist back into the list at some point in the future.
No Business Like Show Business
Even celebrities who passed away decades ago can continue earning a shocking amount of money. While income streams like song royalties continue rolling in automatically, some savvy companies purchase estates from family members and take the marketing of deceased personalities to the next level.
Companies like Authentic Brands Group, have turned timeless icons like Marilyn Monroe and Elvis Presley into full-fledged brands generating tens of millions of dollars per year through licencing and royalties.
Artists like Bob Marley and Dr. Seuss produced a body of work that still captures our imaginations today, so it makes sense that their estates continue to profit as time goes on.

Visualizing Population Density Patterns in Six Countries
These maps show the population density of several countries, using 3D spikes to denote where more people live.

Creator Program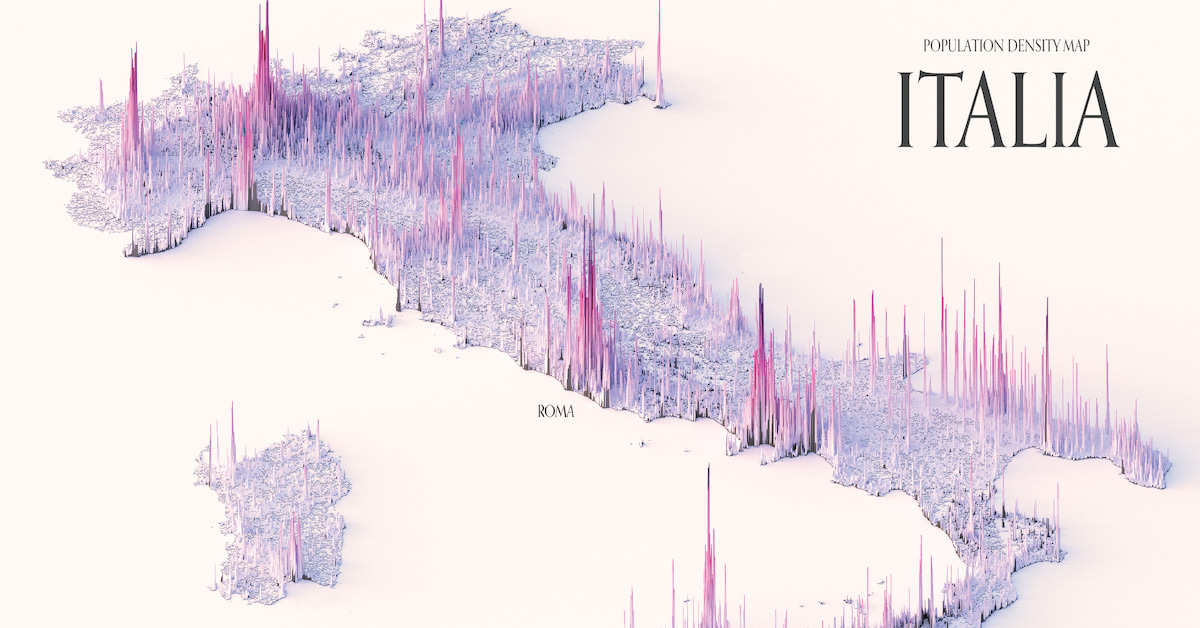 As of 2022, Earth has 8 billion humans. By 2050, the population is projected to grow to 10 billion.
In the last 50 years, the global population more than quadrupled. But none of this growth has been evenly spread out, including within countries.
This series of 3D maps from Terence Teo, an associate professor at Seton Hall University, renders the population density of six countries using open-source data from Kontur Population. He used popular programming language R and a path-tracing package, Rayshader, to create the maps.
France and Germany: Population Density Spikes and Troughs
Let's take a look at how the population spreads out in different countries around the world. Click the images to explore higher-resolution versions.
France is the world's 7th largest economy and second-most-populous country in the EU with 65 million people. But a staggering one-fifth of the French population lives in Paris and its surrounding metro—the most populous urban area in Europe.
Many residents in the Paris metropolitan area are employed in the service sector, which makes up one-third of France's $2.78 trillion gross domestic product.
Unlike France, Germany has many dense cities and regions, with Berlin, Munich, Stuttgart, and Cologne all having over a million residents. Berlin is the most populated at 3.5 million residents in the city proper, and 6 million in the wider urban area.
That said, the relatively recent reunification of West and East Germany in 1991 meant that post-WWII growth was mostly concentrated in West Germany (and West Berlin).
Italy and Chile: Coast to Coast
In Italy, another phenomenon affects population density and urban development—a sprawling coastline.
Despite having a large population of 59 million and large metropolitan areas throughout, Italy's population spikes are closer to the water.
The port cities of Genoa, Napoli, and Palermo all have large spikes relative to the rest of the country, as does the capital, Rome. Despite its city center located 15 miles inland from the sea, it extends to the shore through the district of Ostia, where the ancient port of Rome existed.
Meanwhile in Chile, stuck between the Andes to the east and the Pacific Ocean to the west, population spikes corroborate with its many port towns and cities.
However, the country is more concentrated than Italy, with 40% of its residents congregating around the capital of Santiago.
Turkey and Canada: Marred by Mountains and Climes
Though Chile has difficulties with terrain, it is relatively consistent. Other countries have to attempt to settle many different climes—regions defined by their climates.
Mountains to the south and east, a large, semi-arid plateau, and even a small desert leave few centers of urban growth in Türkiye.
Predictably, further west, as the elevation comes down to the Aegean and Mediterranean Seas, population spikes begin to heighten. The largest of course is the economic and cultural hub of Istanbul, though the capital Ankara is also prominent with more than 5 million residents.
In Canada, the Rocky Mountains to the west and freezing cold temperatures in the center and north account for the large country's relative emptiness.
Though population spikes in Western Canada are growing rapidly, highly populous urban centers are noticeably concentrated along the St. Lawrence River, with the Greater Toronto Area accounting for more than one-sixth of the country's 39 million people.
Increasing Urbanization
According to the World Bank, more than half of the world's population currently lives in cities, and that trend is only growing.
By 2050, 7 out of 10 people are projected to live in cities. This congregation makes cities a beehive of productivity and innovation—with more than 80% of the world's GDP being generated at these population centers.
It's in this context that mapping and studying urban development becomes all the more important, particularly as policymakers try their hand at sustainable urban planning.
As Teo puts it:
"By showing where people are (and are not), they show us where political and economic power is concentrated, and perhaps where and who our governments represent."