Visualizing 40 Years of Music Industry Sales
40 Years of Music Industry Sales
The record industry has seen a lot of change over the years.
8-tracks took a short-lived run at the dominance of vinyl, cassettes faded away as compact discs took the world by storm, and through it all, the music industry saw its revenue continue to climb. That is, until it was digitally disrupted.
Looking back at four decades of U.S. music industry sales data is a fascinating exercise as it charts not only the rise and fall the record company profits, but seismic shifts in technology and consumer behavior as well.
The Long Fade Out
For people of a certain age group, early memories of acquiring new music are inexorably linked to piracy. Going to the store and purchasing a $20 disc wasn't even a part of the thought process. Napster, the first widely used P2P service, figuratively skipped the needle off the record and ended years of impressive profitability in the recording industry.
Napster was shut down in 2002, but the genie was already out of the bottle. Piracy's effect on the industry was immediate and stark. Music industry sales, which had been experiencing impressive year-over-year growth, began a decline that would continue for 15 years.
The Ringtone Era
While acquiring music was as easy opening Limewire on your desktop computer, transferring that new T-Pain track to a flip-phone wasn't a seamless experience.
This brief gap in technology – before smartphones hit mass adoption – brought us the ringtone era. Distribution was controlled by mobile carriers, so ringtones were a comfortable gateway for the record industry to get a taste for digital-based revenue. In 2008 alone, they injected over a billion dollars of revenue into an industry that was getting used to gloomy forecasts.
Paddling Upstream
Though services like Spotify and Pandora haven't replaced the money pipeline that CD sales provided, they have reversed the industry's tailspin. For the first time this millennium, record industry posted an increase in revenue for two consecutive years (and likely a third in 2018).
It took a while for consumers to warm up to paying for a premium music subscription, but today, there's a solid basis for optimism. Music streaming is now the most common format for music in the United States, and the RIAA reports that streaming now makes up nearly half of the market.
The End of Physical Format?
Gone are the days when people would line up at the music shop for a hot new release. In fact, CD sales are down 80% in the past decade. Today, physical format sales only account for 17% of the industry's revenue.
There is, however, one bright spot in physical format segment: vinyl. In 2017, vinyl sales hit 25-year high after making a slow and steady comeback.
Vinyl is written in stone. I think if it's made it for 120 years now, it's here forever.
– Jack White
Charted: What are Retail Investors Interested in Buying in 2023?
What key themes and strategies are retail investors looking at for the rest of 2023? Preview: AI is a popular choice.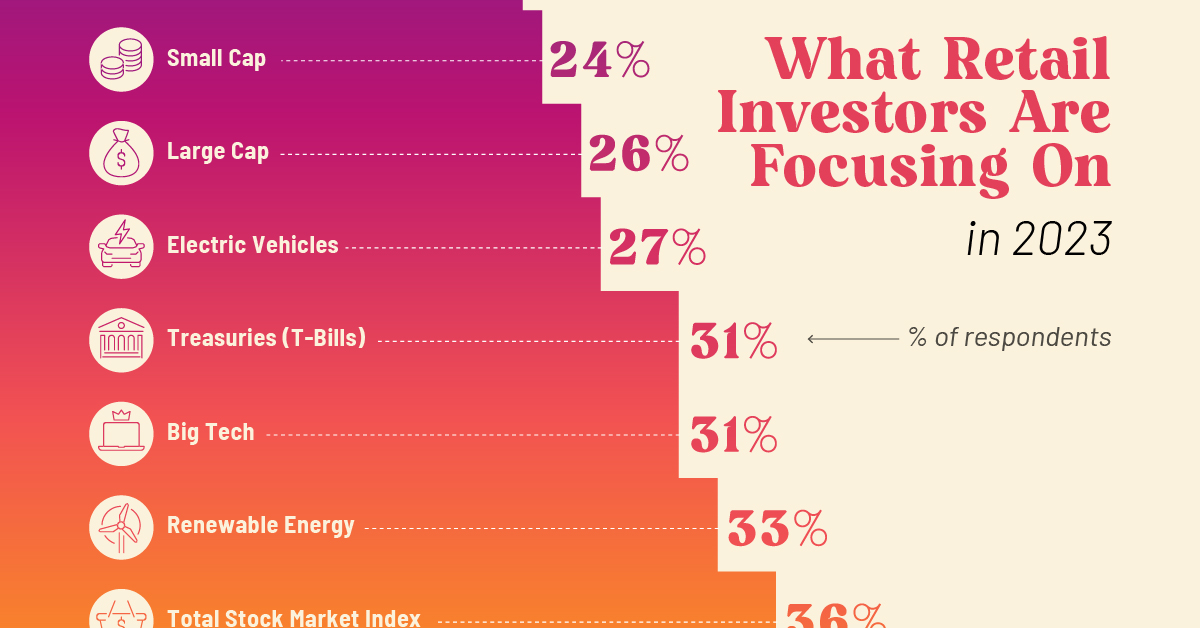 Charted: Retail Investors' Top Picks for 2023
U.S. retail investors, enticed by a brief pause in the interest rate cycle, came roaring back in the early summer. But what are their investment priorities for the second half of 2023?
We visualized the data from Public's 2023 Retail Investor Report, which surveyed 1,005 retail investors on their platform, asking "which investment strategy or themes are you interested in as part of your overall investment strategy?"
Survey respondents ticked all the options that applied to them, thus their response percentages do not sum to 100%.
Where Are Retail Investors Putting Their Money?
By far the most popular strategy for retail investors is dividend investing with 50% of the respondents selecting it as something they're interested in.
Dividends can help supplement incomes and come with tax benefits (especially for lower income investors or if the dividend is paid out into a tax-deferred account), and can be a popular choice during more inflationary times.
| Investment Strategy | Percent of Respondents |
| --- | --- |
| Dividend Investing | 50% |
| Artificial Intelligence | 36% |
| Total Stock Market Index | 36% |
| Renewable Energy | 33% |
| Big Tech | 31% |
| Treasuries (T-Bills) | 31% |
| Electric Vehicles | 27% |
| Large Cap | 26% |
| Small Cap | 24% |
| Emerging Markets | 23% |
| Real Estate | 23% |
| Gold & Precious Metals | 23% |
| Mid Cap | 19% |
| Inflation Protection | 13% |
| Commodities | 12% |
Meanwhile, the hype around AI hasn't faded, with 36% of the respondents saying they'd be interested in investing in the theme—including juggernaut chipmaker Nvidia. This is tied for second place with Total Stock Market Index investing.
Treasury Bills (30%) represent the safety anchoring of the portfolio but the ongoing climate crisis is also on investors' minds with Renewable Energy (33%) and EVs (27%) scoring fairly high on the interest list.
Commodities and Inflation-Protection stocks on the other hand have fallen out of favor.
Come on Barbie, Let's Go Party…
Another interesting takeaway pulled from the survey is how conversations about prevailing companies—or the buzz around them—are influencing trades. The platform found that public investors in Mattel increased 6.6 times after the success of the 'Barbie' movie.
Bud Light also saw a 1.5x increase in retail investors, despite receiving negative attention from their fans after the company did a beer promotion campaign with trans influencer Dylan Mulvaney.
Given the origin story of a large chunk of American retail investors revolves around GameStop and AMC, these insights aren't new, but they do reveal a persisting trend.