Ranked: The Top 10 Richest People on the Planet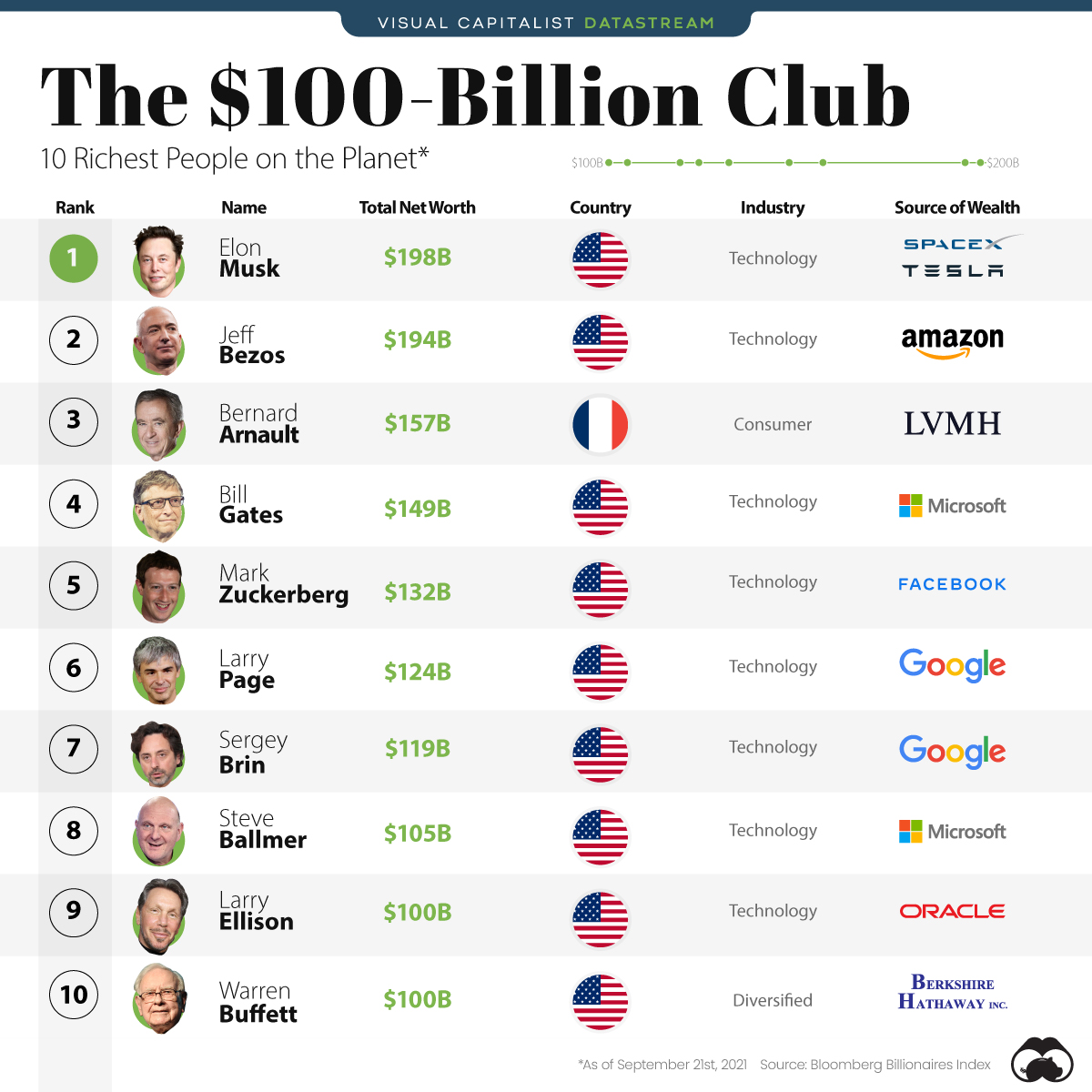 The Briefing
Elon Musk is currently the richest person in the world, with a total net worth of $198 billion as of Sept 21, 2021
Jeff Bezos comes in second place, with a net worth of $194 billion
Ranked: The Top 10 Richest People on the Planet
The top 10 richest people on the planet have a combined net worth of $1.4 trillion. For some context, that's roughly the same size as Australia's GDP.
Who are these ultra-wealthy individuals, and what's the source of their wealth? Here's a look at the top 10 richest people on the planet, and how they've made their billions.
Who's in the $100 Billion Club?
Elon Musk is currently the richest of them all, with a total net worth of $198 billion. That's $60 billion more than the entire group's average of $138 billion.
| Rank | Name | Total Net Worth | Country | Industry | Source of Wealth |
| --- | --- | --- | --- | --- | --- |
| 1 | Elon Musk | $198 B | U.S. | Technology | Tesla, Space X |
| 2 | Jeff Bezos | $194 B | U.S. | Technology | Amazon |
| 3 | Bernard Arnault | $157 B | France | Consumer | LVMH |
| 4 | Bill Gates | $149 B | U.S. | Technology | Microsoft |
| 5 | Mark Zuckerberg | $132 B | U.S. | Technology | Facebook |
| 6 | Larry Page | $124 B | U.S. | Technology | Google |
| 7 | Sergey Brin | $119 B | U.S. | Technology | Google |
| 8 | Steve Ballmer | $105 B | U.S. | Technology | Microsoft |
| 9 | Larry Ellison | $100 B | U.S. | Technology | Oracle |
| 10 | Warren Buffett | $100 B | U.S. | Diversified | Berkshire Hathaway |
This is fairly unsurprising considering how well Tesla stock has been performing over recent years. While many skeptics expect the Tesla bubble to burst eventually—including famous investor Michael Burry—so far, the car company's value has continued to surge.
With a current market cap of $768 billion, Tesla's worth more than the next six largest car manufacturers combined.
Musk took the top spot from Jeff Bezos, who just a few months ago, held the title as the world's richest person. However, it's worth noting that things could change at the drop of a hat, since the pair are constantly neck and neck.
Third on the list is Bernard Arnault, CEO of the luxury brand conglomerate Louis Vuitton Moët Hennessy (LVMH), which owns Louis Vuitton, Dior, Fendi, Loro Piana, and Bulgari. Arnault is the wealthiest person in Europe, and actually even became the wealthiest in the world for a brief stint in May.
The Money's in Tech (and in the U.S.)
When looking at this ranking, there are two obvious trends:
Most of these billionaires are in the tech industry, apart from Bernard Arnault and Warren Buffett
All are men located America, with the exception of Arnault
Considering America's tech sector is only expected to grow in the coming years, it's likely that American tech billionaires will continue their reign for the foreseeable future.
The Accelerating Frequency of Extreme Weather
Extreme weather events, like droughts and heatwaves, have become more common over the years. But things are expected to get worse.
The Briefing
We're already seeing the impact of climate change—today, droughts, heatwaves, and extreme rainstorms are 2x more frequent than they were a century ago
In less than a decade, Earth's climate is expected to warm another 0.5°C
If this happens, heatwaves will be 4.1x more frequent than they were in the 1850-1900s
The Accelerating Frequency of Extreme Weather
The world is already witnessing the effects of climate change.
A few months ago, the western U.S. experienced one of the worst droughts it's seen in the last 20 years. At the same time, southern Europe roasted in an extreme heatwave, with temperatures reaching 45°C in some parts.
But things are only expected to get worse in the near future. Here's a look at how much extreme climate events have changed over the last 200 years, and what's to come if global temperatures keep rising.
A Century of Warming
The global surface temperature has increased by about 1°C since the 1850s. And according to the IPCC, this warming has been indisputably caused by human influence.
As the global temperatures have risen, the frequency of extreme weather events have increased along with it. Heatwaves, droughts and extreme rainstorms used to happen once in a decade on average, but now:
Heatwaves are 2.8x more frequent
Droughts are 1.7x more frequent
Extreme rainstorms are 1.3x more frequent
By 2030, the global surface temperature is expected to rise 1.5°C above the Earth's baseline temperature, which means that:
Heatwaves would be 4.1x more frequent
Droughts would be 2x more frequent
Extreme rainstorms would be 1.5x more frequent
The Ripple Effects of Extreme Weather
Extreme weather events have far-reaching impacts on communities, especially when they cause critical system failures.
Mass infrastructure breakdowns during Hurricane Ida this year caused widespread power outages in the state of Louisiana that lasted for several days. In 2020, wildfires in Syria devastated hundreds of villages and injured dozens of civilians with skin burns and breathing complications.
As extreme weather events continue to increase in frequency, and communities become increasingly more at risk, sound infrastructure is becoming more important than ever.
Where does this data come from?
Source: IPCC
Details: The data used in this graphic is from the IPCC's Sixth Assessment Report, which provides a high-level summary of the state of the climate, how it's changing, and the role of human influence.
Blockchain Applications: Tokenization of Real Assets
Tokenization is a future application of blockchain technology, and it could make investing in physical assets much easier. (Sponsored Content)
The Briefing
Tokenization is a solution that divides the ownership of an asset into digital tokens
This process could democratize investment in physical assets
Blockchain Applications: Tokenization of Real Assets
Did you know that blockchain has the potential to transform the way we invest in physical assets?
Tokenization is a solution that divides the ownership of an asset (such as a building) into digital tokens. These tokens act as "shares", and are similar to non-fungible tokens (NFTs). The difference here, however, is that the tokens are fungible and they are actually tied to the value of the asset.
In this graphic sponsored by Global X ETFs, we visualize how tokenization could be used in real estate.
Tokenization in Real Estate
Blockchain has strong potential in real estate investing because it mitigates many of the asset class' hurdles. Here's a brief round-up of its theoretical advantages:
Liquidity
Buying and selling real estate is normally a tedious process. If a property were to be tokenized, it would essentially cut out the middleman and allow buyers and sellers to transfer ownership directly.
These transfers would be as easy as buying and selling cryptocurrency.
Removing barriers to entry
Because properties are expensive, real estate investing is typically limited to institutional investors with large amounts of capital. Individuals can gain exposure through a real estate investment trust (REIT), but these vehicles can carry high minimums and fees.
Tokenization could enable individuals to buy and sell real estate in small denominations (even fractions of a token) and without traditional fees.
Transparency and security
Blockchains are decentralized, digital ledgers known for their security. Tampering with a blockchain's data is incredibly difficult because the ledger is shared and verified by all of its users.
This provides investors with full transparency into the past transactions of a property, as well as an undeniable proof of ownership.
Democratizing Investment
If tokenization proves to be effective, it could be extended to a whole range of other physical assets—most of which have their own unique barriers. Consider the following table, which lists the 12-month and 10-year return of various luxury goods.
| Category | 12-month return | 10-year return |
| --- | --- | --- |
| Handbags | +17% | +108% |
| Wine | +13% | +127% |
| Collector cars | +6% | +193% |
| Watches | +5% | +89% |
| Rare whisky | -4% | +478% |
| Art | -11% | +71% |
Source: Knight Frank (Dec 2020)
Rare luxury goods have historically been sold through live auctions, where the highest bidder is awarded ownership. Thanks to blockchain technology, this could change in the future. In fact, Sotheby's (a 277-year-old auction house) recently began to accept cryptocurrency as a payment option in its auctions.
In short, tokenization has the potential to greatly reduce the barriers around alternative and physical assets. For investors, this means a much wider set of opportunities to pursue.