Visualizing the Fastest Trains in the World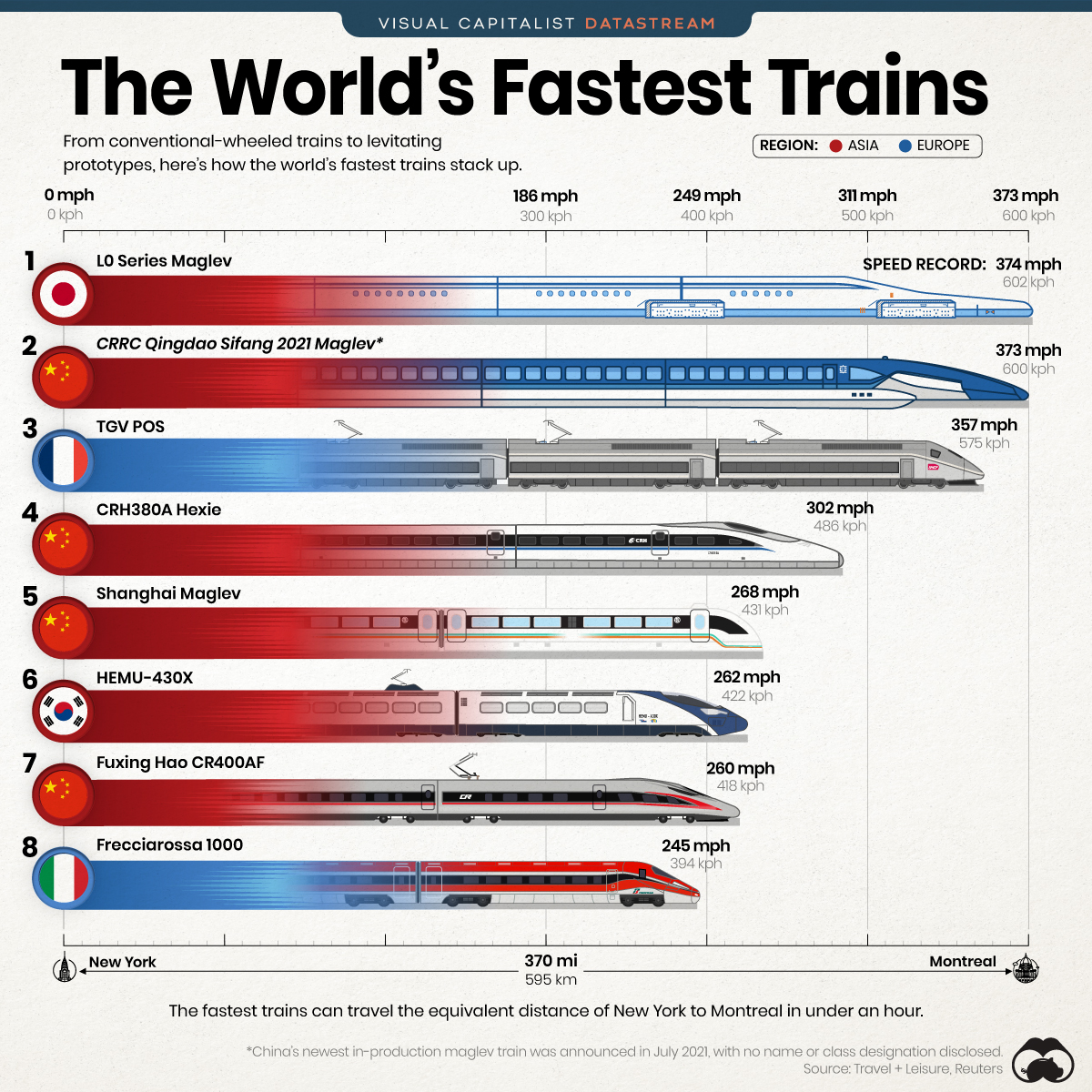 The Briefing
Japan's L0 Series Maglev is the fastest train in the world, with a speed record of 374 mph or 602 km/h. It could go the distance from New York City to Montreal in less than an hour.
China has half of the eight fastest trains, and the world's largest high-speed railway network.
Visualizing the Fastest Trains in the World
Ever since the invention of the steam locomotive in 1802, trains have been a driving societal force.
Invented in Britain at the height of the Industrial Revolution, steam trains gave the empire an unparalleled advantage in transporting goods and people. Soon it spread around the world as other nations scrambled to build their own railway networks to facilitate growth and commerce.
But just as nations rushed to build more railways, they also tried to build faster trains. Japan's Tōkaidō Shinkansen or "bullet train" in 1964 was the first high-speed rail system, achieving a speed above 124 mph or 200 km/h.
How do other countries and trains compare?
Let's dive into the fastest trains in the world using data from Travel and Leisure magazine.
Who Has The Fastest Trains in the World?
Japan started the high-speed train revolution in earnest, and it's still at the top of the charts.
Though it's fastest regular operating bullet trains (the N700A Shinkansen) can reach a top speed of 186 mph or 300 km/h, the country's new development in magnetic levitation (maglev) is breaking speed records.
In fact, the top two fastest trains in the world are maglev, using two sets of magnets to elevate the train and propel it forward without friction to slow it down.
| World's Fastest Trains | Country | Speed Record |
| --- | --- | --- |
| L0 Series Maglev | Japan | 374 mph (602 km/h) |
| CRRC Qingdao Sifang 2021 Maglev* | China | 373 mph (600 km/h) |
| TGV POS | France | 357 mph (575 km/h) |
| CRH380A Hexie | China | 302 mph (486 km/h) |
| Shanghai Maglev | China | 268 mph (431 km/h) |
| HEMU-430X | South Korea | 262 mph (422 km/h) |
| Fuxing Hao CR400AF | China | 260 mph (418 km/h) |
| Frecciarossa 1000 | Italy | 245 mph (394 km/h) |
*No official name or designation has been given yet, so currently listed under the manufacturer's name, CRRC Qingdao Sifang.
Japan's L0 Series Maglev is still in production, but with a land speed record of 374 mph or 602 km/h it is the fastest train in the world.
China's Fastest Trains Look to Pass Japan
Japan is facing stiff competition from China, which already has the world's longest high speed railway network and is investing heavily in infrastructure.
China already has a maglev train in operation, the Shanghai Maglev, which connects the city center with the international airport. The country's latest unveiled train in July 2021 achieved a land speed of 373 mph or 600 km/h.
When it was unveiled, the new maglev train was announced as the fastest operating train in the world as it enters full production. But until full operation actually begins, its test speed record is still under that of the L0 Series.
In fact, China has half of the eight fastest trains in the world. Including Japan and South Korea, Asia accounts for the bulk of high-speed rail networks and record speeds.
Though it's not all maglevs and Asia dominance. Conventional electric trains in Europe also made the list, with France's TGV POS and Italy's Frecciarossa 1000 reaching speeds of 357 mph (575 km/h) and 245 mph (394 km/h) respectively.
Can You Calculate Your Daily Carbon Footprint?
Discover how the average person's carbon footprint impacts the environment and learn how carbon credits can offset your carbon footprint.
The Briefing
A person's carbon footprint is substantial, with activities such as food consumption creating as much as 4,500 g of CO₂ emissions daily.
By purchasing carbon credits from Carbon Streaming Corporation, you can offset your own emissions and fund positive climate action.
Your Everyday Carbon Footprint
While many large businesses and countries have committed to net-zero goals, it is essential to acknowledge that your everyday activities also contribute to global emissions.
In this graphic, sponsored by Carbon Streaming Corporation, we will explore how the choices we make and the products we use have a profound impact on our carbon footprint.
Carbon Emissions by Activity
Here are some of the daily activities and products of the average person and their carbon footprint, according to Clever Carbon.
Household Activities & Products
CO2 Emissions (g)
💡 Standard Light Bulb (100 watts, four hours)
172 g
📱 Mobile Phone Use (195 minutes per day)*
189 g
👕 Washing Machine (0.63 kWh)
275 g
🔥 Electric Oven (1.56 kWh)
675 g
♨️ Tumble Dryer (2.5 kWh)
1,000 g
🧻 Toilet Roll (2 ply)
1,300 g
🚿 Hot Shower (10 mins)
2,000 g
🚙 Daily Commute (one hour, by car)
3,360 g
🍽️ Average Daily Food Consumption (three meals of 600 calories)
4,500 g
*Phone use based on yearly use of 69kg per the source, Reboxed
Your choice of transportation plays a crucial role in determining your carbon footprint. For instance, a 15 km daily commute to work on public transport generates an average of 1,464 g of CO₂ emissions. Compared to 3,360 g—twice the volume for a journey the same length by car.
By opting for more sustainable modes of transport, such as cycling, walking, or public transportation, you can significantly reduce your carbon footprint.
Addressing Your Carbon Footprint
One way to compensate for your emissions is by purchasing high-quality carbon credits. 
Carbon credits are used to help fund projects that avoid, reduce or remove CO₂ emissions. This includes nature-based solutions such as reforestation and improved forest management, or technology-based solutions such as the production of biochar and carbon capture and storage (CCS).
While carbon credits offer a potential solution for individuals to help reduce global emissions, public awareness remains a significant challenge. A BCG-Patch survey revealed that only 34% of U.S. consumers are familiar with carbon credits, and only 3% have purchased them in the past.
About Carbon Streaming
By financing the creation or expansion of carbon projects, Carbon Streaming Corporation secures the rights to future carbon credits generated by these sustainable projects. You can then purchase these carbon credits to help fund climate solutions around the world and compensate for your own emissions. 
Ready to get involved?
>> Learn more about purchasing carbon credits at Carbon Streaming