Visualized: The Many Shapes of Bacteria
Invisible Diversity: The Many Shapes of Bacteria
Bacteria are amazing.
They were the first form of life to appear on Earth almost 3.8 billion years ago.
They make up the second most abundant lifeform, only outweighed by plants.
And most interesting of all: they exist in practically every environment on our planet, including areas where no other lifeforms can survive. As a result, bacteria exhibit a wide variety of appearances, behaviors, and applications similar to the lifeforms we see in our everyday lives.
The incredible diversity of bacteria goes underappreciated simply because they are invisible to the naked eye. Here, we illustrate how researchers classify these creatures on the basis of appearance, giving you a glimpse into this microscopic world.
A Life of Culture
Though bacteria may look similar to other microorganisms like fungi or plankton, they are entirely unique on a microscopic and genetic level.
Bacteria make up one of the three main domains of life. All life shares its earliest ancestor with this group of microbes, alongside two other domains: the Archaea and the Eukarya.
Archaea are very similar to bacteria, but have different contents making up their cell walls.
Eukarya largely consists of complex, multicellular life, like fungi, plants, and animals. Bacteria are similar to its single-celled members because all bacteria are also unicellular. However, while all Eukarya have nuclear membranes that store genetic material, bacteria do not.
Bacteria have their genetic material free-floating within their cellular bodies. This impacts how their genes are encoded, how proteins are synthesized, and how they reproduce. For example, bacteria do not reproduce sexually. Instead, they reproduce on their own.
Bacteria undergo a process called binary fission, where any one cell divides into two identical cells, and so on. Fission occurs quickly. In minutes, populations can double rapidly, eventually forming a community of genetically identical microbes called a colony.
Colonies can be visible to the human eye and can take on a variety of different shapes, textures, sizes, colors, and behaviors. You might be familiar with some of these:
Superstars of a Tiny World
The following are some interesting bacterial species, some of which you may be familiar with:
Epulopiscium spp
This species is unusually large, ranging from 200-700 micrometers in length. They are also incredible picky, living only within the guts of sturgeon, a type of large fish.
Deinococcus radiodurans
D. radiodurans is a coccus-shaped species that can withstand 1,500 times the dose of radiation that a human can.
Escherichia coli
Despite being known famously for poisoning food and agriculture spaces from time to time, not all E.coli species are dangerous.
Desulforudis audaxviator
Down in the depths of a South African gold mine, this species thrives without oxygen, sunlight, or friends—it is the only living species in its ecosystem. It survives eating minerals in the surrounding rock.
Helicobacter pylori
Known for causing stomach ulcers, this spiral-shaped species has also been associated with many cancers that impact the lymphoid tissue.
Planococcus halocryophillus
Most living things cease to survive in cold temperatures, but P. halocryophillus thrives in permafrost in the High Arctic where temperatures can drop below -25°C/-12°F.
'Bact' to the Future
Despite their microscopic size, the contributions bacteria make to our daily lives are enormous. Researchers everyday are using them to study new environments, create new drug therapies, and even build new materials.
Scientists can profile the diversity of species living in a habitat by extracting DNA from an environmental sample. Known as metagenomics, this field of genetics commonly studies bacterial populations.
In oxygen-free habitats, bacteria continuously find alternative sources of energy. Some have even evolved to eat plastic or metal that have been discarded in the ocean.
The healthcare industry uses bacteria to help create antibiotics, vaccines, and other metabolic products. They also play a major role in a new line of self-building materials, which include "self-healing" concrete and "living bricks".
Those are just a few of the many examples in which bacteria impact our daily lives. Although they are invisible, without them, our world would undoubtedly look like a much different place.
Visualizing Population Density Patterns in Six Countries
These maps show the population density of several countries, using 3D spikes to denote where more people live.

Creator Program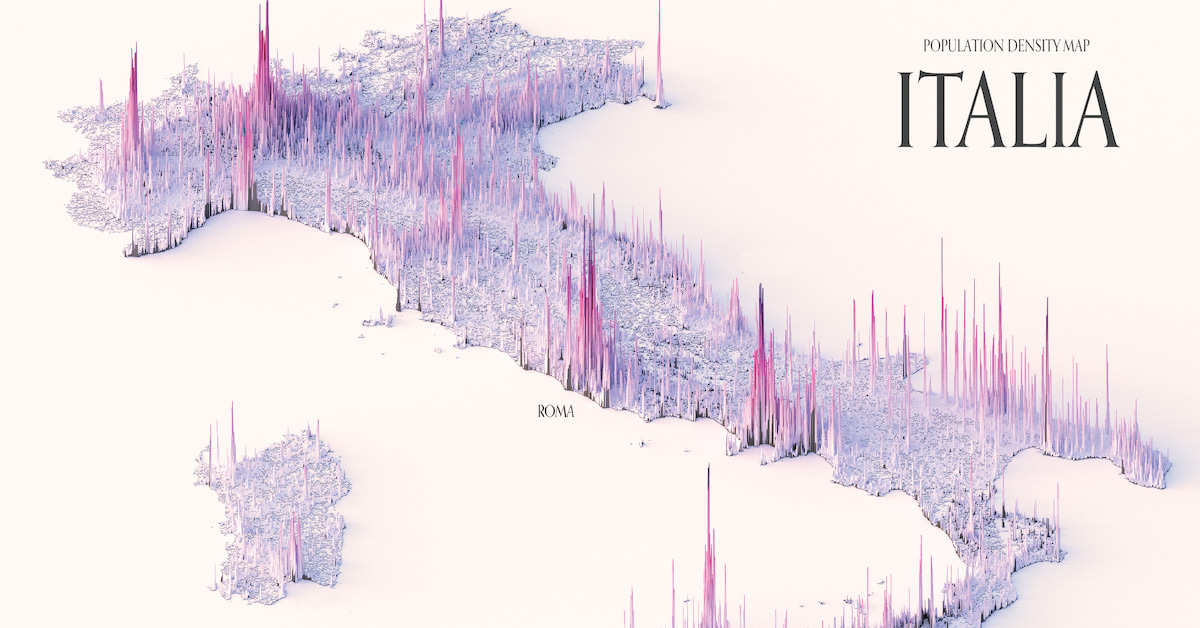 As of 2022, Earth has 8 billion humans. By 2050, the population is projected to grow to 10 billion.
In the last 100 years, the global population more than quadrupled. But none of this growth has been evenly spread out, including within countries.
This series of 3D maps from Terence Teo, an associate professor at Seton Hall University, renders the population density of six countries using open-source data from Kontur Population. He used popular programming language R and a path-tracing package, Rayshader, to create the maps.
France and Germany: Population Density Spikes and Troughs
Let's take a look at how the population spreads out in different countries around the world. Click the images to explore higher-resolution versions.
France is the world's 7th largest economy and second-most-populous country in the EU with 65 million people. But a staggering one-fifth of the French population lives in Paris and its surrounding metro—the most populous urban area in Europe.
Many residents in the Paris metropolitan area are employed in the service sector, which makes up one-third of France's $2.78 trillion gross domestic product.
Unlike France, Germany has many dense cities and regions, with Berlin, Munich, Stuttgart, and Cologne all having over a million residents. Berlin is the most populated at 3.5 million residents in the city proper, and 6 million in the wider urban area.
That said, the relatively recent reunification of West and East Germany in 1991 meant that post-WWII growth was mostly concentrated in West Germany (and West Berlin).
Italy and Chile: Coast to Coast
In Italy, another phenomenon affects population density and urban development—a sprawling coastline.
Despite having a large population of 59 million and large metropolitan areas throughout, Italy's population spikes are closer to the water.
The port cities of Genoa, Napoli, and Palermo all have large spikes relative to the rest of the country, as does the capital, Rome. Despite its city center located 15 miles inland from the sea, it extends to the shore through the district of Ostia, where the ancient port of Rome existed.
Meanwhile in Chile, stuck between the Andes to the east and the Pacific Ocean to the west, population spikes corroborate with its many port towns and cities.
However, the country is more concentrated than Italy, with 40% of its residents congregating around the capital of Santiago.
Turkey and Canada: Marred by Mountains and Climes
Though Chile has difficulties with terrain, it is relatively consistent. Other countries have to attempt to settle many different climes—regions defined by their climates.
Mountains to the south and east, a large, semi-arid plateau, and even a small desert leave few centers of urban growth in Türkiye.
Predictably, further west, as the elevation comes down to the Aegean and Mediterranean Seas, population spikes begin to heighten. The largest of course is the economic and cultural hub of Istanbul, though the capital Ankara is also prominent with more than 5 million residents.
In Canada, the Rocky Mountains to the west and freezing cold temperatures in the center and north account for the large country's relative emptiness.
Though population spikes in Western Canada are growing rapidly, highly populous urban centers are noticeably concentrated along the St. Lawrence River, with the Greater Toronto Area accounting for more than one-sixth of the country's 39 million people.
Increasing Urbanization
According to the World Bank, more than half of the world's population currently lives in cities, and that trend is only growing.
By 2050, 7 out of 10 people are projected to live in cities. This congregation makes cities a beehive of productivity and innovation—with more than 80% of the world's GDP being generated at these population centers.
It's in this context that mapping and studying urban development becomes all the more important, particularly as policymakers try their hand at sustainable urban planning.
As Teo puts it:
"By showing where people are (and are not), they show us where political and economic power is concentrated, and perhaps where and who our governments represent."