Visualized: The Many Shapes of Bacteria
Invisible Diversity: The Many Shapes of Bacteria
Bacteria are amazing.
They were the first form of life to appear on Earth almost 3.8 billion years ago.
They make up the second most abundant lifeform, only outweighed by plants.
And most interesting of all: they exist in practically every environment on our planet, including areas where no other lifeforms can survive. As a result, bacteria exhibit a wide variety of appearances, behaviors, and applications similar to the lifeforms we see in our everyday lives.
The incredible diversity of bacteria goes underappreciated simply because they are invisible to the naked eye. Here, we illustrate how researchers classify these creatures on the basis of appearance, giving you a glimpse into this microscopic world.
A Life of Culture
Though bacteria may look similar to other microorganisms like fungi or plankton, they are entirely unique on a microscopic and genetic level.
Bacteria make up one of the three main domains of life. All life shares its earliest ancestor with this group of microbes, alongside two other domains: the Archaea and the Eukarya.
Archaea are very similar to bacteria, but have different contents making up their cell walls.
Eukarya largely consists of complex, multicellular life, like fungi, plants, and animals. Bacteria are similar to its single-celled members because all bacteria are also unicellular. However, while all Eukarya have nuclear membranes that store genetic material, bacteria do not.
Bacteria have their genetic material free-floating within their cellular bodies. This impacts how their genes are encoded, how proteins are synthesized, and how they reproduce. For example, bacteria do not reproduce sexually. Instead, they reproduce on their own.
Bacteria undergo a process called binary fission, where any one cell divides into two identical cells, and so on. Fission occurs quickly. In minutes, populations can double rapidly, eventually forming a community of genetically identical microbes called a colony.
Colonies can be visible to the human eye and can take on a variety of different shapes, textures, sizes, colors, and behaviors. You might be familiar with some of these:
Superstars of a Tiny World
The following are some interesting bacterial species, some of which you may be familiar with:
Epulopiscium spp
This species is unusually large, ranging from 200-700 micrometers in length. They are also incredible picky, living only within the guts of sturgeon, a type of large fish.
Deinococcus radiodurans
D. radiodurans is a coccus-shaped species that can withstand 1,500 times the dose of radiation that a human can.
Escherichia coli
Despite being known famously for poisoning food and agriculture spaces from time to time, not all E.coli species are dangerous.
Desulforudis audaxviator
Down in the depths of a South African gold mine, this species thrives without oxygen, sunlight, or friends—it is the only living species in its ecosystem. It survives eating minerals in the surrounding rock.
Helicobacter pylori
Known for causing stomach ulcers, this spiral-shaped species has also been associated with many cancers that impact the lymphoid tissue.
Planococcus halocryophillus
Most living things cease to survive in cold temperatures, but P. halocryophillus thrives in permafrost in the High Arctic where temperatures can drop below -25°C/-12°F.
'Bact' to the Future
Despite their microscopic size, the contributions bacteria make to our daily lives are enormous. Researchers everyday are using them to study new environments, create new drug therapies, and even build new materials.
Scientists can profile the diversity of species living in a habitat by extracting DNA from an environmental sample. Known as metagenomics, this field of genetics commonly studies bacterial populations.
In oxygen-free habitats, bacteria continuously find alternative sources of energy. Some have even evolved to eat plastic or metal that have been discarded in the ocean.
The healthcare industry uses bacteria to help create antibiotics, vaccines, and other metabolic products. They also play a major role in a new line of self-building materials, which include "self-healing" concrete and "living bricks".
Those are just a few of the many examples in which bacteria impact our daily lives. Although they are invisible, without them, our world would undoubtedly look like a much different place.
The Incredible Historical Map That Changed Cartography
Check out the Fra Mauro Mappa Mundi (c. 1450s), a historical map that formed a bridge between medieval and renaissance worldviews.
The Incredible Historical Map That Changed Cartography
This map is the latest in our Vintage Viz series, which presents historical visualizations along with the context needed to understand them.
In a one-paragraph story called On Exactitude in Science (Del Rigor en la Ciencia), Jorge Luis Borges imagined an empire where cartography had reached such an exact science that only a map on the same scale of the empire would suffice.
The Fra Mauro Mappa Mundi (c. 1450s), named for the lay Camaldolite monk and cartographer whose Venetian workshop created it, is not nearly as large, at a paltry 77 inches in diameter (196 cm). But its impact and significance as a bridge between Middle Age and Renaissance thought certainly rivaled Borges' imagined map.
One of 'the Wonders of Venice'
Venice was the undisputed commercial power in the Mediterranean, whose trade routes connected east and west, stretching to Flanders, London, Algeria, and beyond.
This network was protected by fleets of warships built at the famous Arsenale di Venezia, the largest production facility in the West, whose workforce of thousands of arsenalotti built ships on an assembly line, centuries before Henry Ford.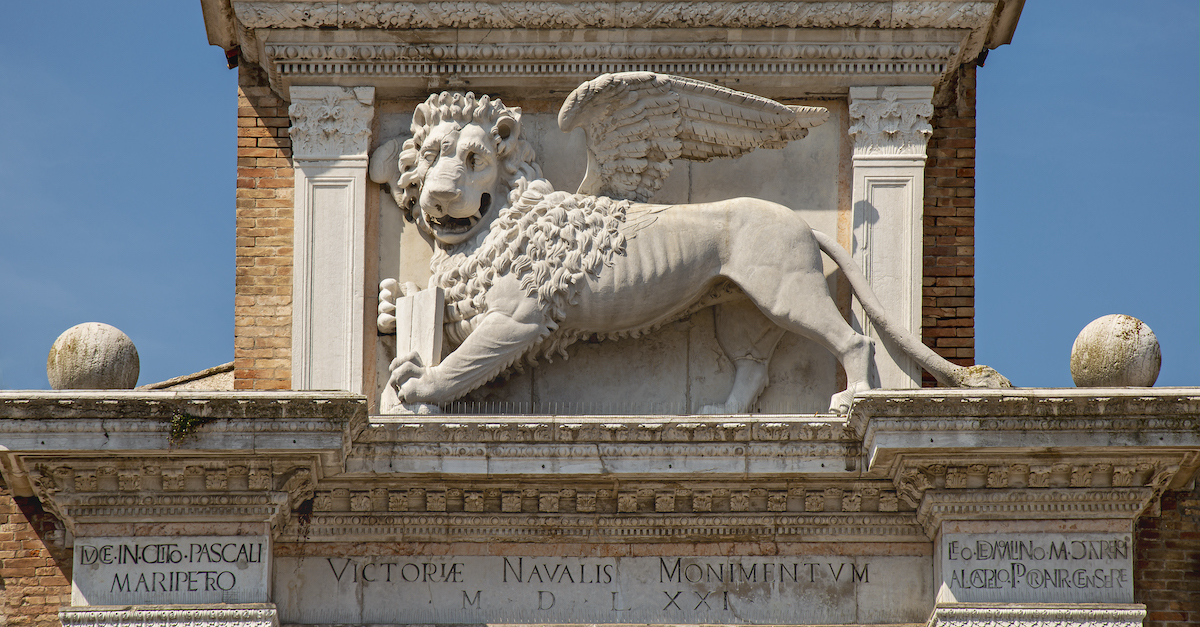 The lion of St Mark guards the land gate to the Arsenale di Venezia, except instead of the usual open bible in its hands offering peace, this book is closed, reflecting its martial purpose. Source: Wikipedia
The Mappa Mundi (literally "map of the world") was considered one of the wonders of Venice with a reputation that reached the Holy Land. It is a circular planisphere drawn on four sheets of parchment, mounted onto three poplar panels and reinforced by vertical battens.
The map is painted in rich reds, golds, and blues; this last pigment was obtained from rare lapis lazuli, imported from mines in Afghanistan. At its corners are four spheres showing the celestial and sublunar worlds, the four elements (earth, air, fire, and water), and an illumination of the Garden of Eden by Leonardo Bellini (active 1443-1490).
Japan (on the left edge, called the Isola de Cimpagu) appears here for the first time in a Western map. And contradicting Ptolemaic tradition, it also shows that it was possible to circumnavigate Africa, presaging the first European journey around the Cape of Good Hope by the Portuguese explorer Bartolomeu Dias in 1488.
NASA called the historical map "stunning" in its accuracy.
A Historical Map Between Two Worlds
Medieval maps, like the Hereford Mappa Mundi (c. 1300), were usually oriented with east at the top, because that's where the Garden of Eden was thought to be. Fra Mauro, however, chose to orient his to the south, perhaps following Muslim geographers such as Muhammad ibn Muhammad al-Idrisi.
Significantly, the Garden of Eden is placed outside of geographic space and Jerusalem is no longer at the center, though it is still marked by a windrose. The nearly 3,000 place names and descriptions are written in the Venetian vernacular, rather than Latin.
At the same time, as much as Fra Mauro's map is a departure from the past, it also retains traces of a medieval Christian worldview. For example, included on the map are the Kingdom of the Magi, the Kingdom of Prester John, and the Tomb of Adam.
Isidore of Seville, Etymologiae (c. 600–625). Source: Wikipedia
The circular planisphere also follows the medieval T-O schema, first described by Isidore of Seville, with Asia occupying the top half of the circle, and Europe and Africa each occupying the bottom two quarters (Fra Mauro turns the 'T' on its side, to reflect a southern orientation). Around the circle, are many islands, beyond which is the "dark sea" where only shipwreck and misfortune await.
Fra Mauro's Legacy
Fra Mauro died some time before 20 October 1459, and unfortunately his contributions fell into obscurity soon thereafter; until 1748, it was believed that the Mappa Mundi was a copy of a lost map by Marco Polo.
In 1811, the original was moved from Fra Mauro's monastery of San Michele to the Biblioteca Nazionale Marciana, following the suppression of religious orders in the Napoleonic era, where it can be viewed today.
Two digital editions have also been produced by the Museo Galileo and the Engineering Historical Memory project, where readers can get a glimpse into a fascinating piece of cartographic history.