Saying Bye to Facebook: Why Companies Change Their Name
As anyone who's started a company knows, choosing a name is no easy task.
There are many considerations, such as:
Are the social handles and domain name available?
Is there a competitor already using a similar name?
Can people spell, pronounce, and remember the name?
Are there cultural or symbolic interpretations that could be problematic?
The list goes on. These considerations are amplified when a company is already established, and even more difficult when your company serves billions of users around the globe.
Facebook (the parent company, not the social network) has changed its name to Meta, and we'll examine some probable reasons for the rebrand. But first we'll look at historical corporate name changes in recent history, exploring the various motivations behind why a company might change its name. Below are some of the categories of rebranding that stand out the most.
Social Pressure
Societal perceptions can change fast, and companies do their best to anticipate these changes in advance. Or, if they don't change in time, their hands might get forced.
As time goes on, companies with more overt negative externalities have come under pressure—particularly in the era of ESG investing. Social pressure was behind the name changes at Total and Philip Morris. In the case of the former, the switch to TotalEnergies was meant to signal the company's shift beyond oil and gas to include renewable energy.
In some cases, the reason why companies change their name is more subtle. GMAC (General Motors Acceptance Corporation) didn't want to be associated with subprime lending and the subsequent multi-billion dollar bailout from the U.S. government, and a name change was one way of starting with a "clean slate". The financial services company rebranded to Ally in 2010.
Hitting the Reset Button
Brands can become unpopular over time because of scandals, a decline in quality, or countless other reasons. When this happens, a name change can be a way of getting customers to shed those old, negative connotations.
Internet and TV providers rank dead last in customer satisfaction ratings, so it's no surprise that many have changed their names in recent years.
We Do More
This is a very common scenario, particularly as companies go through a rapid expansion or find success with new product offerings. After a period of sustained growth and change, a company may find that the current name is too limiting or no longer accurately reflects what the company has become.
Both Apple and Starbucks have simplified their company names over the years. The former dropped "Computers" from its name in 2007, and Starbucks dropped "Coffee" from its name in 2011. In both these cases, the name change meant disassociating the company with what initially made them successful, but in both cases it was a gamble that paid off.
One of the biggest name changes in recent years is the switch from Google to Alphabet. This name change signaled the company's desire to expand beyond internet search and advertising.
Square also found itself in a similar situation. The "Square" brand had become synonymous with its commerce solutions, so the parent company became Block to help the company signal a shift into other areas of business.
The Start-Up Name Pivot
Another very common name change scenario is the early-stage name change.
In the world of music, there's speculation that limited melodies and subconscious plagiarism will make creating new music increasingly difficult in the future. Similarly, there are millions of companies in the world and only so many short and snappy names. (That's how we end up with companies called Quibi.)
Many of the popular digital services we use today started with very different names. The Google we know today was once called Backrub. Instagram began life as Bourbn, and Twitter began life as "Twittr" before finding a spare E in the scrabble pile.
Trademark Problems
As mentioned above, many companies start out as speculative experiments or passion projects, when a viable, well-vetted name isn't high on the priority list. As a result, new companies can run into trademark problems.
This was the case when Picaboo, the precursor of Snapchat, was forced to change their name in 2011. The existing Picaboo—a photobook company—was not thrilled to share a name with an app that was primarily associated with sexting at the time.
The fight over the name WWF was a more unique scenario. In 1994, the World Wildlife Fund and the World Wrestling Federation had a mutual agreement that the latter would stop using the initials internationally, except for fleeting uses such as "WWF champion". In the end though, the agreement was largely ignored, and the issue became a sticking point when the wrestling company registered wwf.com. Eventually, the company rebranded as WWE (World Wrestling Entertainment) after losing a lawsuit.
Course Correction
To err is human, and rebranding exercises don't always hit the mark. When a name change is universally panned or, perhaps worse, not relevant, it's time to course correct.
Tribune Publishing was forced to backtrack after their name change to Tronc in 2016. The widely-panned name, which was stylized in all lower case, was seen as a clumsy attempt to become a digital-first publisher.
Why Is Facebook Changing Its Name?
Facebook undertook this name change for a number of reasons, but chief among them is that the brand is irrevocably associated with scandals, negative externalities, and Mark Zuckerberg.
Even before the most recent outage and whistle-blowing scandal, Facebook was already the least-trusted tech company by a long shot. Mark Zuckerberg was once the most admired CEO in Silicon Valley, but has since fallen from grace.
It's easy to focus on the negative triggers for the impending name change, but there is some substance behind the change as well. For one, Facebook recognizes that privacy issues have put their primary source of revenue at risk. The company's ad-driven model built upon its users' data is coming under increasing scrutiny with each passing year.
As well, there is substance behind the metaverse hype. Facebook first signaled their ambitions in 2014, when it acquired the virtual reality headset maker Oculus. A sizable portion of the company's workforce is already working on making the metaverse concept a reality, and there are plans to hire 10,000 more people in Europe over the next five years.
It remains to be seen whether this immense gamble pays off, but for the near future, Zuckerberg and Facebook's investors will be keeping a close eye on how the media and public react to the new Meta name and how the transition plays out. After all, there are billions of dollars at stake.
Charted: What are Retail Investors Interested in Buying in 2023?
What key themes and strategies are retail investors looking at for the rest of 2023? Preview: AI is a popular choice.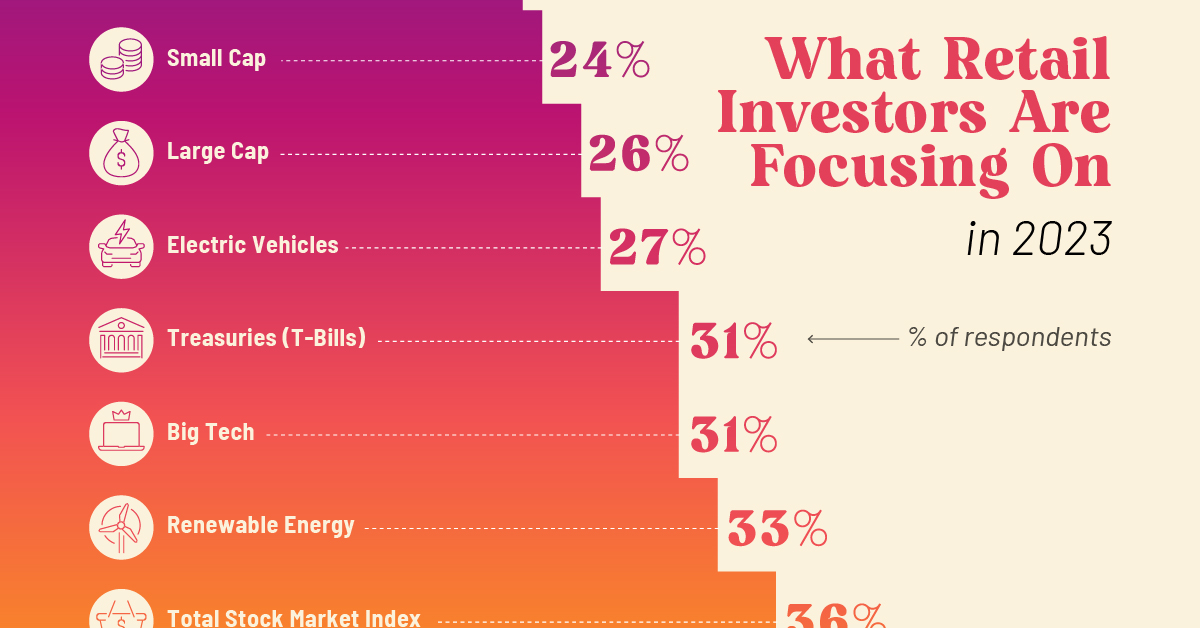 Charted: Retail Investors' Top Picks for 2023
U.S. retail investors, enticed by a brief pause in the interest rate cycle, came roaring back in the early summer. But what are their investment priorities for the second half of 2023?
We visualized the data from Public's 2023 Retail Investor Report, which surveyed 1,005 retail investors on their platform, asking "which investment strategy or themes are you interested in as part of your overall investment strategy?"
Survey respondents ticked all the options that applied to them, thus their response percentages do not sum to 100%.
Where Are Retail Investors Putting Their Money?
By far the most popular strategy for retail investors is dividend investing with 50% of the respondents selecting it as something they're interested in.
Dividends can help supplement incomes and come with tax benefits (especially for lower income investors or if the dividend is paid out into a tax-deferred account), and can be a popular choice during more inflationary times.
| Investment Strategy | Percent of Respondents |
| --- | --- |
| Dividend Investing | 50% |
| Artificial Intelligence | 36% |
| Total Stock Market Index | 36% |
| Renewable Energy | 33% |
| Big Tech | 31% |
| Treasuries (T-Bills) | 31% |
| Electric Vehicles | 27% |
| Large Cap | 26% |
| Small Cap | 24% |
| Emerging Markets | 23% |
| Real Estate | 23% |
| Gold & Precious Metals | 23% |
| Mid Cap | 19% |
| Inflation Protection | 13% |
| Commodities | 12% |
Meanwhile, the hype around AI hasn't faded, with 36% of the respondents saying they'd be interested in investing in the theme—including juggernaut chipmaker Nvidia. This is tied for second place with Total Stock Market Index investing.
Treasury Bills (30%) represent the safety anchoring of the portfolio but the ongoing climate crisis is also on investors' minds with Renewable Energy (33%) and EVs (27%) scoring fairly high on the interest list.
Commodities and Inflation-Protection stocks on the other hand have fallen out of favor.
Come on Barbie, Let's Go Party…
Another interesting takeaway pulled from the survey is how conversations about prevailing companies—or the buzz around them—are influencing trades. The platform found that public investors in Mattel increased 6.6 times after the success of the 'Barbie' movie.
Bud Light also saw a 1.5x increase in retail investors, despite receiving negative attention from their fans after the company did a beer promotion campaign with trans influencer Dylan Mulvaney.
Given the origin story of a large chunk of American retail investors revolves around GameStop and AMC, these insights aren't new, but they do reveal a persisting trend.