Saying Bye to Facebook: Why Companies Change Their Name
As anyone who's started a company knows, choosing a name is no easy task.
There are many considerations, such as:
Are the social handles and domain name available?
Is there a competitor already using a similar name?
Can people spell, pronounce, and remember the name?
Are there cultural or symbolic interpretations that could be problematic?
The list goes on. These considerations are amplified when a company is already established, and even more difficult when your company serves billions of users around the globe.
Facebook (the parent company, not the social network) has changed its name to Meta, and we'll examine some probable reasons for the rebrand. But first we'll look at historical corporate name changes in recent history, exploring the various motivations behind why a company might change its name. Below are some of the categories of rebranding that stand out the most.
Social Pressure
Societal perceptions can change fast, and companies do their best to anticipate these changes in advance. Or, if they don't change in time, their hands might get forced.
As time goes on, companies with more overt negative externalities have come under pressure—particularly in the era of ESG investing. Social pressure was behind the name changes at Total and Philip Morris. In the case of the former, the switch to TotalEnergies was meant to signal the company's shift beyond oil and gas to include renewable energy.
In some cases, the reason why companies change their name is more subtle. GMAC (General Motors Acceptance Corporation) didn't want to be associated with subprime lending and the subsequent multi-billion dollar bailout from the U.S. government, and a name change was one way of starting with a "clean slate". The financial services company rebranded to Ally in 2010.
Hitting the Reset Button
Brands can become unpopular over time because of scandals, a decline in quality, or countless other reasons. When this happens, a name change can be a way of getting customers to shed those old, negative connotations.
Internet and TV providers rank dead last in customer satisfaction ratings, so it's no surprise that many have changed their names in recent years.
We Do More
This is a very common scenario, particularly as companies go through a rapid expansion or find success with new product offerings. After a period of sustained growth and change, a company may find that the current name is too limiting or no longer accurately reflects what the company has become.
Both Apple and Starbucks have simplified their company names over the years. The former dropped "Computers" from its name in 2007, and Starbucks dropped "Coffee" from its name in 2011. In both these cases, the name change meant disassociating the company with what initially made them successful, but in both cases it was a gamble that paid off.
One of the biggest name changes in recent years is the switch from Google to Alphabet. This name change signaled the company's desire to expand beyond internet search and advertising.
Square also found itself in a similar situation. The "Square" brand had become synonymous with its commerce solutions, so the parent company became Block to help the company signal a shift into other areas of business.
The Start-Up Name Pivot
Another very common name change scenario is the early-stage name change.
In the world of music, there's speculation that limited melodies and subconscious plagiarism will make creating new music increasingly difficult in the future. Similarly, there are millions of companies in the world and only so many short and snappy names. (That's how we end up with companies called Quibi.)
Many of the popular digital services we use today started with very different names. The Google we know today was once called Backrub. Instagram began life as Bourbn, and Twitter began life as "Twittr" before finding a spare E in the scrabble pile.
Trademark Problems
As mentioned above, many companies start out as speculative experiments or passion projects, when a viable, well-vetted name isn't high on the priority list. As a result, new companies can run into trademark problems.
This was the case when Picaboo, the precursor of Snapchat, was forced to change their name in 2011. The existing Picaboo—a photobook company—was not thrilled to share a name with an app that was primarily associated with sexting at the time.
The fight over the name WWF was a more unique scenario. In 1994, the World Wildlife Fund and the World Wrestling Federation had a mutual agreement that the latter would stop using the initials internationally, except for fleeting uses such as "WWF champion". In the end though, the agreement was largely ignored, and the issue became a sticking point when the wrestling company registered wwf.com. Eventually, the company rebranded as WWE (World Wrestling Entertainment) after losing a lawsuit.
Course Correction
To err is human, and rebranding exercises don't always hit the mark. When a name change is universally panned or, perhaps worse, not relevant, it's time to course correct.
Tribune Publishing was forced to backtrack after their name change to Tronc in 2016. The widely-panned name, which was stylized in all lower case, was seen as a clumsy attempt to become a digital-first publisher.
Why Is Facebook Changing Its Name?
Facebook undertook this name change for a number of reasons, but chief among them is that the brand is irrevocably associated with scandals, negative externalities, and Mark Zuckerberg.
Even before the most recent outage and whistle-blowing scandal, Facebook was already the least-trusted tech company by a long shot. Mark Zuckerberg was once the most admired CEO in Silicon Valley, but has since fallen from grace.
It's easy to focus on the negative triggers for the impending name change, but there is some substance behind the change as well. For one, Facebook recognizes that privacy issues have put their primary source of revenue at risk. The company's ad-driven model built upon its users' data is coming under increasing scrutiny with each passing year.
As well, there is substance behind the metaverse hype. Facebook first signaled their ambitions in 2014, when it acquired the virtual reality headset maker Oculus. A sizable portion of the company's workforce is already working on making the metaverse concept a reality, and there are plans to hire 10,000 more people in Europe over the next five years.
It remains to be seen whether this immense gamble pays off, but for the near future, Zuckerberg and Facebook's investors will be keeping a close eye on how the media and public react to the new Meta name and how the transition plays out. After all, there are billions of dollars at stake.
How Big Tech Revenue and Profit Breaks Down, by Company
How do the big tech giants make their money? This series of graphics shows a breakdown of big tech revenue, using Q2 2022 income statements.

Creator Program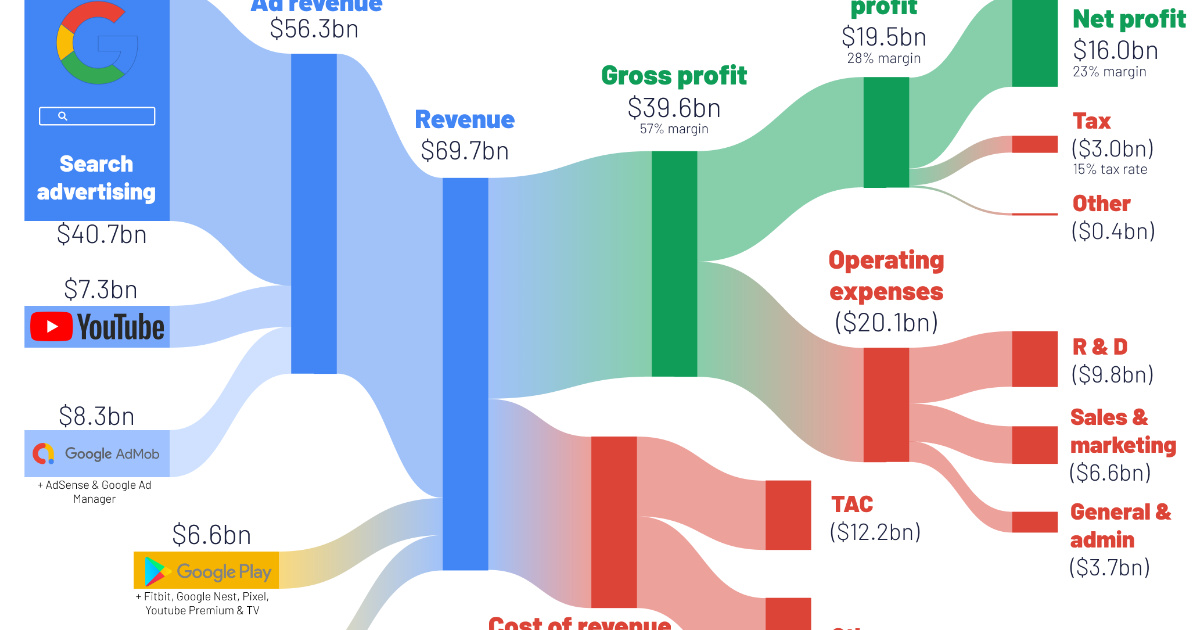 In the media and public discourse, companies like Alphabet, Apple, and Microsoft are often lumped together into the same "Big Tech" category. After all, they constitute the world's largest companies by market capitalization.
And because of this, it's easy to assume they're in direct competition with each other, fiercely battling for a bigger piece of the "Big Tech" pie. But while there is certainly competition between the world's tech giants, it's a lot less drastic than you might imagine.
This is apparent when you look into their various revenue streams, and this series of graphics by Truman Du provides a revenue breakdown of Alphabet, Amazon, Apple, and Microsoft.
How Big Tech Companies Generate Revenue
So how does each big tech firm make money? Let's explore using data from each company's June 2022 quarterly income statements.
Alphabet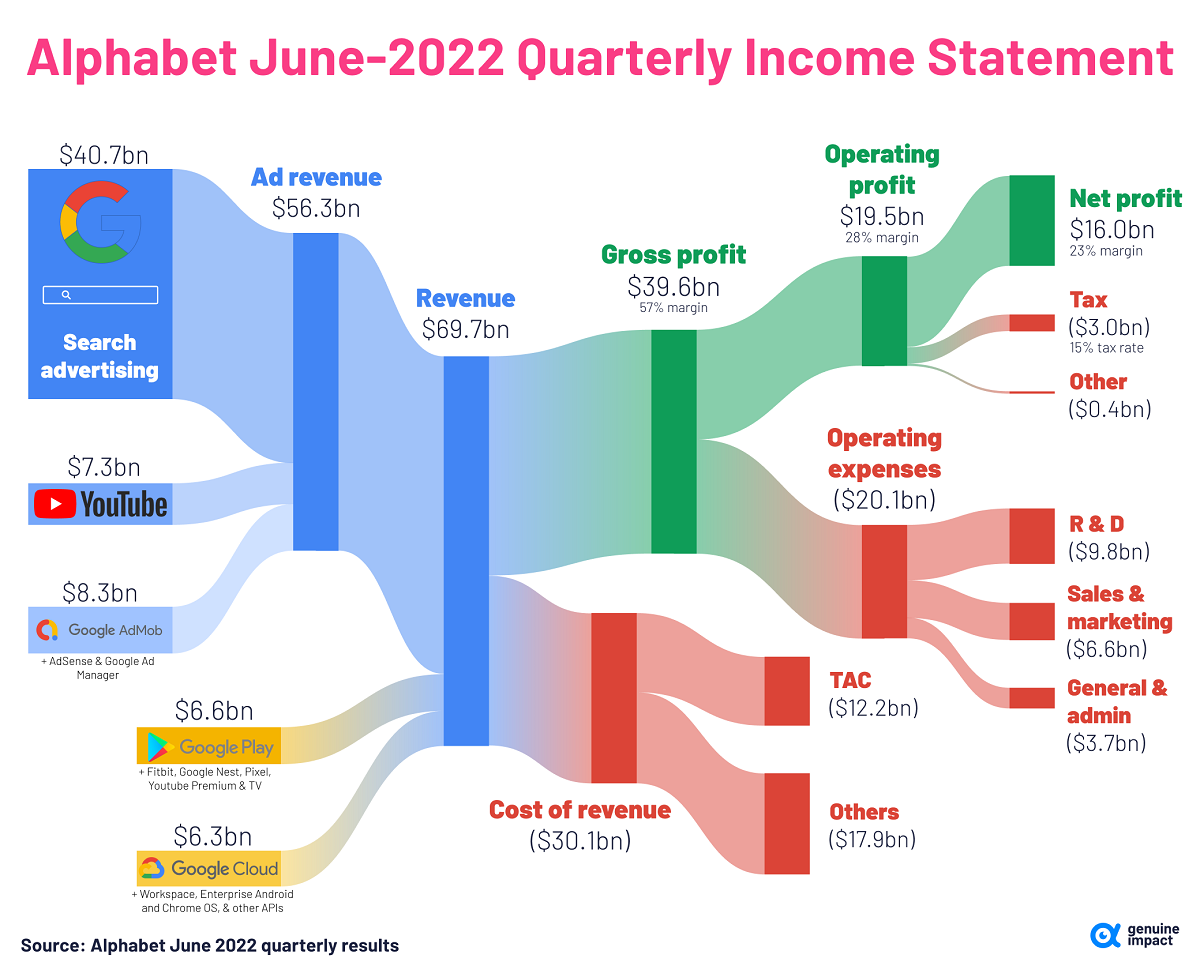 View the full-size infographic
In Q2 2022, about 72% of Alphabet's revenue came from search advertising. This makes sense considering Google and YouTube get a lot of eyeballs. Google dominates the search market—about 90% of all internet searches are done on Google platforms.
Amazon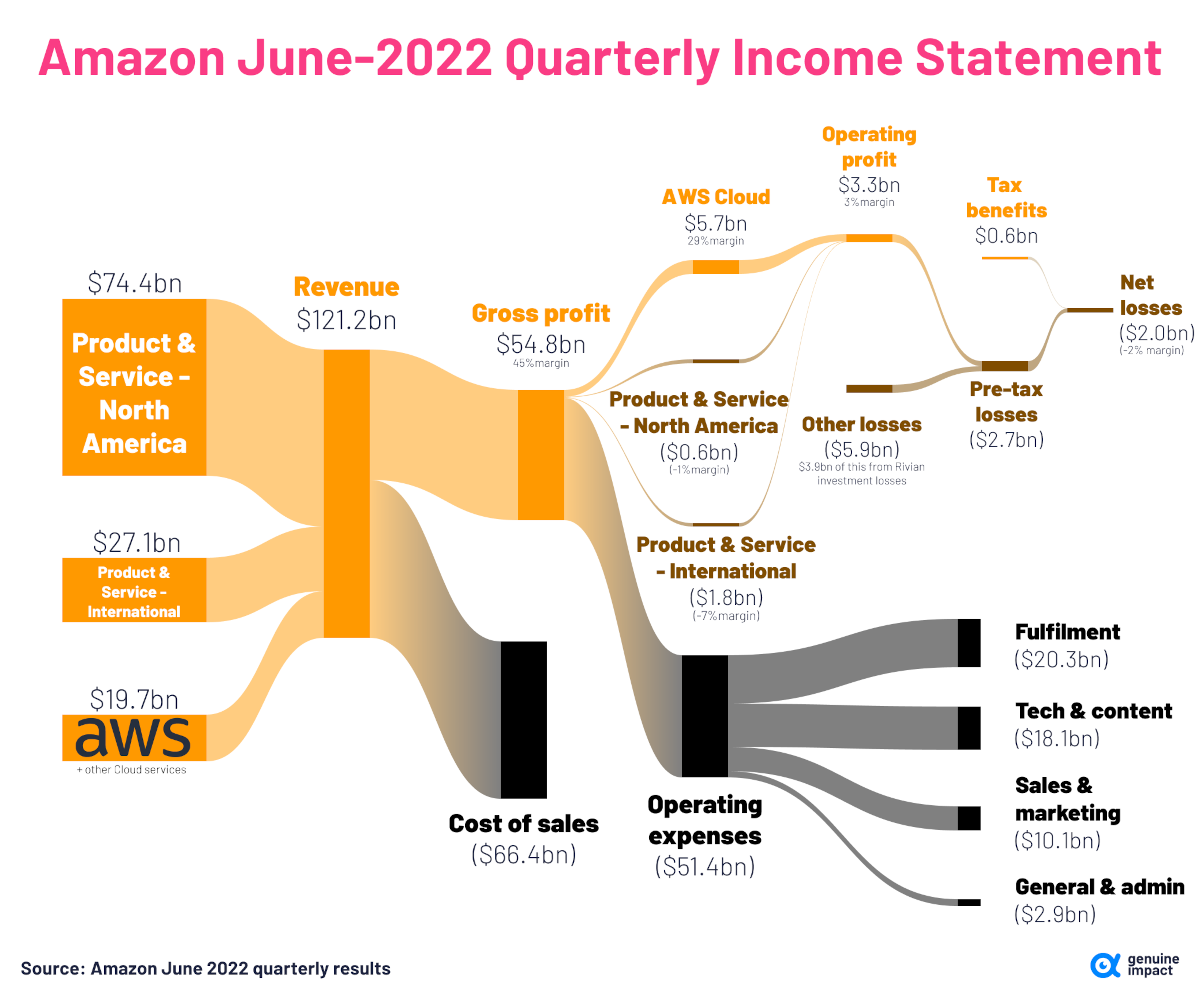 View the full-size infographic
Perhaps unsurprisingly, Amazon's biggest revenue driver is e-commerce. However, as the graphic above shows, the costs of e-commerce are so steep, that it actually reported a net loss in Q2 2022.
As it often is, Amazon Web Services (AWS) was the company's main profit-earner this quarter.
Apple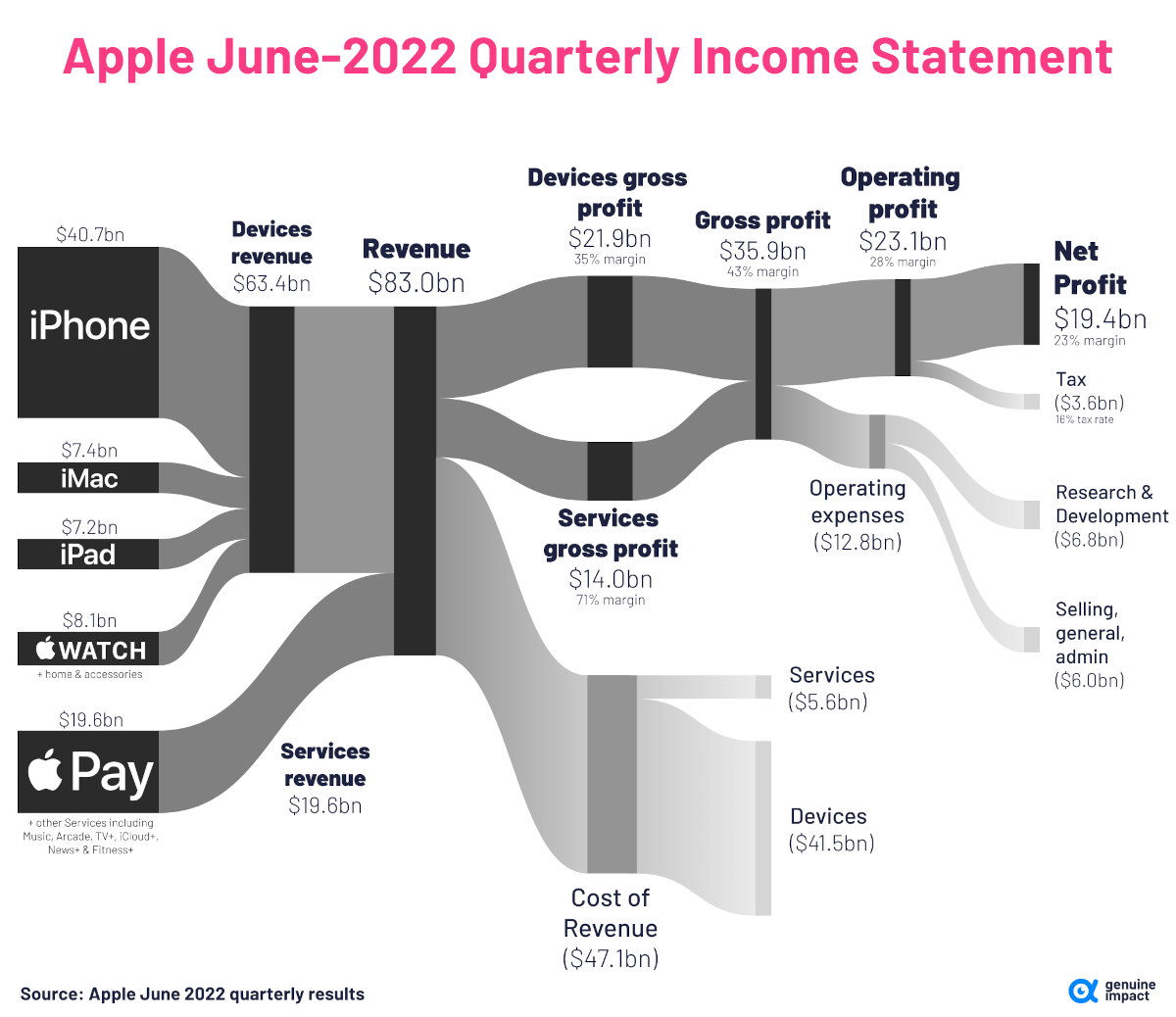 View the full-size infographic
Apple's biggest revenue driver is consumer electronics sales, particularly from the iPhone which accounts for nearly half of overall revenue. iPhones are particularly popular in the U.S., where they make up around 50% of smartphone sales across the country.
Besides devices, services like Apple Music, Apple Pay, and Apple TV+ also generate revenue for the company. But in Q2 2022, Apple's services branch accounted for only 24% of the company's overall revenue.
Microsoft
View the full-size infographic
Microsoft has a fairly even split between its various revenue sources, but similarly to Amazon its biggest revenue driver is its cloud services platform, Azure.
After AWS, Azure is the second largest cloud server in the world, capturing 21% of the global cloud infrastructure market.
Animation: The Most Popular Websites by Web Traffic (1993-2022)
This video shows the evolution of the internet, highlighting the most popular websites from 1993 until 2022.

Creator Program
The Most Popular Websites Since 1993
Over the last three decades, the internet has grown at a mind-bending pace.
In 1993, there were fewer than 200 websites available on the World Wide Web. Fast forward to 2022, and that figure has grown to 2 billion.
This animated graphic by James Eagle provides a historical look at the evolution of the internet, showing the most popular websites over the years from 1993 to 2022.
The 90s to Early 2000s: Dial-Up Internet
It was possible to go on the proto-internet as early as the 1970s, but the more user-centric and widely accessible version we think of today didn't really materialize until the early 1990s using dial-up modems.
Dial-up gave users access to the web through a modem that was connected to an active telephone line. There were several different portals in the 1990s for internet use, such as Prodigy and CompuServe, but AOL quickly became the most popular.
AOL held its top spot as the most visited website for nearly a decade. By June 2000, the online portal was getting over 400 million monthly visits. For context, there were about 413 million internet users around the world at that time.
| Rank | Website | Monthly Visits (May 2000) |
| --- | --- | --- |
| 1 | AOL | 400,891,812 |
| 2 | Yahoo | 387,573,587 |
| 3 | MSN | 354,239,803 |
| 4 | eBay | 116,101,785 |
| 5 | Lycos | 116,064,930 |
But when broadband internet hit the market and made dial-up obsolete, AOL lost its footing, and a new website took the top spot—Yahoo.
The Mid 2000s: Yahoo vs. Google
Founded in 1994, Yahoo started off as a web directory that was originally called "Jerry and David's Guide to the World Wide Web."
When the company started to pick up steam, its name changed to Yahoo, which became a backronym that stands for "Yet Another Hierarchical Officious Oracle."
Yahoo grew fast and by the early 2000s, it became the most popular website on the internet. It held its top spot for several years—by April 2004, Yahoo was receiving 5.6 billion monthly visits.
| Rank | Website | Monthly Visits (April 2004) |
| --- | --- | --- |
| 1 | Yahoo | 5,658,032,268 |
| 2 | MSN | 1,838,700,057 |
| 3 | Google | 1,318,276,780 |
| 4 | AOL | 905,009,947 |
| 5 | eBay | 805,474,705 |
But Google was close on its heels. Founded in 1998, Google started out as a simpler and more efficient search engine, and the website quickly gained traction.
Funny enough, Google was actually Yahoo's default search engine in the early 2000s until Yahoo dropped Google so it could use its own search engine technology in 2004.
For the next few years, Google and Yahoo competed fiercely, and both names took turns at the top of the most popular websites list. Then, in the 2010s, Yahoo's trajectory started to head south after a series of missed opportunities and unsuccessful moves.
This cemented Google's place at the top, and the website is still the most popular website as of January 2022.
The Late 2000s, Early 2010s: Social Media Enters the Chat
While Google has held its spot at the top for nearly two decades, it's worth highlighting the emergence of social media platforms like YouTube and Facebook.
YouTube and Facebook certainly weren't the first social media platforms to gain traction. MySpace had a successful run back in 2007—at one point, it was the third most popular website on the World Wide Web.
| Rank | Website | Monthly Visits (Jan 2007) |
| --- | --- | --- |
| 1 | Google | 7,349,521,929 |
| 2 | Yahoo | 5,169,762,311 |
| 3 | MySpace | 1,276,515,128 |
| 4 | MSN | 1,259,467,102 |
| 5 | eBay | 957,928,554 |
But YouTube and Facebook marked a new era for social media platforms, partly because of their ​​impeccable timing. Both platforms entered the scene around the same time that smartphone innovations were turning the mobile phone industry on its head. The iPhone's design, and the introduction of the App store in 2008, made it easier than ever to access the internet via your mobile device.
As of January 2022, YouTube and Facebook are still the second and third most visited websites on the internet.
The 2020s: Google is Now Synonymous With the Internet
Google is the leading search engine by far, making up about 90% of all web, mobile, and in-app searches.
What will the most popular websites be in a few years? Will Google continue to hold the top spot? There are no signs of the internet giant slowing down anytime soon, but if history has taught us anything, it's that things change. And no one should get too comfortable at the top.