Online Gaming: The Rise of a Multi-Billion Dollar Industry
Online Gaming: The Rise of a Multi-Billion Dollar Industry
From tabletops to virtual reality, how we play games is changing with the times.
In just a few short decades, the world of online gaming has exploded in popularity. Estimated to reach $196 billion in revenue by 2022, it is now considered to be one of the fastest growing industries on the planet.
The infographic above explores the humble beginnings of the online gaming market and dives into the technological possibilities driving its future.
The Birth of Online Gaming
Although video game prototypes were created by scientists as early as the 1950s, the very first gaming console was not introduced to consumers until the '70s. Subsequently, use of online games began to proliferate in the '90s as a result of widespread internet adoption.
1990s: Online gaming rapidly gains popularity due to the increasing availability of the internet
2003: Digital storefront Steam launches, allowing gamers to buy and review games online
2004: World of Warcraft launches, the first massively multiplayer online (MMO) to eclipse more than 10 million active subscriptions
2007: Online gaming starts shifting to mobile
2009: Minecraft launches and becomes one of the best selling video games in history with 176 million copies sold
2009: Apple announces In-app Purchase feature for iPhone apps
2015: 1.5 billion gamers around the world
2016: Augmented reality game Pokémon Go is launched, generating the most revenue grossed by any mobile game in its first month.
2019: Google releases Stadia, a cloud gaming service that allows gamers to play without a console
It is clear that technological innovation plays a huge role in fueling the evolution of online gaming, but there are also several other factors at play.
The Components of Online Gaming
In the world of gaming, there is often confusion between commonly used terms such as "online gaming" and "esports"—when in fact esports is just one segment that sits within the enormous online gaming ecosystem:
Distributors and Retailers: Platforms that distribute and sell games
Streaming Services: Services that allow users to livestream games
Hardware Developers: Companies that build the electronic infrastructure required to play games
Gaming Arenas: Venues that host gaming events
Esports: Organized, multiplayer video game competitions, typically between professional players
Software Developers: Develop applications that allow users to do specific tasks
Game Publishers: Companies that finance and distribute games
Game Developers: Studios that develop games
This ecosystem creates dozens of revenue streams for the industry as a whole. For every one of these channels, the shift to mobile gaming presents significant opportunities for growth.
Mobile: The Future of Gaming
Mobile is the largest gaming platform, producing $68.5 billion in revenue in 2019—45% of the total market that also includes PC and tablet gaming.
Although still a relatively new segment of the industry, mobile gaming has developed at an astonishing rate, with 2.4 billion people playing games on mobile in 2019. Part of mobile's breakneck growth can be attributed to an innovative and seamless user experience which relies on engaging features such as in-app purchases and loyalty rewards.
With the 5G era quickly descending upon us, these pocket-sized game consoles could transform online gaming, and make the industry even more exciting.
Towards a New Age of Entertainment
As the number of players continues to grow, it is clear that the technological possibilities of online gaming are endless. Some are already beginning to take shape:
Virtual Reality
With industry leaders such as Oculus and Valve announcing cheaper headset options, blurring the lines between fantasy and reality is becoming more accessible for mass markets, and the pace could pick up further in 2020.
Cloud Gaming
Cloud gaming takes advantage of faster, more reliable internet connections by giving gamers the ability to stream games rather than playing on a console.
Real-time Personalization
In the future, games could automatically generate game content that is customized to fit each player's personality and playstyle, based on their player data.
As these technologies develop, they alter the way users experience games, and provide new opportunities for brands and advertisers to tap into enhanced viewer engagement.
Many industry players will thrive in this new environment, while others will fall by the wayside. Who will emerge victorious, and lead us into the future of entertainment?
Which Companies Make Up the "Magnificent Seven" Stocks?
FAANG is dead… meet the 'Magnificent Seven' stocks that now make up over 25% of the S&P 500.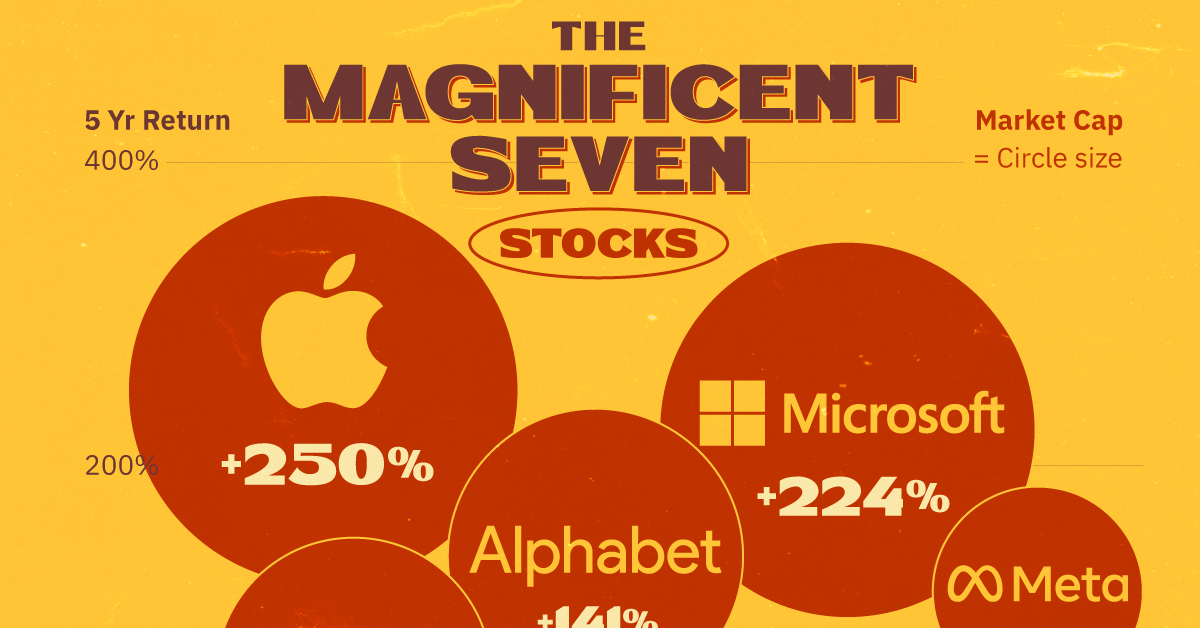 Which Companies Make Up the "Magnificent Seven" Stocks?
In 2013 CNBC analyst Jim Cramer popularized "FANG," comprised of Facebook (now Meta), Amazon, Netflix, and Google (now Alphabet), as a shorthand for the best performing technology stocks on the market. Apple, added in 2017, made it FAANG.
However, over the last year a new moniker given by Bank of America analyst Michael Hartnett highlights the most valuable and popularly-owned companies on the American stock market: the "Magnificent Seven" stocks.
We visualize the Magnificent Seven's market capitalization and 5-year stock performance as of November 2023 using data from Google Finance and CompaniesMarketCap.
The Magnificent Seven Stocks by Market Cap and 5-Year Return
The Magnificent Seven stocks are megacap companies focused and capitalizing on tech growth trends including AI, cloud computing, and cutting-edge hardware and software.
Four of the five FAANG stocks retain their place amongst the Magnificent Seven, with newcomers Nvidia, Tesla, and Microsoft joining the group. Following a poor 2022 performance and having more difficulty capitalizing on tech trends, Netflix is the sole FAANG company not included.
Here's a look at the companies ranked by their market capitalization on November 6, 2023, alongside their 5-year stock performance:
| Rank | Company | Market Cap | 5 Year Performance |
| --- | --- | --- | --- |
| 1 | Apple | $2.8 trillion | +250% |
| 2 | Microsoft | $2.6 trillion | +224% |
| 3 | Alphabet | $1.6 trillion | +141% |
| 4 | Amazon | $1.4 trillion | +63% |
| 5 | Nvidia | $1.1 trillion | +783% |
| 6 | Meta | $811 billion | +118% |
| 7 | Tesla | $690 billion | +829% |
The Magnificent Seven make up more than one-quarter of the S&P 500 and more than half of the Nasdaq 100.
Meanwhile, five of the seven are part of the rare trillion dollar club, with Nvidia being the most recent entry.
A common theme among the Magnificent Seven is their ability to collect vast amounts of customer data, create cutting-edge hardware and software, as well as harness the power of AI.
However, if Netflix gets back on track—recently announcing its new ad-supported membership tier has 15 million subscribers—we could soon see a "Magnificent Eight."