Mapping the Spread of Words Along Trade Routes
View the full-size version of this infographic
Mapping the Spread of Words Along Trade Routes
In the early history of international trade, when exotic goods traveled to new regions, their native names sometimes hitchhiked along with them.
Naturally, the Germans have a term – Wanderwörter – for these extraordinary loanwords that journey around the globe, mutating subtly along the way.
Today's map, produced by Haisam Hussein for Lapham's Quarterly, charts the flow of Wanderwörter along global trade routes.
Tea
China's export dominance over tea influenced how people around the world refer to their steeped beverages.
The spread of tea along the Silk Road from Mandarin-speaking Northern China resulted in much of Asia and Africa having similar sounding words for tea. Chá evolved into the chai widely consumed in India and surrounding areas today.
Tea's other major trade route, through Min-speaking Southern China, spread the pronunciation that became the standard around Europe. This is why we see such striking similarities between thé (French), thee (Dutch), tee (German), té (Spanish), and tè (Italian).
Tomatoes
Sometimes, a word's journey isn't completely linear.
In the case of tomatoes, the Italians' decision to dub the red fruit pomodoro, or golden apple, led to a linguistic fork in the road. This is the reason the English name for tomatoes is still similar to the Aztec term tomatl, but in Russian, pomidor can be traced back to Italian.
Cotton
Many people in North America would be surprised to learn that "cotton" is a direct link to the Arabic word al-qutn.
Coca
When the Spanish brought coca from South America and spread it into the global market, its easy-to-pronounce name tagged along for the entire journey. Though its spelling may differ across cultures, say the word "coca" in many countries and people will likely know what you're referring to.
A Small World After All
Most of us are vaguely aware that parts of our langauge consist of loanwords from other regions and cultures, but seeing the spread of language in map form is a powerful reminder that the globalization as we know it is a continuation of centuries of commercial and cultural exchange.
Visualizing the Depth of the Great Lakes
The five Great Lakes account for 21% of the world's total freshwater. This bathymetric visualization dives into just how deep they are.
Visualized: The Depth of The Great Lakes
Click here to view the interactive version of the visualization on Tableau.
As the seasons change, it's natural to want to enjoy the outdoors to the fullest. The Great Lakes, a distinct geographical region sandwiched between the U.S. and Canada, provides immense opportunity for millions of tourists to do just that every year.
But did you know that altogether the Great Lakes contain 21% of the world's surface freshwater by volume—or 84% of the surface freshwater in North America?
This bathymetric visualization, created by Alex Varlamov, helps put the sheer size and depth of all five of the Great Lakes into perspective.
What is Bathymetry?
Bathymetry is the study of the underwater depth of ocean or lake floors, a geographical science that falls under the wider umbrella of hydrography.
In essence, it is the underwater equivalent of topography. Contour lines help to represent and study the physical features of bodies of water, from oceans to lakes.
Most bathymetric studies are conducted via sonar systems, transmitting pulses that 'ping' off the ocean and lake floor, uncovering what lies below.
The Depth of the Great Lakes, Compared
High on the list of the world's largest lakes, the five Great Lakes altogether account for over 244,700 km² (94,250 mi²) in total surface area. That's bigger than the entire United Kingdom.
Lake Superior emerges, well, superior in terms of total surface area, water volume, and both average and maximum depth.
Surface area
Water volume
Average depth
Maximum depth
Lake Ontario
19,000 km²
(7,340 mi²)
1,640 km³
(393 mi³)
86 m
(283 ft)
245 m
(804 ft)
Lake Erie
25,700 km²
(9,910 mi²)
480 km³
(116 mi³)
19 m
(62 ft)
64 m
(210 ft)
Lake Michigan
58,000 km²
(22,300 mi²)
4,900 km³
(1,180 mi³)
85 m
(279 ft)
282 m
(925 ft)
Lake Huron
60,000 km²
(23,000 mi²)
3,500 km³
(850 mi³)
59 m
(195 ft)
228 m
(748 ft)
Lake Superior
82,000 km²
(31,700 mi²)
12,000 km³
(2,900 mi³)
147 m
(483 ft)
406 m
(1,333 ft)
Lake Erie is by far the shallowest of the lakes, with an average depth of just 19 meters (62 ft). That means on average, Lake Superior is about eight times deeper.
With that in mind, one drawback of the visualization is that it doesn't provide an accurate view of how deep these lakes are in relation to one another.
For that, check out this additional visualization also created by Alex Varlamov, which is scaled to the same 20 meter step—in this view, Lake Erie practically disappears.
More than Meets the Eye
The Great Lakes are not only notable for their form, but also their function—they're a crucial waterway contributing to the economy of the area, supporting over 50 million jobs and contributing $6 trillion to gross domestic product (GDP).
Together, the five Great Lakes feed into the Atlantic Ocean—and when we expand the scope to compare these lakes to vast oceans, trenches, and drill holes, the depth of the Great Lakes barely scratches the surface.
These Powerful Maps Show the Extremes of U.S. Population Density
The U.S. population is spread across a huge amount of land, but its distribution is far from equal. These maps are a unique look at population density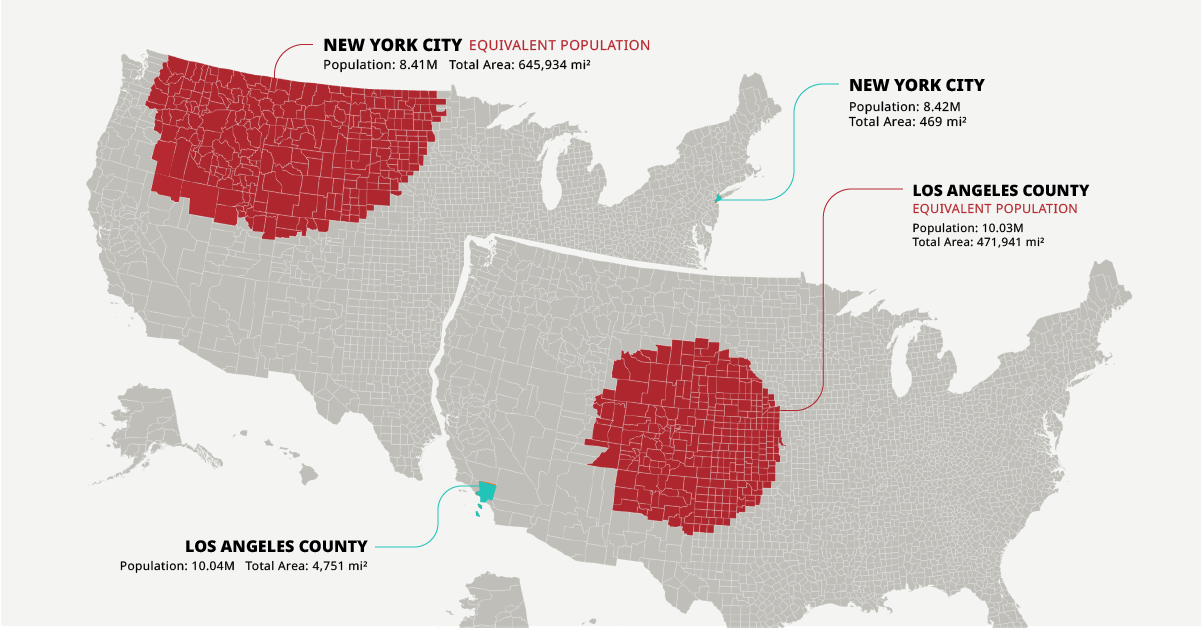 America's 328 million people are spread across a huge amount of territory, but the population density of various regions is far from equal.
It's no secret that cities like New York have a vastly different population density than, say, a rural county in North Dakota. Even so, this interactive map by Ben Blatt of Slate helps visualize the stark contrast between urban and rural densities in a way that might intrigue you.
How many counties does it take to equal the population of these large urban areas? Let's find out.
New York City's Rural Equivalent
New York City (proper) Population: 8.42 million
New York City Population density: 27,547 persons / mi²
New York City became the largest city in the U.S. back in 1781 and has long been the country's most densely packed urban center. Today, 1 in every 38 people living in the United States resides in The Big Apple.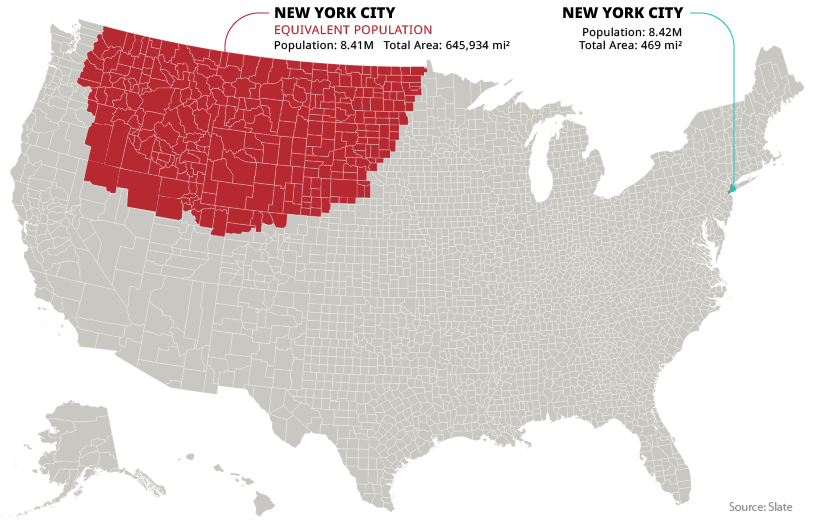 For the northwestern counties above to match the population of New York City, it takes a land area around the size of Mongolia. The region shown above is 645,934 mi², and runs through portions of 12 different states.
In order to match the population of the entire New York metropolitan area, which holds 18 million people and includes adjacent cities and towns in New York state, New Jersey, and Connecticut, the above equivalent area would have to be even more massive.
Los Angeles County's Rural Equivalent
LA County Population: 10.04 million
LA County Population density: 2,100 persons / mi²
Los Angeles County is home to the 88 incorporated cities that make up the urban area of Los Angeles.
Even excluding nearby population centers such as Anaheim, San Bernadino, and Riverside (which are located in adjacent counties) it is still the most populous county in the United States, with over 10 million inhabitants.
To match this enormous scale in Middle America, it would take 298 counties covering an area of 471,941 mi².
Chicago's Rural Equivalent
Chicago Metropolitan Area Population: 9.53 million
Chicago Metropolitan Area Population density: 1,318 persons / mi²
Next up is America's third largest city, Chicago. For this visualization, we're using the Chicago metropolitan area, which covers the full extent of the city's population.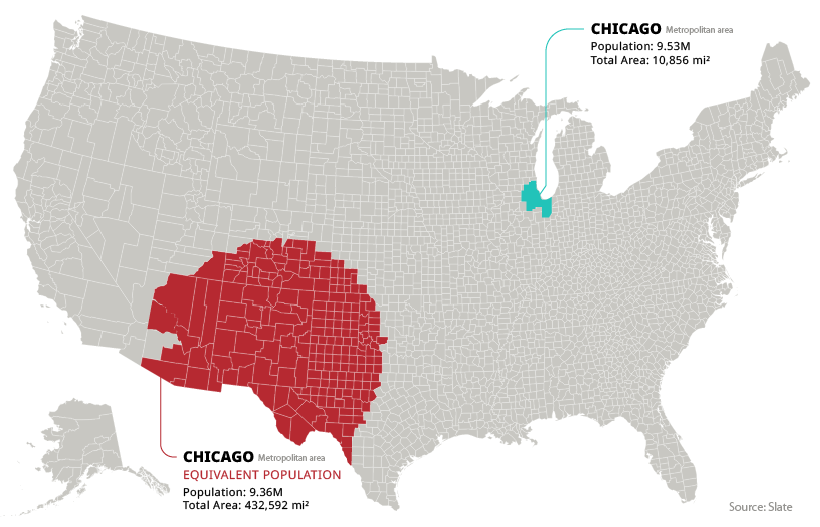 To match the scale of the population of the Windy City, we would need to add up every county in New Mexico, along with large portions of Colorado, Arizona, and Texas.
Turning the Tables?
Conversely, what if we transported the people in the country's least densely populated counties into the middle of an urban center?
| Rank | County | Population |
| --- | --- | --- |
| 1 | Kalawao County, Hawaii | 86 |
| 2 | Loving County, Texas | 169 |
| 3 | King County, Texas | 272 |
| 4 | Kenedy County, Texas | 404 |
| 5 | Arthur County, Nebraska | 463 |
As it turns out, the total population of the five least populated counties is just 1,394—roughly the same amount of people that live on the average Manhattan block.