Mapping the Most Important Ethereum Forks
Mapping the Major Ethereum Forks
Many people are familiar with blockchain technology, but did you know that Ethereum has the largest and most active blockchain community in the world?
Unlike many other blockchain networks, Ethereum is programmable. This customizable feature has enabled developers to solve problems ranging from digital identification and privacy, to corporate ownership and data security.
When the blockchain community disagrees on what changes the network needs to function smoothly or when such changes should take place, developers plan for a fork (an offshoot) of the underlying code rules.
Today's graphic maps out the major Ethereum blockchain forks that have occurred to date, highlighting key events that surrounded each of these updates. It also includes details on the highly anticipated Istanbul hard fork, planned for December 2019.
Four Types of Forks
Forks are common practice in the software industry, and happen for one of two reasons: split opinions within the community, and required changes to the blockchain code.
When either reason is discussed, four major types of forks can occur.
Codebase Forks: Copy of the original code, to allow for minor tweaks without developing the whole blockchain code from scratch.
Blockchain Forks: Branching or splitting a blockchain's whole transaction history, causing the new network to develop a distinct identity.
Soft Forks: Gradual software upgrades—bug fixes, security checks, and new features.
Hard Forks: A permanent division of the blockchain.
There are currently three types of hard forks:
Planned
Scheduled upgrades to the network, often abandoning the old chain
Contentious
Community disagreements cause major code changes, forming a new chain
Spin-off Coins
Minor changes to the blockchain's code that create new coins
Let's dive into the timeline of major Ethereum forks, and explore a few of their defining moments and characteristics.
Mapping the Major Ethereum Forks
Below are some of the most prominent and important forks—both hard and soft—on the Ethereum blockchain since its launch.
Ethereum
Vitalik Buterin, founder of Ethereum, and his team finished the 9th and final proof of concept known as Olympic in May 2015. The Ethereum blockchain, also known as Frontier, went live shortly after, on July 30, 2015.
Ice Age
Also known as "Frontier Thawing", this was the first (unplanned) fork of the Ethereum blockchain, providing security and speed updates to the network.
Homestead
Homestead is widely considered Phase 2 of Ethereum's development evolution. This rollout included three critical updates to Ethereum: the removal of centralization on the network, enabling users to hold and transact with ETH, and to write and deploy smart contracts.
The DAO
The Decentralized Autonomous Organization (DAO) event was the most contentious event in Ethereum's short history. The DAO team raised US$150 million through a 2016 token sale—but an unknown hacker stole US$50 million in ether (ETH), prompting the developer community to hard fork in order to recover the stolen funds.
Ethereum Classic
Widely regarded as the only Ethereum fork of any significance, this hard fork was based on the controversial DAO event. The original chain became known as Ethereum Classic, and the new chain moved forward as the main Ethereum chain.
Atlantis
This September 2019 hard fork event required all software users to upgrade their clients in order to stay with the current network. Enhancements included better security, stability, and network performance for higher volumes of traffic.
Metropolis-Byzantium
Regarded as the third phase of Ethereum's evolution, the Metropolis-Byzantium soft fork functioned more like an operating system upgrade, rather than a full split.
Metropolis-Constantinople
Constantinople is the current version of the Ethereum blockchain. This hard fork occurred concurrently with the St. Petersburg update. Important changes included closing a major security loophole that could have allowed hackers to easily access users' funds.
Constantinople's most notable improvements include smart contracts being able to verify each other using only the unique string of computer code of another smart contract, and reduced gas fees─namely, the price users pay to process transactions more quickly.
Future Forks in the Road
The Ethereum community is preparing for the next hard fork event Istanbul, scheduled for release on December 4th, 2019.
Ethereum's 4th and projected final stage of development is Serenity, which has yet to be scheduled. Community members have speculated what changes will come with Serenity, but many agree that the Ethereum blockchain will shift focus from Proof of Work to Proof of Stake.
Proof of Work (PoW): "Miners" are rewarded with cryptocurrency for solving puzzles that process and post blocks of data to the network
Proof of Stake (PoS): Miners are chosen from a pool of miners, based on the stake of cryptocurrency they bid; no puzzle = no reward
Proof of Stake means that there is less competition for completing blocks of data, significantly reducing the energy required to process data. Currently, a single Bitcoin transaction consumes the same electricity as 1.75 American households do in a day.
Ethereum Leads the Way
Ethereum continues to be a leading blockchain platform, with the highest number of decentralized apps (dApps) and a massive, engaged community.
To date, cryptocurrencies have largely been the focus of news headlines. However, we've only begun to scratch the surface of what blockchain can offer, and the value it will create beyond the financial world.
[Blockchain] could be the foundation of a whole new era whereby our basic right to privacy is protected, because identity is the foundation of freedom and it needs to be managed responsibly.
—Don Tapscott, Executive Chairman of the Blockchain Research Institute

Bitcoin is Near All-Time Highs and the Mainstream Doesn't Care…Yet
As bitcoin charges towards all-time highs, search interest is relatively low. How much attention has bitcoin's recent rally gotten?
Bitcoin Near All-Time Highs vs. Search Interest
Just about every financial asset saw a huge drop in March, but few have had the spectacular recovery that bitcoin has had since then.
Up more than 300% from the March lows, bitcoin is within $1,000 of its all-time high ($19,891) established three years ago. While 2017's run-up saw a huge surge in Google searches, interest this time around is less than a quarter of what it was back then.
This graphic overlays bitcoin's price changes against Google search interest for "bitcoin" between 2017-Nov 2020, showing the muted relative search interest for its recent rally. Despite Google search interest being low, it is turning upwards, potentially hinting at a rise to cap off 2020.
Nobody's Searching? Maybe Bitcoin is Already Mainstream
Bitcoin's mainstream attention in 2017 was exceptional, and was likely the first time many people had even heard about the digital asset.
After doing all of their Google research back then, it's possible that the general population is now well aware of the cryptocurrency and doesn't need to search up the basics again. Add to this that bitcoin is now easily purchasable through popular services like Robinhood and Paypal, and you have fewer people who need Google to figure out the intricacies of bitcoin wallets and transactions.
While people might not be searching for information on bitcoin, the media has certainly picked up on its movement over the past year. Mainstream coverage regarding the cryptocurrency is currently at a relative all-time high for the past 12 months.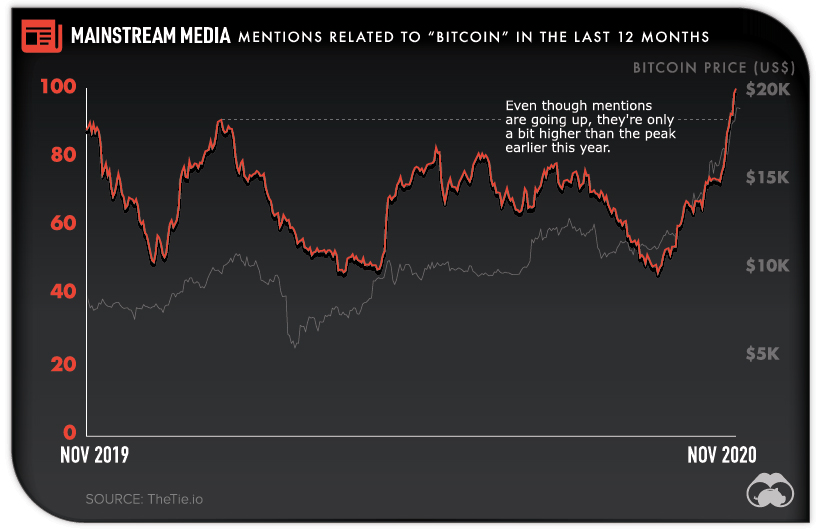 Even if current mainstream coverage isn't far from previous peaks, it's still likely that people are seeing an increase in bitcoin content in their news feeds following the recent surge.
This rally is also attracting increased talk on social media sites like Twitter. That said, while there has been a rise in the volume of bitcoin-related tweets in November 2020, numbers are still quite low compared to the amount of tweets in 2017.
Daily tweet volume reached above 60,000 recently, but is still far from the +100,000 daily tweets that were being sent at the top of 2017's bull run.
Where in the World is Google Search Interest for Bitcoin?
Even if worldwide search interest isn't as high as it was in 2017, there is one country where bitcoin is being googled more now: Nigeria.
Since 2015, the Nigerian Naira has lost more than 50% of its value against the U.S. dollar. This, coupled with the country's high share of unbanked citizens means that alternative currencies and payment methods have steadily risen in popularity and utility.
FinTech startups like Chipper Cash are providing Nigeria and other African nations with no-fee P2P payment services, along with the ability to trade bitcoin. The service is also beta testing the buying and selling of fractional shares of popular U.S. stocks.
Started up in 2018, Chipper Cash's monthly payment values are now over $100 million, and the company has attracted investment from top VC funds like Bezos Expeditions as they provide a valuable service in an emerging market.
If Bitcoin is Mainstream, Where Does It Go From Here?
While bitcoin is proving itself to be a useful medium of exchange around the world, it's still primarily a speculative asset. As 2020 saw massive increases in money supply across the board, bitcoin reacted best compared to other speculative assets, with its ascent to $19,000 almost completely uninterrupted since the $10,000 price area.
Time will tell if 2017 is set to repeat itself, or if bitcoin is getting ready to set new all-time highs going into 2021.

Cryptocurrency: Redefining the Future of Finance
From Bitcoin to Tezos, cryptocurrencies are reshaping the financial industry. As they rapidly advance, how will current applications impact tomorrow?
Cryptocurrency: Redefining the Future of Finance
Cryptocurrency is a thriving ecosystem, quietly encroaching on conventional finance's territory.
Over the last five years, Bitcoin users and transactions have averaged a growth rate of nearly 60% per year. Similarly, private and public investors have deepened their commitment to cryptocurrencies including Ethereum, Ripple (XRP), and Stellar—and a number of others across the industry.
Today's infographic unpacks a cross-section of cryptocurrencies, stakeholders, and core applications across a sector that's continuing to grow in importance.
The Evolution of Cryptocurrency
Cryptocurrency has erupted into a $200 billion industry, sparking a wave of global disruption.
At the heart of cryptocurrency is a rich history of innovation. It extends back to the 1980s with advances in the field of cryptography—eventually leading to the technology that forms encryption techniques designed to protect the network.
Since then, a series of key events have continued to shape the sector.
| Year | Event |
| --- | --- |
| 2009 | Satoshi Nakamoto mines the first Bitcoin on a decentralized network |
| 2011 | Litecoin launches |
| 2012 | Ripple is founded |
| 2013 | The price of a single Bitcoin reaches $1,000 |
| 2015 | Ethereum launches, introducing smart contracts into the crypto ecosystem |
| 2017 | Over 1,000 cryptocurrencies listed |
| 2017 | Bitcoin's price rockets past $10,000, reaching a peak just shy of $20,000 |
| 2018 | EOS offers a blockchain-based infrastructure for decentralized apps (DApps) |
Now, there are over 5,000 cryptocurrencies in circulation, with many built on innovative applications and use-cases as the ecosystem rapidly evolves.
The Value of Cryptocurrencies
Today, crypto offers cutting-edge advances that are diverse and transformative. In addition, it could also be considered an investment in tomorrow's financial system—decentralized finance (DeFi).
DeFi is an emerging alternative financial system that is built on a public blockchain, which enables greater accessibility because anyone has the ability to connect to it. Additionally, transactions are publicly visible, enabling greater transparency across the system.
Here is a refresher on some of the practical advantages being applied across cryptocurrencies.
Use Cases
Name
Description
Payments
Bitcoin
Ripple (XRP)
Stellar
Dash

Used for purchasing goods without the need of a trusted third-party
Value Storage

Bitcoin
Litecoin
As the total supply of many cryptocurrencies are limited, this scarcity influences their value

Stablecoins

DAI
USDC
GeminiUSD
Digital money that is typically pegged to a currency or commodity, such as gold

Privacy
Monero
Zcash
Cryptography, the technology behind crypto, can enable the anonymity of its owners

Digital Ownership

Bitcoin
Ripple (XRP)
Stellar
Can empower those without access to a bank to enter the financial system

Digital Gold

Bitcoin
Bitcoin shares similar attributes to money: a medium of exchange, unit of account, and store of value

Decentralized Apps (DApps)

EOS
Tezos
Ethereum (ETH)
Enable individuals to create apps without a central authority, directly connecting the user and creator

The Key Players in the Crypto Landscape
The cryptocurrency ecosystem is growing rapidly. Worldwide, private and public actors recognize its potential across many domains.
Who are the primary participants in the field today?
Private Actors
Institutional Investors
Harvard Endowment Fund, Crypto Hedge Funds
Cryptocurrency Exchanges
Coinbase, Bitstamp
Banks & Finance
J.P. Morgan, Fidelity Investments, Swissquote
Tech
IBM, Microsoft
Power & Utilities
RWE
Public Actors
Governments
Venezuela
Central Banks
China, Sweden, Saudi Arabia
Organizations
Crypto Valley Association, Global Digital Finance
The rising popularity of crypto is bolstering new policies and adoption, as evidenced by the many players trying to break into the space.
The Big Picture:
As crypto continues to gain momentum, its longer-term implications will come into focus. Crucially, its cryptographic foundation sets the stage for future advances in finance.
Privacy
Anonymized transactions protect users data through cryptographic techniques
Access
Providing a new financial model for 1.7B unbanked individuals around the world
Efficiency
Steep reductions in settlement time and efficacy could save consumers $16 billion annually
Security
Providing immutable, traceable records of security-rich transactional networks
Programmable Money
Smart contracts could drastically eliminate manual and administrative work⁠— ultimately bypassing them altogether
Rooted in decentralized and autonomous systems, cryptocurrencies are creating second-order effects in the financial world. Ultimately, cryptocurrencies are helping to transform finance as we know it—unlocking countless investment opportunities across the global economy.