Exploring the Practical Applications of Blockchain Technology
In a few short years, blockchain technology has been steadily gaining traction in traditional business applications around the world.
So much so, that blockchain-focused venture capital fundraising tripled to $3 billion between the years 2017 and 2018.
Four Practical Uses for Blockchain Tech
Today's graphic from Noah Coin highlights four major sectors where blockchain technology is being used to innovate and enhance important business processes.
In an increasingly digital world, which industries are being transformed by blockchain?
One of the primary benefits of blockchain technology is its immutability─the unchangeable nature of the "ledger" of data posted to the network.
This critical feature can provide widespread benefits across a variety of industries around the world. Let's dive into some key examples.
Major Practical Applications of Blockchain
1. Financial Services
Recent numbers show that the asset management industry could cut costs by $2.7 billion every year by moving to blockchain tech. Practical applications of blockchain in the financial services industry include client screening and onboarding, recordkeeping, data privacy and security, and trade processing.
Similarly, the insurance industry is fraught with errors and costly mistakes. The FBI estimates that over $40 billion a year is lost through fraud across all non-health insurance industries.
Example solution:
RiskBlock, a proof-of-insurance product, helps insurers save time and money through automated processes, and it helps insured individuals validate their insurance claims securely and quickly.
2. Smart Contracts
Blockchain and smart contract technologies function well in instances where legal contracts are required to maintain ownership rights and data privacy laws. These customizable, self-executing smart contracts on the blockchain can be easily managed by all parties.
Issues with ownership rights and royalties are commonplace within the entertainment industry. To navigate these issues, blockchain technology offers an unchangeable, traceable, real-time distribution and reporting network for all involved.
Example solution:
Ujomusic is one such application that is helping artists track their royalties worldwide.
3. Digital IDs
According to the World Bank, over 1.1 billion people worldwide still have no way to prove their identity. At the same time, companies and financial institutions in both traditional and digital markets are being required to follow more stringent know-your-customer (KYC) initiatives.
Despite this, many providers are still not sufficiently meeting these standards; to further complicate things, regulations vary widely from jurisdiction to jurisdiction.
Example solution:
4. Blockchain Internet of Things (IoT)
Gartner predicts that 20.4 billion IoT-connected devices will be active by the end of 2020, with some estimates showing the IoT market will reach $3 trillion annually by 2026.
Blockchain-enabled IoT devices would operate faster and more securely for both users and businesses─enabling less centralized control over the financial industry, internet usage, and ownership rights.
Example solution:
Helium uses a decentralized machine network to simplify connecting anything to the internet through a blockchain, wireless network, and open-source software.
A Blockchain-enabled Future
Blockchain technology promises to be the next major tidal wave of innovation. While still in its infancy, practical blockchain applications are becoming more mainstream.
As blockchain adoption spreads, it can become a driving force for promoting equitable societies, solving complex economic issues, and transforming how we live and work every day.
Charted: What are Retail Investors Interested in Buying in 2023?
What key themes and strategies are retail investors looking at for the rest of 2023? Preview: AI is a popular choice.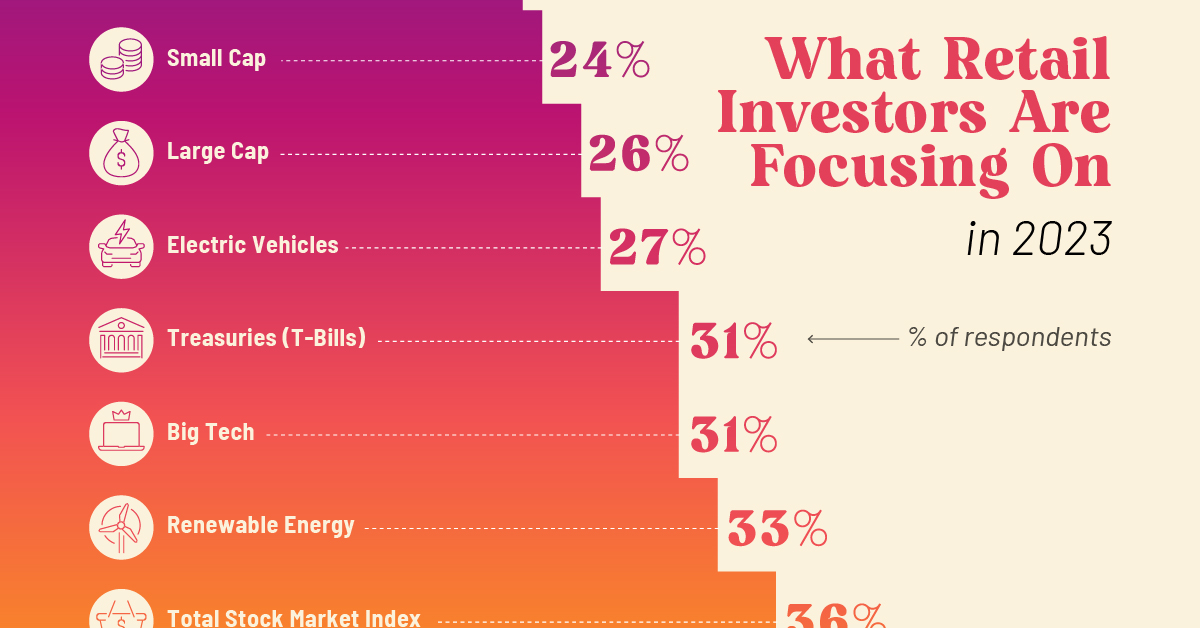 Charted: Retail Investors' Top Picks for 2023
U.S. retail investors, enticed by a brief pause in the interest rate cycle, came roaring back in the early summer. But what are their investment priorities for the second half of 2023?
We visualized the data from Public's 2023 Retail Investor Report, which surveyed 1,005 retail investors on their platform, asking "which investment strategy or themes are you interested in as part of your overall investment strategy?"
Survey respondents ticked all the options that applied to them, thus their response percentages do not sum to 100%.
Where Are Retail Investors Putting Their Money?
By far the most popular strategy for retail investors is dividend investing with 50% of the respondents selecting it as something they're interested in.
Dividends can help supplement incomes and come with tax benefits (especially for lower income investors or if the dividend is paid out into a tax-deferred account), and can be a popular choice during more inflationary times.
| Investment Strategy | Percent of Respondents |
| --- | --- |
| Dividend Investing | 50% |
| Artificial Intelligence | 36% |
| Total Stock Market Index | 36% |
| Renewable Energy | 33% |
| Big Tech | 31% |
| Treasuries (T-Bills) | 31% |
| Electric Vehicles | 27% |
| Large Cap | 26% |
| Small Cap | 24% |
| Emerging Markets | 23% |
| Real Estate | 23% |
| Gold & Precious Metals | 23% |
| Mid Cap | 19% |
| Inflation Protection | 13% |
| Commodities | 12% |
Meanwhile, the hype around AI hasn't faded, with 36% of the respondents saying they'd be interested in investing in the theme—including juggernaut chipmaker Nvidia. This is tied for second place with Total Stock Market Index investing.
Treasury Bills (30%) represent the safety anchoring of the portfolio but the ongoing climate crisis is also on investors' minds with Renewable Energy (33%) and EVs (27%) scoring fairly high on the interest list.
Commodities and Inflation-Protection stocks on the other hand have fallen out of favor.
Come on Barbie, Let's Go Party…
Another interesting takeaway pulled from the survey is how conversations about prevailing companies—or the buzz around them—are influencing trades. The platform found that public investors in Mattel increased 6.6 times after the success of the 'Barbie' movie.
Bud Light also saw a 1.5x increase in retail investors, despite receiving negative attention from their fans after the company did a beer promotion campaign with trans influencer Dylan Mulvaney.
Given the origin story of a large chunk of American retail investors revolves around GameStop and AMC, these insights aren't new, but they do reveal a persisting trend.