Mapped: The Drainage Basins of the World's Longest Rivers
View the full-size version of this infographic.
Drainage Basins of the World's Longest Rivers
Most of the earth's surface is covered in water, but less than 1% of it is the fresh water that makes up the rivers and lakes we're familiar with.
The water we encounter in life is moving through the stages of the water cycle. And even though rivers make up a tiny portion of all fresh water, they're still one of the most visible parts of that cycle, especially for the billions of people who live in cities and towns built alongside them.
Of course, rivers don't just appear out of nowhere. They're the end result of water's land-based journey–the product of many compounding inflows collected within a drainage basin.
The map above, from Reddit user r/CountZapolai, illustrates how massive the drainage basins can be for the world's longest rivers.
What is a Drainage Basin?
A river's drainage basin is defined as the area of land where precipitation collects and drains off, feeding the flow of rivers and their tributaries. Simply put, this is the process of water draining from higher points of land to lower laying areas–as demonstrated by the animation below.
In the case the world's longest rivers, these drainage basins can span across entire continents and cross many international borders.
Fueling the World's Longest Rivers
The longer a river system gets, the more terrain it passes through. It comes as no surprise then that the longest rivers are supported by immense drainage basins.
Here are the world's top 10 longest rivers, and the size of their respective basins:
Rank
River system
Length in miles (km)
Drainage area in miles² (km²)
Outflow
Countries in basin
1
Nile
4,130
(6,650)
1,256,591
(3,254,555)
Mediterranean
🇪🇹🇪🇷🇸🇩🇺🇬🇹🇿🇰🇪🇷🇼🇧🇮🇪🇬🇨🇩🇸🇸
2
Amazon
3,976
(6,400)
2,702,715
(7,000,000)
Atlantic Ocean
🇧🇷🇵🇪🇧🇴🇨🇴🇪🇨🇻🇪🇬🇾
3
Yangtze
3,917
(6,300)
694,984
(1,800,000)
East China Sea
🇨🇳
4
Mississippi
3,902
(6,275)
1,150,584
(2,980,000)
Gulf of Mexico
🇺🇸🇨🇦
5
Yenisei
3,445
(5,539)
996,143
(2,580,000)
Kara Sea
🇷🇺🇲🇳
6
Huang He (Yellow River)
3,395
(5,464)
287,646
(745,000)
Bohai Sea
🇨🇳
7
Ob–Irtysh
3,364
(5,410)
1,154,445
(2,990,000)
Gulf of Ob
🇷🇺🇰🇿🇨🇳🇲🇳
8
Río de la Plata
3,030
(4,880)
997,175
(2,582,672)
Río de la Plata
🇧🇷🇦🇷🇵🇾🇧🇴🇺🇾
9
Congo
2,922
(4,700)
1,420,856
(3,680,000)
Atlantic Ocean
🇨🇩🇨🇫🇦🇴🇨🇩🇹🇿🇨🇲🇿🇲🇧🇮🇷🇼
10
Amur
2,763
(4,444)
716,220
(1,855,000)
Sea of Okhotsk
🇷🇺🇨🇳🇲🇳
Note: There is debate about the actual length of certain river systems. See a more comprehensive range of estimates here.
These 10 longest rivers alone are fed by a land area equivalent to the size of Africa.
Of those, the Amazon Basin is the largest in the world by far, covering one-third of the South American continent.
River Drainage Basins and Humanity
The fact that huge population centers sit at the terminuses of many of these key rivers is a testament to how important watersheds are to our survival. Only 10% of the global population lives further than six miles away from a surface freshwater body, and more often than not, that fresh water comes in the form of a river.
Noting where rivers begin their journey is also important as well. In the case of Tibet, many of the world's longest rivers are fed by drainage basins that begin in the region. In fact, six of Asia's major rivers begin on the Tibetan Plateau, meeting the basic needs of billions of people.
By illustrating the world's longest rivers and their drainage basins, maps like this one help put into perspective the breathtaking complexity of Earth's hydrological cycle.

These Powerful Maps Show the Extremes of U.S. Population Density
The U.S. population is spread across a huge amount of land, but its distribution is far from equal. These maps are a unique look at population density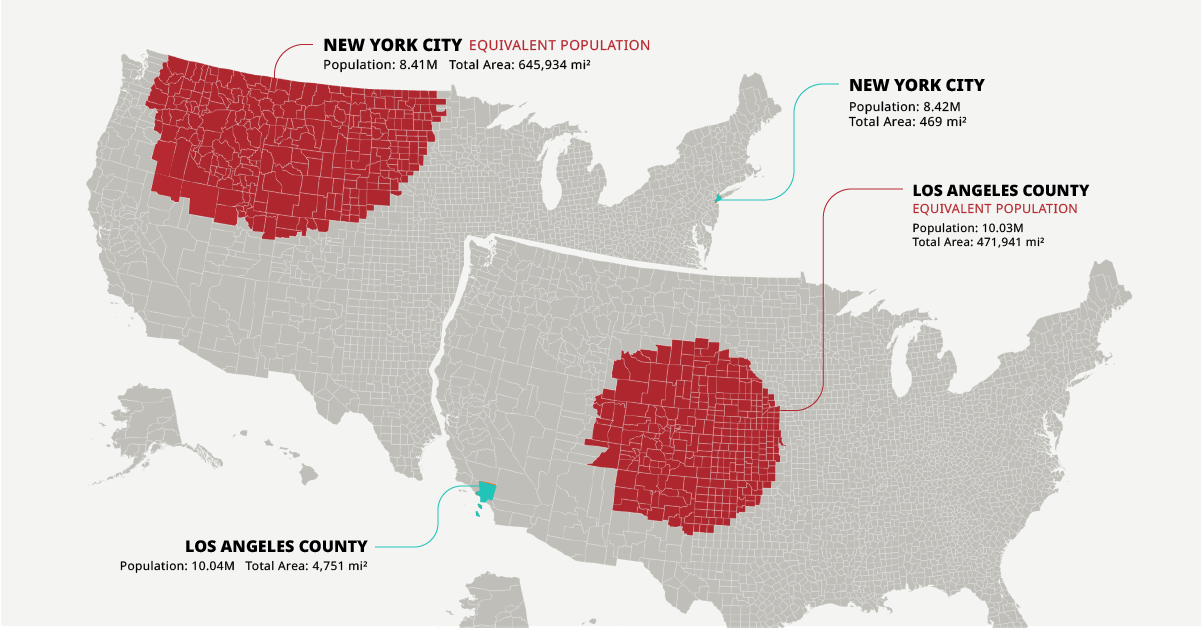 America's 328 million people are spread across a huge amount of territory, but the population density of various regions is far from equal.
It's no secret that cities like New York have a vastly different population density than, say, a rural county in North Dakota. Even so, this interactive map by Ben Blatt of Slate helps visualize the stark contrast between urban and rural densities in a way that might intrigue you.
How many counties does it take to equal the population of these large urban areas? Let's find out.
New York City's Rural Equivalent
New York City (proper) Population: 8.42 million
New York City Population density: 27,547 persons / mi²
New York City became the largest city in the U.S. back in 1781 and has long been the country's most densely packed urban center. Today, 1 in every 38 people living in the United States resides in The Big Apple.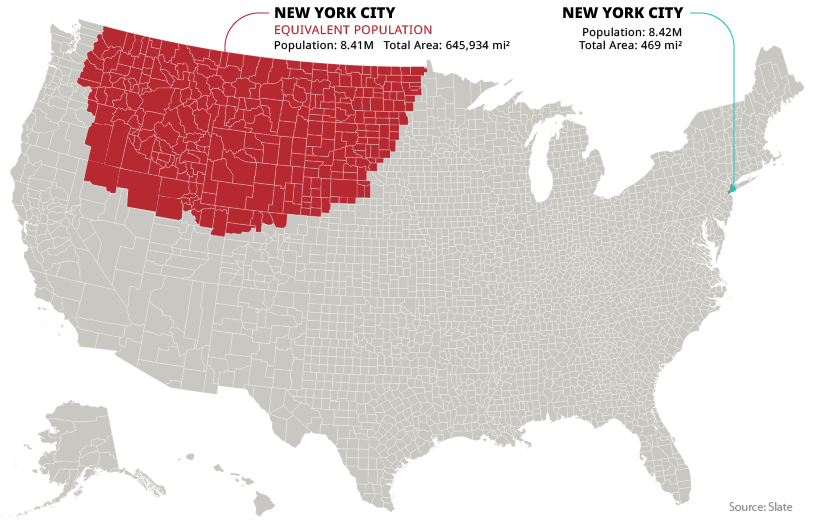 For the northwestern counties above to match the population of New York City, it takes a land area around the size of Mongolia. The region shown above is 645,934 mi², and runs through portions of 12 different states.
In order to match the population of the entire New York metropolitan area, which holds 18 million people and includes adjacent cities and towns in New York state, New Jersey, and Connecticut, the above equivalent area would have to be even more massive.
Los Angeles County's Rural Equivalent
LA County Population: 10.04 million
LA County Population density: 2,100 persons / mi²
Los Angeles County is home to the 88 incorporated cities that make up the urban area of Los Angeles.
Even excluding nearby population centers such as Anaheim, San Bernadino, and Riverside (which are located in adjacent counties) it is still the most populous county in the United States, with over 10 million inhabitants.
To match this enormous scale in Middle America, it would take 298 counties covering an area of 471,941 mi².
Chicago's Rural Equivalent
Chicago Metropolitan Area Population: 9.53 million
Chicago Metropolitan Area Population density: 1,318 persons / mi²
Next up is America's third largest city, Chicago. For this visualization, we're using the Chicago metropolitan area, which covers the full extent of the city's population.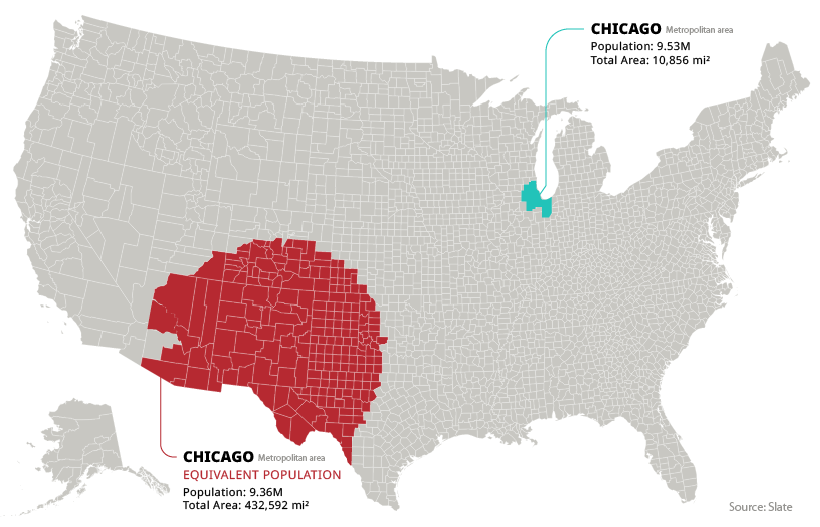 To match the scale of the population of the Windy City, we would need to add up every county in New Mexico, along with large portions of Colorado, Arizona, and Texas.
Turning the Tables?
Conversely, what if we transported the people in the country's least densely populated counties into the middle of an urban center?
| Rank | County | Population |
| --- | --- | --- |
| 1 | Kalawao County, Hawaii | 86 |
| 2 | Loving County, Texas | 169 |
| 3 | King County, Texas | 272 |
| 4 | Kenedy County, Texas | 404 |
| 5 | Arthur County, Nebraska | 463 |
As it turns out, the total population of the five least populated counties is just 1,394—roughly the same amount of people that live on the average Manhattan block.

Visualized: Comparing the Titanic to a Modern Cruise Ship
The sheer size of the Titanic was a sight to behold in 1912, but over 100 years later, how does this vessel compare to a modern cruise ship?
Remembering the Tragedy of the Titanic
When the Titanic was completed on April 2, 1912, it was the largest and perhaps most luxurious ship in the world. The vessel could hold over 3,300 people including crew members, and boasted various amenities including a swimming pool and squash court.
The Titanic's impressive size attracted many of the world's wealthiest individuals, and on April 10, 1912, it set out on its maiden voyage. Just five days later, the ship sank after hitting an iceberg, resulting in more than 1,500 deaths.
It's been over 100 years since the Titanic's demise, so how have passenger ships evolved?
To find out, we've visualized it beside Royal Caribbean's Symphony of the Seas, currently the world's largest cruise ship.
The Size of the Titanic, in Perspective
The following table lists the dimensions of both ships to provide a better understanding of the Titanic's relative size.
| | RMS Titanic | Symphony of the Seas |
| --- | --- | --- |
| Year Built | 1912 | 2018 |
| Length | 882ft (269m) | 1,184ft (361m) |
| Width | 92ft (28m) | 215ft (66m) |
| Height | 175ft (53m) | 238ft (73m) |
| Internal volume | 46,328 gross register tonnage (grt) | 228,081 gross tonnage (gt) |
| Passengers | 2,435 | 6,680 |
| Crew | 892 | 2,200 |
Source: Owlcation, Insider
Note: Gross register tonnage (grt) is a historic measure of a ship's internal volume. This metric was replaced by gross tonnage (gt) on July 18, 1982.
One of the biggest differences between these two ships is width, with the latter being more than twice as wide. This is likely due to the vast amenities housed within the Symphony of the Seas, which includes 24 pools, 22 restaurants, 2 rock climbing walls, an ice-skating rink, and more. With accommodations for 6,680 passengers, the Symphony of the Seas also supports a crew that is 147% larger.
The Symphony of the Seas clearly surpasses the Titanic in terms of size, but there's also a substantial difference in cost. When converted to today's dollars, the bill for the Titanic equates to roughly $400 million, less than half of the Symphony of the Seas' cost of $1.35 billion.
Lessons Learned from the Disaster
Inadequate safety preparations were a contributor to the Titanic's high death toll. During its journey, the vessel carried enough lifeboats to accommodate just 33% of its total passengers and crew. This was legal at the time, as regulations based a ship's number of required lifeboats on its weight, rather than its passenger capacity.
To make matters worse, investigations determined that the Titanic's lifeboats had not been used to their full capacity, and that a scheduled lifeboat drill had been cancelled by the ship's captain. These shortfalls, among others, paved the way for numerous improvements in maritime safety regulation.
These include the creation of the International Convention for the Safety of Life at Sea Treaty (SOLAS) in 1914, which is still in force today. Regarded as the most important international treaty on ship safety, SOLAS has been updated numerous times and is followed by 164 states, which together flag 99% of merchant ships (by gross tonnage) on the high seas today.