Beautiful Maps of the World's Watersheds
Nothing is more fundamental to life than water – and this is particularly evident in a country like Egypt, which has been aptly described by Greek historian Herodotus as the "Gift of the Nile".
In Egypt, an astonishing 95% of the population lives alongside the mighty Nile, which is the world's longest river at 4,258 mi (6,853 km) and also the only major source of freshwater in an otherwise arid desert landscape.
The World's Watersheds
The Nile isn't alone in creating the right conditions for life. Rivers of all sizes help form the world's watersheds, and together they comprise a "circulatory system" that pumps life into every corner of the globe.
Today's stunning maps, via geographer Szűcs Róbert, divide our planet's watersheds into colorful catchment areas, and provide an informative look at how water flows across continents.
When Rivers Take the Long Way 'Round
Grade school physics teaches us that liquid water will take the most available path of least resistance. Sometimes though, that most available path can take water from mountains clear across a continent before reaching an ocean.
Nowhere is this more evident than in Peru, home of the glacier-packed Cordillera Blanca. As rain and meltwater begins flowing from the peaks of the Andes Mountains, there are two diverging paths to the ocean.
The journey to the Pacific Ocean is a quick one, and there are small rivers at regular intervals along the coast of Peru.
Because trade winds blow east-to-west in that region, most of the water flows down the eastern side of the Andes, the beginning of a journey across the continent (as demonstrated by the light blue section of Róbert's South America map.)
Without the Andes acting as a backstop for rain, the Amazon rainforest would not exist in its current scale and form.
When Three Become One
In the United States, the dominant drainage basin is the Jefferson-Mississippi-Missouri River system (shown in pink on the map above.) This massive basin collects water from over 40% of the contiguous U.S., and comes into contact with two Canadian provinces and 31 states before terminating at the Gulf of Mexico.
The Top Ranked Rivers
The Amazon discharges far more water than any other river on earth, dumping more water per second into the ocean than the next four largest rivers combined. That makes the Amazon a clear winner in this category.
In terms of drainage area though, the Amazon is not as dominant:
In fact, there are multiple rivers that cover massive drainage areas. This includes the Congo in Africa, as well as the mighty Mississippi, which is neck-and-neck with the Nile.
For more, view the full collection of maps here.

A Visual Guide to Human Emotion
For years, humans have attempted to categorize and codify human emotion. Here are those attempts, visualized.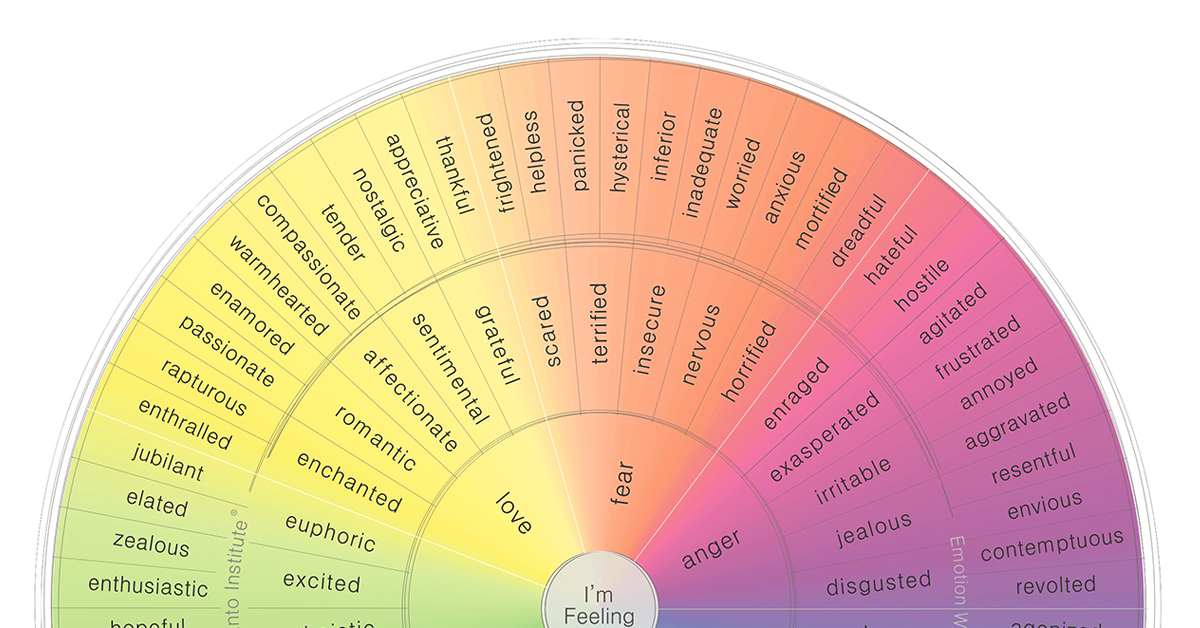 A Visual Guide to Human Emotion
Despite vast differences in culture around the world, humanity's DNA is 99.9% similar.
There are few attributes more central and universal to the human experience than our emotions. Of course, the broad spectrum of emotions we're capable of experiencing can be difficult to articulate. That's where this brilliant visualization by the Junto Institute comes in.
This circular visualization is the latest in an ongoing attempt to neatly categorize the full range of emotions in a logical way.
A Taxonomy of Human Emotion
Our understanding has come a long way since William James proposed four basic emotions – fear, grief, love, and rage—though these core emotions still form much of the foundation for current frameworks.
The wheel visualization above identifies six root emotions:
Fear
Anger
Sadness
Surprise
Joy
Love
From these six emotions, more nuanced descriptions emerge, such as jealousy as a subset of anger, and awe-struck as a subset of surprise. In total, there are 102 second- and third-order emotions listed on this emotion wheel.
Reinventing the Feeling Wheel
The concept of mapping the range of human emotions on a wheel picked up traction in the 1980s, and has evolved ever since.
One of these original concepts was developed by American psychologist Robert Plutchik, who mapped eight primary emotions—anger, fear, sadness, disgust, surprise, anticipation, trust, and joy. These "high survival value" emotions were believed to be the most useful in keeping our ancient ancestors alive.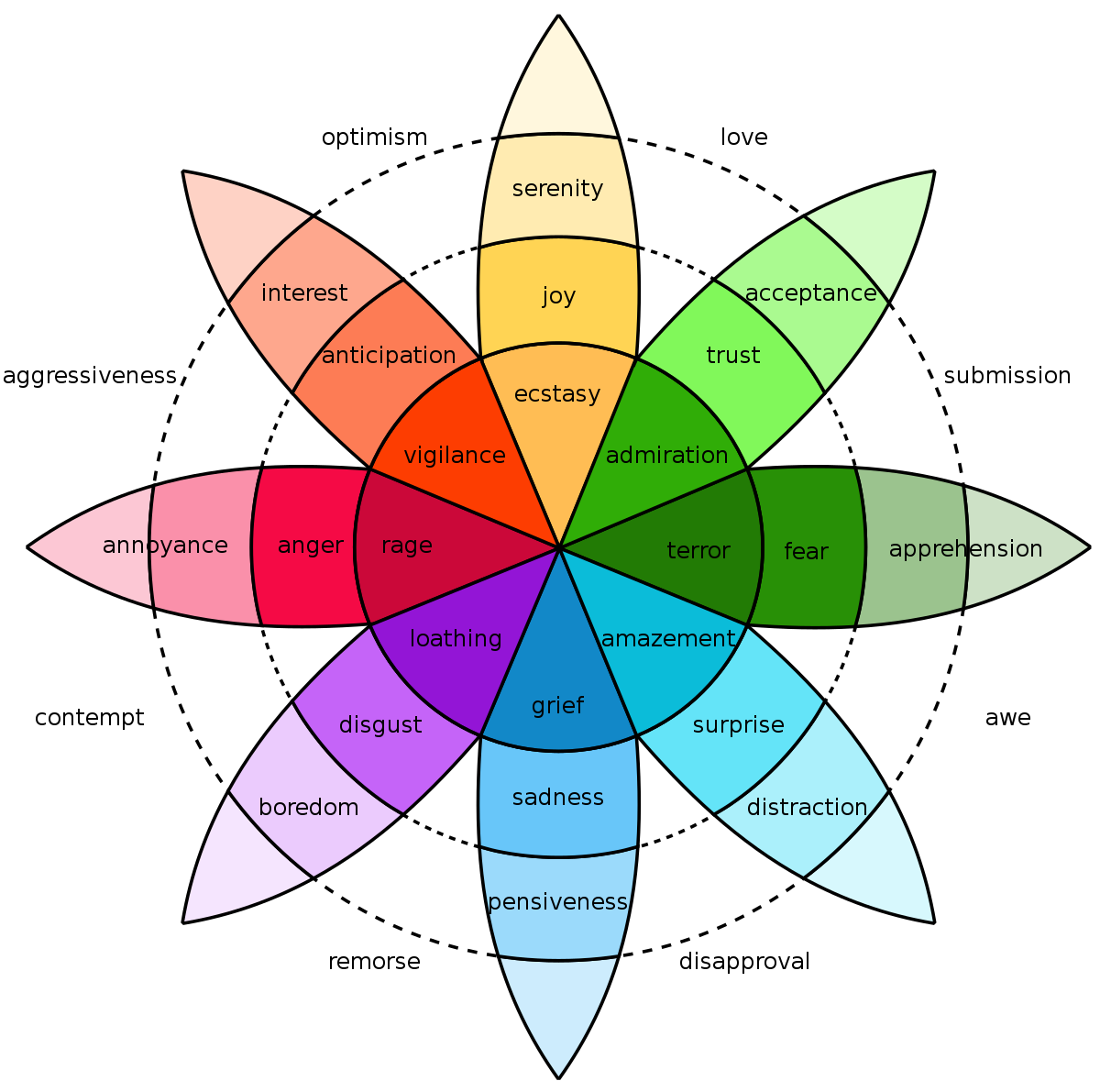 Another seminal graphic concept was developed by author Dr. Gloria Willcox. This version of the emotions wheel has spawned dozens of similar designs, as people continue to try to improve on the concept.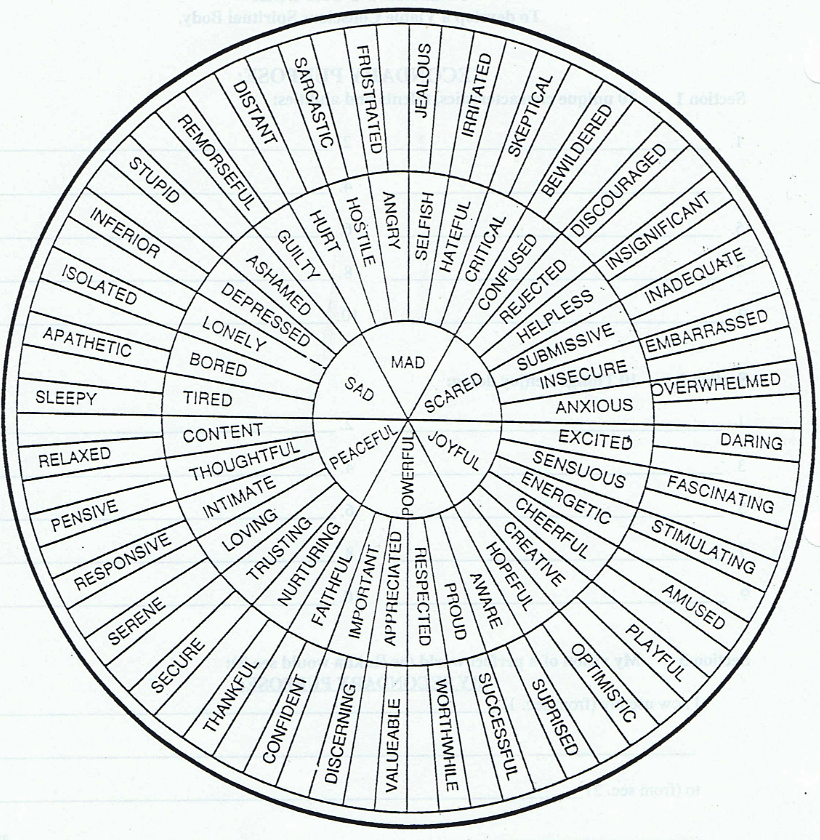 Further Exploration
The more we research human emotion, the more nuanced our understanding becomes in terms of how we react to the world around us.
Researchers at UC Berkeley used 2,185 short video clips to elicit emotions from study participants. Study participants rated the videos using 27 dimensions of self-reported emotional experience, and the results were mapped in an incredible interactive visualization. It is interesting to note that some video clips garnered a wide array of responses, while other clips elicit a near unanimous emotional response.
Here are some example videos and the distribution of responses:
The data visualization clusters these types of videos together, giving us a unique perspective on how people respond to certain types of stimuli.
Much like emotion itself, our desire to understand and classify the world around us is powerful and uniquely human.

Mapping the World's Key Maritime Choke Points
Ocean shipping is the primary mode of international trade. This map identifies maritime choke points that pose a risk to this complex logistic network.
Mapping the World's Key Maritime Choke Points
Maritime transport is an essential part of international trade—approximately 80% of global merchandise is shipped via sea.
Because of its importance, commercial shipping relies on strategic trade routes to move goods efficiently. These waterways are used by thousands of vessels a year—but it's not always smooth sailing. In fact, there are certain points along these routes that pose a risk to the whole system.
Here's a look at the world's most vulnerable maritime bottlenecks—also known as choke points—as identified by GIS.
What's a Choke Point?
Choke points are strategic, narrow passages that connect two larger areas to one another. When it comes to maritime trade, these are typically straits or canals that see high volumes of traffic because of their optimal location.
Despite their convenience, these vital points pose several risks:
Structural risks: As demonstrated in the recent Suez Canal blockage, ships can crash along the shore of a canal if the passage is too narrow, causing traffic jams that can last for days.
Geopolitical risks: Because of their high traffic, choke points are particularly vulnerable to blockades or deliberate disruptions during times of political unrest.
The type and degree of risk varies, depending on location. Here's a look at some of the biggest threats, at eight of the world's major choke points.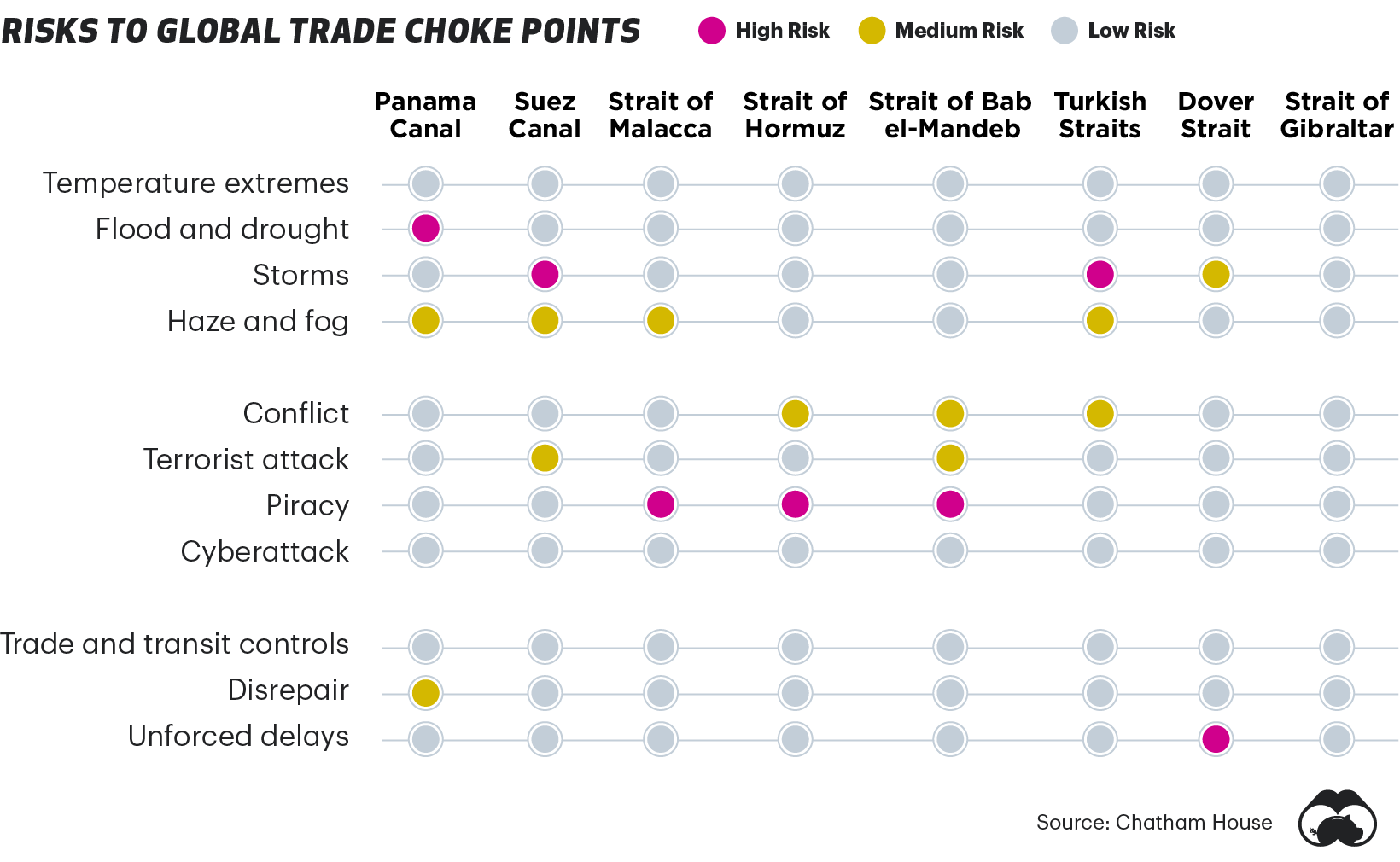 Because of their high risk, alternatives for some of these key routes have been proposed in the past—for instance, in 2013 Nicaraguan Congress approved a $40 billion dollar project proposal to build a canal that was meant to rival the Panama Canal.
As of today, it has yet to materialize.
A Closer Look: Key Maritime Choke Points
Despite their vulnerabilities, these choke points remain critical waterways that facilitate international trade. Below, we dive into a few of the key areas to provide some context on just how important they are to global trade.
The Panama Canal
The Panama Canal is a lock-type canal that provides a shortcut for ships traveling between the Pacific and Atlantic oceans. Ships sailing between the east and west coasts of the U.S. save over 8,000 nautical miles by using the canal—which roughly shortens their trip by 21 days.
In 2019, 252 million long tons of goods were transported through the Panama Canal, which generated over $2.6 billion in tolls.
The Suez Canal
The Suez Canal is an Egyptian waterway that connects Europe to Asia. Without this route, ships would need to sail around Africa, which would add approximately seven days to their trips. In 2019, nearly 19,000 vessels, and 1 billion tons of cargo, traveled through the Suez Canal.
In an effort to mitigate risk, the Egyptian government embarked on a major expansion project for the canal back in 2015. But, given the recent blockage caused by a Taiwanese container ship, it's clear that the waterway is still vulnerable to obstruction.
The Strait of Malacca
At its smallest point, the Strait of Malacca is approximately 1.5 nautical miles, making it one of the world's narrowest choke points. Despite its size, it's one of Asia's most critical waterways, since it provides a critical connection between China, India, and Southeast Asia. This choke point creates a risky situation for the 130,000 or so ships that visit the Port of Singapore each year.
The area is also known to have problems with piracy—in 2019, there were 30 piracy incidents, according to private information group ReCAAP ISC.
The Strait of Hormuz
Controlled by Iran, the Strait of Hormuz links the Persian Gulf to the Gulf of Oman, ultimately draining into the Arabian Sea. It's a primary vein for the world's oil supply, transporting approximately 21 million barrels per day.
Historically, it's also been a site of regional conflict. For instance, tankers and commercial ships were attacked in that area during the Iran-Iraq war in the 1980s.
The Bab el-Mandeb Strait
The Bab el-Mandeb Strait is another primary waterway for the world's oil and natural gas. Nestled between Africa and the Middle East, the critical route connects the Mediterranean Sea (via the Suez Canal) to the Indian Ocean.
Like the Strait of Malacca, it's well known as a high-risk area for pirate attacks. In May 2020, a UK chemical tanker was attacked off the coast of Yemen–the ninth pirate attack in the area that year.
Due to the strategic nature of the region, there is a strong military presence in nearby Djibouti, including China's first ever foreign military base.