Lithium: The Fuel of the Green Revolution
Lithium: The Fuel of the Green Revolution
The world is shifting greener.
And while people have always wanted electric cars and inexpensive solar power, the reality is that until recently, battery technology just wasn't good enough to store energy on an economical or practical basis.
Things have changed, and the green revolution has been kickstarted by battery power. The commercialization of the lithium-ion battery has solved a crucial green energy problem for two major reasons that can be related back to the properties of lithium:
1) Lithium has extremely high electrochemical potential, and so do lithium-ion cells:
| Battery cell | Typical Voltage |
| --- | --- |
| Lithium-ion (Cobalt) | 3.6V |
| Lead Acid | 2.0V |
| NiMH | 1.2V |
| NiCd | 1.2V |
This means one lithium-ion cell can do more – making it much more efficient to use in everything from electronics to energy storage.
2) Lithium is also the lightest metal on the periodic table. Batteries need to be as light as possible, especially in electric cars.
How Lithium Gets Used
2001
Many years ago, lithium was used chiefly for a variety of industrial purposes. Major sources of lithium demand included ceramics, glass, aluminum production, lubricants, and as a catalyst for rubber production.
2015
In modern times, with the commercialization of the lithium-ion, batteries are now the major source of demand for lithium at 39%.
2025
According to a report by Deutsche Bank, in 2025 the battery market for lithium alone will be more than 2x bigger than the total lithium market today.
About 70% of all lithium will go to electric vehicles, e-bikes, traditional batteries, and energy storage, making it the uncontested fuel of the green revolution.
Major Lithium Drivers
Lithium-ion battery demand is primarily driven by rapid growth in the electric vehicle market, which is expected to make up 35% of all vehicle demand by 2040.
But renewable energy storage also plays a role in driving lithium demand. With solar and wind energy being installed at a rapid pace, that means more batteries must be procured to store this energy. This can be done for a home system with a product like Tesla's Powerwall 2.0, and it is being done on a utility scale as well.
Two Types of Lithium
Prices for lithium have skyrocketed in the last two years – and it is worth knowing the two different types of lithium used by the market.
Lithium carbonate:
This is the first chemical in the production chain, and as a result, sells for less than lithium hydroxide. It can be used as cathode material in some batteries, such as the Nissan Leaf, where it is used in a LMO with NMC formulation (Lithium manganese oxide / nickel manganese cobalt oxide chemistries)
Lithium hydroxide:
This is a by-product of lithium carbonate, created by a metathesis reaction with calcium hydroxide. It can be used to produce cathode material more efficiently and is actually necessary for some types of cathodes. It's used in the Tesla Powerwall and Model S, for example.
Lithium Mining
There are two basic ways to extract lithium: from brine or from hard rock. The latter mainly consists of spodumene production.
Brine deposits represent about 66% of global lithium resources, and are found mainly in the salt flats of Chile, Argentina, Bolivia, China, and Tibet.
The most famous area for lithium is known as the Lithium Triangle, located on the border between Chile, Argentina, and Bolivia. Salar de Atacama, the world's third largest salt flat, resides on the Chilean side, and contains about 50% of global reserves.
The largest lithium producers in 2015 were Chile (37%) and Australia (33%). Argentina is the only other double-digit producer at 11%.
Lithium is Fueling the Green Revolution
Here's the estimated amount of lithium that can be found in everyday items using lithium-ion batteries:
Tesla Model S: 51kg
Electric Vehicles: 10-63kg
Tesla Powerwall 2.0: 10kg
Hybrids: 0.8kg to 2.0kg
Power tool batteries: 40-60g
Laptops: 30-40g
Tablets: 20-30g
Mobile phones: 2-3g
Visualizing China's Dominance in Clean Energy Metals
Despite being the world's biggest carbon emitter, China is also a key producer of most of the critical minerals for the green revolution.
Visualizing China's Dominance in Clean Energy Metals
This was originally posted on Elements. Sign up to the free mailing list to get beautiful visualizations on natural resource megatrends in your email every week.
Renewable sources of energy are expected to replace fossil fuels over the coming decades, and this large-scale transition will have a downstream effect on the demand of raw materials. More green energy means more wind turbines, solar panels, and batteries needed, and more clean energy metals necessary to build these technologies.
This visualization, based on data from the International Energy Agency (IEA), illustrates where the extraction and processing of key metals for the green revolution take place.
It shows that despite being the world's biggest carbon polluter, China is also the largest producer of most of the world's critical minerals for the green revolution.
Where Clean Energy Metals are Produced
China produces 60% of all rare earth elements used as components in high technology devices, including smartphones and computers.
The country also has a 13% share of the lithium production market, which is still dominated by Australia (52%) and Chile (22%). The highly reactive element is key to producing rechargeable batteries for mobile phones, laptops, and electric vehicles.
| China's Share | Extraction | Processing |
| --- | --- | --- |
| Copper | 8% | 40% |
| Nickel | 5% | 35% |
| Cobalt | 1.5% | 65% |
| Rare Earths | 60% | 87% |
| Lithium | 13% | 58% |
But even more than extraction, China is the dominant economy when it comes to processing operations. The country's share of refining is around 35% for nickel, 58% for lithium, 65% for cobalt, and 87% for rare earth elements.
Despite being the largest economy in the world, the U.S. does not appear among the largest producers of any of the metals listed. To shorten the gap, the Biden administration recently launched an executive order to review the American strategy for critical and strategic materials.
It's also worth noting that Russia also does not appear among the top producers when it comes to clean energy metals, despite being one of the world's leading producers of minerals like copper, iron, and palladium.
Low Regulation in the Clean Metal Supply Chain
While China leads all countries in terms of cobalt processing, the metal itself is primarily extracted in the Democratic Republic of Congo (DRC). Still, Chinese interests own 15 of the 17 industrial cobalt operations in the DRC, according to a data analysis by The New York Times and Benchmark Mineral Intelligence.
Unfortunately, the DRC's cobalt production has been criticized due to reports of corruption and lack of regulation.
Part of the Congolese cobalt comes from artisanal mines with low regulation. Of the 255,000 Congolese artisanal miners, an estimated 40,000 are children, some as young as six years old.
The Rise of Clean Energy Metals
The necessary shift from fossil fuels to renewable energy opens up interesting questions about how geopolitics, and these supply chains, will be affected.
In the race to secure raw materials needed for the green revolution, new world powers could emerge as demand for clean energy metals grows.
For now, China has the lead.
Ranked: Nuclear Power Production, by Country
Nuclear power accounted for 10% of global electricity generated in 2020. Here's a look at the largest nuclear power producers.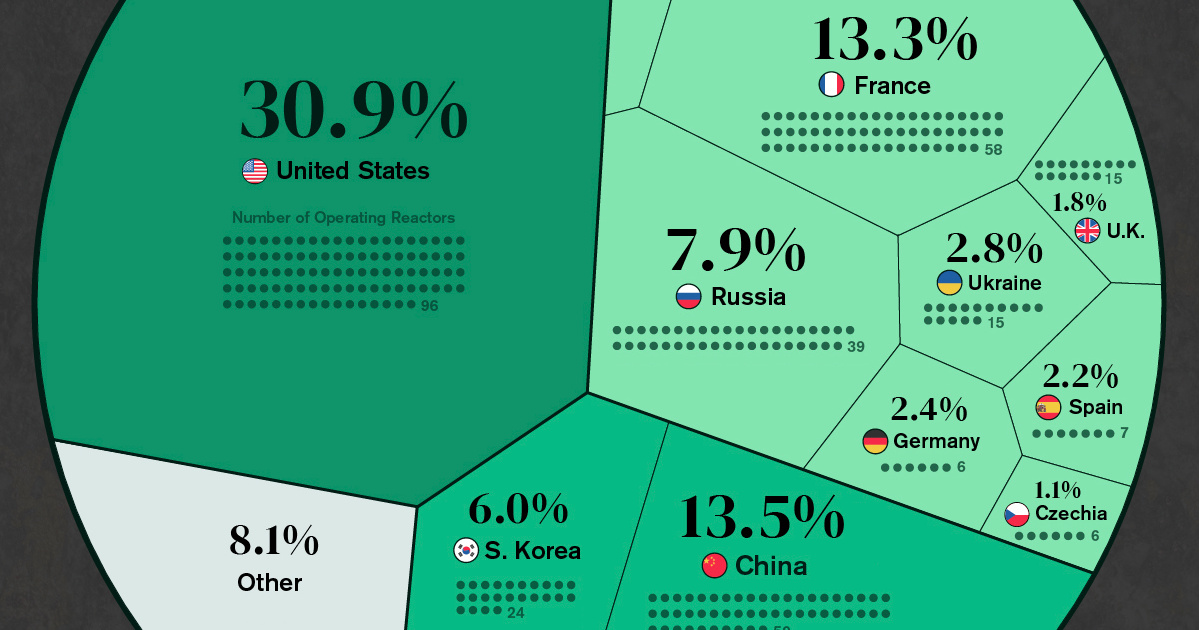 Nuclear Power Production by Country
This was originally posted on Elements. Sign up to the free mailing list to get beautiful visualizations on natural resource megatrends in your email every week.
Nearly 450 reactors around the world supply various nations with nuclear power, combining for about 10% of the world's electricity, or about 4% of the global energy mix.
But while some countries are turning to nuclear as a clean energy source, nuclear energy generation overall has seen a slowdown since its peak in the 1990s.
The above infographic breaks down nuclear electricity generation by country in 2020 using data from the Power Reactor Information System (PRIS).
Ranked: The Top 15 Countries for Nuclear Power
Just 15 countries account for more than 91% of global nuclear power production. Here's how much energy these countries produced in 2020:
Rank
Country
Number of Operating Reactors
Nuclear Electricity Supplied
[GWh]
% share
#1
U.S. 🇺🇸
96
789,919
30.9%
#2
China 🇨🇳
50
344,748
13.5%
#3
France 🇫🇷
58
338,671
13.3%
#4
Russia 🇷🇺
39
201,821
7.9%
#5
South Korea 🇰🇷
24
152,583
6.0%
#6
Canada 🇨🇦
19
92,166
3.6%
#7
Ukraine 🇺🇦
15
71,550
2.8%
#8
Germany 🇩🇪
6
60,918
2.4%
#9
Spain 🇪🇸
7
55,825
2.2%
#10
Sweden 🇸🇪
7
47,362
1.9%
#11
U.K. 🇬🇧
15
45,668
1.8%
#12
Japan 🇯🇵
33
43,099
1.7%
#13
India 🇮🇳
22
40,374
1.6%
#14
Belgium 🇧🇪
7
32,793
1.3%
#15
Czechia 🇨🇿
6
28,372
1.1%
Rest of the World 🌎
44
207,340
8.1%
Total
448
2,553,208
100.0%
In the U.S., nuclear power produces over 50% of the country's clean electricity. Additionally, 88 of the country's 96 operating reactors in 2020 received approvals for a 20-year life extension.
China, the world's second-largest nuclear power producer, is investing further in nuclear energy in a bid to achieve its climate goals. The plan, which includes building 150 new reactors by 2035, could cost as much as $440 billion.
On the other hand, European opinions on nuclear energy are mixed. Germany is the eighth-largest on the list but plans to shutter its last operating reactor in 2022 as part of its nuclear phase-out. France, meanwhile, plans to expand its nuclear capacity.
Which Countries Rely Most on Nuclear Energy?
Although total electricity generation is useful for a high-level global comparison, it's important to remember that there are some smaller countries not featured above where nuclear is still an important part of the electricity mix.
Here's a breakdown based on the share of nuclear energy in a country's electricity mix:
| Rank | Country | Nuclear Share of Electricity Mix |
| --- | --- | --- |
| #1 | France 🇫🇷 | 70.6% |
| #2 | Slovakia 🇸🇰 | 53.1% |
| #3 | Ukraine 🇺🇦 | 51.2% |
| #4 | Hungary 🇭🇺 | 48.0% |
| #5 | Bulgaria 🇧🇬 | 40.8% |
| #6 | Belgium 🇧🇪 | 39.1% |
| #7 | Slovenia 🇸🇮 | 37.8% |
| #8 | Czechia 🇨🇿 | 37.3% |
| #9 | Armenia 🇦🇲 | 34.5% |
| #10 | Finland 🇫🇮 | 33.9% |
| #11 | Switzerland 🇨🇭 | 32.9% |
| #12 | Sweden 🇸🇪 | 29.8% |
| #13 | South Korea 🇰🇷 | 29.6% |
| #14 | Spain 🇪🇸 | 22.2% |
| #15 | Russia 🇷🇺 | 20.6% |
| #16 | Romania 🇷🇴 | 19.9% |
| #17 | United States 🇺🇸 | 19.7% |
| #18 | Canada 🇨🇦 | 14.6% |
| #19 | United Kingdom 🇬🇧 | 14.5% |
| #20 | Germany 🇩🇪 | 11.3% |
European countries dominate the leaderboard with 14 of the top 15 spots, including France, where nuclear power is the country's largest source of electricity.
It's interesting to note that only a few of these countries are top producers of nuclear in absolute terms. For example, in Slovakia, nuclear makes up 53.6% of the electricity mix—however, the country's four reactors make up less than 1% of total global operating capacity.
On the flipside, the U.S. ranks 17th by share of nuclear power in its mix, despite producing 31% of global nuclear electricity in 2020. This discrepancy is largely due to size and population. European countries are much smaller and produce less electricity overall than larger countries like the U.S. and China.
The Future of Nuclear Power
The nuclear power landscape is constantly changing.
There were over 50 additional nuclear reactors under construction in 2020, and hundreds more are planned primarily in Asia.
As countries turn away from fossil fuels and embrace carbon-free energy sources, nuclear energy might see a resurgence in the global energy mix despite the phase-outs planned in several countries around the globe.