Infographic: What is a Mutual Fund?
What is a Mutual Fund?
The birth of the mutual fund goes all the way back to 1774, when Dutch merchant Adriaan van Ketwich first pooled the resources from a number of small investors to form a trust.
This was during a time of extreme uncertainty in the markets, and the world's first mutual fund allowed this pool of investors to diversify across a number of European countries and American colonies. Like most other early mutual funds, it was a closed-end fund – meaning that after the first 2,000 units were purchased, participation could only occur from buying or selling shares on the secondary market.
This first fund, called "Eendragt Maakt Magt" ("unity creates strength"), lasted for 50 years and set the stage for what is now a $40.4 trillion industry globally.
The Modern Mutual Fund
Today's infographic comes to us from StocksToTrade and it showcases the basics around mutual funds, including their history, typical structures, why people invest in them, and how fees usually break down.
A mutual fund is defined as an investment vehicle made up of a pool of money collected from many investors. A professional manager for the fund invests this capital in stocks, bonds, commodities, real estate, and other assets based on the objectives stated in the fund's prospectus.
Unlike the very first mutual fund created in the 18th century, the most common funds today are open-ended. These funds buy back or sell their shares at the end of each day based on the net asset value (NAV) of securities, and open-end funds accounted for $16.3 trillion of assets under management (AUM) in the U.S. at the end of 2016.
| Type of Mutual Fund | Number of Funds | AUM (U.S.) | % of U.S. Industry |
| --- | --- | --- | --- |
| Open-end funds | 8,066 | $16.3 trillion | 86.0% |
| Closed-end funds | 530 | $0.3 trillion | 1.0% |
| Unit investment trusts | 5,103 | $0.1 trillion | 0.3% |
Closed-end funds and unit investment trusts (UITs) make up the rest of the mutual fund market, and of course the fast-growing ETF sector makes up a growing piece of the wider U.S. fund industry as well.
Why Do People Invest?
As the world's investment industry grew and matured in the 20th century, a few different factors led to people investing more in mutual funds.
Over time, investors realized they wanted easy access to diverse portfolios, daily liquidity, as well as the world's top portfolio managers – and mutual funds can offer all of these advantages to the average investor.
Here are the basic guidelines for choosing a mutual fund:
Use a mutual fund cost calculator to compare how fees from various funds will impact returns
Evaluate portfolio managers based on their results over time
Comparing fund returns across a number of metrics can be important. Look at historical results, benchmark comparisons, and other funds in the peer group
Use online services like MorningStar to do thorough research before investing
Look at how well a fund is positioned for future successes
Read the fund's prospectus and shareholder reports for further information
Want to learn more on different types of assets and investments?
See infographics on hedge funds, ETFs, dividend stocks, or even microcap stocks.
Charted: What are Retail Investors Interested in Buying in 2023?
What key themes and strategies are retail investors looking at for the rest of 2023? Preview: AI is a popular choice.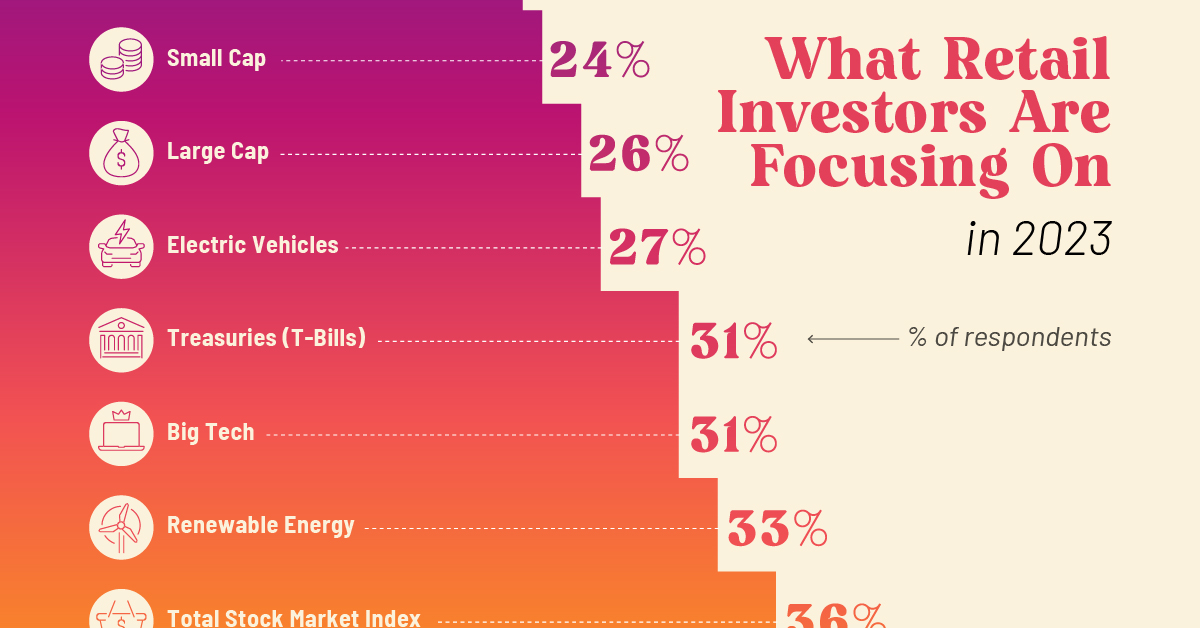 Charted: Retail Investors' Top Picks for 2023
U.S. retail investors, enticed by a brief pause in the interest rate cycle, came roaring back in the early summer. But what are their investment priorities for the second half of 2023?
We visualized the data from Public's 2023 Retail Investor Report, which surveyed 1,005 retail investors on their platform, asking "which investment strategy or themes are you interested in as part of your overall investment strategy?"
Survey respondents ticked all the options that applied to them, thus their response percentages do not sum to 100%.
Where Are Retail Investors Putting Their Money?
By far the most popular strategy for retail investors is dividend investing with 50% of the respondents selecting it as something they're interested in.
Dividends can help supplement incomes and come with tax benefits (especially for lower income investors or if the dividend is paid out into a tax-deferred account), and can be a popular choice during more inflationary times.
| Investment Strategy | Percent of Respondents |
| --- | --- |
| Dividend Investing | 50% |
| Artificial Intelligence | 36% |
| Total Stock Market Index | 36% |
| Renewable Energy | 33% |
| Big Tech | 31% |
| Treasuries (T-Bills) | 31% |
| Electric Vehicles | 27% |
| Large Cap | 26% |
| Small Cap | 24% |
| Emerging Markets | 23% |
| Real Estate | 23% |
| Gold & Precious Metals | 23% |
| Mid Cap | 19% |
| Inflation Protection | 13% |
| Commodities | 12% |
Meanwhile, the hype around AI hasn't faded, with 36% of the respondents saying they'd be interested in investing in the theme—including juggernaut chipmaker Nvidia. This is tied for second place with Total Stock Market Index investing.
Treasury Bills (30%) represent the safety anchoring of the portfolio but the ongoing climate crisis is also on investors' minds with Renewable Energy (33%) and EVs (27%) scoring fairly high on the interest list.
Commodities and Inflation-Protection stocks on the other hand have fallen out of favor.
Come on Barbie, Let's Go Party…
Another interesting takeaway pulled from the survey is how conversations about prevailing companies—or the buzz around them—are influencing trades. The platform found that public investors in Mattel increased 6.6 times after the success of the 'Barbie' movie.
Bud Light also saw a 1.5x increase in retail investors, despite receiving negative attention from their fans after the company did a beer promotion campaign with trans influencer Dylan Mulvaney.
Given the origin story of a large chunk of American retail investors revolves around GameStop and AMC, these insights aren't new, but they do reveal a persisting trend.