Infographic: What is a Mutual Fund?
What is a Mutual Fund?
The birth of the mutual fund goes all the way back to 1774, when Dutch merchant Adriaan van Ketwich first pooled the resources from a number of small investors to form a trust.
This was during a time of extreme uncertainty in the markets, and the world's first mutual fund allowed this pool of investors to diversify across a number of European countries and American colonies. Like most other early mutual funds, it was a closed-end fund – meaning that after the first 2,000 units were purchased, participation could only occur from buying or selling shares on the secondary market.
This first fund, called "Eendragt Maakt Magt" ("unity creates strength"), lasted for 50 years and set the stage for what is now a $40.4 trillion industry globally.
The Modern Mutual Fund
Today's infographic comes to us from StocksToTrade and it showcases the basics around mutual funds, including their history, typical structures, why people invest in them, and how fees usually break down.
A mutual fund is defined as an investment vehicle made up of a pool of money collected from many investors. A professional manager for the fund invests this capital in stocks, bonds, commodities, real estate, and other assets based on the objectives stated in the fund's prospectus.
Unlike the very first mutual fund created in the 18th century, the most common funds today are open-ended. These funds buy back or sell their shares at the end of each day based on the net asset value (NAV) of securities, and open-end funds accounted for $16.3 trillion of assets under management (AUM) in the U.S. at the end of 2016.
| Type of Mutual Fund | Number of Funds | AUM (U.S.) | % of U.S. Industry |
| --- | --- | --- | --- |
| Open-end funds | 8,066 | $16.3 trillion | 86.0% |
| Closed-end funds | 530 | $0.3 trillion | 1.0% |
| Unit investment trusts | 5,103 | $0.1 trillion | 0.3% |
Closed-end funds and unit investment trusts (UITs) make up the rest of the mutual fund market, and of course the fast-growing ETF sector makes up a growing piece of the wider U.S. fund industry as well.
Why Do People Invest?
As the world's investment industry grew and matured in the 20th century, a few different factors led to people investing more in mutual funds.
Over time, investors realized they wanted easy access to diverse portfolios, daily liquidity, as well as the world's top portfolio managers – and mutual funds can offer all of these advantages to the average investor.
Here are the basic guidelines for choosing a mutual fund:
Use a mutual fund cost calculator to compare how fees from various funds will impact returns
Evaluate portfolio managers based on their results over time
Comparing fund returns across a number of metrics can be important. Look at historical results, benchmark comparisons, and other funds in the peer group
Use online services like MorningStar to do thorough research before investing
Look at how well a fund is positioned for future successes
Read the fund's prospectus and shareholder reports for further information
Want to learn more on different types of assets and investments?
See infographics on hedge funds, ETFs, dividend stocks, or even microcap stocks.
Visualizing California's GDP Compared to Countries
California's GDP makes the state one of the most powerful economies in the world. This graphic compares it to the GDP of 10 select countries.

Creator Program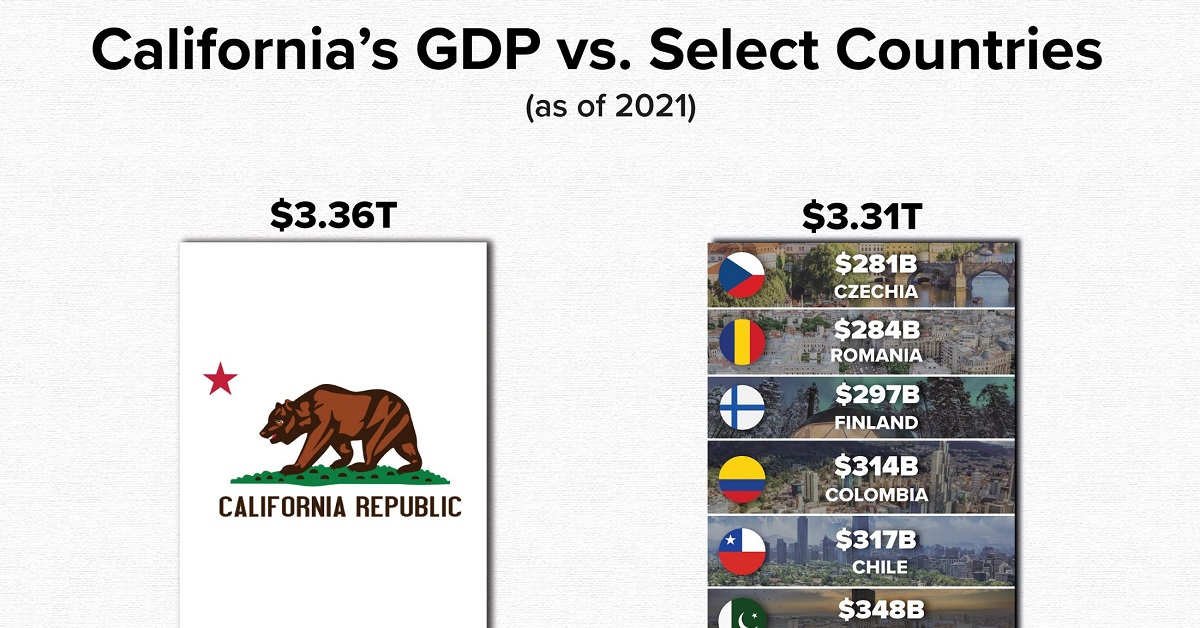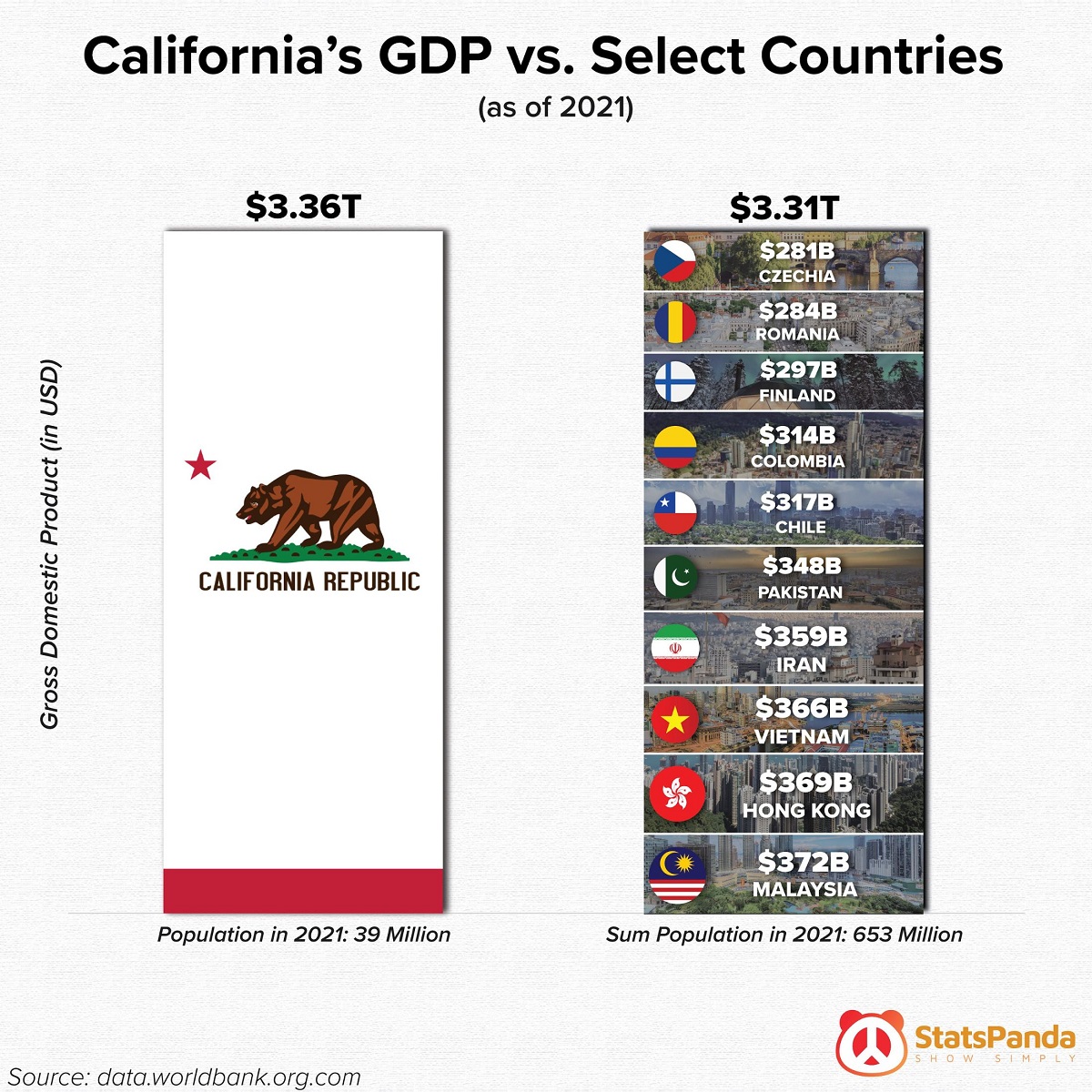 California's GDP Compared to Countries
Comedian Trevor Noah once said America is fifty little countries masquerading as one.
From an economic sense, this might carry some truth. When looking at the economic output of each state, especially the largest and wealthiest ones, they often compare to or even exceed the GDPs of entire nations.
To illustrate, this visual from StatsPanda looks at California's $3.36 trillion GDP using data from The World Bank and compares it to 10 sizable country economies. Let's take a closer look.
Sizing Up California's GDP in 2021
California's $3+ trillion GDP is an enormous figure in its own right, so it's no surprise that it is larger than certain nations' economic output.
But even when comparing with economies like Malaysia, Colombia, and Finland, all among the top 50 countries by GDP, California stands tall.
| Country | GDP (2021 USD) |
| --- | --- |
| 🇲🇾 Malaysia | $372B |
| 🇭🇰 Hong Kong | $369B |
| 🇻🇳 Vietnam | $366B |
| 🇮🇷 Iran | $359B |
| 🇵🇰 Pakistan | $348B |
| 🇨🇱 Chile | $317B |
| 🇨🇴 Colombia | $314B |
| 🇫🇮 Finland | $297B |
| 🇷🇴 Romania | $284B |
| 🇨🇿 Czechia | $281B |
| Total | $3,307B |
| California | $3,357B |
What's more, these 10 countries are quite densely populated, with a combined population of 653 million compared to California's 39 million total.
A Closer Look At California's Economy
What makes California's GDP so vast and their economy so powerful?
Relative population is a big factor, as the state is the most populous in the U.S. with roughly 12% of the country's population calling it home. But since California's GDP makes up over 15% of the country's economic output, there must be something else at work.
One key driver is the technology sector. Not only does Silicon Valley generate massive amounts of technological output, this also translates directly to wealth and economic activity. Many tech markets follow winner-take-all dynamics, bringing large revenues back to the state. In addition, smaller technology companies are frequently gobbled up by larger competitors, adding wealth back into the mix through M&A.
This might partly explain why California's GDP is actually estimated to overtake Germany's in the coming years and become the world's 4th largest economy.