The Illusion of Choice in Consumer Brands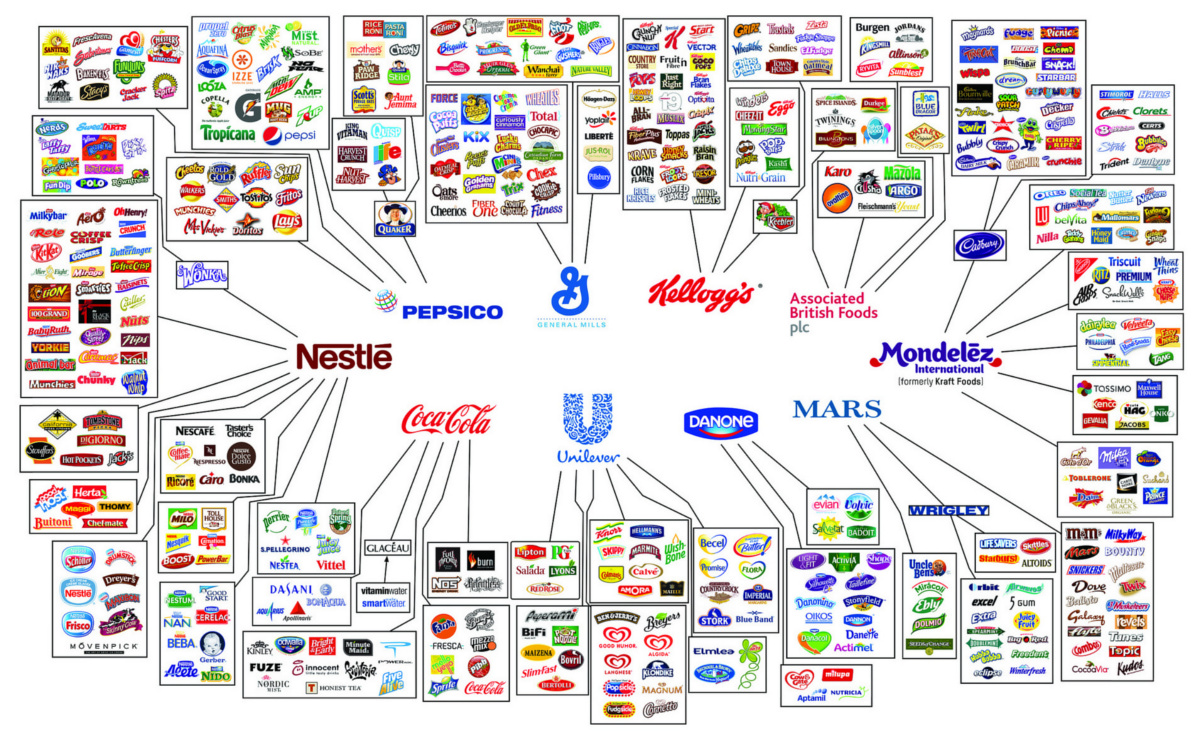 The Illusion of Choice in Consumer Brands
Explore the full-size version of the above graphic in all its glory.
If today's infographic looks familiar, that's because it originates from a well-circulated report that Oxfam International puts together to show consolidation in the mass consumer goods industry.
We are sharing it because we believe it is important for you to be aware of who is supplying the different brands and goods served on your dinner table.
Unlikely Links
The illusion of choice does not arise from the products we expect the companies to sell. We inherently know that PepsiCo sells plenty of beverages, including its flagship product. We know that Nestlé makes Kit Kat, Nesquick chocolate syrup, Nespresso coffee machines, and Nescafé instant coffee.
What is less obvious is that Nestlé makes Gerber baby food, Hot Pockets, DiGiorno pizzas, and Stouffer brand frozen foods. Nestlé even owns two competing brands of fancy, carbonated water: San Pellegrino and Perrier.
In fact, Nestlé has at least 29 brands with annual sales over $1 billion. The company literally has hundreds of different products in sectors ranging from pet food to soups and sauces. It's the world's largest food company by revenues, and it's worth a whopping $240 billion in market capitalization.
They Might Be Giants
It's not just Nestlé that is mind-boggling in size and scope.
Other companies such as Coca-Cola, Kellogg's, Mondelēz, PepsiCo, General Mills, Danone, and Mars are also massive. They each own dozens of brands that dominate certain product categories.
Want to buy crackers? Pick up some Ritz, Triscuits, Wheat Thins, Air Crisps, or Premium brand crackers – but know they are all owned by Mondelēz (formerly Kraft Foods).
Buying a chocolate bar? There are seemingly hundreds to choose from, but its just the illusion of choice. They pretty much all come from Mars, Nestlé, or Mondelēz (which owns Cadbury).
There's nothing wrong in buying from these brands, but remember that each dollar of your money is a vote. Vote for products and companies you believe in!
Note: the above graphic is about 1.5 years old, and it misses recent acquisitions or changes in brand ownership. For example, Power Bar is now owned by Post Holdings, another giant consumer foods conglomerate. That said, we believes the point of the graphic still comes across.
Ranked: Electric Vehicle Sales by Model in 2023
Today, electric vehicle sales make up 18% of global vehicle sales. Here are the leading models by sales as of August 2023.
Ranked: Electric Vehicle Sales by Model in 2023
Electric vehicle (EV) sales are gaining momentum, reaching 18% of global vehicle sales in 2023.
As new competitors bring more affordable options and new performance features, the market continues to mature as customers increasingly look to electric options.
This graphic ranks the top-selling EVs worldwide as of August 2023, based on data from CleanTechnica.
The Best Selling EVs in 2023 (Through August)
Below, we show the world's best selling fully electric vehicles from January to August 2023:
Model
Country
Vehicles Sold
(Jan-Aug 2023)
Tesla Model Y
🇺🇸 U.S.
772,364
Tesla Model 3
🇺🇸 U.S.
364,403
BYD Atto 3 / Yuan Plus
🇨🇳 China
265,688
BYD Dolphin
🇨🇳 China
222,825
GAC Aion S
🇨🇳 China
160,693
Wuling HongGuang Mini EV
🇨🇳 China
153,399
GAC Aion Y
🇨🇳 China
136,619
VW ID.4
🇩🇪 Germany
120,154
BYD Seagull
🇨🇳 China
95,202
As we can see, Tesla's Model Y still holds a comfortable lead over the competition with 772,364 units sold. That's more than double the sales of the #2 top selling vehicle, Tesla's Model 3 (364,403)
But it's hard to ignore the rising prevalence of Chinese EVs. The next five best selling EV vehicles are Chinese, including three from BYD. The automaker's Atto 3 (or Yuan Plus, depending on market), is being sold in various countries including Germany, the UK, Japan, and India.
Meanwhile, Chinese automaker GAC Group also had two models of its Aion EV brand make the rankings, with the Aion S selling 160,693 units so far.
Regional market strength is also clear. For Volkswagen's ID.4 model (120,154 units sold), Europe and China account for the majority of sales.
Given growing cost efficiencies and changing consumer behavior, global EV sales are projected to make up half of new car sales globally by 2035, according to forecasts from Goldman Sachs.