The Illusion of Choice in Consumer Brands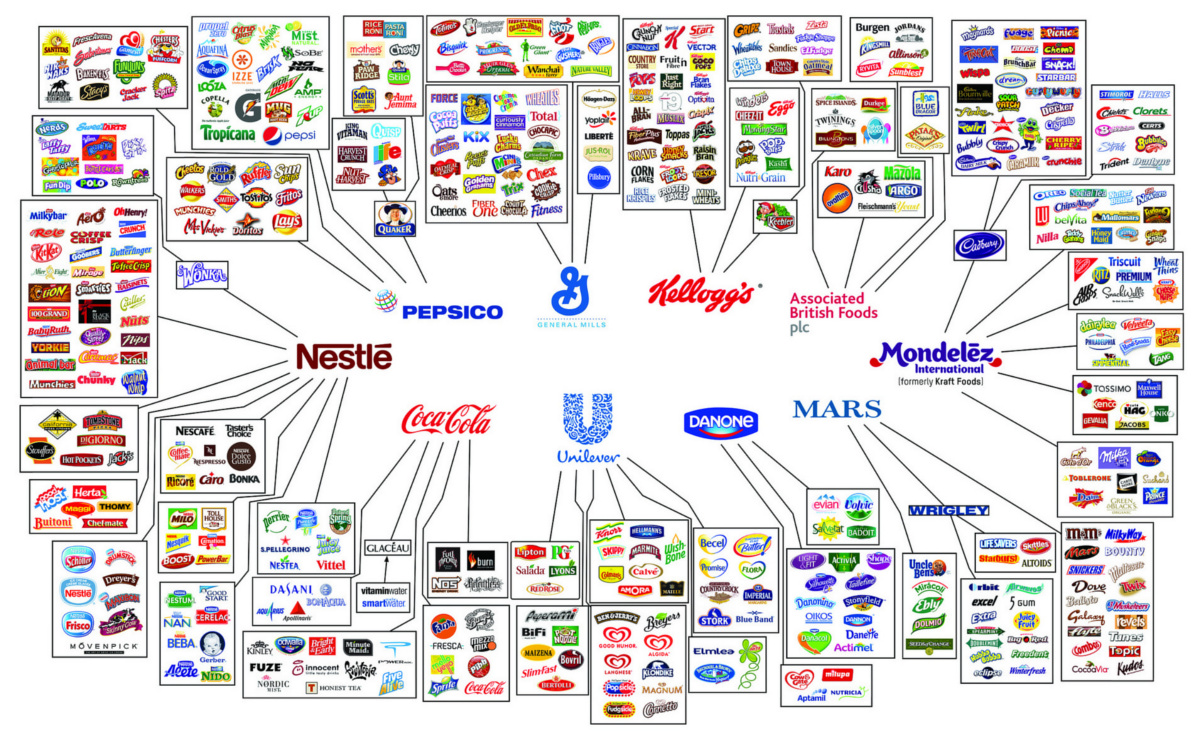 The Illusion of Choice in Consumer Brands
Explore the full-size version of the above graphic in all its glory.
If today's infographic looks familiar, that's because it originates from a well-circulated report that Oxfam International puts together to show consolidation in the mass consumer goods industry.
We are sharing it because we believe it is important for you to be aware of who is supplying the different brands and goods served on your dinner table.
Unlikely Links
The illusion of choice does not arise from the products we expect the companies to sell. We inherently know that PepsiCo sells plenty of beverages, including its flagship product. We know that Nestlé makes Kit Kat, Nesquick chocolate syrup, Nespresso coffee machines, and Nescafé instant coffee.
What is less obvious is that Nestlé makes Gerber baby food, Hot Pockets, DiGiorno pizzas, and Stouffer brand frozen foods. Nestlé even owns two competing brands of fancy, carbonated water: San Pellegrino and Perrier.
In fact, Nestlé has at least 29 brands with annual sales over $1 billion. The company literally has hundreds of different products in sectors ranging from pet food to soups and sauces. It's the world's largest food company by revenues, and it's worth a whopping $240 billion in market capitalization.
They Might Be Giants
It's not just Nestlé that is mind-boggling in size and scope.
Other companies such as Coca-Cola, Kellogg's, Mondelēz, PepsiCo, General Mills, Danone, and Mars are also massive. They each own dozens of brands that dominate certain product categories.
Want to buy crackers? Pick up some Ritz, Triscuits, Wheat Thins, Air Crisps, or Premium brand crackers – but know they are all owned by Mondelēz (formerly Kraft Foods).
Buying a chocolate bar? There are seemingly hundreds to choose from, but its just the illusion of choice. They pretty much all come from Mars, Nestlé, or Mondelēz (which owns Cadbury).
There's nothing wrong in buying from these brands, but remember that each dollar of your money is a vote. Vote for products and companies you believe in!
Note: the above graphic is about 1.5 years old, and it misses recent acquisitions or changes in brand ownership. For example, Power Bar is now owned by Post Holdings, another giant consumer foods conglomerate. That said, we believes the point of the graphic still comes across.
Visualizing the Odds of Dying from Various Accidents
This infographic shows you the odds of dying from a variety of accidents, including car crashes, bee stings, and more.
Infographic: The Odds of Dying from Various Accidents
Fatal accidents account for a significant number of deaths in the U.S. every year. For example, nearly 43,000 Americans died in traffic accidents in 2021.
Without the right context, however, it can be difficult to properly interpret these figures.
To help you understand your chances, we've compiled data from the National Safety Council, and visualized the lifetime odds of dying from various accidents.
Data and Methodology
The lifetime odds presented in this graphic were estimated by dividing the one-year odds of dying by the life expectancy of a person born in 2020 (77 years).
Additionally, these numbers are based on data from the U.S., and likely differ in other countries.
| Type of Accident | Lifetime odds of dying (1 in #) |
| --- | --- |
| Motor vehicle accident | 101 |
| Complications of medical and surgical care | 798 |
| Alcohol poisoning | 1,606 |
| Accidental building fire | 1,825 |
| Choking on food | 2,745 |
| Drowning in swimming pool | 5,782 |
| Sunstroke | 6,368 |
| Accidental firearm discharge | 7,998 |
| Drowning | 10,386 |
| Airplane accident | 11,756 |
| Bee or wasp sting | 57,825 |
| Dog attack | 69,016 |
| Lightning strike | 138,849 |
For comparison's sake, the odds of winning the Powerball jackpot are 1 in 292,000,000. In other words, you are 4000x more likely to die by a lightning strike over your lifetime than to win the Powerball lottery.
Continue reading below for further context on some of these accidents.
Motor Vehicle Accidents
Motor vehicle accidents are a leading cause of accidental deaths in the U.S., with a 1 in 101 chance of dying. This is quite a common way of dying, especially when compared to something like bee stings (1 in 57,825).
Unfortunately, a major cause of vehicle deaths is impaired driving. The CDC reports that 32 Americans are killed every day in crashes involving alcohol, which equates to one death every 45 minutes.
For further context, consider this: 30% of all traffic-related deaths in 2020 involved alcohol-impaired drivers.
Drowning
The odds of drowning in a swimming pool (1 in 5,782) are significantly higher than those of drowning in general (1 in 10,386). According to the CDC, there are 4,000 fatal drownings every year, which works out to 11 deaths per day.
Drowning also happens to be a leading cause of death for children. It is the leading cause for kids aged 1-4, and second highest cause for kids aged 5-14.
A rather surprising fact about drowning is that 80% of fatalities are male. This has been attributed to higher rates of alcohol use and risk-taking behaviors.
Accidental Firearm Discharge
Lastly, let's look at accidental firearm deaths, which have lifetime odds of 1 in 7,998. That's higher than the odds of drowning (general), as well as dying in an airplane accident.
This shouldn't come as a major surprise, since the U.S. has the highest rates of gun ownership in the world. More importantly, these odds highlight the importance of properly securing one's firearms, as well as learning safe handling practices.
As a percentage of total gun-related deaths (45,222 in 2020), accidental shootings represent a tiny 1%. The two leading causes are suicide (54%) and homicide (43%).
Interested in learning more about death? Revisit one of our most popular posts of all time: Visualizing the History of Pandemics.