Visualizing the History of Pandemics
The History of Pandemics
Pan·dem·ic /panˈdemik/ (of a disease) prevalent over a whole country or the world.
As humans have spread across the world, so have infectious diseases. Even in this modern era, outbreaks are nearly constant, though not every outbreak reaches pandemic level as COVID-19 has.
Today's visualization outlines some of history's most deadly pandemics, from the Antonine Plague to the current COVID-19 event.
A Timeline of Historical Pandemics
Disease and illnesses have plagued humanity since the earliest days, our mortal flaw. However, it was not until the marked shift to agrarian communities that the scale and spread of these diseases increased dramatically.
Widespread trade created new opportunities for human and animal interactions that sped up such epidemics. Malaria, tuberculosis, leprosy, influenza, smallpox, and others first appeared during these early years.
The more civilized humans became – with larger cities, more exotic trade routes, and increased contact with different populations of people, animals, and ecosystems – the more likely pandemics would occur.
Here are some of the major pandemics that have occurred over time:
| Name | Time period | Type / Pre-human host | Death toll |
| --- | --- | --- | --- |
| Antonine Plague | 165-180 | Believed to be either smallpox or measles | 5M |
| Japanese smallpox epidemic | 735-737 | Variola major virus | 1M |
| Plague of Justinian | 541-542 | Yersinia pestis bacteria / Rats, fleas | 30-50M |
| Black Death | 1347-1351 | Yersinia pestis bacteria / Rats, fleas | 200M |
| New World Smallpox Outbreak | 1520 – onwards | Variola major virus | 56M |
| Great Plague of London | 1665 | Yersinia pestis bacteria / Rats, fleas | 100,000 |
| Italian plague | 1629-1631 | Yersinia pestis bacteria / Rats, fleas | 1M |
| Cholera Pandemics 1-6 | 1817-1923 | V. cholerae bacteria | 1M+ |
| Third Plague | 1885 | Yersinia pestis bacteria / Rats, fleas | 12M (China and India) |
| Yellow Fever | Late 1800s | Virus / Mosquitoes | 100,000-150,000 (U.S.) |
| Russian Flu | 1889-1890 | Believed to be H2N2 (avian origin) | 1M |
| Spanish Flu | 1918-1919 | H1N1 virus / Pigs | 40-50M |
| Asian Flu | 1957-1958 | H2N2 virus | 1.1M |
| Hong Kong Flu | 1968-1970 | H3N2 virus | 1M |
| HIV/AIDS | 1981-present | Virus / Chimpanzees | 25-35M |
| Swine Flu | 2009-2010 | H1N1 virus / Pigs | 200,000 |
| SARS | 2002-2003 | Coronavirus / Bats, Civets | 770 |
| Ebola | 2014-2016 | Ebolavirus / Wild animals | 11,000 |
| MERS | 2015-Present | Coronavirus / Bats, camels | 850 |
| COVID-19 | 2019-Present | Coronavirus – Unknown (possibly pangolins) | 6.5M (Johns Hopkins University estimate as of September 13, 2022) |
Note: Many of the death toll numbers listed above are best estimates based on available research. Some, such as the Plague of Justinian and Swine Flu, are subject to debate based on new evidence.
Despite the persistence of disease and pandemics throughout history, there's one consistent trend over time – a gradual reduction in the death rate. Healthcare improvements and understanding the factors that incubate pandemics have been powerful tools in mitigating their impact.
September 13, 2022 Update: Due to popular request, we've also visualized how the death tolls of each pandemic stack up as a share of total estimated global populations at the time.
Wrath of the Gods
In many ancient societies, people believed that spirits and gods inflicted disease and destruction upon those that deserved their wrath. This unscientific perception often led to disastrous responses that resulted in the deaths of thousands, if not millions.
In the case of Justinian's plague, the Byzantine historian Procopius of Caesarea traced the origins of the plague (the Yersinia pestis bacteria) to China and northeast India, via land and sea trade routes to Egypt where it entered the Byzantine Empire through Mediterranean ports.
Despite his apparent knowledge of the role geography and trade played in this spread, Procopius laid blame for the outbreak on the Emperor Justinian, declaring him to be either a devil, or invoking God's punishment for his evil ways. Some historians found that this event could have dashed Emperor Justinian's efforts to reunite the Western and Eastern remnants of the Roman Empire, and marked the beginning of the Dark Ages.
Luckily, humanity's understanding of the causes of disease has improved, and this is resulting in a drastic improvement in the response to modern pandemics, albeit slow and incomplete.
Importing Disease
The practice of quarantine began during the 14th century, in an effort to protect coastal cities from plague epidemics. Cautious port authorities required ships arriving in Venice from infected ports to sit at anchor for 40 days before landing — the origin of the word quarantine from the Italian "quaranta giorni", or 40 days.
One of the first instances of relying on geography and statistical analysis was in mid-19th century London, during a cholera outbreak. In 1854, Dr. John Snow came to the conclusion that cholera was spreading via tainted water and decided to display neighborhood mortality data directly on a map. This method revealed a cluster of cases around a specific pump from which people were drawing their water from.
While the interactions created through trade and urban life play a pivotal role, it is also the virulent nature of particular diseases that indicate the trajectory of a pandemic.
Tracking Infectiousness
Scientists use a basic measure to track the infectiousness of a disease called the reproduction number — also known as R0 or "R naught." This number tells us how many susceptible people, on average, each sick person will in turn infect.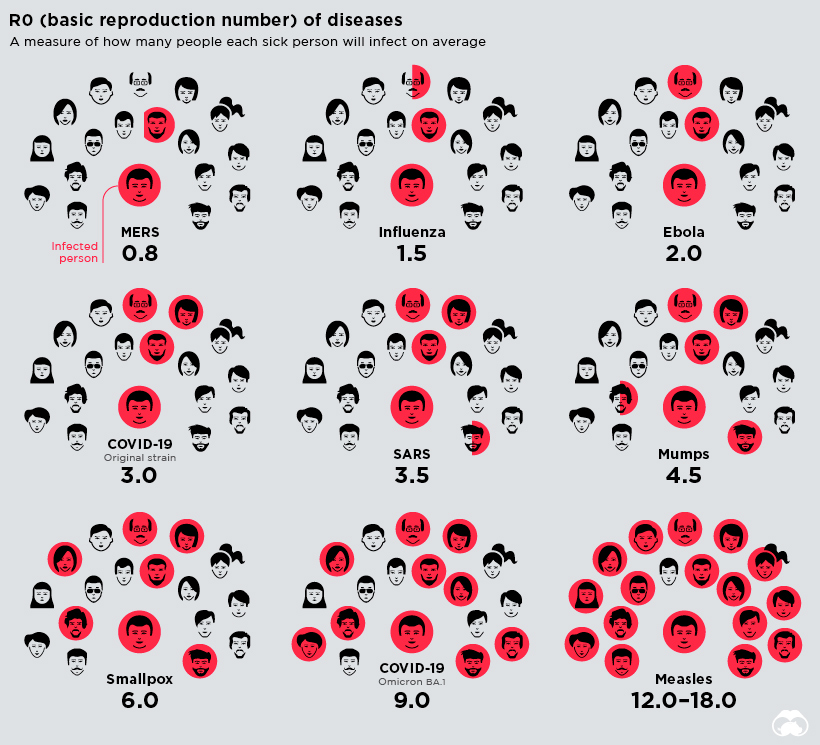 Measles tops the list, being the most contagious with a R0 range of 12-18. This means a single person can infect, on average, 12 to 18 people in an unvaccinated population.
While measles may be the most virulent, vaccination efforts and herd immunity can curb its spread. The more people are immune to a disease, the less likely it is to proliferate, making vaccinations critical to prevent the resurgence of known and treatable diseases.
It's hard to calculate and forecast the true impact of COVID-19, as the outbreak is still ongoing and researchers are still learning about this new form of coronavirus.
Urbanization and the Spread of Disease
We arrive at where we began, with rising global connections and interactions as a driving force behind pandemics. From small hunting and gathering tribes to the metropolis, humanity's reliance on one another has also sparked opportunities for disease to spread.
Urbanization in the developing world is bringing more and more rural residents into denser neighborhoods, while population increases are putting greater pressure on the environment. At the same time, passenger air traffic nearly doubled in the past decade. These macro trends are having a profound impact on the spread of infectious disease.
As organizations and governments around the world ask for citizens to practice social distancing to help reduce the rate of infection, the digital world is allowing people to maintain connections and commerce like never before.
Editor's Note: The COVID-19 pandemic is in its early stages and it is obviously impossible to predict its future impact. This post and infographic are meant to provide historical context, and we will continue to update it as time goes on to maintain its accuracy.
Update (September 13, 2022): We've adjusted the death toll for COVID-19, and will continue to update on a regular basis.
Visualizing the Relationship Between Cancer and Lifespan
New research links mutation rates and lifespan. We visualize the data supporting this new framework for understanding cancer.
A Newfound Link Between Cancer and Aging?
A new study in 2022 reveals a thought-provoking relationship between how long animals live and how quickly their genetic codes mutate.
Cancer is a product of time and mutations, and so researchers investigated its onset and impact within 16 unique mammals. A new perspective on DNA mutation broadens our understanding of aging and cancer development—and how we might be able to control it.
Mutations, Aging, and Cancer: A Primer
Cancer is the uncontrolled growth of cells. It is not a pathogen that infects the body, but a normal body process gone wrong.
Cells divide and multiply in our bodies all the time. Sometimes, during DNA replication, tiny mistakes (called mutations) appear randomly within the genetic code. Our bodies have mechanisms to correct these errors, and for much of our youth we remain strong and healthy as a result of these corrective measures.
However, these protections weaken as we age. Developing cancer becomes more likely as mutations slip past our defenses and continue to multiply. The longer we live, the more mutations we carry, and the likelihood of them manifesting into cancer increases.
A Biological Conundrum
Since mutations can occur randomly, biologists expect larger lifeforms (those with more cells) to have greater chances of developing cancer than smaller lifeforms.
Strangely, no association exists.
It is one of biology's biggest mysteries as to why massive creatures like whales or elephants rarely seem to experience cancer. This is called Peto's Paradox. Even stranger: some smaller creatures, like the naked mole rat, are completely resistant to cancer.
This phenomenon motivates researchers to look into the genetics of naked mole rats and whales. And while we've discovered that special genetic bonuses (like extra tumor-suppressing genes) benefit these creatures, a pattern for cancer rates across all other species is still poorly understood.
Cancer May Be Closely Associated with Lifespan
Researchers at the Wellcome Sanger Institute report the first study to look at how mutation rates compare with animal lifespans.
Mutation rates are simply the speed at which species beget mutations. Mammals with shorter lifespans have average mutation rates that are very fast. A mouse undergoes nearly 800 mutations in each of its four short years on Earth. Mammals with longer lifespans have average mutation rates that are much slower. In humans (average lifespan of roughly 84 years), it comes to fewer than 50 mutations per year.
The study also compares the number of mutations at time of death with other traits, like body mass and lifespan. For example, a giraffe has roughly 40,000 times more cells than a mouse. Or a human lives 90 times longer than a mouse. What surprised researchers was that the number of mutations at time of death differed only by a factor of three.
Such small differentiation suggests there may be a total number of mutations a species can collect before it dies. Since the mammals reached this number at different speeds, finding ways to control the rate of mutations may help stall cancer development, set back aging, and prolong life.
The Future of Cancer Research
The findings in this study ignite new questions for understanding cancer.
Confirming that mutation rate and lifespan are strongly correlated needs comparison to lifeforms beyond mammals, like fishes, birds, and even plants.
It will also be necessary to understand what factors control mutation rates. The answer to this likely lies within the complexities of DNA. Geneticists and oncologists are continuing to investigate genetic curiosities like tumor-suppressing genes and how they might impact mutation rates.
Aging is likely to be a confluence of many issues, like epigenetic changes or telomere shortening, but if mutations are involved then there may be hopes of slowing genetic damage—or even reversing it.
While just a first step, linking mutation rates to lifespan is a reframing of our understanding of cancer development, and it may open doors to new strategies and therapies for treating cancer or taming the number of health-related concerns that come with aging.
Explainer: What to Know About Monkeypox
What is monkeypox, and what risk does it pose to the public? This infographic breaks down the symptoms, transmission, and more.
Explainer: What to Know About Monkeypox
The COVID-19 pandemic is still fresh in the minds of the people around the world, so it comes as no surprise that recent outbreaks of another virus are grabbing headlines.
Monkeypox outbreaks have now been reported in multiple countries, and it has scientists paying close attention. For everyone else, numerous questions come to the surface:
How serious is this virus?
How contagious is it?
Could monkeypox develop into a new pandemic?
Below, we answer these questions and more.
What is Monkeypox?
Monkeypox is a virus in the Orthopoxvirus genus which also includes the variola virus (which causes smallpox) and the cowpox virus. The primary symptoms include fever, swollen lymph nodes, and a distinctive bumpy rash.
There are two major strains of the virus that pose very different risks:
Congo Basin strain: 1 in 10 people infected with this strain have died
West African strain: Approximately 1 in 100 people infected with this strain died
At the moment, health authorities in the UK have indicated they're seeing the milder strain in patients there.
Where did Monkeypox Originate From?
The virus was originally discovered in the Democratic Republic of Congo in monkeys kept for research purposes (hence the name). Eventually, the virus made the jump to humans more than a decade after its discovery in 1958.
It is widely assumed that vaccination against another similar virus, smallpox, helped keep monkeypox outbreaks from occurring in human populations. Ironically, the successful eradication of smallpox, and eventual winding down of that vaccine program, has opened the door to a new viral threat. There is now a growing population of people who no longer have immunity against the virus.
Now that travel restrictions are lifting in many parts of the world, viruses are now able to hop between nations again. As of the publishing of this article, a handful of cases have now been reported in the U.S., Canada, the UK, and a number of European countries.
On the upside, contact tracing has helped authorities piece together the transmission of the virus. While cases are rare in Europe and North America, it is considered endemic in parts of West Africa. For example, the World Health Organization reports that Nigeria has experienced over 550 reported monkeypox cases from 2017 to today. The current UK outbreak originated from an individual who returned from a trip to Nigeria.
Could Monkeypox become a new pandemic?
Monkeypox, which primarily spreads through animal-to-human interaction, is not known to spread easily between humans. Most individuals infected with monkeypox pass the virus to between zero and one person, so outbreaks typically fizzle out. For this reason, the fact that outbreaks are occurring in several countries simultaneously is concerning for health authorities and organizations that monitor viral transmission. Experts are entertaining the possibility that the virus' rate of transmission has increased.
Images of people covered in monkeypox lesions are shocking, and people are understandably concerned by this virus, but the good news is that members of the general public have little to fear at this stage.
I think the risk to the general public at this point, from the information we have, is very, very low.
–Tom Inglesby, Director, Johns Hopkins Center for Health Security
» For up-to-date information on monkeypox cases, check out Global.Health's tracking spreadsheet