Visualizing the Global Transition to Green Energy
Visualizing The Global Transition to Green Energy
A fully green future could be closer than you think. With each passing year, the steadily declining price of renewable energy makes it increasingly competitive against fossil fuels.
Today's infographic from Raconteur breaks down the material shift towards renewable energy, and where in the world it's taking place.
Time to go green
A recent United Nations report estimates that renewables must make up 70% to 85% of electricity by 2050 to combat the dire effects of climate change.
The good news? Embracing renewable energy is becoming easier on the wallet. Most renewable energy sources are becoming cheaper and quicker to produce, and it's speeding up widespread adoption.
| Cost of electricity per energy source ($ per KWh) | 2010 | 2017 |
| --- | --- | --- |
| Concentrating solar power | $0.33 | $0.22 |
| Offshore wind | $0.17 | $0.14 |
| Solar photovoltaic | $0.36 | $0.10 |
| Biomass | $0.07 | $0.07 |
| Geothermal | $0.05 | $0.07 |
| Onshore wind | $0.08 | $0.06 |
| Hydro | $0.04 | $0.05 |
The price of solar photovoltaic cells are projected to dip dramatically over this seven-year period, as solar panel infrastructure moves away from being an experimental technology, and into a trusted energy source easily replicated at scale. Solar also received the most new investment by energy type in 2017, up 18% from the previous year.
Of course, it won't happen overnight. Even as the world continues to electrify, coal will still make up almost one-third of the world's energy mix in 2040, while renewables will only be at 25%.
Nevertheless, concentrated efforts to curb our reliance on coal are signals that the fossil fuel is on its way out, and new investment in green energy sources is on the rise in most regions.
The Renewables Race
It's perhaps not surprising that China is leading the change in renewable growth. The nation tops the list of spenders, spending more on green energy than the United States and Europe combined.
| New Investment by Region | 2016 ($ billion) | 2017 ($ billion) | % Change |
| --- | --- | --- | --- |
| China | $96.9 | $126.6 | 31% |
| Europe | $64.1 | $40.9 | -36% |
| United States | $43.1 | $40.5 | -6% |
| Other Asia and Oceania | $35.7 | $31.4 | -12% |
| Other Americas | $6 | $13.4 | 124% |
| Middle East & Africa | $9 | $10.1 | 11% |
| India | $13.7 | $10.9 | -20% |
| Brazil | $5.6 | $6 | 8% |
| Total | $274 | $279.8 | 2% |
In places where a consistent and reliable source of energy is hard to come by, people are looking to clean energy as a way to leapfrog ahead of using the carbon-intensive electricity grid entirely.
Take Ethiopia for example: the $4 billion Grand Ethiopian Renaissance Dam (GERD) project along the Nile River will help meet the area's rising energy demands. Once completed, it will be the largest dam on the continent and generate around 6,450 MW of power.
This trifecta of innovation, investment, and falling costs could be the answer to bolstering renewable energy infrastructure for decades to come – and it will be interesting to see the ultimate pace at which green energy supply comes online, and what that means for the world.
Charted: 40 Years of Global Energy Production, by Country
Here's a snapshot of global energy production, and which countries have produced the most fossil fuels, nuclear, and renewable energy since 1980.

Creator Program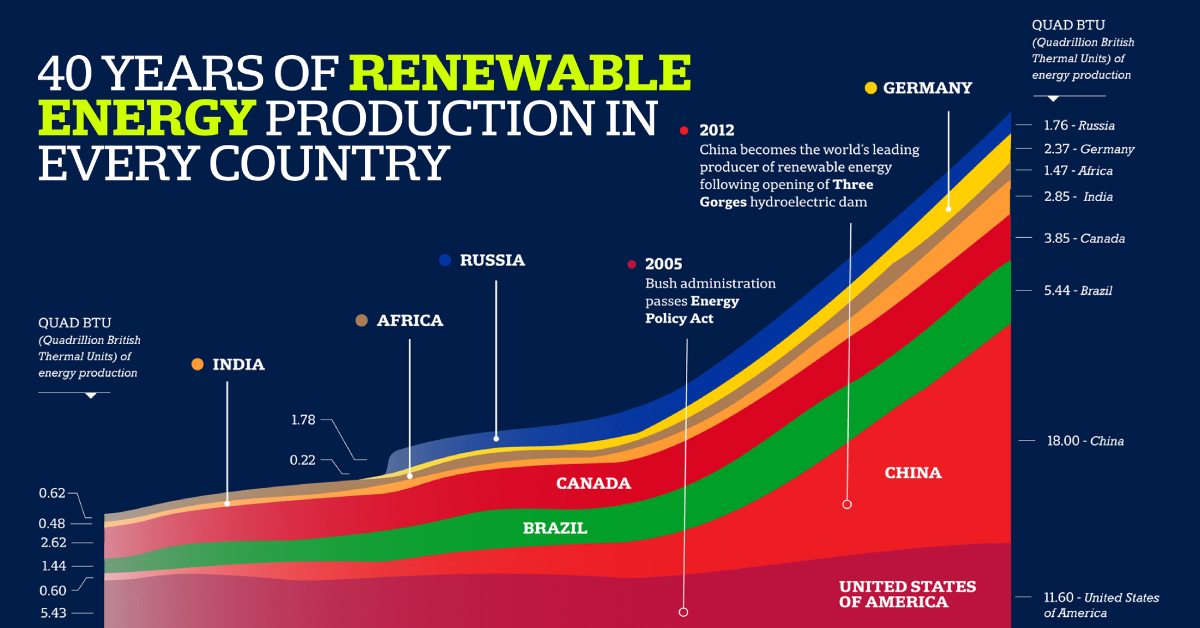 Energy was already a hot topic before 2022, but soaring household energy bills and a cost of living crisis has brought it even more to the forefront.
Which countries are the biggest energy producers, and what types of energy are they churning out? This graphic by 911 Metallurgist gives a breakdown of global energy production, showing which countries have used the most fossil fuels, nuclear, and renewable energy since 1980.
All figures refer to the British thermal unit (BTU), equivalent to the heat required to heat one pound of water by one degree Fahrenheit.
Editor's note: Click on any graphic to see a full-width version that is higher resolution
1. Fossil Fuels
View the full-size infographic
While the U.S. is a dominant player in both oil and natural gas production, China holds the top spot as the world's largest fossil fuel producer, largely because of its significant production and consumption of coal.
Over the last decade, China has used more coal than the rest of the world, combined.
However, it's worth noting that the country's fossil fuel consumption and production have dipped in recent years, ever since the government launched a five-year plan back in 2014 to help reduce carbon emissions.
2. Nuclear Power
View the full-size infographic
The U.S. is the world's largest producer of nuclear power by far, generating about double the amount of nuclear energy as France, the second-largest producer.
While nuclear power provides a carbon-free alternative to fossil fuels, the nuclear disaster in Fukushima caused many countries to move away from the energy source, which is why global use has dipped in recent years.
Despite the fact that many countries have recently pivoted away from nuclear energy, it still powers about 10% of the world's electricity. It's also possible that nuclear energy will play an expanded role in the energy mix going forward, since decarbonization has emerged as a top priority for nations around the world.
3. Renewable Energy
View the full-size infographic
Renewable energy sources (including wind, hydro, and solar) account for about 23% of electricity production worldwide. China leads the front on renewable production, while the U.S. comes in second place.
While renewable energy production has ramped up in recent years, more countries will need to ramp up their renewable energy production in order to reach net-zero targets by 2050.
What is the Cost of Europe's Energy Crisis?
As European gas prices soar, countries are introducing policies to try and curb the energy crisis.
What is the Cost of Europe's Energy Crisis?
This was originally posted on Elements. Sign up to the free mailing list to get beautiful visualizations on natural resource megatrends in your email every week.
Europe is scrambling to cut its reliance on Russian fossil fuels.
As European gas prices soar eight times their 10-year average, countries are introducing policies to curb the impact of rising prices on households and businesses. These include everything from the cost of living subsidies to wholesale price regulation. Overall, funding for such initiatives has reached $276 billion as of August.
With the continent thrown into uncertainty, the above chart shows allocated funding by country in response to the energy crisis.
The Energy Crisis, In Numbers
Using data from Bruegel, the below table reflects spending on national policies, regulation, and subsidies in response to the energy crisis for select European countries between September 2021 and July 2022. All figures in U.S. dollars.
Country
Allocated Funding
Percentage of GDP
Household Energy Spending,
Average Percentage
🇩🇪 Germany
$60.2B
1.7%
9.9%
🇮🇹 Italy
$49.5B
2.8%
10.3%
🇫🇷 France
$44.7B
1.8%
8.5%
🇬🇧 U.K.
$37.9B
1.4%
11.3%
🇪🇸 Spain
$27.3B
2.3%
8.9%
🇦🇹 Austria
$9.1B
2.3%
8.9%
🇵🇱 Poland
$7.6B
1.3%
12.9%
🇬🇷 Greece
$6.8B
3.7%
9.9%
🇳🇱 Netherlands
$6.2B
0.7%
8.6%
🇨🇿 Czech Republic
$5.9B
2.5%
16.1%
🇧🇪 Belgium
$4.1B
0.8%
8.2%
🇷🇴 Romania
$3.8B
1.6%
12.5%
🇱🇹 Lithuania
$2.0B
3.6%
10.0%
🇸🇪 Sweden
$1.9B
0.4%
9.2%
🇫🇮 Finland
$1.2B
0.5%
6.1%
🇸🇰 Slovakia
$1.0B
1.0%
14.0%
🇮🇪 Ireland
$1.0B
0.2%
9.2%
🇧🇬 Bulgaria
$0.8B
1.2%
11.2%
🇱🇺 Luxembourg
$0.8B
1.1%
n/a
🇭🇷 Croatia
$0.6B
1.1%
14.3%
🇱🇻 Lativia
$0.5B
1.4%
11.6%
🇩🇰 Denmark
$0.5B
0.1%
8.2%
🇸🇮 Slovenia
$0.3B
0.5%
10.4%
🇲🇹 Malta
$0.2B
1.4%
n/a
🇪🇪 Estonia
$0.2B
0.8%
10.9%
🇨🇾 Cyprus
$0.1B
0.7%
n/a
Source: Bruegel, IMF. Euro and pound sterling exchange rates to U.S. dollar as of August 25, 2022.
Germany is spending over $60 billion to combat rising energy prices. Key measures include a $300 one-off energy allowance for workers, in addition to $147 million in funding for low-income families. Still, energy costs are forecasted to increase by an additional $500 this year for households.
In Italy, workers and pensioners will receive a $200 cost of living bonus. Additional measures, such as tax credits for industries with high energy usage were introduced, including a $800 million fund for the automotive sector.
With energy bills predicted to increase three-fold over the winter, households in the U.K. will receive a $477 subsidy in the winter to help cover electricity costs.
Meanwhile, many Eastern European countries—whose households spend a higher percentage of their income on energy costs— are spending more on the energy crisis as a percentage of GDP. Greece is spending the highest, at 3.7% of GDP.
Utility Bailouts
Energy crisis spending is also extending to massive utility bailouts.
Uniper, a German utility firm, received $15 billion in support, with the government acquiring a 30% stake in the company. It is one of the largest bailouts in the country's history. Since the initial bailout, Uniper has requested an additional $4 billion in funding.
Not only that, Wien Energie, Austria's largest energy company, received a €2 billion line of credit as electricity prices have skyrocketed.
Deepening Crisis
Is this the tip of the iceberg? To offset the impact of high gas prices, European ministers are discussing even more tools throughout September in response to a threatening energy crisis.
To reign in the impact of high gas prices on the price of power, European leaders are considering a price ceiling on Russian gas imports and temporary price caps on gas used for generating electricity, among others.
Price caps on renewables and nuclear were also suggested.
Given the depth of the situation, the chief executive of Shell said that the energy crisis in Europe would extend beyond this winter, if not for several years.