The Biggest Global Risks of 2023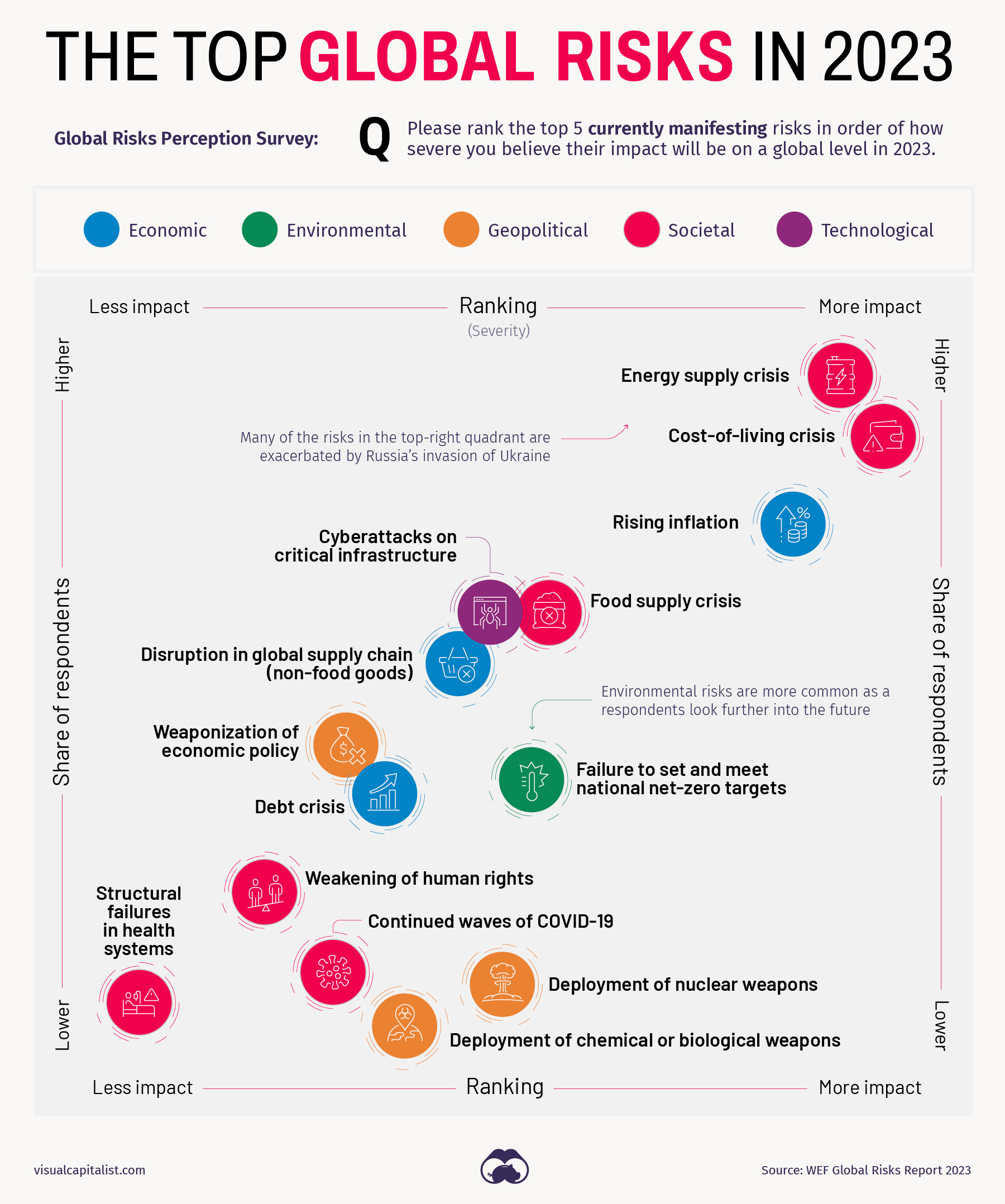 The Biggest Global Risks of 2023
The profile of risks facing the world is evolving constantly. Events like last year's invasion of Ukraine can send shockwaves through the system, radically shifting perceptions of what the biggest risks facing humanity are.
Today's graphic summarizes findings from the Global Risks Report, an annual publication produced by the World Economic Forum (WEF). It provides an overview of the most pressing global risks that the world is facing, as identified by experts and decision-makers.
These risks are grouped into five general categories: economic, environmental, geopolitical, societal, and technological.
Let's dive into this year's findings.
2023's Risk Profile
In the lower–middle portion of the chart are the risks that could have serious impacts—such as attacks involving nuclear or biological weapons—but that were highlighted by fewer experts.
Over in the top-right quadrant of the chart are the risks that a number of experts mentioned, and that are causing a strain on society. Not surprisingly, the top risks are related to issues that impact a wide variety of people, such as the rising cost of living and inflation. When staples like food and energy become more expensive, this can fuel unrest and political instability—particularly in countries that already had simmering discontent. WEF points out that increases in fuel prices alone led to protests in an estimated 92 countries.
One risk worth watching is geoeconomic confrontation, which includes sanctions, trade wars, investment screening, and other actions that have the intent of weakening the countries on the receiving end. Efforts to mitigate this risk result in some of the key themes we see for the coming year. One example is the onshoring of industries, and "friend-shoring", which is essentially moving operations to a foreign country that has more stable relations with one's home country.
How Prepared Are We?
It's one thing to be aware of risks, but it's quite another to have the ability to head off negative events when they come to fruition.
The chart below is a look at how prepared we are globally to deal with specific types of risks that could arise in the next few years.
At the top of the chart are risks that experts feel society is better equipped to handle with current plans and resources. Moving towards the bottom of the chart are risks that experts feel are more of a threat since mechanisms for handling them are weak or non-existent.
Experts are generally more confident in solutions in the military or healthcare domains. Environmental and societal challenges leave policy and decision-makers less confident.
One telling observation from the data above is that none of the risks left a majority of experts feeling confident in our ability to prevent the risk from occurring, or prepared to mitigate its impact. As the 2020s are shaping up to be a turbulent decade, that could be a cause for concern.
Where does this data come from?
Source: The Global Risks Report 2023, produced by the World Economic Forum (in partnership with Marsh McLennan and Zurich Insurance Group).
Data note: The chart in this article is based on the Global Risks Perception Survey 2022-2023. A list of 32 global risks, along with their definitions, is shown in Table A.1 of the PDF. Page 77 of the report also includes detailed information on sample sizes and demographics of respondents.
The Top Google Searches Related to Investing in 2022
What was on investors' minds in 2022? Discover the top Google searches and how the dominant trends played out in portfolios.
The Top Google Searches Related to Investing in 2022
It was a turbulent year for the markets in 2022, with geopolitical conflict, rising prices, and the labor market playing key roles. Which stories captured investors' attention the most?
This infographic from New York Life Investments outlines the top Google searches related to investing in 2022, and offers a closer look at some of the trends.
Top Google Searches: Year in Review
We picked some of the top economic and investing stories that saw peak search interest in the U.S. each month, according to Google Trends.
| Month of Peak Interest | Search Term |
| --- | --- |
| January | Great Resignation |
| February | Russian Stock Market |
| March | Oil Price |
| April  | Housing Bubble |
| May | Value Investing |
| June | Bitcoin |
| July | Recession |
| August | Inflation |
| September | US Dollar |
| October | OPEC |
| November | Layoffs |
| December | Interest Rate Forecast |
Data based on exact searches in the U.S. from December 26, 2021 to December 18, 2022.
Let's look at each quarter in more detail, to see how these top Google searches were related to activity in the economy and investors' portfolios.
Q1 2022
The start of the year was marked by U.S. workers quitting their jobs in record numbers, and the effects of the Russia-Ukraine war. For instance, the price of crude oil skyrocketed after the war caused supply uncertainties. Early March's peak of $125 per barrel was a 13-year high.
Date
Closing Price of WTI Crude Oil
(USD/Barrel)
January 2, 2022
$76
March 3, 2022
$125
December 29, 2022
$80
While crude oil lost nearly all its gains by year-end, the energy sector in general performed well. In fact, the S&P 500 Energy Index gained 57% over the year compared to the S&P 500's 19% loss.
Q2 2022
The second quarter of 2022 saw abnormal house price growth, renewed interest in value investing, and a bitcoin crash. In particular, value investing performed much better than growth investing over the course of the year.
| Index | Price Return in 2022 |
| --- | --- |
| S&P 500 Value Index | -7.4% |
| S&P 500 Growth Index | -30.1% |
Value stocks have typically outperformed during periods of rising rates, and 2022 was no exception.
Q3 2022
The third quarter was defined by worries about a recession and inflation, along with interest in the rising U.S. dollar. In fact, the U.S. dollar gained against nearly every major currency.
Currency 
USD Appreciation Against Currency
(Dec 31 2020-Sep 30 2022)
Japanese Yen
40.1%
Chinese Yuan
9.2%
Euro
25.1%
Canadian Dollar
7.2%
British Pound
22.0%
Australian Dollar
18.1%
Higher interest rates made the U.S. dollar more attractive to investors, since it meant they would get a higher return on their fixed income investments.
Q4 2022
The end of the year was dominated by OPEC cutting oil production, high layoffs in the tech sector, and curiosity about the future of interest rates. The Federal Reserve's December 2022 economic projections offer clues about the trajectory of the policy rate.
| | 2023 | 2024 | 2025 | Longer Run |
| --- | --- | --- | --- | --- |
| Minimum Projection | 4.9% | 3.1% | 2.4% | 2.3% |
| Median Projection | 5.1% | 4.1% | 3.1% | 2.5% |
| Maximum Projection | 5.6% | 5.6% | 5.6% | 3.3% |
The Federal Reserve expects interest rates to peak in 2023, with rates to remain elevated above pre-pandemic levels for the foreseeable future.
The Top Google Searches to Come
After a year of volatility across asset classes, economic uncertainty remains. Which themes will become investors' top Google searches in 2023?
Find out how New York Life Investments can help you make sense of market trends.