The Biggest Global Risks of 2023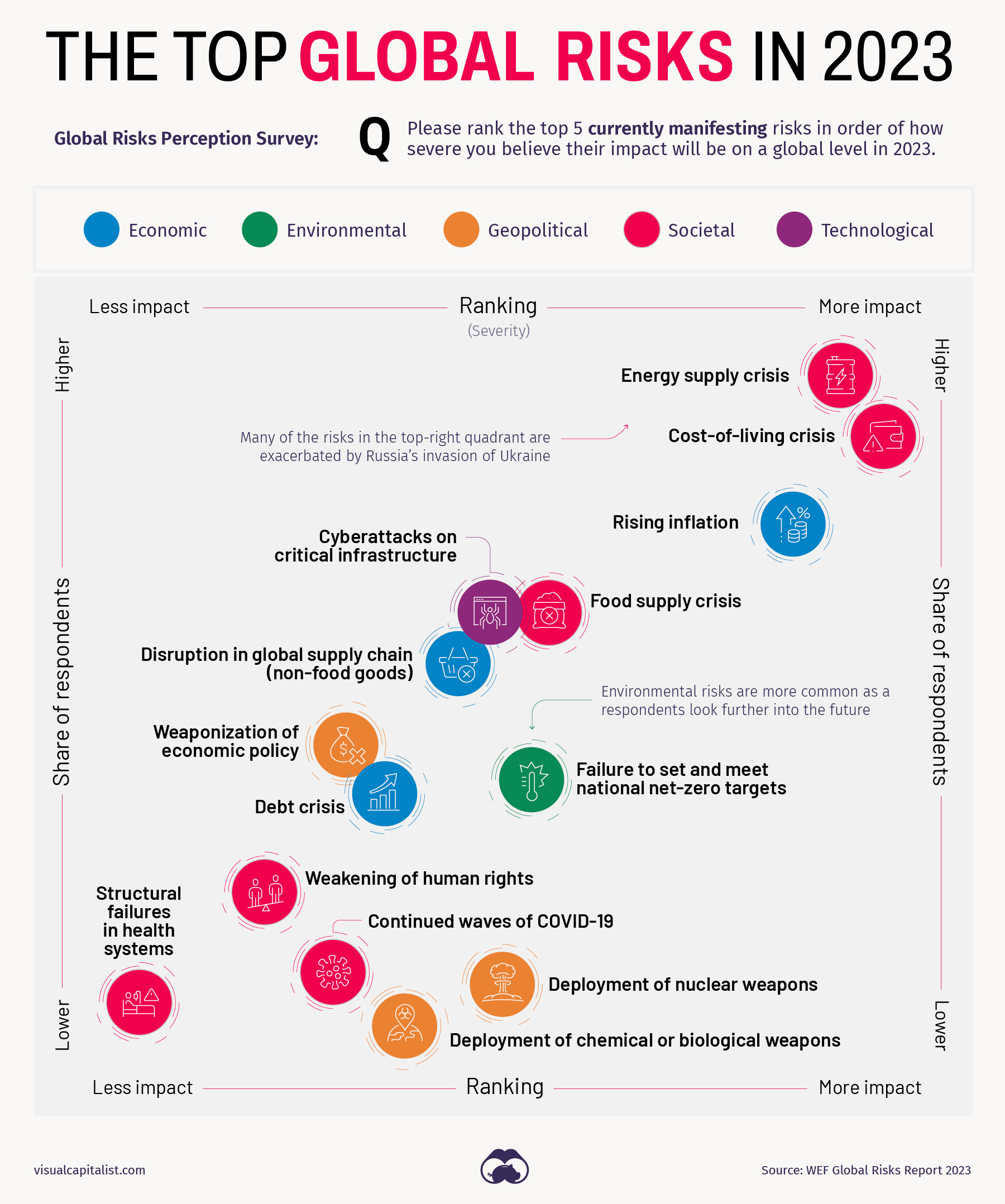 The Biggest Global Risks of 2023
The profile of risks facing the world is evolving constantly. Events like last year's invasion of Ukraine can send shockwaves through the system, radically shifting perceptions of what the biggest risks facing humanity are.
Today's graphic summarizes findings from the Global Risks Report, an annual publication produced by the World Economic Forum (WEF). It provides an overview of the most pressing global risks that the world is facing, as identified by experts and decision-makers.
These risks are grouped into five general categories: economic, environmental, geopolitical, societal, and technological.
Let's dive into this year's findings.
2023's Risk Profile
In the lower–middle portion of the chart are the risks that could have serious impacts—such as attacks involving nuclear or biological weapons—but that were highlighted by fewer experts.
Over in the top-right quadrant of the chart are the risks that a number of experts mentioned, and that are causing a strain on society. Not surprisingly, the top risks are related to issues that impact a wide variety of people, such as the rising cost of living and inflation. When staples like food and energy become more expensive, this can fuel unrest and political instability—particularly in countries that already had simmering discontent. WEF points out that increases in fuel prices alone led to protests in an estimated 92 countries.
One risk worth watching is geoeconomic confrontation, which includes sanctions, trade wars, investment screening, and other actions that have the intent of weakening the countries on the receiving end. Efforts to mitigate this risk result in some of the key themes we see for the coming year. One example is the onshoring of industries, and "friend-shoring", which is essentially moving operations to a foreign country that has more stable relations with one's home country.
How Prepared Are We?
It's one thing to be aware of risks, but it's quite another to have the ability to head off negative events when they come to fruition.
The chart below is a look at how prepared we are globally to deal with specific types of risks that could arise in the next few years.
At the top of the chart are risks that experts feel society is better equipped to handle with current plans and resources. Moving towards the bottom of the chart are risks that experts feel are more of a threat since mechanisms for handling them are weak or non-existent.
Experts are generally more confident in solutions in the military or healthcare domains. Environmental and societal challenges leave policy and decision-makers less confident.
One telling observation from the data above is that none of the risks left a majority of experts feeling confident in our ability to prevent the risk from occurring, or prepared to mitigate its impact. As the 2020s are shaping up to be a turbulent decade, that could be a cause for concern.
Where does this data come from?
Source: The Global Risks Report 2023, produced by the World Economic Forum (in partnership with Marsh McLennan and Zurich Insurance Group).
Data note: The chart in this article is based on the Global Risks Perception Survey 2022-2023. A list of 32 global risks, along with their definitions, is shown in Table A.1 of the PDF. Page 77 of the report also includes detailed information on sample sizes and demographics of respondents.
Mapped: 2023 Inflation Forecasts by Country
Inflation surged on a global scale in 2022, hitting record-level highs in many countries. Could it finally subside in 2023?
Mapped: 2023 Inflation Forecasts by Country
This was originally posted on Advisor Channel. Sign up to the free mailing list to get beautiful visualizations on financial markets that help advisors and their clients.
Inflation surged on a global scale in 2022, hitting record-level highs in many countries. Could it finally subside in 2023?
In the above infographic, we look to answer that question using the World Economic Outlook report by the International Monetary Fund (IMF).
Not Yet Out of the Woods
While the IMF predicts that global inflation peaked in late 2022, rates in 2023 are expected to remain higher than usual in many parts of the world. Following the 8.8% global inflation rate in 2022, the IMF forecasts a 6.6% rate for 2023 and 4.3% rate for 2024 based on their most recent January 2023 update.
For the optimists, the good news is that the double-digit inflation that characterized nearly half the world in 2022 is expected to be less prevalent this year. For the pessimists, on the other hand, looking at countries like Zimbabwe, Venezuela, Turkey, and Poland may suggest that we are far from out of the woods on a global scale.
Here are the countries with the highest forecasted inflation rates in 2023.
| Country / Region | Projected Annual Inflation % Change 2023 |
| --- | --- |
| 🇿🇼 Zimbabwe | 204.6% |
| 🇻🇪 Venezuela | 195.0% |
| 🇸🇩 Sudan | 76.9% |
| 🇦🇷 Argentina | 76.1% |
| 🇹🇷 Turkiye | 51.2% |
| 🇮🇷 Islamic Republic of Iran | 40.0% |
| 🇱🇰 Sri Lanka | 29.5% |
| 🇪🇹 Ethiopia | 28.6% |
| 🇸🇷 Suriname | 27.2% |
| 🇸🇱 Sierra Leone | 26.8% |
| 🇸🇸 South Sudan | 21.7% |
| 🇭🇹 Haiti | 21.2% |
| 🇬🇭 Ghana | 20.9% |
| 🇵🇰 Pakistan | 19.9% |
| 🇳🇬 Nigeria | 17.3% |
| 🇾🇪 Yemen | 17.1% |
| 🇲🇼 Malawi | 16.5% |
| 🇵🇱 Poland | 14.3% |
| 🇲🇩 Moldova | 13.8% |
| 🇲🇲 Myanmar | 13.3% |
| 🇭🇺 Hungary | 13.3% |
| 🇧🇾 Belarus | 13.1% |
| 🇰🇬 Kyrgyz Republic | 12.4% |
| 🇬🇳 Guinea | 12.2% |
| 🇲🇳 Mongolia | 12.2% |
| 🇪🇬 Egypt | 12.0% |
| 🇦🇴 Angola | 11.8% |
| 🇰🇿 Kazakhstan | 11.3% |
| 🇸🇹 São Tomé and Príncipe | 11.2% |
| 🇷🇴 Romania | 11.0% |
| 🇺🇿 Uzbekistan | 10.8% |
| 🇦🇿 Azerbaijan | 10.8% |
| 🇹🇲 Turkmenistan | 10.5% |
| 🇸🇰 Slovak Republic | 10.1% |
| 🇨🇬 Democratic Republic of the Congo | 9.8% |
| 🇿🇲 Zambia | 9.6% |
| 🇪🇪 Estonia | 9.5% |
| 🇲🇪 Montenegro | 9.2% |
| 🇧🇩 Bangladesh | 9.1% |
| 🇬🇧 United Kingdom | 9.0% |
While the above countries fight to sustain their purchasing power, some parts of the world are expected to continue faring exceptionally well against the backdrop of a widespread cost-of-living crisis. Many Asian countries, notably Japan, Taiwan, and China, are all predicted to see inflation lower than 3% in the upcoming year.
When it comes to low inflation, Japan in particular stands out. With strict price controls, negative interest rates, and an aging population, the country is expected to see an inflation rate of just 1.4% in 2023.
Inflation Drivers
While rising food and energy prices accounted for much of the inflation we saw in 2022, the IMF's World Economic Outlook highlights that core inflation, which excludes food, energy, transport and housing prices, is now also a major driving factor in high inflation rates around the world.

What makes up core inflation exactly? In this case, it would include things like supply chain cost pressures and the effects of high energy prices slowly trickling down into numerous industries and trends in the labor market, such as the availability of jobs and rising wages. As these macroeconomic factors play out throughout 2023, each can have an effect on inflation.
The Russia-Ukraine conflict and the lingering effects of the COVID-19 pandemic are also still at play in this year's inflation forecasts. While the latter mainly played out in China in 2022, the possible resurgence of new variants continues to threaten economic recovery worldwide, and the war persists in leaving a mark internationally.
The confluence of macroeconomic factors currently at play is unlike what we've seen in a long time. Though the expertise of forecasters can give us a general understanding, how they will actually play out is for us to wait and see.