The Biggest Global Risks of 2023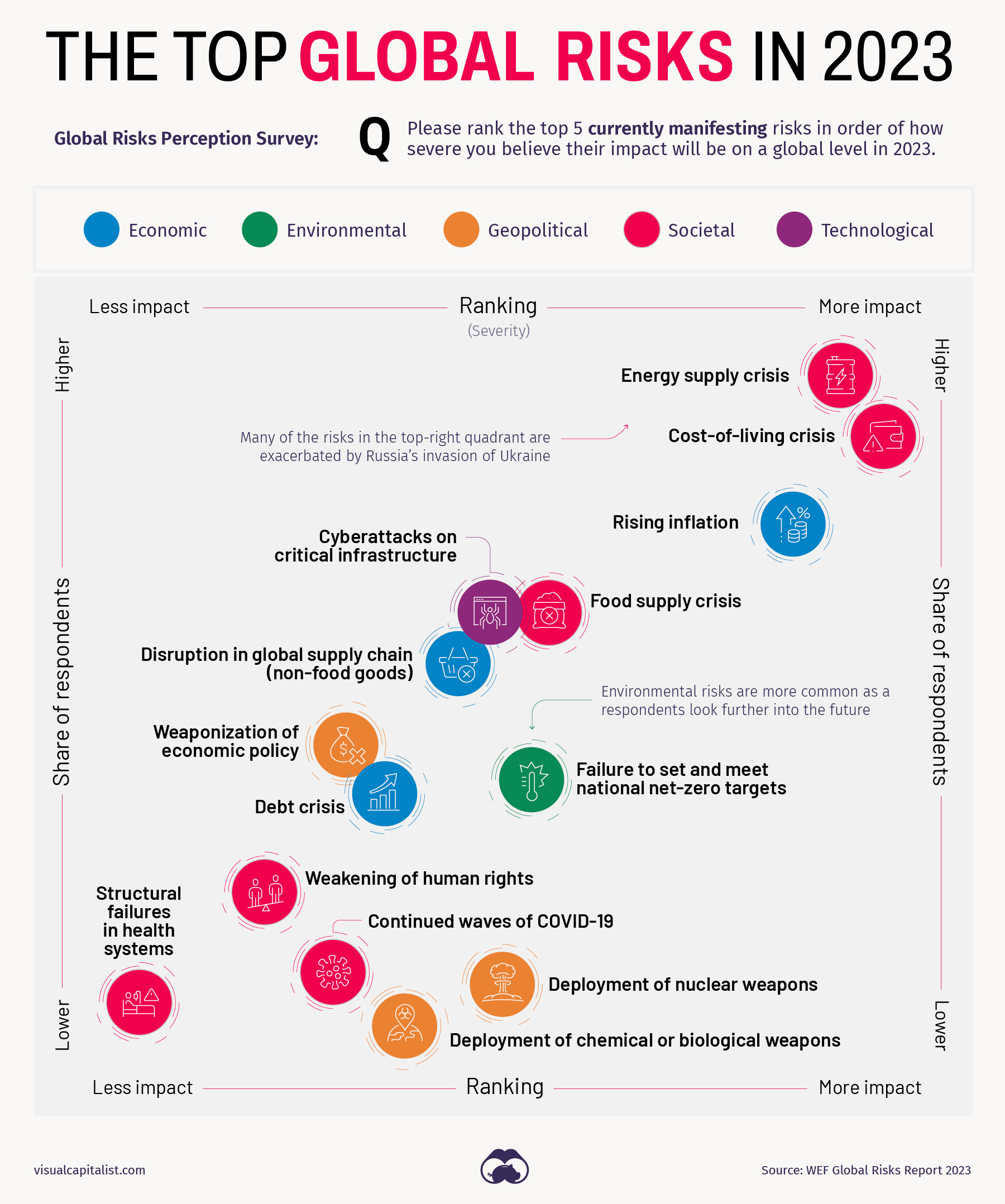 The Biggest Global Risks of 2023
The profile of risks facing the world is evolving constantly. Events like last year's invasion of Ukraine can send shockwaves through the system, radically shifting perceptions of what the biggest risks facing humanity are.
Today's graphic summarizes findings from the Global Risks Report, an annual publication produced by the World Economic Forum (WEF). It provides an overview of the most pressing global risks that the world is facing, as identified by experts and decision-makers.
These risks are grouped into five general categories: economic, environmental, geopolitical, societal, and technological.
Let's dive into this year's findings.
2023's Risk Profile
In the lower–middle portion of the chart are the risks that could have serious impacts—such as attacks involving nuclear or biological weapons—but that were highlighted by fewer experts.
Over in the top-right quadrant of the chart are the risks that a number of experts mentioned, and that are causing a strain on society. Not surprisingly, the top risks are related to issues that impact a wide variety of people, such as the rising cost of living and inflation. When staples like food and energy become more expensive, this can fuel unrest and political instability—particularly in countries that already had simmering discontent. WEF points out that increases in fuel prices alone led to protests in an estimated 92 countries.
One risk worth watching is geoeconomic confrontation, which includes sanctions, trade wars, investment screening, and other actions that have the intent of weakening the countries on the receiving end. Efforts to mitigate this risk result in some of the key themes we see for the coming year. One example is the onshoring of industries, and "friend-shoring", which is essentially moving operations to a foreign country that has more stable relations with one's home country.
How Prepared Are We?
It's one thing to be aware of risks, but it's quite another to have the ability to head off negative events when they come to fruition.
The chart below is a look at how prepared we are globally to deal with specific types of risks that could arise in the next few years.
At the top of the chart are risks that experts feel society is better equipped to handle with current plans and resources. Moving towards the bottom of the chart are risks that experts feel are more of a threat since mechanisms for handling them are weak or non-existent.
Experts are generally more confident in solutions in the military or healthcare domains. Environmental and societal challenges leave policy and decision-makers less confident.
One telling observation from the data above is that none of the risks left a majority of experts feeling confident in our ability to prevent the risk from occurring, or prepared to mitigate its impact. As the 2020s are shaping up to be a turbulent decade, that could be a cause for concern.
Where does this data come from?
Source: The Global Risks Report 2023, produced by the World Economic Forum (in partnership with Marsh McLennan and Zurich Insurance Group).
Data note: The chart in this article is based on the Global Risks Perception Survey 2022-2023. A list of 32 global risks, along with their definitions, is shown in Table A.1 of the PDF. Page 77 of the report also includes detailed information on sample sizes and demographics of respondents.
Ranked: America's 20 Biggest Tech Layoffs Since 2020
How bad are the current layoffs in the tech sector? This visual reveals the 20 biggest tech layoffs since the start of the pandemic.
Ranked: America's 20 Biggest Tech Layoffs This Decade
The events of the last few years could not have been predicted by anyone. From a global pandemic and remote work as the standard, to a subsequent hiring craze, rising inflation, and now, mass layoffs.
Alphabet, Google's parent company, essentially laid off the equivalent of a small town just weeks ago, letting go of 12,000 people—the biggest layoffs the company has ever seen in its history. Additionally, Amazon and Microsoft have also laid off 10,000 workers each in the last few months, not to mention Meta's 11,000.
This visual puts the current layoffs in the tech industry in context and ranks the 20 biggest tech layoffs of the 2020s using data from the tracker, Layoffs.fyi.
The Top 20 Layoffs of the 2020s
Since 2020, layoffs in the tech industry have been significant, accelerating in 2022 in particular. Here's a look at the companies that laid off the most people over the last three years.
| Rank | Company | # Laid Off | % of Workforce | As of |
| --- | --- | --- | --- | --- |
| #1 | Google | 12,000 | 6% | Jan 2023 |
| #2 | Meta | 11,000 | 13% | Nov 2021 |
| #3 | Amazon | 10,000 | 3% | Nov 2021 |
| #4 | Microsoft | 10,000 | 5% | Jan 2023 |
| #5 | Salesforce | 8,000 | 10% | Jan 2023 |
| #6 | Amazon | 8,000 | 2% | Jan 2023 |
| #7 | Uber | 6,700 | 24% | May 2020 |
| #8 | Cisco | 4,100 | 5% | Nov 2021 |
| #9 | IBM | 3,900 | 2% | Jan 2023 |
| #10 | Twitter | 3,700 | 50% | Nov 2021 |
| #11 | Better.com | 3,000 | 33% | Mar 2022 |
| #12 | Groupon | 2,800 | 44% | Apr 2020 |
| #13 | Peloton | 2,800 | 20% | Feb 2022 |
| #14 | Carvana | 2,500 | 12% | May 2022 |
| #15 | Katerra | 2,434 | 100% | Jun 2021 |
| #16 | Zillow | 2,000 | 25% | Nov 2021 |
| #17 | PayPal | 2,000 | 7% | Jan 2023 |
| #18 | Airbnb | 1,900 | 25% | May 2020 |
| #19 | Instacart | 1,877 | -- | Jan 2021 |
| #20 | Wayfair | 1,750 | 10% | Jan 2023 |
Layoffs were high in 2020 thanks to the COVID-19 pandemic, halting the global economy and forcing staff reductions worldwide. After that, things were steady until the economic uncertainty of last year, which ultimately led to large-scale layoffs in tech—with many of the biggest cuts happening in the past three months.
The Cause of Layoffs
Most workforce slashings are being blamed on the impending recession. Companies are claiming they are forced to cut down the excess of the hiring boom that followed the pandemic.
Additionally, during this hiring craze competition was fierce, resulting in higher salaries for workers, which is now translating in an increased need to trim the fat thanks to the current economic conditions.
Of course, the factors leading up to these recent layoffs are more nuanced than simple over-hiring plus recession narrative. In truth, there appears to be a culture shift occurring at many of America's tech companies. As Rani Molla and Shirin Ghaffary from Recode have astutely pointed out, tech giants really want you to know they're behaving like scrappy startups again.
Twitter's highly publicized headcount reduction in late 2022 occurred for reasons beyond just macroeconomic factors. Elon Musk's goal of doing more with a smaller team seemed to resonate with other founders and executives in Silicon Valley, providing an opening for others in tech space to cut down on labor costs as well. In just one example, Mark Zuckerberg hailed 2023 as the "year of efficiency" for Meta.
Meanwhile, over at Google, 12,000 jobs were put on the chopping block as the company repositions itself to win the AI race. In the words of Google's own CEO:
"Over the past two years we've seen periods of dramatic growth. To match and fuel that growth, we hired for a different economic reality than the one we face today… We have a substantial opportunity in front of us with AI across our products and are prepared to approach it boldly and responsibly."– Sundar Pichai
The Bigger Picture in the U.S. Job Market
Beyond the tech sector, job openings continue to rise. Recent data from the Bureau of Labor Statistics (BLS) revealed a total of 11 million job openings across the U.S., an increase of almost 7% month-over-month. This means that for every unemployed worker in America right now there are 1.9 job openings available.
Additionally, hiring increased significantly in January, with employers adding 517,000 jobs. While the BLS did report a decrease in openings in information-based industries, openings are increasing rapidly especially in the food services, retail trade, and construction industries.