Visualizing the Impact of Rising Sea Levels, by Country
Climate change is already causing sea levels to rise across the globe. In the 20th century alone, it's estimated that the mean global sea level rose by 11-16 cm.
How much will sea levels change in the coming years, and how will it affect our population?
In the below series of visualizations by Florent Lavergne, we can see how rising sea levels could impact countries in terms of flood risk by the year 2100.
These graphics use data from a 2019 study by Scott Kulp and Benjamin Strauss. Their study used CoastalDEM—a 3D graphics tool used to measure a population's potential exposure to extreme coastal water levels—and examined rising sea levels under different levels of greenhouse gas (GHG) emissions.
Flood Risk By Region
Which countries will be most severely affected by rising sea levels?
If things continue as they are, roughly 360 million people around the world could be at risk of annual flood events by 2100. Here's what those figures look like across each region:
Africa
On the continent of Africa, one of the countries with the highest number of people at risk of coastal flooding is Egypt.
Over 95% of Egypt's population lives along the Nile river, with some areas situated at extremely low elevations. The country's lowest point is 133 m below sea level.
Asia
Asia's population will be more heavily impacted by flooding than any other region included in the dataset.
According to the projections, 70% of the people that will be affected by rising sea levels are located in just eight Asian countries: China, Bangladesh, India, Vietnam, Indonesia, Thailand, the Philippines, and Japan.
Europe
One of the most high-risk populations in Europe is the Netherlands. The country has a population of about 17 million, and as of 2019, about half of its population lives in areas below sea level.
The country's lowest point, the town Nieuwekerk aan den Ijssel, is 6.8 m below sea level.
North America
In North America, the U.S., Canada, and Mexico are expected to see the highest numbers of impacted people, due to the size of their populations.
But as a percentage of population, other countries in Central America and the Caribbean are more greatly at risk, especially in high emission scenarios. One country worth highlighting is the Bahamas. Even based on moderate emission levels, the country is expected to see a significant surge in the number of people at risk of flood.
According to the World Bank, this is because land in the Bahamas is relatively flat, making the island especially vulnerable to sea level rises and flooding.
South America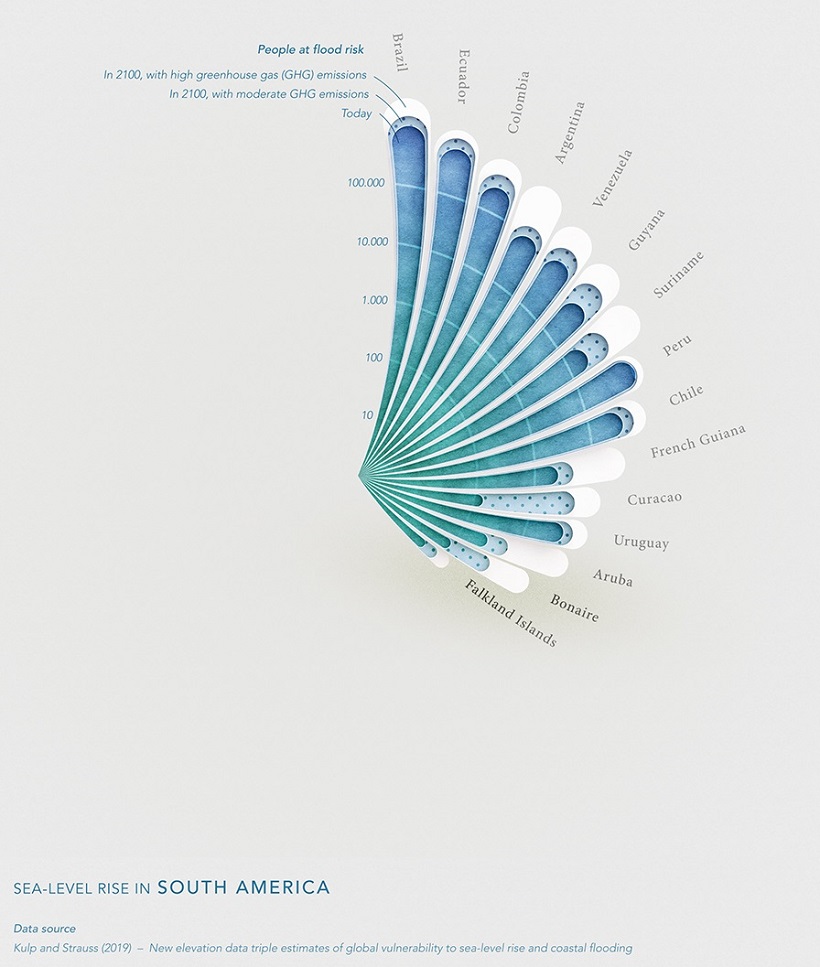 As South America's largest country by population and with large coastal cities, Brazil's population is the most at risk for flood caused by rising sea levels.
Notably, thanks to a lot of mountainous terrain and municipalities situated on high elevation, no country in South America faces a flood risk impacting more than 1 million people.
Oceania
By 2100, Polynesian countries like Tonga are projected to see massive increases in the number of people at risk of flooding, even at moderate GHG emissions.
According to Reuters, sea levels in Tonga have been rising by 6 mm each year, which is nearly double the average global rate. The reason for this is because the islands sit in warmer waters, where sea level changes are more noticeable than at the poles.
What's Causing Sea Levels to Rise?
Since 1975, average temperatures around the world have risen 0.15 to 0.20°C each decade, according to research by NASA.
This global heating has caused polar ice caps to begin melting—in just over two decades, we've lost roughly 28 trillion tonnes of our world's ice. Over that same timeframe, global sea levels have risen by an average of 36 mm. These rising sea levels pose a number of risks, including soil contamination, loss of habitat, and flooding.
As countries are affected by climate change in different ways, and at different levels, the question becomes how they will respond in turn.

This article was published as a part of Visual Capitalist's Creator Program, which features data-driven visuals from some of our favorite Creators around the world.
Visualizing 10 Years of Global EV Sales by Country
Global EV sales have grown exponentially, more than doubling in 2021 to 6.8 million units. Here's a look at EV sales by country since 2011.
Visualizing 10 Years of Global EV Sales by Country
This was originally posted on Elements. Sign up to the free mailing list to get beautiful visualizations on natural resource megatrends in your email every week.
In 2011, around 55,000 electric vehicles (EVs) were sold around the world. 10 years later in 2021, that figure had grown close to 7 million vehicles.
With many countries getting plugged into electrification, the global EV market has seen exponential growth over the last decade. Using data from the International Energy Agency (IEA), this infographic shows the explosion in global EV sales since 2011, highlighting the countries that have grown into the biggest EV markets.
The Early EV Days
From 2011 to 2015, global EV sales grew at an average annual rate of 89%, with roughly one-third of global sales occurring in the U.S. alone.
| Year | Total EV Sales | CAGR |
| --- | --- | --- |
| 2011 | 55,414 | - |
| 2012 | 132,013 | 138.2% |
| 2013 | 220,343 | 66.9% |
| 2014 | 361,157 | 63.9% |
| 2015 | 679,235 | 88.0% |
| Total sales / Avg growth | 1,448,162 | 89.3% |
In 2014, the U.S. was the largest EV market followed by China, the Netherlands, Norway, and France. But things changed in 2015, when China's EV sales grew by 238% relative to 2014, propelling it to the top spot.
China's growth had been years in the making, with the government offering generous subsidies for electrified cars, in addition to incentives and policies that encouraged production. In 2016, Chinese consumers bought more EVs than the rest of the world combined—and the country hasn't looked back, accounting for over half of global sales in 2021.
EV Sales by Country in 2021
After remaining fairly flat in 2019, global EV sales grew by 38% in 2020, and then more than doubled in 2021. China was the driver of the growth—the country sold more EVs in 2021 than the rest of the world combined in 2020.
| Country | 2021 EV Sales | % of Total |
| --- | --- | --- |
| China 🇨🇳 | 3,519,054 | 51.7% |
| U.S. 🇺🇸 | 631,152 | 9.3% |
| Germany 🇩🇪 | 695,657 | 10.2% |
| France 🇫🇷 | 322,043 | 4.7% |
| UK 🇬🇧 | 326,990 | 4.8% |
| Norway 🇳🇴 | 153,699 | 2.3% |
| Italy 🇮🇹 | 141,615 | 2.1% |
| Sweden 🇸🇪 | 138,771 | 2.0% |
| South Korea 🇰🇷 | 119,402 | 1.8% |
| Netherlands 🇳🇱 | 97,282 | 1.4% |
| Rest of Europe 🇪🇺 | 469,930 | 6.9% |
| Rest of the World 🌍 | 313,129 | 4.6% |
| Total | 6,809,322 | 100.0% |
China has nearly 300 EV models available for purchase, more than any other country, and it's also home to four of the world's 10 largest battery manufacturers. Moreover, the median price of electric cars in China is just 10% more than conventional cars, compared to 45-50% on average in other major markets.
Germany, Europe's biggest auto market, sold nearly 700,000 EVs in 2021, up 72% from 2020. The country hosts some of the biggest EV factories in Europe, with Tesla, Volkswagen, and Chinese battery giant CATL either planning or operating 'gigafactories' there. Overall, sales in Europe increased by 65% in 2021, as evidenced by the seven European countries in the above list.
The U.S. also made a comeback after a two-year drop, with EV sales more than doubling in 2021. The growth was supported by a 24% increase in EV model availability, and also by an increase in production of Tesla models, which accounted for half of U.S. EV sales.
Tesla's Dominance in the U.S.
Tesla is the world's most renowned electric car company and its dominance in the U.S. is unmatched.
Between 2011 and 2019, Tesla accounted for 40% of all EVs sold in the United States. Furthermore, Tesla cars have been the top-selling EV models in the U.S. in every year since 2015.
| EV Model | 2021 Sales | % of 2021 U.S. EV Sales |
| --- | --- | --- |
| Tesla Model Y* | 185,994 | 29.5% |
| Tesla Model 3* | 147,460 | 23.4% |
| Ford Mustang Mach-E | 27,140 | 4.3% |
| Chevy Bolt EV/EUV | 24,828 | 3.9% |
| Volkswagen ID.4 | 16,742 | 2.7% |
| Tesla Model S* | 15,545 | 2.5% |
| Nissan Leaf | 14,239 | 2.3% |
| Porsche Taycan | 9,419 | 1.5% |
| Tesla Model X* | 7,985 | 1.3% |
| Audi e-tron | 7,429 | 1.2% |
*Estimates
Share of total sales calculated using total U.S. EV sales of 631,152 units, based on data from the IEA.
Source: Cleantechnica
Tesla accounted for over 50% of EV sales in the U.S. in 2021 with the Model Y—launched in 2019—taking the top spot. Furthermore, the Model Y remained the bestselling EV in the first quarter of 2022, with Tesla taking up a massive 75% of the EV market share.
Despite Tesla's popularity, it could face a challenge as other automakers roll out new models and expand EV production. For example, General Motors aims to make 20 EV models available by 2025, and Ford expects to produce at least 2 million EVs annually by 2026. This increase in competition from incumbents and new entrants could eat away at Tesla's market share in the coming years.
Timeline: The Domestication of Animals
This graphic shows a timeline of when 15 different animals became domesticated, based on archaeological findings.
Timeline: The Domestication of Animals
While dogs weren't always our docile companions, research indicates that they were likely one of the first animals to be domesticated by humans. In fact, genetic evidence suggests that dogs split from their wild wolf ancestors around 33,000 years ago.
When did humans domesticate other animals, and why? This timeline highlights the domestication period of 15 different animals, based on archeological findings.
Because exact timing is tricky to pinpoint and research on the topic is ongoing, these estimates may vary by thousands of years.
Defining Domestic
The domestication of animals is a particular process that's done through selective breeding. Generally speaking, domestic animals follow most of these criteria:
Genetically distinct from their wild ancestors and more human-friendly as a genetic trait.
Dependent on humans for food and reproduction.
They're extremely difficult or impossible to breed with wild counterparts.
Show the physical traits of domestication syndrome, such as smaller skulls, floppy ears, or coat color variations.
Domestication is not the same as taming an animal, which is when humans condition wild animals to live in captivity.
While some research suggests that domestic animals can prosper in the wild, domestic animals are typically more susceptible to predators since they lack some of the advantages, instincts, or traits that help their wild counterparts survive in nature.
Key Reasons for the Domestication of Animals
Humans domesticate animals for a number of reasons: some have been domesticated for food, work, companionship, or a combination of all three.
After dogs, livestock animals such as sheep, cows, and pigs are thought to have been some of the first animals to become domesticated by humans. This was around the same time that humanity shifted from a hunter-gathering lifestyle to an agricultural society.
| Domesticated Animal | Primary Type | Estimated Domestication Period | Origin |
| --- | --- | --- | --- |
| Dog | Pet | 13,000–34,000 BCE | Eurasia |
| Sheep | Livestock | 9,000 BCE | Middle East |
| Goat | Livestock | 8,500 BCE | Middle East |
| Pig | Livestock | 8,300 BCE | Middle East |
| Cow | Livestock | 8,300 BCE | Middle East |
| Cat | Pet | 7,500 BCE | Middle East |
| Zebu (Humped Cow) | Livestock | 6,000 BCE | South Asia |
| Llama | Livestock | 4,000 BCE | South America |
| Horse | Work | 3,500 BCE | Central Asia |
| Alpaca | Livestock | 3,000 BCE | South America |
| Bactrian Camel (two-humped) | Work | 2,500 BCE | Central Asia |
| Chicken | Livestock | 2,000 BCE | East Asia/Middle East |
| Arabian Camel (one-humped) | Work | 1,000 BCE | Middle East |
| Turkey | Livestock | 0 CE | North America |
| Duck | Livestock | 1,000 CE | East Asia/Middle East |
Horses are thought to be some of the first animals domesticated for work. Scientific research suggests that the modern horse originated in Central Asia, and were selectively bred for their exceptional back strength and overall resilience.
When it comes to domesticating animals, herbivores (like cows) are generally the easiest to convert because they're easier to feed than animals that rely on meats or grains, which need to be sourced or domesticated themselves.
Domestication Has Shaped Modern Humanity
The domestication of species has helped create our modern society. Domesticating plants and animals created a world with stable food production, which enabled the human population to boom worldwide.
This is because agriculture meant fewer people could provide more food to humans on a mass scale, so people had more time to focus on other things like creative pursuits, scientific research, etc. This gave us time to create tools that helped boost efficiencies in farming and agriculture, leading to the world as we know it today.