Mapped: Countries With the Highest Flood Risk

Subscribe to the Elements free mailing list for more like this
Risk of Flooding Mapped Around the World
This was originally posted on Elements. Sign up to the free mailing list to get beautiful visualizations on natural resource megatrends in your email every week.
Devastating floods across Pakistan this summer have resulted in more than 1,400 lives lost and one-third of the country being under water.
This raises the question: which nations and their populations are the most vulnerable to the risk of flooding around the world?
Using data from a recent study published in Nature, this graphic maps flood risk around the world, highlighting the 1.81 billion people directly exposed to 1-in-100 year floods. The methodology takes into account potential risks from both inland and coastal flooding.
Asian Countries Most at Risk from Rising Water Levels
Not surprisingly, countries with considerable coastlines, river systems, and flatlands find themselves with high percentages of their population at risk.
The Netherlands and Bangladesh are the only two nations in the world to have more than half of their population at risk due to flooding, at 59% and 58%, respectively. Vietnam (46%), Egypt (41%), and Myanmar (40%) round out the rest of the top five nations.
Besides the Netherlands, only two other European nations are in the top 20 nations by percentage of population at risk, Austria (18th at 29%) and Albania (20th at 28%).
| Rank | Country | Flood risk, by population exposed (%) | Total population exposed |
| --- | --- | --- | --- |
| #1 | 🇳🇱 Netherlands | 58.7% | 10,100,000 |
| #2 | 🇧🇩 Bangladesh | 57.5% | 94,424,000 |
| #3 | 🇻🇳 Vietnam | 46.0% | 45,504,000 |
| #4 | 🇪🇬 Egypt | 40.5% | 38,871,000 |
| #5 | 🇲🇲 Myanmar | 39.9% | 19,104,000 |
| #6 | 🇱🇦 Laos | 39.7% | 2,985,000 |
| #7 | 🇰🇭 Cambodia | 38.1% | 7,431,000 |
| #8 | 🇬🇾 Guyana | 37.9% | 276,000 |
| #9 | 🇸🇷 Suriname | 37.7% | 233,000 |
| #10 | 🇮🇶 Iraq | 36.8% | 16,350,000 |
| #11 | 🇹🇭 Thailand | 33.9% | 25,431,000 |
| #12 | 🇸🇸 South Sudan | 32.5% | 5,437,000 |
| #13 | 🇵🇰 Pakistan | 31.1% | 71,786,000 |
| #14 | 🇳🇵 Nepal | 29.4% | 11,993,000 |
| #15 | 🇨🇬 Republic of the Congo | 29.3% | 1,170,000 |
| #16 | 🇵🇭 Philippines | 29.0% | 30,483,000 |
| #17 | 🇯🇵 Japan | 28.7% | 36,060,000 |
| #18 | 🇦🇹 Austria | 27.8% | 2,437,000 |
| #19 | 🇮🇳 India | 27.7% | 389,816,000 |
| #20 | 🇦🇱 Albania | 27.6% | 771,000 |
| #21 | 🇨🇳 China | 27.5% | 394,826,000 |
| #22 | 🇹🇩 Chad | 27.4% | 4,547,000 |
| #23 | 🇮🇩 Indonesia | 27.0% | 75,696,000 |
| #24 | 🇭🇷 Croatia | 26.9% | 1,094,000 |
| #25 | 🇸🇰 Slovakia | 26.7% | 1,401,000 |
The Southeast Asia region alone makes up more than two-thirds of the global population exposed to flooding risk at 1.24 billion people.
China and India account for 395 million and 390 million people, respectively, with both nations at the top in terms of the absolute number of people at risk of rising water levels. The rest of the top five countries by total population at risk are Bangladesh (94 million people at risk), Indonesia (76 million people at risk), and Pakistan (72 million people at risk).
How Flooding is Already Affecting Countries Like Pakistan
While forecasted climate and natural disasters can often take years to manifest, flooding affected more than 100 million people in 2021. Recent summer floods in Pakistan have continued the trend in 2022.
With 31% of its population (72 million people) at risk of flooding, Pakistan is particularly vulnerable to floods.
In 2010, floods in Pakistan were estimated to have affected more than 18 million people. The recent floods, which started in June, are estimated to have affected more than 33 million people as more than one-third of the country is submerged underwater.
The Cost of Floods Today and in the Future
Although the rising human toll is by far the biggest concern that floods present, they also bring with them massive economic costs. Last year, droughts, floods, and storms caused economic losses totaling $224.2 billion worldwide, nearly doubling the 2001-2020 annual average of $117.8 billion.
A recent report forecasted that water risk (caused by droughts, floods, and storms) could eat up $5.6 trillion of global GDP by 2050, with floods projected to account for 36% of these direct losses.
As both human and economic losses caused by floods continue to mount, nations around the world will need to focus on preventative infrastructure and restorative solutions for ecosystems and communities already affected and most at risk of flooding.
A Deep Dive Into the World's Oceans, Lakes, and Drill Holes
A unique and entertaining graphic that compares the depth of the world's lakes and oceans, as well as the deepest holes ever drilled.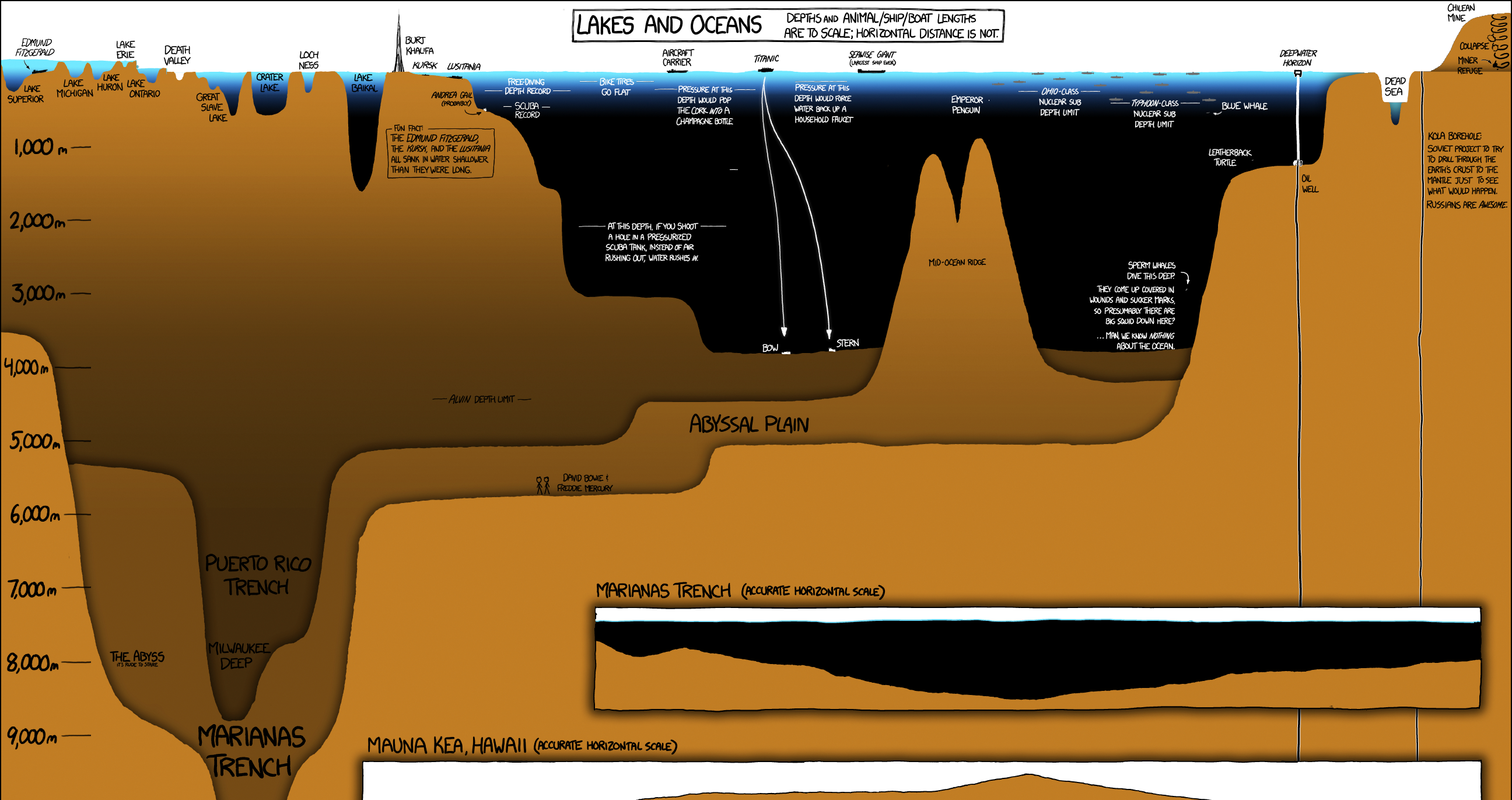 Today's chart is best viewed full-screen. Explore the high resolution version by clicking here.
Sailors have been circumnavigating the high seas for centuries now, but what could be found beneath the sunlit surface of the ocean remained a mystery until far more recently. In fact, it wasn't until 1875, during the Challenger expedition, that humanity got it's first concrete idea of how deep the ocean actually was.
Today's graphic, another fantastic piece by xkcd, is a unique and entertaining look at everything from Lake Superior's ice encrusted shoreline down to blackest, inhospitable trench (which today bears the name of the expedition that first discovered it).
The graphic is packed with detail, so we'll only highlight a few points of interest.
Deep Thoughts with Lake Baikal
Deep in Siberia, abutting a mountainous stretch of the Mongolian border, is the one of the most remarkable bodies of water on Earth: Lake Baikal. There are a number of qualities that make Lake Baikal stand out.
Depth: Baikal, located in a massive continental rift, is the deepest lake in the world at 1,642m (5,387ft). That extreme depth holds a lot of fresh water. In fact, an estimated 22% of all the world's fresh water can be found in the lake.
Age: Baikal (which is listed as a UNESCO World Heritage Site) is estimated to be over 25 million years old, making it the most ancient lake on the planet.
Clarity: Interestingly, the water in the lake is exceptionally clear. In winter, visibility can extend over 30m (98ft) below the surface.
Biodiversity: The unique ecosystem of Lake Baikal provides a home for thousands of plant and animal species. In fact, upwards of 80% of those species are endemic, meaning they are unique to that region.
Who is Alvin?
Since 1964, a hard-working research submersible named Alvin has been helping us better understand the deep ocean. Alvin explored the wreckage of RMS Titanic in 1986, and helped confirm the existence of black smokers (one of the weirdest ecosystems in the world).
Though most of the components of the vessel have been replaced and upgraded over the years, it's still in use today. In 2020, Alvin received an $8 million upgrade, and is now capable of exploring 99% of the ocean floor.
We know more about the surface of Venus than the bottom of the ocean. The potential for discovery is huge.– Anna-Louise Reysenbach, Professor of Microbiology, PSU
The Ocean's Deepest Point
The deepest point in the ocean is the Mariana Trench, at 11,034 meters (36,201 feet).
This trench is located in the Pacific Ocean, near Guam and the trench's namesake, the Mariana Islands. While the trench is the most extreme example of ocean depths, when compared to surface level distance, it's depth is shorter than Manhattan.
Obviously, the context of surface distance is wildly different than vertical distance, but it serves as a reminder of how narrow the "explorable" band of the Earth's surface is.
Polymetallic Nodules
The ancient Greek word, ábyssos, roughly means "unfathomable, bottomless gulf". While there is a bottom (the abyssopelagic zone comprises around 75% of the ocean floor), the enormous scale of this ecosystem is certainly unfathomable.
Objectively, the abyssal plain is not the prettiest part of the ocean. It's nearly featureless, and lacks the panache of, say, a coral reef, but there are still some very compelling reasons we're eager to explore it. Resource companies are chiefly interested in polymetallic nodules, which are essentially rich manganese formations scattered about on the sea bottom.
Manganese is already essential in steel production, but demand is also getting a substantial lift from the fast-growing electric vehicle market. The first company to find an economical way to harvest nodules from the ocean floor could reap a significant windfall.
Drill Baby, Drill
Demand for resources can force humans into some very inhospitable places, and in the case of Deepwater Horizon, we chased oil to a depth even surpassing the famed Marianas Trench.
Drilling that far below the surface is a complicated endeavor, and when the drill platform was put into service in 2001, it was hailed as an engineering marvel. To this day, Deepwater Horizon holds the record for the deepest offshore hole ever made.
After the rig's infamous explosion and subsequent spill in 2010, that depth record for drilling may stand the test of time.
The World's 25 Largest Lakes, Side by Side
This unique map graphic uses the Great Lakes region as a point of comparison for the top 25 largest lakes in the world.
The World's 25 Largest Lakes, Side by Side
In many parts of the world, you don't have to look very far to find a lake.
According to satellite data, there are roughly 100 million lakes larger than one hectare (2.47 acres) to be found globally. The largest lakes, which rival the size of entire nations, are more of a rarity.
One might expect the world's largest lakes to be very alike, but from depth to saline content, their properties can be quite different. As well, the ranking of the world's largest lakes is far from static, as human activity can turn a massive body of water into a desert within a single generation.
Today's graphic – created using the fantastic online tool, Slap It On A Map! – uses the Great Lakes region as a point of comparison for the largest 25 lakes, by area. This is particularly useful in comparing the scale of lakes that are located in disparate parts of the globe.
The Greatest Lakes
The largest lake in the world by a long shot is the Caspian Sea – a name that hints at a past when it was contiguous with the ocean around 11 million years ago. This massive saline lake, which is nearly the same size as Japan, borders five countries: Kazakhstan, Russia, Turkmenistan, Azerbaijan, and Iran. An estimated 48 billion barrels of oil lay beneath the surface of the basin.
The five Great Lakes, which run along the Canada–U.S. border, form one of the largest collections of fresh water on Earth. This interconnected series of lakes represents around 20% of the world's fresh water and the region supports over 100 million people, roughly equal to one-third of the Canada–U.S. population.
Amazingly, a single lake holds as much fresh water as all the Great Lakes combined – Lake Baikal. This rift lake in Siberia has a maximum depth of 5,371ft (1,637m). For comparison, the largest of the Great Lakes (Lake Superior) is only 25% as deep, with a maximum depth of 1,333ft (406m). Lake Baikal is unique in a number of other ways too. It is the world's oldest, coldest lake, and around 80% of its animal species are endemic (not found anywhere else).
Here's a full run-down of the top 25 lakes by area:
Rank
Lake Name
Surface Area
Type
Countries on shoreline
1
Caspian Sea
143,000 sq mi
(371,000km²)
Saline
🇰🇿 Kazakhstan
🇷🇺 Russia
🇹🇲 Turkmenistan
🇦🇿 Azerbaijan
🇮🇷 Iran
2
Superior
31,700 sq mi
(82,100km²)
Freshwater
🇨🇦 Canada
🇺🇸 U.S.
3
Victoria
26,590 sq mi
(68,870km²)
Freshwater
🇺🇬 Uganda
🇰🇪 Kenya
🇹🇿 Tanzania
4
Huron
23,000 sq mi
(59,600km²)
Freshwater
🇨🇦 Canada
🇺🇸 U.S.
5
Michigan
22,000 sq mi
(58,000km²)
Freshwater
🇺🇸 U.S.
6
Tanganyika
12,600 sq mi
(32,600km²)
Freshwater
🇧🇮 Burundi
🇹🇿 Tanzania
🇿🇲 Zambia
🇨🇩 D.R.C.
7
Baikal
12,200 sq mi
(31,500km²)
Freshwater
🇷🇺 Russia
8
Great Bear Lake
12,000 sq mi
(31,000km²)
Freshwater
🇨🇦 Canada
9
Malawi
11,400 sq mi
(29,500km²)
Freshwater
🇲🇼 Malawi
🇲🇿 Mozambique
🇹🇿 Tanzania
10
Great Slave Lake
10,000 sq mi
(27,000km²)
Freshwater
🇨🇦 Canada
11
Erie
9,900 sq mi
(25,700km²)
Freshwater
🇨🇦 Canada
🇺🇸 U.S.
12
Winnipeg
9,465 sq mi
(24,514km²)
Freshwater
🇨🇦 Canada
13
Ontario
7,320 sq mi
(18,960km²)
Freshwater
🇨🇦 Canada
🇺🇸 U.S.
14
Ladoga
7,000 sq mi
(18,130km²)
Freshwater
🇷🇺 Russia
15
Balkhash
6,300 sq mi
(16,400km²)
Saline
🇰🇿 Kazakhstan
16
Vostok
4,800 sq mi
(12,500km²)
Freshwater
🇦🇶 Antarctica
17
Onega
3,700 sq mi
(9,700km²)
Freshwater
🇷🇺 Russia
18
Titicaca
3,232 sq mi
(8,372km²)
Freshwater
🇧🇴 Bolivia
🇵🇪 Peru
19
Nicaragua
3,191 sq mi
(8,264km²)
Freshwater
🇳🇮 Nicaragua
20
Athabasca
3,030 sq mi
(7,850km²)
Freshwater
🇨🇦 Canada
21
Taymyr
2,700 sq mi
(6,990km²)
Freshwater
🇷🇺 Russia
22
Turkana
2,473 sq mi
(6,405km²)
Saline
🇰🇪 Kenya
🇪🇹 Ethiopia
23
Reindeer Lake
2,440 sq mi
(6,330km²)
Freshwater
🇨🇦 Canada
24
Issyk-Kul
2,400 sq mi
(6,200km²)
Saline
🇰🇬 Kyrgyzstan
25
Urmia
2,317 sq mi
(6,001km²)
Saline
🇮🇷 Iran
The Great Lakes World Tour
For people living in Canada and the U.S., the shape and relative size of the Great Lakes system may be quite familiar. This makes the Great Lakes a fantastic point of comparison to help put the size of other world locations into perspective. To this end, we begin our Great Lakes World Tour.
First, the image below shows how the Great Lakes system would look if it was located in India.
Distortions on commonly used maps can downplay the size of India compared to more northern nations. This view of the Great Lakes can help put India's true size into perspective.
Next, we look at the Great Lakes overlaid within Central Europe.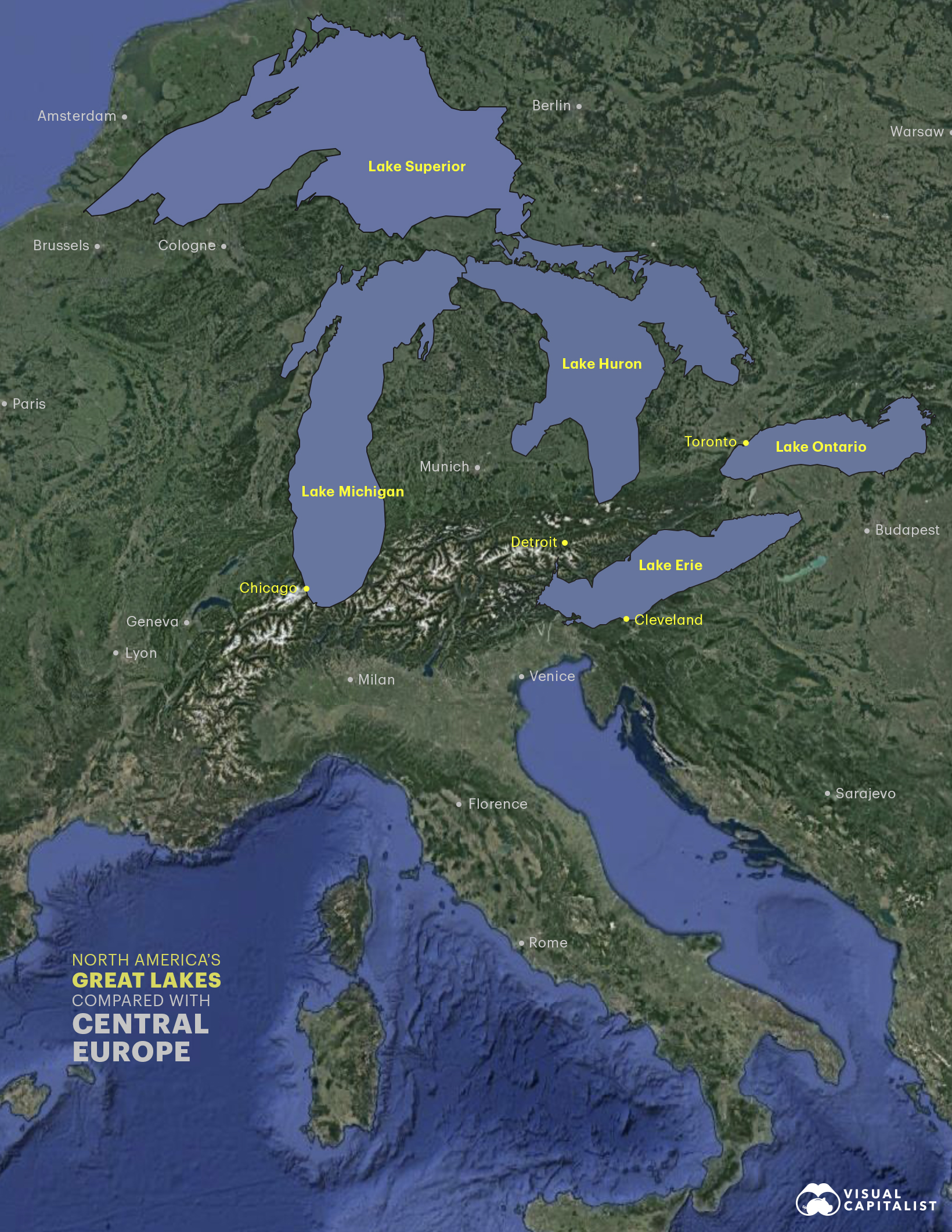 In the context of Europe, the lakes are so large that they extend from the Netherlands over to Slovakia. Lake Superior's surface area of 31,700 mi2 (82,000 km2), is similar in size to Austria. Here's are the five Great Lakes and European countries of equivalent size:
| Great Lakes | Surface Area | Equivalent Country | Area |
| --- | --- | --- | --- |
| Lake Superior | 82,000 km2 (31,700 sq mi) | 🇦🇹 Austria | 83,879 km2 (32,386 sq mi) |
| Lake Huron | 60,000 km2 (23,000 sq mi) | 🇱🇻 Latvia | 64,589 km2 (24,938 sq mi) |
| Lake Michigan | 58,000 km2 (22,300 sq mi) | 🇭🇷 Croatia | 56,594 km2 (21,851 sq mi) |
| Lake Erie | 25,700 km2 (9,910 sq mi) | 🇲🇰 North Macedonia | 25,713 km2 (9,928 sq mi) |
| Lake Ontario | 19,000 km2 (7,340 sq mi) | 🇸🇮 Slovenia | 20,271 km2 (7,827 sq mi) |
Lastly, here is a look at the Great Lakes in Southern Australia. Australia is the world's 6th largest country, so the Great Lakes only occupy one corner of its land mass.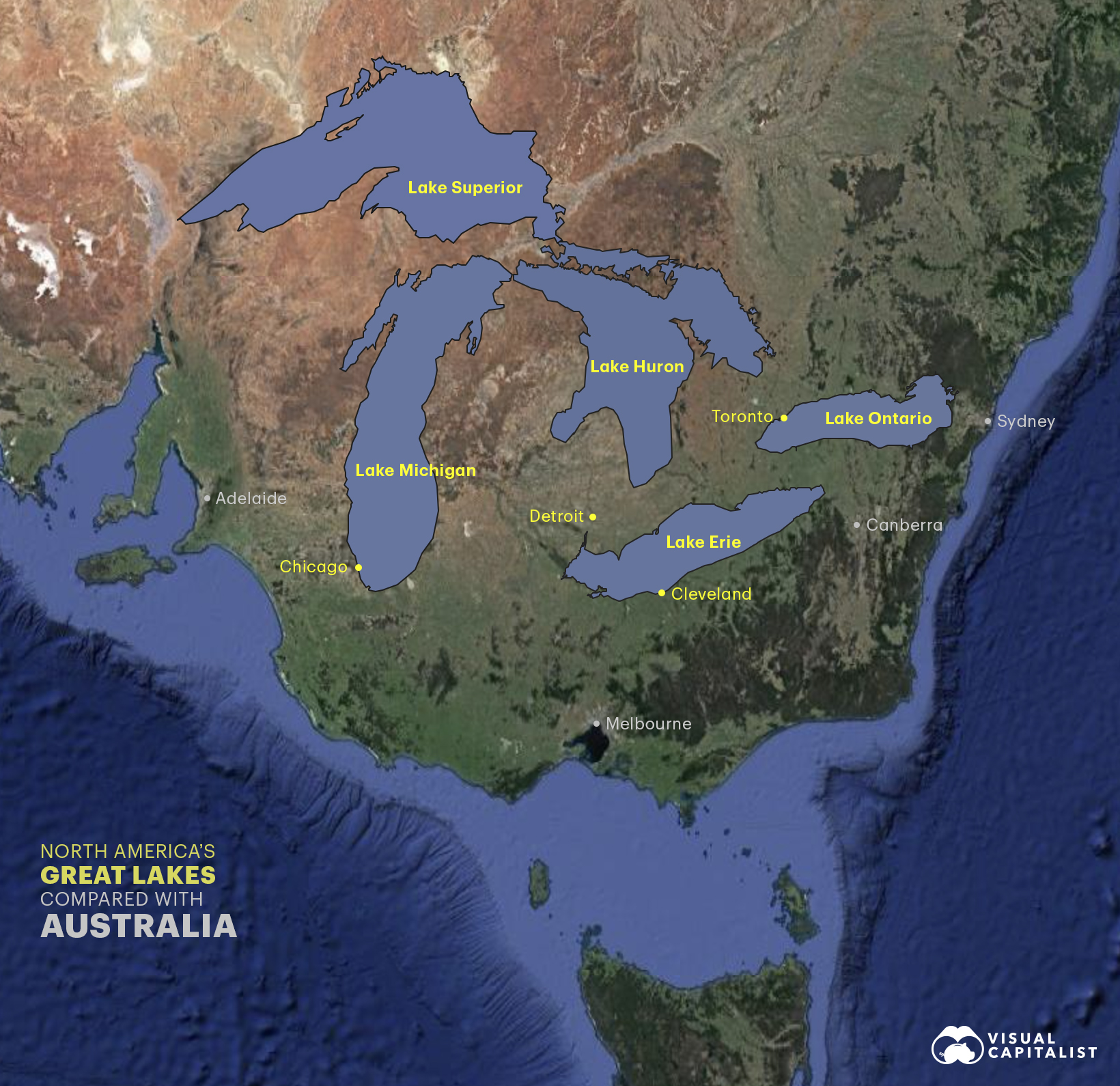 Australia's lack of glacial history means that there are few permanent freshwater lakes in the country. Many of the country's largest lakes only fill up during periods of excessive rainfall.
Shrinking out of the rankings
Not far from the world's largest lake, straddling the border between Kazakhstan and Uzbekistan, lay the sand dunes of the Aralkum Desert. In the not so distant past, this harsh environment was actually the bed of one of the largest lakes in the world – the Aral Sea.
For reasons both climatic and anthropogenic, the Aral Sea began receding in the 1960s. This dramatic change in surface area took the Aral Sea from the fourth largest lake on Earth to not even ranking in the top 50. Researchers note that the size of the lake has fluctuated a lot over history, but through the lens of modern history these recent changes happened rapidly, leaving local economies devastated and former shoreside towns landlocked.
Lake Chad, in Saharan Africa, and Lake Urmia, in Iran, both face similar challenges, shrinking dramatically in recent decades.
How we work to reverse damage and avoid ecosystem collapse in vulnerable lakes will have a big influence on how the top 25 list may look in future years.