Ranked: The World's Black Billionaires in 2021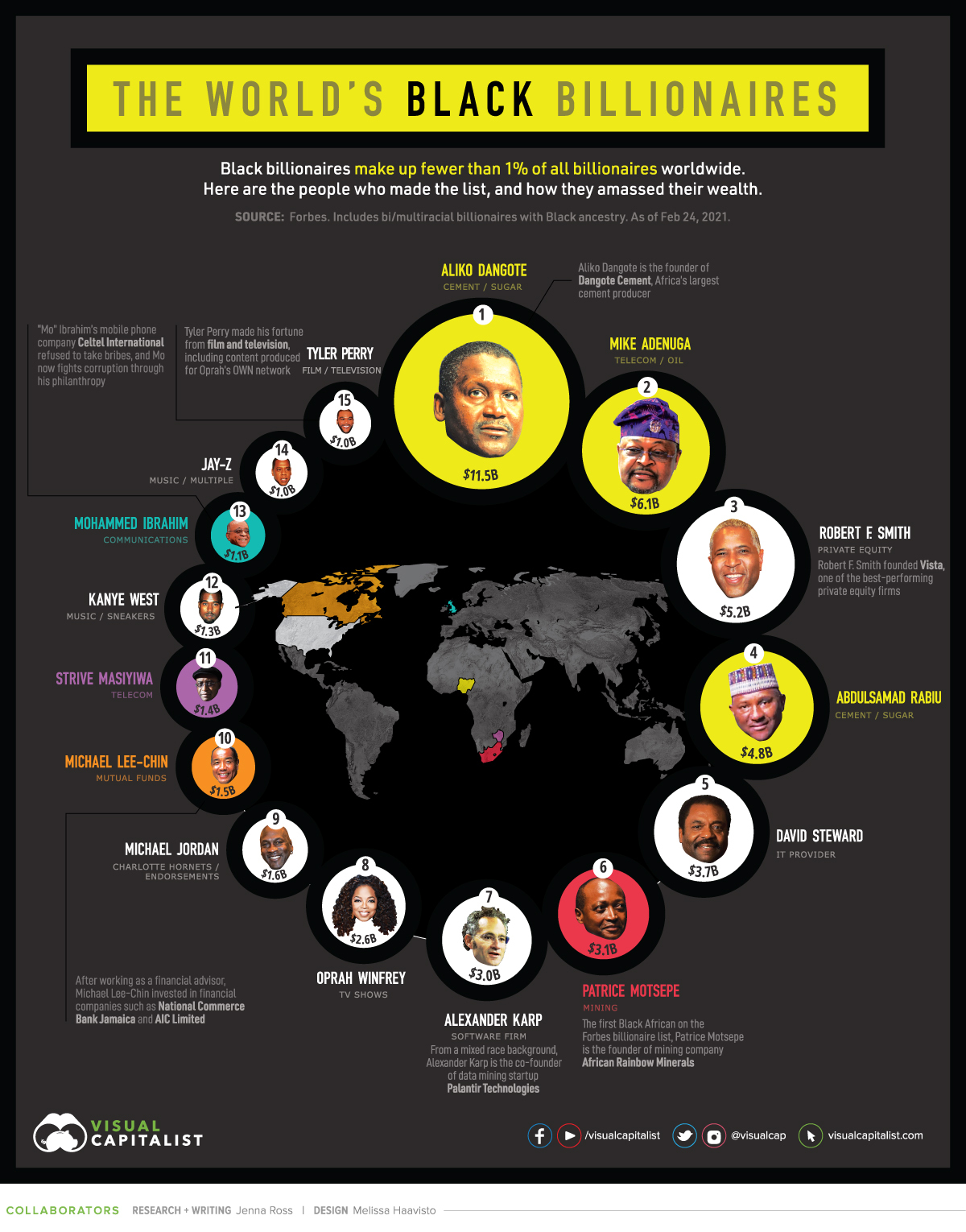 The World's Black Billionaires in 2021
Black billionaires make up fewer than 1% of all billionaires worldwide. Who are the select few who made it into the ranks of the world's richest people?
In this graphic, we used the Forbes real-time billionaire list to highlight the most financially successful Black people, and the source(s) of their wealth.
Black Billionaires, Ranked
The data is as of February 24, 2021, and includes bi/multi racial individuals with Black ancestry. Altogether, there are 15 Black billionaires with a combined wealth of $48.9 billion.
Here is the how the full list breaks down:

| Rank | Name | Net Worth | Citizenship | Source |
| --- | --- | --- | --- | --- |
| 1 | Aliko Dangote | $11.5B | Nigeria | Cement, sugar |
| 2 | Mike Adenuga | $6.1B | Nigeria | Telecom, oil |
| 3 | Robert F. Smith | $5.2B | United States | Private equity |
| 4 | Abdulsamad Rabiu | $4.8B | Nigeria | Cement, sugar |
| 5 | David Steward | $3.7B | United States | IT provider |
| 6 | Patrice Motsepe | $3.1B | South Africa | Mining |
| 7 | Alexander Karp | $3.0B | United States | Software firm |
| 8 | Oprah Winfrey | $2.6B | United States | TV shows |
| 9 | Michael Jordan | $1.6B | United States | Charlotte Hornets, endorsements |
| 10 | Michael Lee-Chin | $1.5B | Canada | Mutual funds |
| 11 | Strive Masiyiwa | $1.4B | Zimbabwe | Telecom |
| 12 | Kanye West | $1.3B | United States | Music, sneakers |
| 13 | Mohammed Ibrahim | $1.1B | United Kingdom | Communications |
| 14 | Shawn Carter (Jay-Z) | $1.0B | United States | Music, multiple |
| 15 | Tyler Perry | $1.0B | United States | Movies, television |
Aliko Dangote is the richest Black billionaire, and has held the title since 2013. He owns 85% of publicly-traded Dangote Cement, Africa's largest cement producer. The company's stock price went up more than 30% over the last year. In addition, Dangote also has investments in salt and sugar manufacturing companies.
The fifth richest Black person, David Steward, owns the technology solutions provider World Wide Technology. Steward had decided he wanted to be part of the technological revolution and founded the company in 1990, before the first internet browser had even been created. The company has since grown to be the largest Black-owned business in America with over $13.4 billion in annual revenue and more than 7,000 employees.
Best known for his music career, Shawn Carter, more commonly known as Jay-Z, is number 14 on the list. However, the rapper's wealth goes far beyond his music. Jay-Z has built a diversified business empire, including investments in a fine art collection, an entertainment company, a clothing line, and alcohol brands. He recently sold half of his champagne brand to LVMH, the parent company of Dom Pérignon.
Unequal Representation
Unfortunately, little progress has been made with regards to the proportion of Black billionaires. Since 2011, Black billionaires have made up fewer than 1% of all billionaires worldwide.
In absolute numbers, the total number of billionaires rose by over 1,100 while the number of Black billionaires rose by just nine people.
The number of Black billionaires also falls very short of being representative of the general population. For example, only 8 or 1.2% of America's 665 billionaires are Black. By contrast, Black people make up 12.2% of the U.S. population.
Breaking Through Barriers
There is still a large racial wealth gap between Black people and White people—even at the highest levels of financial achievement. However, despite these racial and systemic barriers, 14 of the 15 Black billionaires are self-made, meaning they built their wealth from the ground up. Who will be next to join the ranks?
"Innovation doesn't happen without a person of color or a diversity of thought being at the table in order to challenge the status quo."
—David Steward
The Richest People in Human History, to the Industrial Revolution
What do Augustus Caesar, Cosimo de Medici, Mansa Musa, and Genghis Khan have in common? They were some of the richest people in all of history.
The Richest People in Human History, to the Industrial Revolution
Click here for a larger, more legible version of the infographic that you can explore in-depth.
When we think of wealth today, we often think of the massive personal fortunes of business magnates like Bill Gates, Elon Musk, Jeff Bezos, or Warren Buffett. However, it is only since the Industrial Revolution that measuring wealth by one's bank account has been a norm for the world's richest.
For most of recorded human history, in fact, the lines around wealth were quite blurred. Leaders like Augustus Caesar or Emperor Shenzong had absolute control of their empires—while bankers like Jakob Fogger and Cosimo de Medici were often found pulling the strings from behind.
This infographic we created with Texas Precious Metals focuses on the richest people in history up until the Industrial Revolution, and it highlights key facts and anecdotes on how they created their wealth.
Is This List of People Definitive?
While it is certainly fun to speculate on the wealth of people from centuries past, putting together this list is exceptionally difficult and certainly not definitive.
Here's why:
Firstly, much wealth in early periods is tied to land (Genghis Khan) or entire empires (Augustus, Akbar), which makes calculations extremely subjective. What is most of Asia's land worth in the year 1219? What separates personal fortune from the riches of an empire that one has full control of? There are a wide variety of answers to these questions, and they all influence the figures chosen to be represented.
Secondly, records kept from Ancient eras are scarce, exaggerated, or based on legends and oral histories. Think of King Solomon or Mansa Musa—these are characters described as immeasurably rich, so trying to put their wealth in modern context is fun, but certainly not guaranteed to be historically accurate.
Lastly, wealth and conversion rates can be approached in different ways as well. Take Crassus in the Roman Republic, who had a peak fortune of "200 million sesterces". Well, that's a problem for us in modernity, because that stash could be worth anywhere from $200 million to $169.8 billion, depending on how calculations are done.
So, enjoy this list of the wealthiest historical figures, but keep in mind that it is mostly for fun—and that the list of the richest people in history may change depending on who you ask!
Is $1 Million Enough for Retirement in America?
The average American needs their retirement savings to last them over a decade. In which cities is $1 million enough to retire comfortably?
Is $1 Million Enough for Retirement in America?
The average American needs their retirement savings to last them 14 to 17 years. With this in mind, is $1 million in savings enough for the average retiree?
Ultimately, it depends on where you live, since the average cost of living varies across the country. This graphic, using data compiled by GOBankingRates.com shows how many years $1 million in retirement savings lasts in the top 50 most populated U.S. cities.
Editor's note: As one user rightly pointed out, this analysis doesn't take into account interest earned on the $1 million. With that in consideration, the above calculations could be seen as very conservative figures.
How Long $1 Million Would Last in 50 Cities
To compile this data, GOBankingRates calculated the average expenditures of people aged 65 or older in each city, using data from the Bureau of Labor Statistics and cost-of-living indices from Sperling's Best Places.
That figure was then reduced to account for average Social Security income. Then, GOBankingRates divided the one million by each city's final figure to calculate how many years $1 million would last in each place.
Perhaps unsurprisingly, San Francisco, California came in as the most expensive city on the list. $1 million in retirement savings lasts approximately eight years in San Francisco, which is about half the time that the typical American needs their retirement funds to last.
City
How long $1 would last (years)
Cost-of-living Index
Annual expenditures
(after using annual Social Security)
Memphis, TN
45.3
76
$22,043
El Paso, TX
40.3
81.4
$24,789
Wichita, KS
39.7
82.1
$25,145
Tulsa, OK
38.8
83.2
$25,705
Indianapolis, IN
38.6
83.5
$25,857
Milwaukee, WI
37.6
84.9
$26,569
Oklahoma City, OK
37.3
85.4
$26,824
Columbus, OH
37.2
85.5
$26,875
Kansas City, MO
36.7
86.2
$27,231
Detroit, MI
35.8
87.6
$27,943
Baltimore, MD
35.3
88.2
$28,248
Louisville, KY
35.3
88.4
$28,349
San Antonio, TX
34.4
89.7
$29,011
Omaha, NE
34.3
89.8
$29,062
Albuquerque, NM
33.6
91.1
$29,723
Tucson, AZ
33.3
91.6
$29,977
Jacksonville, FL
32.3
93.5
$30,943
New Orleans, LA
30.8
96.3
$32,367
Houston, TX
30.8
96.5
$32,469
Charlotte, NC
29.6
98.9
$33,690
Forth Worth, TX
29.3
99.8
$34,148
Arlington, TX
28.8
100.6
$34,554
Philadelphia, PA
28.6
101.2
$34,860
Nashville, TN
28.5
101.4
$34,961
Dallas, TX
28.4
101.6
$35,063
Raleigh, NC
28.2
102.3
$35,419
Fresno, CA
28.1
102.6
$35,572
Phoenix, AZ
27.6
103.7
$36,131
Mesa, AZ
27.4
104.2
$36,385
Colorado Springs, CO
27.3
104.5
$36,538
Virginia Beach, VA
26.9
105.6
$37,097
Minneapolis, MN
26.6
106.5
$37,555
Chicago, IL
26.4
106.9
$37,759
Atlanta, GA
26.3
107.5
$38,064
Las Vegas, NV
24.8
111.6
$40,149
Sacramento, CA
22.9
118.2
$43,506
Austin, TX
22.7
119.3
$44,065
Miami, FL
21.7
123.1
$45,998
Denver, CO
20.4
128.7
$48,846
Portland, OR
20.0
130.8
$49,914
Washington, D.C.
16.4
152.1
$60,747
San Diego, CA
15.4
160.1
$64,816
Long Beach, CA
15.3
160.4
$64,969
Boston, MA
15.1
162.4
$65,986
Seattle. WA
14.0
172.3
$71,021
Los Angeles, CA
13.9
173.3
$71,530
Oakland, CA
13.8
174.4
$72,089
New York, NY
12.7
187.2
$78,599
San Jose, CA
10.8
214.5
$92,484
San Francisco, CA
8.3
269.3
$120,355
A big factor in San Francisco's high cost of living is its housing costs. According to Sperlings Best Places, housing in San Francisco is almost 6x more expensive than the national average and 3.6x more expensive than in the overall state of California.
Four of the top five most expensive cities on the list are in California, with New York City being the only outlier. NYC is the third most expensive city on the ranking, with $1 million expected to last a retiree about 12.7 years.
On the other end of the spectrum, $1 million in retirement would last 45.3 years in Memphis, Tennessee. That's about 37 years longer than it would last in San Francisco. In Memphis, housing costs are about 2.7x lower than the national average, with other expenses like groceries, health, and utilities well below the national average as well.
Retirement, Who?
Regardless of where you live, it's helpful to start planning for retirement sooner rather than later. But according to a recent survey, only 41% of women and 58% of men are actively saving for retirement.
However, for some, COVID-19 has been the financial wake-up call they needed to start planning for the future. In fact, in the same survey, 70% of respondents claimed the pandemic has "caused them to pay more attention to their long-term finances."
This is good news, considering that people are living longer than they used to, meaning their funds need to last longer in general (or people need to retire later in life). Although, as the data in this graphic suggests, where you live will greatly influence how much you actually need.