Comparing Luxury Investment Around the World
Comparing Luxury Investment Around the World
Do you enjoy the finer things in life? For many of the world's wealthy individuals, acquiring luxury goods such as art, fine wine, and watches is a passion.
Unlike traditional investments in financial assets, luxury goods can be difficult to value if one does not have an appreciation for their form. A rare painting, for example, does not generate cash flows, meaning its value is truly in the eye of the beholder.
To gain some insight into the market for luxury goods, this infographic takes data from Knight Frank's 2021 Wealth Report to compare the preferences of nine global regions.
Global Tastes in Luxury Goods
To rank the most popular luxury investments in 2020, Knight Frank surveyed over 600 private bankers, wealth advisors, and family offices. The following table summarizes their findings, as well as each category's growth according to the Knight Frank Luxury Investment Index.
| Global Average Ranking | Category | 10-year growth in asset values (%) |
| --- | --- | --- |
| 1 | Art | 71% |
| 2 | Classic cars | 193% |
| 3 | Watches | 89% |
| 4 | Wine | 127% |
| 5 | Jewelry | 67% |
| 6 | Rare whiskey | 478% |
| 7 | Furniture | 22% |
| 8 | Colored diamonds | 39% |
| 9 | Coins | 72% |
| 10 | Handbags | 108% |
Art was unmistakably the top category for 2020, ranking first in every geographic region except Africa and Asia, where it placed second instead. The global market for artwork was estimated to be worth $64 billion in 2019, and is often facilitated through auction houses such as Sotheby's.
In terms of asset appreciation, rare whiskeys have climbed the most in value over the past 10 years. Connoisseurs of this spirit will be familiar with distilleries like The Macallan, whose rare bottles can sell for more than a million dollars.
Comparing Luxury Investment Between North America and Asia
Below, we've compared the rankings of Asia and North America to get a better idea of how preferences can vary.
The biggest differences here are watches, which ranked first in Asia but fourth in North America, and classic cars, which ranked second in North America but fifth in Asia. The remaining eight categories took similar spots across the two regions.
| Rank | Asia Popularity | North America Popularity |
| --- | --- | --- |
| 1 | Watches | Art |
| 2 | Art | Classic cars |
| 3 | Jewelry | Wine |
| 4 | Wine | Watches |
| 5 | Classic cars | Jewelry |
| 6 | Rare whiskey | Rare whiskey |
| 7 | Handbags | Furniture |
| 8 | Furniture | Handbags |
| 9 | Colored diamonds | Coins (tied for 8th place) |
| 10 | Coins | Colored diamonds |
Asia's stronger preference for watches was likely driven by Chinese consumers, who are now the biggest buyers of luxury watches globally. Demand throughout the COVID-19 pandemic proved resilient, with exports of Swiss watches to China increasing by 17.1% between January and November 2020.
Classic cars, on the other hand, may be more popular in North America due to the region's longer automotive history. Two of America's most iconic automakers, Ford and General Motors, have both been around for over a century!
The Biggest Sales of 2020
Here were some of the most extravagant and noteworthy luxury sales from 2020.
Art
Francis Bacon's 1981 Triptych Inspired by the Oresteia of Aeschylus was sold by Sotheby's for $84.6 million in June 2020. A triptych is an artwork that is divided into three sections but displayed as a single piece.
Other paintings by Francis Bacon have sold for even larger amounts. In 2013, Three Studies of Lucian Freud was sold by Christie's auction house for $142 million.
Classic Cars
A 1932 Bugatti Type 55 Super Sport Roadster sold for $7.1 million in March 2020, making it one of the biggest classic car sales of the year.
Founded in 1909, Bugatti has produced some of the world's most sought-after cars. The French brand was acquired by the Volkswagen Group in 1998, and since then, has released numerous special edition cars with price tags reaching well into the millions.
Handbags
An Hermès Himalaya Niloticus Crocodile Retourné Kelly 25 sold for $437,330 in November 2020, becoming the most expensive handbag ever sold at an auction. Founded in 1837, Hermès is commonly regarded as one of the world's most prestigious makers of handbags.
COVID-19 Dampens Luxury Investment
When compared to 2019, total sales for Sotheby's declined 16% in 2020, while Christie's, another leading auction house, reported a 25% decline. Despite these decreases, executives remain optimistic.
"The art and luxury markets have proven to be incredibly resilient, and demand for quality across categories is unabated."
– Charles Stewart, CEO, Sotheby's
The industry has been largely successful in transitioning to online operations, with Sotheby's reporting that 70% of its auctions in 2020 were held online, up from 30% in the previous year.
Visualizing Population Density Patterns in Six Countries
These maps show the population density of several countries, using 3D spikes to denote where more people live.

Creator Program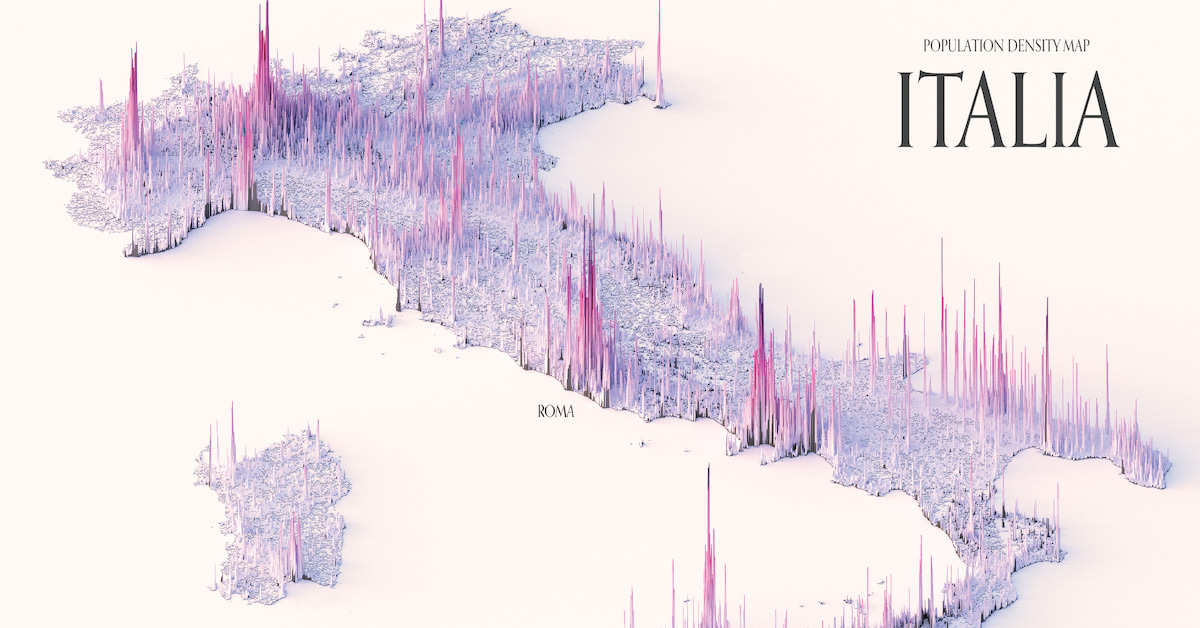 As of 2022, Earth has 8 billion humans. By 2050, the population is projected to grow to 10 billion.
In the last 100 years, the global population more than quadrupled. But none of this growth has been evenly spread out, including within countries.
This series of 3D maps from Terence Teo, an associate professor at Seton Hall University, renders the population density of six countries using open-source data from Kontur Population. He used popular programming language R and a path-tracing package, Rayshader, to create the maps.
France and Germany: Population Density Spikes and Troughs
Let's take a look at how the population spreads out in different countries around the world. Click the images to explore higher-resolution versions.
France is the world's 7th largest economy and second-most-populous country in the EU with 65 million people. But a staggering one-fifth of the French population lives in Paris and its surrounding metro—the most populous urban area in Europe.
Many residents in the Paris metropolitan area are employed in the service sector, which makes up one-third of France's $2.78 trillion gross domestic product.
Unlike France, Germany has many dense cities and regions, with Berlin, Munich, Stuttgart, and Cologne all having over a million residents. Berlin is the most populated at 3.5 million residents in the city proper, and 6 million in the wider urban area.
That said, the relatively recent reunification of West and East Germany in 1991 meant that post-WWII growth was mostly concentrated in West Germany (and West Berlin).
Italy and Chile: Coast to Coast
In Italy, another phenomenon affects population density and urban development—a sprawling coastline.
Despite having a large population of 59 million and large metropolitan areas throughout, Italy's population spikes are closer to the water.
The port cities of Genoa, Napoli, and Palermo all have large spikes relative to the rest of the country, as does the capital, Rome. Despite its city center located 15 miles inland from the sea, it extends to the shore through the district of Ostia, where the ancient port of Rome existed.
Meanwhile in Chile, stuck between the Andes to the east and the Pacific Ocean to the west, population spikes corroborate with its many port towns and cities.
However, the country is more concentrated than Italy, with 40% of its residents congregating around the capital of Santiago.
Turkey and Canada: Marred by Mountains and Climes
Though Chile has difficulties with terrain, it is relatively consistent. Other countries have to attempt to settle many different climes—regions defined by their climates.
Mountains to the south and east, a large, semi-arid plateau, and even a small desert leave few centers of urban growth in Türkiye.
Predictably, further west, as the elevation comes down to the Aegean and Mediterranean Seas, population spikes begin to heighten. The largest of course is the economic and cultural hub of Istanbul, though the capital Ankara is also prominent with more than 5 million residents.
In Canada, the Rocky Mountains to the west and freezing cold temperatures in the center and north account for the large country's relative emptiness.
Though population spikes in Western Canada are growing rapidly, highly populous urban centers are noticeably concentrated along the St. Lawrence River, with the Greater Toronto Area accounting for more than one-sixth of the country's 39 million people.
Increasing Urbanization
According to the World Bank, more than half of the world's population currently lives in cities, and that trend is only growing.
By 2050, 7 out of 10 people are projected to live in cities. This congregation makes cities a beehive of productivity and innovation—with more than 80% of the world's GDP being generated at these population centers.
It's in this context that mapping and studying urban development becomes all the more important, particularly as policymakers try their hand at sustainable urban planning.
As Teo puts it:
"By showing where people are (and are not), they show us where political and economic power is concentrated, and perhaps where and who our governments represent."