Comparing Luxury Investment Around the World
Comparing Luxury Investment Around the World
Do you enjoy the finer things in life? For many of the world's wealthy individuals, acquiring luxury goods such as art, fine wine, and watches is a passion.
Unlike traditional investments in financial assets, luxury goods can be difficult to value if one does not have an appreciation for their form. A rare painting, for example, does not generate cash flows, meaning its value is truly in the eye of the beholder.
To gain some insight into the market for luxury goods, this infographic takes data from Knight Frank's 2021 Wealth Report to compare the preferences of nine global regions.
Global Tastes in Luxury Goods
To rank the most popular luxury investments in 2020, Knight Frank surveyed over 600 private bankers, wealth advisors, and family offices. The following table summarizes their findings, as well as each category's growth according to the Knight Frank Luxury Investment Index.
| Global Average Ranking | Category | 10-year growth in asset values (%) |
| --- | --- | --- |
| 1 | Art | 71% |
| 2 | Classic cars | 193% |
| 3 | Watches | 89% |
| 4 | Wine | 127% |
| 5 | Jewelry | 67% |
| 6 | Rare whiskey | 478% |
| 7 | Furniture | 22% |
| 8 | Colored diamonds | 39% |
| 9 | Coins | 72% |
| 10 | Handbags | 108% |
Art was unmistakably the top category for 2020, ranking first in every geographic region except Africa and Asia, where it placed second instead. The global market for artwork was estimated to be worth $64 billion in 2019, and is often facilitated through auction houses such as Sotheby's.
In terms of asset appreciation, rare whiskeys have climbed the most in value over the past 10 years. Connoisseurs of this spirit will be familiar with distilleries like The Macallan, whose rare bottles can sell for more than a million dollars.
Comparing Luxury Investment Between North America and Asia
Below, we've compared the rankings of Asia and North America to get a better idea of how preferences can vary.
The biggest differences here are watches, which ranked first in Asia but fourth in North America, and classic cars, which ranked second in North America but fifth in Asia. The remaining eight categories took similar spots across the two regions.
| Rank | Asia Popularity | North America Popularity |
| --- | --- | --- |
| 1 | Watches | Art |
| 2 | Art | Classic cars |
| 3 | Jewelry | Wine |
| 4 | Wine | Watches |
| 5 | Classic cars | Jewelry |
| 6 | Rare whiskey | Rare whiskey |
| 7 | Handbags | Furniture |
| 8 | Furniture | Handbags |
| 9 | Colored diamonds | Coins (tied for 8th place) |
| 10 | Coins | Colored diamonds |
Asia's stronger preference for watches was likely driven by Chinese consumers, who are now the biggest buyers of luxury watches globally. Demand throughout the COVID-19 pandemic proved resilient, with exports of Swiss watches to China increasing by 17.1% between January and November 2020.
Classic cars, on the other hand, may be more popular in North America due to the region's longer automotive history. Two of America's most iconic automakers, Ford and General Motors, have both been around for over a century!
The Biggest Sales of 2020
Here were some of the most extravagant and noteworthy luxury sales from 2020.
Art
Francis Bacon's 1981 Triptych Inspired by the Oresteia of Aeschylus was sold by Sotheby's for $84.6 million in June 2020. A triptych is an artwork that is divided into three sections but displayed as a single piece.
Other paintings by Francis Bacon have sold for even larger amounts. In 2013, Three Studies of Lucian Freud was sold by Christie's auction house for $142 million.
Classic Cars
A 1932 Bugatti Type 55 Super Sport Roadster sold for $7.1 million in March 2020, making it one of the biggest classic car sales of the year.
Founded in 1909, Bugatti has produced some of the world's most sought-after cars. The French brand was acquired by the Volkswagen Group in 1998, and since then, has released numerous special edition cars with price tags reaching well into the millions.
Handbags
An Hermès Himalaya Niloticus Crocodile Retourné Kelly 25 sold for $437,330 in November 2020, becoming the most expensive handbag ever sold at an auction. Founded in 1837, Hermès is commonly regarded as one of the world's most prestigious makers of handbags.
COVID-19 Dampens Luxury Investment
When compared to 2019, total sales for Sotheby's declined 16% in 2020, while Christie's, another leading auction house, reported a 25% decline. Despite these decreases, executives remain optimistic.
"The art and luxury markets have proven to be incredibly resilient, and demand for quality across categories is unabated."
– Charles Stewart, CEO, Sotheby's
The industry has been largely successful in transitioning to online operations, with Sotheby's reporting that 70% of its auctions in 2020 were held online, up from 30% in the previous year.

These Powerful Maps Show the Extremes of U.S. Population Density
The U.S. population is spread across a huge amount of land, but its distribution is far from equal. These maps are a unique look at population density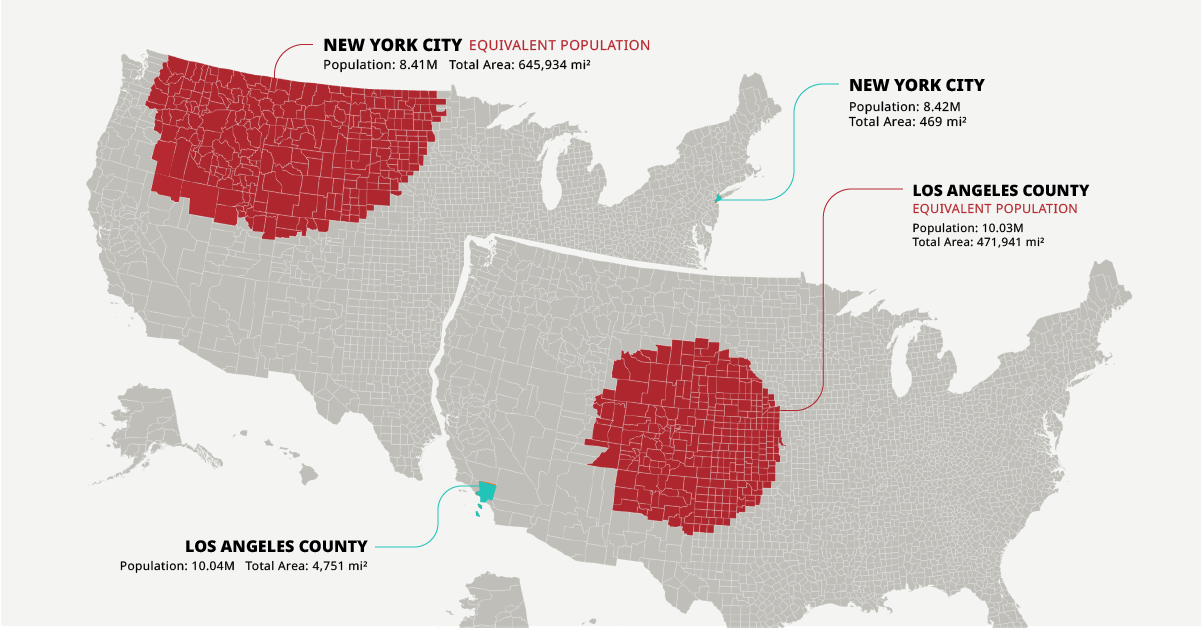 America's 328 million people are spread across a huge amount of territory, but the population density of various regions is far from equal.
It's no secret that cities like New York have a vastly different population density than, say, a rural county in North Dakota. Even so, this interactive map by Ben Blatt of Slate helps visualize the stark contrast between urban and rural densities in a way that might intrigue you.
How many counties does it take to equal the population of these large urban areas? Let's find out.
New York City's Rural Equivalent
New York City (proper) Population: 8.42 million
New York City Population density: 27,547 persons / mi²
New York City became the largest city in the U.S. back in 1781 and has long been the country's most densely packed urban center. Today, 1 in every 38 people living in the United States resides in The Big Apple.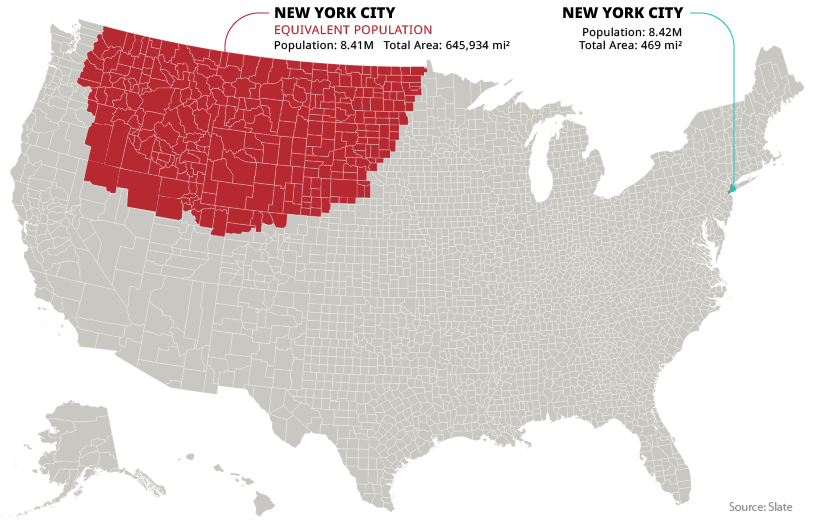 For the northwestern counties above to match the population of New York City, it takes a land area around the size of Mongolia. The region shown above is 645,934 mi², and runs through portions of 12 different states.
In order to match the population of the entire New York metropolitan area, which holds 18 million people and includes adjacent cities and towns in New York state, New Jersey, and Connecticut, the above equivalent area would have to be even more massive.
Los Angeles County's Rural Equivalent
LA County Population: 10.04 million
LA County Population density: 2,100 persons / mi²
Los Angeles County is home to the 88 incorporated cities that make up the urban area of Los Angeles.
Even excluding nearby population centers such as Anaheim, San Bernadino, and Riverside (which are located in adjacent counties) it is still the most populous county in the United States, with over 10 million inhabitants.
To match this enormous scale in Middle America, it would take 298 counties covering an area of 471,941 mi².
Chicago's Rural Equivalent
Chicago Metropolitan Area Population: 9.53 million
Chicago Metropolitan Area Population density: 1,318 persons / mi²
Next up is America's third largest city, Chicago. For this visualization, we're using the Chicago metropolitan area, which covers the full extent of the city's population.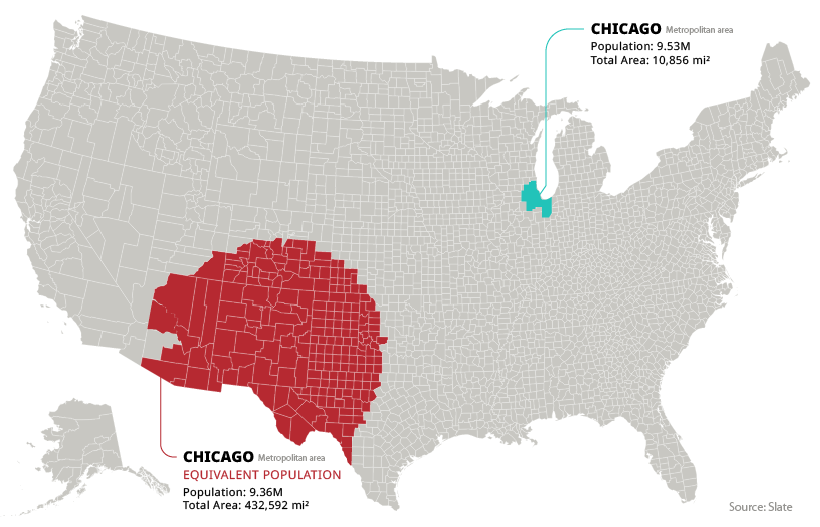 To match the scale of the population of the Windy City, we would need to add up every county in New Mexico, along with large portions of Colorado, Arizona, and Texas.
Turning the Tables?
Conversely, what if we transported the people in the country's least densely populated counties into the middle of an urban center?
| Rank | County | Population |
| --- | --- | --- |
| 1 | Kalawao County, Hawaii | 86 |
| 2 | Loving County, Texas | 169 |
| 3 | King County, Texas | 272 |
| 4 | Kenedy County, Texas | 404 |
| 5 | Arthur County, Nebraska | 463 |
As it turns out, the total population of the five least populated counties is just 1,394—roughly the same amount of people that live on the average Manhattan block.

Visualized: Comparing the Titanic to a Modern Cruise Ship
The sheer size of the Titanic was a sight to behold in 1912, but over 100 years later, how does this vessel compare to a modern cruise ship?
Remembering the Tragedy of the Titanic
When the Titanic was completed on April 2, 1912, it was the largest and perhaps most luxurious ship in the world. The vessel could hold over 3,300 people including crew members, and boasted various amenities including a swimming pool and squash court.
The Titanic's impressive size attracted many of the world's wealthiest individuals, and on April 10, 1912, it set out on its maiden voyage. Just five days later, the ship sank after hitting an iceberg, resulting in more than 1,500 deaths.
It's been over 100 years since the Titanic's demise, so how have passenger ships evolved?
To find out, we've visualized it beside Royal Caribbean's Symphony of the Seas, currently the world's largest cruise ship.
The Size of the Titanic, in Perspective
The following table lists the dimensions of both ships to provide a better understanding of the Titanic's relative size.
| | RMS Titanic | Symphony of the Seas |
| --- | --- | --- |
| Year Built | 1912 | 2018 |
| Length | 882ft (269m) | 1,184ft (361m) |
| Width | 92ft (28m) | 215ft (66m) |
| Height | 175ft (53m) | 238ft (73m) |
| Internal volume | 46,328 gross register tonnage (grt) | 228,081 gross tonnage (gt) |
| Passengers | 2,435 | 6,680 |
| Crew | 892 | 2,200 |
Source: Owlcation, Insider
Note: Gross register tonnage (grt) is a historic measure of a ship's internal volume. This metric was replaced by gross tonnage (gt) on July 18, 1982.
One of the biggest differences between these two ships is width, with the latter being more than twice as wide. This is likely due to the vast amenities housed within the Symphony of the Seas, which includes 24 pools, 22 restaurants, 2 rock climbing walls, an ice-skating rink, and more. With accommodations for 6,680 passengers, the Symphony of the Seas also supports a crew that is 147% larger.
The Symphony of the Seas clearly surpasses the Titanic in terms of size, but there's also a substantial difference in cost. When converted to today's dollars, the bill for the Titanic equates to roughly $400 million, less than half of the Symphony of the Seas' cost of $1.35 billion.
Lessons Learned from the Disaster
Inadequate safety preparations were a contributor to the Titanic's high death toll. During its journey, the vessel carried enough lifeboats to accommodate just 33% of its total passengers and crew. This was legal at the time, as regulations based a ship's number of required lifeboats on its weight, rather than its passenger capacity.
To make matters worse, investigations determined that the Titanic's lifeboats had not been used to their full capacity, and that a scheduled lifeboat drill had been cancelled by the ship's captain. These shortfalls, among others, paved the way for numerous improvements in maritime safety regulation.
These include the creation of the International Convention for the Safety of Life at Sea Treaty (SOLAS) in 1914, which is still in force today. Regarded as the most important international treaty on ship safety, SOLAS has been updated numerous times and is followed by 164 states, which together flag 99% of merchant ships (by gross tonnage) on the high seas today.