Animation: The Collapse of the Middle Class in 20 Major U.S. Cities
When future historians look back at the beginning of the 21st century, they'll note that we grappled with many big issues.
They'll write about the battle between nationalism and globalism, soaring global debt, a dysfunctional healthcare system, societal concerns around automation and AI, and pushback on immigration. They will also note the growing number of populist leaders in Western democracies, ranging from Marine Le Pen to Donald Trump.
However, these historians will not view these ideas and events in isolation. Instead, they will link them all, at least partially, to an overarching trend that is intimately connected to today's biggest problems: the "hollowing out" of the middle class.
Visualizing the Collapse of the Middle Class
The fact is many people have less money in their pockets – and understandably, this has motivated people to take action against the status quo.
And while the collapse of the middle class and income inequality are issues that receive a fair share of discussion, we thought that this particular animation from Metrocosm helped to put things in perspective.
The following animation shows the change in income distribution in 20 major U.S. cities between 1970 and 2015:
The differences between 1970 and 2015 are intense. At first, each distribution is more bell-shaped, with the majority of people in a middle income bracket – and by 2015, those people are "pushed" out towards the extremes as they either get richer or poorer.
A Broader Look at Income Inequality
This phenomenon is not limited to major cities, either.
Here's another look at the change in income distribution using smaller brackets and the whole U.S. adult population:
Courtesy of: FT (h/t Metrocosm)
It's a multi-faceted challenge, because while a significant portion of middle class households are being shifted into lower income territory, there are also many households that are doing the opposite. According to Pew Research, the percentage of households in the upper income bracket has grown from 14% to 21% between 1971 and 2015.
The end result? With people being pushed to both ends of the spectrum, the middle class has decreased considerably in size. In 1971, the middle class made up 61% of the adult population, and by 2014 it accounted for less than 50%.
As this "core" of society shrinks, it aggravates the aforementioned problems. People and governments borrow more money to make up for a lack of middle class wealth, while backlashes against globalism, free trade, and open borders are fueled. The populists who can "fix" the broken system are elected, and so on.
5 Undeniable Long-Term Trends Shaping Society's Future
We can't predict the future, but we can prepare for it. Here's a look at 5 long-term trends that are set to transform society as we know it.
We're living in a world of rapid change, where disruption is the norm and innovation is the only way to stay relevant.
The dynamic nature of society makes it difficult to decipher. However, despite the world's complexity, there are some long-term trends that have emerged among the chaos. These help us make sense of the world today, and can give us an idea of what to expect in years ahead.
Here's a look at five long-term trends that are set to transform society as we know it.
The following article uses charts and data from our new book Signals (hardcover, ebook) which covers the 27 macro trends transforming the global economy and markets. In some cases, where appropriate, we've added in the most recent projections and data.
#1: Aging World
With every successive year, our global population is skewing older.
Since 1970, our worldwide median age has grown by almost a decade. By 2100, it's projected to increase by another 10 years.
Of course, not all countries are aging at the same rate.
Using data from the UN, the graph below covers the old-age dependency ratios (OADR) of different regions, showing the proportion of working-age citizens versus the percentage of older people, who are less likely to remain in the workforce.
What's the economic impact of an aging population? Some potential risks include rising healthcare costs, a shrinking workforce, and even economic slowdowns.
To mitigate some of these risks, it's crucial that countries build solid pension systems to support their aging citizens. Other potential solutions include increasing the age of retirement, enforcing mandatory retirement plans, and limiting early access to benefits.
Aging populations are also influencing the make-up of households in many countries. In the U.S., the share of multigenerational family households has been rising steadily since the 1970s.
At a societal level, people in the oldest age groups often play a different role in society than working age people. Many seniors engage in volunteerism and play a pivotal role in childcare for their families–activities that fall outside traditional measures of economic activity.
#2: Urban Evolution
Another macro trend that's set to transform many regions of the world is rapid urbanization.
Currently, more than half of the global population lives in urban areas, and this influx of city-dwellers is expected to grow even more in the years ahead.
While urbanization may seem like an long-established phenomenon, it's actually a relatively new trend, historically speaking.
Throughout human history, populations have typically lived in small villages. All the way up to the early 1800s, close to 90% of the global population still lived in rural areas. Urbanization didn't take off on a widespread scale until the 20th century.
But once urban migration started, it snowballed, and since then it's shown no signs of slowing down. By 2050, over two-thirds of the global population is expected to live in urban settings.
The Rise of Megacities
Even in developing countries, urban life is becoming the norm – a shift that is causing a boom in megacity growth.
The median population size of the world's top 100 cities has been growing steadily too – from eight million in 2000 to a projected 12 million in 2035.
Why is this happening? People tend to migrate to urban areas for socioeconomic reasons, and these economic pull-factors are particular strong in the developing world. Over time, this migration and increase in the standard of living is lifting millions of people out of poverty. This brings us to our third trend.
If you like this post, find hundreds of charts
like this in our new book "Signals":
#3: Rising Middle Class
While poverty is far from eradicated, the global middle class is growing, and fewer people are living in extreme poverty than ever before.
As the above graph shows, there was an overall increase in daily income from 1971 to 1995. By 2019, income levels had increased even further.
According to Brookings, an average of five people are entering the global middle class per second, and by 2030, the worldwide middle class population is expected to reach 5.3 billion.
As the global middle class grows, so does the market for products and services around the world. And as the middle class has more disposable income to spend, these developing markets can create new opportunities for companies and investors alike.
In fact, according to MSCI, although global equity markets are dominated by North American companies (61.5%) in terms of market capitalization, the vast majority of revenues (70.1%) come from outside North America. As the rest of the developing world gets richer, this trend is likely to accelerate.
#4: Rising Wealth inequality
People in lower-income economies aren't the only people generating more wealth—the richer are also increasing their net worth. By a lot.
Over the last few decades, the wealth of America's top 10% has increased by billions of dollars, while the middle and bottom wealth groups have stayed relatively stagnant.
What's driving this wealth inequality? One key factor is the different types of assets each wealth group owns. While the top 10% invest heavily in the stock market, other wealth groups rely on real estate as their main form of investment.
Historically, equities have had higher returns than real estate—making the rich richer and leaving the bottom 90% behind.
#5: Environmental Pressures
So far, we've touched on four demographic shifts that are transforming society as we know it. But these changes in our global population size, wealth, and consumption habits have had far-reaching consequences. This last trend touches on one of those consequences—increased environmental pressure.
Since the year 1850, the global average temperature of land areas has risen twice as fast as the global average.
Various factors have contributed to increasing temperatures, but one major source stems from human-produced greenhouse gas emissions.
What human activities contribute to global emissions the most? The biggest culprit is industrial activity—32% of total emissions, while energy use in buildings comes in second at 17%.
Our Warmer World
Why is this significant? Rising temperatures pose a risk to our ecosystems and livelihood by changing weather patterns and putting the global food supply at risk.
The past half-decade is likely to become the warmest five-year stretch in recorded history, underscoring the rapid pace of climate change. On a global scale, even a small increase in temperature can have a big impact on climate and our ecosystems.
For example, air can hold approximately 7% more moisture for every 1ºC increase, leading to an uptick in extreme rainfall events. These events can trigger landslides, increase the rate of soil erosion, and damage crops – just one example of how climate change can cause a chain reaction.
For the billions of people who live in "drylands", climate change is serving up a completely different scenario of increased intensity and duration of drought. This is particularly worrisome as 90% of people in these arid or semiarid regions live in developing economies that are still very reliant on agriculture.
As a society, we will need to take a hard look at the way we consume in order to begin mitigating these risks. Will we rise to the challenge?
If you like this post, find hundreds of charts
like this in our new book "Signals":
Charting The Growing Generational Wealth Gap
How large is the wealth gap between Millennials, Gen X, and Baby Boomers? We visualize the growing wealth disparity by generation and age.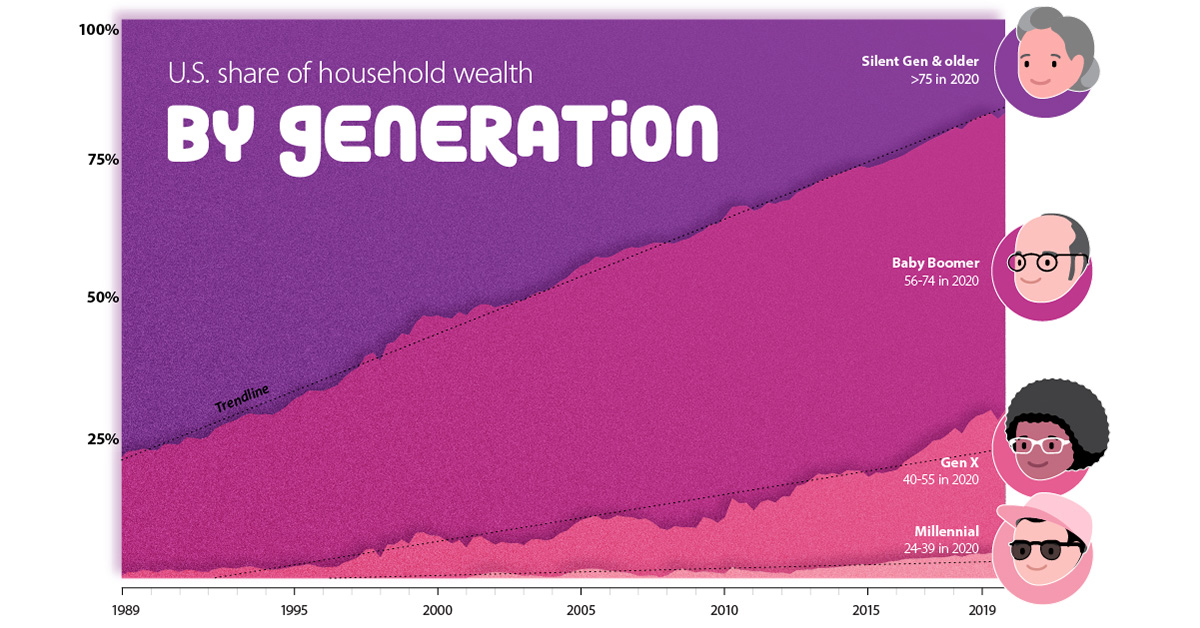 The Growing Generational Wealth Gap
As young generations usher into adulthood, they inevitably begin to accumulate and inherit wealth, a trend that has broadly remained consistent.
But what has changed recently is the rate of accumulation.
In the U.S., household wealth has traditionally seen a relatively even distribution across different age groups. However, over the last 30 years, the U.S. Federal Reserve shows that older generations have been amassing wealth at a far greater rate than their younger cohorts.
As the visual above shows, the older have been getting richer, and the younger have been starting further back than ever before.
By Generation: Baby Boomers Benefit & Millennials Lag
To examine the proportion of wealth each generation holds, it's important to clearly define each age group. Though personal definitions might differ, the U.S. Federal Reserve uses a clear metric:
| Generation | Birth Years | Age (2020) |
| --- | --- | --- |
| Silent Generation & Earlier | 1945 and earlier | 75+ |
| Baby Boomers | 1946–1964 | 56–74 |
| Generation X | 1965–1980 | 40–55 |
| Millennials | 1981–1996 | 24–39 |
Relative to younger generations growing up, the Silent Generation and Greatest Generation before them have seen a decreasing share of household wealth over the last 30 years.
However, the numerical levels have been relatively stable. For these combined generations, total wealth has gone from $16 trillion in 1989 to $19 trillion in 2019, with a peak of $27 trillion in 2007. Considering this cohort has understandably shrunk over time—from an estimated 47 million to 23 million in 2019—their individual shares of wealth have actually increased.
Immediately following are the Baby Boomers, who held more than half of U.S. household wealth towards the end of 2020. At $59 trillion, the generation holds more than ten times the amount held by a comparative number of Millennials.
| Generation | Wealth (2019) | Population (2019) | Wealth/Person |
| --- | --- | --- | --- |
| Silent Generation & Older | $18.8 Trillion | 23.0 Million | $817,391 |
| Baby Boomers | $59.4 Trillion | 71.2 Million | $834,270 |
| Generation X | $28.6 Trillion | 65.0 Million | $440,000 |
| Millennials | $5.0 Trillion | 72.6 Million | $68,871 |
With $29 trillion held in 2019, Generation X has also been gaining in wealth over the last 30 years. It's good enough for five times the wealth of Millennials, though at just $440k/person, they've fallen far behind Baby Boomers in rate of growth.
Finally, trying to catch up to their older cohorts are Millennials, who held the least amount of household wealth ($5 trillion) for the greatest population (73 million) in 2019, an average of just under $69k/person.
For a direct comparison, it took Generation X nine years to climb from their start of 0.4% of household wealth in 1989 to above 5%, while Millennials still haven't crossed that threshold. But it's not all doom and gloom for Millennials. Their rate of growth is starting to rise, with the generation's level of wealth climbing from $3 trillion in 2016 to $5 trillion in 2019.
By Age: A Growing Share for 55+
Though the generational picture is stark, the difference in U.S. household wealth by age makes the picture of shifting wealth even clearer.
Until 2001, the shares of household wealth held by different age groups were relatively stable. People aged 40-54 and 55-69 held around 35% each of household wealth, retirees aged 70+ hovered around 20%, and younger people aged under 40 held around 10%.
Since that time, however, the shift in wealth to older generations is clear. The 70+ age group has seen their share of wealth increase to 26%, while the share held by ages 55-69 has grown from 35% to almost half.
But not all ages are seeing an increasing slice of wealth. The 40-54 age group saw its share drop sharply from 36% to 22% between 2001 and 2016 before starting to recover towards the end of the decade, while the youngest cohort now hover around just 5%.
Breaking down that wealth by components is even more eye-opening. The 39 and under age group holds 37.9% of their assets in real estate, the largest share amongst any age group (and concentrated in the hands of fewer people) while older age groups have their wealth spread out across real estate, equities, and pensions.
| Assets Held by Age (Percent of Total, 2020) | 70+ | 55–69 | 40–54 | ≤39 |
| --- | --- | --- | --- | --- |
| Real estate | 21.6% | 20.5% | 27.6% | 37.9% |
| Consumer durables | 3.8% | 3.6% | 5.2% | 9.4% |
| Corporate equities and mutual fund shares | 24.6% | 23.1% | 18.6% | 8.1% |
| Pension entitlements | 16.3% | 25.0% | 21.9% | 21.0% |
| Private businesses | 7.9% | 9.7% | 12.1% | 8.1% |
| Other assets | 25.8% | 18.1% | 14.7% | 15.5% |
But the difference is as much in assets as it is in opportunity. In 1989, Baby Boomers and Generation X under 40 accounted for 13% of household wealth, compared to just 5.9% for Millennials and Generation Z under 40 in 2020.
Will the Tide Turn for Generation Z?
As new and accumulated wealth has been built up in older generations, it's a matter of time before the pendulum starts to swing the other way.
The Millennials age group are expected to inherit $68 trillion by 2030 from Baby Boomer parents. Of course, that payout isn't going to be even across the board, with wealthier families retaining the bulk of wealth and the majority of Millennials laden with debt.
And with Generation Z (born 1997-2012) starting to come of age, the uneven playing field is making it hard to begin accumulating wealth in the first place.
Since it is in the best interest of societies to have wealthy generations that can drive economic growth, potential solutions are being examined all over the political sphere. They include different taxation schemes, changing estate laws, and potentially cancelling student debt.
Whatever ends up happening, it's important to track how the distribution of wealth changes over the coming decade, and begin accumulating your personal wealth as best as you can.