The Advertising Revolution: How Native Ads Have Changed the Game
The Advertising Revolution
Sponsored by: Market One Media Group
Many decades ago, the world was much simpler for advertisers.
Buying a ½ page newspaper ad or a 30-second television spot reached thousands of people, and consumers weren't oversaturated with ads.
Today, we are bombarded with over 5,000 brand exposures each day. Of those, 362 are advertisements with only 12 of them "making an impression" on us.
Here's a breakdown of average exposure per day:
Average number of advertisement and brand exposures per day per person: 5,000+
Average number of "ads only" exposures per day: 362
Average number of "ads only" noted per day: 153
Average number of "ads only" that we have some awareness of per day: 86
Average number of "ads only" that made an impression (engagement): 12
With this oversaturation of the traditional ad market, the concept of "native ads" has emerged.
Native Ads
Native advertising is paid content that is created to fit the same format as a publisher's organic content. In other words, it shows up to regular viewers as "sponsored" or "paid" posts in the same streams as regular content.
Native ad spending has exploded, and from 2013 to 2018, the industry is expected to quadruple in size.
There are compelling statistics for both the audience and advertisers on native ads:
Audience:
70% of individuals want to learn about products or content through content rather than traditional advertising.
32% of consumers said, when given a choice, that they would rather share a native ad with friends and family vs 19% for banner ads.
57% of publishers have a dedicated editorial team to create content readers will care about, leaving publishers in full control, not brands, which ultimately benefits readers.
Advertisers:
People view native ads 53% more than banner ads.
Native advertising generates up to an 82% increase in brand lift.
Native ads that include rich media boost conversion rates by up to 60%.
Purchase intent is 53% higher with native ads (vs. 34%)
49x higher clickthrough rate, 54% lower cost-per-click
New Media
Native ads are also being used by many of the "new media" and adtech companies that have had very successful fundraising rounds:
Vice
Latest raise: $250 million (2014)
Led by: A+E Networks
Valuation: $2.5 billion
AppNexus
Latest raise: $62.7 million (2015)
Valuation: $1.2 billion
Vox
Latest raise: $200 million (2015)
Led by: NBC Universal
Valuation: $850 million
Buzzfeed
Latest raise: $200 million (2015)
Led by: NBC Universal
Valuation: $1.5 billion
The Future of Native Advertising?
Right now 41% of brands use native advertising as part of their marketing mix, but the shift is only beginning. Here's what experts think the future of native holds:
Tessa Gould, Director of Native Ads Products, The Huffington Post
"Next for native is being able to use other ad technologies to make native smarter. At the moment everyone is creating content and talking about social actions. But how do you go about retargeting the people who view the native ad elsewhere with banner ads and actually converting them into customers?"
Audra Martin, VP of Advertising, The Economist Group
"As publishers start to educate brands more and agencies more, the content will just get better. Then distribution, in terms of getting more sophisticated, not in terms of fooling readers but making it relevant to readers in the right place at the right time."
Steve Edwards, Digital Sales Director, Hearst UK
"My main thing is about control. Native will continue to develop along the lines it has. Increasingly it's about publishers taking control of the message and advertisers and brands coming along with us. Getting distribution right and getting measurement metrics right, how we actually measure success. How we can create work that is as good as the editorial that surrounds it. Take the logo off it, does it still work? That's really interesting for us, and we've still got a way to get there."
Sebastian Tomich, VP of Advertising, The New York Times
"Brands are jumping into native because they feel like they should be."
12 Ways to Get Smarter in One Infographic
Highlighting and breaking down the 12 most useful and universal mental models that will make you smarter and more productive.
12 Ways to Get Smarter in One Infographic
View the high resolution version of today's graphic by clicking here.
The level of a person's raw intelligence, as measured by aptitude tests such as IQ scores, is generally stable for most people during the course of their adulthood.
While it's true that there are things you can do to fine tune your natural capabilities, such as doing brain exercises, solving puzzles, and getting optimal sleep—the amount of raw brainpower you have is difficult to increase in any meaningful or permanent way.
For those of us who constantly strive to be high-performers in our fields, this seems like bad news. If we can't increase our processing power, then how can we solve life's bigger problems as we move up the ladder?
The Key: Mental Models
The good news is that while raw cognitive abilities matter, it's how you use and harness those abilities that really makes the difference.
The world's most successful people, from Ray Dalio to Warren Buffett, are not necessarily leagues above the rest of us in raw intelligence—instead, they simply develop and learn to apply better mental models of how the world works, and they use these principles to filter their thoughts, decisions, strategies, and execution.
This infographic comes from best-selling author and entrepreneur Michael Simmons, who has collected over 650 mental models through his work. The infographic, in a similar style to one we previously published on cognitive biases, synthesizes these models down to the most useful and universal mental models that people should learn to master first.
Concepts such as the 80/20 rule (Pareto's principle), compound interest, and network building are summarized in the visualization, and their major components are broken down further within the circle.
Mental Model Examples
Example #1: Pareto's Principle (80/20 Rule for Prioritization)
In a recent Medium post by Simmons, he highlights a well-known mental model that is the perfect bread crumb to start with.
The 80/20 rule (Pareto's principle) is named after Italian economist Vilfredo Pareto, who was likely the first person to note the 80/20 connection in an 1896 paper.
In short, it shows that 20% of inputs (work, time, effort) often leads to 80% of outputs (performance, sales, revenue, etc.), creating an extremely vivid mental framework for making prioritization decisions.
The 80/20 rule represents a power law distribution that has been empirically shown to exist throughout nature, and it also has huge implications on business.
If you focus your effort on these 20% of tasks first, and get the most out of them, you will be able to drive results much more efficiently than wasting time on the 80% "long-tail" shown below.
Example #2: Metcalfe's Law (Network Building)
Metcalfe's Law is one of network effects, stating that a network's value is proportional to the square of the number of nodes in the network.
From a mental model perspective, this is a useful way to understand how certain types of technology-driven businesses derive value.
If you have a smart grid that is only connected to one power source, that's alright—but one connected to many different energy sources and potential consumers is much more useful for everyone on the grid. Each additional node provides value for the rest of the connections.
This mental model can be applied outside of strict technology or business terms as well.
For example, if you build a personal network of connections, each additional relationship can provide more value to the other people in your network. It's the same principle that Harvard or other prestigious universities operate on: the more value a student can get from the alumni network, the higher price they can charge for tuition.
It's hard to compete with a fully formed network at scale, as they create massive economic moats for the owner. Modern social networks and messaging apps like Facebook, Instagram, LinkedIn, TikTok, WhatsApp, and Snapchat all operate with this in mind.
The Power of Mental Models
These are just two examples of how powerful mental models can be effective in making you think clearer and work smarter.
If you want to be a top performer, it's worth looking into other mental models out there as well. They can help you better frame reality, so that you can harness your intelligence and effort in the most effective way possible—and it'll allow you to deliver results along the way.
This post was first published in 2018. We have since updated it, adding in new content for 2021.
Visualized: The Biggest Ponzi Schemes in Modern History
Learn the stories behind some of the world's biggest Ponzi schemes in this illustrative infographic timeline.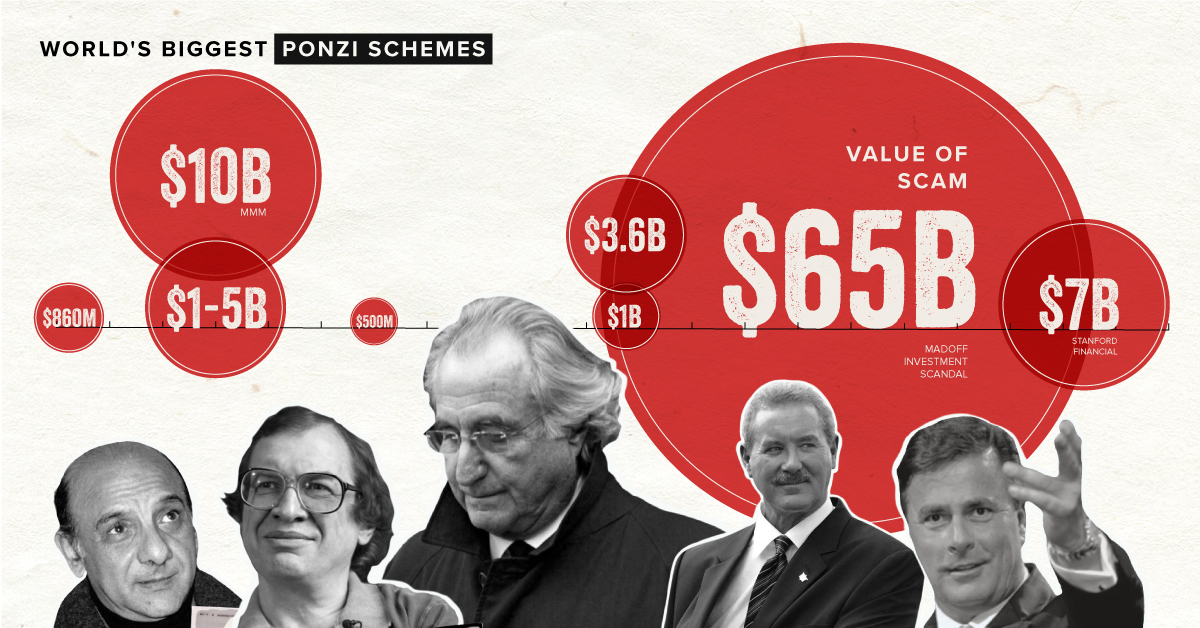 The Biggest Ponzi Schemes in Modern History
Some things simply sound too good to be true, but when money is involved, our judgement can become clouded.
This is often the case with Ponzi schemes, a type of financial fraud that lures investors by promising abnormally high returns. Money brought in by new members is used to pay the scheme's founders, as well as its earlier investors.
The scheme is named after Charles Ponzi, an Italian who became infamous in the 1920s for claiming he could double his clients' money within 90 days. Since then, numerous Ponzi schemes have been orchestrated around the globe.
To help you learn more about these sophisticated crimes, this infographic examines some of the biggest Ponzi schemes in modern history.
Ponzi Schemes in the 20th Century
The 1990s saw a number of large Ponzi schemes worth upwards of $500 million.
| Country | Date Ended | Name of Scheme and Founder | Value (USD) |
| --- | --- | --- | --- |
| Belgium | 1991 | Moneytron, Jean-Pierre Van Rossem | $860M |
| Romania | 1994 | Caritas, Ioan Stoica | $1B - $5B |
| Russia | 1994 | MMM, Sergei Mavrodi | $10B |
| U.S. | 1997 | Great Ministries International, Geral Payne | $500M |
In many cases, these schemes thrived by taking advantage of the unsuspecting public who often lacked any knowledge of investing. Caritas, for example, was a Ponzi scheme based in Romania that marketed itself as a "self-help game" for the poor.
The scheme was initially very successful, tricking millions of people into making deposits by offering the chance to earn an 800% return after three months. This was not sustainable, and Caritas was eventually unable to distribute further winnings.
Caritas operated for only two years, but its "success" was undeniable. In 1993, it was estimated that a third of the country's money was circulating through the scheme.
Ponzi Schemes in the 21st Century
The American public has fallen victim to numerous multi-billion dollar Ponzi schemes since the beginning of the 21st century.
| Country | Date Ended | Name of Scheme and Founder | Value (USD) |
| --- | --- | --- | --- |
| U.S. | 2003 | Mutual Benefits Company, Joel Steinger | $1B |
| U.S. | 2003 | Petters Group Worldwide, Tom Petters | $4B |
| U.S. | 2008 | Madoff Investment Scandal, Bernie Madoff | $65B |
| U.S. | 2012 | Stanford Financial Group, Allen Stanford | $7B |
Many of these schemes have made major headlines, but much less is said about the thousands of everyday Americans that were left in financial ruin.
For victims of the Madoff Investment Scandal, receiving any form of compensation has been a drawn-out process. In 2018, 10 years after the scheme was uncovered, a court-appointed trustee managed to recover $13 billion by liquidating Madoff's firm and personal assets.
As NPR reported, investors may recover up to 60 to 70 percent of their initial investment only. For victims who had to delay retirement or drastically alter their lifestyles, this compensation likely provides little solace.
Do the Crime, Pay the Time
Running a Ponzi scheme is likely to land you in jail for a long time, at least in the U.S.
In 2009, for example, 71-year-old Bernie Madoff pled guilty to 11 federal felonies and was sentenced to 150 years in prison. That's 135 years longer than the average U.S. murder conviction.
Outside of the U.S., it's a much different story. Weaker regulation and enforcement, particularly in developing countries, means a number of schemes are ongoing today.
Sergei Mavrodi, known for running the Russian Ponzi scheme MMM, started a new organization named MMM Global after being released from prison in 2011. Although he died in March 2018, his self-described "social financial network" has established a base in several Southeast Asian and African countries.
If you or someone you know is worried about falling victim to a Ponzi scheme, this checklist from the U.S. Securities and Exchange Commission (SEC) may be a useful resource.