A Visual Introduction to the Dwarf Planets in our Solar System
Pluto and the Introduction of Dwarf Planets
Since its discovery in 1930, Pluto has been a bit of a puzzle.
For starters, not only is Pluto smaller than any other planet in the solar system, but it's also smaller than Earth's moon. It also has an extremely low gravitational pull at only 0.07 times the mass of the objects in its orbit, which is just a fraction of the Moon's own strength.
At the same time, Pluto's surface resembles that of terrestrial planets such as Mars, Venus or the Earth, yet its nearest neighbors are the gaseous Jovian planets such as Uranus or Neptune. In fact, Pluto's orbit is so erratic that it led many scientists to initially believe that it originated elsewhere in space and the Sun's gravity pulled it in.
These qualities have challenged the scientific view of Pluto's status as a planet for years. It wasn't until the discovery of Eris in 2005, one of many increasingly identified trans-Neptunian objects (objects beyond the planet Neptune), that the International Astronomical Union (IAU) defined criteria for classifying planets.
With Eris and other trans-Neptunian objects sharing similar characteristics with Pluto, the definition for dwarf planets was created, and Pluto got downgraded in 2006.
So what are dwarf planets, how do they differ from "true" planets and what are their characteristics?
The History of Dwarf Planets
A dwarf planet is a celestial body that almost meets the definition of a "true" planet. According to the IAU, which sets definitions for planetary science, a planet must:
Orbit the Sun.
Have enough mass to achieve hydrostatic equilibrium and assume a nearly round shape.
Dominate its orbit and not share it with other objects.
Dwarf planets, along with not being moons or satellites, fail to clear the neighborhoods around their orbits. This is the primary reason why Pluto lost its status: because it shares part of its orbit with the Kuiper belt, a dense region of icy space bodies.
Based on this definition, the IAU has recognized five dwarf planets: Pluto, Eris, Makemake, Haumea, and Ceres. There are four more planetary objects*, namely Orcus, Sedna, Gonggong and Quaoar, that the majority of the scientific community recognize as dwarf planets.
Six more could be recognized in the coming years, and as many as 200 or more are hypothesized to exist in the Outer Solar System in the aforementioned Kuiper belt.
Ceres is the earliest known and smallest of the current category of dwarf planets. Previously classified as an asteroid in 1801, it was confirmed to be a dwarf planet in 2006. Ceres lies between Mars and Jupiter in the asteroid belt, and it is the only dwarf planet that orbits closest to Earth.
Here is a brief introduction to the most recognized dwarf planets:
Name
Region of the
Solar System
Orbital period
(in years)
Mean orbital
speed (km/s)
Diameter
(km)
Diameter
relative to
the Moon
Moons
Orcus
Kuiper belt (plutino)
247
4.75
910
26%
1
Ceres
Asteroid belt
4.6
17.9
940
27%
0
Pluto
Kuiper belt (plutino)
248
4.74
2377
68%
5
Haumea
Kuiper belt (12:7)
285
4.53
1560
≈ 45%
2
Quaoar
Kuiper belt (cubewano)
289
4.51
1110
32%
1
Makemake
Kuiper belt (cubewano)
306
4.41
1430
41%
1
Gonggong
Scattered disc (10:3)
554
3.63
1230
35%
1
Eris
Scattered disc
558
3.62
2326
67%
1
Sedna
Detached
~11,400
~1.3
995
29%
N/A
Interesting Facts about Dwarf Planets
Here are a few interesting facts about the dwarf planets discovered in our solar system:
Ceres loses 6kg of its mass in steam every second
The Herschel Space Telescope observed plumes of water vapor shooting up from Ceres' surface; this was the first definitive observation of water vapor in the asteroid belt. This happens when portions of Ceres' icy surface warm up and turn into steam.
A day on Haumea lasts 3.9 hours
Haumea has a unique appearance due to its rotation, which is so rapid that it compresses the planet into an egg-like shape. Its rotational speed and collisional origin also make Haumea one of the densest dwarf planets discovered to date.
Makemake was named three years after its discovery in 2005
Makemake's discovery close to Easter influenced both its name and nickname. Before being named after the creator of humanity and god of fertility in the mythos of the Rapa Nui (the native people of Easter Island), Makemake was nicknamed "Easter bunny" by its discoverer Mike Brown.
Eris was once considered for the position of the 10th planet
Eris is the most massive dwarf planet in the solar system, exceeding Pluto's mass by 28%. As such, it was a serious contender to become the tenth planet but failed to meet the criteria set out by the IAU.
Pluto is one-third ice
The planet's composition makes up two-thirds rock and one-third ice, mostly a mixture of methane and carbon dioxide. One day on Pluto is 153.6 hours, approximately 6.4 Earth days, making it one of the slowest rotating dwarf planets.
Exploratory Missions and New Planets on the Horizon
With newer technology rapidly available to the scientific community and new exploratory missions getting more data and information about trans-Neptunian objects, our understanding of dwarf planets will increase.
Nestled in the asteroid belt between Mars and Jupiter, the asteroid Hygiea remains a controversy. Hygiea is the fourth largest object in the asteroid belt behind Ceres, Vesta, and Pallas and ticks all the boxes necessary to be classified as a dwarf planet.
So what's holding back Hygiea's confirmation as a dwarf planet? The criterion for being massive enough to form a spherical shape is in contention; it remains unclear if its roundness results from collision/impact disruption or its mass/gravity.
Along with Hygiea, other exciting dwarf planets could be soon discovered. Here is a quick rundown of some serious contenders:
120347 Salacia
Discovered in 2004, it is a trans-Neptunian object in the Kuiper belt, approximately 850 kilometers in diameter. As of 2018, it is located about 44.8 astronomical units from the Sun. Salacia's status is in contention because its planetary density is arguable. It is uncertain if it can exist in hydrostatic equilibrium.
(307261) 2002 MS4
With an estimated diameter of 934±47 kilometers, 2002 MS4 is comparable in size to Ceres. Researchers need more data to determine whether 2002 MS4 is a dwarf planet or not.
(55565) 2002 AW197
Discovered at the Palomar Observatory in 2002, it has a rotation period of 8.8 hours, a moderately red color (similar to Quaoar) and no apparent planetary geology. Its low albedo has made it difficult to determine whether or not it is a dwarf planet.
174567 Varda
Varda takes its name after the queen of the Valar, creator of the stars, one of the most powerful servants of almighty Eru Iluvatar in J. R. R. Tolkien's fictional mythology. Varda's status as a dwarf planet is uncertain because its size and albedo suggest it might not be a fully solid body.
(532037) 2013 FY27
This space object has a surface diameter of about 740 kilometers. It orbits the Sun once every 449 years. Researchers need more data on the planet's mass and density to determine if it is a dwarf planet or not.
(208996) 2003 AZ84
It is approximately 940 kilometers across its longest axis, as it has an elongated shape. This shape is presumably due to its rapid rotation rate of 6.71 hours, similar to that of other dwarf planets like Haumea. Like Varda, it remains unknown if this object has compressed into a fully solid body and thus remains contentious amongst astronomers regarding its planetary status.
*Note: The IAU officially recognizes five dwarf planets. We include four additional dwarf planets widely acknowledged by members of the scientific community, especially amongst leading planetary researchers like Gonzalo Tancredi, Michael Brown, and William Grundy. There are many more potential dwarf planets not listed here that remain under investigation.
Which Countries Have the Most Similar Values?
Where you're from greatly influencers how you view the world. Here's a look at the core values in 94 different countries.
Which Countries Value the Same Things?
Our culture can have significant impacts on our belief systems and our values.
In fact, research has shown that our cultural influences can rewire our brains, which can impact our visual perceptions and how we view the world around us.
Because of this, where we're from can greatly influence what we prioritize in life. This graphic by Anders Sundell illustrates the primary values of 94 different countries, and highlights which places share similar values.
Methodology
Sundell used data from the World Values Survey, an international survey that interviews hundreds of thousands of participants from across the globe.
For the purposes of this graphic, Sundell focused on one specific section of the survey that asked respondents to rate various aspects of their life on a scale of one (very important) to four (not important at all). Six aspects were included: family, friends, leisure time, politics, work, and religion.
From there, Sundell calculated the median score for each country and identified their primary value, then grouped them based on their similarities. On this netgraph, each country is connected to three other countries that share the most similar values.
Generally speaking, countries that prioritize friends and leisure are concentrated on the far left of the graphic, whereas countries that value religion and work fall more to the right.
Each Country's Primary Values
Interestingly, family came first for all 94 countries—except Indonesia, where religion was considered most important.
Because of this, Sundell identified each country's primary value besides family, which was much more diverse across the board:
| Abbr. | Country | Continent | Primary Value (Exc. Family) |
| --- | --- | --- | --- |
| AL | 🇦🇱 Albania | Europe | Work |
| AD | 🇦🇩 Andorra | Europe | Leisure |
| AR | 🇦🇷 Argentina | South America | Work |
| AM | 🇦🇲 Armenia | Asia | Work |
| AU | 🇦🇺 Australia | Oceania | Friends |
| AT | 🇦🇹 Austria | Europe | Friends |
| AZ | 🇦🇿 Azerbaijan | Asia | Work |
| BD | 🇧🇩 Bangladesh | Asia | Religion |
| BY | 🇧🇾 Belarus | Europe | Work |
| BO | 🇧🇴 Bolivia | South America | Work |
| BA | 🇧🇦 Bosnia and Herzegovina | Europe | Work |
| BR | 🇧🇷 Brazil | South America | Work |
| BG | 🇧🇬 Bulgaria | Europe | Work |
| CA | 🇨🇦 Canada | North America | Leisure |
| CL | 🇨🇱 Chile | South America | Leisure |
| CN | 🇨🇳 China | Asia | Work |
| CO | 🇨🇴 Colombia | South America | Work |
| HR | 🇭🇷 Croatia | Europe | Work |
| CY | 🇨🇾 Cyprus | Europe | Friends |
| CZ | 🇨🇿 Czech Republic | Europe | Friends |
| DK | 🇩🇰 Denmark | Europe | Friends |
| EC | 🇪🇨 Ecuador | South America | Work |
| EG | 🇪🇬 Egypt | Africa | Religion |
| EE | 🇪🇪 Estonia | Europe | Friends |
| ET | 🇪🇹 Ethiopia | Africa | Religion |
| FI | 🇫🇮 Finland | Europe | Leisure |
| FR | 🇫🇷 France | Europe | Work |
| GE | 🇬🇪 Georgia | Asia | Work |
| DE | 🇩🇪 Germany | Europe | Friends |
| GH | 🇬🇭 Ghana | Africa | Work |
| GR | 🇬🇷 Greece | Europe | Work |
| GT | 🇬🇹 Guatemala | North America | Work |
| HT | 🇭🇹 Haiti | North America | Work |
| HK | 🇭🇰 Hong Kong | Asia | Friends |
| HU | 🇭🇺 Hungary | Europe | Friends |
| IS | 🇮🇸 Iceland | Europe | Friends |
| IN | 🇮🇳 India | Asia | Work |
| ID | 🇮🇩 Indonesia | Asia | Religion |
| IR | 🇮🇷 Iran | Asia | Work |
| IQ | 🇮🇶 Iraq | Asia | Religion |
| IT | 🇮🇹 Italy | Europe | Work |
| JP | 🇯🇵 Japan | Asia | Leisure |
| JO | 🇯🇴 Jordan | Asia | Religion |
| KZ | 🇰🇿 Kazakhstan | Asia | Work |
| KW | 🇰🇼 Kuwait | Asia | Religion |
| KG | 🇰🇬 Kyrgyzstan | Asia | Friends |
| LB | 🇱🇧 Lebanon | Asia | Work |
| LY | 🇱🇾 Libya | Africa | Religion |
| LT | 🇱🇹 Lithuania | Europe | Work |
| MO | 🇲🇴 Macao | Asia | Friends |
| MY | 🇲🇾 Malaysia | Asia | Religion |
| MX | 🇲🇽 Mexico | North America | Work |
| ME | 🇲🇪 Montenegro | Europe | Work |
| MA | 🇲🇦 Morocco | Africa | Religion |
| MM | 🇲🇲 Myanmar | Asia | Religion |
| NL | 🇳🇱 Netherlands | Europe | Friends |
| NZ | 🇳🇿 New Zealand | Oceania | Friends |
| NI | 🇳🇮 Nicaragua | North America | Work |
| NG | 🇳🇬 Nigeria | Africa | Religion |
| MK | 🇲🇰 North Macedonia | Europe | Work |
| NO | 🇳🇴 Norway | Europe | Friends |
| PK | 🇵🇰 Pakistan | Europe | Religion |
| PE | 🇵🇪 Peru | South America | Work |
| PH | 🇵🇭 Philippines | Asia | Work |
| PL | 🇵🇱 Poland | Europe | Work |
| PT | 🇵🇹 Portugal | Europe | Work |
| PR | 🇵🇷 Puerto Rico | North America | Work |
| QA | 🇶🇦 Qatar | Asia | Religion |
| RO | 🇷🇴 Romania | Europe | Work |
| RU | 🇷🇺 Russia | Asia | Friends |
| RW | 🇷🇼 Rwanda | Africa | Friends |
| RS | 🇷🇸 Serbia | Europe | Friends |
| SG | 🇸🇬 Singapore | Asia | Friends |
| SK | 🇸🇰 Slovakia | Europe | Work |
| SI | 🇸🇮 Slovenia | Europe | Work |
| ZA | 🇿🇦 South Africa | Africa | Work |
| KR | 🇰🇷 South Korea | Asia | Friends |
| ES | 🇪🇸 Spain | Europe | Work |
| SE | 🇸🇪 Sweden | Europe | Friends |
| CH | 🇨🇭 Switzerland | Europe | Friends |
| TW | 🇹🇼 Taiwan | Asia | Work |
| TJ | 🇹🇯 Tajikistan | Asia | Religion |
| TH | 🇹🇭 Thailand | Asia | Work |
| TT | 🇹🇹 Trinidad and Tobago | South America | Religion |
| TN | 🇹🇳 Tunisia | Africa | Religion |
| TR | 🇹🇷 Turkey | Asia | Friends |
| UA | 🇺🇦 Ukraine | Europe | Work |
| GB | 🇬🇧 United Kingdom | Europe | Friends |
| US | 🇺🇸 United States | North America | Friends |
| UY | 🇺🇾 Uruguay | South America | Work |
| UZ | 🇺🇿 Uzbekistan | Asia | Work |
| VN | 🇻🇳 Vietnam | Asia | Work |
| YE | 🇾🇪 Yemen | Asia | Religion |
| ZW | 🇿🇼 Zimbabwe | Africa | Work |
After family, work was the most valued, with 46 different countries identifying it as their second-highest priority. Friends came second, followed by religion, and then lastly, leisure.
Work
Almost half of the countries on the list perceive work as the most important aspect of their lives, apart from family.
South American countries, in particular, put an emphasis on work, with seven of nine South American countries valuing work over friends and politics. The only outliers on the continent were Chile (leisure), and Trinidad and Tobago (religion).
Friends
Friends were identified as a top priority in 25 of the 94 countries on the list. Europe in particular valued friendship, especially in Norway and Sweden.
While these Nordic countries prioritize their existing friendships, research shows that they aren't generally keen on making new ones. A global survey found that expats in Sweden, Norway, and Denmark found it extremely difficult to make new friends.
Religion
18 of the 94 countries ranked religion as a top value.
These countries, mainly in Asia and Africa, are predominantly Islamic except for a few. For instance, in Trinidad and Tobago, the largest religious group is Christianity.
Leisure
Only five countries on the list ranked leisure as a top priority—Japan, Canada, Andorra, Chile, and Finland. Finland takes leisure seriously. Its capital, Helsinki, was recognized as the number one city in the world for work-life balance. And Canada's capital, Ottawa, ranked sixth on the ranking.
24 Cognitive Biases That Are Warping Your Perception of Reality
The world isn't as it seems—here are some of the most important cognitive biases that are messing with how you think the world works, and why.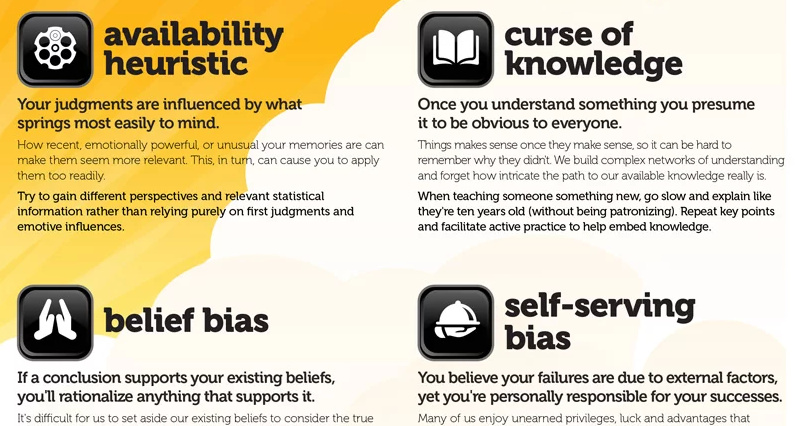 We are each entitled to our own personal world view.
But unfortunately, when it comes to interpreting information and trying to make objective sense of reality, human brains are hard-wired to make all kinds of mental mistakes that can impact our ability to make rational judgments.
In total, there are over 180 cognitive biases that interfere with how we process data, think critically, and perceive reality.
Flawed Human Reasoning
There is no simple way to get around these basic human instincts, but one thing that we can do is understand the specific mistakes we make and why.
Today's infographic comes to us from School of Thought, a non-profit dedicated to spreading critical thinking. The graphic describes 24 of the key biases that warp our sense of reality, providing useful examples along the way.
At the beginning of the infographic, you may have noticed illustrations of two gentlemen.
In case you were wondering, those happen to represent Daniel Kahneman and Amos Tversky, two of the leading social scientists known for their contributions to this field. Not only did they pioneer work around cognitive biases starting in the late 1960s, but their partnership also resulted in a Nobel Prize in Economics in 2002.
Biases Distorting Reality
Here are some of the biases we found most interesting from the list:
Declinism:
You remember the past as better than it was, and expect the future to be worse than it is likely to be. This is an interesting one, since statistically this is one of the most peaceful and prosperous times in history—yet the 24-hour news cycle rarely reflects this. (For a good example how the world is improving, see these six charts)
Just World Hypothesis:
Your preference for a just world makes you presume that it exists. Of course, it's much more uncomfortable to think that the world is unfair, but by understanding this you will make more accurate judgments about people and situations.
Belief Bias
If a conclusion supports your existing beliefs, you'll rationalize anything that supports it. In other words, instead of willingly looking at new information, we are primed to defend our own ideas without actually questioning them.
Framing Effect:
Context and delivery can have a big impact on how a story is interpreted. We must have the humility to recognize that we can be manipulated, and work to limit the effect that framing has on our critical thinking.
The Curse of Knowledge
Ever try to explain something you know intricately and have worked on for many years? It's hard, because you've internalized everything you've learned, and now you forget how to explain it. This bias is similar—you know something inside and out, and what is obvious to you is not to others.
Reactance:
Sometimes we all get the urge to do the opposite of what we're told. Nobody likes being constrained. The only problem is that when we're in this situation, there is a tendency to overreact and to throw any logic out of the window.
Spotlight Effect:
Because we each live inside our own heads, our natural focus is on what we're thinking and doing. We project this onto others, and we overestimate how much they notice about how we look or how we act.
Want to see more on cognitive biases? Here are 188 of them in one infographic.