9 Things Investors Should Know About the Cannabis Industry in 2021
9 Things Cannabis Investors Should Know in 2021
Unlike dozens of other industries across the globe, cannabis experienced significant growth as a result of the COVID-19 pandemic.
In fact, with consumption for both medical and recreational products on the rise, 2020 was a record-breaking year for the industry. After years of investor uncertainty, analysts are predicting a continued bull market in 2021, with several new and exciting developments on the horizon.
Here are nine things cannabis investors need to know.
1. Cannabis Stocks on the Rise
While asset prices took a dip during the initial stage of the COVID-19 outbreak in March, the cannabis sector recovered swiftly after reporting impressive numbers.
Even though cannabis investors have experienced some ups and downs in the last several years, 2021 looks more hopeful.
2. COVID-19 and Cannabis
Cannabis has become an attractive option for people spending more time at home, both as a means of entertainment, and to reduce stress and anxiety associated with the pandemic.
As a result, cannabis sales are soaring. In Canada, monthly sales reached an all-time high of $270 million (CAD) in October 2020, a dramatic increase from $180 million just six months earlier.
3. Cannabis Black Market No More?
For millions of U.S. citizens who live in states where the sale of cannabis is still restricted, the illicit market continues to be their only option.
But with loosening restrictions and legal cannabis becoming more widely available, legal sales are predicted to reach $50 billion by 2026 while illegal sales will plummet to less than $1 billion by the same year.
| Year | U.S. Legal Cannabis Sales | U.S. Illegal Cannabis Sales |
| --- | --- | --- |
| 2016 | $6 billion | $25 billion |
| 2026 | $50 billion | <$1 billion |
4. Political Change Driving Market Growth
Almost 70% of Americans now support the full legalization of cannabis—the highest figure ever recorded.
States where cannabis is legal are now paving the way for cannabis sales, with California expected to pull in over $6 billion by 2021 alone. If federal legalization comes to fruition over the next several years, the already booming U.S. market could see further growth.
5. All Eyes on the European Cannabis Market
The European cannabis market has been on investors' radar for several years, and with good reason—it is one of the largest cannabis markets in the world.
Driven primarily by medicinal products, the market will be valued at over $39 billion by 2024, with countries like Germany—Europe's largest economy—leading the way.
In late 2020, the market experienced its biggest breakthrough yet, with the European Union ruling that products containing CBD (one of the most active ingredients in cannabis) are no longer listed as narcotics.
6. Making History in Mexico
Mexico is another market that is piquing the interest of investors and cannabis companies the world over. That's because it could soon be the third country in the world to legalize recreational cannabis by court order.
With a total addressable market of $2 billion and the potential to support up to 75,000 jobs, these new regulations could change the dynamic of the global market for the better.
7. Most Popular Cannabis Products
Given the flurry of product innovation in the market, consumption of cannabis is quickly changing.
Relatively new products such as edibles and oils are gaining traction, while consumption of flower appears to be declining. This could be due in part to oral products being perceived as a healthier alternative to smoking.
8. CBD Products are Moving into the Mainstream
Although CBD was once considered a niche product that could only be found in dispensaries, growing awareness of the benefits and safety of these products are causing companies operating in the consumer packaged goods industry to take notice.
The cannabis compound is a new addition to a wide range of products such as skincare, makeup, and supplements that can now be purchased almost anywhere—from ecommerce sites to local grocery stores.
9. The New Cannabinoids on the Block
Beyond CBD, scientists have discovered over 100 rare, or minor cannabinoids such as CBG and CBN, that could have even more significant benefits than their major cannabinoid counterparts.
For example, preliminary research shows that CBG could inhibit cancer growth, help treat glaucoma, bladder dysfunction, and kill drug-resistant bacteria.
These discoveries are not only attracting huge attention from the cannabis industry, but from the pharmaceutical industry as well.
Milestones in the Making
With all of these exciting developments coming to the fore, it's safe to say 2021 could be one of the cannabis industry's most transformative years to date.
The Periodic Table of Commodity Returns (2012-2021)
Energy fuels led the way as commodity prices surged in 2021, with only precious metals providing negative returns.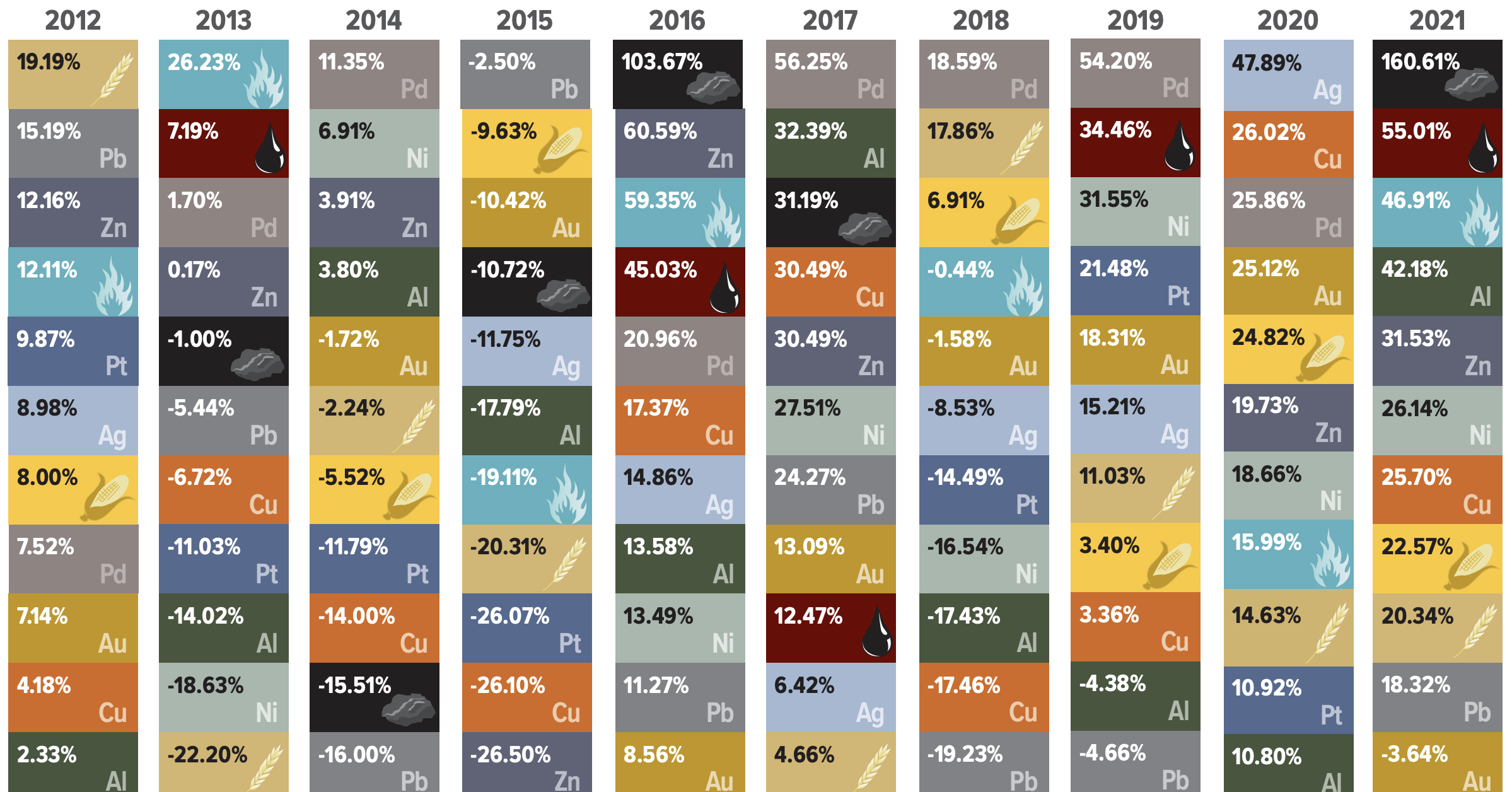 The Periodic Table of Commodity Returns (2022 Edition)
For investors, 2021 was a year in which nearly every asset class finished in the green, with commodities providing some of the best returns.
The S&P Goldman Sachs Commodity Index (GSCI) was the third best-performing asset class in 2021, returning 37.1% and beating out real estate and all major equity indices.
This graphic from U.S. Global Investors tracks individual commodity returns over the past decade, ranking them based on their individual performance each year.
Commodity Prices Surge in 2021
After a strong performance from commodities (metals especially) in the year prior, 2021 was all about energy commodities.
The top three performers for 2021 were energy fuels, with coal providing the single best annual return of any commodity over the past 10 years at 160.6%. According to U.S. Global Investors, coal was also the least volatile commodity of 2021, meaning investors had a smooth ride as the fossil fuel surged in price.
| Commodity | 2021 Returns |
| --- | --- |
| Coal | 160.61% |
| Crude Oil | 55.01% |
| Gas | 46.91% |
| Aluminum | 42.18% |
| Zinc | 31.53% |
| Nickel | 26.14% |
| Copper | 25.70% |
| Corn | 22.57% |
| Wheat | 20.34% |
| Lead | 18.32% |
| Gold | -3.64% |
| Platinum | -9.64% |
| Silver | -11.72% |
| Palladium | -22.21% |
Source: U.S. Global Investors
The only commodities in the red this year were precious metals, which failed to stay positive despite rising inflation across goods and asset prices. Gold and silver had returns of -3.6% and -11.7% respectively, with platinum returning -9.6% and palladium, the worst performing commodity of 2021, at -22.2%.
Aside from the precious metals, every other commodity managed double-digit positive returns, with four commodities (crude oil, coal, aluminum, and wheat) having their best single-year performances of the past decade.
Energy Commodities Outperform as the World Reopens
The partial resumption of travel and the reopening of businesses in 2021 were both powerful catalysts that fueled the price rise of energy commodities.
After crude oil's dip into negative prices in April 2020, black gold had a strong comeback in 2021 as it returned 55.01% while being the most volatile commodity of the year.
Natural gas prices also rose significantly (46.91%), with the UK and Europe's natural gas prices rising even more as supply constraints came up against the winter demand surge.
Despite being the second worst performer of 2020 with the clean energy transition on the horizon, coal was 2021's best commodity.
High electricity demand saw coal return in style, especially in China which accounts for one-third of global coal consumption.
Base Metals Beat out Precious Metals
2021 was a tale of two metals, as precious metals and base metals had opposing returns.
Copper, nickel, zinc, aluminum, and lead, all essential for the clean energy transition, kept up last year's positive returns as the EV batteries and renewable energy technologies caught investors' attention.
Demand for these energy metals looks set to continue in 2022, with Tesla having already signed a $1.5 billion deal for 75,000 tonnes of nickel with Talon Metals.
On the other end of the spectrum, precious metals simply sunk like a rock last year.
Investors turned to equities, real estate, and even cryptocurrencies to preserve and grow their investments, rather than the traditionally favorable gold (-3.64%) and silver (-11.72%). Platinum and palladium also lagged behind other commodities, only returning -9.64% and -22.21% respectively.
Grains Bring Steady Gains
In a year of over and underperformers, grains kept up their steady track record and notched their fifth year in a row of positive returns.
Both corn and wheat provided double-digit returns, with corn reaching eight-year highs and wheat reaching prices not seen in over nine years. Overall, these two grains followed 2021's trend of increasing food prices, as the UN Food and Agriculture Organization's food price index reached a 10-year high, rising by 17.8% over the course of the year.
As inflation across commodities, assets, and consumer goods surged in 2021, investors will now be keeping a sharp eye for a pullback in 2022. We'll have to wait and see whether or not the Fed's plans to increase rates and taper asset purchases will manage to provide price stability in commodities.
Apple's Colossal Market Cap as it Hits $3 Trillion
Apple's market cap recently hit $3 trillion. To put that scale into context, this visualization compares Apple to European indexes.

Creator Program
Apple's Colossal Market Cap in Context
In January of 2019, Apple's market capitalization stood at $700 billion.
While this was perceived as a colossal figure at the time, when we fast forward to today, that valuation seems a lot more modest. Since then, Apple has surged to touch a $3 trillion valuation on January 3rd, 2022.
To gauge just how monstrous of a figure this is, consider that Apple is no longer comparable to just companies, but to countries and even entire stock indexes. This animation from James Eagle ranks the growth in Apple's market cap alongside top indexes from the UK, France, and Germany.
Let's take a closer look.
Apple Takes On Europe
The three indexes Apple is compared to are heavyweights in their own right.
The FTSE 100 consists of giants like HSBC and vaccine producer AstraZeneca, while the CAC 40 Index is home to LVMH, which made Bernard Arnault the richest man in the world for a period of time last year.
Nonetheless, Apple's market cap exceeds that of the 100 companies in the FTSE, as well as the 40 in each of the CAC and DAX indexes.
| Stock/Index | Market Cap ($T) | Country of Origin |
| --- | --- | --- |
| Apple | $3.00T | 🇺🇸 |
| FTSE 100 | $2.90T | 🇬🇧 |
| CAC 40 Index | $2.76T | 🇫🇷 |
| DAX 40 (Dax 30) Index* | $2.50T | 🇩🇪 |
*Germany's flagship DAX Index expanded from 30 to 40 constituents in September 2021.
It's important to note, that while Apple's growth is stellar, European companies have simultaneously seen a decline in their share of the overall global stock market, which helps make these comparisons even more eye-catching.
For example, before 2005, publicly-traded European companies represented almost 30% of global stock market capitalization, but those figures have been cut in half to just 15% today.
Here are some other approaches to measure Apple's dominance.
Apple's Revenue Per Minute vs Other Tech Giants
Stepping away from market capitalization, another unique way to measure Apple's success is in how much sales they generate on a per minute basis. In doing so, we see that they generate a massive $848,090 per minute.
Here's how Apple revenue per minute compares to other Big Tech giants:

| Company | Revenue Per Minute |
| --- | --- |
| Amazon | $955,517 |
| Apple | $848,090 |
| Alphabet (Google) | $433,014 |
| Microsoft | $327,823 |
| Facebook | $213,628 |
| Tesla | $81,766 |
| Netflix | $50,566 |
Furthermore, Apple's profits aren't too shabby either: their $20.5 billion in net income last quarter equates to $156,000 in profits per minute.
How Apple Compares To Countries
Lastly, we can compare Apple's market cap to the GDP of countries.
| Country (excluding Apple) | Total Value ($T) |
| --- | --- |
| Apple | $3.0T |
| Italy | $2.0T |
| Brazil | $1.8T |
| Canada | $1.7T |
| Russia | $1.7T |
| South Korea | $1.6T |
| Australia | $1.4T |
| Spain | $1.4T |
| Mexico | $1.3T |
| Indonesia | $1.1T |
What might be most impressive here is that Apple's market cap eclipses the GDP of major developed economies, such as Canada and Australia. That means the company is more valuable than the entire economic production of these countries in a calendar year.
That's some serious scale.