50 Cognitive Biases in the Modern World

50 Cognitive Biases in the Modern World
Cognitive biases are widely accepted as something that makes us human.
Every day, systematic errors in our thought process impact the way we live and work. But in a world where everything we do is changing rapidly—from the way we store information to the way we watch TV—what really classifies as rational thinking?
It's a question with no right or wrong answer, but to help us decide for ourselves, today's infographic from TitleMax lists 50 cognitive biases that we may want to become privy to.
In the name of self-awareness, here's a closer look at three recently discovered biases that we are most prone to exhibiting in the modern world.
Automation Bias
AI-infused applications are becoming incredibly good at "personalizing" our content, but will there come a time when we let algorithms make all of our decisions?
Automation bias refers to the tendency to favor the suggestions of automated systems.
Take Netflix, for example. Everything we see on the platform is the result of algorithms—even the preview images that are generated. Then, to harness the power of data and machine learning, Netflix categorizes its content into tens of thousands of micro-genres. Pairing these genre tags with a viewer's history allows them to assign several of over 2,000 "taste profiles" to each user.
And while there's nothing wrong with allowing Netflix to guide what we watch, there's an enormous sea of content standing by. Estimates from 2015 claimed it would take nearly four years to watch all of Netflix's content. Thousands more hours of content have since been added.
If we want to counter this cognitive bias, finding a new favorite series on platforms like Netflix may require some good old-fashioned human curiosity.
The Google Effect
Also known as "digital amnesia", the aptly named Google Effect describes our tendency to forget information that can be easily accessed online.
First described in 2011 by Betsy Sparrow (Columbia University) and her colleagues, their paper described the results of several memory experiments involving technology.
In one experiment, participants typed trivia statements into a computer and were later asked to recall them. Half believed the statements were saved, and half believed the statements were erased. The results were significant: participants who assumed they could look up their statements did not make much effort to remember them.
Because search engines are continually available to us, we may often be in a state of not feeling we need to encode the information internally. When we need it, we will look it up.
– Sparrow B, et al. Science 333, 777 (2011) 
Our modern brains appear to be re-prioritizing the information we hold onto. Notably, the study doesn't suggest we're becoming less intelligent—our ability to learn offline remains the same.
The IKEA Effect
Identified in 2011 by Michael Norton (Harvard Business School) and his colleagues, this cognitive bias refers to our tendency to attach a higher value to things we help create.
Combining the Ikea Effect with other related traits, such as our willingness to pay a premium for customization, is a strategy employed by companies seeking to increase the intrinsic value that we attach to their products.
For instance, American retailer Build-A-Bear Workshop is anchored around creating a highly interactive customer experience. With the help of staff, children (or adults) can assemble their stuffed animals from scratch, then add clothing and accessories at extra cost.
Nike also incorporates this bias into its offering. The footwear company offers a Nike By You line of customizable products, where customers pay a premium to design bespoke shoes with an extensive online configurator.
While there's nothing necessarily wrong with our susceptibility to the Ikea Effect, understanding its significance may help us make more appropriate decisions as consumers.
What Can We Do?
As we navigate an increasingly complex world, it's natural for us to unconsciously adopt new patterns of behavior.
Becoming aware of our cognitive biases, and their implications, can help us stay on the right course.
Ranked: The Best Selling Video Games in History
This chart shows the top ten best selling video games, ranked by software units sold. Six of them have been released in the last 12 years.

Creator Program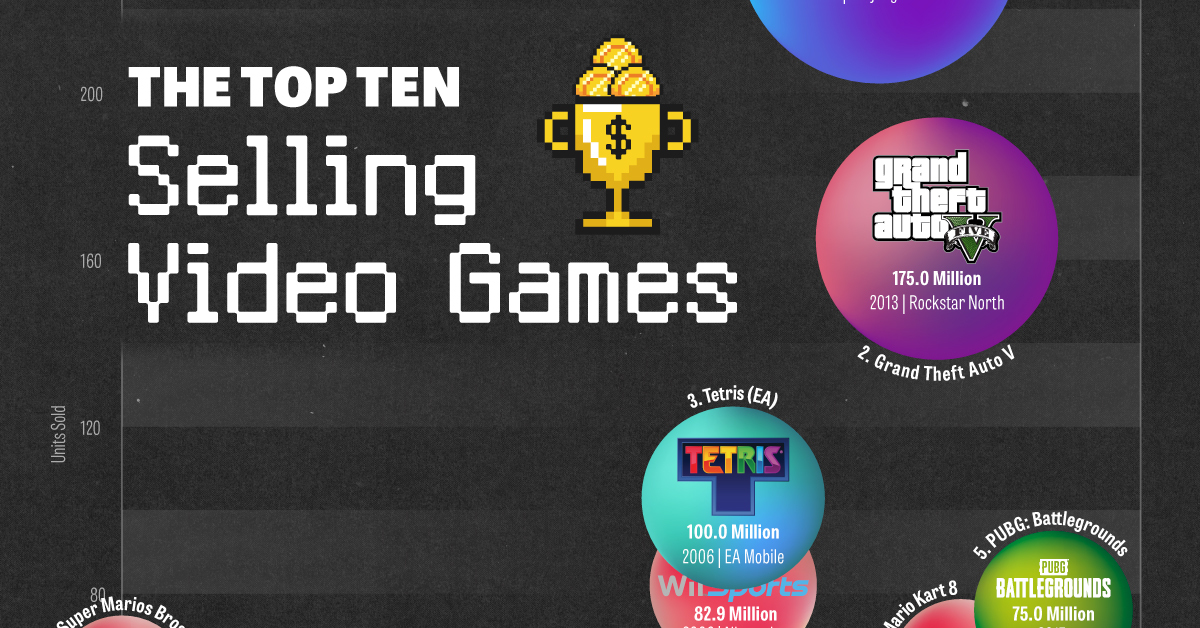 Ranked: The Best Selling Video Games in History
It's a good time to be a video game fan. Not only is the gaming industry booming and projected to grow to $320 billion by 2026, but every year is bringing new evolutions in the medium.
2022 saw massive launches in both games (Elden Ring and God of War Ragnarök) and media based on games (the films Uncharted and Sonic the Hedgehog 2). 2023 has already seen the release of major flagship TV series based on a game, HBO's The Last of Us, and the much-anticipated The Super Mario Bros. Movie is slated to release in April.
But which game is the best, or most successful? That debate may never end, but from company reports and sales data aggregated by Wikipedia, Samuel Parker's chart of the most-sold video games as of March 3, 2023 can at least tell us which ones have been the most popular.
Top Ten Video Games Sold in History
The best selling video game didn't need multimillion dollar budgets, sixty-hour narratives, or celebrity voice actors and ad spots. The independently-developed (indie) Minecraft, with its pixelated blocks, takes the top spot on this list.
| Rank | Game | Sales (units) | Year Released | Developer |
| --- | --- | --- | --- | --- |
| 1 | Minecraft | 238.0M | 2011 | Mojang Studios |
| 2 | GTA 5 | 175.0M | 2013 | Rockstar |
| 3 | Tetris (EA) | 100.0M | 2006 | EA Mobile |
| 4 | Wii Sport | 82.9M | 2006 | Nintendo |
| 5 | PUBG: Battlegrounds | 75.0M | 2017 | PUBG Corp |
| 6 | Mario Kart 8 | 60.5M | 2014 | Nintendo |
| 7 | Super Mario Bros. | 58.0M | 1985 | Nintendo |
| 8 | Read Dead Redemption 2 | 50.0M | 2018 | Rockstar |
| 9 | Pokémon Red/Green/Blue/Yellow | 47.5M | 1996 | GameFreak |
| 10 | Terraria | 44.5M | 2011 | Re-Logic |
Minecraft sold more units than the combined forces of Grand Theft Auto 5 (#2) and Red Dead Redemption 2 (#8), both made by industry giant Rockstar. Its immense popularity has been credited to its simple gameplay (no goals), creative structure (build anything), and engaged community with player-run servers and additional feature creations (known as mods).
Another simple favorite, Tetris, comes in at third place with 100 million units sold of its 2006 re-release. Millennials continue to make up a large chunk of the video game playing demographic which might explain Tetris' sales.
But newer games are making up the majority of sales records. PUBG: Battlegrounds, a battle-royale shooter game which helped popularize the genre (and eventually its competitor Fortnite) asserts its popularity at #5. That puts it well ahead of the better-known shooter Call of Duty, even despite PUBG being banned in a number of countries for the alleged impact on the mental health of gamers.
The oldest game to make the list is Super Mario Bros. (#7), apt considering it is credited with reviving the video game industry after it crashed in 1983. The original staple side-scroller has sold 58 million copies worldwide.
Developer Dominance
Though the top selling games span various series of games, a few developers managed to repeatedly find success.
| Developer | Top 20 Best-Selling Games |
| --- | --- |
| Nintendo | 11 |
| Rockstar | 2 |
| Others | 7 |
Japanese video game titan Nintendo developed three games (Super Mario Bros., Mario Kart, Wii Sport/Fitness) in the top 10 and another eight in the top 20. That's not including its co-ownership of Pokémon, the world's highest-grossing media franchise.
American publisher Rockstar Games also managed to score multiple hits, though its longer development cycle necessary to create cinematic games gives it fewer potential candidates. That might change with the much-anticipated GTA 6 reportedly in production.
Best Selling Genres
The most popular genres in the top 10 give players the freedom to impose their will upon the world and pursue objectives at their leisure:
| Genre | Games |
| --- | --- |
| Sandbox/Open World | 4 |
| Simulation | 2 |
| Others | 4 |
Two games (Minecraft, Terraria) are classic sandbox games, where worlds are procedurally generated and there are no gameplay goals. Another two (GTA 5, Red Dead Redemption 2) are in the adjacent open-world genre, with a combination of sandbox elements and a narrative structure.
However, with new games launching and selling millions of units every year, new entrants to the top 10 list of best selling video games of all-time seems likely. How will these developers, genres, and games fare over time?