A 3D Look at Shifting Urban Populations
Cities are constantly evolving, and urban populations respond to a number of push–pull factors, including economic opportunity, lifestyle trends, land values, and natural disasters.
Beyond the headlines and raw census numbers, it can be difficult to take population patterns into perspective. The talented team over at The Pudding has created an amazing, granular map that shows these patterns as 3D stacks.
Our focus today will be on growth between 1990 and 2015, as urban settlement patterns across Canada and the U.S. shifted dramatically over this relatively short timeframe. Let's take a look.
Growing Cities
One of the most dramatic examples of robust growth is Toronto.
Canada's largest city nearly doubled its population since 1990, and growth was distributed throughout the region. This city is a rare example of both extra-urban and downtown residential growth.
Vancouver is another Canadian city with a swelling urban population base. The city's recent population growth has been heavily concentrated along transit lines and the downtown core, resulting in a "spiky" visualization which resembles the condo towers now dotting the city's skyline.
Nearby, Seattle has added over a million people to its population since 1990. With one of the strongest economies in the country, it's unlikely that momentum will slow any time soon.
Growing Suburbs
Only recently have some cities begun to see urban residential construction. For much of the '90s and '00s, America's growth was in peripheral suburbs, where land was plentiful and cheap.
This sprawl effect is particularly easy to spot in the Texas Triangle – which encompasses the cities of San Antonio, Austin, Dallas–Fort Worth, and Houston – and Atlanta.
While Los Angeles did see a modest amount of growth over the past 25 years, it was the Inland Empire – anchored by San Bernardino and Riverside – that saw the most dramatic population growth in the region. The construction boom is only intensifying. The region added 50,000 new residents between 2016 and 2017.
Boomtowns
In general, smaller towns either lost population or remained relatively static. The exception is in places where resource extraction caused a growth spurt. Two prime examples are in Gillette, Wyoming, and Fort McMurray, Alberta. In the latter town, oil sands extraction added tens of thousands of new residents in a short amount of time.
Mixed growth and Static Cities
Chicago experienced one of the most striking growth patterns over the past 25 years. The contrast between urban decline and growth in the exurbs is clearly revealed in this visualization.
Contrast is also clear when looking at divergent patterns of Washington D.C. and Baltimore. The nation's capital and surrounding areas have been growing steadily in recent years, whereas the neighboring city's population is declining towards a 100-year low.
Static Cities
While a number of urban areas experienced dramatic shifts in the last couple of decades, some cities sidestepped wild population swings. For example, much of Philadelphia's population pattern remains similar to what it was in 1990.
Scranton, Pennsylvania, and Springfield, Massachusetts, are examples of smaller cities that remained in stasis.
Decline and Disaster
A number of cities in America's "Rust Belt" experienced declining populations. The visualizations of cities like Cleveland and Detroit show just how pronounced the exodus was.
The shrinking tax base and glut of vacant homes is causing a number of problems in the two cities, and with mixed economic prospects, it's unclear what the next 25 years will bring in terms of population changes.
Often, population declines are the result of economic reasons such as a decline in manufacturing or general stagnation. On occasion though, the raw power of nature changes the course of a city's history. This is the case in New Orleans, were Hurricane Katrina's legacy is clearly seen in this visualization.
New Orleans did recover in the years after the hurricane. However, as of 2015, the city was still far below its pre-Katrina population. Resettlement has been patchy as well, which is reflected in the towering red peaks of the population map.
To explore your city or other parts of the world, visit The Pudding's interactive map.
Which Generation Has the Most Influence Over U.S. Politics?
Visual Capitalist's inaugural Generational Power Index (GPI) examines the political power held by each generation and their influence on society.
Measuring Influence in U.S. Politics, by Generation
Generations are a widely recognized and discussed concept, and it's assumed people all understand what they refer to. But the true extent of each generation's clout has remained undetermined—until now.
In our inaugural Generational Power Index (GPI) 2021, we examine the power and influence each generation currently holds on American society, and its potential to evolve in the future.
Political power by generation was one of three key categories we used to quantify the current landscape. Before we dive into the results, here's how the Political Power category was calculated.
Measuring Generational Power
To begin with, here's how we categorized each generation:
| Generation | Age range (years) | Birth year range |
| --- | --- | --- |
| The Silent Generation | 76 and over | 1928-1945 |
| Baby Boomers | 57-75 | 1946-1964 |
| Gen X | 41-56 | 1965-1980 |
| Millennials | 25-40 | 1981-1996 |
| Gen Z | 9-24 | 1997-2012 |
| Gen Alpha | 8 and below | 2013-present |
Using these age groups as a framework, we then calculated the Political Power category using these distinct equally-weighted variables:
With this methodology in mind, here's how the Political Power category shakes out, using insights from the GPI.
Share of Political Power by Generation
Baby Boomers dominated with over 47% of the total political power by generation. This cohort has particular strength in the judicial system and in Congress.
| Generation | Political Power Share |
| --- | --- |
| Baby Boomers | 47.4% |
| Gen X | 29.0% |
| Millennials | 10.0% |
| Silent | 12.1% |
| Gen Z | 1.6% |
Baby Boomers, along with the Silent Generation also control 80% of political spending. Meanwhile, Gen X accounts for nearly half (46%) of local government positions.
Both voters and politicians play key roles in shaping American society. Thus, two variables worth looking closer at are the evolving electoral base and the composition of Congress.
The Changing Face of the U.S. Voter
Younger generations have very different perceptions on everything from cannabis to climate change. This is starting to be reflected in legislation.
2016 was a watershed moment for politicians vying for the vote—it was the last election in which Baby Boomers made up over a third of U.S. voters. Collectively, Boomers' voting power will decline from here on out.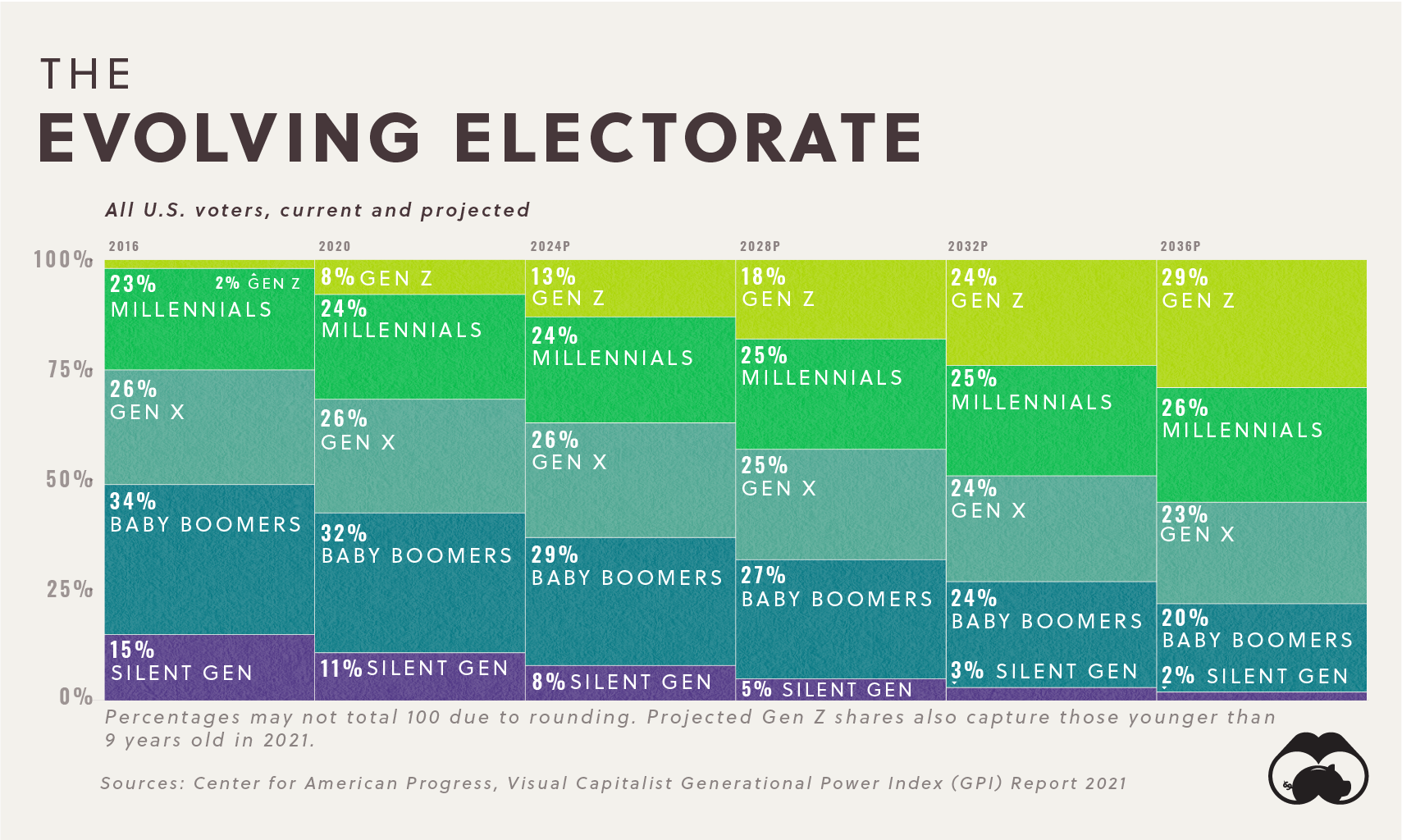 Within the next two decades, the combined voting power of Millennials and Gen Z will skyrocket from 32% in 2020 up to 55% by 2036.
Meanwhile, a decade from now, the oldest members of Gen Alpha (those born in 2013 and later) will enter the playing field and become eligible to vote in 2031.
The View from the Top
Having examined generational power in the electorate, we now turn our attention to the people on the other side of the democratic equation—the politicians.
In most cases, it takes many decades of experience and reputation building to reach the highest offices in the land. That's why the median age of Congress (61.2) is much higher than the median age of the U.S. population at large (38.1).
At this point in time, Baby Boomers are in the sweet spot, and it shows in the numbers. Boomers represent 298 of 532 Congressional seats (56% of all seats), and Gen X's growing contingent of members represents 31%.
On one end of the spectrum, the Silent Generation still occupies 7% of seats, which roughly reflects the group's share of the U.S. population. California's Democratic Senator Dianne Feinstein and Republican Don Young are both 87 years old, the latter having represented Alaska for 25 terms.
On the other end of the spectrum, Millennials currently claim 32 seats, just 6% of the total. As of 2021, this entire cohort now meets the minimum age requirement (25) to serve in the House of Representatives. The youngest member of Congress is Republican Madison Cawthorn, a representative for North Carolina at just 25 years old. Meanwhile, Senator Jon Ossoff is the youngest Senator in the country, serving Georgia at 36 years old.
This difference in political power by generation is stark considering that both Boomers and Millennials both make up similar proportions of the U.S. population at large. In that sense, Millennials are greatly underrepresented in Congress compared to Boomers.
Gen Z Waiting Patiently in the Wings
Gen Z's current age range is a natural reason why they don't yet have a foothold in government. But by 2022, the oldest members of Gen Z will turn 25, meeting the minimum age requirement to get elected into the House of Representatives.
With the oldest members of this generation soon turning 25, how long will it be before a representative from Gen Z occupies a seat in the Capitol Building?
Download the Generational Power Report (.pdf)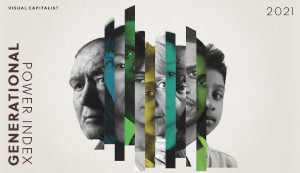 Ranking U.S. Generations on Their Power and Influence Over Society
Using data from our new Generational Power Index, we look at how much economic, political, and cultural power each U.S. generation holds.
Which U.S. Generation has the Most Power and Influence?
We're on the cusp of one of the most impactful generational shifts in history.
As it stands, the Baby Boomers (born 1946-1964) are America's most wealthy and influential generation. But even the youngest Boomers are close to retirement, with millions leaving the workforce every year. As Baby Boomers pass the torch, which generation will take their place as America's most powerful?
In our inaugural Generational Power Index (GPI) for 2021, we've attempted to quantify how much power and influence each generation holds in American society, and what that means for the near future.
Download the Generational Power Report (.pdf)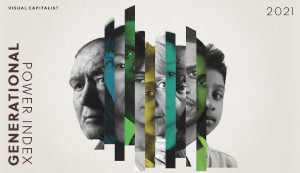 Generation and Power, Defined
Before diving into the results of the first GPI, it's important to explain how we've chosen to define both generations and power.
Here's the breakdown of how we categorized each generation, along with their age ranges and birth years.

| Generation | Age range (years) | Birth year range |
| --- | --- | --- |
| The Silent Generation | 76 and over | 1928-1945 |
| Baby Boomers | 57-75 | 1946-1964 |
| Gen X | 41-56 | 1965-1980 |
| Millennials | 25-40 | 1981-1996 |
| Gen Z | 9-24 | 1997-2012 |
| Gen Alpha | 8 and below | 2013-present |
The above age brackets for each generation aren't universally accepted. However, since our report largely focuses on U.S. data, we went with the most widely cited definitions, used by establishments such as Pew Research Center and the U.S. Federal Reserve.
To measure power, we considered a variety of factors that fell under three main categories:
Economic Power
Political Power
Cultural Power
We'll dive deeper into each category, and which generations dominated each one, below.
Overall Power, By Generation
Baby Boomers lead the pack when it comes to overall generational power, capturing 38.6%.

| Generation | Overall Power Share |
| --- | --- |
| The Silent Generation | 12.8% |
| Baby Boomers | 38.6% |
| Gen X | 30.4% |
| Millennials | 14.5% |
| Gen Z | 3.7% |
| Gen Alpha | 0.0% |
| Total | 100.0% |
While Boomers hold the largest share of power, it's interesting to note that they only make up 21.8% of the total U.S. population.
Gen X comes in second place, capturing 30.4% of power, while Gen Z ranks last, snagging a mere 3.7%. Gen Alpha has yet to score on the ranking, but keep in mind that the oldest members of this generation will only be eight years old this year—they haven't even reached double digits yet.
Generational Power: Economics
Considering that Baby Boomers hold nearly 53% of all U.S. household wealth, it makes sense that they dominate when it comes to our measurement of Economic Power.
At 43.4%, the GPI shows that Boomers hold more economic influence than Gen X, Millennials, and Gen Z combined. They make up a majority of business leaders in the U.S., and hold 42% of billionaire wealth in America.
Timing plays a role in the economic prosperity of Baby Boomers. They grew up in a post-WWII era, and spent their primary working years in a relatively stable, prosperous economy.
In contrast, Millennials entered the workforce during the Great Recession and have seen only tenuous economic and wage growth, impacting their ability to accumulate wealth. Combine this with crippling amounts of student debt, and it's no surprise that Millennials have nearly 50% less wealth than other generations (Boomers, Gen X) at a comparable age.
Generational Power: Political
In addition to holding the most Economic Power in the GPI, Baby Boomers also rank number one when it comes to Political Power.

Boomers capture 47.4% of political influence. This generation accounts for 32% of all U.S. voters, and holds the majority of federal and state positions. For instance, 68% of U.S. senators are Baby Boomers.
Political spending on election campaigns and lobbying predominantly comes from Boomers, too. When it comes to money spent on lobbying, we found that 60% of the top 20 spenders were from organizations led by Baby Boomers.
In contrast, Millennials and Gen Zers barely make a splash in the political realm. That said, in the coming years, it's estimated that the combined voting power of Millennials and Gen Z will see immense growth, rising from 32% of voters in 2020 up to 55% by 2036.
Cultural Power
There is one category where other generations gave Boomers a run for their money, which is in Cultural Power.
In this category, it's actually Gen X that leads the pack, capturing 36.0% of Cultural Power. Gen X is especially dominant in press and news media—over half of America's largest news corporations have a Gen Xer as their CEO, and a majority of the most influential news personalities are also members of Gen X.
Despite a strong showing in our culture category, Gen X falls short in one key variable we looked at—the digital realm. On digital platforms, Millennials dominate when it comes to both users and content creators, and Gen Z has growing influence here as well.
The Future of Generational Power
Generational power is not stagnant, and it ebbs and flows over time.
As this process naturally plays out, our new Generational Power Index and the coinciding annual report will aim to help quantify future shifts in power each year, while also highlighting the key stories that exemplify these new developments.
For a full methodology of how we built the Generational Power Index, see pages 28-30 in the report PDF. This is the first year of the report, and any feedback is welcomed.