A 3D Look at Shifting Urban Populations
Cities are constantly evolving, and urban populations respond to a number of push–pull factors, including economic opportunity, lifestyle trends, land values, and natural disasters.
Beyond the headlines and raw census numbers, it can be difficult to take population patterns into perspective. The talented team over at The Pudding has created an amazing, granular map that shows these patterns as 3D stacks.
Our focus today will be on growth between 1990 and 2015, as urban settlement patterns across Canada and the U.S. shifted dramatically over this relatively short timeframe. Let's take a look.
Growing Cities
One of the most dramatic examples of robust growth is Toronto.
Canada's largest city nearly doubled its population since 1990, and growth was distributed throughout the region. This city is a rare example of both extra-urban and downtown residential growth.
Vancouver is another Canadian city with a swelling urban population base. The city's recent population growth has been heavily concentrated along transit lines and the downtown core, resulting in a "spiky" visualization which resembles the condo towers now dotting the city's skyline.
Nearby, Seattle has added over a million people to its population since 1990. With one of the strongest economies in the country, it's unlikely that momentum will slow any time soon.
Growing Suburbs
Only recently have some cities begun to see urban residential construction. For much of the '90s and '00s, America's growth was in peripheral suburbs, where land was plentiful and cheap.
This sprawl effect is particularly easy to spot in the Texas Triangle – which encompasses the cities of San Antonio, Austin, Dallas–Fort Worth, and Houston – and Atlanta.
While Los Angeles did see a modest amount of growth over the past 25 years, it was the Inland Empire – anchored by San Bernardino and Riverside – that saw the most dramatic population growth in the region. The construction boom is only intensifying. The region added 50,000 new residents between 2016 and 2017.
Boomtowns
In general, smaller towns either lost population or remained relatively static. The exception is in places where resource extraction caused a growth spurt. Two prime examples are in Gillette, Wyoming, and Fort McMurray, Alberta. In the latter town, oil sands extraction added tens of thousands of new residents in a short amount of time.
Mixed growth and Static Cities
Chicago experienced one of the most striking growth patterns over the past 25 years. The contrast between urban decline and growth in the exurbs is clearly revealed in this visualization.
Contrast is also clear when looking at divergent patterns of Washington D.C. and Baltimore. The nation's capital and surrounding areas have been growing steadily in recent years, whereas the neighboring city's population is declining towards a 100-year low.
Static Cities
While a number of urban areas experienced dramatic shifts in the last couple of decades, some cities sidestepped wild population swings. For example, much of Philadelphia's population pattern remains similar to what it was in 1990.
Scranton, Pennsylvania, and Springfield, Massachusetts, are examples of smaller cities that remained in stasis.
Decline and Disaster
A number of cities in America's "Rust Belt" experienced declining populations. The visualizations of cities like Cleveland and Detroit show just how pronounced the exodus was.
The shrinking tax base and glut of vacant homes is causing a number of problems in the two cities, and with mixed economic prospects, it's unclear what the next 25 years will bring in terms of population changes.
Often, population declines are the result of economic reasons such as a decline in manufacturing or general stagnation. On occasion though, the raw power of nature changes the course of a city's history. This is the case in New Orleans, were Hurricane Katrina's legacy is clearly seen in this visualization.
New Orleans did recover in the years after the hurricane. However, as of 2015, the city was still far below its pre-Katrina population. Resettlement has been patchy as well, which is reflected in the towering red peaks of the population map.
To explore your city or other parts of the world, visit The Pudding's interactive map.
Ranked: The 20 Countries With the Fastest Declining Populations
Population decline is a rising issue for many countries in Eastern Europe, as well as outliers like Japan and Cuba.
Visualizing Population Decline by Country
Since the mid-1900s, the global population has followed a steep upwards trajectory.
While much of this growth has been concentrated in China and India, researchers expect the next wave of growth to occur in Africa. As of 2019, for example, the average woman in Niger is having over six children in her lifetime.
At the opposite end of this spectrum are a number of countries that appear to be shrinking from a population perspective. To shed some light on this somewhat surprising trend, we've visualized the top 20 countries by population decline.
The Top 20
The following table ranks countries by their rate of population decline, based on projected rate of change between 2020 and 2050 and using data from the United Nations.
| Rank | Country | Decline 2020-2050 |
| --- | --- | --- |
| 1 | 🇧🇬 Bulgaria | 22.5% |
| 2 | 🇱🇹 Lithuania | 22.1% |
| 3 | 🇱🇻 Latvia | 21.6% |
| 4 | 🇺🇦 Ukraine | 19.5% |
| 5 | 🇷🇸 Serbia | 18.9% |
| 6 | 🇧🇦 Bosnia and Herzegovina | 18.2% |
| 7 | 🇭🇷 Croatia | 18.0% |
| 8 | 🇲🇩 Moldova | 16.7% |
| 9 | 🇯🇵 Japan | 16.3% |
| 10 | 🇦🇱 Albania | 15.8% |
| 11 | 🇷🇴 Romania | 15.5% |
| 12 | 🇬🇷 Greece | 13.4% |
| 13 | 🇪🇪 Estonia | 12.7% |
| 14 | 🇭🇺 Hungary | 12.3% |
| 15 | 🇵🇱 Poland | 12.0% |
| 16 | 🇬🇪 Georgia | 11.8% |
| 17 | 🇵🇹 Portugal | 10.9% |
| 18 | 🇲🇰 North Macedonia | 10.9% |
| 19 | 🇨🇺 Cuba | 10.3% |
| 20 | 🇮🇹 Italy | 10.1% |
Many of these countries are located in or near Eastern Europe, for reasons we'll discuss below.
The first issue is birth rates, which according to the Peterson Institute for International Economics (PIIE), have fallen since the collapse of the Soviet Union. Across the region, the average number of children per woman fell from 2.1 in 1988 to 1.2 by 1998.
Birth rates have recovered slightly since then, but are not enough to offset deaths and emigration, which refers to citizens leaving their country to live elsewhere.
Eastern Europe saw several waves of emigration following the European Union's (EU) border expansions in 2004 and 2007. The PIIE reports that by 2016, 6.3 million Eastern Europeans resided in other EU states.
The Outliers
There are two geographical outliers in this dataset which sit on either side of Europe.
Japan
The first is Japan, where birth rates have fallen continuously since 1970. It wasn't until 2010, however, that the country's overall population began to shrink.
By the numbers, the situation appears dire. In 2021, 811,604 babies were born in Japan, while 1.44 million people died. As a result of its low birth rates, the island nation also has the world's highest average age at 49 years old.
The Japanese government has introduced various social programs to make having kids more appealing, but these don't appear to be getting to the root of the problem. For deeper insight into Japan's low birthrates, it's worth reading this article by The Atlantic.
Cuba
The second country is Cuba, and it's the only one not located within the Eastern Hemisphere. Cuba's fertility rate of 1.7 children per woman is the lowest in the Latin American region. It can be compared to countries like Mexico (2.2), Paraguay (2.5), and Guatemala (3.0).
Cuba's immigration is also incredibly low compared to its neighboring countries. According to the International Organization for Migration, immigrants account for just 0.1% of its total population.
Visualizing the World's Most Popular Religions
This graphic shows a breakdown of the world's major religions, and how much of the global population follows each one.

Creator Program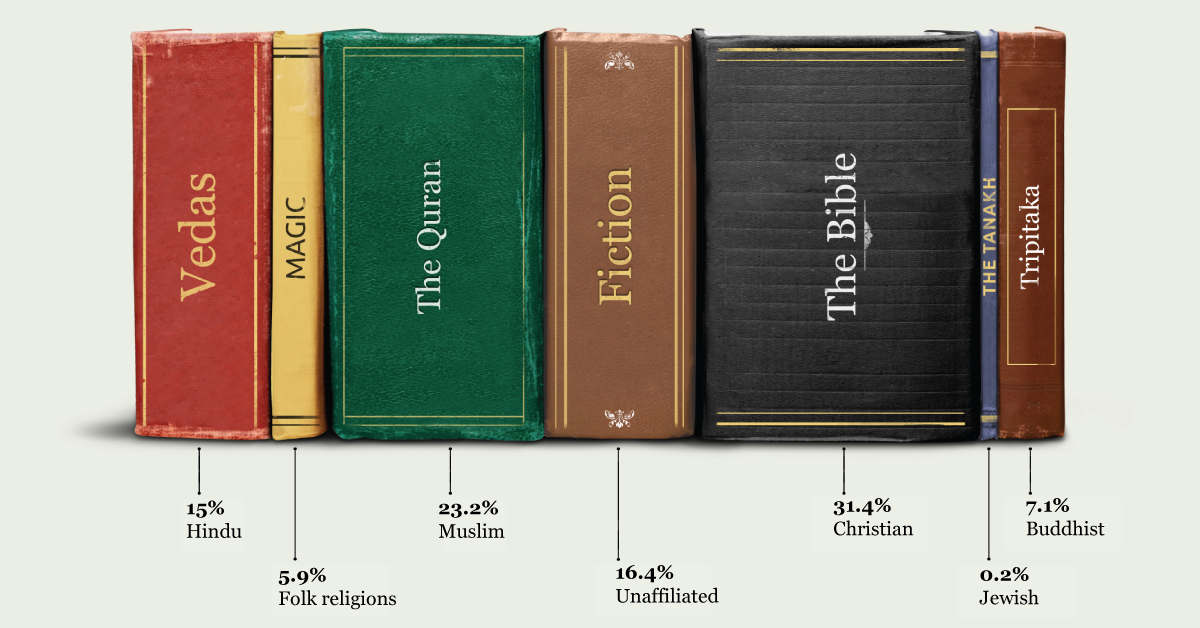 Visualizing the World's Most Popular Religions
According to some estimates, there are over 4,000 religions, faiths groups, and denominations that exist around the world today. Researchers and academics generally categorize the world's religions into five major groups: Christianity, Islam, Buddhism, Hinduism, and Judaism.
This graphic by Chit Chart visualizes the most popular religions around the world, using the latest available data from Index Mundi's world demographics.
In addition to the five major religious groups, the graphic includes two more categories: one for a collective of Folk religions and another for people who are unaffiliated with a religion.
The Religions with the Most Followers
Although the number of people who follow a religion has decreased in recent decades, 82.8% of the global population still identifies with one of the world's major religions.
Here's a breakdown of the most popular religions, ranked by their following as a percentage of the world's population:
| Rank | Religion | % of World's Population |
| --- | --- | --- |
| 1 | Christian | 31.4% |
| 2 | Muslim | 23.2% |
| 3 | Unaffiliated | 16.4% |
| 4 | Hindu | 15.0% |
| 5 | Buddhist | 7.1% |
| 6 | Folk Religions | 5.9% |
| 7 | Jewish | 0.2% |
| 8 | Other | 0.8% |
Christianity has the largest following with approximately 31% of the global population. Muslims make up the second-largest religious group, accounting for 23.2% of the world's population.
Roughly 16.4% of the global population is unaffiliated with a religion. This figure exceeds the percentage of people who identify with Hinduism (15%), Buddhism (7.1%), Folk Religions (5.9%), or Judaism (0.2%).
The World's Religions from Oldest to Newest
Hinduism is considered the oldest religion in the world, originating in the Indus River Valley (modern-day Pakistan) circa 7000 BCE.
While Judaism came after Hinduism, it is thought to be the oldest of the three monotheistic Abrahamic faiths, making it older than Christianity and Islam.
It began circa 2000 BCE in the Southern Levant (modern-day Israel, Palestine, and Jordan). By contrast, Christianity was founded in the 1st century and began as a movement within Judaism.
Scholars typically date the creation of Islam to the 7th century, making it the youngest of the world's major religions on this list. Islam was established in Mecca (modern-day Saudi-Arabia).
One religion that's not included on this list is Sikhism. Founded in the late 15th century, it's relatively new, especially compared to other religions like Hinduism or Judaism. Yet, despite being new, Sikhism has a large following—according to some estimates, there are over 25 million Sikhs worldwide.
What are Folk Religions?
A folk religion is defined as an ethnic or cultural practice that exists outside the theological doctrine of organized religions.
Lacking sacred texts, Folk religions are more concerned with spirituality than rituals or rites. Examples of Folk religions include Native American traditions, Chinese folk religions, and traditional African religions.
Since Folk religions are less institutionalized, they are especially challenging to measure and often excluded from surveys. With that said, an estimated 5.9% of the global population (approximately 430 million people) practice a Folk religion.
The Fastest-Growing Religions
While Islam is the newest of the big five religions, it's currently the world's fastest-growing one too. For context, here's the estimated percent change among the seven religion categories, between 2015 and 2060:
| Rank | Religious Group | Est. % change in population size (2015-2060) |
| --- | --- | --- |
| 1 | Muslims | 70% |
| 2 | Christians | 34% |
| 3 | Hindus | 27% |
| 4 | Jews | 15% |
| 5 | Folk religions | 5% |
| 6 | Unaffiliated | 3% |
| 7 | Buddhists | -7% |
Islam's rapid growth means it may surpass Christianity as the world's largest religion within the next half-century. What's causing this growth?
According to Pew Research Center, the main reason is simply demographics—on average, Muslim women have 2.9 children, which the average of all non-Muslims is 2.2.
Muslims are also concentrated in Africa and the Middle East, the two regions predicted to have the highest population increases in the next few decades.