A 3D Look at Shifting Urban Populations
Cities are constantly evolving, and urban populations respond to a number of push–pull factors, including economic opportunity, lifestyle trends, land values, and natural disasters.
Beyond the headlines and raw census numbers, it can be difficult to take population patterns into perspective. The talented team over at The Pudding has created an amazing, granular map that shows these patterns as 3D stacks.
Our focus today will be on growth between 1990 and 2015, as urban settlement patterns across Canada and the U.S. shifted dramatically over this relatively short timeframe. Let's take a look.
Growing Cities
One of the most dramatic examples of robust growth is Toronto.
Canada's largest city nearly doubled its population since 1990, and growth was distributed throughout the region. This city is a rare example of both extra-urban and downtown residential growth.
Vancouver is another Canadian city with a swelling urban population base. The city's recent population growth has been heavily concentrated along transit lines and the downtown core, resulting in a "spiky" visualization which resembles the condo towers now dotting the city's skyline.
Nearby, Seattle has added over a million people to its population since 1990. With one of the strongest economies in the country, it's unlikely that momentum will slow any time soon.
Growing Suburbs
Only recently have some cities begun to see urban residential construction. For much of the '90s and '00s, America's growth was in peripheral suburbs, where land was plentiful and cheap.
This sprawl effect is particularly easy to spot in the Texas Triangle – which encompasses the cities of San Antonio, Austin, Dallas–Fort Worth, and Houston – and Atlanta.
While Los Angeles did see a modest amount of growth over the past 25 years, it was the Inland Empire – anchored by San Bernardino and Riverside – that saw the most dramatic population growth in the region. The construction boom is only intensifying. The region added 50,000 new residents between 2016 and 2017.
Boomtowns
In general, smaller towns either lost population or remained relatively static. The exception is in places where resource extraction caused a growth spurt. Two prime examples are in Gillette, Wyoming, and Fort McMurray, Alberta. In the latter town, oil sands extraction added tens of thousands of new residents in a short amount of time.
Mixed growth and Static Cities
Chicago experienced one of the most striking growth patterns over the past 25 years. The contrast between urban decline and growth in the exurbs is clearly revealed in this visualization.
Contrast is also clear when looking at divergent patterns of Washington D.C. and Baltimore. The nation's capital and surrounding areas have been growing steadily in recent years, whereas the neighboring city's population is declining towards a 100-year low.
Static Cities
While a number of urban areas experienced dramatic shifts in the last couple of decades, some cities sidestepped wild population swings. For example, much of Philadelphia's population pattern remains similar to what it was in 1990.
Scranton, Pennsylvania, and Springfield, Massachusetts, are examples of smaller cities that remained in stasis.
Decline and Disaster
A number of cities in America's "Rust Belt" experienced declining populations. The visualizations of cities like Cleveland and Detroit show just how pronounced the exodus was.
The shrinking tax base and glut of vacant homes is causing a number of problems in the two cities, and with mixed economic prospects, it's unclear what the next 25 years will bring in terms of population changes.
Often, population declines are the result of economic reasons such as a decline in manufacturing or general stagnation. On occasion though, the raw power of nature changes the course of a city's history. This is the case in New Orleans, were Hurricane Katrina's legacy is clearly seen in this visualization.
New Orleans did recover in the years after the hurricane. However, as of 2015, the city was still far below its pre-Katrina population. Resettlement has been patchy as well, which is reflected in the towering red peaks of the population map.
To explore your city or other parts of the world, visit The Pudding's interactive map.
3D Map: The World's Largest Population Density Centers
What does population density look like on a global scale? These detailed 3D renders illustrate our biggest urban areas and highlight population trends.

Creator Program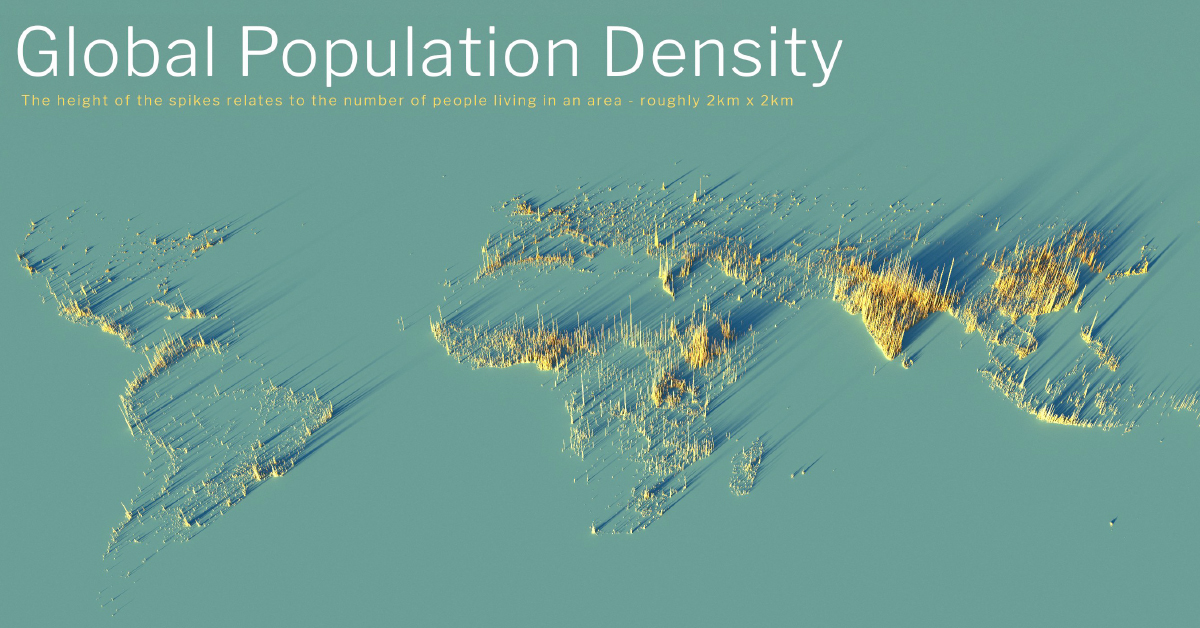 A 3D Look at the Largest Population Density Centers
It can be difficult to comprehend the true sizes of megacities, or the global spread of 8 billion people, but this series of population density maps makes the picture abundantly clear.
Created using the EU's population density data and mapping tool Aerialod by Alasdair Rae, the 3D-rendered maps highlight demographic trends and geographic constraints.
Though they appear topographical and even resemble urban areas, the maps visualize population density in squares. The height of each bar represents the number of people living in that specific square, with the global map displaying 2km x 2km squares and subsequent maps displaying 1km x 1km squares.
Each region and country tells its own demographic story, but the largest population clusters are especially illuminating.
China vs U.S. — Clusters vs Sprawl
Click here to view the high resolution version.
Zooming into the most populated country in the world, China and its surrounding neighbors demonstrate massive clusters of urbanization.
Most people are familiar with the large density centers around Hong Kong, Guangzhou, and Shanghai, but the concentration in central China is surprising. The cities of Chengdu and Chonqing, in the Sichuan Basin, are part of a massive population center.
Interestingly, more than 93% of China's population lives in the Eastern half of the country. It's a similar story in neighboring South Korea and Taiwan, where the population is clustered along the west coasts.
Click here to view the high resolution version.
The U.S. also has large population clusters along the coasts, but far more sprawl compared to its Asian counterparts. Though the Boston-Washington corridor is home to over 50 million residents, major centers spread out the population across the South and the Midwest.
Clearly visible are clusters in Florida (and not exclusively focused around Miami like some might believe), Illinois, Georgia, and Texas. The population is sparse in the West as expected, but California's Los Angeles and Bay Area metros make up for the discrepancy and are just behind New York City's density spikes in height.
India & Southeast Asia — Massive Density in Tight Areas
Click here to view the high resolution version.
At 1.38 billion people, India's population is just behind China's in terms of size. However, this sizable population fits into an area just one-third of China's total land area, with the above map demonstrating what the same amount of people looks like in a smaller region.
On one hand, you still have clear clusters, such as in Mumbai, New Delhi, Kolkata, and Bangladesh's Dhaka. On the other, there is a finite amount of room for a massive amount of people, so those density "spikes" are more like density "peaks" with the entire country covered in high density bars.
However, we can still see geographic trends. India's population is more densely focused in the North before fading into the Himalayas. Bangladesh is equally if not more densely populated, with the exception of the protected Sundarbans mangrove forest along the coast. And Pakistan's population seen in the distance is clustered along the Indus River.
Click here to view the high resolution version.
Geographic constraints have always been the biggest deciding factor when it comes to population density, and nowhere is this more apparent than Southeast Asia.
Take Indonesia, the fourth largest country by population. Despite spanning across many islands, more than half of the country's 269 million inhabitants are clustered on the single island of Java. The metros of Jakarta and Surabaya have experienced massive growth, but spreading that growth across oceans to entirely new islands (covered by rainforests) is a tall order.
When the distance is smaller, that cross-water growth is more likely to occur. Nearby in the Philippines, more than 100 million people have densely populated a series of islands no bigger than the state of Arizona.
Indeed, despite being one of the most populated areas in the world, each country in Southeast Asia has had its own growing problems. Some are limited by space (Singapore, Philippines), while others are limited by forests (Thailand, Vietnam).
A World of Different Density Pictures
Though the above maps cover the five most populated countries on Earth, accounting for nearly half of the world's population, they only show a small part of the global picture.
As the full global density map at the top of the page highlights, the population patterns can accurately illustrate some geographic patterns and constraints, while others need further exploration.
For example, the map clearly gives an outline of Africa and the sparse area that makes up the Sahara Desert. At the same time, landmasses like Australia and New Zealand are almost invisible save for a few clusters along the coast.
To get a closer and more intricate picture of each country's density map, head to Alasdair Rae's long thread of rendered maps and start scrolling up to find yours!
Countries with the Highest (and Lowest) Proportion of Immigrants
Here, we highlight countries that are magnets for immigration, such as UAE and Qatar, as well as nations with very few foreign born residents.
Countries with the Highest Proportion of Immigrants
For people living in cosmopolitan urban centers, it's easy to overestimate the prevalence of immigrants around the world.
The median proportion of foreign-born people in all countries is just over 5%. In countries with a population greater than one million, only four are majority foreign-born, and only eight surpass the one-third mark.
Here are the top 20 countries with the highest proportion of immigrants in their populations:
| Country | Immigrants as a percentage of population |
| --- | --- |
| 🇦🇪 United Arab Emirates | 88% |
| 🇶🇦 Qatar | 77% |
| 🇰🇼 Kuwait | 73% |
| 🇧🇭 Bahrain | 55% |
| 🇴🇲 Oman | 46% |
| 🇸🇬 Singapore | 43% |
| 🇸🇦 Saudi Arabia | 39% |
| 🇯🇴 Jordan | 34% |
| 🇦🇺 Australia | 30% |
| 🇨🇭 Switzerland | 29% |
| 🇳🇿 New Zealand | 29% |
| 🇱🇧 Lebanon | 25% |
| 🇮🇱 Israel | 23% |
| 🇨🇦 Canada | 21% |
| 🇰🇿 Kazakhstan | 20% |
| 🇸🇪 Sweden | 20% |
| 🇦🇹 Austria | 19% |
| 🇩🇪 Germany | 19% |
| 🇬🇦 Gabon | 19% |
| 🇮🇪 Ireland | 18% |
Source: UN via World Population Review. Note: Only countries with a population of greater than one million are included.
The United Arab Emirates comes out on top for the highest proportion of immigrants in its population. Impressively, the small Middle Eastern nation ranks sixth in the world for total immigrant population (8.7 million people).
Other countries on the Arabian Peninsula also rank at the top of this list. In Qatar, current host of the 2022 World Cup, 3-in-4 people are immigrants. The high proportion of foreign workers in the country also results in an extreme demographic skew—approximately 75% of the population of Qatar is male.
The one extreme outlier in the region is war-torn Yemen, where only 1.3% of the population are immigrants.
Outside the Middle East, Singapore (43%) takes top spot, followed by Australia (30%).
Spotlight on U.S. Immigration
Although the United States is outside the top 20, it still has by far the most immigrants of any other country (50 million vs. 16 million in second-place Germany).
About 15% of people in the U.S. are immigrants—numbers which are comparable to the historic high in the late 19th century. The proportion of foreign-born people in the country has been on the rise since the 1970s, and is projected to continue rising in coming decades. Around 2030, immigration is expected to surpass natural increases as a driver of population growth.
Countries with the Lowest Proportion of Immigrants
A few countries are magnets for immigration, while a great many more receive very little immigration. This can simply be due to lack of demand, or because of more extreme circumstances such as war or a failing economy. In other cases, immigration policies may limit the number of people who can migrate to a country.
Here are the top 20 countries with the lowest proportion of immigrants in their populations:
| Country | Immigrants as a percentage of population |
| --- | --- |
| 🇨🇺 Cuba | 0.03% |
| 🇨🇳 China | 0.07% |
| 🇻🇳 Vietnam | 0.08% |
| 🇮🇩 Indonesia | 0.13% |
| 🇲🇬 Madagascar | 0.13% |
| 🇲🇲 Myanmar | 0.14% |
| 🇭🇹 Haiti | 0.17% |
| 🇰🇵 North Korea | 0.19% |
| 🇱🇰 Sri Lanka | 0.19% |
| 🇵🇭 Philippines | 0.21% |
| 🇲🇦 Morocco | 0.28% |
| 🇮🇳 India | 0.35% |
| 🇵🇬 Papua New Guinea | 0.35% |
| 🇦🇫 Afghanistan | 0.37% |
| 🇸🇴 Somalia | 0.37% |
| 🇪🇷 Eritrea | 0.39% |
| 🇭🇳 Honduras | 0.40% |
| 🇬🇹 Guatemala | 0.47% |
| 🇰🇭 Cambodia | 0.47% |
| 🇹🇳 Tunisia | 0.51% |
Cuba has the lowest level of foreign-born people in its population. The Caribbean nation makes it very difficult for foreign nationals obtain permanent residency.
China comes in second last. In absolute terms, the million or so immigrants living in China may sound like a lot, but pales in comparison to the overall population of 1.4 billion.
Interestingly, Japan–which is the poster child for low immigration–isn't on the list above. The country's foreign-born population sits at just over 2%.