A 3D Look at Shifting Urban Populations
Cities are constantly evolving, and urban populations respond to a number of push–pull factors, including economic opportunity, lifestyle trends, land values, and natural disasters.
Beyond the headlines and raw census numbers, it can be difficult to take population patterns into perspective. The talented team over at The Pudding has created an amazing, granular map that shows these patterns as 3D stacks.
Our focus today will be on growth between 1990 and 2015, as urban settlement patterns across Canada and the U.S. shifted dramatically over this relatively short timeframe. Let's take a look.
Growing Cities
One of the most dramatic examples of robust growth is Toronto.
Canada's largest city nearly doubled its population since 1990, and growth was distributed throughout the region. This city is a rare example of both extra-urban and downtown residential growth.
Vancouver is another Canadian city with a swelling urban population base. The city's recent population growth has been heavily concentrated along transit lines and the downtown core, resulting in a "spiky" visualization which resembles the condo towers now dotting the city's skyline.
Nearby, Seattle has added over a million people to its population since 1990. With one of the strongest economies in the country, it's unlikely that momentum will slow any time soon.
Growing Suburbs
Only recently have some cities begun to see urban residential construction. For much of the '90s and '00s, America's growth was in peripheral suburbs, where land was plentiful and cheap.
This sprawl effect is particularly easy to spot in the Texas Triangle – which encompasses the cities of San Antonio, Austin, Dallas–Fort Worth, and Houston – and Atlanta.
While Los Angeles did see a modest amount of growth over the past 25 years, it was the Inland Empire – anchored by San Bernardino and Riverside – that saw the most dramatic population growth in the region. The construction boom is only intensifying. The region added 50,000 new residents between 2016 and 2017.
Boomtowns
In general, smaller towns either lost population or remained relatively static. The exception is in places where resource extraction caused a growth spurt. Two prime examples are in Gillette, Wyoming, and Fort McMurray, Alberta. In the latter town, oil sands extraction added tens of thousands of new residents in a short amount of time.
Mixed growth and Static Cities
Chicago experienced one of the most striking growth patterns over the past 25 years. The contrast between urban decline and growth in the exurbs is clearly revealed in this visualization.
Contrast is also clear when looking at divergent patterns of Washington D.C. and Baltimore. The nation's capital and surrounding areas have been growing steadily in recent years, whereas the neighboring city's population is declining towards a 100-year low.
Static Cities
While a number of urban areas experienced dramatic shifts in the last couple of decades, some cities sidestepped wild population swings. For example, much of Philadelphia's population pattern remains similar to what it was in 1990.
Scranton, Pennsylvania, and Springfield, Massachusetts, are examples of smaller cities that remained in stasis.
Decline and Disaster
A number of cities in America's "Rust Belt" experienced declining populations. The visualizations of cities like Cleveland and Detroit show just how pronounced the exodus was.
The shrinking tax base and glut of vacant homes is causing a number of problems in the two cities, and with mixed economic prospects, it's unclear what the next 25 years will bring in terms of population changes.
Often, population declines are the result of economic reasons such as a decline in manufacturing or general stagnation. On occasion though, the raw power of nature changes the course of a city's history. This is the case in New Orleans, were Hurricane Katrina's legacy is clearly seen in this visualization.
New Orleans did recover in the years after the hurricane. However, as of 2015, the city was still far below its pre-Katrina population. Resettlement has been patchy as well, which is reflected in the towering red peaks of the population map.
To explore your city or other parts of the world, visit The Pudding's interactive map.
All World Languages in One Visualization
See the world's major languages broken down by country in this stunning visualization.
All World Languages, By Native Speakers
View a high resolution version of today's graphic by clicking here.
Languages provide a window into culture and history. They're also a unique way to map the world – not through landmasses or geopolitical borders, but through mother tongues.
The Tower of Babel
Today's infographic from Alberto Lucas Lopez condenses the 7,102 known living languages today into a stunning visualization, with individual colors representing each world region.
Only 23 languages are spoken by at least 50 million native speakers. What's more, over half the planet speaks at least one of these 23 languages.
Chinese dominates as a macrolanguage, but it's important to note that it consists of numerous languages. Mandarin, Yue (including Cantonese), Min, Wu, and Hakka cover over 200 individual dialects, which vary further by geographic location.
| Country | Native Chinese speakers (millions) |
| --- | --- |
| 🇨🇳 China | 1,152.0 |
| 🇹🇼 Taiwan | 21.8 |
| 🇭🇰 Hong Kong SAR | 6.5 |
| 🇲🇾 Malaysia | 5.1 |
| 🇸🇬 Singapore | 1.8 |
| 🇹🇭 Thailand | 1.2 |
| 🇻🇳 Vietnam | 0.9 |
| 🇵🇭 Philippines | 0.7 |
| 🇲🇲 Myanmar | 0.5 |
| 🇲🇴 Macau SAR | 0.5 |
| Other | 6.0 |
| Total | 1,197 million |
Chinese is one of the most challenging languages for English speakers to pick up, in part due its completely unfamiliar scripts. You'd have to know at least 3,000 characters to be able to read a newspaper, a far cry from memorizing the A-Z alphabet.
Spanglish Takes Over
After Chinese, the languages of Spanish and English sit in second and third place in terms of global popularity. The rapid proliferation of these languages can be traced back to the history of Spanish conquistadors in the Americas, and British colonies around the world.
Animation: Map of Colonization (1492 – 2008):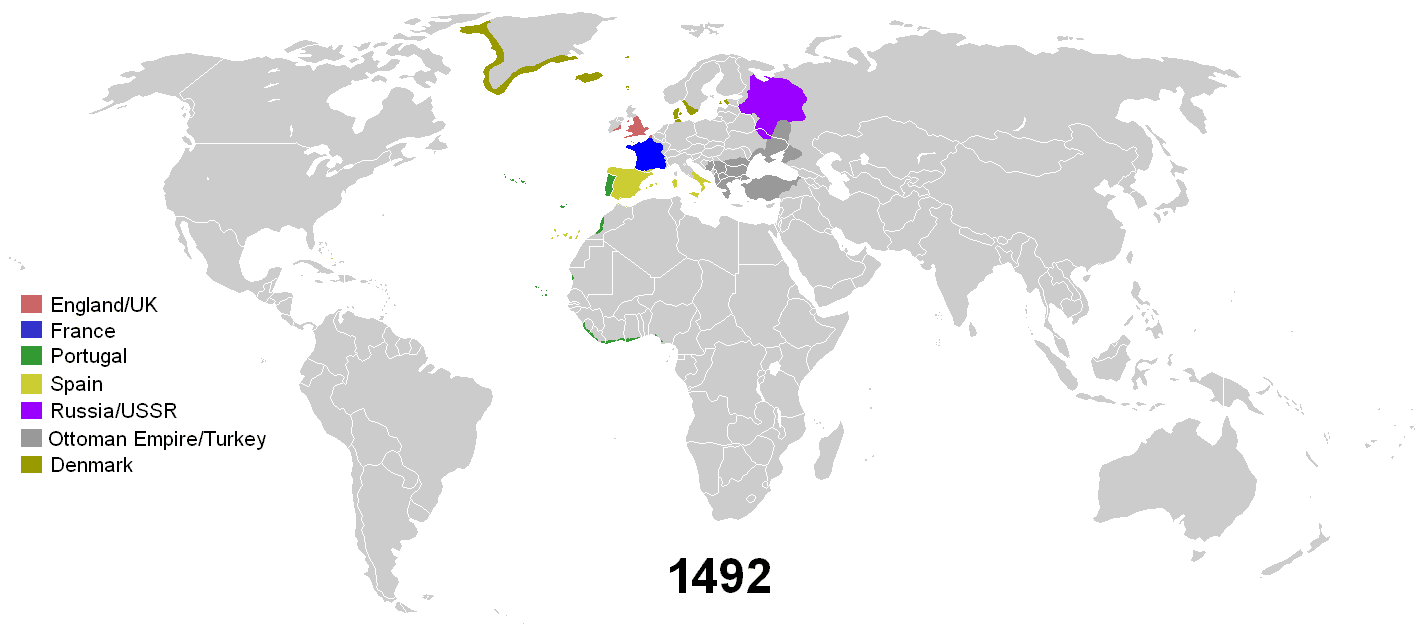 Today, Spanish has 399 million native speakers, but these are mostly concentrated in Latin America. English has 335 million native speakers under its belt, with a widespread reach all over the globe.
Two Worlds, One Family
While the visualization makes all the world languages seem disparate, this linguistic family tree shows how they grew from a common root. It also explains how languages can evolve and branch out over time.
Created by Minna Sundberg. Full version.
This linguistic tree also includes many languages that are not on the large visualization of 23 mother tongues. Some of them might be considered endangered or at risk today, such as Catalan or Welsh. However, with globalization, a few interesting linguistic trends are arising.
1. Language revival
Certain enclaves of marginalized languages are being preserved out of pride for the traditional and cultural histories attached.
While Catalan was once banned, its rebirth is a key marker of identity in Barcelona. More than 150 universities teach Catalan worldwide. In the case of Welsh, a mammoth university project plans to make sure it does not die out. Researchers are compiling ten million Welsh words to preserve the past, present, and future of the language.
2. Language forecast
At this point in time, English is the lingua franca – adopted as a common language among speakers with different mother tongues. However, this status might soon be fuzzier as demographic trends continue.
The rise of China is an obvious one to consider. As China continues to increase its economic might and influence, its languages will proliferate as well.
At the same time, 26 African countries are projected to double their current size, many of which speak French as a first language. One study by investment bank Natixis suggests that Africa's growth may well bring French to the forefront – making it the most-spoken language by 2050.
Could French provide a certain je ne sais quoi that no other world language can quite replace?
This post was first published in 2018. We have since updated it, adding in new content for 2021.
Ranked: The World's Fastest Growing Cities
Nearly 60% of the world's population lives in cities and this trend is not slowing down—take a look at the world's 20 fastest growing cities.
Ranked: The World's Fastest Growing Cities
By 2025, the world's population will reach over 8.1 billion people.
Most of that population growth will be concentrated in cities across Africa and Asia. To help paint a detailed picture, this map uses data from the United Nations to rank the top 20 fastest growing cities in the world in terms of average annual growth rate from 2020 to 2025.
Full Speed Ahead
The majority of the world's fastest growing cities are located in Africa—in fact, 17 of the 20 are located on the continent, with four of the 20 cities being located in Nigeria specifically.
Population growth is booming across the entire continent, as many countries retain high birth rates. According to the World Bank, the 2019 fertility rate (births per woman) in Sub-Saharan Africa was 4.6, compared to the global fertility rate of 2.4.
| City | Country | Continent | Annual Growth (2020-2025p) |
| --- | --- | --- | --- |
| Gwagwalada | 🇳🇬 Nigeria | Africa | 6.46% |
| Kabinda | 🇨🇩 Democratic Republic of Congo | Africa | 6.37% |
| Rupganj | 🇧🇩 Bangladesh | Asia | 6.36% |
| Lokoja | 🇳🇬 Nigeria | Africa | 5.93% |
| Uige | 🇦🇴 Angola | Africa | 5.92% |
| Bujumbura | 🇧🇮 Burundi | Africa | 5.75% |
| Songea | 🇹🇿 Tanzania | Africa | 5.74% |
| Xiongan | 🇨🇳 China | Asia | 5.69% |
| Potiskum | 🇳🇬 Nigeria | Africa | 5.65% |
| Bunia | 🇨🇩 Democratic Republic of Congo | Africa | 5.63% |
| Tete | 🇲🇿 Mozambique | Africa | 5.56% |
| Cuito | 🇦🇴 Angola | Africa | 5.48% |
| Hosur | 🇮🇳 India | Asia | 5.38% |
| Abomey-Calavi | 🇧🇯 Benin | Africa | 5.27% |
| Nnewi | 🇳🇬 Nigeria | Africa | 5.18% |
| Malanje | 🇦🇴 Angola | Africa | 5.17% |
| Mbouda | 🇨🇲 Cameroon | Africa | 5.16% |
| Quelimane | 🇲🇿 Mozambique | Africa | 5.14% |
| Kampala | 🇺🇬 Uganda | Africa | 5.14% |
| Goma | 🇨🇩 Democratic Republic of Congo | Africa | 5.14% |
Nigeria's economy is largely based on petroleum which has resulted in the country becoming one of the strongest economies in Africa. This, coupled with a high birth rate and a resulting young population, has given the country a strong and rising workforce.
However, the population growth in Nigeria is both a blessing and a curse. The success of the economy, among other factors, has resulted in excessive rural-to-urban migration. This mass exodus from rural areas has led to less farming, which means the country now needs to import basic food staples at a high cost.
In Mozambique, Tete and Quelimane are growing 5.56% and 5.14% respectively. The country is expected to experience strong economic growth after facing contractions due to the pandemic. Forecasts predict that the Mozambiques's economy will grow 4% by 2022.
Implications of Fast Growth
All of the top 20 fastest growing cities are located in either Africa or Asia, and they are far outpacing growth on other continents, such as Europe, for example.
Fastest Growing Cities: Europe vs. Global

| Europe's Fastest Growing Cities | Growth Rate | World's Fastest Growing Cities | Growth Rate |
| --- | --- | --- | --- |
| 🇷🇺 Balashikha, Russia | 2.01% | 🇳🇬 Gwagwalada | 6.46% |
| 🇷🇺 Tyumen, Russia | 1.88% | 🇨🇩 Kabinda | 6.37% |
| 🇦🇱 Tiranë (Tirana), Albania | 1.63% | 🇧🇩 Rupganj | 6.36% |
| 🇳🇴 Oslo, Norway | 1.38% | 🇳🇬 Lokoja | 5.93% |
| 🇷🇺 Sochi, Russia | 1.33% | 🇦🇴 Uige | 5.92% |
| 🇬🇧 Coventry-Bedworth, UK | 1.32% | 🇧🇮 Bujumbura | 5.75% |
| 🇸🇪 Stockholm, Sweden | 1.25% | 🇹🇿 Songea | 5.74% |
| 🇨🇭 Lausanne, Switzerland | 1.23% | 🇨🇳 Xiongan | 5.69% |
| 🇷🇺 Krasnodar, Russia | 1.22% | 🇳🇬 Potiskum | 5.65% |
| 🇷🇺 Surgut, Russia | 1.17% | 🇨🇩 Bunia | 5.63% |
| 🇷🇺 Podolsk, Russia | 1.16% | 🇲🇿 Tete | 5.56% |
| 🇮🇪 Dublin, Ireland | 1.12% | 🇦🇴 Cuito | 5.48% |
| 🇬🇧 London, UK | 1.12% | 🇮🇳 Hosur | 5.38% |
| 🇳🇱 Utrecht, Netherlands | 1.11% | 🇧🇯 Abomey-Calavi | 5.27% |
| 🇸🇪 Göteborg, Sweden | 1.07% | 🇳🇬 Nnewi | 5.18% |
| 🇫🇷 Toulouse, France | 1.07% | 🇦🇴 Malanje | 5.17% |
| 🇸🇪 Malmö, Sweden | 1.05% | 🇨🇲 Mbouda | 5.16% |
| 🇫🇷 Montpellier, France | 1.04% | 🇲🇿 Quelimane | 5.14% |
| 🇫🇷 Bordeaux, France | 0.99% | 🇺🇬 Kampala | 5.14% |
| 🇨🇭 Genève, Switzerland | 0.99% | 🇨🇩 Goma | 5.14% |
By 2050, Sub-Saharan Africa will be home to close to 2 billion people and roughly half will be under the age of 25. This represents an enormous labor force and opportunities for innovation and growth. In fact, in navigating the pandemic, Africa is already starting to capitalize on digital advances in both traditional and new sectors.
China has its eye on Africa, as evidenced through their multiple investments in infrastructure projects in the continent. Additionally, NATO countries have recently committed to investing similar amounts in Africa to counter China's influence.
In spite of the economic potential, increased city sizes could be problematic for some of these countries. They will need to adapt to the issues associated with mass urbanization, like pollution, overcrowding, and high costs of living.
Changing Tides
Population booms can lead to massive economic growth, a larger (and younger) working population, and a growing domestic consumer market.
As the aforementioned cities continue their rapid expansion, and as people continue to flock to growing megacities in Africa and Asia, it could represent the beginning of an important economic shift that is worth keeping an eye on.