The World's Largest Shipping Hubs
The Briefing
The world's 10 largest shipping hubs shipped 250 million TEUs (twenty foot equivalent units) in 2019
The Asia-Pacific dominates the landscape with 9 out of 10 shipping hubs located in that region
The World's Largest Shipping Hubs (2005-2019)
As consumers, we often overlook the complexity and sheer size of global trade that is behind the goods and services we consume everyday.
Trade accounts for roughly 60% of global GDP—and emerging markets, particularly in the Asia Pacific region, have trade to thank in part for their economic growth in recent times.
When it comes to the movement of all these goods, shipping hubs are a crucial component of the trade ecosystem. The following data looks at the 10 largest global shipping hubs and their changes in throughput over time.
The 10 Largest Shipping Hubs (2005-2019, Thousands of TEUs)

Rank
2005
2010
2015
2019
1
Singapore:
23,192
Shanghai:
29,069
Shanghai:
36,537
Shanghai:
43,303
2
Hong Kong:
22,602
Singapore:
28,431
Singapore:
30,922
Singapore:
37,196
3
Shanghai:
18,084
Hong Kong:
23,699
Shenzhen:
24,205
Ningbo-Zhoushan:
27,535
4
Shenzhen:
16,197
Shenzhen:
22,510
Ningbo-Zhoushan:
20,627
Shenzhen:
25,769
5
Busan:
11,843
Busan:
14,194
Hong Kong:
20,073
Guangzhou:
23,223
6
Kaohsiung:
9,471
Ningbo-Zhoushan:
13,147
Busan:
19,469
Busan:
21,992
7
Rotterdam:
9,288
Guangzhou:
12,546
Guangzhou:
17,625
Qingdao:
21,012
8
Hamburg:
8,088
Qingdao:
12,012
Qingdao:
17,436
Hong Kong:
18,303
9
Dubai:
7,619
Dubai:
11,600
Dubai:
15,592
Tianjin:
17,301
10
Los Angeles:
7,485
Rotterdam:
11,148
Tianjin:
14,111
Rotterdam:
14,811
One of the biggest changes in recent years is the addition of the Yangshan Port in Shanghai. This massive port has already undergone four expansion phases since it opened in 2005.
Also noteworthy is Hong Kong's falling position in this ranking. Only a decade ago, Hong Kong was the third-busiest port in the world. Today, facing fierce competition from nearby port facilities, Hong Kong sits in eighth place.
The Global Trade Machine
Trade and the transportation of goods and services are a fundamental component of the $88 trillion global economy. The value of all exports in 2019 was $24.9 trillion.
The Chinese economy continues to show immense strength, and the country is now the top trading partner of 128 countries around the world. China exported $2.6 trillion worth of goods last year, representing 18% of GDP and making them the largest exporter in the world. This economic prowess is also expressed through their enormous shipping hubs – 70% of the TEUs from the top 10 flow through China.
The aggregate volume of goods and services that move between the worlds largest shipping hubs has risen in relation to global trade figures over time, from 212 million TEUs in 2014 to 250 million in 2019.
Support the Future of Data Storytelling
Sorry to interrupt your reading, but we have a favor to ask. At Visual Capitalist we believe in a world where data can be understood by everyone. That's why we want to build the VC App - the first app of its kind combining verifiable and transparent data with beautiful, memorable visuals. All available for free.
As a small, independent media company we don't have the expertise in-house or the funds to build an app like this. So we're asking our community to help us raise funds on Kickstarter.
If you believe in data-driven storytelling, join the movement and back us on Kickstarter!
Thank you.
Ranked: These Are 10 of the World's Least Affordable Housing Markets
An analysis of 90+ major cities reveals which ones are the least affordable housing markets based on their price-to-income ratio.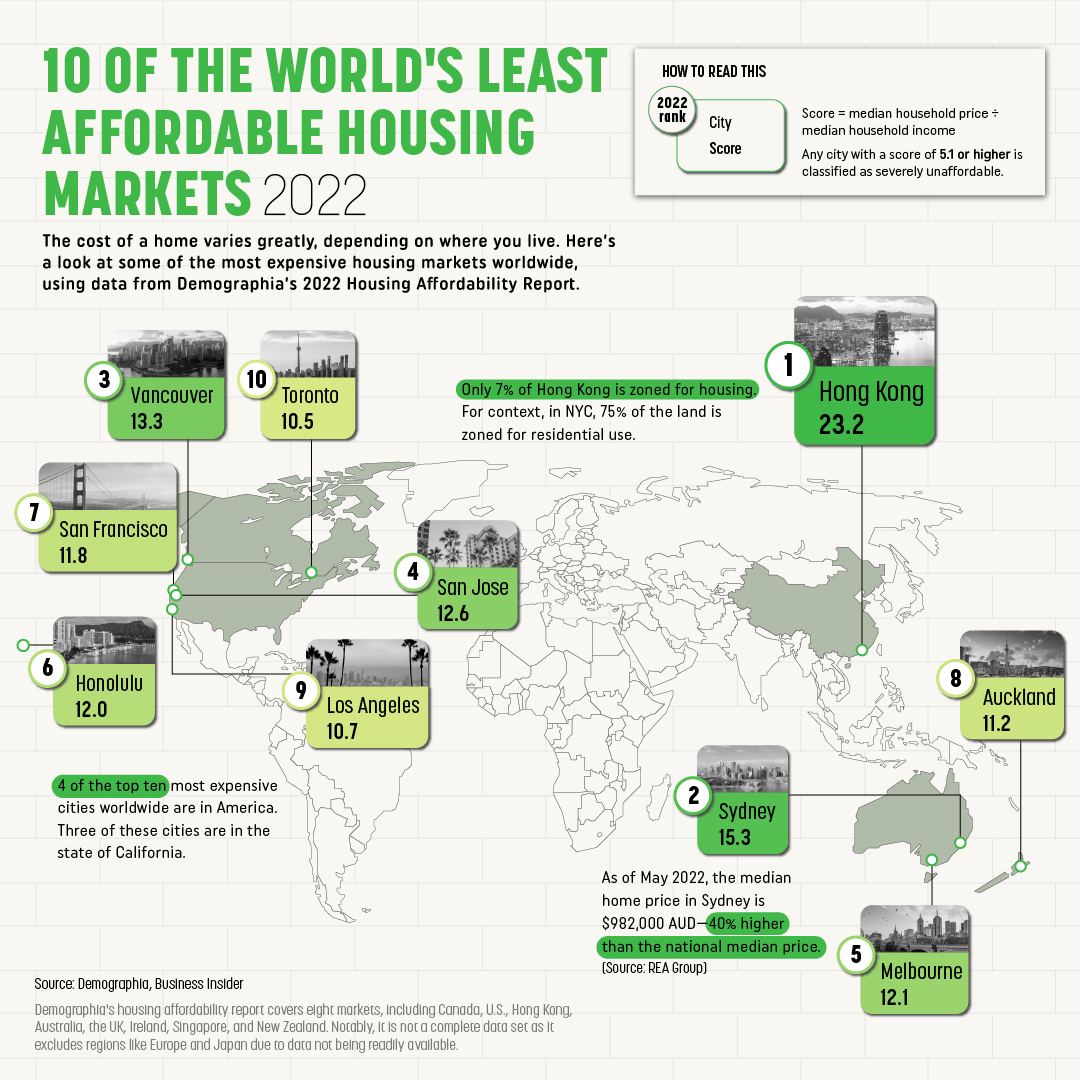 The Briefing
For the 12th year in a row, Hong Kong is the world's least affordable housing market, according to Demographia's ranking of 92 cities in select countries
Sydney, Australia moves up one spot from last year's ranking to take second place
These Are 10 of the World's Least Affordable Housing Markets
It's become increasingly difficult for middle-class families to purchase a home over the last few years—and the global pandemic has only made things worse.
According to Demographia's 2022 Housing Affordability Report, the number of housing markets around the world deemed "severely unaffordable" increased by 60% compared to 2019 (prior to the pandemic).
This graphic looks at some of the least affordable housing markets across the globe, relative to median household income. The report covers 92 different cities in eight nations: Australia, Canada, China, Ireland, New Zealand, Singapore, the United Kingdom, and the United States.
The Least Affordable Housing Markets
Before diving in, it's worth outlining the methodology used in this report, to help explain what's classified as a severely unaffordable housing market.
To calculate affordability, a city's median housing price and divided by its median household income. From there, a city is given a score:
A score of 5.1 or above is considered severely unaffordable
4.1 to 5.0 is considered seriously unaffordable
3.1 to 4.0 is considered moderately unaffordable
All the cities on this graphic are classified as severely unaffordable⁠—and, for the 12th year in a row, Hong Kong takes the top spot as the world's most unaffordable housing market, with a score of 23.2.
| Housing Market | Nation | Score |
| --- | --- | --- |
| Hong Kong | 🇭🇰​ Hong Kong (SAR) | 23.2 |
| Sydney, NSW | 🇦🇺​ Australia | 15.3 |
| Vancouver, BC | 🇨🇦​ Canada | 13.3 |
| San Jose, CA | 🇺🇸​ U.S. | 12.6 |
| Melbourne, VIC | 🇦🇺​ Australia | 12.1 |
| Honolulu, HI | 🇺🇸​ U.S. | 12.0 |
| San Francisco, CA | 🇺🇸​ U.S. | 11.8 |
| Auckland, AUK | 🇳🇿​ New Zealand | 11.2 |
| Los Angeles, CA | 🇺🇸​ U.S. | 10.7 |
| Toronto, ON | 🇨🇦​ Canada | 10.5 |
One reason for Hong Kong's steep housing costs is its lack of supply, partly due to its lack of residential zoning—which only accounts for 7% of the region's zoned land. For context, 75% of New York City's land area is dedicated to residential housing.
Sydney moved up one spot this year, making it the second most expensive city to purchase a home on the list, with a score of 15.3. Besides Hong Kong, no other city has scored this high in the last 18 years this report has been released.
There are several theories for Sydney's soaring housing rates, but industry expert Tom Forrest, CEO of Urban Taskforce Australia, boils it down to one fundamental issue in an interview with Australia Broker—supply isn't keeping up with demand:
"Housing supply has been consistently not meeting demand in the Greater Sydney and across regional New South Wales…if you have supply consistently not meeting demand then the price will go up. That's what happened and we're seeing it in abundance."Tom Forrest, CEO of Urban Taskforce Australia
The COVID-19 Impact
Middle-income earners were already feeling the squeeze prior to the global pandemic, but COVID-19 only exacerbated housing affordability issues.
As people began to work from home, high-income earners started to look for more spacious housing that wasn't necessarily in the city center, driving up demand in suburban areas that were relatively affordable prior to the pandemic.
At the same time, supply chain issues and material costs impacted construction, which created a perfect storm that ultimately drove housing prices up.
But with interest rates rising and COVID-19 restrictions easing around the world, some experts are predicting a market cool down this year—at least in some parts of the world.
>>Like this? Then you might like this article: How Much Prime Real Estate Could You Buy for $1M?

Where does this data come from?
Source: Demographia
Details: The affordability score is calculated by taking a city's median housing price and dividing it by the median household income. Anything over 5.1 is considered severely unaffordable
Notes: Data includes 92 metropolitan markets across eight countries; Australia, Canada, Ireland, Singapore, China, New Zealand, the U.K., and the U.S., as of the third quarter of 2021. Many European countries, along wth Japan, we excluded from the dataset, because information on median income was not readily available.
Poll: Inflation is the Top Financial Concern for Americans
Many Americans are feeling the sting of inflation as everyday items like food and fuel have seen big price increases.
The Briefing
Inflation has quickly become the top financial concern for American families
Compared to 2021, far fewer Americans believe their financial situation is improving
Poll: Inflation is the Top Financial Concern for Americans
A recent survey by Gallup discovered that inflation has become the top financial concern for Americans, surpassing other issues like low wages and housing costs.
While this result may not be too surprising, it is interesting to see how today's concerns compare to that of previous years. For reference, the Consumer Price Index (CPI) has grown 8.3% between April 2021 and April 2022, representing a near 40-year high.
Poll Results
Results were collected in April 2022 and are based on the responses of over 1,000 U.S. adults. In this case, the specific question was: What is the most important financial problem facing your family today?
| Trend | April 2022 | April 2021 | April 2020 | April 2019 |
| --- | --- | --- | --- | --- |
| Inflation | 32% | 8% | 3% | 6% |
| Low wages | 11% | 10% | 11% | 11% |
| Gas prices | 10% | 1% | -- | -- |
| Housing costs | 8% | 9% | 9% | 8% |
| Health care costs | 7% | 8% | 8% | 17% |
Percentage of respondents. Includes the top five categories, based on April 2022 results.
Based on these results, we can see that inflation began to gain momentum in early 2021. Rising gas prices, which are a significant contributor to overall inflation, also popped up in 2021.
Implications
Significantly fewer Americans feel confident about their financial situation due to the rising cost of living. This was captured in the same Gallup survey referenced above.
| Income Group | 2022 | 2021 | Percentage point decrease |
| --- | --- | --- | --- |
| Upper  | 50% | 28% | -22 |
| Middle | 48% | 39% | -9 |
| Lower | 63% | 45% | -18 |
Percentage of respondents who say their personal financial situation is improving.
The largest decreases were seen among the upper and lower income groups.
Upper income families tend to own more financial assets like stocks and bonds. An inflationary environment, especially when combined with rising interest rates, can eat away at the returns generated by these assets, which could explain this cohort's drop in optimism.
Lower income families, on the other hand, are more likely to be struggling already. In fact, a 2017 report found that six in 10 Americans don't have $500 in savings. With this in mind, it's easy to see how an increase in the price of food or gas could cause worry.
Where does this data come from?
Source: Gallup
Notes: Interviews conducted April 1-19, 2022, with a random sample of 1,018 adults, aged 18 and older, living in all 50 U.S. states and the District of Columbia. For results based on the total sample of national adults, the margin of sampling error is ±4 percentage points at the 95% confidence level.