Wired World: 35 Years of Submarine Cables in One Map
You could be reading this article from nearly anywhere in the world and there's a good chance it loaded in mere seconds.
Long gone are the days when images would load pixel row by pixel row. Now, even high-quality video is instantly accessible from almost everywhere. How did the internet get so fast? Because it's moving at the speed of light.
The Information Superhighway
The miracle of modern fiber optics can be traced to a single man, Narinder Singh Kapany. The young physicist was skeptical when his professors asserted that light 'always travels in a straight line'. His explorations into the behavior of light eventually led to the creation of fiber optics—essentially, beaming light through a thin glass tube.
The next step to using fiber optics as a means of communication was lowering the cable's attenuation rate. Throughout the 1960-70s, companies made gains in manufacturing, reducing the number of impurities and allowing light to cross great distances without a dramatic decrease in signal intensity.
By the mid-1980s, long distance fiber optic cables had finally reached the feasibility stage.
Crossing the Pond
The first intercontinental fiber optic cable was strung across the floor of the Atlantic Ocean in 1988. The cable—known as TAT-8*—was spearheaded by three companies; AT&T, France Télécom, and British Telecom. The cable was able to carry the equivalent of 40,000 telephone channels, a ten-fold increase over its galvanic predecessor, TAT-7.
Once the kinks of the new cable were worked out, the floodgates were open. During the course of the 1990s, many more cables hit the ocean floor. By the dawn of the new millennium, every populated continent on Earth was connected by fiber optic cables. The physical network of the internet was beginning to take shape.
As today's video from ESRI shows, the early 2000s saw a boom in undersea cable development, reflecting the uptick in internet usage around globe. In 2001 alone, eight new cables connected North America and Europe.
From 2016-2020, over 100 new cables were laid with an estimated value of $14 billion. Now, even the most remote Polynesian islands have access to high-speed internet thanks to undersea cables.
*TAT-8 does not appear in the video above as it was retired in 2002.
The Shifting Nature of Cable Construction
Even though nearly every corner of the globe is now physically connected, the rate of cable construction is not slowing down.
This is due to the increasing capacity of new cables and our appetite for high-quality video content. New cables are so efficient that the majority of potential capacity along major cable routes will come from cables that are less than five years old.
Traditionally, a consortium of telecom companies or governments would fund cable construction, but tech companies are increasingly funding their own submarine cable networks.
Amazon, Microsoft and Google own close to 65% market share in cloud data storage, so it's understandable that they'd want to control the physical means of transporting that data as well.
These three companies now own 63,605 miles of submarine cable. While laying cable is a costly endeavor, it's necessary to meet surging demand—content providers' share of data transmission skyrocketed from around 8% to nearly 40% over the past decade.
A Bright Future for Dark Fiber
At the same time, more aging cables will be taken offline. Even though signals are no longer traveling through this network of "dark fiber", it's still being put to productive use. It turns out that undersea telecom cables make a very effective seismic network, helping researchers study offshore earthquakes and the geologic structures on the ocean floor.
How Big Tech Revenue and Profit Breaks Down, by Company
How do the big tech giants make their money? This series of graphics shows a breakdown of big tech revenue, using Q2 2022 income statements.

Creator Program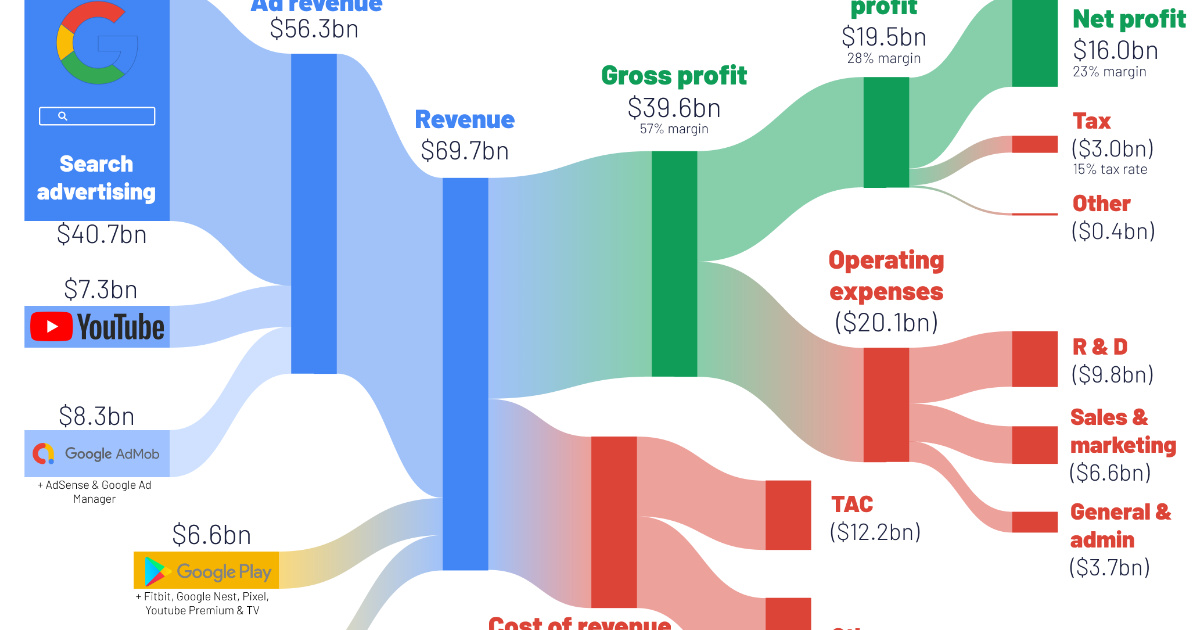 In the media and public discourse, companies like Alphabet, Apple, and Microsoft are often lumped together into the same "Big Tech" category. After all, they constitute the world's largest companies by market capitalization.
And because of this, it's easy to assume they're in direct competition with each other, fiercely battling for a bigger piece of the "Big Tech" pie. But while there is certainly competition between the world's tech giants, it's a lot less drastic than you might imagine.
This is apparent when you look into their various revenue streams, and this series of graphics by Truman Du provides a revenue breakdown of Alphabet, Amazon, Apple, and Microsoft.
How Big Tech Companies Generate Revenue
So how does each big tech firm make money? Let's explore using data from each company's June 2022 quarterly income statements.
Alphabet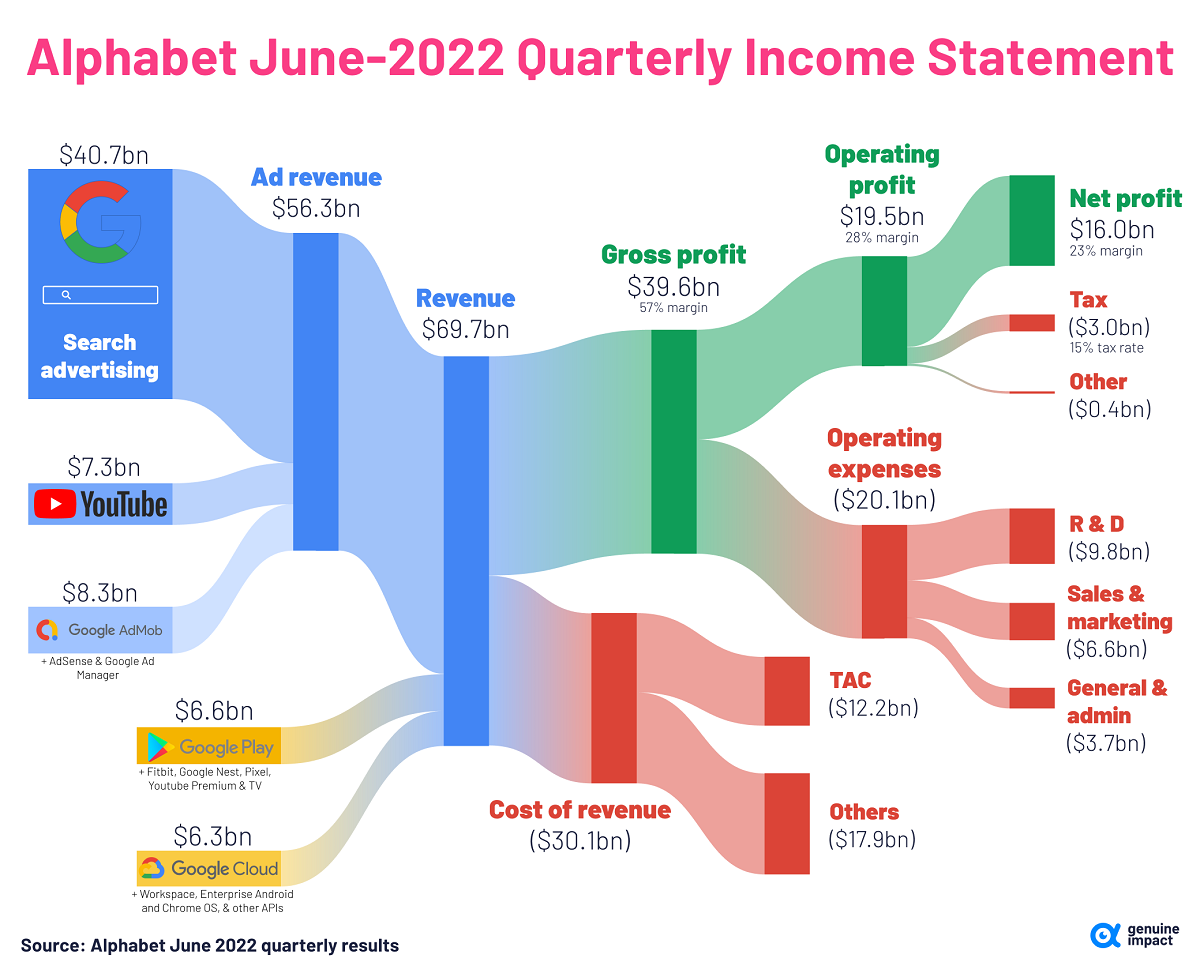 View the full-size infographic
In Q2 2022, about 72% of Alphabet's revenue came from search advertising. This makes sense considering Google and YouTube get a lot of eyeballs. Google dominates the search market—about 90% of all internet searches are done on Google platforms.
Amazon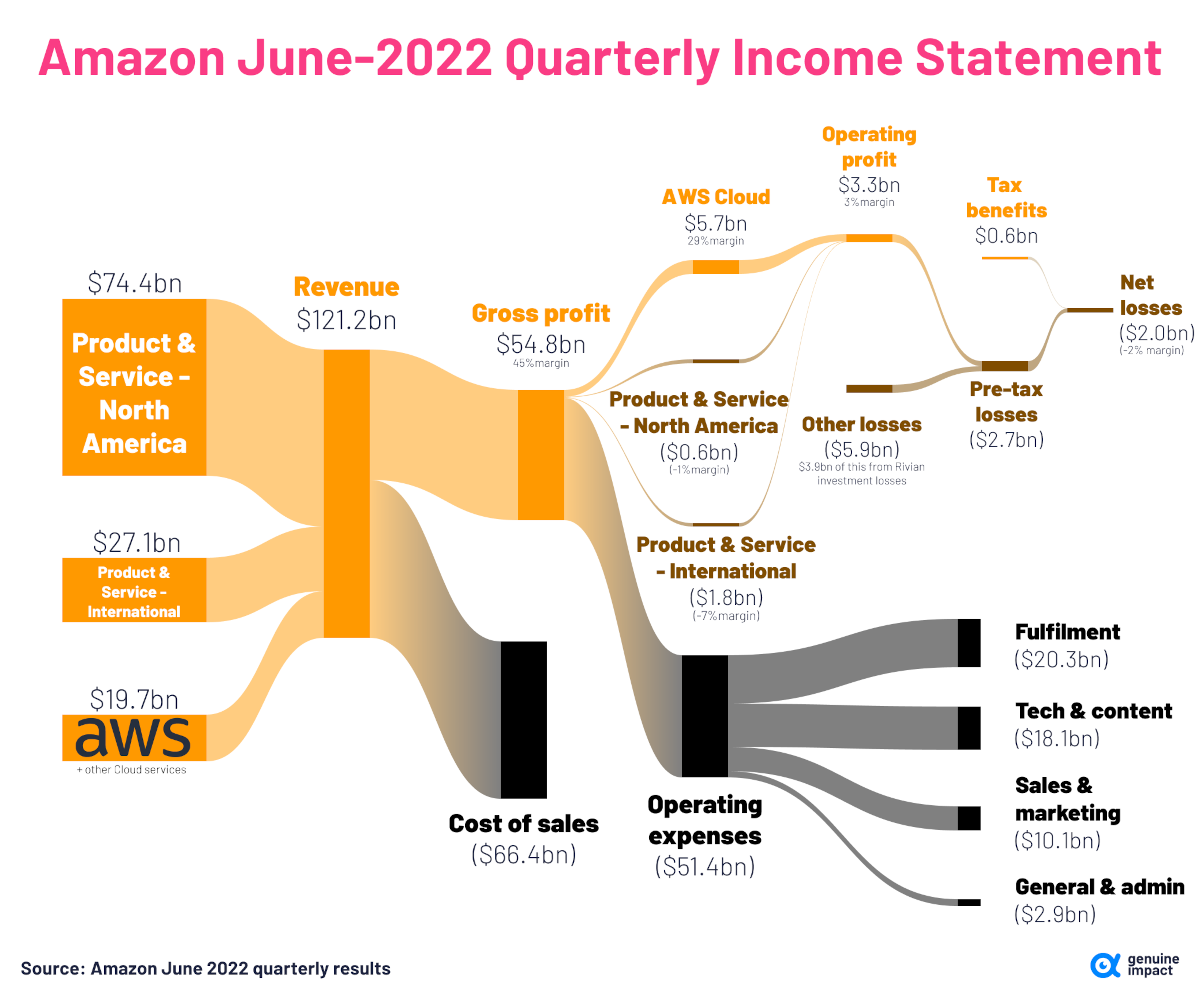 View the full-size infographic
Perhaps unsurprisingly, Amazon's biggest revenue driver is e-commerce. However, as the graphic above shows, the costs of e-commerce are so steep, that it actually reported a net loss in Q2 2022.
As it often is, Amazon Web Services (AWS) was the company's main profit-earner this quarter.
Apple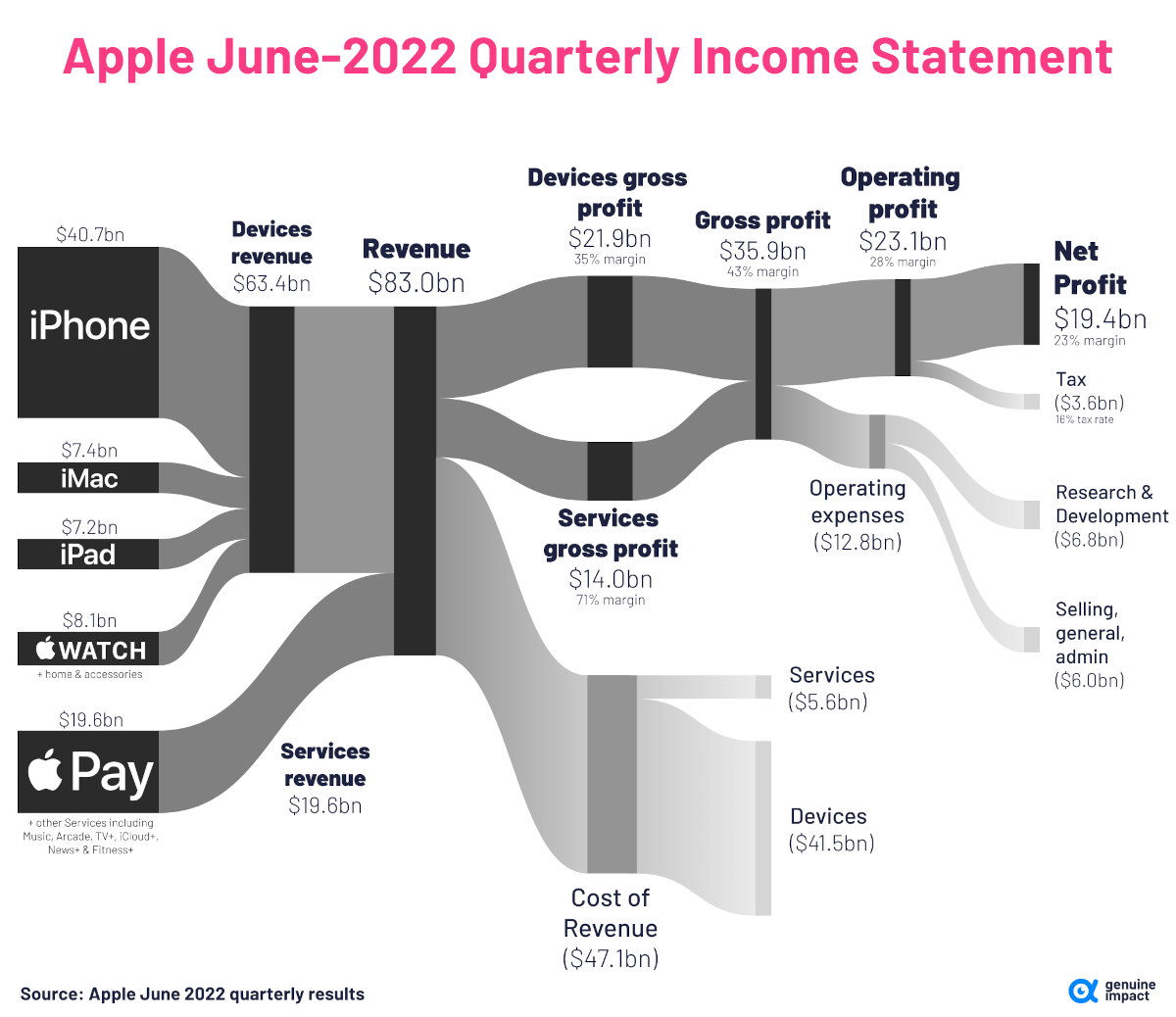 View the full-size infographic
Apple's biggest revenue driver is consumer electronics sales, particularly from the iPhone which accounts for nearly half of overall revenue. iPhones are particularly popular in the U.S., where they make up around 50% of smartphone sales across the country.
Besides devices, services like Apple Music, Apple Pay, and Apple TV+ also generate revenue for the company. But in Q2 2022, Apple's services branch accounted for only 24% of the company's overall revenue.
Microsoft
View the full-size infographic
Microsoft has a fairly even split between its various revenue sources, but similarly to Amazon its biggest revenue driver is its cloud services platform, Azure.
After AWS, Azure is the second largest cloud server in the world, capturing 21% of the global cloud infrastructure market.
Animation: The Most Popular Websites by Web Traffic (1993-2022)
This video shows the evolution of the internet, highlighting the most popular websites from 1993 until 2022.

Creator Program
The Most Popular Websites Since 1993
Over the last three decades, the internet has grown at a mind-bending pace.
In 1993, there were fewer than 200 websites available on the World Wide Web. Fast forward to 2022, and that figure has grown to 2 billion.
This animated graphic by James Eagle provides a historical look at the evolution of the internet, showing the most popular websites over the years from 1993 to 2022.
The 90s to Early 2000s: Dial-Up Internet
It was possible to go on the proto-internet as early as the 1970s, but the more user-centric and widely accessible version we think of today didn't really materialize until the early 1990s using dial-up modems.
Dial-up gave users access to the web through a modem that was connected to an active telephone line. There were several different portals in the 1990s for internet use, such as Prodigy and CompuServe, but AOL quickly became the most popular.
AOL held its top spot as the most visited website for nearly a decade. By June 2000, the online portal was getting over 400 million monthly visits. For context, there were about 413 million internet users around the world at that time.
| Rank | Website | Monthly Visits (May 2000) |
| --- | --- | --- |
| 1 | AOL | 400,891,812 |
| 2 | Yahoo | 387,573,587 |
| 3 | MSN | 354,239,803 |
| 4 | eBay | 116,101,785 |
| 5 | Lycos | 116,064,930 |
But when broadband internet hit the market and made dial-up obsolete, AOL lost its footing, and a new website took the top spot—Yahoo.
The Mid 2000s: Yahoo vs. Google
Founded in 1994, Yahoo started off as a web directory that was originally called "Jerry and David's Guide to the World Wide Web."
When the company started to pick up steam, its name changed to Yahoo, which became a backronym that stands for "Yet Another Hierarchical Officious Oracle."
Yahoo grew fast and by the early 2000s, it became the most popular website on the internet. It held its top spot for several years—by April 2004, Yahoo was receiving 5.6 billion monthly visits.
| Rank | Website | Monthly Visits (April 2004) |
| --- | --- | --- |
| 1 | Yahoo | 5,658,032,268 |
| 2 | MSN | 1,838,700,057 |
| 3 | Google | 1,318,276,780 |
| 4 | AOL | 905,009,947 |
| 5 | eBay | 805,474,705 |
But Google was close on its heels. Founded in 1998, Google started out as a simpler and more efficient search engine, and the website quickly gained traction.
Funny enough, Google was actually Yahoo's default search engine in the early 2000s until Yahoo dropped Google so it could use its own search engine technology in 2004.
For the next few years, Google and Yahoo competed fiercely, and both names took turns at the top of the most popular websites list. Then, in the 2010s, Yahoo's trajectory started to head south after a series of missed opportunities and unsuccessful moves.
This cemented Google's place at the top, and the website is still the most popular website as of January 2022.
The Late 2000s, Early 2010s: Social Media Enters the Chat
While Google has held its spot at the top for nearly two decades, it's worth highlighting the emergence of social media platforms like YouTube and Facebook.
YouTube and Facebook certainly weren't the first social media platforms to gain traction. MySpace had a successful run back in 2007—at one point, it was the third most popular website on the World Wide Web.
| Rank | Website | Monthly Visits (Jan 2007) |
| --- | --- | --- |
| 1 | Google | 7,349,521,929 |
| 2 | Yahoo | 5,169,762,311 |
| 3 | MySpace | 1,276,515,128 |
| 4 | MSN | 1,259,467,102 |
| 5 | eBay | 957,928,554 |
But YouTube and Facebook marked a new era for social media platforms, partly because of their ​​impeccable timing. Both platforms entered the scene around the same time that smartphone innovations were turning the mobile phone industry on its head. The iPhone's design, and the introduction of the App store in 2008, made it easier than ever to access the internet via your mobile device.
As of January 2022, YouTube and Facebook are still the second and third most visited websites on the internet.
The 2020s: Google is Now Synonymous With the Internet
Google is the leading search engine by far, making up about 90% of all web, mobile, and in-app searches.
What will the most popular websites be in a few years? Will Google continue to hold the top spot? There are no signs of the internet giant slowing down anytime soon, but if history has taught us anything, it's that things change. And no one should get too comfortable at the top.