What is the Cost of Europe's Energy Crisis?

Subscribe to the Elements free mailing list for more like this
What is the Cost of Europe's Energy Crisis?
This was originally posted on Elements. Sign up to the free mailing list to get beautiful visualizations on natural resource megatrends in your email every week.
Europe is scrambling to cut its reliance on Russian fossil fuels.
As European gas prices soar eight times their 10-year average, countries are introducing policies to curb the impact of rising prices on households and businesses. These include everything from the cost of living subsidies to wholesale price regulation. Overall, funding for such initiatives has reached $276 billion as of August.
With the continent thrown into uncertainty, the above chart shows allocated funding by country in response to the energy crisis.
The Energy Crisis, In Numbers
Using data from Bruegel, the below table reflects spending on national policies, regulation, and subsidies in response to the energy crisis for select European countries between September 2021 and July 2022. All figures in U.S. dollars.
Country
Allocated Funding
Percentage of GDP
Household Energy Spending,
Average Percentage
🇩🇪 Germany
$60.2B
1.7%
9.9%
🇮🇹 Italy
$49.5B
2.8%
10.3%
🇫🇷 France
$44.7B
1.8%
8.5%
🇬🇧 U.K.
$37.9B
1.4%
11.3%
🇪🇸 Spain
$27.3B
2.3%
8.9%
🇦🇹 Austria
$9.1B
2.3%
8.9%
🇵🇱 Poland
$7.6B
1.3%
12.9%
🇬🇷 Greece
$6.8B
3.7%
9.9%
🇳🇱 Netherlands
$6.2B
0.7%
8.6%
🇨🇿 Czech Republic
$5.9B
2.5%
16.1%
🇧🇪 Belgium
$4.1B
0.8%
8.2%
🇷🇴 Romania
$3.8B
1.6%
12.5%
🇱🇹 Lithuania
$2.0B
3.6%
10.0%
🇸🇪 Sweden
$1.9B
0.4%
9.2%
🇫🇮 Finland
$1.2B
0.5%
6.1%
🇸🇰 Slovakia
$1.0B
1.0%
14.0%
🇮🇪 Ireland
$1.0B
0.2%
9.2%
🇧🇬 Bulgaria
$0.8B
1.2%
11.2%
🇱🇺 Luxembourg
$0.8B
1.1%
n/a
🇭🇷 Croatia
$0.6B
1.1%
14.3%
🇱🇻 Lativia
$0.5B
1.4%
11.6%
🇩🇰 Denmark
$0.5B
0.1%
8.2%
🇸🇮 Slovenia
$0.3B
0.5%
10.4%
🇲🇹 Malta
$0.2B
1.4%
n/a
🇪🇪 Estonia
$0.2B
0.8%
10.9%
🇨🇾 Cyprus
$0.1B
0.7%
n/a
Source: Bruegel, IMF. Euro and pound sterling exchange rates to U.S. dollar as of August 25, 2022.
Germany is spending over $60 billion to combat rising energy prices. Key measures include a $300 one-off energy allowance for workers, in addition to $147 million in funding for low-income families. Still, energy costs are forecasted to increase by an additional $500 this year for households.
In Italy, workers and pensioners will receive a $200 cost of living bonus. Additional measures, such as tax credits for industries with high energy usage were introduced, including a $800 million fund for the automotive sector.
With energy bills predicted to increase three-fold over the winter, households in the U.K. will receive a $477 subsidy in the winter to help cover electricity costs.
Meanwhile, many Eastern European countries—whose households spend a higher percentage of their income on energy costs— are spending more on the energy crisis as a percentage of GDP. Greece is spending the highest, at 3.7% of GDP.
Utility Bailouts
Energy crisis spending is also extending to massive utility bailouts.
Uniper, a German utility firm, received $15 billion in support, with the government acquiring a 30% stake in the company. It is one of the largest bailouts in the country's history. Since the initial bailout, Uniper has requested an additional $4 billion in funding.
Not only that, Wien Energie, Austria's largest energy company, received a €2 billion line of credit as electricity prices have skyrocketed.
Deepening Crisis
Is this the tip of the iceberg? To offset the impact of high gas prices, European ministers are discussing even more tools throughout September in response to a threatening energy crisis.
To reign in the impact of high gas prices on the price of power, European leaders are considering a price ceiling on Russian gas imports and temporary price caps on gas used for generating electricity, among others.
Price caps on renewables and nuclear were also suggested.
Given the depth of the situation, the chief executive of Shell said that the energy crisis in Europe would extend beyond this winter, if not for several years.
Charted: 40 Years of Global Energy Production, by Country
Here's a snapshot of global energy production, and which countries have produced the most fossil fuels, nuclear, and renewable energy since 1980.

Creator Program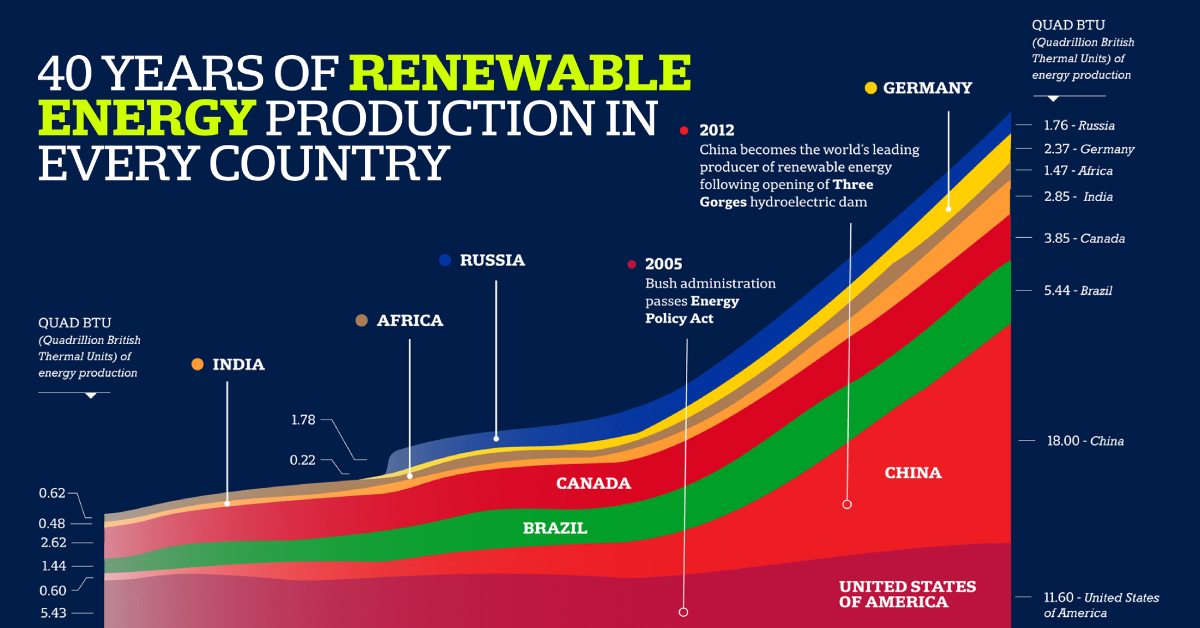 Energy was already a hot topic before 2022, but soaring household energy bills and a cost of living crisis has brought it even more to the forefront.
Which countries are the biggest energy producers, and what types of energy are they churning out? This graphic by 911 Metallurgist gives a breakdown of global energy production, showing which countries have used the most fossil fuels, nuclear, and renewable energy since 1980.
All figures refer to the British thermal unit (BTU), equivalent to the heat required to heat one pound of water by one degree Fahrenheit.
Editor's note: Click on any graphic to see a full-width version that is higher resolution
1. Fossil Fuels
View the full-size infographic
While the U.S. is a dominant player in both oil and natural gas production, China holds the top spot as the world's largest fossil fuel producer, largely because of its significant production and consumption of coal.
Over the last decade, China has used more coal than the rest of the world, combined.
However, it's worth noting that the country's fossil fuel consumption and production have dipped in recent years, ever since the government launched a five-year plan back in 2014 to help reduce carbon emissions.
2. Nuclear Power
View the full-size infographic
The U.S. is the world's largest producer of nuclear power by far, generating about double the amount of nuclear energy as France, the second-largest producer.
While nuclear power provides a carbon-free alternative to fossil fuels, the nuclear disaster in Fukushima caused many countries to move away from the energy source, which is why global use has dipped in recent years.
Despite the fact that many countries have recently pivoted away from nuclear energy, it still powers about 10% of the world's electricity. It's also possible that nuclear energy will play an expanded role in the energy mix going forward, since decarbonization has emerged as a top priority for nations around the world.
3. Renewable Energy
View the full-size infographic
Renewable energy sources (including wind, hydro, and solar) account for about 23% of electricity production worldwide. China leads the front on renewable production, while the U.S. comes in second place.
While renewable energy production has ramped up in recent years, more countries will need to ramp up their renewable energy production in order to reach net-zero targets by 2050.
The U.S. Utilities Decarbonization Index
This graphic quantifies and compares the state of decarbonization among the 30 largest investor-owned utilities in the United States.
Introducing the NPUC Annual Utility Decarbonization Report 2022
Created in partnership by Visual Capitalist and Motive Power.
Download the Free Report
The U.S. Utilities Decarbonization Index
With the Biden administration targeting a zero-emissions power sector for the U.S. by 2035, how are the nation's largest electric power providers faring in terms of decarbonization?
Together, Visual Capitalist and our sponsor National Public Utilities Council have developed the Annual Utility Decarbonization Index. The index quantifies and compares the status of decarbonization among the 30 largest investor-owned utilities in the United States.
Decarbonization is quantified by scoring companies on six emissions-related metrics based on publicly available data from 2020 (the latest available).
Why the 30 Largest IOUs?
Why does the Decarbonization Index specifically look at the 30 largest IOUs by electricity generation?
Well, these 30 utilities collectively generated around 2.3 billion megawatt hours (MWh) of electricity (including purchased power), making up over half of U.S. net electricity generation in 2020. Moreover, they also served over 90 million customers, accounting for roughly 56% of all electric customers in the country.
Therefore, it's safe to say that the 30 largest IOUs have an important role in decarbonizing both the power sector and the U.S. economy. Since the residential, commercial, industrial, and agricultural sectors all use electricity, the decarbonization of utilities—the providers of electric power—can enable emissions reduction throughout the economy.
Decarbonization Index Methodology
For each of the six metrics used in the Decarbonization Index, utilities are scored on a scale of 1 (lowest) to 5 (highest), indicating whether they are trailing or leading, respectively. Scores for each metric are based on the range of figures for each metric divided into five equal buckets that the utilities fall into.
For simplicity, let's suppose that the lowest reported total emissions figure is zero metric tons of carbon dioxide (CO2) and the highest is 100 metric tons. In that case, companies that emit fewer than 20 metric tons of CO2 will receive the highest score of 5. Those that emit between 20 and 40 metric tons of CO2 will receive a 4, and so on.
A utility's overall decarbonization score is an average of their scores across the six metrics, summarized below:
Fuel Mix:
The share of low-carbon sources (renewables, nuclear, and fuel cells) in the utility's owned net electricity generation. We've assumed that the share of low-carbon sources can range from 0% to 100%, and scores are assigned based on that range.
CO2 Emissions Intensity:
The amount of CO2 emitted per megawatt-hour of owned and purchased electricity generation.
Total CO2 Emissions:
The sum of absolute CO2 emissions from owned and purchased electricity generation. While this overlooks the differing sizes of utilities, the rationale is that smaller unconsolidated utilities may find it easier to decarbonize than larger peers.
CO2 Emissions per Capita:
The amount of CO2 emitted from owned and purchased electricity generation per retail customer served in 2020.
Decarbonization Goals:
An evaluation of the utility's interim greenhouse gas (GHG) emissions reduction goals and net-zero targets. The baseline for this is 50% GHG emissions reduction by 2030 and net-zero emissions by 2050 (utilities with baseline targets get a score of 2.5/5).
Low-Carbon Investment:
The share of planned capital expenditure (CAPEX) for electricity generation that is allocated to low-carbon sources. We've assumed that the share of CAPEX for low-carbon sources can range from 0% to 100%, and scores are assigned based on that range.
The data for these metrics comes from various sources including company sustainability reports, quantitative reporting templates from the Edison Electric Institute, and the Climate Disclosure Project's Climate Change Questionnaire filings.
Explore all six metrics of the U.S. Utility Decarbonization Index
Download The NPUC Annual Utility Decarbonization Report for free.
The Annual Utility Decarbonization Index 2022
Before looking at numbers, it's important to note that the Decarbonization Index is relative and compares the 30 largest IOUs to each other. Therefore, a score of 5 does not indicate full decarbonization or net-zero emissions. Instead, it suggests that the utility is doing particularly well relative to its peers.
With that in mind, here's a look at the Annual Utility Decarbonization Index 2022:
| Rank | Company | Decarbonization Score |
| --- | --- | --- |
| #1 | Public Service Enterprise Group | 4.7 |
| #2 | NextEra Energy Resources | 4.7 |
| #3 | Pacific Gas and Electric | 4.5 |
| #4 | Avangrid | 4.2 |
| #5 | Exelon | 4.1 |
| #6 | Portland General Electric | 3.7 |
| #7 | Dominion Energy | 3.6 |
| #8 | Florida Power and Light | 3.6 |
| #9 | PNM Resources | 3.5 |
| #10 | Alliant Energy | 3.4 |
| #11 | Consolidated Edison | 3.4 |
| #12 | Fortis Inc. | 3.4 |
| #13 | American Electric Power | 3.3 |
| #14 | Consumers Energy | 3.3 |
| #15 | Evergy | 3.0 |
| #16 | NRG Energy | 3.0 |
| #17 | AES Corporation | 2.9 |
| #18 | Xcel Energy | 2.9 |
| #19 | WEC Energy | 2.9 |
| #20 | DTE Energy | 2.8 |
| #21 | Duke Energy | 2.8 |
| #22 | Entergy | 2.8 |
| #23 | TransAlta | 2.8 |
| #24 | Emera | 2.7 |
| #25 | Ameren | 2.6 |
| #26 | Berkshire Hathaway Energy | 2.5 |
| #27 | Oklahoma Gas & Electric Company | 2.4 |
| #28 | Southern Company | 2.3 |
| #29 | PPL Corporation | 2.2 |
| #30 | Vistra Corp. | 2.0 |
A small number of companies did not report data on certain metrics and have been excluded from scoring for those metrics (denoted as N/A). In such cases, the decarbonization score is an average of five metrics instead of six.
Public Service Enterprise Group (PSEG), headquartered in New Jersey, tops this year's rankings thanks to its low-emissions profile and ambitious climate goals. The company is aiming to achieve net-zero emissions from operations by 2030—five years ahead of the Biden Administration's target and faster than any other utility on the list.
Tied with PSEG is NextEra Energy Resources, the clean energy-focused subsidiary of NextEra Energy. The company is the world's largest producer of solar and wind power and generated 97% of its net electricity from low-carbon sources in 2020.
In third place is California's largest utility, the Pacific Gas and Electric Company (PG&E). PG&E had the lowest emissions per capita of the 30 largest IOUs at 0.5 metric tons of CO2 per retail customer in 2020. That figure is significantly lower than the average of 11.5 metric tons across the 30 IOUs.
Rounding out the top five are Avangrid, a renewables-focused U.S. subsidiary of the Spanish Iberdrola Group, and Exelon, the nation's largest utility by number of retail customers. Avangrid had one of the cleanest fuel mixes with 87% of its owned net electricity coming from low-carbon sources. Exelon is the nation's largest provider of emissions-free electricity, generating around 157 million MWh or 86% of its owned net electricity from nuclear power.
Download the Full Utility Decarbonization Report
While the Decarbonization Index provides a look at the current status of utility decarbonization, there's much more to uncover in the full report, including:
The obstacles that utilities face on the path to decarbonization
The detailed data behind the six individual metrics
The U.S. utilities ESG report card
The solutions and strategies that can help accelerate decarbonization
>> Click here to download the full report and find out everything you need to know about utility decarbonization.