Mapped: The World's Biggest Oil Discoveries Since 1868
Mapped: The World's Biggest Oil Discoveries Since 1868
Oil and gas discoveries excite markets and nations with the prospect of profits, tax revenues, and jobs. However, geological processes did not distribute them equally throughout the Earth's crust and their mere presence does not guarantee a windfall for whatever nation under which they lie.
Entire economies and nations have been built on the discovery and exploitation of oil and gas, while some nations have misused this wealth─or projected growth just never materialized.
Today's chart comes to us from research compiled by World Bank economist Jim Cust and Natural Resource Governance Institute economist David Mihalyi and it plots major oil discoveries since 1868.
The 20 Biggest Oil Discoveries
This map includes 1,232 discoveries of recoverable reserves over 500 million barrels of oil equivalent (BOE) From 1868 to 2010.
The discoveries cluster in certain parts of the world, covering 46 countries, and are of significant magnitude for each country's economy. The average discovery is worth 1.4% of a country's GDP today, based on the cash value from their production or net present value (NPV).
Of the total 1,232 discoveries, these are the 20 largest oil and gas fields:
| Field | Onshore/Offshore | Location | Discovery | Production start | Recoverable oil, past and future (billion barrels) |
| --- | --- | --- | --- | --- | --- |
| Ghawar Field | Onshore | Saudi Arabia | 1948 | 1951 | 88-104 |
| Burgan Field | Onshore | Kuwait | 1937 | 1948 | 66-72 |
| Gachsaran Field | Onshore | Iran | 1927 | 1930 | 66 |
| Mesopotamian Foredeep Basin | Onshore | Kuwait | n/a | n/a | 66-72 |
| Bolivar Coastal Field | Onshore | Venezuela | 1917 | 1922 | 30-32 |
| Safaniya Field | Offshore | Kuwait/Saudi Arabia | 1951 | 1957 | 30 |
| Esfandiar Field | Offshore | Iran | 1965 | n/a | 30 |
| Kashagan Field | Offshore | Kazakhstan | 2000 | 2013 | 30 |
| Aghajari Field | Onshore | Iran | 1938 | 1940 | 28 |
| Tengiz Field | Onshore | Kazakhstan | 1979 | 1993 | 26-40 |
| Ahvaz Field | Onshore | Iran | 1953 | 1954 | 25 |
| Upper Zakum Field | Offshore | Abu Dhabi, UAE | 1963 | 1967 | 21 |
| Cantarell Field | Offshore | Mexico | 1976 | 1981 | 18-35 |
| Rumaila Field | Onshore | Iraq | 1953 | 1954 | 17 |
| Romashkino Field | Onshore | Russia Volga-Ural | 1948 | 1949 | 16-17 |
| Marun Field | Onshore | Iran | 1963 | 1966 | 16 |
| Daqing Field | Onshore | China | 1959 | 1960 | 16 |
| Shaybah Field | Onshore | Saudi Arabia | 1998 | 1998 | 15 |
| West Qurna Field | Onshore | Iraq | 1973 | 2012 | 15-21 |
| Samotlor Field | Onshore | Russia, West Siberia | 1965 | 1969 | 14-16 |
The location of these deposits reveals a certain pattern to geopolitical flashpoints and their importance to the global economy.
While these discoveries have brought immense advantages in the form of cheap fuel and massive revenues, they have also altered and challenged how nations govern their natural wealth.
The Future of Resource Wealth: A Curse or a Blessing?
A 'presource curse' could follow in the wake of the discovery, whereby predictions of projected growth and feelings of euphoria turn into disappointment.
An oil discovery can impose detrimental consequences on an economy long before a single barrel leaves the ground. Ideally, a discovery should increase the economic output of a country that claims the oil. However, after major discoveries, the projected growth sometimes does not always materialize as predicted.
Getting from discovery to sustained prosperity depends on a number of steps. Countries must secure investment to develop a project to production, and government policy must respond by preparing the economy for an inflow of investment and foreign currency. However, this is a challenging prospect, as the appetite for these massive projects appears to be waning.
In a world working towards reducing its dependence on fossil fuels, what will happen to countries that depend on oil wealth when demand begins to dwindle?
Countries can no longer assume their oil and gas resources will translate into reliable wealth — instead, it is how you manage what you have now that counts.
What's Made from a Barrel of Oil?
Oil is a building block that makes modern life possible. Here are the proportion of finished products that are created from a barrel of oil.
What Products Are Made from a Barrel of Oil?
This was originally posted on Elements. Sign up to the free mailing list to get beautiful visualizations on natural resource megatrends in your email every week.
From the gasoline in our cars to the plastic in countless everyday items, crude oil is an essential raw material that shows up everywhere in our lives.
With around 18 million barrels of crude oil consumed every day just in America, this commodity powers transport, utilities, and is a vital ingredient in many of the things we use on a daily basis.
This graphic visualizes how much crude oil is refined into various finished products, using a barrel of oil to represent the proportional breakdown.
Barrel of Oil to Functional Fuel and More
Crude oil is primarily refined into various types of fuels to power transport and vital utilities. More than 85% of crude oil is refined into fuels like gasoline, diesel, and hydrocarbon gas liquids (HGLs) like propane and butane.
Along with being fuels for transportation, heating, and cooking, HGLs are used as feedstock for the production of chemicals, plastics, and synthetic rubber, and as additives for motor gasoline production.
| Refined Crude Oil Product | Share of Crude Oil Refined |
| --- | --- |
| Gasoline | 42.7% |
| Diesel | 27.4% |
| Jet fuel | 5.8% |
| Heavy fuel | 5.0% |
| Asphalt | 4.0% |
| Light fuel | 3.0% |
| Hydrocarbon gas liquids | 2.0% |
| Other | 10.1% |
Source: Canadian Association of Petroleum Producers
Crude oil not only powers our vehicles, but it also helps pave the roads we drive on. About 4% of refined crude oil becomes asphalt, which is used to make concrete and different kinds of sealing and insulation products.
Although transportation and utility fuels dominate a large proportion of refined products, essential everyday materials like wax and plastic are also dependent on crude oil. With about 10% of refined products used to make plastics, cosmetics, and textiles, a barrel of crude oil can produce a variety of unexpected everyday products.
Personal care products like cosmetics and shampoo are made using petroleum products, as are medical supplies like IV bags and pharmaceuticals. Modern life would look very different without crude oil.
The Process of Refining Crude Oil
You might have noticed that while a barrel of oil contains 42 gallons, it ends up producing 45 gallons of refined products. This is because the majority of refined products have a lower density than crude oil, resulting in an increase in volume that is called processing gain.
Along with this, there are other inputs aside from crude oil that are used in the refining process. While crude oil is the primary input, fuel ethanol, hydrocarbon gas liquids, and other blending liquids are also used.
| U.S. Refiner and Blender Inputs | Share of Total |
| --- | --- |
| Crude oil | 85.4% |
| Fuel ethanol | 4.8% |
| Blending components | 3.5% |
| Hydrocarbon gas liquids | 3.0% |
| Other liquids | 3.3% |
Source: EIA
The process of refining a 30,000-barrel batch of crude oil typically takes between 12-24 hours, with refineries operating 24 hours a day, 365 days a year. Although the proportions of individual refined products can vary depending on market demand and other factors, the majority of crude oil will continue to become fuel for the world's transport and utilities.
The Difficulty of Cutting Down on Crude Oil
From the burning of heavy fuels that tarnish icebergs found in Arctic waters to the mounds of plastic made with petrochemicals that end up in our rivers, each barrel of oil and its refined products impact our environment in many different ways.
But even as the world works to reduce its consumption of fossil fuels in order to reach climate goals, a world without crude oil seems unfathomable.
Skyrocketing sales of EVs still haven't managed to curb petroleum consumption in places like Norway, California, and China, and the steady reopening of travel and the economy will only result in increased petroleum consumption.
Completely replacing the multi-faceted "black gold" that's in a barrel of oil isn't possible right now, but as electrification continues and we find alternatives to petrochemical materials, humanity might at least manage to reduce its dependence on burning fossil fuels.
Mapped: Visualizing U.S. Oil Production by State
The U.S. is the largest oil producer in the world. Here we map the share of oil production in the country by all 50 states in 2020.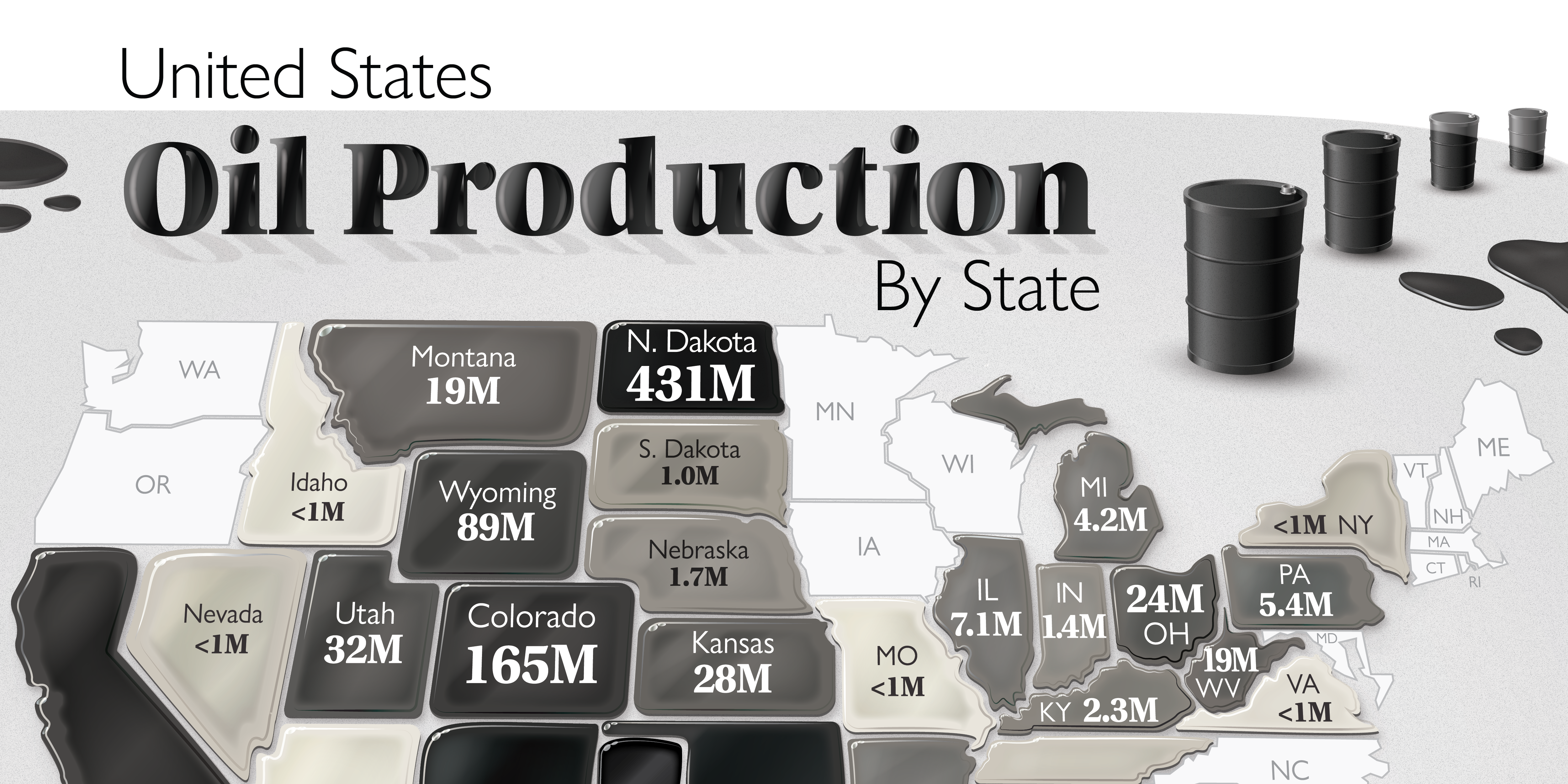 Mapped: Visualizing U.S. Oil Production by State
In 2018, the United States became the world's top crude oil producer. It has strongly held this position ever since.
According to the U.S. Energy Information Administration (EIA), the country accounted for nearly 15% of the world's total oil production in 2020, churning out close to 13 million barrels of crude oil per day—more than Russia or Saudi Arabia.
Although total U.S. oil production declined between 1985 and 2008, annual production increased nearly every year from 2009 through 2019, reaching the highest amount on record in 2019.
The Dominant Oil Producing States
Impressively, 71% of total U.S. oil production came from just five states. An additional 14.6% came from the Gulf of Mexico, which is a federal jurisdiction.
Here are the five states that produce the largest amount of crude oil:
Rank
State
Oil Production
(billion barrels)
Share of Total Production
1
Texas
1.78
43.0%
2
North Dakota
0.43
10.4%
3
New Mexico
0.37
9.2%
4
Oklahoma
0.17
4.1%
5
Colorado
0.16
4.0%
Rounding the top 10 are states like Alaska, California, Wyoming, Louisiana, and Utah.
Texas is undoubtedly the largest oil-producing state in the United States. In 2020, Texas produced a total of 1.78 billion barrels of oil. Texas is home to the most productive U.S. oil basin, the Permian, routinely accounting for at least 50% of total onshore production. A distant second is North Dakota, which produced about 431.2 million barrels of oil in 2020.
Regional Distribution of U.S. Oil Production
A total of 32 of the 50 U.S. states produce oil. They are divided among five regional divisions for oil production in the U.S., known as the Petroleum Administration for Defense Districts (PADD).
These five regional divisions of the allocation of fuels were established in the U.S. during the Second World War and are still used today for data collection purposes.
Given that Texas is the largest U.S. oil-producing state, PADD 3 (Gulf Coast) is also the largest oil-producing PADD. PADD 3 also includes the federal offshore region in the Gulf of Mexico. There are around 400 operational oil and gas rigs in the country.
Impact of U.S. Oil Production on Employment
Rapid growth in oil production using advanced drilling methods has created high-paying jobs in states like North Dakota and Texas.
Thanks to the rapid development in the Bakken Shale formation, North Dakota boasts the nation's lowest unemployment rate. The state has also grown personal income and state economic output at a fast rate, due to oil and gas industry growth.
Oil production from the Eagle Ford Shale has transformed a relatively poor region of South Texas into one of the nation's most significant economic development zones. In fact, due largely to the oil and natural gas industry, the Texas Comptroller estimates that Texas has recovered 100% of the jobs lost during the Great Recession.
Looking to the Future
The U.S. slashed its oil production forecast through next year just as OPEC and its allies begin to roll back their production cuts in the coming months.
U.S. oil output will drop to 11.04 million barrels a day this year, down from a forecasted 11.15 million. This was a result of the deep freeze that shut down the oil industry in Texas. The EIA also lowered its output forecast for 2022 by 100,000 barrels a day.
Despite its forecast for a rise in supply from outside the cartel this year, OPEC said in its report that it is uncertain about the levels of investment expected to determine the non-OPEC supply outlook for the years to come.