Mapped: Facebook's Path to Social Network Domination (2008-2020)
How to Use: The below maps will animate automatically. To pause, move your cursor on the image. Arrows on left/right navigate.
Facebook's Path to Global Social Network Domination
From just a few thousand users in 2004 to 2.7 billion monthly active users (MAUs) in 2020, Facebook is by far the world's largest social network.
But its massive global footprint didn't grow overnight. While Facebook is the most popular social network in many countries, this traction didn't happen overnight. And in other places, it still hasn't quite taken off.
To see Facebook's path to domination, we mapped each country's most popular social network from 2008‒2020. The data was tabulated by Vincenzo Cosenza at Vincos.it by examining annual traffic data from Alexa and SimilarWeb.
Facebook Grows From the Americas to Southeast Asia
What famously started as Mark Zuckerberg's late-night intoxicated project called Facemash—a "hot or not" type website for students at Harvard University—soon evolved into the world's predominant social network.
Before 2008, the social network landscape was populated by social network pioneers such as Myspace and Hi5. Google's Orkut was the most popular network in Brazil and India, and Friendster found a foothold in Southeast Asia.
But the Facebook wave came in earnest. By 2009, the social media giant took the title of most popular network for the bulk of the Americas, Europe, South Asia, and Oceania, with Orkut in Brazil being the sole holdout until 2011.
The story was similar in Africa, as increasing internet traffic data pointed to Facebook dominating the social network landscape across the continent (minus a temporary LinkedIn surge in 2017 for Zimbabwe, Ethiopia, Kenya, and Cameroon).
By the beginning of 2020, Facebook was measured as the leading social network site in 151 out of 167 measured countries, or over 90%.
China and Russia Resist Facebook's Pull
The social giant's growth, however, didn't come without resistance.
China's most popular social networking website has been Tencent's Qzone since the mid-2000s. WeChat—a popular all-in-one messaging platform—does not technically qualify for the above map as a "social networking website", but the app now has more than 1.2 billion MAUs. Facebook had attempted to gain ground in the country but was banned in 2009.
Similarly in Iran, Facebook was also blocked first in 2009 and then intermittently since. Instead, Iran's most popular social networks have been Persian sites Cloob and Facenama between 2009‒2016. Facebook did manage to capture the #1 spot briefly in 2011, but since then, they've been displaced by Facebook-owned Instagram.
The other countries that Facebook has had trouble capturing, despite not being blocked, are Russia and many former Soviet republics. There, social network dominance has switched regularly between the networks VKontakte and Odnoklassniki, both owned by Mail.ru, a Russian internet giant.
Facebook's Monopoly Over Mobile Social Networks
As big of a footprint as Facebook has on social networking, the tech giant's reach is magnified when factoring in mobile apps that it also owns.
In 2020, the company saw 1.3 billion MAUs on Facebook's Messenger app, 2 billion MAUs on the world's most popular messaging app WhatsApp, and just under 1.2 billion MAUs on photo sharing network Instagram.
By Facebook's own estimates in its Q3 2020 reporting, its core products are used by more than 3.2 billion people every month. That means that 40% of Earth's population (7.8 billion in December 2020) uses Facebook-owned social media.
The question now is if Facebook's domination will grow further, or if it'll begin to subside.
With increasing scrutiny of tech giants, the company is facing massive antitrust lawsuits in the U.S. by federal and state authorities, and other countries are stepping up potential regulation as well. At the same time, Facebook is struggling to reach younger audiences in developed countries, which have increasingly turned to Snap and TikTok instead for social media.
Did 2020 mark the height of Facebook's global empire, or is it just another milestone on the path towards further domination?
How Big Tech Revenue and Profit Breaks Down, by Company
How do the big tech giants make their money? This series of graphics shows a breakdown of big tech revenue, using Q2 2022 income statements.

Creator Program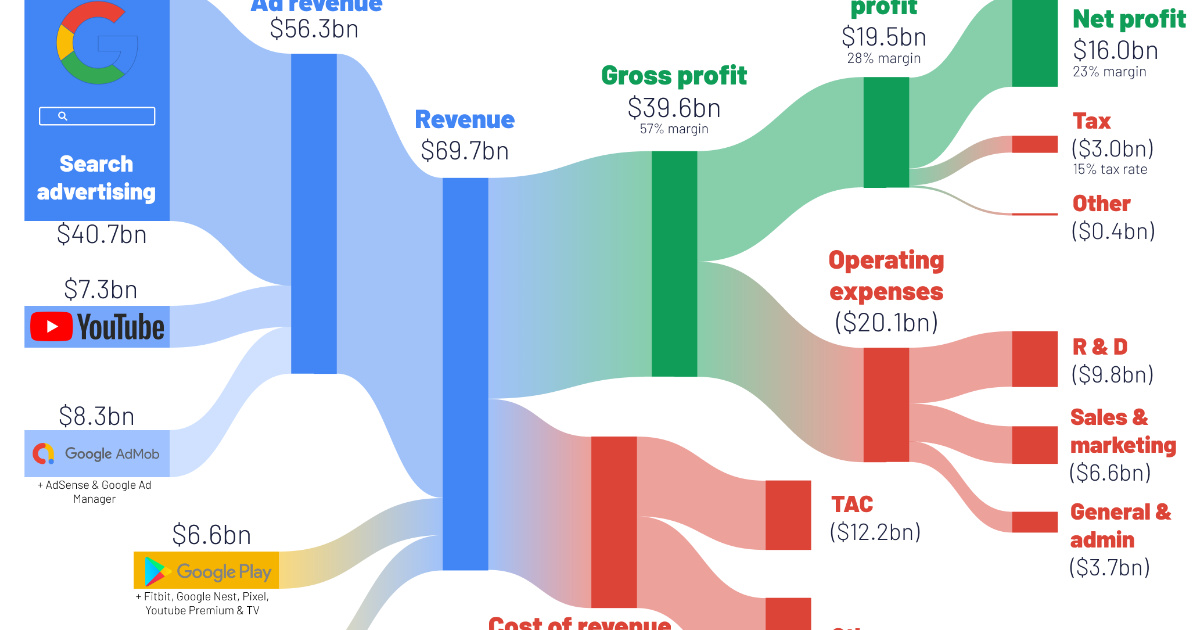 In the media and public discourse, companies like Alphabet, Apple, and Microsoft are often lumped together into the same "Big Tech" category. After all, they constitute the world's largest companies by market capitalization.
And because of this, it's easy to assume they're in direct competition with each other, fiercely battling for a bigger piece of the "Big Tech" pie. But while there is certainly competition between the world's tech giants, it's a lot less drastic than you might imagine.
This is apparent when you look into their various revenue streams, and this series of graphics by Truman Du provides a revenue breakdown of Alphabet, Amazon, Apple, and Microsoft.
How Big Tech Companies Generate Revenue
So how does each big tech firm make money? Let's explore using data from each company's June 2022 quarterly income statements.
Alphabet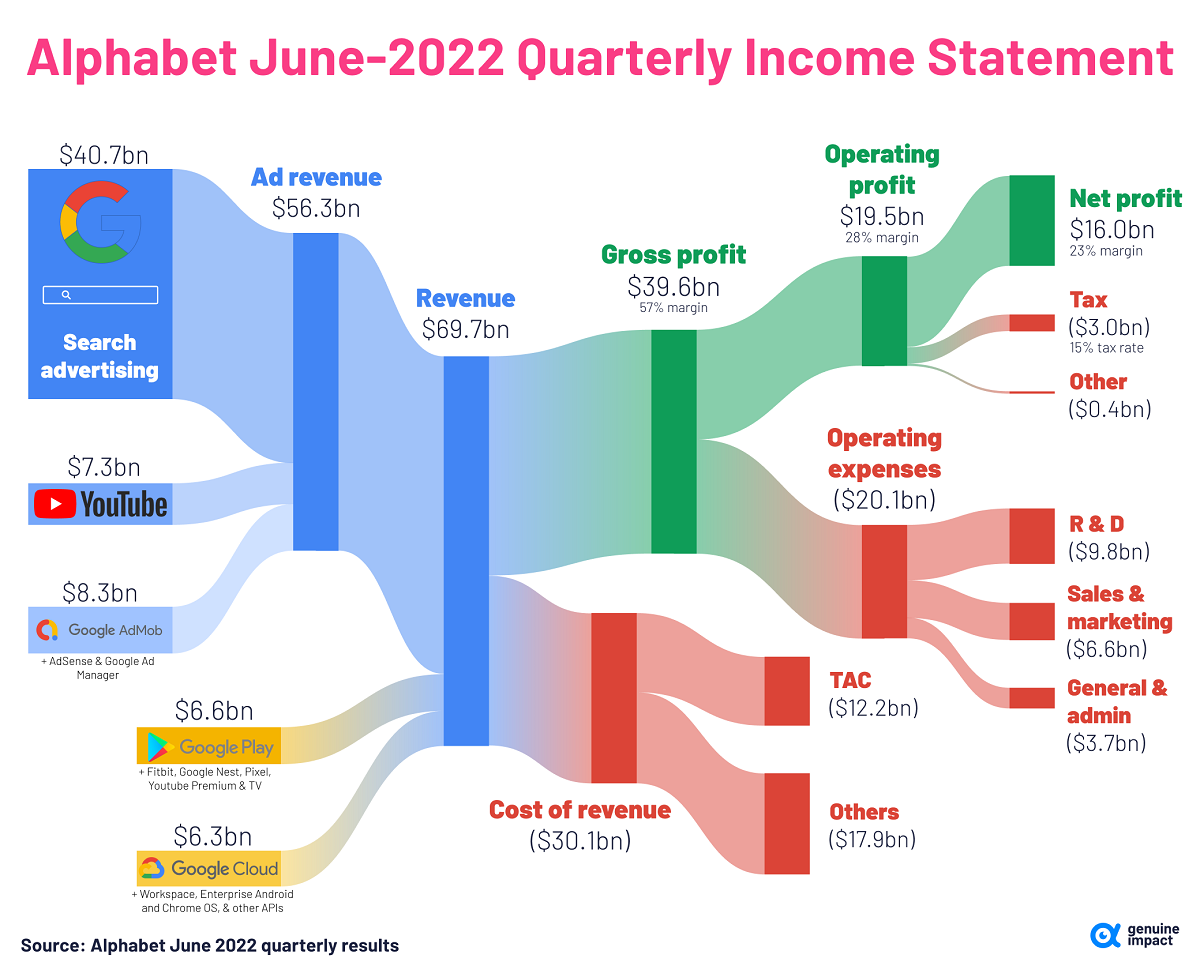 View the full-size infographic
In Q2 2022, about 72% of Alphabet's revenue came from search advertising. This makes sense considering Google and YouTube get a lot of eyeballs. Google dominates the search market—about 90% of all internet searches are done on Google platforms.
Amazon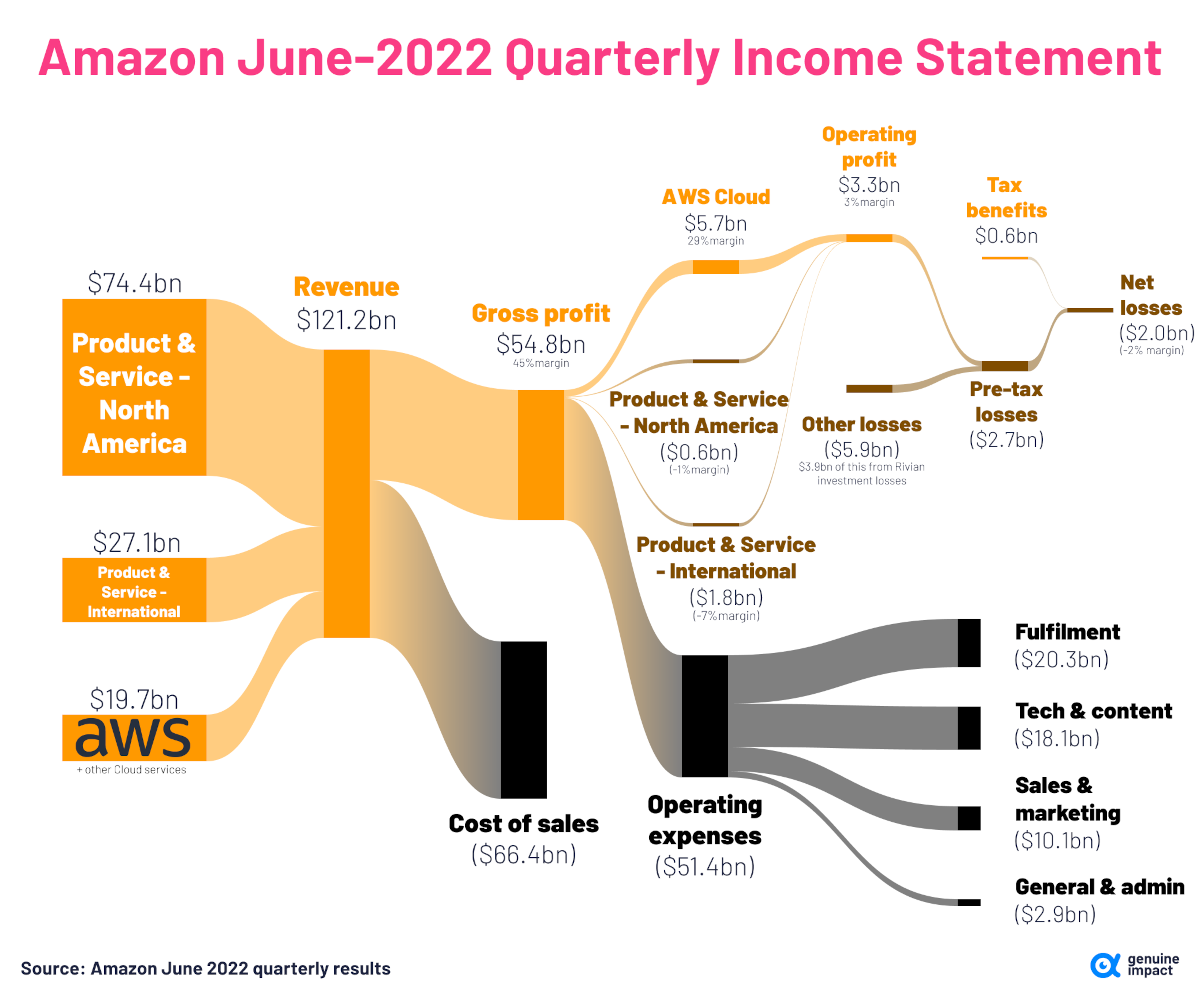 View the full-size infographic
Perhaps unsurprisingly, Amazon's biggest revenue driver is e-commerce. However, as the graphic above shows, the costs of e-commerce are so steep, that it actually reported a net loss in Q2 2022.
As it often is, Amazon Web Services (AWS) was the company's main profit-earner this quarter.
Apple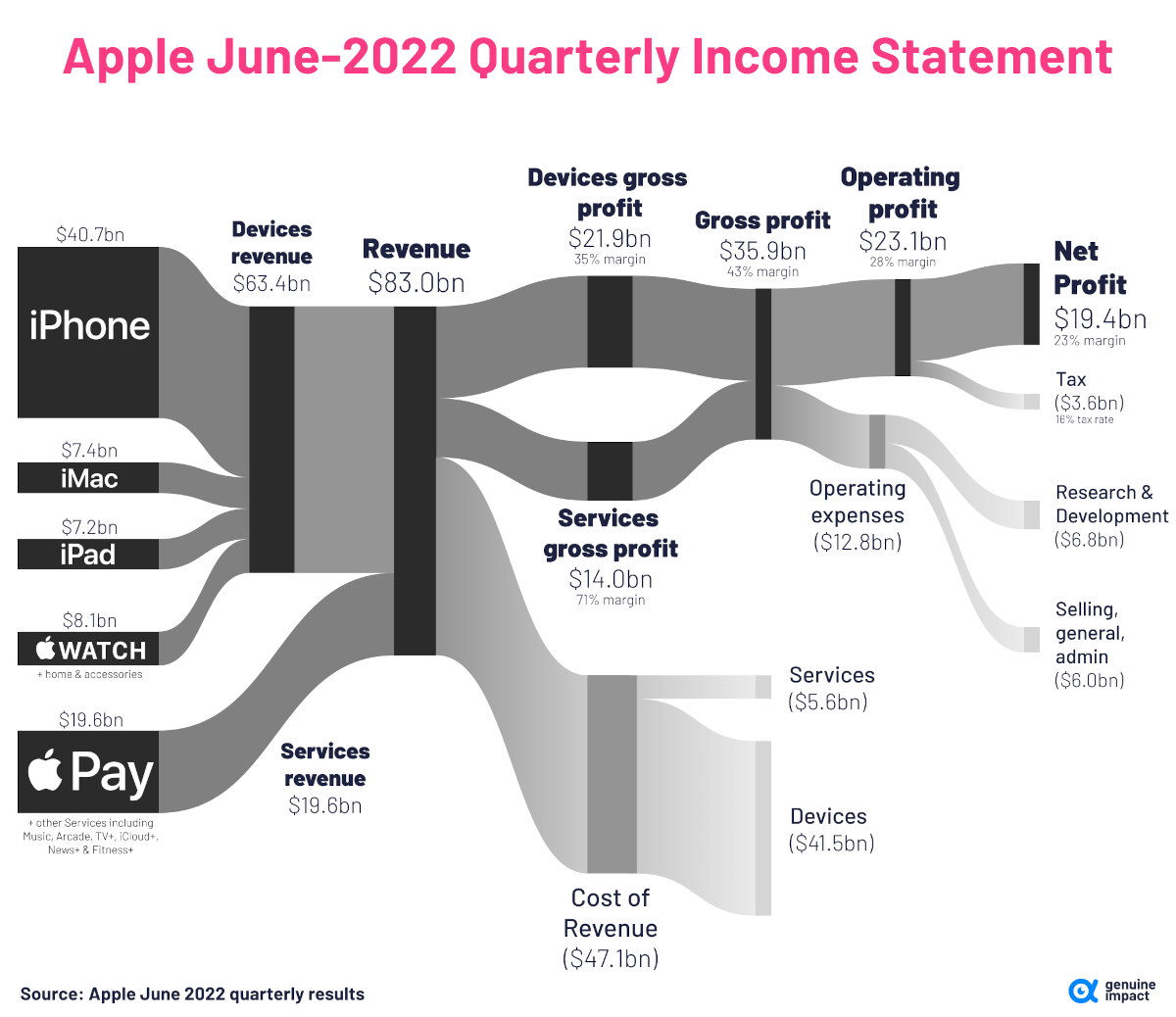 View the full-size infographic
Apple's biggest revenue driver is consumer electronics sales, particularly from the iPhone which accounts for nearly half of overall revenue. iPhones are particularly popular in the U.S., where they make up around 50% of smartphone sales across the country.
Besides devices, services like Apple Music, Apple Pay, and Apple TV+ also generate revenue for the company. But in Q2 2022, Apple's services branch accounted for only 24% of the company's overall revenue.
Microsoft
View the full-size infographic
Microsoft has a fairly even split between its various revenue sources, but similarly to Amazon its biggest revenue driver is its cloud services platform, Azure.
After AWS, Azure is the second largest cloud server in the world, capturing 21% of the global cloud infrastructure market.
Animation: The Most Popular Websites by Web Traffic (1993-2022)
This video shows the evolution of the internet, highlighting the most popular websites from 1993 until 2022.

Creator Program
The Most Popular Websites Since 1993
Over the last three decades, the internet has grown at a mind-bending pace.
In 1993, there were fewer than 200 websites available on the World Wide Web. Fast forward to 2022, and that figure has grown to 2 billion.
This animated graphic by James Eagle provides a historical look at the evolution of the internet, showing the most popular websites over the years from 1993 to 2022.
The 90s to Early 2000s: Dial-Up Internet
It was possible to go on the proto-internet as early as the 1970s, but the more user-centric and widely accessible version we think of today didn't really materialize until the early 1990s using dial-up modems.
Dial-up gave users access to the web through a modem that was connected to an active telephone line. There were several different portals in the 1990s for internet use, such as Prodigy and CompuServe, but AOL quickly became the most popular.
AOL held its top spot as the most visited website for nearly a decade. By June 2000, the online portal was getting over 400 million monthly visits. For context, there were about 413 million internet users around the world at that time.
| Rank | Website | Monthly Visits (May 2000) |
| --- | --- | --- |
| 1 | AOL | 400,891,812 |
| 2 | Yahoo | 387,573,587 |
| 3 | MSN | 354,239,803 |
| 4 | eBay | 116,101,785 |
| 5 | Lycos | 116,064,930 |
But when broadband internet hit the market and made dial-up obsolete, AOL lost its footing, and a new website took the top spot—Yahoo.
The Mid 2000s: Yahoo vs. Google
Founded in 1994, Yahoo started off as a web directory that was originally called "Jerry and David's Guide to the World Wide Web."
When the company started to pick up steam, its name changed to Yahoo, which became a backronym that stands for "Yet Another Hierarchical Officious Oracle."
Yahoo grew fast and by the early 2000s, it became the most popular website on the internet. It held its top spot for several years—by April 2004, Yahoo was receiving 5.6 billion monthly visits.
| Rank | Website | Monthly Visits (April 2004) |
| --- | --- | --- |
| 1 | Yahoo | 5,658,032,268 |
| 2 | MSN | 1,838,700,057 |
| 3 | Google | 1,318,276,780 |
| 4 | AOL | 905,009,947 |
| 5 | eBay | 805,474,705 |
But Google was close on its heels. Founded in 1998, Google started out as a simpler and more efficient search engine, and the website quickly gained traction.
Funny enough, Google was actually Yahoo's default search engine in the early 2000s until Yahoo dropped Google so it could use its own search engine technology in 2004.
For the next few years, Google and Yahoo competed fiercely, and both names took turns at the top of the most popular websites list. Then, in the 2010s, Yahoo's trajectory started to head south after a series of missed opportunities and unsuccessful moves.
This cemented Google's place at the top, and the website is still the most popular website as of January 2022.
The Late 2000s, Early 2010s: Social Media Enters the Chat
While Google has held its spot at the top for nearly two decades, it's worth highlighting the emergence of social media platforms like YouTube and Facebook.
YouTube and Facebook certainly weren't the first social media platforms to gain traction. MySpace had a successful run back in 2007—at one point, it was the third most popular website on the World Wide Web.
| Rank | Website | Monthly Visits (Jan 2007) |
| --- | --- | --- |
| 1 | Google | 7,349,521,929 |
| 2 | Yahoo | 5,169,762,311 |
| 3 | MySpace | 1,276,515,128 |
| 4 | MSN | 1,259,467,102 |
| 5 | eBay | 957,928,554 |
But YouTube and Facebook marked a new era for social media platforms, partly because of their ​​impeccable timing. Both platforms entered the scene around the same time that smartphone innovations were turning the mobile phone industry on its head. The iPhone's design, and the introduction of the App store in 2008, made it easier than ever to access the internet via your mobile device.
As of January 2022, YouTube and Facebook are still the second and third most visited websites on the internet.
The 2020s: Google is Now Synonymous With the Internet
Google is the leading search engine by far, making up about 90% of all web, mobile, and in-app searches.
What will the most popular websites be in a few years? Will Google continue to hold the top spot? There are no signs of the internet giant slowing down anytime soon, but if history has taught us anything, it's that things change. And no one should get too comfortable at the top.