Incredible Map of Pangea With Modern-Day Borders
View the full-size version of this infographic.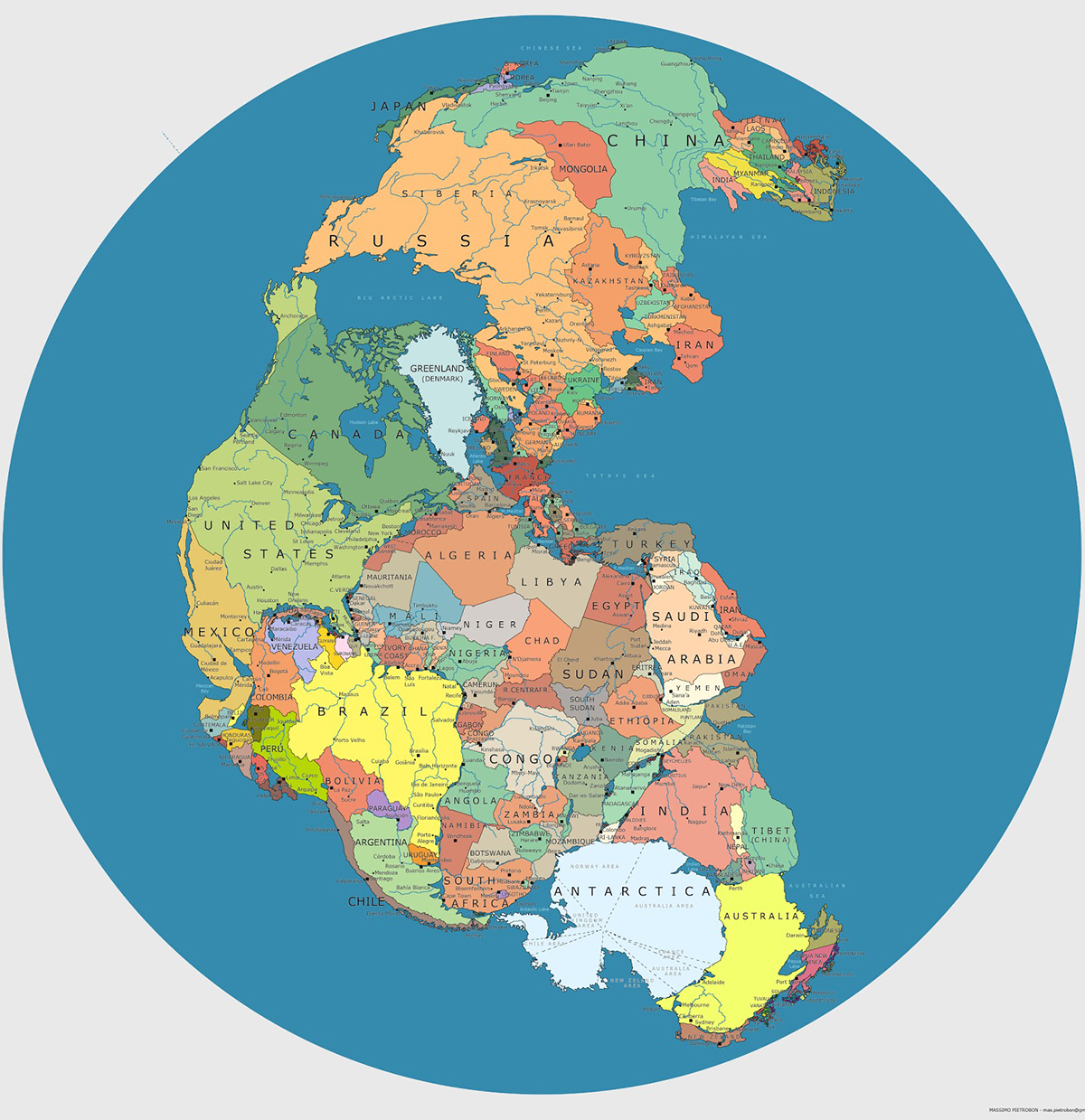 Incredible Map of Pangea With Modern-Day Borders
As volcanic eruptions and earthquakes occasionally remind us, the earth beneath our feet is constantly on the move.
Continental plates only move around 1-4 inches per year, so we don't notice the tectonic forces that are continually reshaping the surface of our planet. But on a long enough timeline, those inches add up to big changes in the way landmasses on Earth are configured.
Today's map, by Massimo Pietrobon, is a look back to when all land on the planet was arranged into a supercontinent called Pangea. Pietrobon's map is unique in that it overlays the approximate borders of present day countries to help us understand how Pangea broke apart to form the world that we know today.
Pangea: The World As One
Pangea was the latest in a line of supercontinents in Earth's history.
Pangea began developing over 300 million years ago, eventually making up one-third of the earth's surface. The remainder of the planet was an enormous ocean known as Panthalassa.
As time goes by, scientists are beginning to piece together more information on the climate and patterns of life on the supercontinent. Similar to parts of Central Asia today, the center of the landmass is thought to have been arid and inhospitable, with temperatures reaching 113ºF (45ºC). The extreme temperatures revealed by climate simulations are supported by the fact that very few fossils are found in the modern day regions that once existed in the middle of Pangea. The strong contrast between the Pangea supercontinent and Panthalassa is believed to have triggered intense cross-equatorial monsoons.
By this unique point in history, plants and animals had spread across the landmass, and animals (such as dinosaurs) were able to wander freely across the entire expanse of Pangea.
Breaking Up is Hard to Do
Around 200 million years ago, magma began to swell up through a weakness in the earth's crust, creating the volcanic rift zone that would eventually cleave the supercontinent into pieces. Over time, this rift zone would become the Atlantic Ocean. The most visible evidence of this split is in the similar shape of the coastlines of modern-day Brazil and West Africa.
Present-day North America broke away from Europe and Africa, and as the map highlights, Atlantic Canada was once connected to Spain and Morocco.
The concept of plate tectonics is behind some of modern Earth's most striking features. The Himalayas, for example, were formed after the Indian subcontinent broke off the eastern side of Africa and crashed directly into Asia. Many of the world's tallest mountains were formed by this process of plate convergence – a process that, as far as we know, is unique to Earth.
What the Very Distant Future Holds
Since the average continent is only moving about 1 foot (0.3m) every decade, it's unlikely you'll ever be alive to see an epic geographical revision to the world map.
However, for whatever life exists on Earth roughly 300 million years in the future, they may have front row seats in seeing the emergence of a new supercontinent: Pangea Proxima.
As the above video from the Paleomap Project shows, Pangea Proxima is just one possible supercontinent configuration that occurs in which Australia slams into Indonesia, and North and South America crash into Africa and Antarctica, respectively.
Interestingly, Pangea Proxima could have a massive inland sea, mainly made up of what is the Indian Ocean today. Meanwhile, the other oceans would combine into one superocean that would take up the majority of the Earth's surface.
Mapped: Second Primary Languages Around the World
This fascinating map highlights the second most commonly spoken primary language in almost nearly every country.
Mapped: Second Primary Languages Around the World
After the primary language, what second languages are used as native tongues in your country?
The answer reveals a lot about history and location. Whether through immigration, colonization, or local culture, a primary language can either spread around the world or remain rooted in place.
This map from MoveHub shows the second most commonly spoken primary language in most countries, using data from the CIA World Factbook and Wikipedia as of February 2021.
The Difference Between Primary and Secondary Languages
First, it's important to differentiate between primary languages and secondary languages.
A primary language—also known as a first or native language—is the language we use most frequently to communicate. These are languages we are usually born with, have a lot of exposure to, and use at home.
On the other hand, a secondary language is one we learn or pick up after our primary language. In many countries, English is the most commonly learned, with close to 1 billion speakers.
But a map of common second languages can simply show just how many countries prioritize learning English, the de-facto international language in many organizations. Instead, this map highlights the movement of people by showing the second-most common primary language.
The Second Most Common Primary Languages by Country
Even when filtering by primary language use, however, English and other Indo-European languages dominate the world.
With 55 countries speaking it as the second-most common primary language, English came out on top.
| Top 10 Most Popular Second Primary Languages | Number of Countries |
| --- | --- |
| English | 55 |
| French | 14 |
| Russian | 13 |
| Spanish | 8 |
| Creole | 8 |
| Arabic | 6 |
| Kurdish | 4 |
| Portugese | 4 |
| Italian | 3 |
| Quechua | 3 |
The use of English as a second primary language was primarily concentrated in Western Europe, Northern Africa, and Southeast Asia and Oceania.
Similarly to second-place French with 14 countries and third-place Russian with 13 countries, English was most common in proximity to English-speaking countries or where there was a history of immigration.
Other second-most common primary languages highlighted different cultures within countries, such as China's second-most common language Cantonese. Alternatively, they showed the primary indigenous language before colonization, such as the Quechua languages in South America.
What other interesting or surprising language patterns can you spot in the map above?
Mapped: Human Impact on the Earth's Surface
This detailed map looks at where humans have (and haven't) modified Earth's terrestrial environment. See human impact in incredible detail.
Mapped: Human Impact on the Earth's Surface
With human population on Earth approaching 8 billion (we'll likely hit that milestone in 2023), our impact on the planet is becoming harder to ignore with each passing year.
Our cities, infrastructure, agriculture, and pollution are all forms of stress we place on the natural world. This map, by David M. Theobald et al., shows just how much of the planet we've now modified. The researchers estimate that 14.6% or 18.5 million km² of land area has been modified – an area greater than Russia.
Defining Human Impact
Human impact on the Earth's surface can take a number of different forms, and researchers took a nuanced approach to classifying the "modifications" we've made. In the end, 10 main stressors were used to create this map:
Built-Up Areas: All of our cities and towns
Agriculture: Areas devoted to crops and pastures
Energy and extractive resources: Primarily locations where oil and gas are extracted
Mines and quarries: Other ground-based natural resource extraction, excluding oil and gas
Power plants: Areas where energy is produced – both renewable and non-renewable
Transportation and service corridors: Primarily roads and railways
Logging: This measures commodity-based forest loss (excludes factors like wildfire and urbanization)
Human intrusion: Typically areas adjacent to population centers and roads that humans access
Natural systems modification: Primarily modifications to water flow, including reservoir creation
Pollution: Phenomenon such as acid rain and fog caused by air pollution
The classification descriptions above are simplified. See the methodology for full descriptions and calculations.
A Closer Look at Human Impact on the Earth's Surface
To help better understand the level of impact humans can have on the planet, we'll take a closer look three regions, and see how the situation on the ground relates to these maps.
Land Use Contrasts: Egypt
Almost all of Egypt's population lives along the Nile and its delta, making it an interesting place to examine land use and human impact.
The towns and high intensity agricultural land following the river stand out clearly on the human modification map, while the nearby desert shows much less impact.
Intensive Modification: Netherlands
The Netherlands has some of the heavily modified landscapes on Earth, so the way it looks on this map will come as no surprise.
The area shown above, Rotterdam's distinctive port and surround area, renders almost entirely in colors at the top of the human modification scale.
Resource Extraction: West Virginia
It isn't just cities and towns that show up clearly on this map, it's also the areas we extract our raw materials from as well. This mountainous region of West Virginia, in the United States, offers a very clear visual example.
The mountaintop removal method of mining—which involves blasting mountains in order to retrieve seams of bituminous coal—is common in this region, and mine sites show up clearly in the map.
You can explore the interactive version of this map yourself to view any area on the globe. What surprises you about these patterns of human impact?