Incredible Map of Pangea With Modern-Day Borders
View the full-size version of this infographic.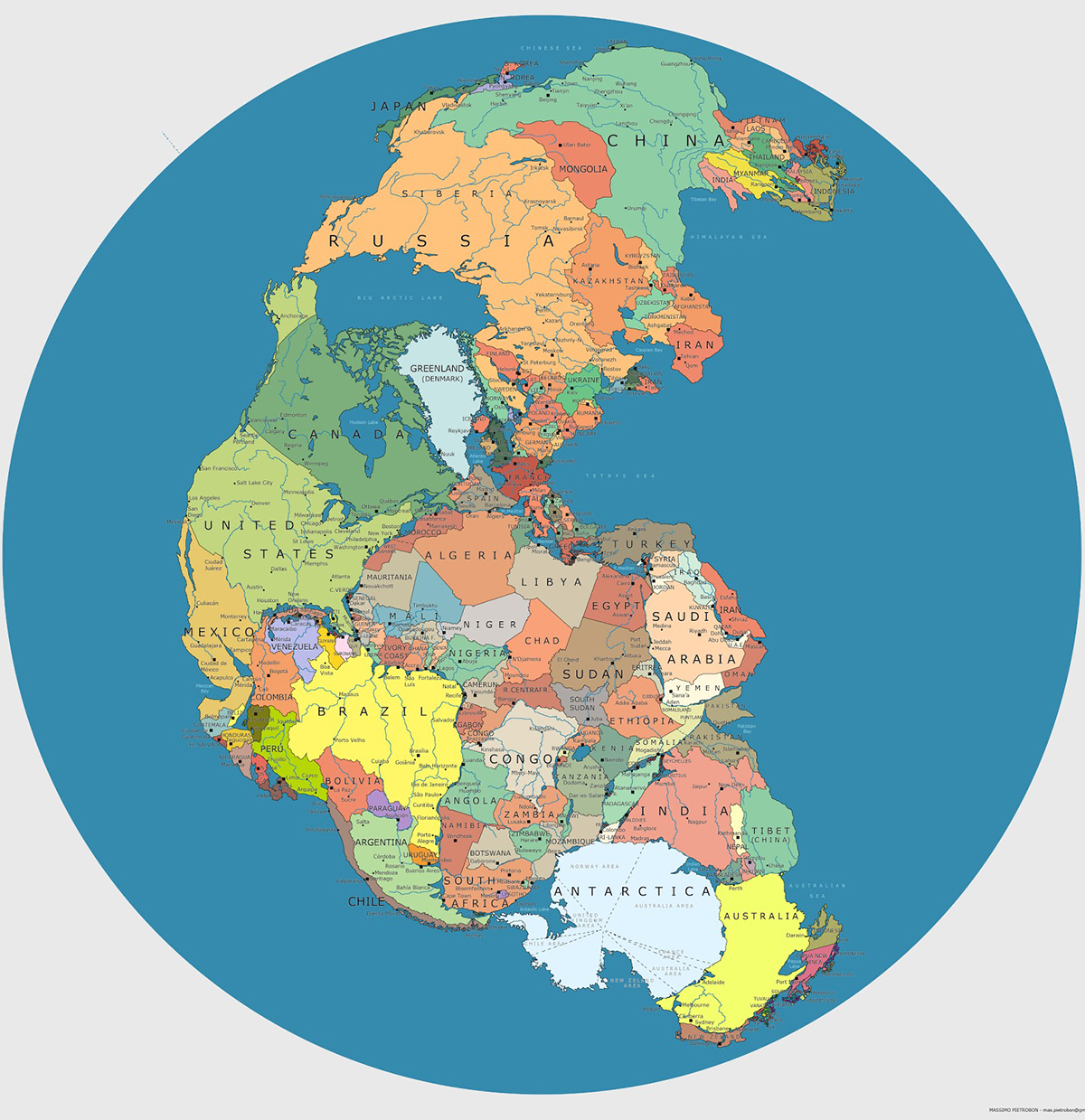 Incredible Map of Pangea With Modern-Day Borders
As volcanic eruptions and earthquakes occasionally remind us, the earth beneath our feet is constantly on the move.
Continental plates only move around 1-4 inches per year, so we don't notice the tectonic forces that are continually reshaping the surface of our planet. But on a long enough timeline, those inches add up to big changes in the way landmasses on Earth are configured.
Today's map, by Massimo Pietrobon, is a look back to when all land on the planet was arranged into a supercontinent called Pangea. Pietrobon's map is unique in that it overlays the approximate borders of present day countries to help us understand how Pangea broke apart to form the world that we know today.
Pangea: The World As One
Pangea was the latest in a line of supercontinents in Earth's history.
Pangea began developing over 300 million years ago, eventually making up one-third of the earth's surface. The remainder of the planet was an enormous ocean known as Panthalassa.
As time goes by, scientists are beginning to piece together more information on the climate and patterns of life on the supercontinent. Similar to parts of Central Asia today, the center of the landmass is thought to have been arid and inhospitable, with temperatures reaching 113ºF (45ºC). The extreme temperatures revealed by climate simulations are supported by the fact that very few fossils are found in the modern day regions that once existed in the middle of Pangea. The strong contrast between the Pangea supercontinent and Panthalassa is believed to have triggered intense cross-equatorial monsoons.
By this unique point in history, plants and animals had spread across the landmass, and animals (such as dinosaurs) were able to wander freely across the entire expanse of Pangea.
Breaking Up is Hard to Do
Around 200 million years ago, magma began to swell up through a weakness in the earth's crust, creating the volcanic rift zone that would eventually cleave the supercontinent into pieces. Over time, this rift zone would become the Atlantic Ocean. The most visible evidence of this split is in the similar shape of the coastlines of modern-day Brazil and West Africa.
Present-day North America broke away from Europe and Africa, and as the map highlights, Atlantic Canada was once connected to Spain and Morocco.
The concept of plate tectonics is behind some of modern Earth's most striking features. The Himalayas, for example, were formed after the Indian subcontinent broke off the eastern side of Africa and crashed directly into Asia. Many of the world's tallest mountains were formed by this process of plate convergence – a process that, as far as we know, is unique to Earth.
What the Very Distant Future Holds
Since the average continent is only moving about 1 foot (0.3m) every decade, it's unlikely you'll ever be alive to see an epic geographical revision to the world map.
However, for whatever life exists on Earth roughly 300 million years in the future, they may have front row seats in seeing the emergence of a new supercontinent: Pangea Proxima.
As the above video from the Paleomap Project shows, Pangea Proxima is just one possible supercontinent configuration that occurs in which Australia slams into Indonesia, and North and South America crash into Africa and Antarctica, respectively.
Interestingly, Pangea Proxima could have a massive inland sea, mainly made up of what is the Indian Ocean today. Meanwhile, the other oceans would combine into one superocean that would take up the majority of the Earth's surface.

These Powerful Maps Show the Extremes of U.S. Population Density
The U.S. population is spread across a huge amount of land, but its distribution is far from equal. These maps are a unique look at population density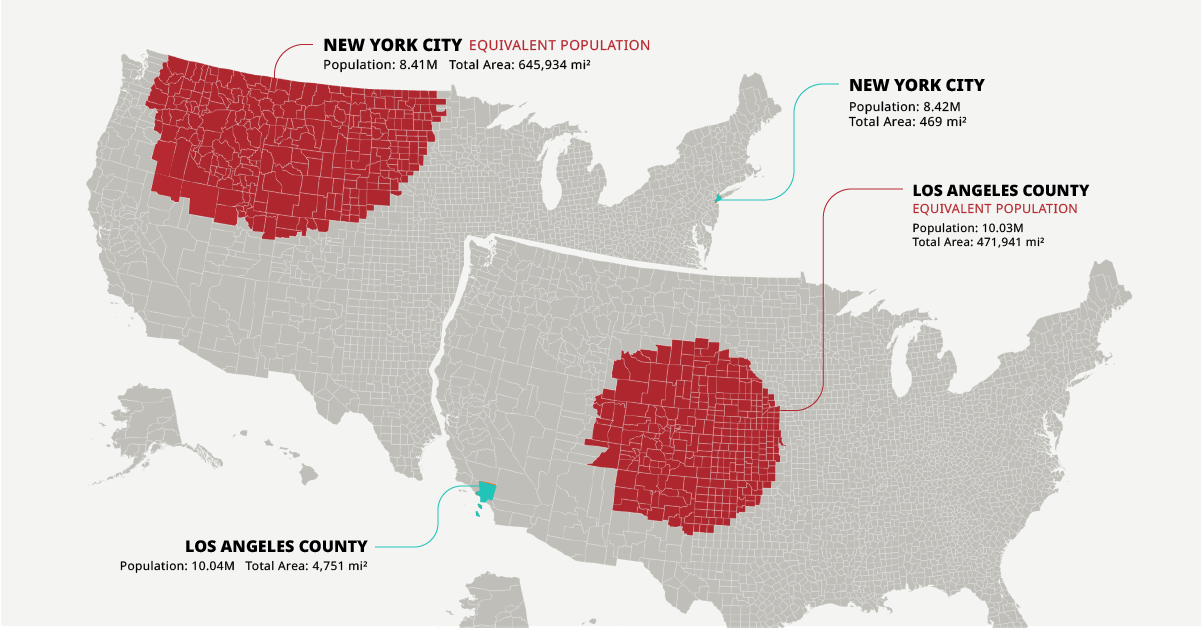 America's 328 million people are spread across a huge amount of territory, but the population density of various regions is far from equal.
It's no secret that cities like New York have a vastly different population density than, say, a rural county in North Dakota. Even so, this interactive map by Ben Blatt of Slate helps visualize the stark contrast between urban and rural densities in a way that might intrigue you.
How many counties does it take to equal the population of these large urban areas? Let's find out.
New York City's Rural Equivalent
New York City (proper) Population: 8.42 million
New York City Population density: 27,547 persons / mi²
New York City became the largest city in the U.S. back in 1781 and has long been the country's most densely packed urban center. Today, 1 in every 38 people living in the United States resides in The Big Apple.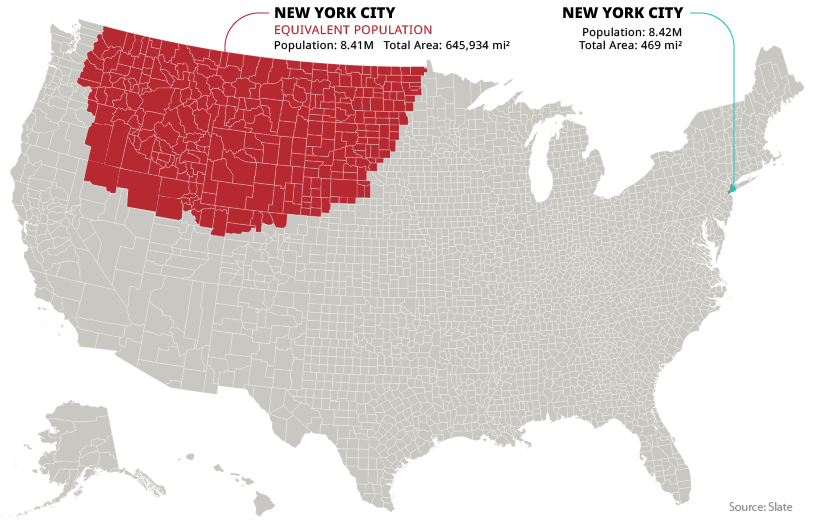 For the northwestern counties above to match the population of New York City, it takes a land area around the size of Mongolia. The region shown above is 645,934 mi², and runs through portions of 12 different states.
In order to match the population of the entire New York metropolitan area, which holds 18 million people and includes adjacent cities and towns in New York state, New Jersey, and Connecticut, the above equivalent area would have to be even more massive.
Los Angeles County's Rural Equivalent
LA County Population: 10.04 million
LA County Population density: 2,100 persons / mi²
Los Angeles County is home to the 88 incorporated cities that make up the urban area of Los Angeles.
Even excluding nearby population centers such as Anaheim, San Bernadino, and Riverside (which are located in adjacent counties) it is still the most populous county in the United States, with over 10 million inhabitants.
To match this enormous scale in Middle America, it would take 298 counties covering an area of 471,941 mi².
Chicago's Rural Equivalent
Chicago Metropolitan Area Population: 9.53 million
Chicago Metropolitan Area Population density: 1,318 persons / mi²
Next up is America's third largest city, Chicago. For this visualization, we're using the Chicago metropolitan area, which covers the full extent of the city's population.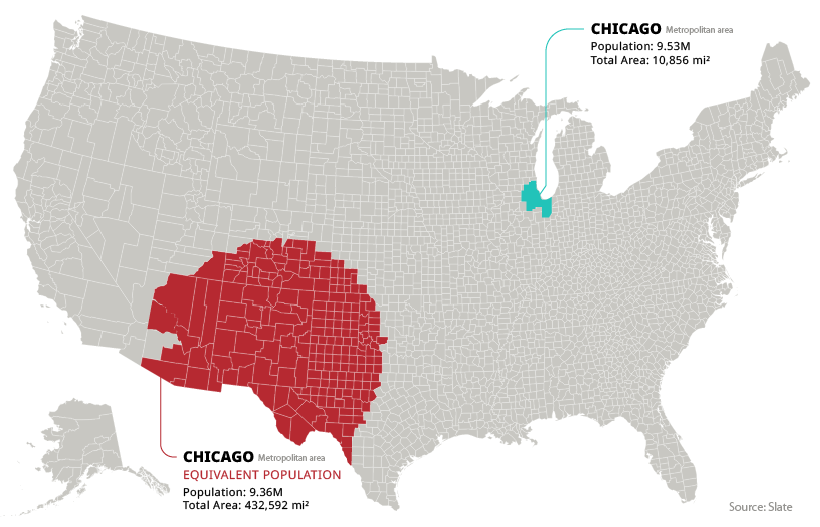 To match the scale of the population of the Windy City, we would need to add up every county in New Mexico, along with large portions of Colorado, Arizona, and Texas.
Turning the Tables?
Conversely, what if we transported the people in the country's least densely populated counties into the middle of an urban center?
| Rank | County | Population |
| --- | --- | --- |
| 1 | Kalawao County, Hawaii | 86 |
| 2 | Loving County, Texas | 169 |
| 3 | King County, Texas | 272 |
| 4 | Kenedy County, Texas | 404 |
| 5 | Arthur County, Nebraska | 463 |
As it turns out, the total population of the five least populated counties is just 1,394—roughly the same amount of people that live on the average Manhattan block.

Mapping the World's Key Maritime Choke Points
Ocean shipping is the primary mode of international trade. This map identifies maritime choke points that pose a risk to this complex logistic network.
Mapping the World's Key Maritime Choke Points
Maritime transport is an essential part of international trade—approximately 80% of global merchandise is shipped via sea.
Because of its importance, commercial shipping relies on strategic trade routes to move goods efficiently. These waterways are used by thousands of vessels a year—but it's not always smooth sailing. In fact, there are certain points along these routes that pose a risk to the whole system.
Here's a look at the world's most vulnerable maritime bottlenecks—also known as choke points—as identified by GIS.
What's a Choke Point?
Choke points are strategic, narrow passages that connect two larger areas to one another. When it comes to maritime trade, these are typically straits or canals that see high volumes of traffic because of their optimal location.
Despite their convenience, these vital points pose several risks:
Structural risks: As demonstrated in the recent Suez Canal blockage, ships can crash along the shore of a canal if the passage is too narrow, causing traffic jams that can last for days.
Geopolitical risks: Because of their high traffic, choke points are particularly vulnerable to blockades or deliberate disruptions during times of political unrest.
The type and degree of risk varies, depending on location. Here's a look at some of the biggest threats, at eight of the world's major choke points.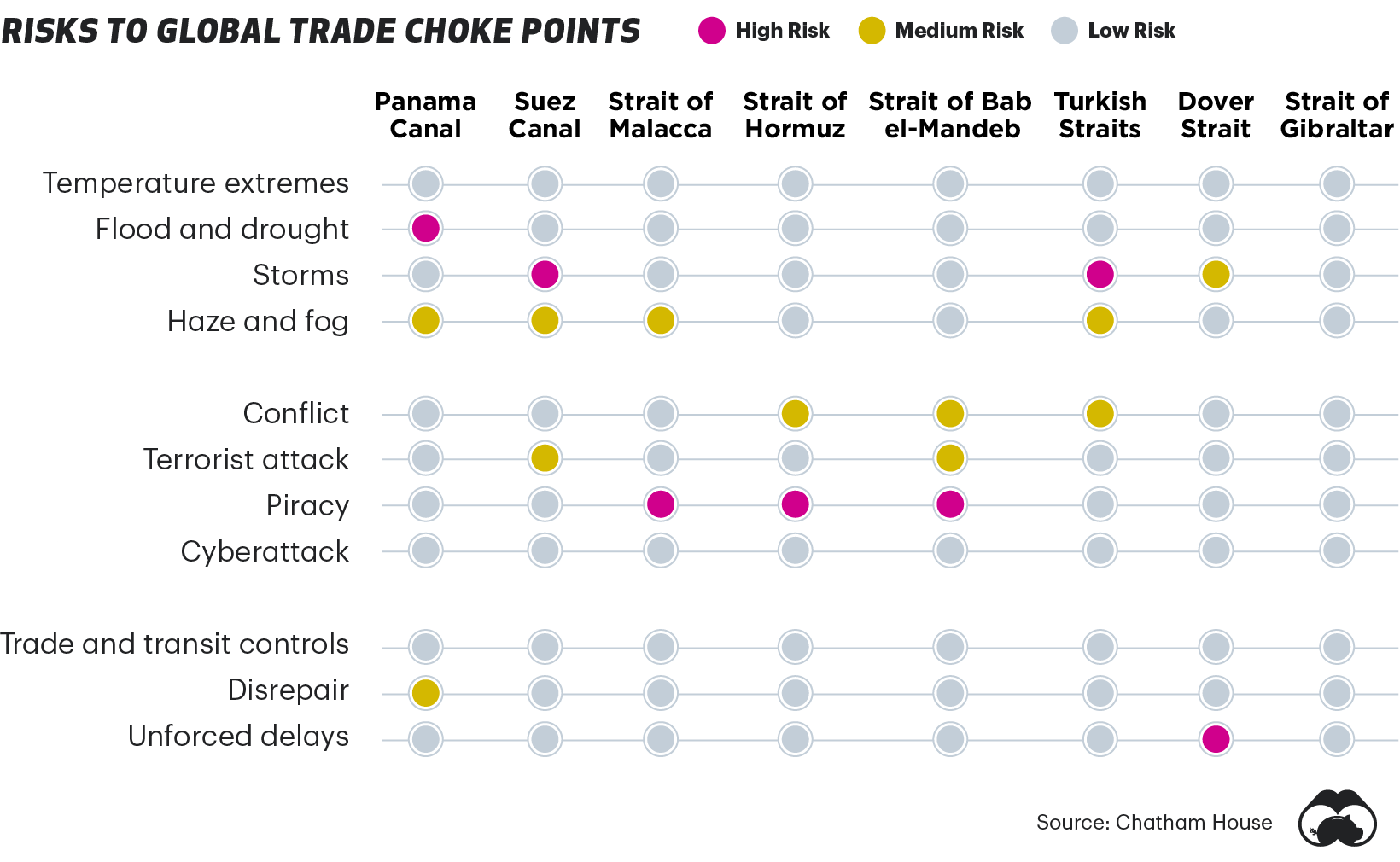 Because of their high risk, alternatives for some of these key routes have been proposed in the past—for instance, in 2013 Nicaraguan Congress approved a $40 billion dollar project proposal to build a canal that was meant to rival the Panama Canal.
As of today, it has yet to materialize.
A Closer Look: Key Maritime Choke Points
Despite their vulnerabilities, these choke points remain critical waterways that facilitate international trade. Below, we dive into a few of the key areas to provide some context on just how important they are to global trade.
The Panama Canal
The Panama Canal is a lock-type canal that provides a shortcut for ships traveling between the Pacific and Atlantic oceans. Ships sailing between the east and west coasts of the U.S. save over 8,000 nautical miles by using the canal—which roughly shortens their trip by 21 days.
In 2019, 252 million long tons of goods were transported through the Panama Canal, which generated over $2.6 billion in tolls.
The Suez Canal
The Suez Canal is an Egyptian waterway that connects Europe to Asia. Without this route, ships would need to sail around Africa, which would add approximately seven days to their trips. In 2019, nearly 19,000 vessels, and 1 billion tons of cargo, traveled through the Suez Canal.
In an effort to mitigate risk, the Egyptian government embarked on a major expansion project for the canal back in 2015. But, given the recent blockage caused by a Taiwanese container ship, it's clear that the waterway is still vulnerable to obstruction.
The Strait of Malacca
At its smallest point, the Strait of Malacca is approximately 1.5 nautical miles, making it one of the world's narrowest choke points. Despite its size, it's one of Asia's most critical waterways, since it provides a critical connection between China, India, and Southeast Asia. This choke point creates a risky situation for the 130,000 or so ships that visit the Port of Singapore each year.
The area is also known to have problems with piracy—in 2019, there were 30 piracy incidents, according to private information group ReCAAP ISC.
The Strait of Hormuz
Controlled by Iran, the Strait of Hormuz links the Persian Gulf to the Gulf of Oman, ultimately draining into the Arabian Sea. It's a primary vein for the world's oil supply, transporting approximately 21 million barrels per day.
Historically, it's also been a site of regional conflict. For instance, tankers and commercial ships were attacked in that area during the Iran-Iraq war in the 1980s.
The Bab el-Mandeb Strait
The Bab el-Mandeb Strait is another primary waterway for the world's oil and natural gas. Nestled between Africa and the Middle East, the critical route connects the Mediterranean Sea (via the Suez Canal) to the Indian Ocean.
Like the Strait of Malacca, it's well known as a high-risk area for pirate attacks. In May 2020, a UK chemical tanker was attacked off the coast of Yemen–the ninth pirate attack in the area that year.
Due to the strategic nature of the region, there is a strong military presence in nearby Djibouti, including China's first ever foreign military base.