Incredible Map of Pangea With Modern-Day Borders
View the full-size version of this infographic.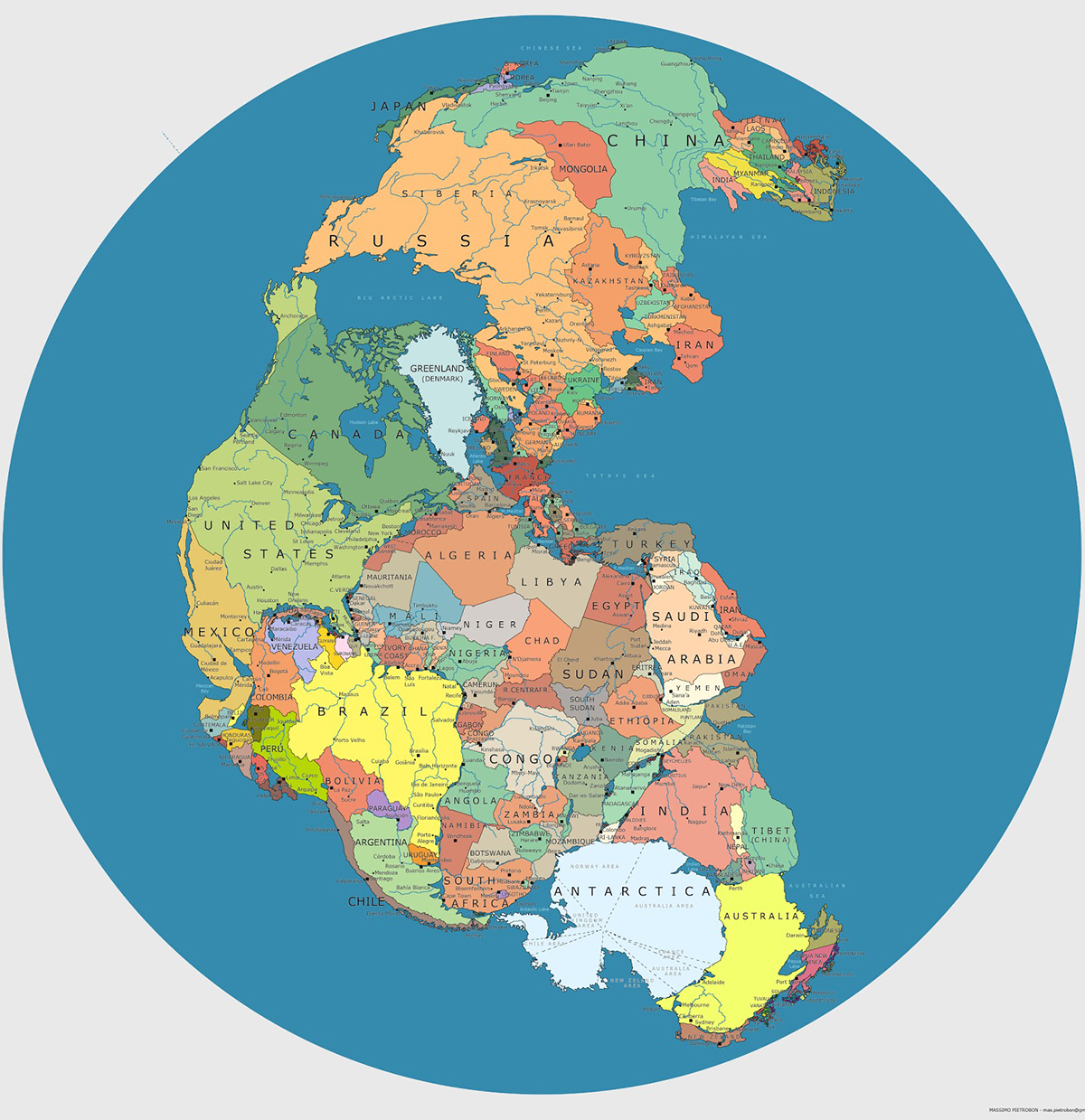 Incredible Map of Pangea With Modern-Day Borders
As volcanic eruptions and earthquakes occasionally remind us, the earth beneath our feet is constantly on the move.
Continental plates only move around 1-4 inches per year, so we don't notice the tectonic forces that are continually reshaping the surface of our planet. But on a long enough timeline, those inches add up to big changes in the way landmasses on Earth are configured.
Today's map, by Massimo Pietrobon, is a look back to when all land on the planet was arranged into a supercontinent called Pangea. Pietrobon's map is unique in that it overlays the approximate borders of present day countries to help us understand how Pangea broke apart to form the world that we know today.
Pangea: The World As One
Pangea was the latest in a line of supercontinents in Earth's history.
Pangea began developing over 300 million years ago, eventually making up one-third of the earth's surface. The remainder of the planet was an enormous ocean known as Panthalassa.
As time goes by, scientists are beginning to piece together more information on the climate and patterns of life on the supercontinent. Similar to parts of Central Asia today, the center of the landmass is thought to have been arid and inhospitable, with temperatures reaching 113ºF (45ºC). The extreme temperatures revealed by climate simulations are supported by the fact that very few fossils are found in the modern day regions that once existed in the middle of Pangea. The strong contrast between the Pangea supercontinent and Panthalassa is believed to have triggered intense cross-equatorial monsoons.
By this unique point in history, plants and animals had spread across the landmass, and animals (such as dinosaurs) were able to wander freely across the entire expanse of Pangea.
Breaking Up is Hard to Do
Around 200 million years ago, magma began to swell up through a weakness in the earth's crust, creating the volcanic rift zone that would eventually cleave the supercontinent into pieces. Over time, this rift zone would become the Atlantic Ocean. The most visible evidence of this split is in the similar shape of the coastlines of modern-day Brazil and West Africa.
Present-day North America broke away from Europe and Africa, and as the map highlights, Atlantic Canada was once connected to Spain and Morocco.
The concept of plate tectonics is behind some of modern Earth's most striking features. The Himalayas, for example, were formed after the Indian subcontinent broke off the eastern side of Africa and crashed directly into Asia. Many of the world's tallest mountains were formed by this process of plate convergence – a process that, as far as we know, is unique to Earth.
What the Very Distant Future Holds
Since the average continent is only moving about 1 foot (0.3m) every decade, it's unlikely you'll ever be alive to see an epic geographical revision to the world map.
However, for whatever life exists on Earth roughly 300 million years in the future, they may have front row seats in seeing the emergence of a new supercontinent: Pangea Proxima.
As the above video from the Paleomap Project shows, Pangea Proxima is just one possible supercontinent configuration that occurs in which Australia slams into Indonesia, and North and South America crash into Africa and Antarctica, respectively.
Interestingly, Pangea Proxima could have a massive inland sea, mainly made up of what is the Indian Ocean today. Meanwhile, the other oceans would combine into one superocean that would take up the majority of the Earth's surface.
Coffee vs Tea vs Soft Drinks: What Caffeine Drinks Do Countries Prefer?
Do you drink coffee, tea, or cola? Each country has their own drink preference.
Coffee vs Tea vs Soft Drinks: Caffeinated Drink Popularity
Coffee, tea, or soft drinks… How do you get your caffeine fix?
It might be the world's most widely consumed psychoactive substance, but your preferred caffeine drink of choice might come down to where you live.
A study into caffeine consumption of 57 countries examined the role it plays in our diets, using the volume sales of caffeine-containing beverages from Euromonitor to see what caffeine source each country prefers.
The resulting map of caffeine preference shows regional trends, including some surprising standouts.
Most Purchased Caffeine Drink By Country
There are many different caffeine drinks for consumers to choose from, from brewed drinks to ready-to-drink vending machine options.
To simplify tastes, we grouped them into three types:
Coffee — Includes fresh brewed coffee, instant coffee, and ready-to-drink coffee.
Tea — Includes herbal, black, green, and other teas, as well as ready-to-drink tea.
Soft Drinks — Includes colas, other soft drinks, sports drinks, and energy drinks.
Here's the full breakdown of each country's preferred caffeine drink of choice, by volume sales.
| Country | Region | Most Purchased Caffeine Drinks |
| --- | --- | --- |
| Kenya | Africa | Tea |
| Nigeria | Africa | Soft Drinks |
| South Africa | Africa | Soft Drinks |
| China | Asia | Tea |
| Hong Kong | Asia | Tea |
| India | Asia | Tea |
| Indonesia | Asia | Tea |
| Israel | Asia | Soft Drinks |
| Japan | Asia | Tea |
| Malaysia | Asia | Tea |
| Philippines | Asia | Soft Drinks |
| South Korea | Asia | Coffee |
| Taiwan | Asia | Tea |
| Thailand | Asia | Soft Drinks |
| Vietnam | Asia | Tea |
| Austria | Europe | Soft Drinks |
| Belgium | Europe | Soft Drinks |
| Bosnia-Herzegovina | Europe | Coffee |
| Bulgaria | Europe | Soft Drinks |
| Croatia | Europe | Soft Drinks |
| Denmark | Europe | Coffee |
| Estonia | Europe | Coffee |
| Finland | Europe | Coffee |
| France | Europe | Coffee |
| Georgia | Europe | Coffee |
| Germany | Europe | Coffee |
| Greece | Europe | Coffee |
| Hungary | Europe | Soft Drinks |
| Ireland | Europe | Tea |
| Italy | Europe | Soft Drinks |
| Latvia | Europe | Tea |
| Netherlands | Europe | Coffee |
| Norway | Europe | Coffee |
| Poland | Europe | Coffee |
| Portugal | Europe | Soft Drinks |
| Romania | Europe | Soft Drinks |
| Slovenia | Europe | Coffee |
| Spain | Europe | Soft Drinks |
| Sweden | Europe | Coffee |
| Switzerland | Europe | Soft Drinks |
| Turkey | Europe | Tea |
| UK | Europe | Tea |
| Canada | North America | Coffee |
| Costa Rica | North America | Coffee |
| Dominican Republic | North America | Coffee |
| Guatemala | North America | Soft Drinks |
| Mexico | North America | Soft Drinks |
| U.S. | North America | Soft Drinks |
| Australia | Oceania | Soft Drinks |
| New Zealand | Oceania | Tea |
| Argentina | South America | Soft Drinks |
| Bolivia | South America | Soft Drinks |
| Brazil | South America | Coffee |
| Chile | South America | Soft Drinks |
| Colombia | South America | Soft Drinks |
| Uruguay | South America | Soft Drinks |
| Venezuela | South America | Soft Drinks |
Examining the regional spread shows us some expected caffeine strongholds.
Tea was the preferred drink of choice for many countries in most of Asia, including China, India, Indonesia, and Japan. But it also showed a strong foothold in Africa, as Kenya is the world's largest black tea exporter, and in Europe, as Turkey, Ireland, and the UK are the world's top three tea-consuming countries per capita.
Coffee was the most preferred caffeine drink in a number of countries in Europe, including all of the Nordic countries. It is also the drink of choice in Canada, South Korea, and Brazil, the latter two being the only countries in Asia and South America to prefer coffee.
Perhaps most surprising is the global preference for soft drinks. The U.S. and most of Latin America overwhelmingly consumed soft drinks over other caffeine drinks, as did the Philippines, Thailand, and Australia. Even in Europe, some countries that are heavy coffee drinkers like Italy and Switzerland purchased more soft drinks than coffee by narrow margins.
Coke's Influence on the Coffee vs Tea vs Soft Drinks Debate
Though the global map of caffeine preference looks regionally-specific at a glance, there are some notable business influences at play.
The proliferation of soft drinks in Latin America is largely due to the power of Coca-Cola. Mexico, the country which preferred soft drinks the most over other drinks, is also the world's biggest consumer of Coca-Cola per capita. Coca-Cola also reached far beyond the borders of the U.S. where it originated, becoming a staple drink in many parts of Europe, Australia, and Asia.
This power of brands extends to coffee as well. Many coffee-preferring countries actually leaned more towards instant coffee purchases over freshly brewed coffee, a mark of the lasting influence of Nestlé's brand of instant coffee, Nescafé.
But it's important to note that many countries were not tabulated, and that caffeine purchases don't differentiate between every single possible caffeine drink. There are many different types of coffees, teas, soft drinks, and even yerba mate for consumers to choose from.
As a snapshot of global caffeine consumption, it's a reminder that the world's most commonly consumed psychoactive stimulant is taken in many different forms. Both throughout history, and in modern times.
1 Billion Years of Tectonic Plate Movement in 40 Seconds
This animated map shows the last billion years of Earth's tectonic plate movement in just 40 seconds.
1 Billion Years of Tectonic Plate Movement in 40 Seconds
According to plate tectonic theory, the Earth's surface is made up of slabs of rock that are slowly shifting right under our feet.
Because of this constant movement, today's Earth looks a lot different from what it did millions of years ago. Today's animation looks at the Earth's tectonic plate movement from 1 ga (geological time for 1 billion years ago) to the present-day, via EarthByte on YouTube.
Editor's note: The video starts at time 1,000 ma (1,000 million years ago), and ticks down at the rate of about 25 million years every second.
The Emergence of Plate Tectonic Theory
Plate tectonics is a relatively new theory—in fact, according to National Geographic, it hadn't become popular until the 1960s. However, the concept of continental movement was brewing long before it became widely accepted.
In 1912, German scientist Alfred Wegener proposed a theory he called continental drift. According to Wegener's theory, Earth's continents once formed a single, giant landmass, which he called Pangaea.
Over millions of years, Pangaea slowly broke apart, eventually forming the continents as they are today. Wegener believed this continental drift explained why the borders of South America and Africa looked like matching puzzle pieces. He also pointed to similar rock formations and fossils on these two continents as proof to back his theory.
Initially, the scientific community wasn't on board with the theory of continental drift. But as more data emerged over the years, including research on seafloor spreading, the theory started to gain traction.
The Supercontinent Cycle
Nowadays, it's believed that Pangea was just one of several supercontinents to mass together (and break apart) over the course of geological history.
The exact number of supercontinents is largely debated, but according to the Encylopedia of Geology, here are five (including Pangea) that are widely recognized:
Kenorland: 2.7-2.5 billion years ago
Nuna/Columbia: 1.6-1.4 billion years ago
Rodinia: 950–800 million years ago
Pannotia: 620-580 million years ago
Pangea: 325-175 million years ago
According to the theory, this cycle of breaking apart and coming together happens because of subduction, which occurs when tectonic plates converge with one another.
The supercontinent cycle also ties into ocean formation. The below example of the Wilson Cycle specifically keys in on how the Atlantic Ocean, and its predecessor, the Iapetus Ocean, were formed as supercontinents drifted apart:
Source: Hannes Grobe
The Importance of Plate Tectonics
Plate tectonics has been a game-changer for geologists. The theory has helped to explain tons of unanswered geological questions, assisting scientists in understanding how volcanoes, mountains, and ocean ridges are formed.
It's also valuable for the oil and gas industry since it explains how sedimentary basins were created, allowing geologists and engineers to target and locate vast oil reserves.
Since the theory of plate tectonics is relatively new, there's still a lot to be discovered in this field of research. However, in March 2021, a report was published in Earth-Science Reviews that, for the first time, visualized a continuous plate model that shows how Earth's plates have shifted over the last billion years.
The video above visualizes this particular report and accurately depicts the Earth's tectonic plates' movement or the observed shift in Earth's tectonic plates over the years.